Last week, I shared with you a quick glimpse of the realme 8 where I unboxed it and gave you my first impressions, and right off the bat, the design of the realme 8 is something I haven't seen before from realme. Usually, they prefer to offer a design that breaks the norm when it comes to shiny and glossy finish, and most often than not, their smartphones feature a relatively fingerprint-resistant surface. However, that isn't the case with the realme 8 with probably the most daring design realme has yet to offer. In a way, it is a very refreshing idea that most probably is targeted towards the younger generation with a very bold design, featuring shiny shimmering splendid puking rainbows and butterflies and all the adjectives you can think of from a phone that reacts differently and changes colors depending on the angle. With that said, the design is not just the only thing new from the realme 8, it also features a stunning Super AMOLED display and some capable hardware inside to provide that sweet spot when it comes to price to performance ratio. In this review, we'll discuss pretty much everything you need to know about this new smartphone from the unboxing, design, construction, features, performance, camera, battery, and all. 
MY EARLY BREAKDOWN
Pros: Bold design, Decent construction, Slim profile, Good performance, Outstanding battery life, Awesome Super AMOLED Display, Decent camera
Cons: Fingerprint magnet finish, Same processor and graphics from its predecessor, No high refresh rate display
SPECIFICATIONS

Processor: MediaTek Helio G95/Mali-G76 MC4
Storage & RAM: 8GB + 128GB
Display: 6.4" Super AMOLED Fullscreen
Resolution: 2400×1080 FHD+
Screen-to-body ratio: 90.8%
Peak brightness: 1000 nits
Touch Sampling Rate: 180Hz
Charging: 30W Dart Charge
Battery: 5000mAh
Camera: 64MP AI Quad Camera + Selfie
– 64MP Primary Camera
– 8MP Ultra Wide-angle Lens
– 2MP Macro Lens
– 2MP B&W Lens
– 16MP In-display Selfie
Cellular: 2 SIM Slot + 1 MicroSD Slot
Wireless Network: 2.4/5 GHz – 802.11 a/b/g/n/ac
Bluetooth: 5.1
Navigation: GPS/APGS/GLONASS/ BEIDOU/GALILEO
Size & Weight:
– Length: 160.6mm
– Width: 73.9mm
– Depth: 7.99mm
– Weight: 177g
Sensors:
– Ultra-fast In-display Fingerprint Sensor
– Light sensor
– Proximity sensor
– Magnetic induction sensor
– Acceleration sensor
– Gyro-meter sensor
Operating System: realme UI 2.0 Based on Android 11
WHAT'S IN THE PACKAGE
Like I mentioned earlier, I already did a dedicated Unboxing and First Impressions about the realme 8 which you can check here but essentially, In terms of the packaging, we have the usual yellow box with the model name and branding on the front side and key features and specifications at the back.
Inside the box, we have a sim ejector pin, a couple of paperwork, a free jelly case, a 30W 5V/6A power brick, a USB Type C cable, and the realme 8 smartphone itself.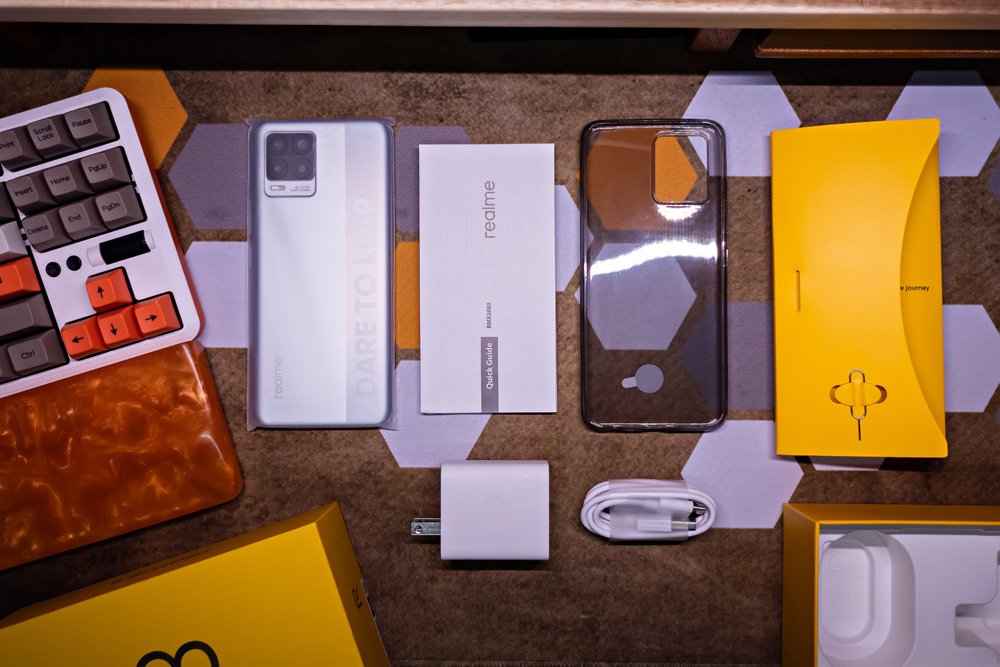 FULL REVIEW
Design, Construction, and Parts Overview
In terms of the design here in front, we have a 6.4" Super AMOLED 2400×1080 FHD+ display with relatively thin bezels around it.
We also have here the 16Mp in-display selfie camera that we're gonna test later.
Moving our focus slightly towards the top center, we have the subtle earpiece nicely tucked blending with the curved edge of the smartphone. 
And lastly here in front, though not visible, we also have an in-display fingerprint sensor and a pre-applied screen protector.
Flipping it on the left side, we have the SIM card tray that supports 2 SIM Cards and a micro SD card up to 256GB.
On the other side, we have the volume rocker and the power button located on the same side which like I always say is my preferred layout. With this, you can lay the phone flat on its side without accidentally activating any button.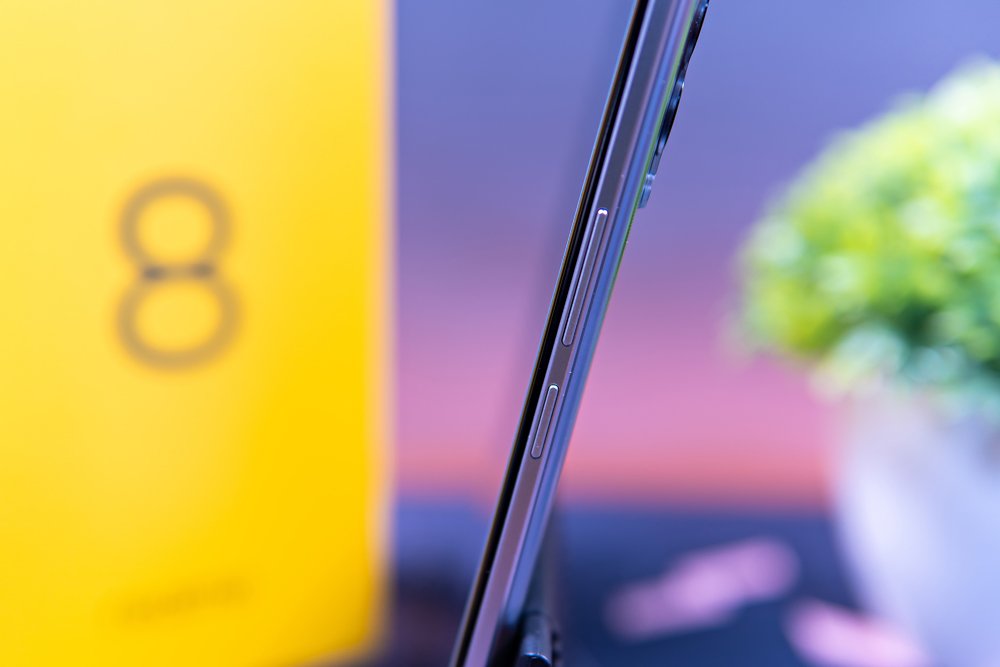 Looking at the top side, we only have the secondary microphone.
And then on the other side, we have the downward-firing speaker, a USB Type C port, the primary microphone, and thankfully, a 3.5mm headphone jack.
And lastly, for the star of the show, here at the back, we have the bold design with a rather large "Dare To Leap" realme slogan which takes branding to the next level. 
And not only that, but it also features this sort of psychedelic design element that changes reflections and colors depending on the angle you're looking at. 
And as I've pointed out earlier, this is a quite daring move that brings in fresh ideas, but not without its own disadvantage. You see, it goes without saying that having a sleek, shiny, and glossy finish, fingerprint and smudges are inevitable. Thankfully, we have that free jelly case to go around that. 
Here at the back, we also have a realme logo on the lower-left corner, the usual spot.
And lastly, here at the back, we have the quad-camera setup in a relatively different layout with a square form factor. We have a 64MP Primary Camera, 8MP Ultra Wide-Angle Lens, 2MP Macro Lens, and 2MP Black and White Lens with a small flash
User Interface
Going back in front, in terms of the user interface, the realme 8 is the first phone to come with realme UI version 2.0 based on Android 11 out of the box. It feels relatively lightweight, snappy, and responsive. I really don't have any major gripes with realme UI with just a few pre-installed applications that you can also uninstall if you want.
The icons also look absolutely crispy, especially on dark mode with this Super AMOLED display.
The launcher is good enough for me that I don't see any reason to install third-party launchers like what I am used to before. In fact, since I've started using a realme smartphone, in my case right now, I'm using the realme X50 Pro 5G, I can't even remember the last time I installed something like the Nova Launcher. The realme UI is fairly adequate for my needs and my personal preference. 
It even has a bunch of shortcuts and tools right from the notification drawer.
All the settings inside are easy to find, intuitive, and straightforward to set up in one sitting.
Specifications Rundown
In terms of the hardware specifications under the hood, the realme 8 features the MediaTek Helio G95 processor and a Mali-G76 MC4 GPU which is exactly the same as what the realme 7 has which means although nothing new, should perform quite decently for both multitasking and gaming. The variant that we have here also has a substantial amount of memory with 8GB of RAM and 128GB of internal storage, 107GB of which is available out of the box. We also have a fairly adequate 5000mAh of battery that supports 30W Dart Charge.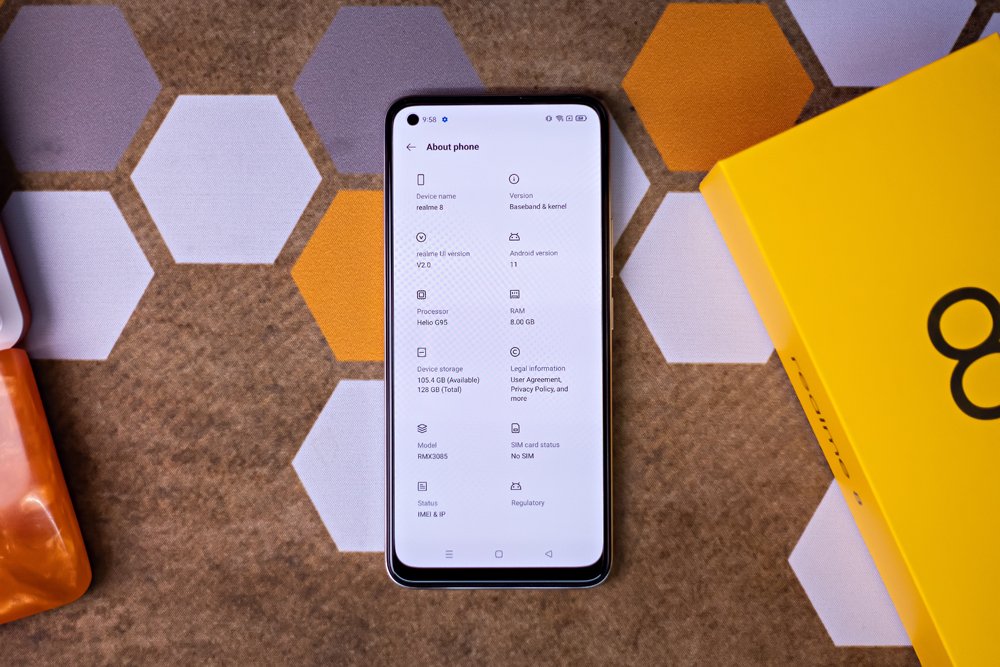 Display and Speaker
In terms of the display, again what we have here is a 6.4″ Super AMOLED Display with a 2400×1080 Full HD+ Resolution, peak brightness of 100nits, and a touch sampling rate of 180hz. This Super AMOLED Display makes the realme 8 very compelling at its price point especially if you're looking for a smartphone primarily for media consumption.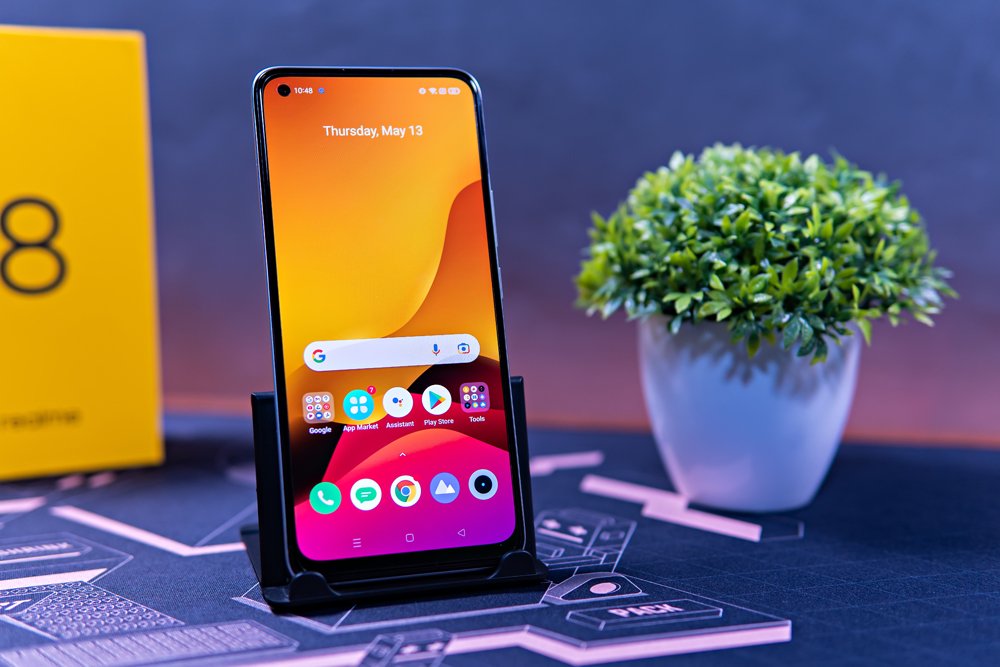 Having a Super AMOLED display means you'll have that deeper blacks, a good contrast ratio, vivid colors, sharp details, and good viewing angles.
And with a peak brightness of up to 1000nits, you can easily view the display in extreme lighting conditions and for outdoors.
Unfortunately, since this is a mid-range phone, realme has to ditch the high refresh rate feature from this display in favor of the Super AMOLED panel.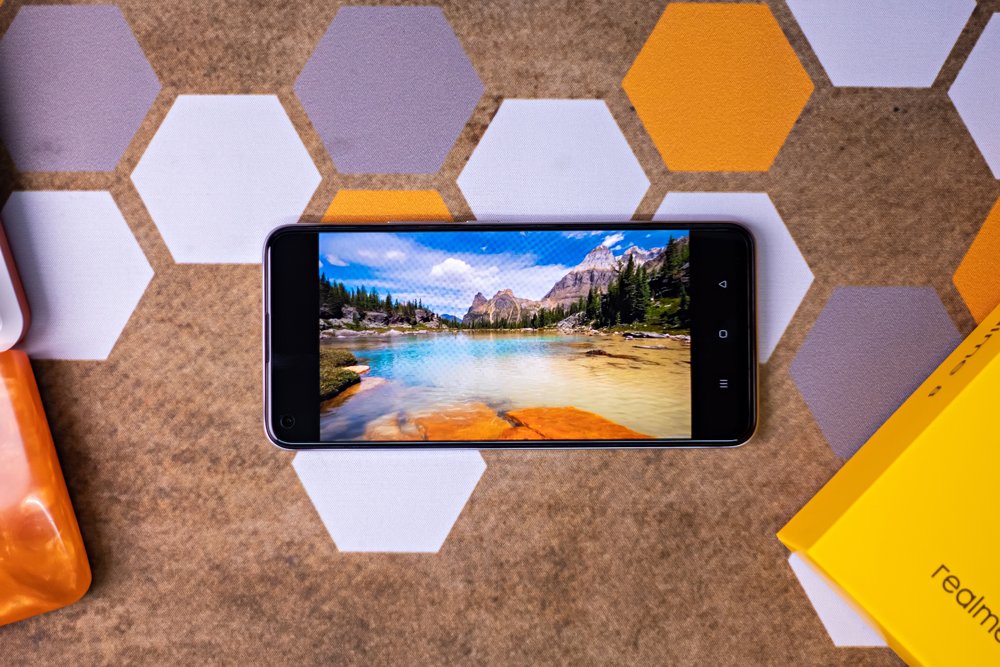 As for the speaker, we only have a single downward-firing speaker that for the most part is quite adequate but nothing to write home about or discuss in full detail. I would say the low end is almost non-existent but it has decent mids and highs, albeit, can easily get harsh on higher volumes. It does its job but since we don't have a stereo speaker setup, volume levels, and the overall listening experience is just well, adequate. Luckily, we still have a 3.5mm headphone jack to plug in our favorite IEMs and Headphones.
Performance
Basic tasks such as browsing the user interface, opening multiple apps, editing photos, videos, and what not can easily get handled by the MediaTek Helio G95 processor and the Mali-G76 MC4 GPU. And with a substantial amount of RAM with 8GB in total, multitasking and changing between opened apps is quite smooth.
Now, we all know its predecessor, the realme 7 is capable of gaming, and with fairly similar specifications, the realme 8 is also equally capable with an Antutu Benchmark Score of 358356.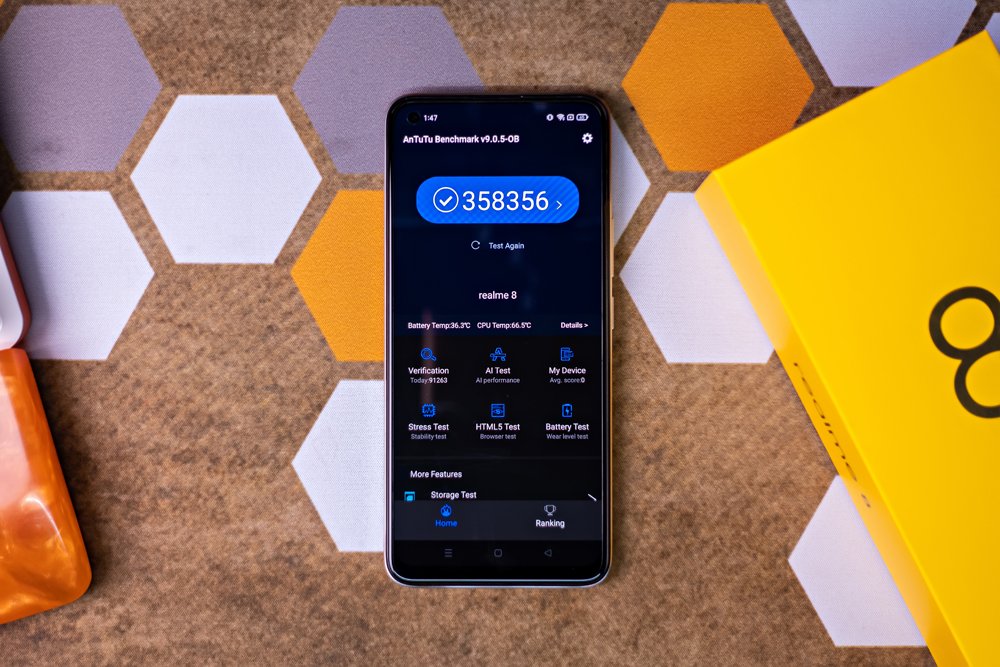 The following are all the benchmarks we run using the realme 8 smartphone.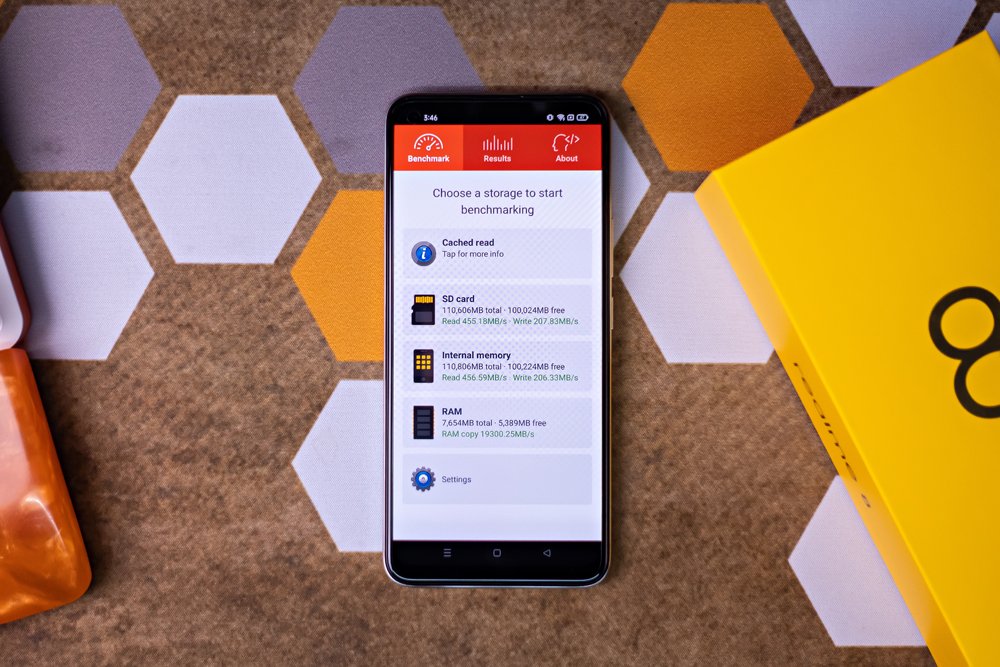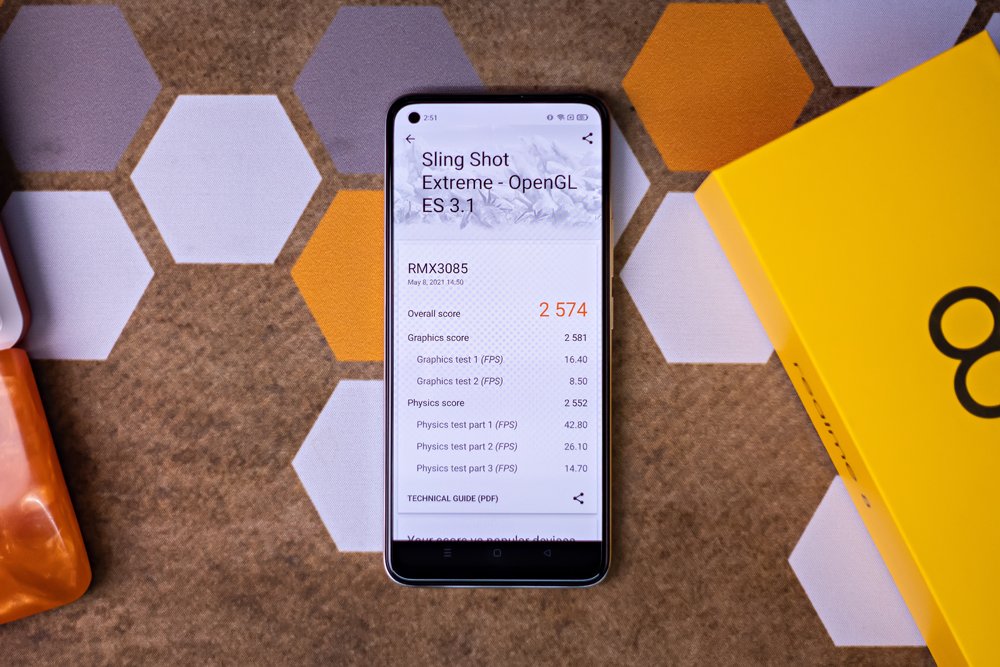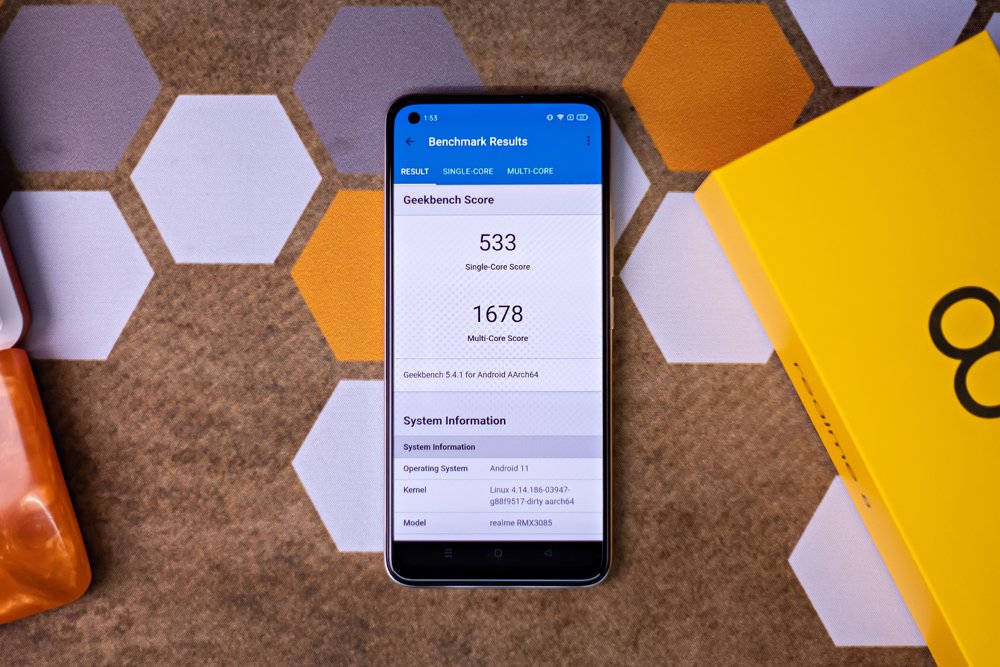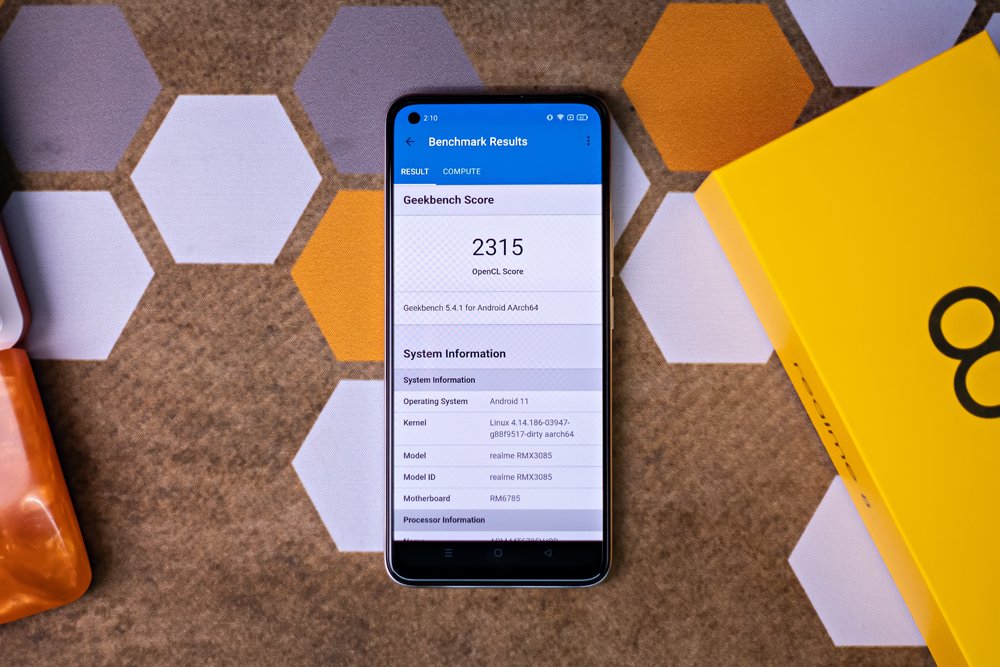 Battery Life and Charging Time
One of the things that I liked about the realme 8 is the outstanding battery life, which is to be expected given the massive 5000mAh of battery it has inside. I tested it at least 3 times using the PC Mark Work Battery Life Benchmark and I got around 10 to almost 12 hours of battery life which is pretty awesome.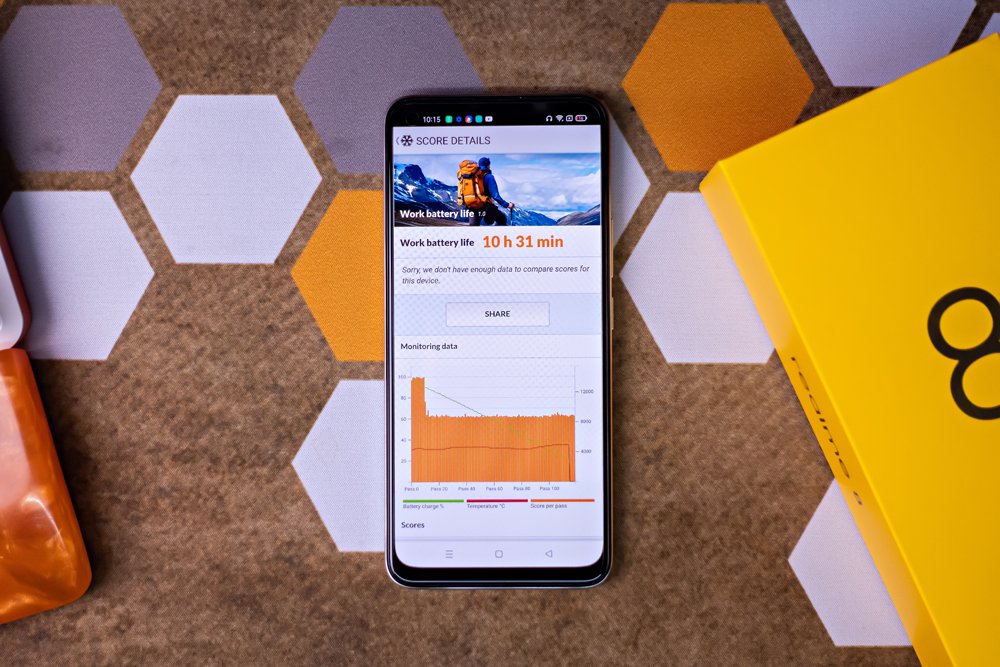 On the other hand, charging the 5000mAh of battery using the 30W Dart Charge power brick, took around 2 hours and 36 minutes.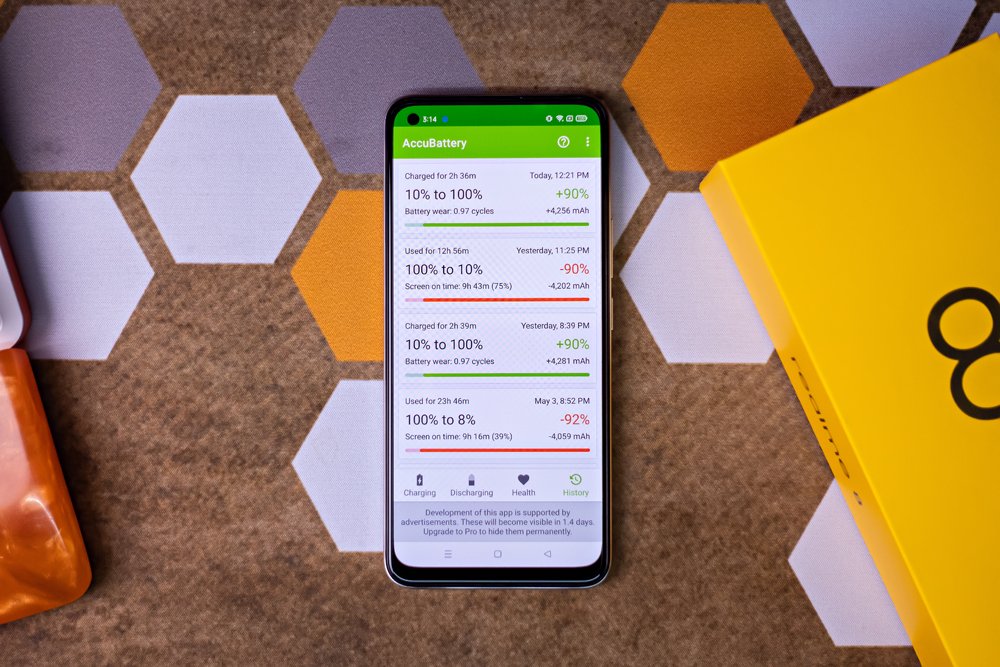 Camera
And last but not the least, before we end this review, let's look at some sample photos from the 16MP in-display selfie camera as well as the Quad-camera setup at the back.
16MP In-Display Selfie Camera
With adequate lighting, even on indoor use, the 16MP In-Display Selfie Camera is pretty decent. The built-in post-processing is also fairly good, nothing too crazy in terms of oversharpening and denoising. For the most part, the images look good! The background separation or portrait mode also works fine with minor imperfections on the edge detection but totally passable for the untrained eye.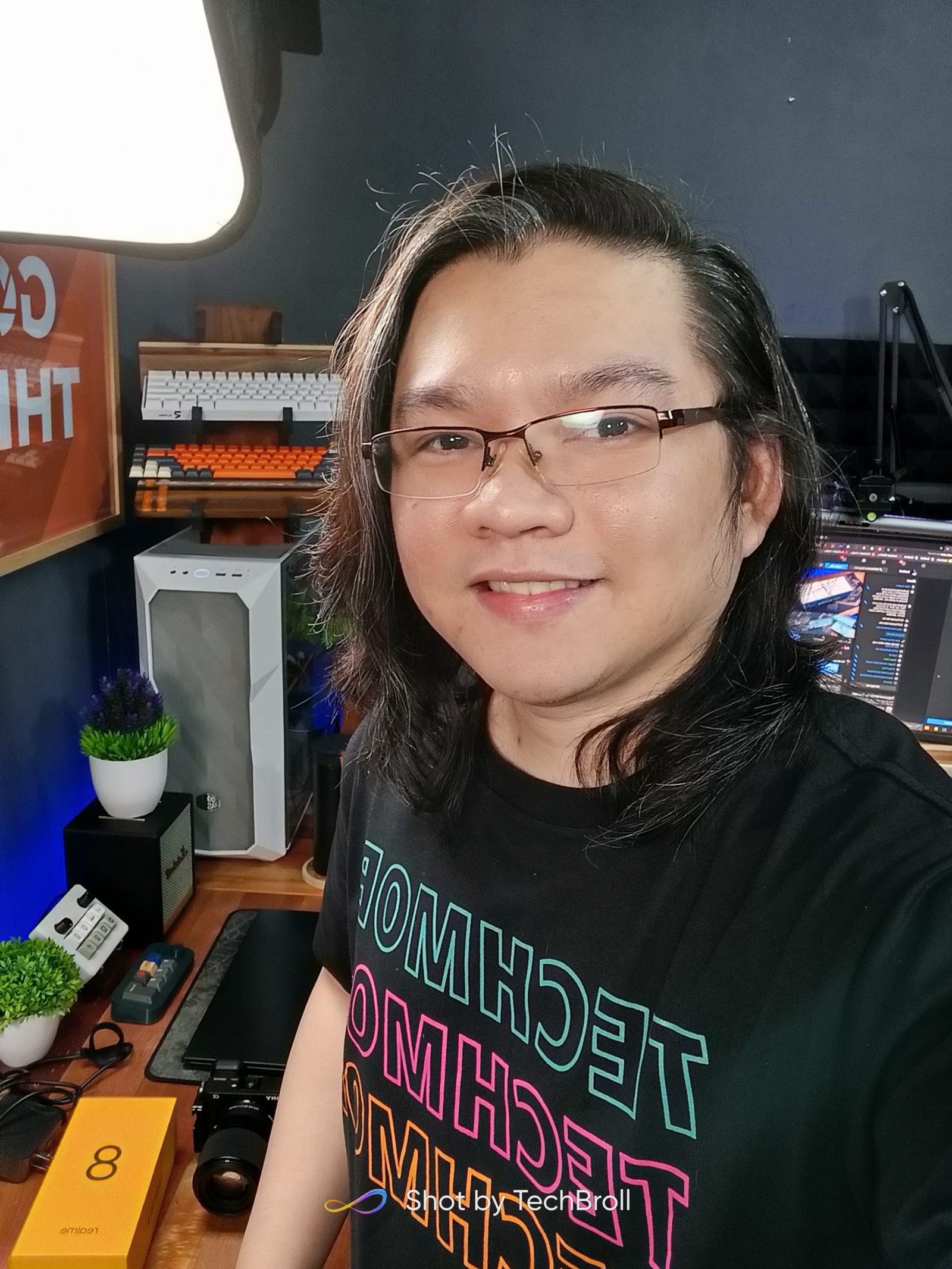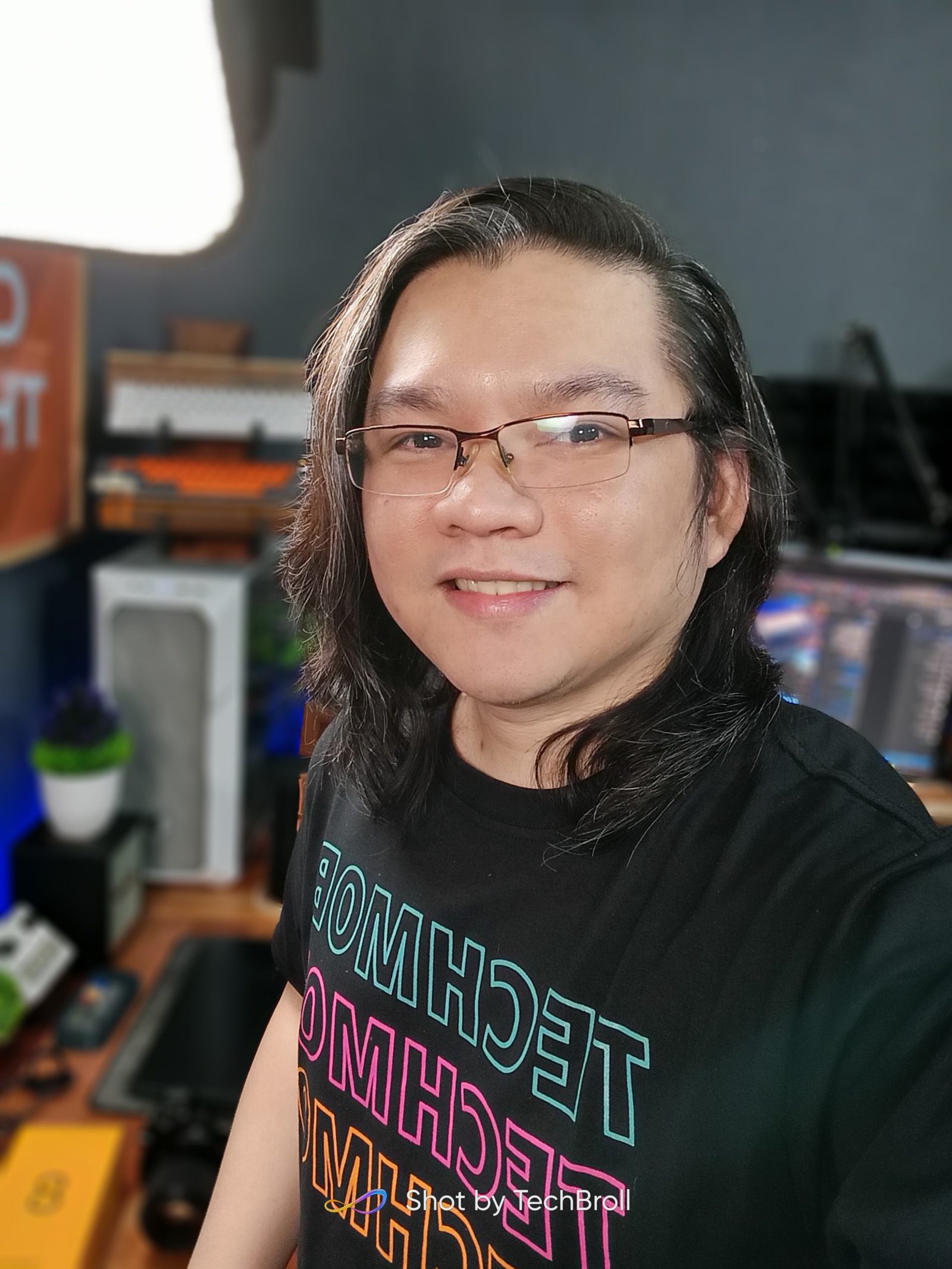 Quad Camera Setup
The rear Quad Camera Setup is also pretty good for the most part. 
The 1X is pretty balanced in terms of dynamic range, contrast, and sharpness, though the post-processing is slightly on the unnatural side I would say, but perfectly usable for social media posting.
The 2X is also very good with a slightly different color compared to 1X but the dynamic range, details, and contrast is pretty good in my opinion.
The 5X is obviously less detailed but can be useful in certain situations.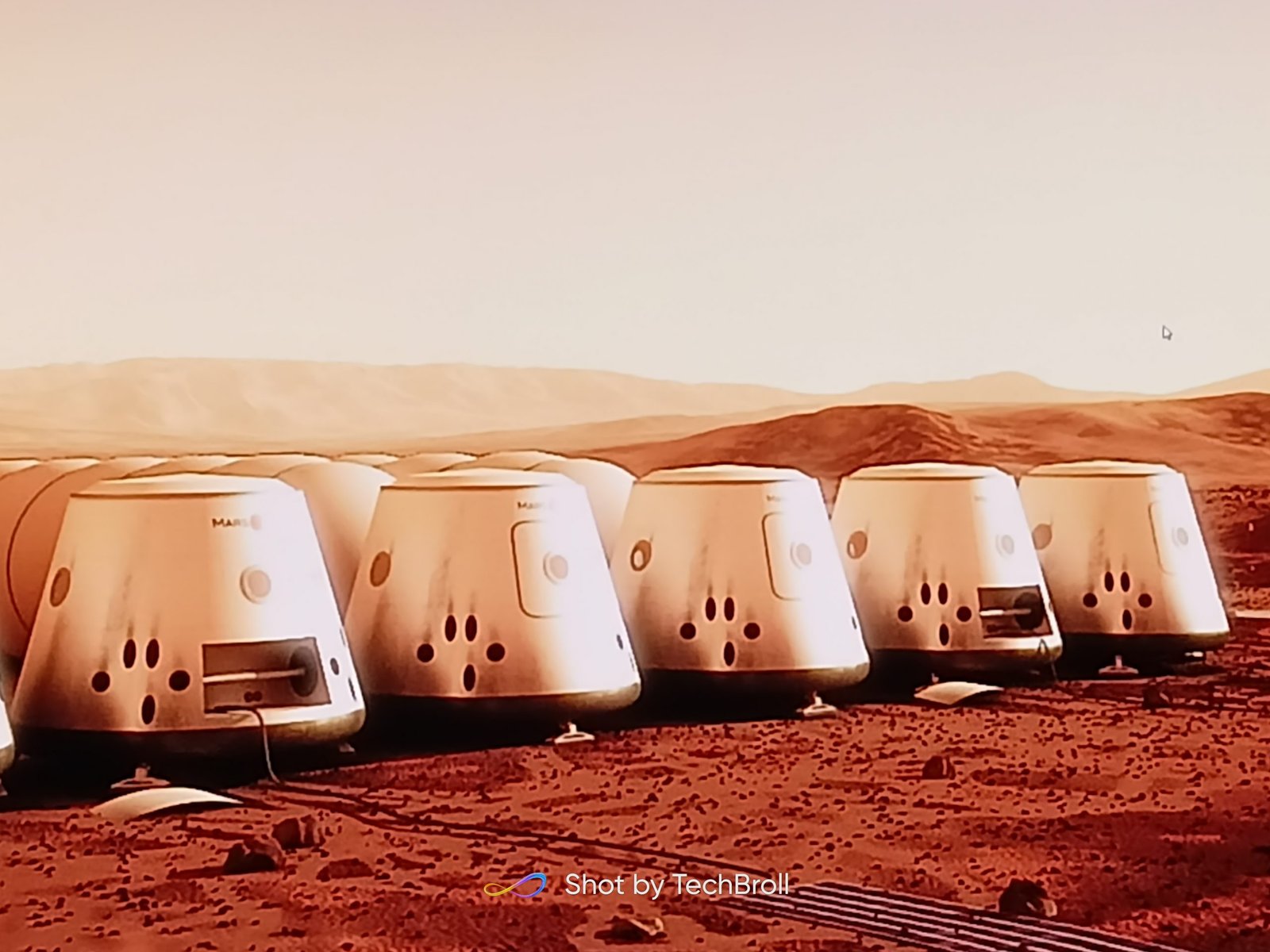 However, the ultrawide angle lens tends to overexpose the highlights.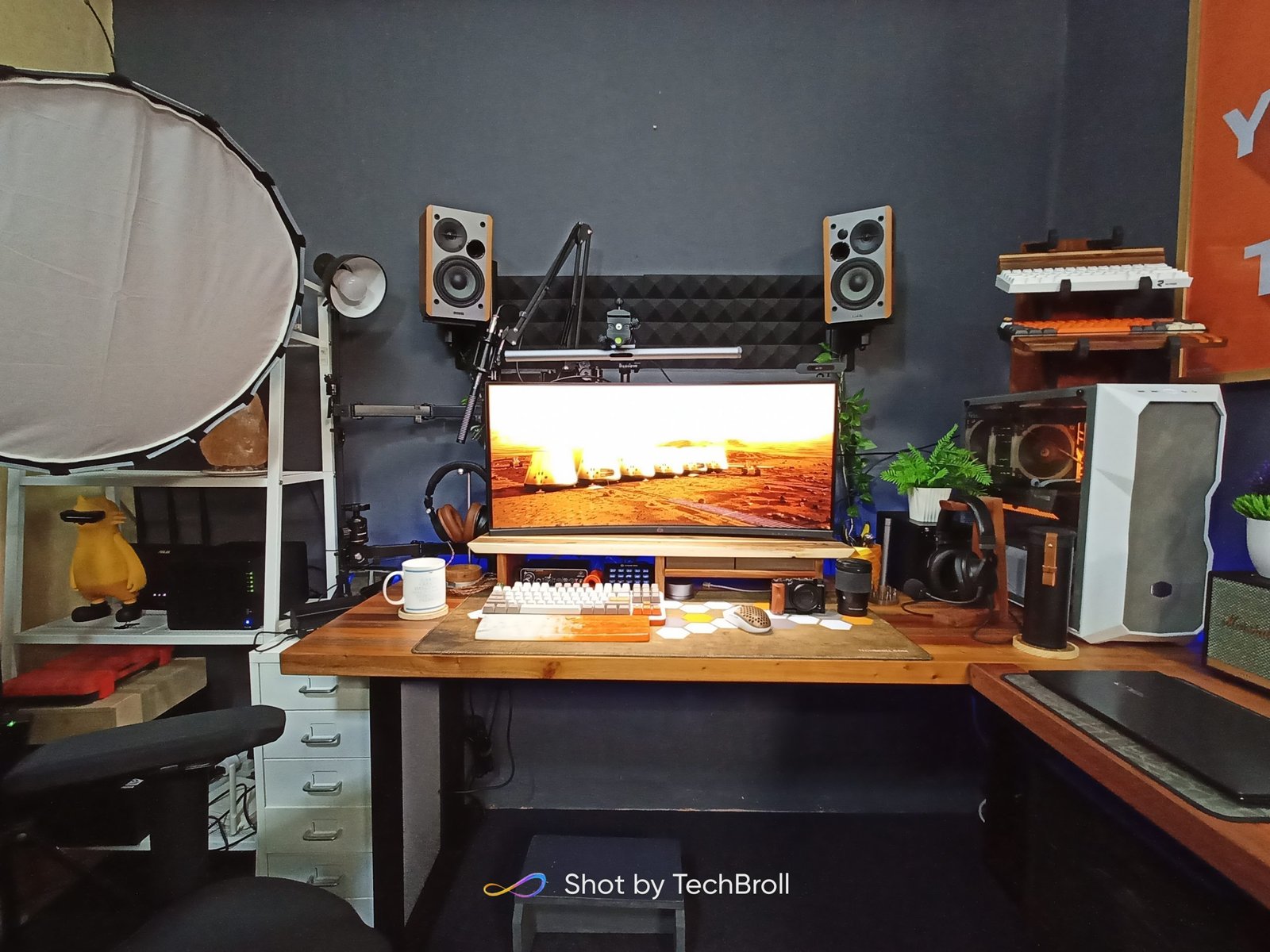 Ultrawide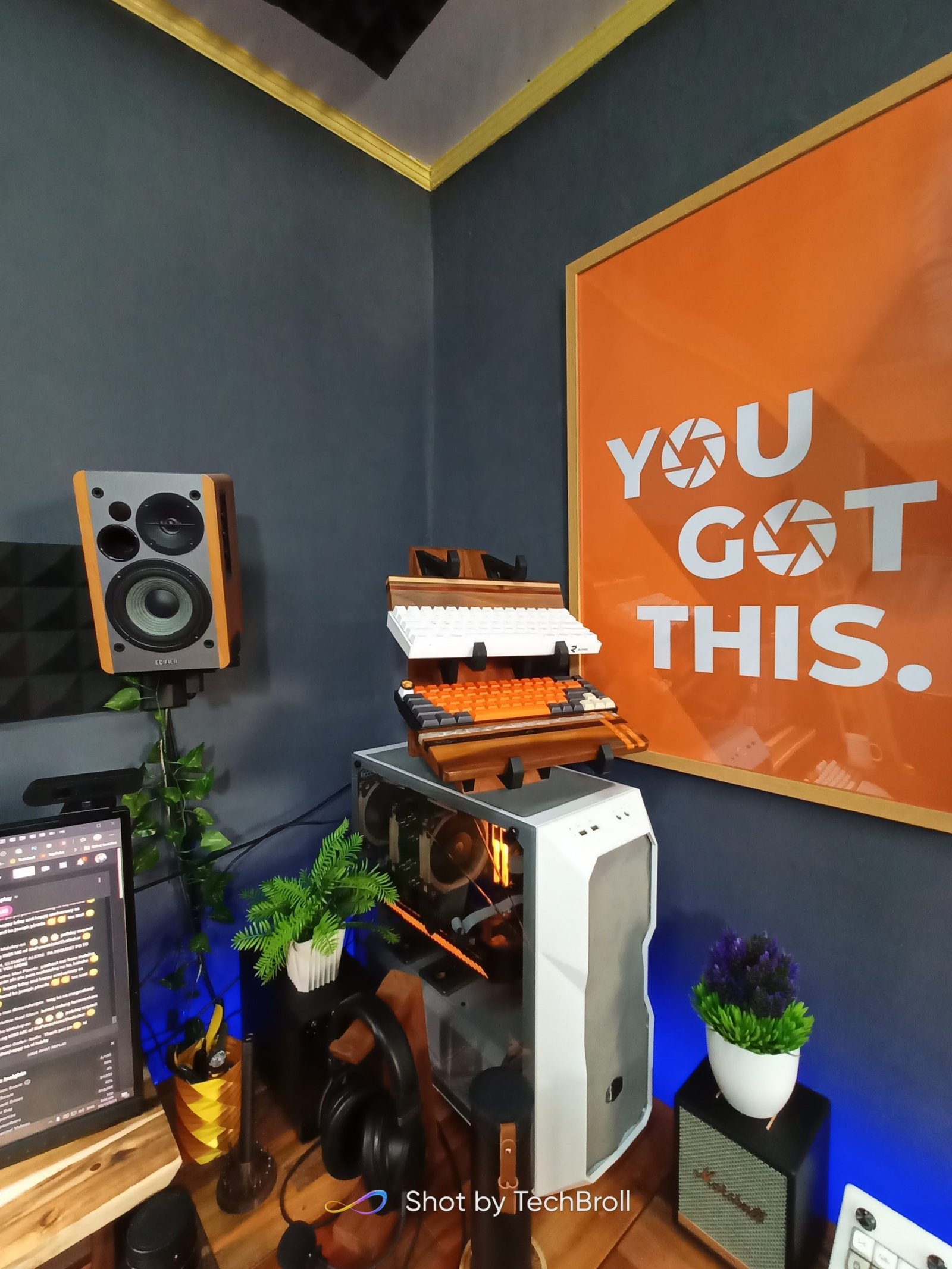 1X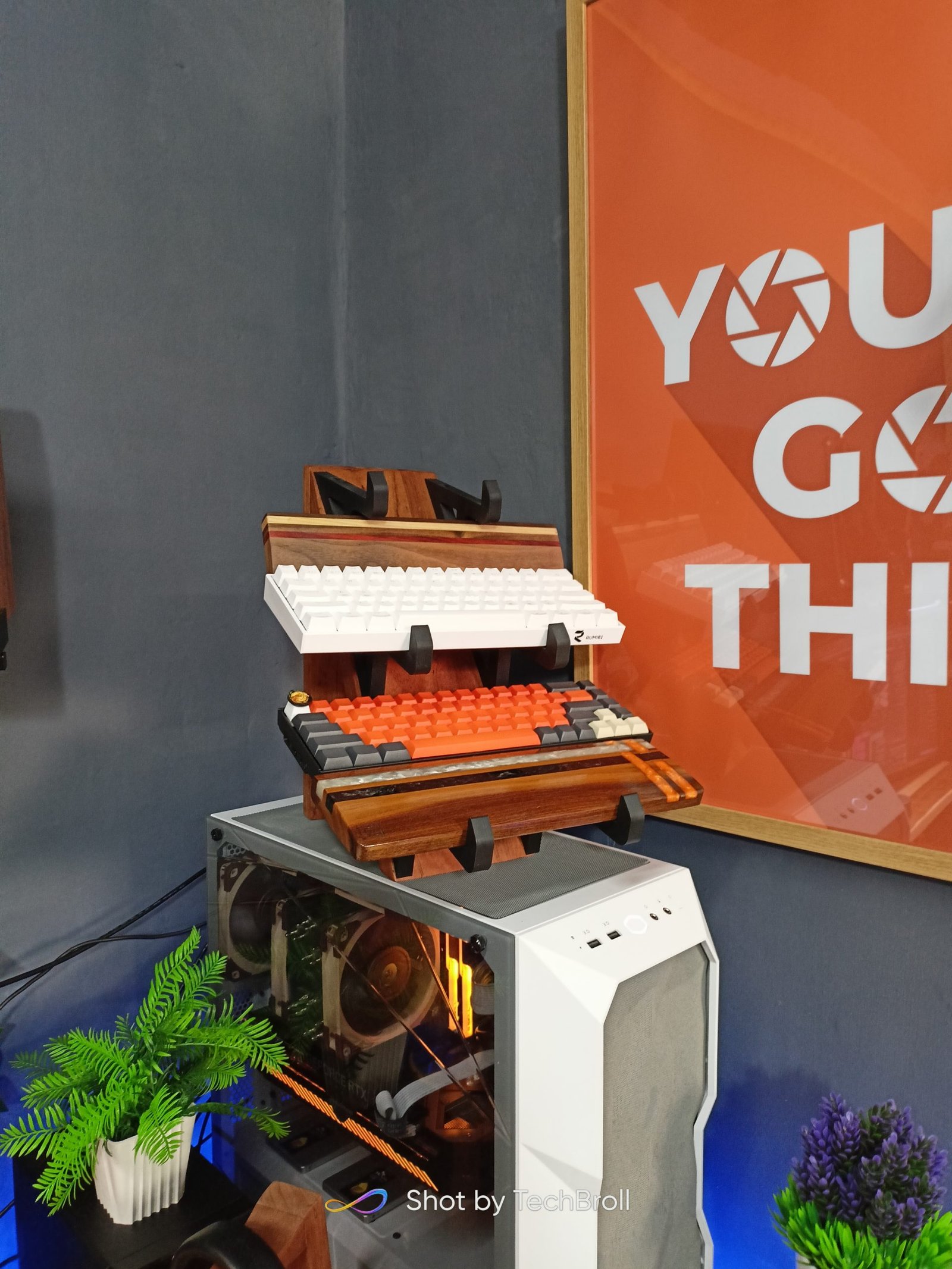 2X
5X
UItrawide
1X
2X
5X
The night mode is probably one of the things that I find really useful especially for low-light situations. Just grab a tripod or place your phone on a stable platform since it will take a few seconds to process the image and you'll have a perfectly usable image like the one below. 
Ultrawide – Night Mode
1X – Night Mode
2X – Night Mode
5X – Night Mode
Aside from the normal photo mode, portrait, and night mode, the realme 8 also features a bunch of filters such as Dynamic Bokeh, Neon Portrait, and AI Color Portrait. Features that I never really use since I want my photos to be as natural as possible and then just post-process them to my own liking afterward. 
VERDICT
To conclude, the realme 8 is really an interesting one compared to the rest of realme's prior releases at least in terms of the bold design. It offers a fresh new idea when it comes to design that although a lot of people might not like, certainly has its own market space, most especially those who want to have an eye-catcher, head-turner, flashy phone to keep up with the trend amongst the younger generation. Of course, anyone can rock this one even us "Titos" and "Titas'. Design language aside, the realme 8 also features an amazing super AMOLED display that is certainly a joy to watch videos with and browse colorful content online. And although most of its notable specifications are about the same as its predecessor, at least we already know that it is capable. And at the end of the day, it will just boil down to your decision, if you're willing to spend the extra for this latest variant with a super AMOLED display and a fresher design and if you're willing to make that trade-off between a super AMOLED display and a normal IPS display but with a higher refresh rate for gaming. Though at this point, I think the realme 7 is already out of stock so I guess, the realme 8 is the one to go.
Price and Availability
The realme 8 is priced at Php 13,990 but as of the time of this writing, there is a special promotion happening in Lazada wherein you can get this for only Php 12,790.00.

Pros
Bold design
Decent construction
Slim profile
Good performance
Outstanding battery life
Awesome Super AMOLED Display
Decent camera
Cons
Fingerprint magnet finish
Same processor and graphics from its predecessor
No high refresh rate display
SHARE THIS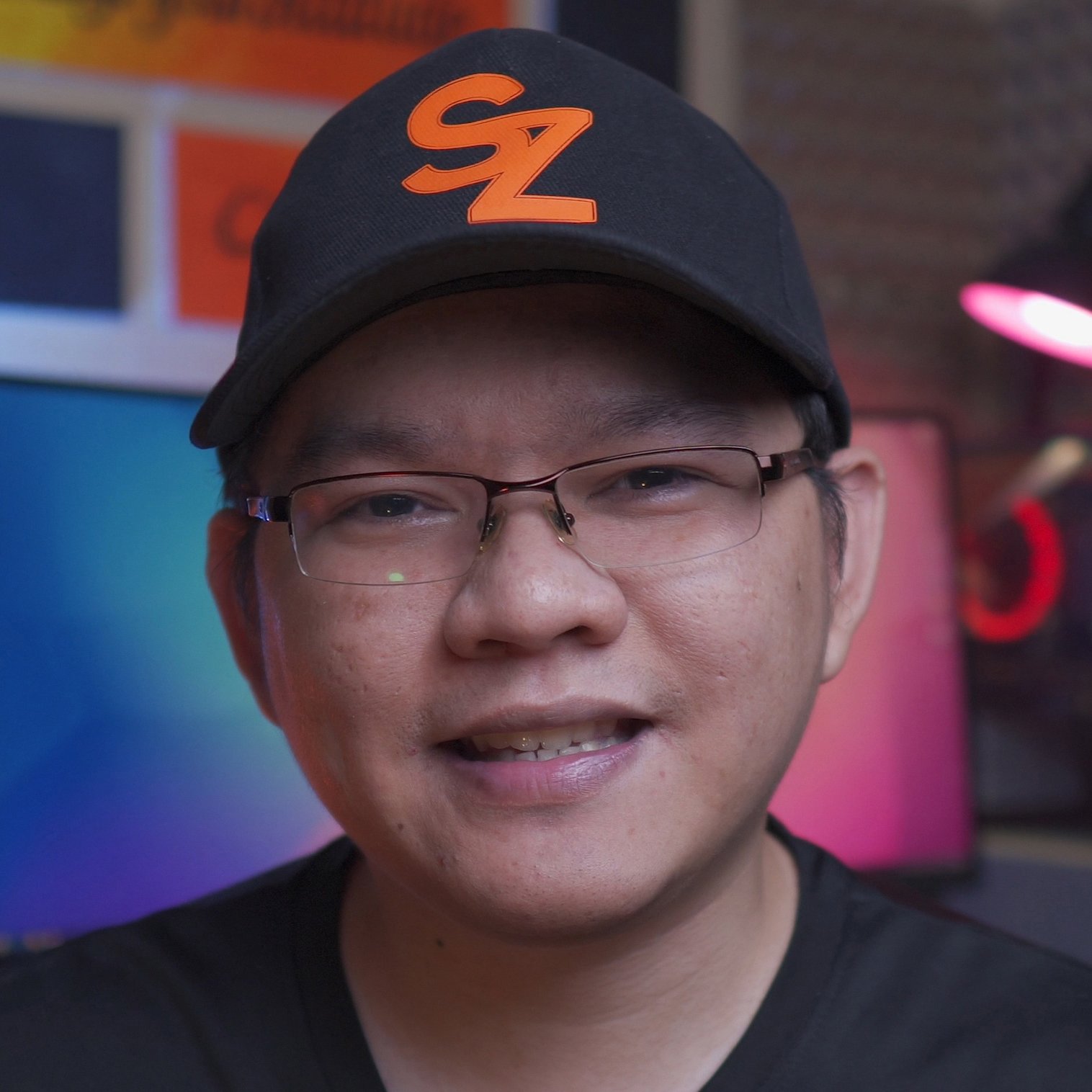 The Broll who always got your back online!