Today, I'm finally giving you guys my full review of the Byksi 240mm AIO. We're going to test this in various conditions and see how it performs in both stress tests and real-world performance. I'm also going to introduce to you in this article my methodology for testing AIOs so that you can get a better understanding of how I came up with my results. With that said, let's get into it.
MY EARLY BREAKDOWN
Pros: Decent performance, Aesthetically pleasing
Cons: Average build quality
FEATURES
Finest Craftsmanship
Built in A-RGB lighting
Designed to Fit Standard 120mm Fan Locations
SPECIFICATIONS
Model:B-FRD120-RBW
Brand:Bykski
Radiator Dimensions:151mm x 119mm x 27mm
Pump Speed:2300 RPM ±10%
Connector type:4-Pin PWM
Tube Material:Teflon
Fan:120mm A-RGB
Fan Speed:400-1500 RPM ±10%
Air Flow:64.8 CFM
Noise:33.6 dBA
Voltage:12V Fan / 5V LED 
COMPATIBILITY
AMD Socket: AM4 / AM3+ / AM3 / AM2+ / AM2 / FM2+ / FMA2 / FM1
Intel Socket: LGA 2066 / 2011-v3 / 2011 / 115x / 1366 / 775
Fittings:G 1/4 Thread
WHAT'S IN THE PACKAGE
1x CPU Water Cooling Block w/ A-RGB
1x 120mm Integrated Radiator
1x AMD Mounting Bracket
1x Intel Mounting Bracket
1x Set of Mounting Hardware (4x mount / 4x short fan / 4x long fan)
1x A-RGB LED (RBW) Fan
(Warning: Addressable RGB (RBW) is 5V and is ONLY compatible with A-RGB (RBW) components. RGB is 12V and is ONLY compatible with RGB components. Mix and match will NOT work and will cause damage.
The Bykski AIO features addressable RGB pump and case fans that are compatible with Asus Aura Sync, MSI Mystic light, and ASRock's Polychrome sync,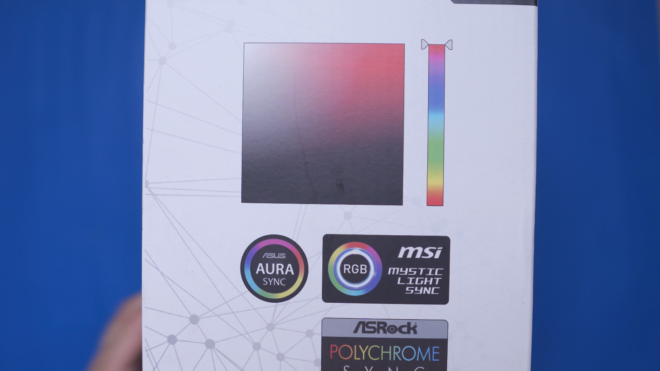 It wasn't mentioned on the box but it is also compatible with Aorus RGB Fusion 2.0 which I was able to confirm since I am now using an Aorus motherboard.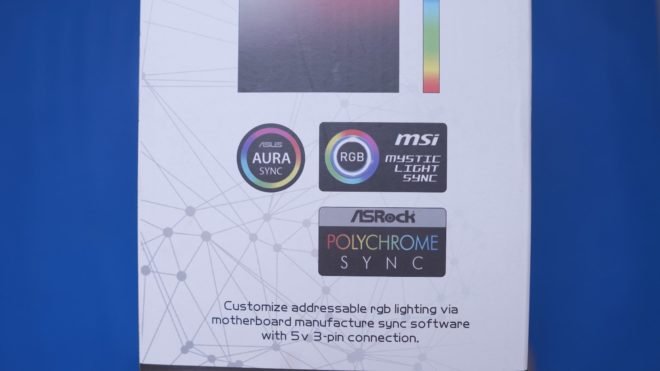 The pump itself is rated up to 2300 RPM give or take and the 2 case fans are rated up to 1500 RPM which is a bit lower than I would like but we'll see later how it will perform. 
Unboxing and Parts Overview
Essentially, what you're getting inside the box is a set of mounting brackets and screws for both intel and AMD,
A thermal compound,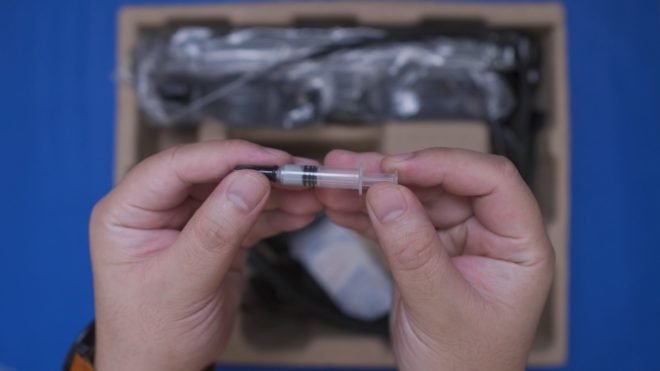 A rather small but easy to understand user manual,
2 addressable RGB case fans,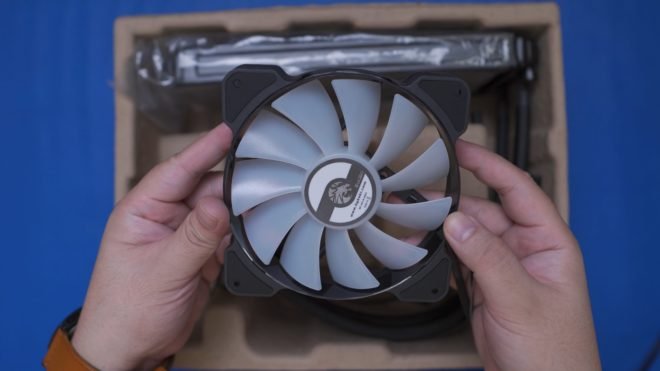 An RGB controller powered by Molex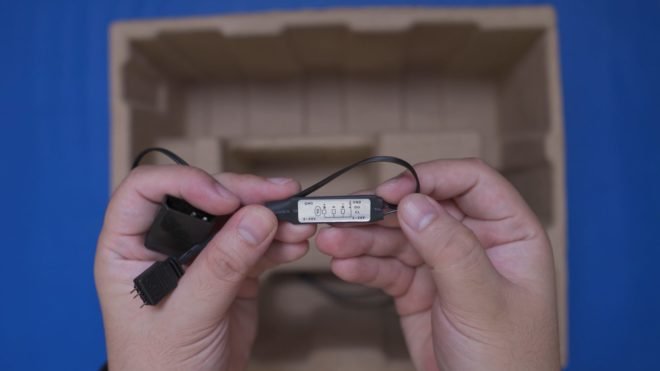 And a fan splitter.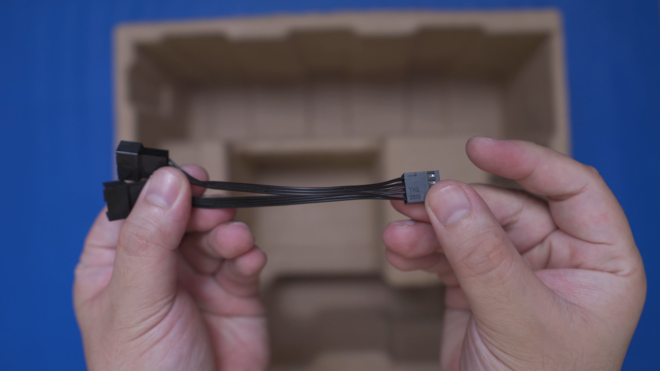 The design of the case fans is quite simple, black housing with white translucent fan blades. It is rated with 12V and 0.2A; this is actually a vital information in case you're going to daisy chain your fans into a single fan header.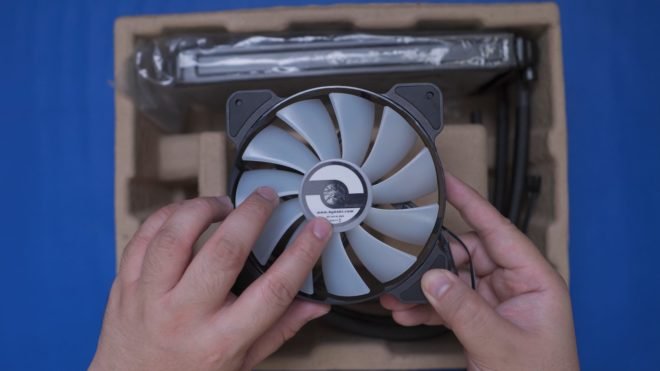 It has anti-vibration rubber on all four corners on both sides,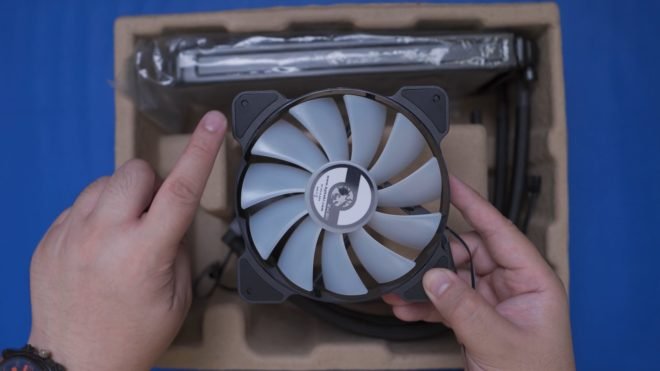 And it also has 2 connectors,
A 4 pin fan connector and a 3-pin ARGB connector split into two with one female and one male connector.
Now, let's take a closer look at the Bykski AIO and what we have here is the 240mm version.
Design and Construction
In terms of design and construction, it is pretty decent but nothing to write home about. The majority of the pump is made of hard plastic materials with copper base plate and it has this sort of two types of finish.
The tubes connected to the pump is rotatable but the Teflon tubes itself are rather thin than I would prefer.
What I like about this on the otherhand, is the design of the front of the pump itself, it has this honeycomb design with translucent lining and a small Bykski logo at the center.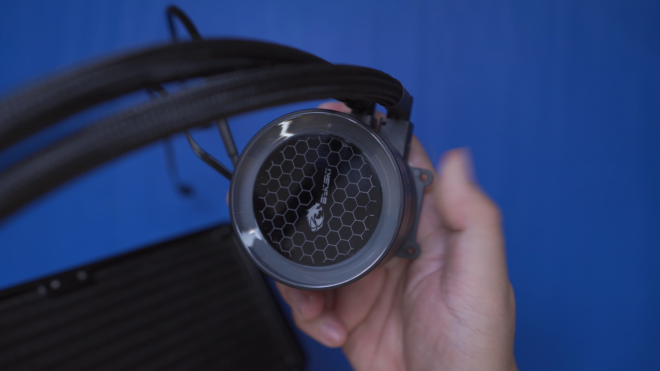 In terms of the radiator, it has dimensions of 274mm x 119mm x 27mm which I think is pretty standard for a 240mm AIO.
On its side, we have a Bykski logo at the center.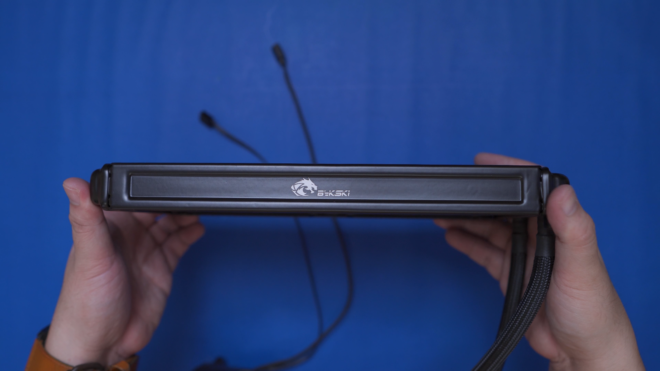 In terms of the interface, the pump has a pump connector and a 3-pin addressable RGB connector.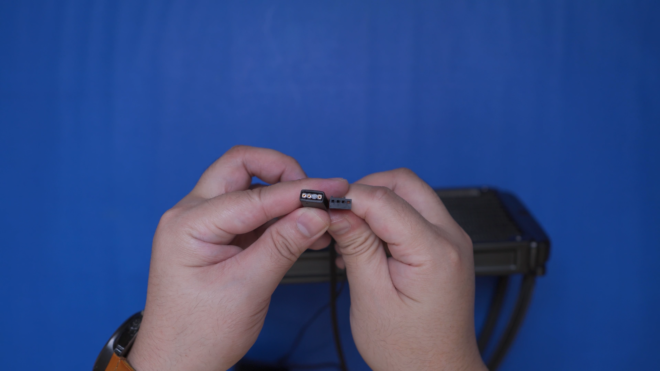 RGB Lighting Control
The Bykski AIO comes with an inline remote with clicky buttons where you can toggle all the different lighting effects, the only downside is it's not wireless like other infrared remote control. However, I discovered that the pump and case fans are actually compatible with ID-Cooling's remote so you can essentially connect all of them and change the lighting effects using just the IR remote of ID-cooling in case you are also using ID-Cooling case fans.
The Pump's RGB is synchronized with the case fans so you basically have the same lighting effects. As you can see, the pump is certainly an eye candy and the RGB illumination really pops out with the circular lining and the honeycomb design, I think this is one of the strong points of this AIO in case you're looking for an aesthetically pleasing one.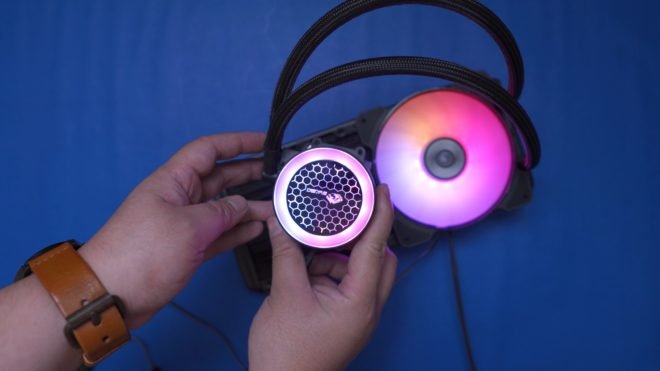 Mounting Experience
Mounting the AIO is pretty easy, the instruction is easy to understand but I feel like Bykski can improve the materials used for mounting the pump especially the plastic part as you can see here.
AIO Benchmarking Methodology
Now, before we move on to the actual numbers, let me introduce to you my methodology moving forward for any AIO testings, because I think this is very important so that you'll get a better understanding of how I came up with my results.
Let's start with the specifications of my system.
I am currently using an AMD Ryzen 5 2600x processor in an Aorus B450 Pro Wifi motherboard with 16GB of 3200mhz Gskill Trident Z ram. I'm pushing pixels using a Zotac 1070 mini graphics card booting from a 480GB Kingston UV500 SATA SSD. I have 6 ID-Cooling DF-12025 case fans cooling the system inside a Rakk Hawani Flow mid-tower case. I prefer to test AIO in a closed case because realistically, that's how I am going to use it on a daily basis.
Alright, so first I made sure that the Bios of my motherboard is up to date, in this case, I've updated my Aourus B450 Pro Wifi to Bios version F50. I also made sure that Core Performance Boost and Precision Boost Overdrive is enabled to get the ideal performance out of my AMD Ryzen 5 2600x, making sure it is auto boosting up to 4.2ghz. All the other settings including voltage are set to auto but I'll show you guys later the actual values it achieves during an entire run as well as the actual RPM of the pump and actual frequency of the processor so that we'll leave no information behind.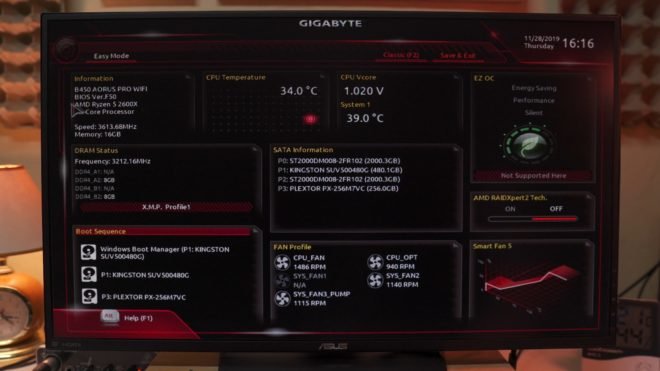 Now, testing AIO is quite complicated compared to testing Air Coolers because with AIOs, it takes a lot of time for the temperature to level out due to the nature of its components. Liquid takes time to heat up and you also have to consider the surface area of the radiator and the tubes of the entire loop. With that said, I did a few different runs so that we can have an idea of how the Byksi AIO performs.
I did a 15 minute idle test, a 1 hour Aida 64 extreme stress test which I think is long enough to capture accurate data when the temperature finally leveled out, I also did a 15 min Aida 64 extreme stress test with all the fans and pump running at maximum speed to get the raw performance of the AIO. I also did a 30 minute CS: GO Gaming test to get a real-world performance result. Like I said I also captured the actual pump speed, CPU voltage, and frequencies during the entire 1 hour run so that we can make sure that the testing was as accurate as possible. And for good measure, I also did another run of everything using a Noctua NT-H1 Thermal Compound. With that said, I think I did my best to capture data as accurate as possible and I also tried my best to maintain an ambient temperature of around 29.0 to 29.7 degrees Celcius.
Again this would be my methodology moving forward for reviewing AIOs. And I think this is also a more accurate test compared to when I initially reviewed the ID-Cooling FrostFlowX AIO.
Alright, guys, I think I'm done explaining things, so let's head into our benchmarks.
Thermal Performance Benchmarks
In a 15 minute idle test, the Bykski AIO's average temperature is 41.5 degrees which I think is pretty decent.
After that, I ran a 1-hour Aida 64 extreme stress test and the Bykski AIO's average temperature during the entire run is 54.2 degrees.
This is with auto calibrated standard fan curve using the Aorus SmartFan 5 software.
Now, to eliminate any possible inaccuracy or issue due to fan curves, I also did a 15-minute Aida 64 extreme stress test with all the case fans including the pump set at maximum speed, in this test, the Bykski AIO performed slightly better with an average temperature of 50.5 degrees.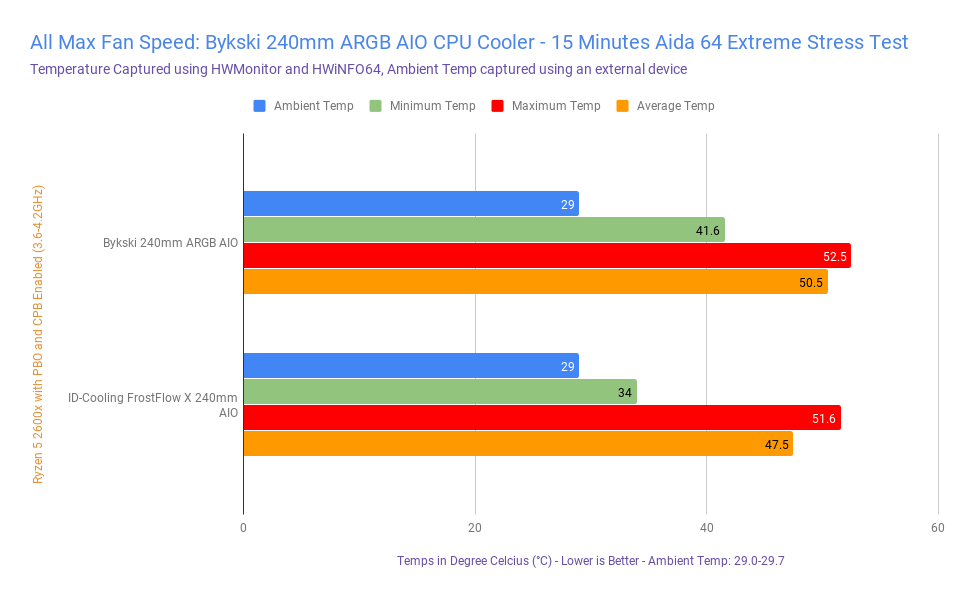 Pump Speed Test


During the entire 1 hour run with standard fan curve, the Bykski AIO's pump run at a minimum of 1658 RPM, maximum of 2327 with an average of 2052 RPM, this should give us an idea how the pump responds to the standard fan curve.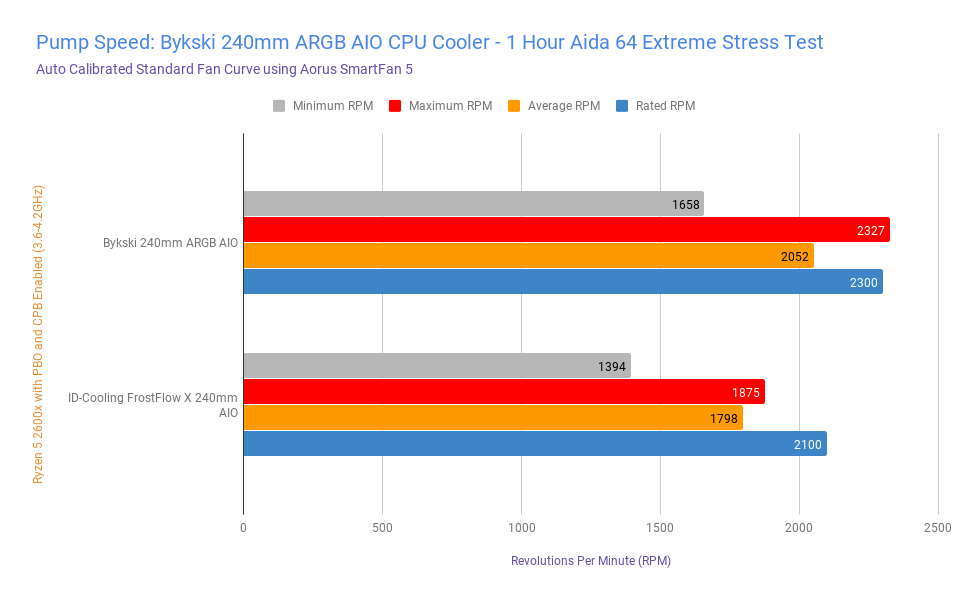 Now, at maximum pump speed settings, the Bykski AIO's pump maintained its rated maximum speed of 2300 during the entire run which is a good sign.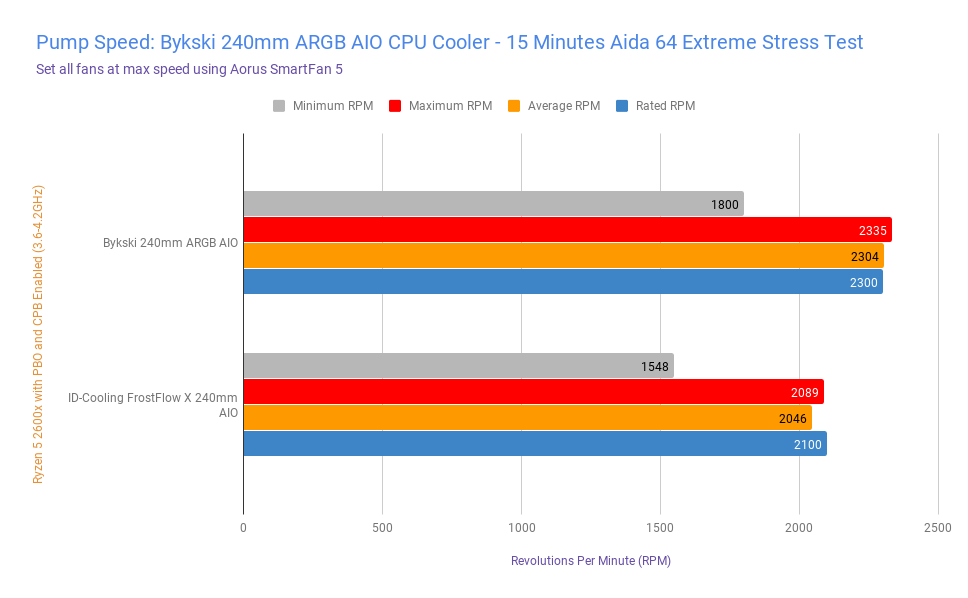 CPU Voltages and Frequencies


Now, here's the CPU voltage of the AMD Ryzen 5 2600x with PBO and CPB enabled during the entire 1-hour run.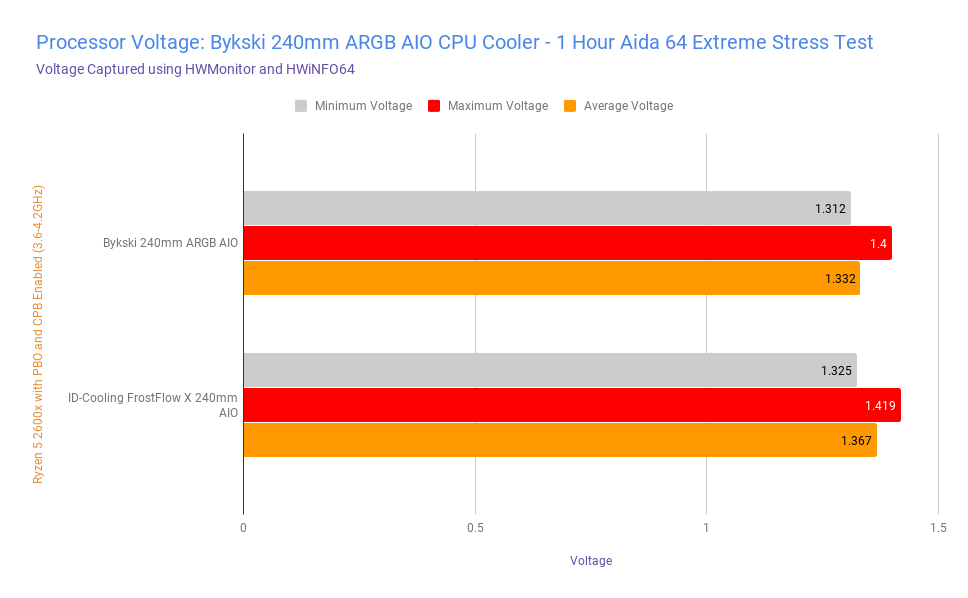 And now here are the frequencies during the entire 1-hour run, as you can see the processor maintained its boost speed of around 4.1Ghz to 4.2Ghz which gives us an idea that the processor is indeed on high load during our testing.
Stock Bykski Thermal Paste VS Noctua NT-H1
Next, I did another run of everything just to give us more accurate data to compare with. And since I ran out of the stock thermal paste from the Bykski packaging, I took this as an opportunity to test the performance of the Noctua NT-H1 thermal compound.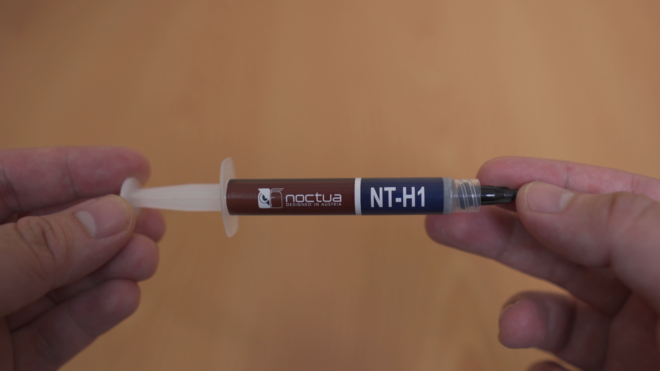 So at 15 min idle time, the Bykski AIO's average temperature drops slightly at 40.5 degrees, but the temperature of the ID-Cooling FrostflowX got hotter which is kinda odd.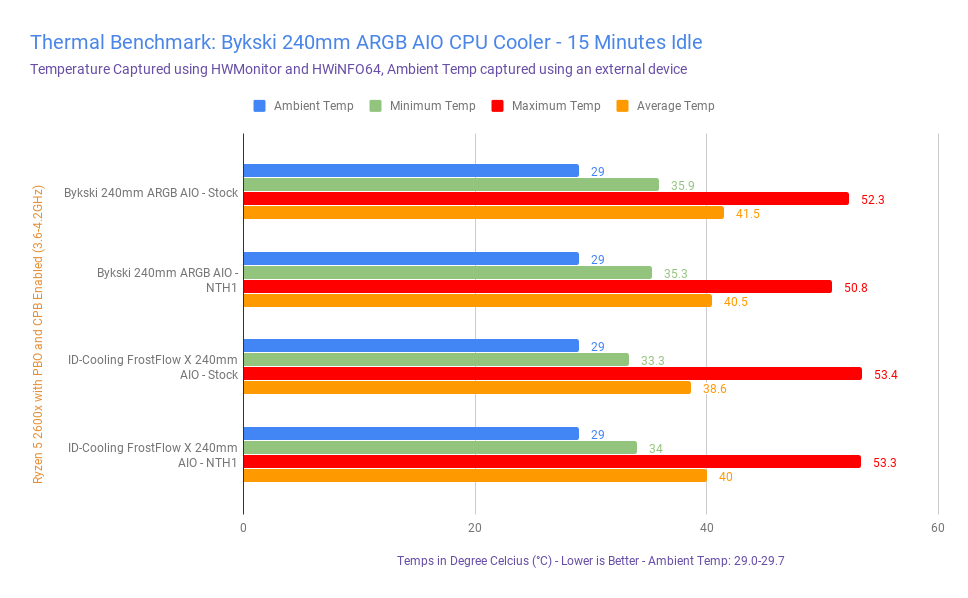 Now, in a 1-hour Aida 64 extreme stress test, the result is quite consistent with a slight drop of temperature for the Byski AIO with an average temperature of 53.5 degrees and the temperature of the ID-Cooling FrostflowX got hotter again.
Now, during a 15-minute Aida 64 extreme stress test with all the fan including the pump set to max, the Bykski AIO's average temperature also got a bit higher at 52.2 degrees.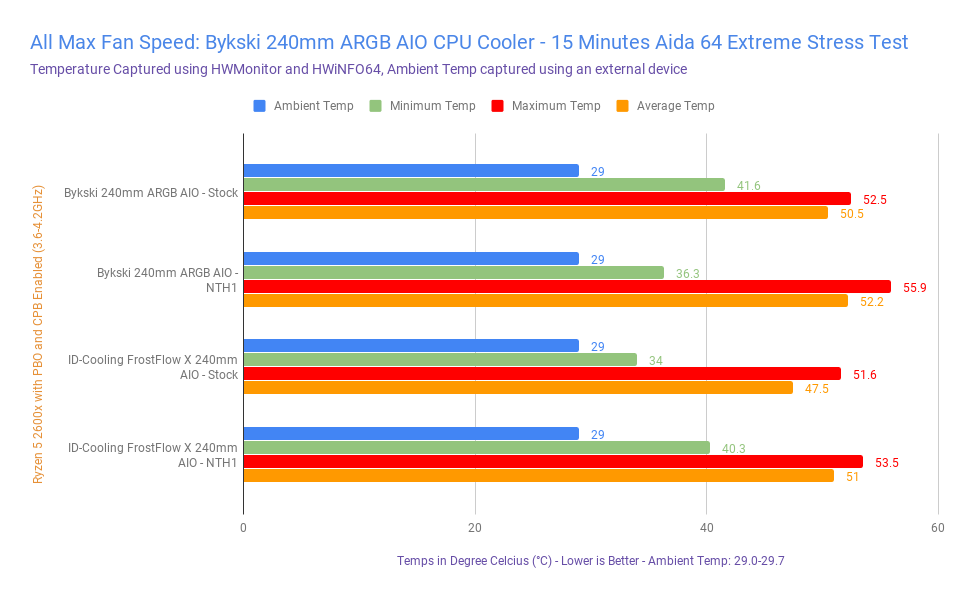 Now, at this point, we can only see a slight difference between the performance of the stock thermal paste versus the Noctua NT-H1 and the data is quite consistent if you look at the result of the ID-Cooling FrostFlow X as well with the Noctua NT-H1, it's either the stock thermal paste of the Bykski AIO is just good or the Noctua NT-H1 isn't that great, In my opinion, it could be the former.
Real World Gaming Thermal Benchmark


Next and as a final test, for a 30 minute CS: GO gaming test, which should be our real-world performance benchmark, the Bykski AIO's average temperature is 52.1 degrees which is pretty decent considering that CS: Go is a CPU intensive game.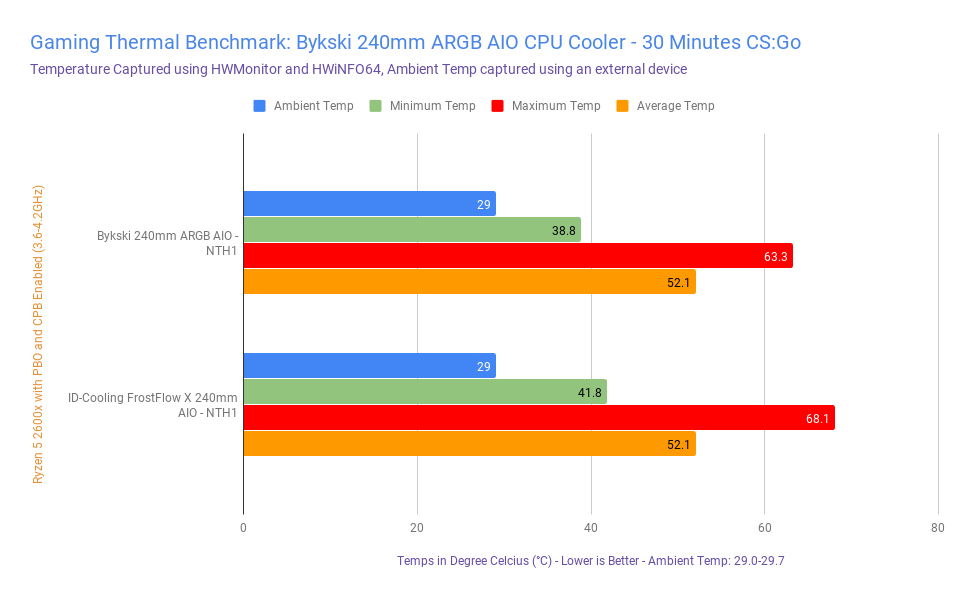 RGB Pump Temperature
By the way, I know some of you guys are going to be curious, so I also checked the temperature of the RGB part of the pump and see if it heats up alone. Thankfully it does not, the temperature is just around our ambient temperature.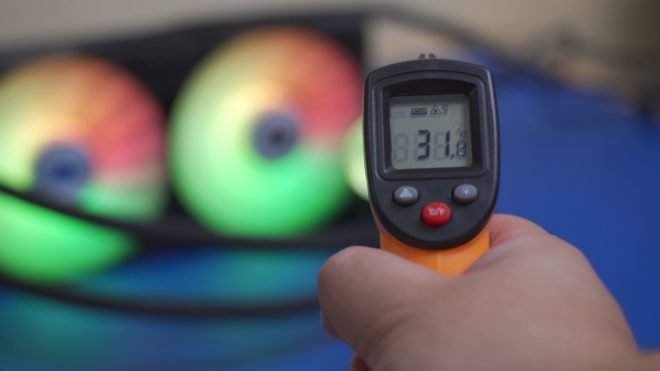 Overall, performance-wise, I wasn't really expecting much from this AIO judging by the packaging, build quality and the 1500 RPM radiator fans. But it definitely exceeded my expectations. This is one of those instances that you really can't judge the book by its cover.
VERDICT
To conclude, the Bykski 240mm ARGB AIO proved to be quite decent in both aesthetics and performance departments. The addressable fans albeit, rated at a lower fan speed, looks really dope complimented well with the equally good-looking pump with a nice honeycomb design and a subtle Bykski branding. The pump responded well on both standard fan curves and at max full speed indicating reliability when it comes to performance. Mounting implementation is good but I think they need to improve a bit when it comes to build quality especially with the plastic mounting part of the pump. Overall, I really like this AIO, certainly an eye candy and if you're looking for an AIO that is both aesthetically pleasing and can perform well, then this is a good option.
Bykski FouSeries AIO 240mm ARGB Review – How to test AIO!?
Thanks to 
Bykski PH
for making this review possible, you can get this AIO from their partner stores, link below.
If you like this one, please consider subscribing to my channel by hitting the button below. Have a great day!

WHERE TO BUY:

LAZADA: 
Bykski FouSeries 240mm ARGB AIO 
Price may vary depending on existing promos
The views and opinions on this review are solely based on my own personal experience, your results may vary
SHARE THIS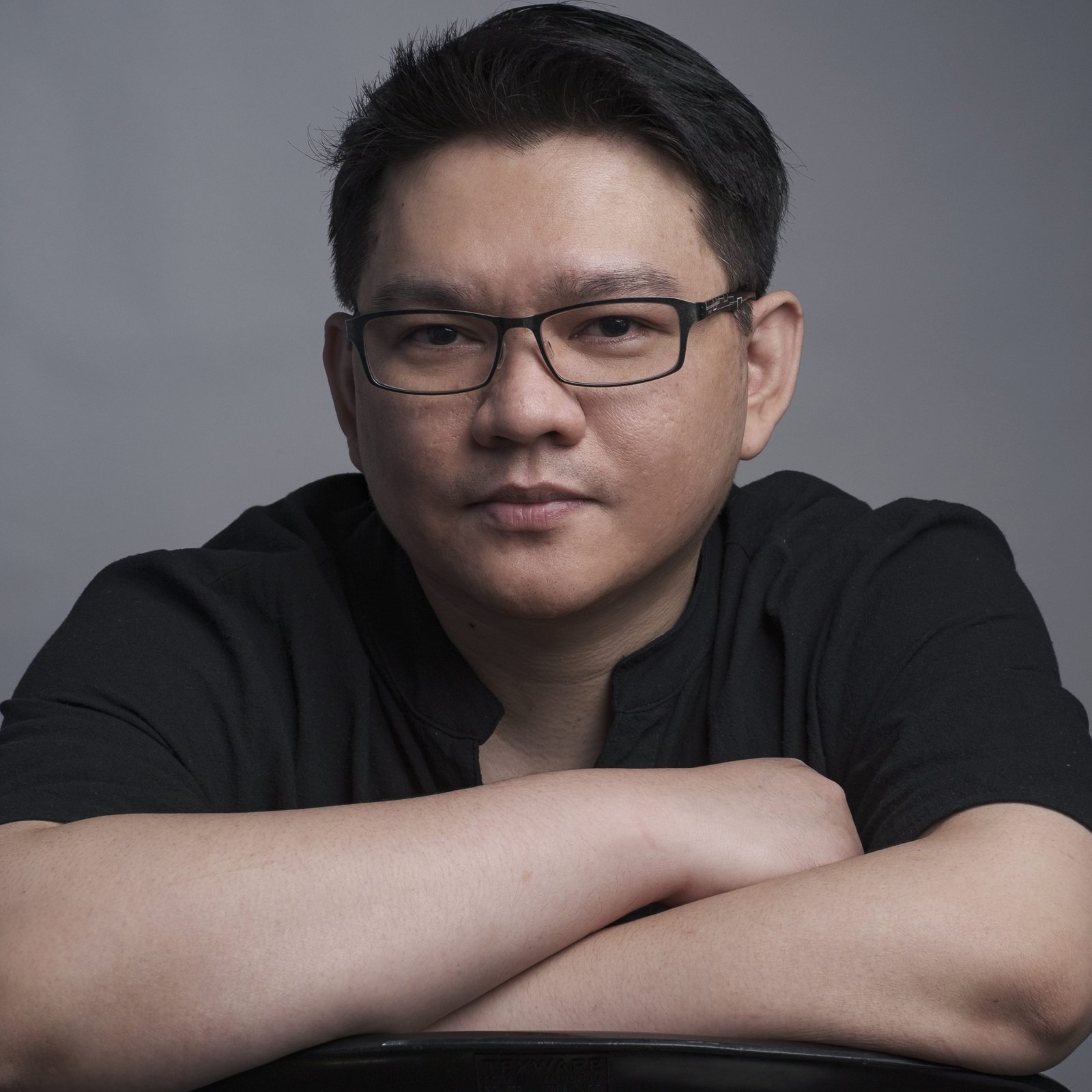 The Broll who always got your back online!