I got to tell you guys, I have an Apple Watch Series 7 and to be quite honest with you, I mostly use it nowadays just for sleep tracking and notifications, I barely scratch its full potential. And now that I've tried the realme Watch 3 which basically does the same thing that I use my Apple Watch for, it makes me think twice about why I even bothered spending that much on a smartwatch. Your mileage may vary of course because each individual has their own lifestyle and use case scenarios for a smartwatch but I'm just being honest. With that said, this latest iteration of the realme Watch is actually quite refreshing, especially the silver and gray variant that we have today, with a few significant upgrades while maintaining the same affordable price point. It has a bigger and brighter display, a new color variant that veers away from the typical boring all-black, a Bluetooth calling feature, continuous heart rate, blood oxygen, stress monitoring, and sleep tracking. It also has reminders, alerts, and a bunch of other useful features. 
MY EARLY BREAKDOWN
Pros: Affordable, Good design, and construction, Decent health and fitness tracking, Bluetooth calling, Decent battery life, Bigger and brighter display, Feature packed
Cons: Sometimes a bit buggy
SPECIFICATIONS
Clear Bluetooth Calling
1.8″ Super Large & Bright Display
110+ Sport Modes
Screen Size: 1.8-inch
Screen Type: TFT LCD
Screen Resolution: 240 x 286
Brightness: 500 Nits
Dimensions: (LxWxH): 254.1mm x 37mm x 12.9mm
Weight: 40g
Battery: 340mAh 
Battery Life: 7 days 
Magnetic Charging: Yes, proprietary
SPORTS MODE: 110+ Sports Modes
WATCH FACES: 100+, Live Watch Faces
Heart-Rate Monitor: Yes
Blood-Oxygen Level: Yes
Sleep Tracker: Yes
WATER RESISTANCE: IP68 Dust & Water Resistance
Removable Wrist Strap: Yes
Wrist Strap Width: 22mm
Wrist Strap Adjustable length: 150mm – 230mm
Wrist Strap Material: Silicon
WHAT'S IN THE PACKAGE
The packaging unlike its predecessor features a clean white box with the model name and an image preview in front.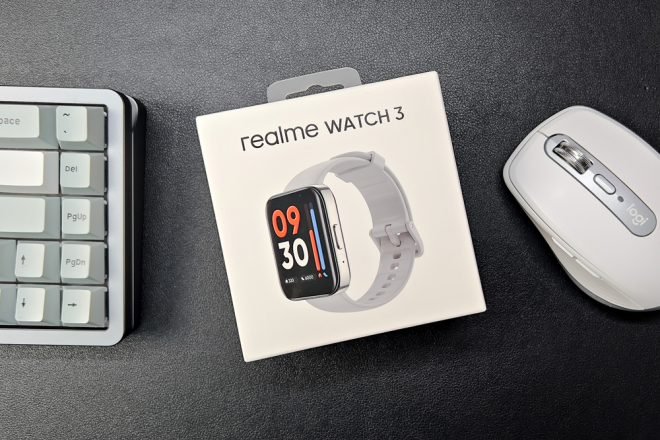 On the side, we have some of its key features.
And at the back, we have some technical information, realme's contact information, and some certifications.
Upon opening the box, you'll see the realme Watch 3 itself,
And underneath it we have a couple of paperwork and the proprietary charging cable. 
FULL REVIEW
Design, Construction, and Parts Overview
At first look and touch, the realme Watch 3 in some ways feels quite refreshing, at least for the silver and gray variant that we have here.
Out of the box, the unit itself is also protected with a plastic film which is nice.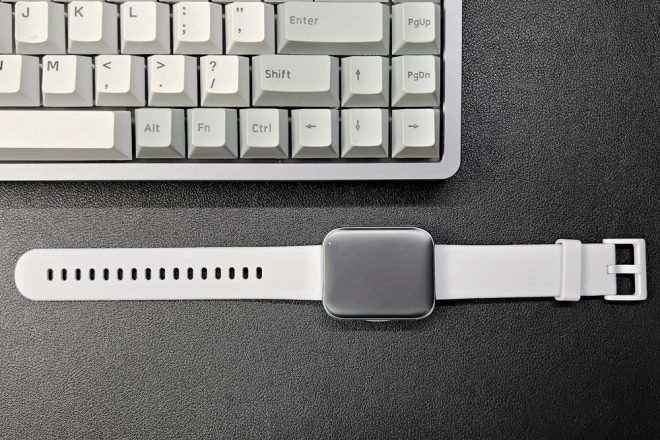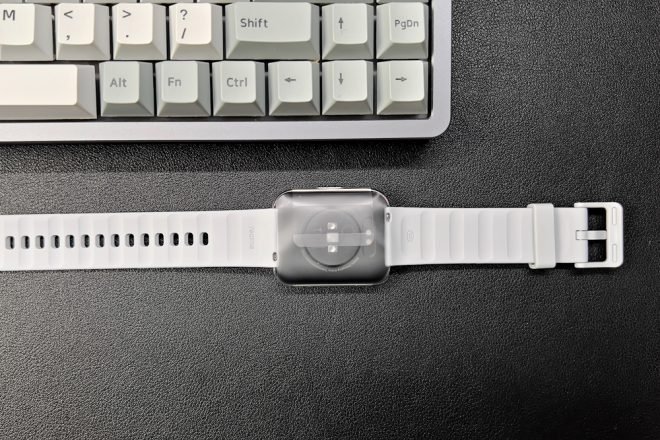 Unlike its predecessors and most budget smartwatch out on the market, the realme Watch 3 comes in a very clean silver and gray variant with a gray silicone strap and a silver chassis.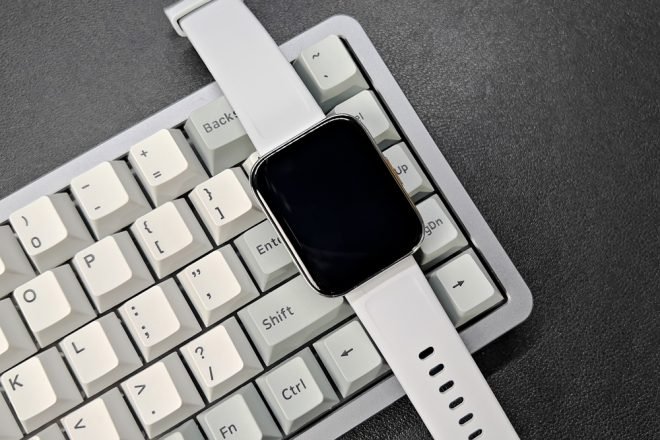 Flipping it on the right side, we have the built-in microphone and the multifunction button. 
And on the other side, we have the speaker unit.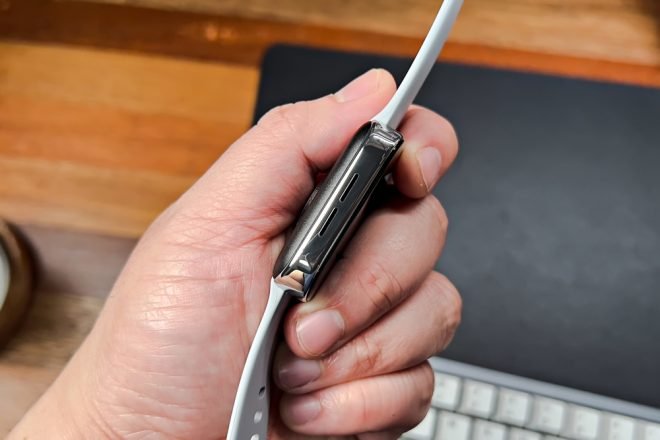 At the bottom, we have the 2 magnetic charging points and the health sensors for heart rate, blood oxygen, and others.
As you can tell, the 22mm silicone strap is removable and replaceable. It is also adjustable from 150-230mm.
Going back in front, we have a bigger 1.8″ TFT-LCD Display albeit with a smaller 240*286 resolution and lower 207 PPI. More on that later.
Overall, a very good-looking smartwatch, and I gotta say, silver is probably one of only a few colors that look good in chrome or glossy finish.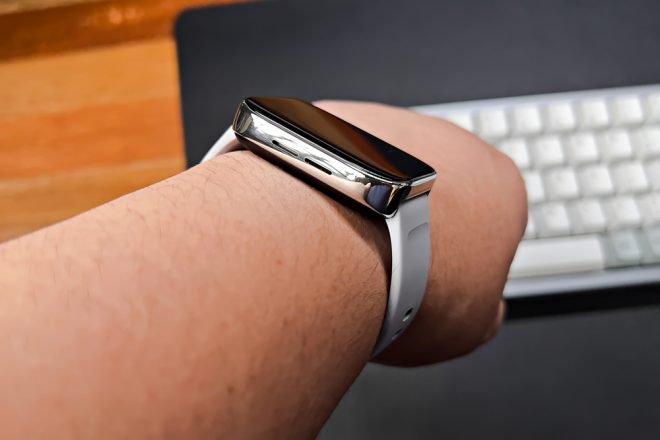 Display
Speaking of the display, while it has a lower resolution and pixel density count, in reality, it actually doesn't look bad at all. The texts and icons are still quite sharp with good contrast and a decent viewing angle. Honestly, I don't think anyone will complain about its display. The bezels while it's there, are also not that visible in most cases, especially on a white background.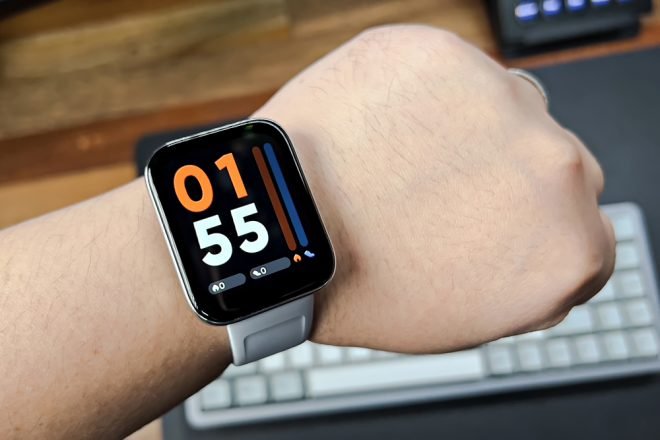 User Interface and Features
From the home screen, swiping down reveals the sort of control center where you can toggle the Do not disturb mode, adjust display brightness levels, turn on power saving mode, turn on the flashlight which essentially turns the display white, toggle raise to wake up, and a shortcut for the complete settings of the realme Watch 3.
Physical Activity Stats
Swiping to the left from the home screen reveals the Activity stats like steps, calories burned, and others.
Sleep Tracking
Another swipe, reveals the sleep-tracking stats,
The sleep-tracking feature is actually fairly accurate. I usually sleep with an earbud on one of my ears and I listen to 8-hour-long rain sounds as per my comparison, the result from the realme Watch 3 matches closely with the playback history of the rain sounds.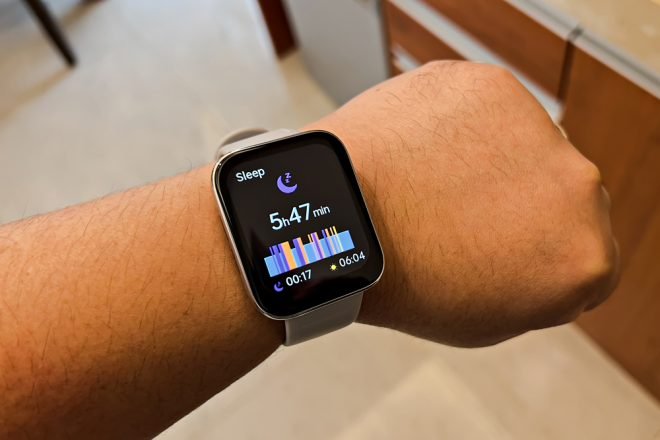 Heart Rate Sensor
Another swipe, reveals the 24-hour continuous heart rate monitor. After you swipe, it will automatically start reading without the need to press a button. Comparing it with my Apple Watch Series 7, the difference is mostly around 1 to 2 BPM.
Weather Forecast
Swiping next reveals the weather forecast which is exactly the same reading as my Apple Watch Series 7.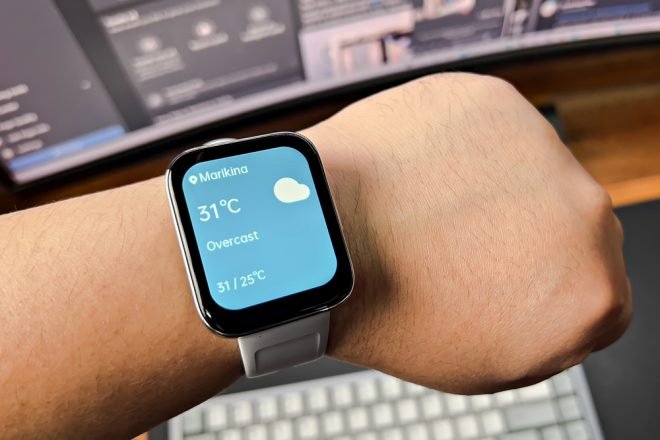 Swiping again to the left, we have the music control which works with Spotify and Apple music but unfortunately, doesn't work with YouTube. It makes sense if you think about it since YouTube is not a music player per se but it would have been better if you can at least play or pause away from your phone.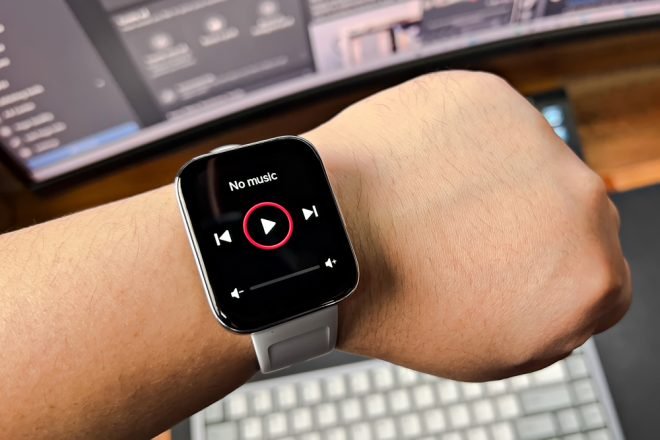 Now, swiping upwards reveals the notifications which are useful for previewing messages but utterly useless for others. Like, if you receive a notification for a Facebook post or comment or if someone sent you a photo, you won't see the actual content even if you click the notification. You still have to grab your phone for it.
Blood Oxygen Sensor
Aside from the Heart Rate sensor and the Sleep tracker, we also have the Blood Oxygen sensor which is around 1-2% different from my Apple Watch Series 7 reading.
Stress Monitor
What my Apple Watch Series 7 doesn't have, however, is a built-in Stress Monitoring feature. But maybe, there is an available aftermarket app for that, I have no idea as of the moment but yeah, the realme Watch 3 has a Stress monitoring feature wherein it takes advantage of the heart rate sensor and looks out for the heart rate variability (HRV) to evaluate mental state or fatigue. I'm not sure exactly how accurate this monitoring is but it's nice to have some sort of tangible idea of whether you are really stressed out or not.
Bluetooth Calling
Another nifty feature of the realme Watch 3 is the ability to make and receive calls via the watch itself over Bluetooth. 
Thanks to its built-in microphone and speaker, you can directly talk and listen to your contact without having to grab your phone out of your pocket.
The microphone is quite clear as per my wife but the speaker is a little bit weak to be used in a noisy environment. 
But once you're in a relatively quiet room or space, the audio quality is definitely audible and understandable.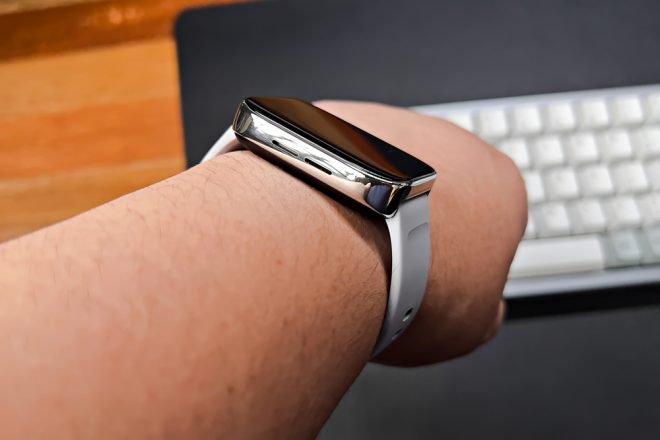 Water and Sedentary Reminders
One feature that I think most of us take for granted is the water and sedentary reminders, I don't have this on my Apple Watch Series 7 at least by default but I think this is very important, especially with our ever-busy daily lifestyle. You can customize its frequency via the realme Link app.
All Other Features and Functionalities
Now, pressing the multi-function button on the right side of the realme Watch 3, reveals all the apps available.
The user interface for the most part is smooth enough with just slight hiccups from time to time but not to the extent that it gets in the way of the experience. You can also choose between a grid or list view for the apps.
Watch Faces
In terms of watch faces, out of the box, we have a total of 4 available and a ton more via the realme Link app.
Here are other settings inside the realme Watch 3
realme Link App
Inside the realme app, aside from the battery level, you can also see exactly how long since you last charged the smartwatch which I find really handy to sort of benchmark your battery usage. 
You can also get access to a wide selection of available watch faces including the ability to use your own photo as the background.
This one is my favorite.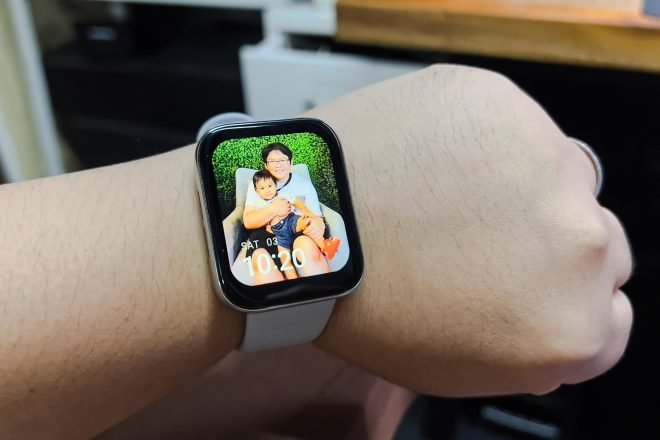 You can also manage and filter the notifications here.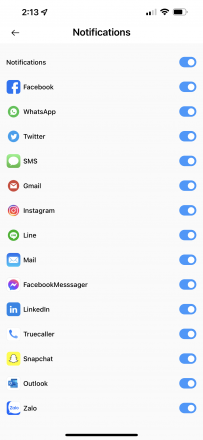 Customize your workouts.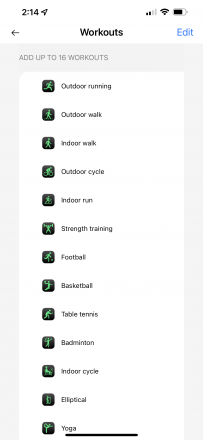 You can even add or remove tiles which are the ones that show up whenever you swipe left or right from the home screen.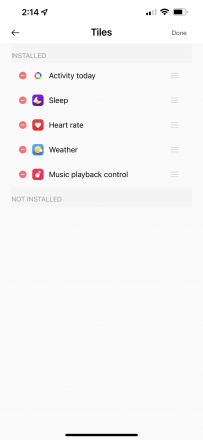 As well as add or remove apps from the app grid/list.
You can also set up event reminders, and adjust the frequency of various health reminders including the 24-hour heart rate and blood oxygen monitoring to get a balance between a good amount of data and battery life. You also have access here to more supplemental functions like find my phone, find my watch, etc.
Battery Life
In terms of battery life, as per specifications, with a 340mAh of battery, it can last up to 7 days. Of course, that highly varies depending on your settings, the brightness level, the health sensors, and other factors. In my case, I got around 4-5 days at least with around 40-60% brightness and with 24hr health monitoring turned on. A pretty good battery life I would say especially comparing it with my Apple Watch Series 7 which dies on my every couple of days. 
Shortcomings
While most of my thoughts about the realme Watch 3 are positive, it is not perfect. Some of the features are kinda buggy at this point like for example, the find my phone feature on my iPhone 13 Pro Max doesn't work at all, I had the notifications totally freeze on me one time until I restart the watch and some other little bugs here and there. To be fair, I received a few updates already and I think most of that issue has been resolved but still worth noting. The good thing here is that all the necessary major functionalities and features work perfectly as intended. So all in all, it's a good experience overall.
VERDICT
To conclude, while the realme Watch 3 is nowhere near the Apple Watch and other more expensive smartwatches out in the market when it comes to overall features and functionalities, to be honest, all the bare essentials anyone needs, or at least for me personally, are available here. You have all the necessary health monitoring features like a heart rate sensor, blood oxygen level sensor which is quite important in today's pandemic era, sleep tracking, and even a stress level monitoring feature aside from the frequent reminders to drink water and keep moving about. Aside from that, we also have most if not all of the fitness tracking needed. However, I wish the IP rating on this is better than water resistant so you can also use it while swimming or at least while showering and keep using it at all times. I also wish that the music player control works with the youtube app as well. But overall, especially considering its very affordable price, the realme Watch 3 is a very good option for a budget smartwatch. 
Price and Availability
The realme Watch 3 is now available via realme's Official Lazada Store.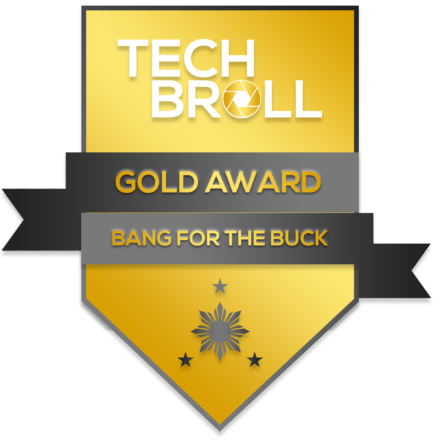 SHARE THIS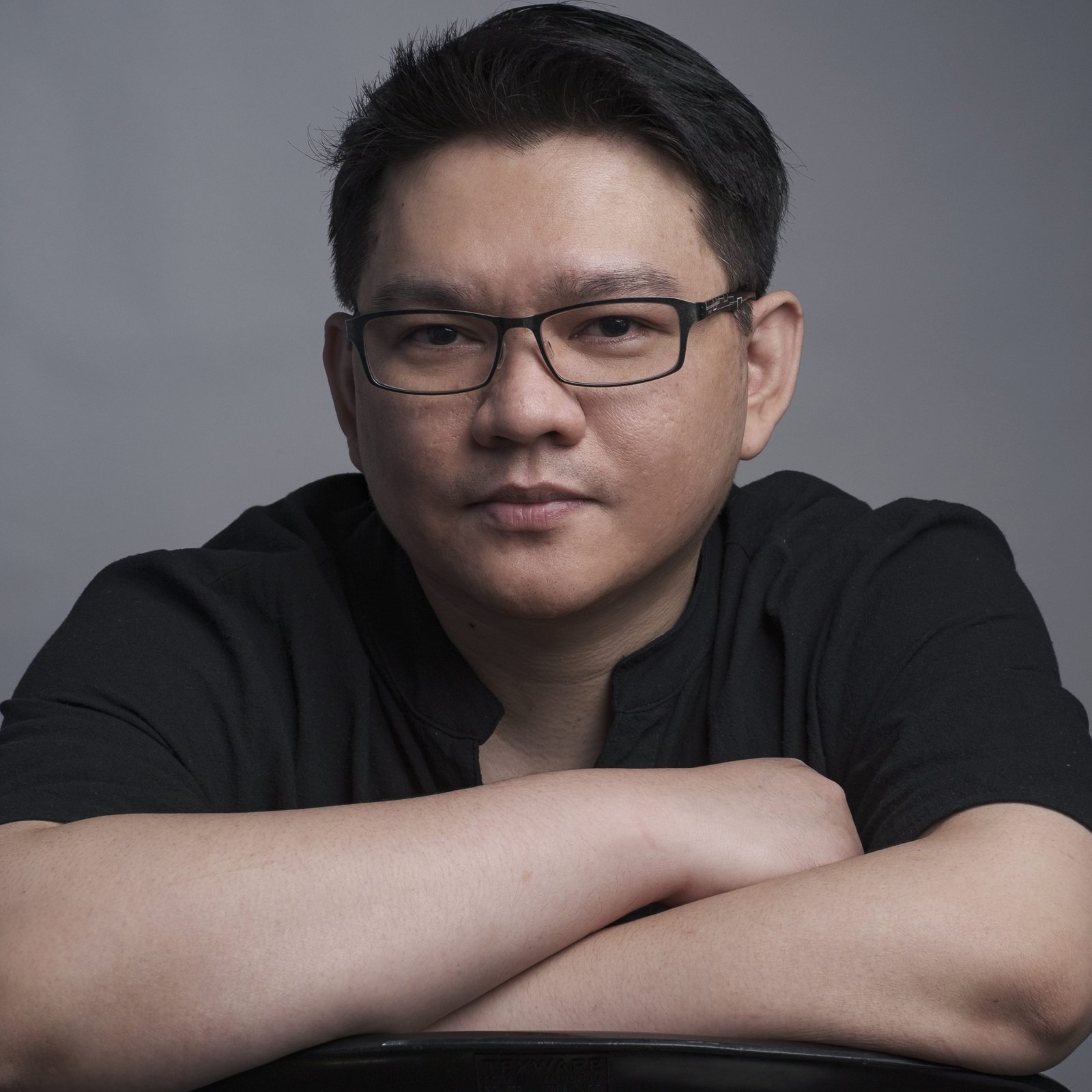 The Broll who always got your back online!