ASUS has recently released yet another couple of new ZenBooks in the form of the ASUS ZenBook Duo 14 and the ASUS ZenBook 13 OLED. At some point, you might get confused by these similarly named ZenBooks and sometimes almost similar in terms of the actual model name and in some cases, design. However, there's no denying that each new model offers something different in terms of features and hardware specifications. The ASUS ZenBook 13 OLED UX325E that we have right here is not an exception. Granted, it may look quite similar to the previous ASUS ZenBook 13 UX325EA but it now offers one significant upgrade, an upgrade that I can honestly say, huge enough to warrant it to be considered this year. I'm talking about the outstanding OLED panel. I can't stress it enough when I say that 90% of the time you're spending on a laptop you're looking at the display and having an amazing OLED panel with vivid colors and deeper blacks take the viewing experience to the next level. In this review, however similar it is to the previous model, we'll still talk about pretty much everything you need to know starting from the unboxing experience, parts overview, features, down to the performance. 
MY EARLY BREAKDOWN
Pros: Simple yet elegant design, Decent build construction, Fairly lightweight, Outstanding OLED display, Good battery life, Decent performance, Nifty ASUS NumberPad
Cons: Requires dongle for audio jack and ethernet (included), Doesn't offer any unique new design
SPECIFICATIONS
CPU  

Intel® Core™ i5-1135G7 processor 

Display  

13.3″ OLED FHD3 (1920 x 1080) 16:9 slim-bezel NanoEdge 

100% DCI-P3, TÜV Rheinland Eye Care certification, PANTONE® Validated 

Operating system  

Windows 10 Home  

 

Graphics  

Intel® Iris® Xe Graphics  

 

Main memory  

8 GB 4266MHz LPDDR4X onboard 

 

Storage  

512GB PCIe 3.0 x2 NVMe SSD 

Connectivity  

Wi-Fi 6 + Bluetooth 5.0 

Camera  

HD infrared (IR) webcam (supports Windows Hello) 

I/O ports  

2 x Thunderbolt 4 USB-C with full range (5V~20V) of charging 

1 x USB 3.2 Gen 1 Type-A 

1 x standard HDMI 2.0 

1 x MicroSD Reader 

Touchpad 

NumberPad 2.0 

Audio  

Certified by Harman Kardon 

Smart amplifier for maximum audio performance 

Array microphone with Cortana voice-recognition support 

AI Noise Canceling Audio 

Battery  

67Wh lithium-polymer battery up to 13 hours2 battery life 

AC adapter  

65W type C power adapter 

Dimensions  

304.2 x 203 x 13.9mm 

Weight  

Approx. from 1.14kg4 
WHAT'S IN THE PACKAGE
The packaging is nothing fancy but definitely not cheap. Around the box, we just have some branding and the specifications for this exact ASUS ZenBook 13 OLED UX325E Variant.
Upon opening the box, we'll immediately see the ASUS ZenBook 13 OLED nicely protected by a plastic.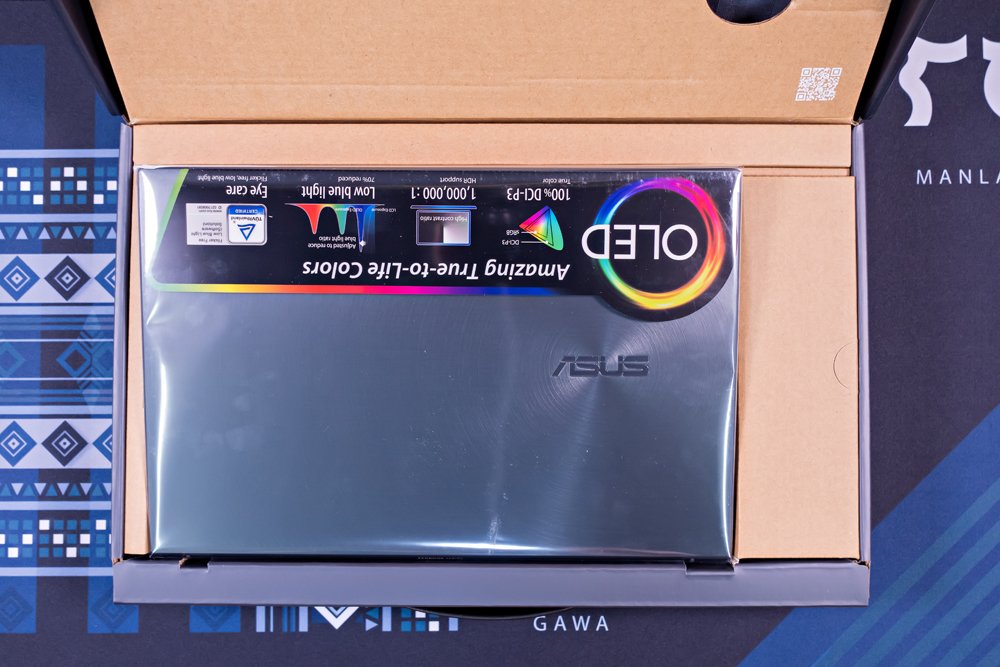 Inside the top packaging, we have a nice laptop sleeve.
It is made out of a combination of leather and fabric and the colorway complements well with the laptop.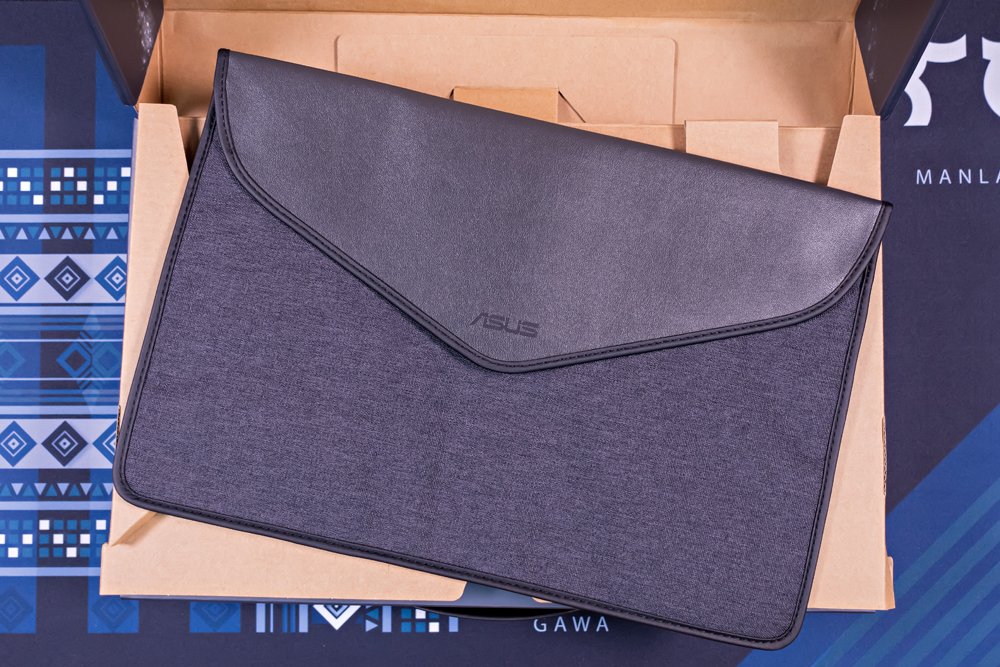 Inside the box, we also have the usual paperwork,
An ethernet dongle,
A 3.5mm audio jack dongle,
The 65W USB Type C Power adapater,
And the ASUS ZenBook 13 OLED laptop itself.
FULL REVIEW
Design, Construction, and Parts Overview
In terms of the design and construction, there's nothing new here. If you're familiar with the previous ASUS ZenBook 13, this new version still features the iconic circular brushed aluminum finish with a chrome ASUS logo at its center. 
The construction is made mostly out of aluminum alloy to provide substantial rigidity to both the lid and chassis while maintaining a relatively thin and lightweight form factor with a thickness of only around 13.9mm and weight of just around 1.14kg. It does have some flexing at some parts especially at the center but for the most part, it feels quite durable. 
Here at the bottom, we have 4 rubber feet,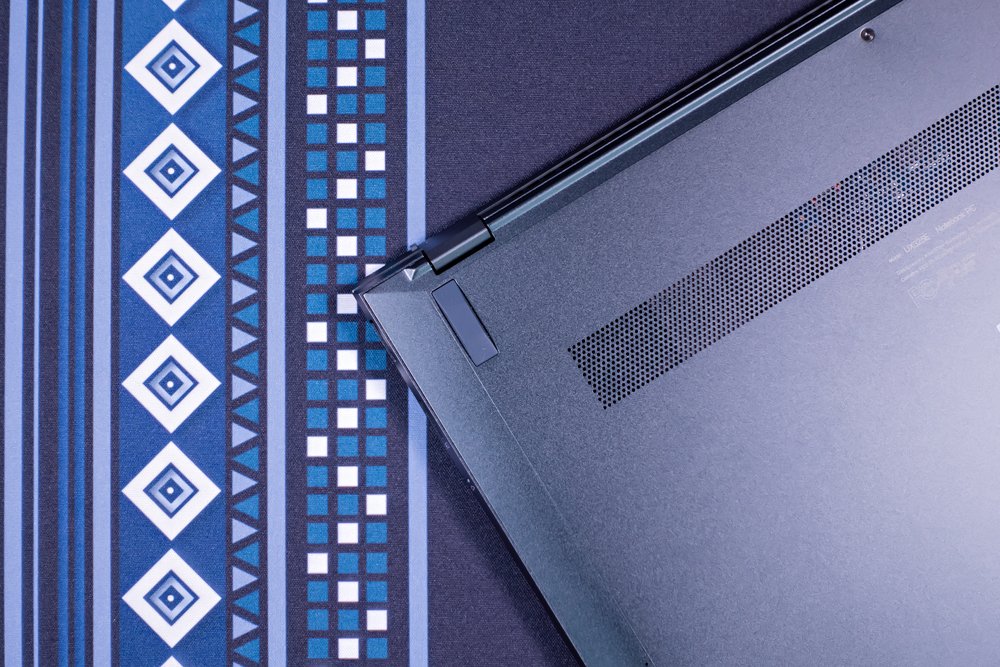 2 stereo speakers,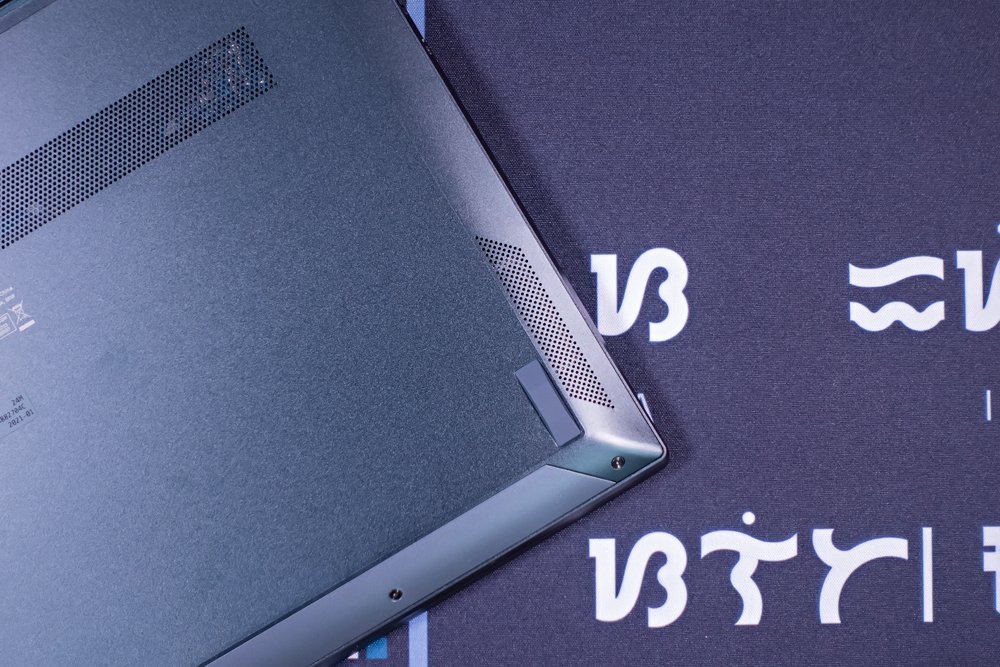 And a rather small ventilation strip.
As per my own "rough" test, the weight checks out at around 1.13 Kg give or take.
Looking on the front side, one can definitely appreciate the thin form factor partnered with a sort of chamfered edges to make it look even thinner than it actually is. The lid in particular is super thin.
Flipping it on the backside which is the thicker side, it's not even that thick, to be honest. 
Here at the back, we can also see the exhaust ventilation design. Though it's worth noting that the actual exhaust is located on the left side with smaller holes on some parts but not the entire width of the laptop. 
By the way, we also have small attention to detail additional design element here with a "Zenbook Series" text.
Looking at the left side, we have an HDMI port, 2 Thunderbolt 4 USB Type C ports, and a small LED indicator. The Thunderbolt 4 port supports 4K UHD external displays and up to 40Gbps data transfers
Flipping it all over on the other side, we have a single USB 3.2 Gen 1 Type-A port, a microSD card reader, and another small LED indicator. 
ASUS ErgoLift Hinge
The ASUS ZenBook 13 OLED also features the clever ErgoLift Hinge that provides 3 different useful functions. First, it raises the keyboard for a more ergonomic typing experience. Second, it lifts up the chassis allowing for more airflow underneath. And third, it gives the downward-firing speakers a little bit more space to breathe enhancing the audio quality.
Keyboard
Opening the lid reveals the surface of the laptop and its peripherals. As you can tell, the keyboard spans across the entire width of the laptop making good of all the available space.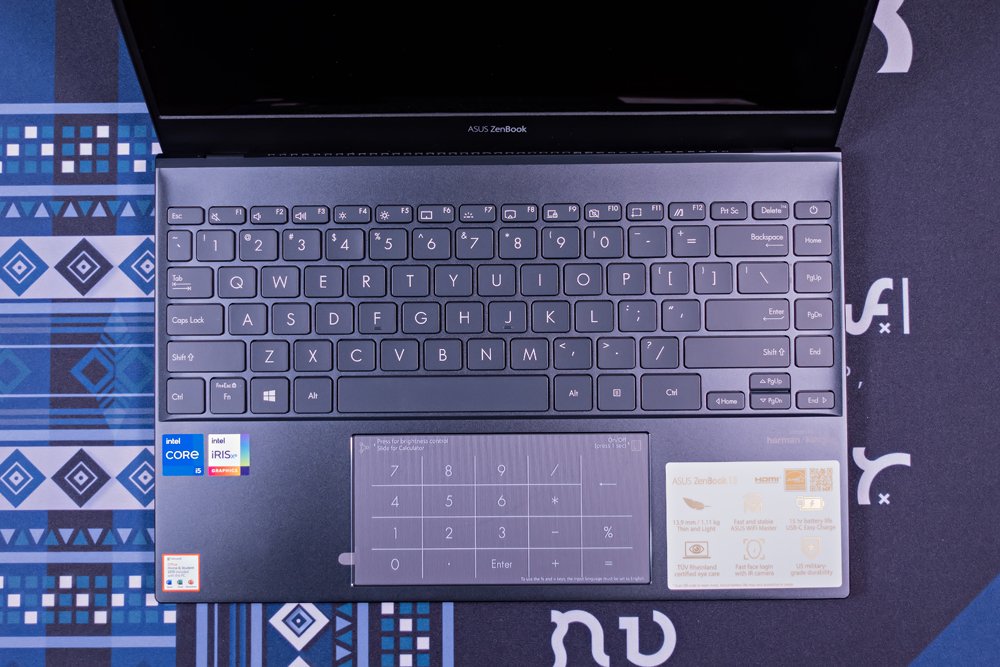 The keyboard itself is nothing extraordinary but it has a decent travel distance and tactile feedback partnered with 3 levels of bright white illumination. 
It is essentially a 60% keyboard with some nav cluster keys, dedicated arrow keys, and smaller function keys.
ASUS NumberPad 2.0
Another perfect example of good use of space is on the trackpad. The ASUS ZenBook 13 OLED features the popular ASUS Numberpad 2.0 that takes advantage of the trackpad real-estate to also doubles as a fully functional numpad. As for the touchpad itself, it has a very smooth surface with decent tactile feedback, no complaints here.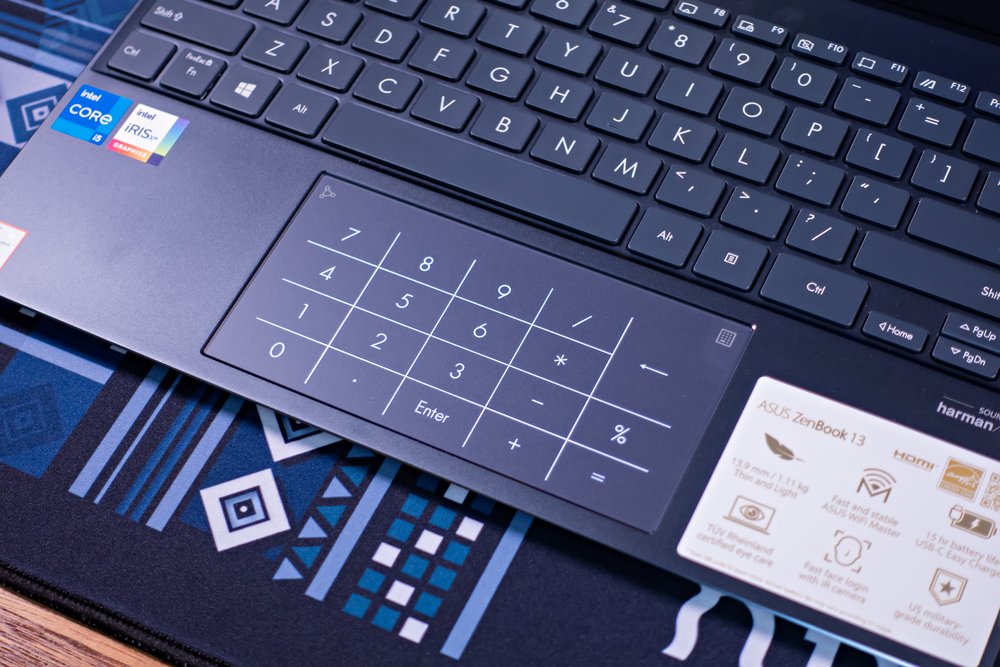 Display
Moving on towards the star of the show, let's discuss the display. 
The ASUS ZenBook 13 OLED as the name implies, features an OLED panel which aside from the new processor is probably the most important upgrade to the ASUS ZenBook 13 model. It features a 1920×1080 Full HD resolution display with up to 400 nits of brightness that just enough to be able to include HDR on its resume. 400 nits of brightness is in my opinion sufficient enough for indoor use. 
Now, before we discuss further the quality of the display itself, let's talk about the other things around the panel first. 
The ASUS ZenBook 13 OLED really pushes that "good use of space" characteristics by having a relatively thin bezel around the panel.
With just a tad thicker bottom bezel to make room for the electronics inside such as the main PCB and cables for the display panel itself.
But what's impressive here is that they were able to cram in the HD webcam that supports Windows Hello by the way, alongside the microphone array on the usual and ideal spot right at the top-center of the display.
As for the display quality itself, like I pointed out earlier, upgrading the display to an OLED panel is significant enough for this laptop to be considered especially for those who want to experience the goodness of having an awesome OLED display for any use case scenarios, may it be for consuming media, productivity, gaming and things around that nature.
The vivid colors and that super almost life-like black is really something you have to experience first hand. Now, OLED is not perfect, we all know about screen burn-in and all but if you know how to deal with it and take care of the display, the pros definitely outweigh the cons.
In addition, the display of the ASUS ZenBook 13 OLED is PANTONE® Validated and features 100% DCI-P3 color gamut or in lay man's term, color-accurate. It is also TÜV Rheinland-certified which essentially means it is tested to significantly reduce blue light making the display comfortable in the eyes.
As per my actual testing using the Datacolor SpyderX Pro display calibration tool, the display has at least 100% sRGB coverage,
95% NTSC,
96% AdobeRGB,
And close enough to the rated specifications, 97% P3 color gamut. This makes this laptop viable for productivity such as photo and video editing as well as graphics work.
Speakers
The ASUS ZenBook 13 OLED features Harman-Kardon certified dual stereo speakers but like most thin and light laptops, it's functional, does its job, but nothing to write home about. It lacks bass and low end but the mids and highs are substantial enough. Volume levels are just enough to fill a small room like a really really small room. And even though we don't have an integrated audio jack, at least ASUS includes a 3.5mm audio dongle.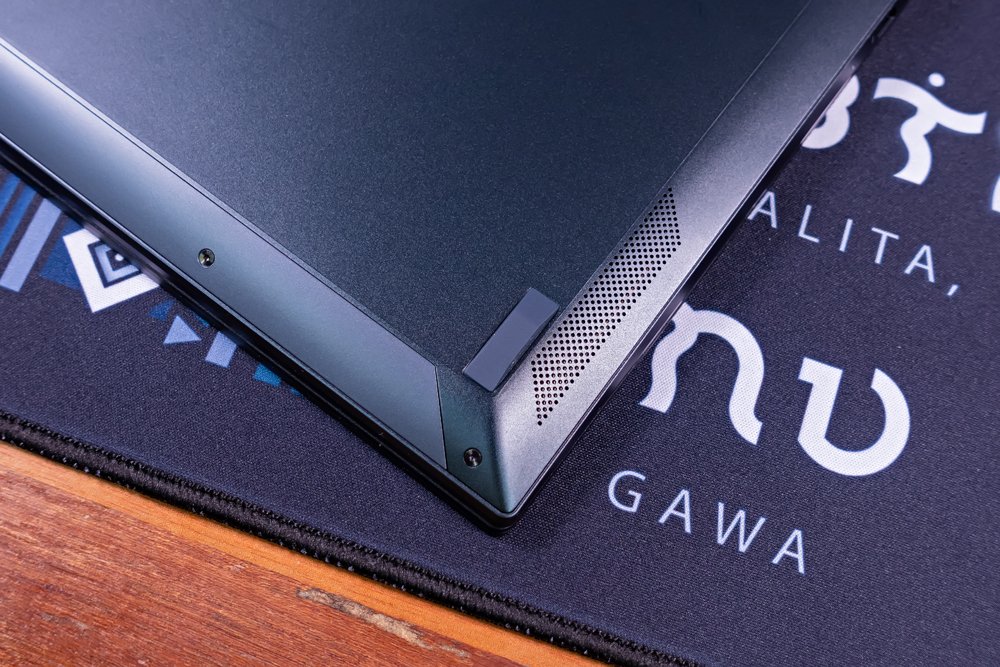 Hardware Specifications Rundown
Inside this thin and light laptop are some capable hardware starting with the Intel® Core™ i5-1135G7 processor, Intel® Iris® Xe Graphics, and the Full HD 1080p OLED Display.  It also has 8 GB 4266MHz RAM and 512GB NVME SSD. In terms of connectivity, it features Wi-Fi 6 + Bluetooth 5.0. It also has a 67Wh lithium-polymer battery that ideally can last up to 13 hours and can be charged using the 65W type C power adapter.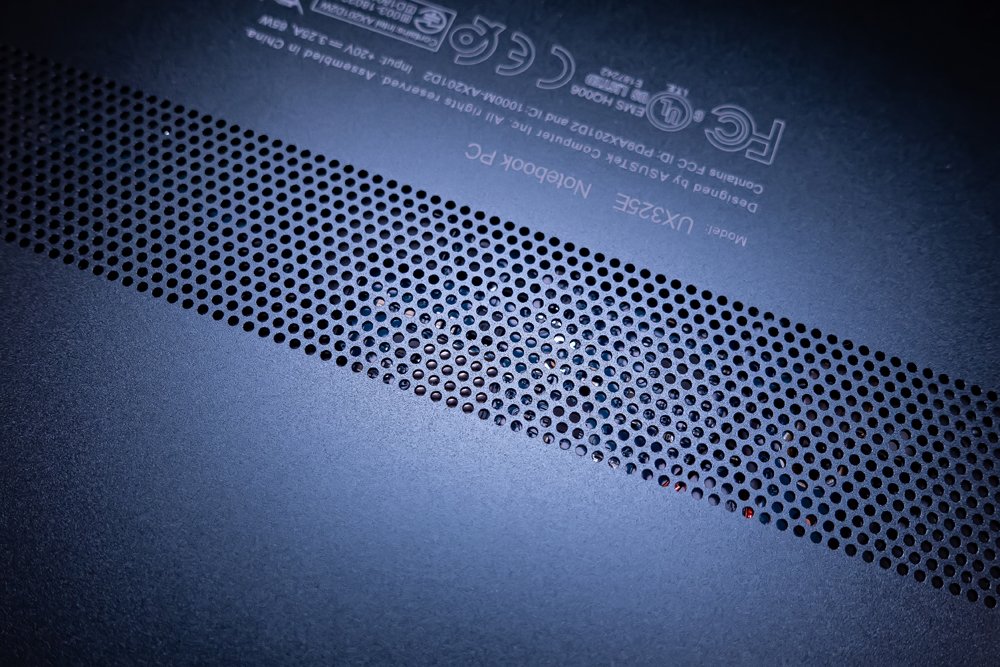 Moving on to some more technical deep dive, let's talk about how the ASUS ZenBook 13 OLED performs.
Performance Benchmarks
All our testings here are done on the best-case scenario with ASUS Recommended Power Option and MyASUS performance mode fan profile on. 
Before we tackle the real-world performance testings, let's get the synthetic benchmarks out of the way
Cinebench and GeekBench – Processor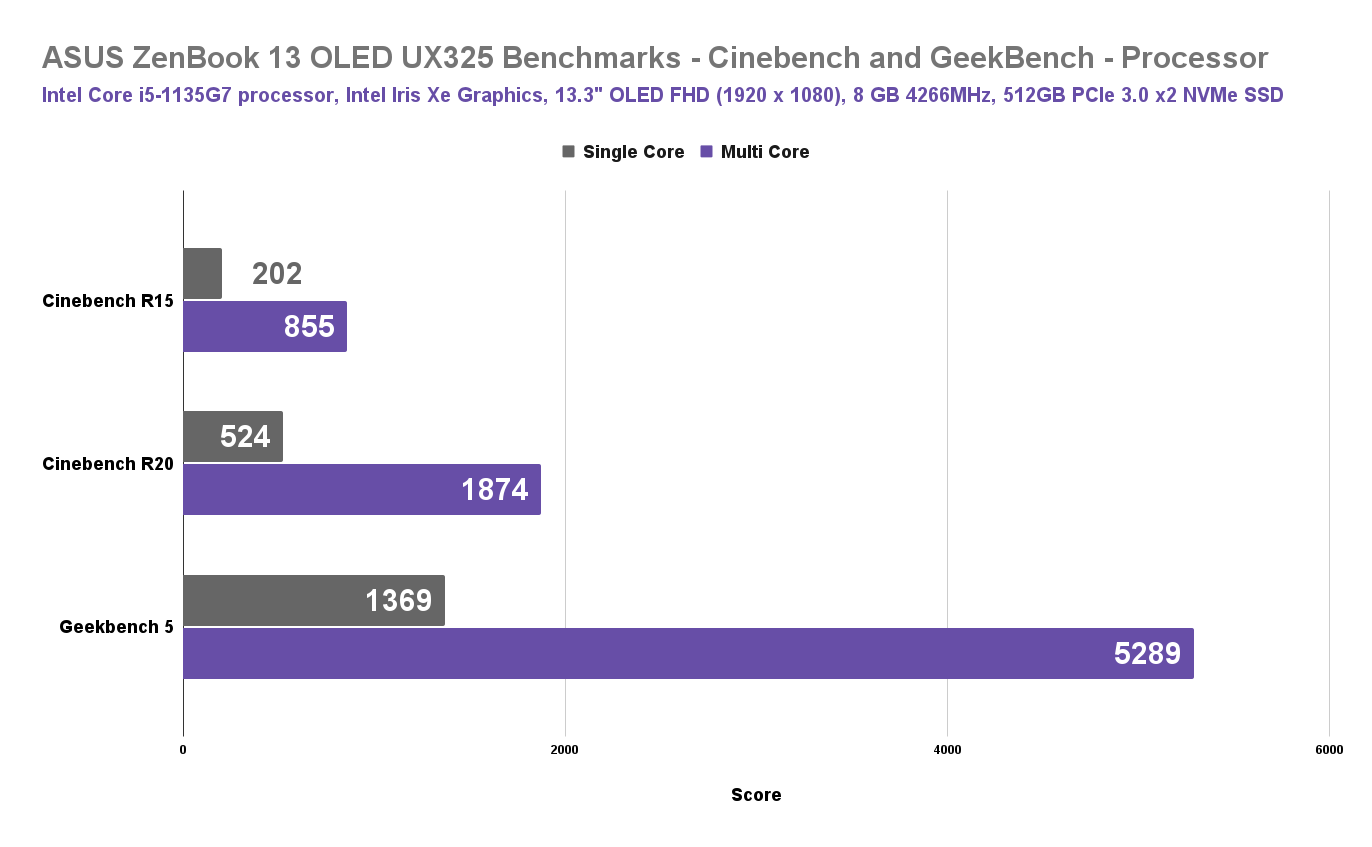 GeekBench – Graphics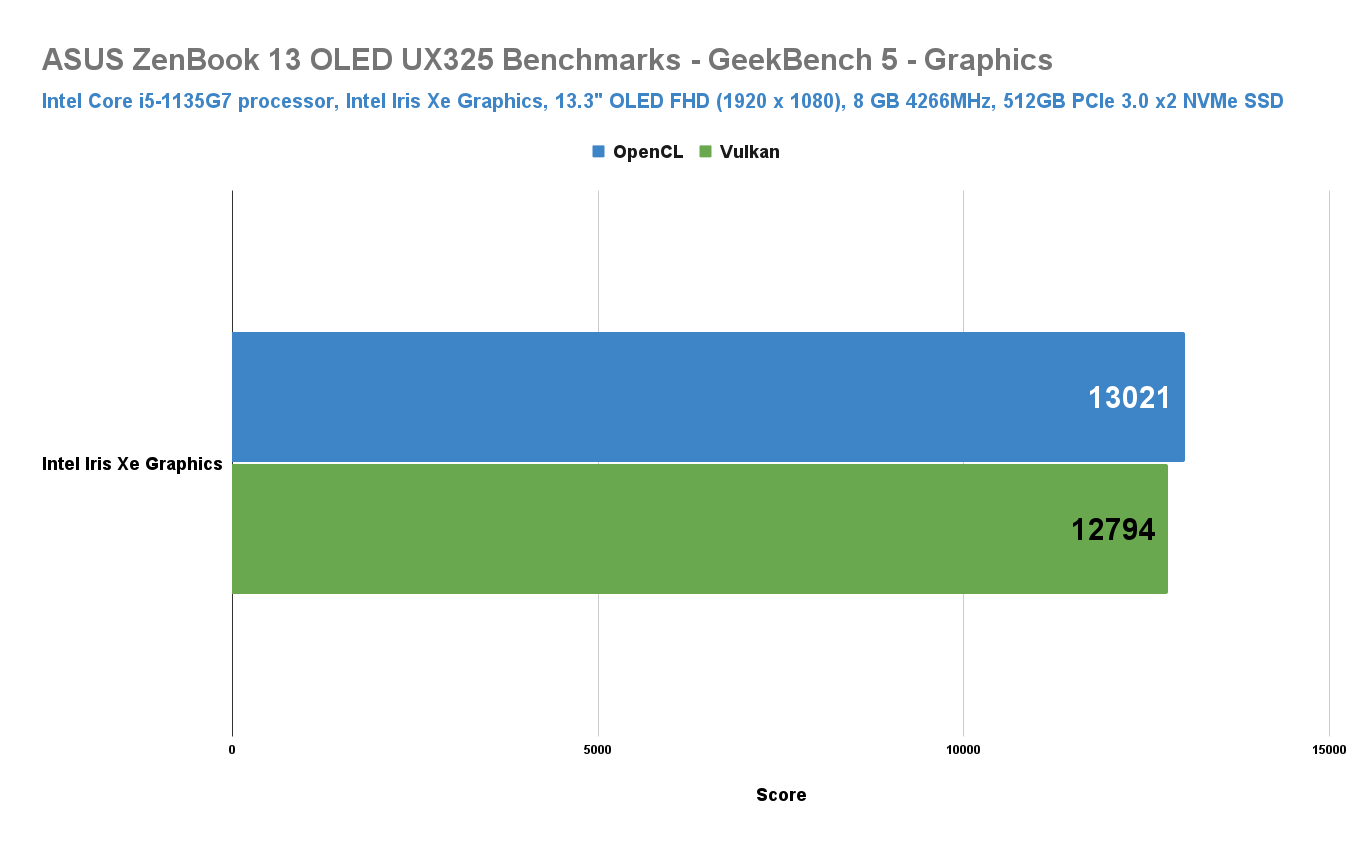 Blender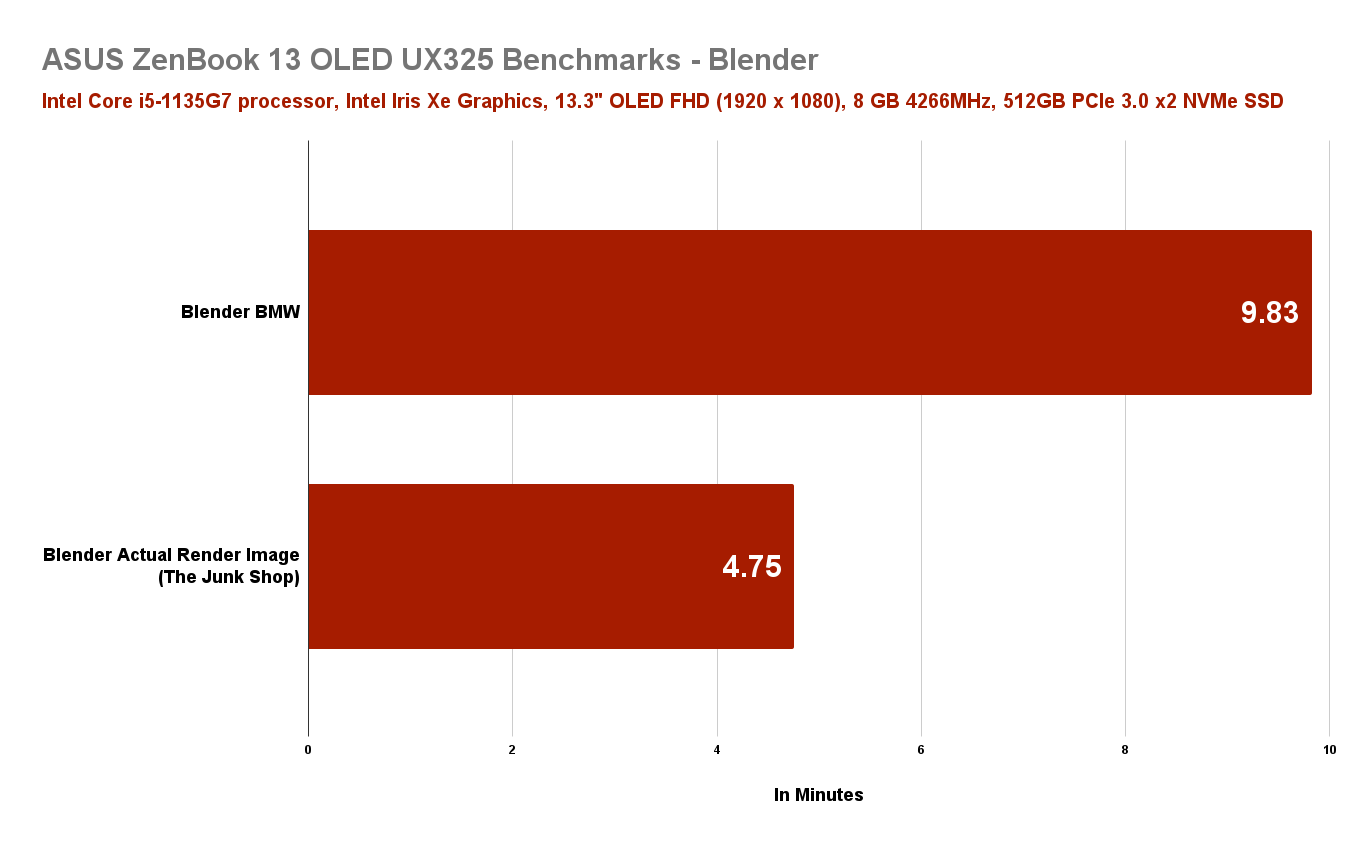 3DMark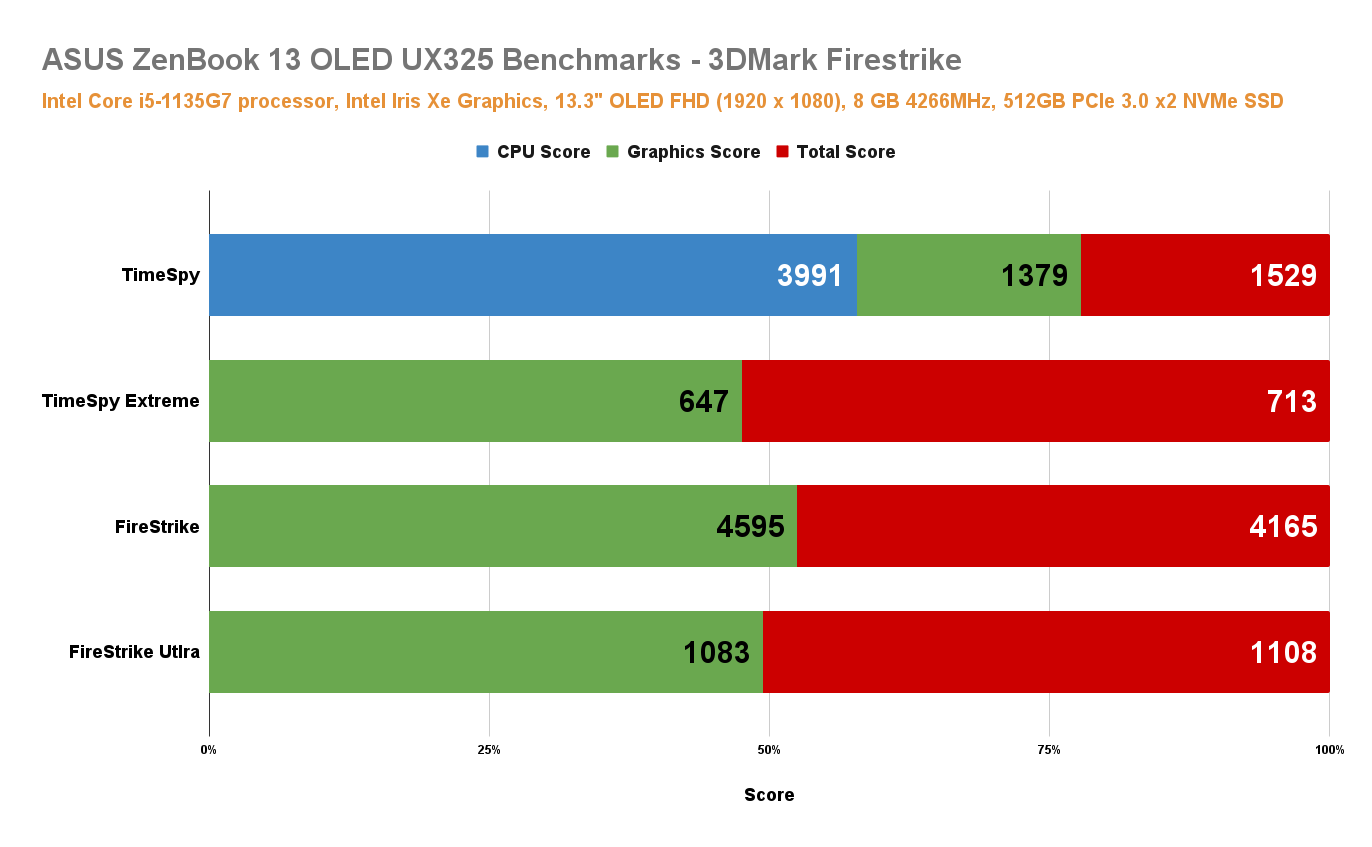 With the synthetic benchmarks out of the way, let's check out how the ASUS ZenBook 13 OLED performs in real-world applications such as video editing and gaming.
Adobe Premiere Pro 2020 
With an Intel® Core™ i5-1135G7 processor and its integrated Intel® Iris® Xe Graphics, it is safe to say that the ASUS ZenBook 13 OLED is not the best option for 4K video editing. However, it doesn't mean it isn't capable, as per my testing, I was able to export our Standard 13.92 Minute 4K Project for just under 30 minutes, which may not be the fastest but at least it is possible if you need to.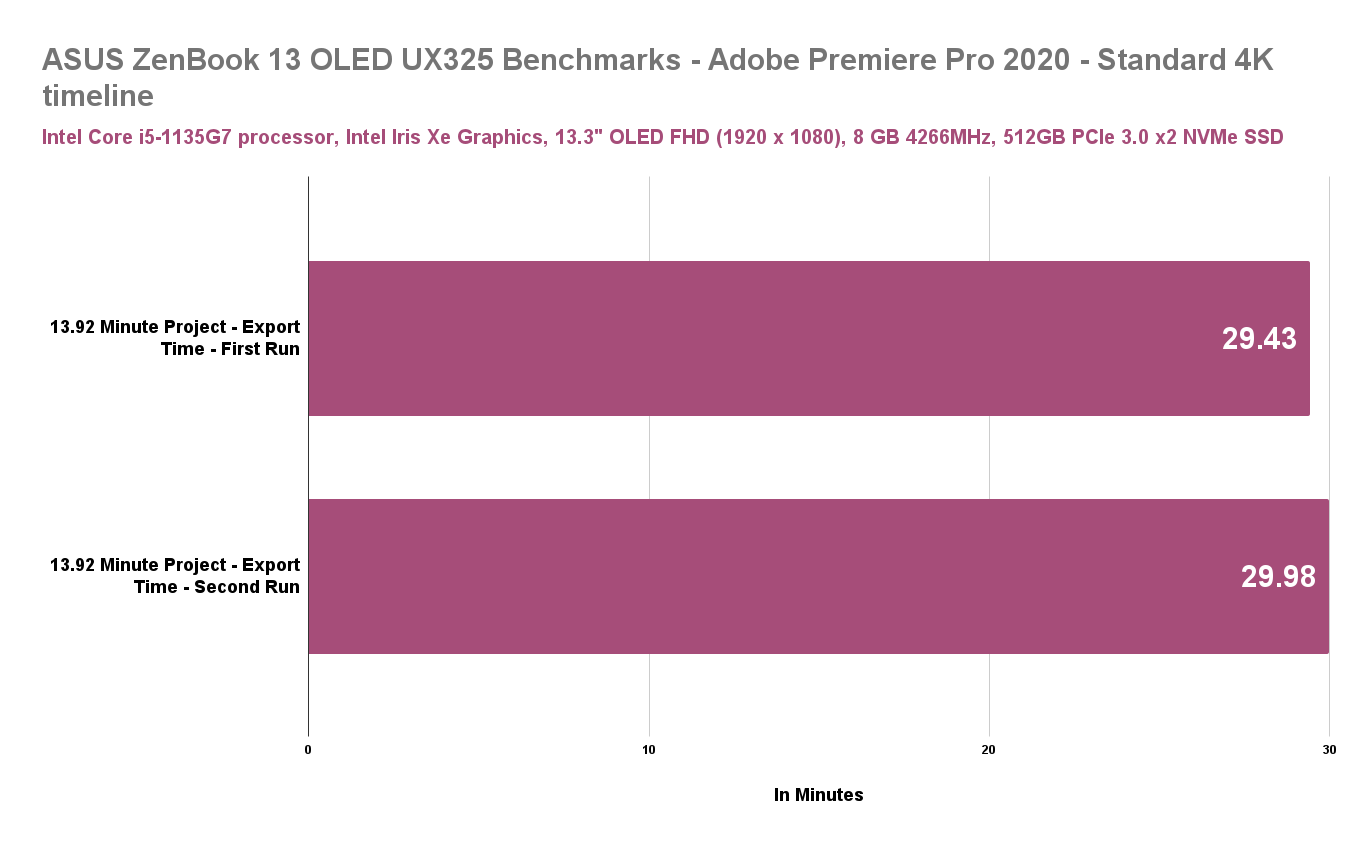 Also, thanks to the 512GB PCIe 3.0 x2 NVMe SSD, scrubbing through the timeline, albeit not the fastest experience especially for 4K clips, is relatively easy without much stuttering or delay. So yeah, this laptop is capable of video editing even at 4K UHD resolution.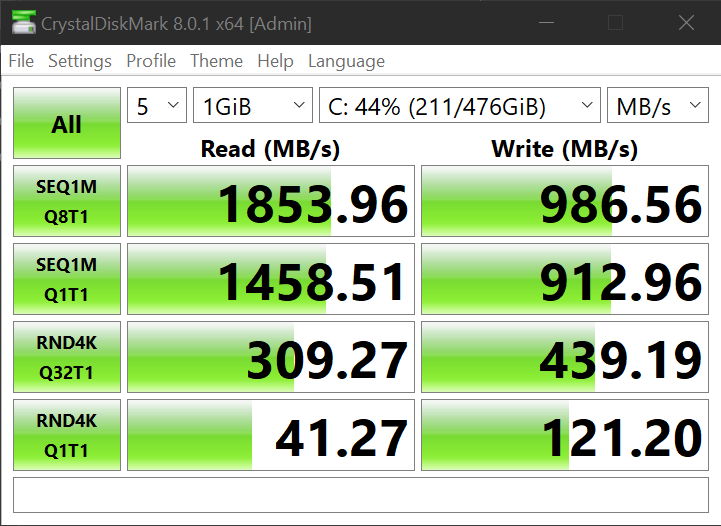 Now, even though the ASUS ZenBook 13 OLED isn't really built for gaming, as a gamer, of course, I have to try it out and maybe we can game casually every now and then using this laptop.
Valorant
In Valorant, both in low and high settings, It is somehow playable with an average FPS of around 115 and 85 respectively which may seem quite high and substantial but looking at the 1% lows and basing on my actual experience, there are a lot of hiccups and micro stutters here and there that takes away from the decent gaming experience even at low settings. 
Counter-Strike: Global Offensive
CSGO is a bit more forgiving, I was able to play quite decently on both low and high settings especially on low settings. There are still some micro stutters but significantly less compared to Valorant.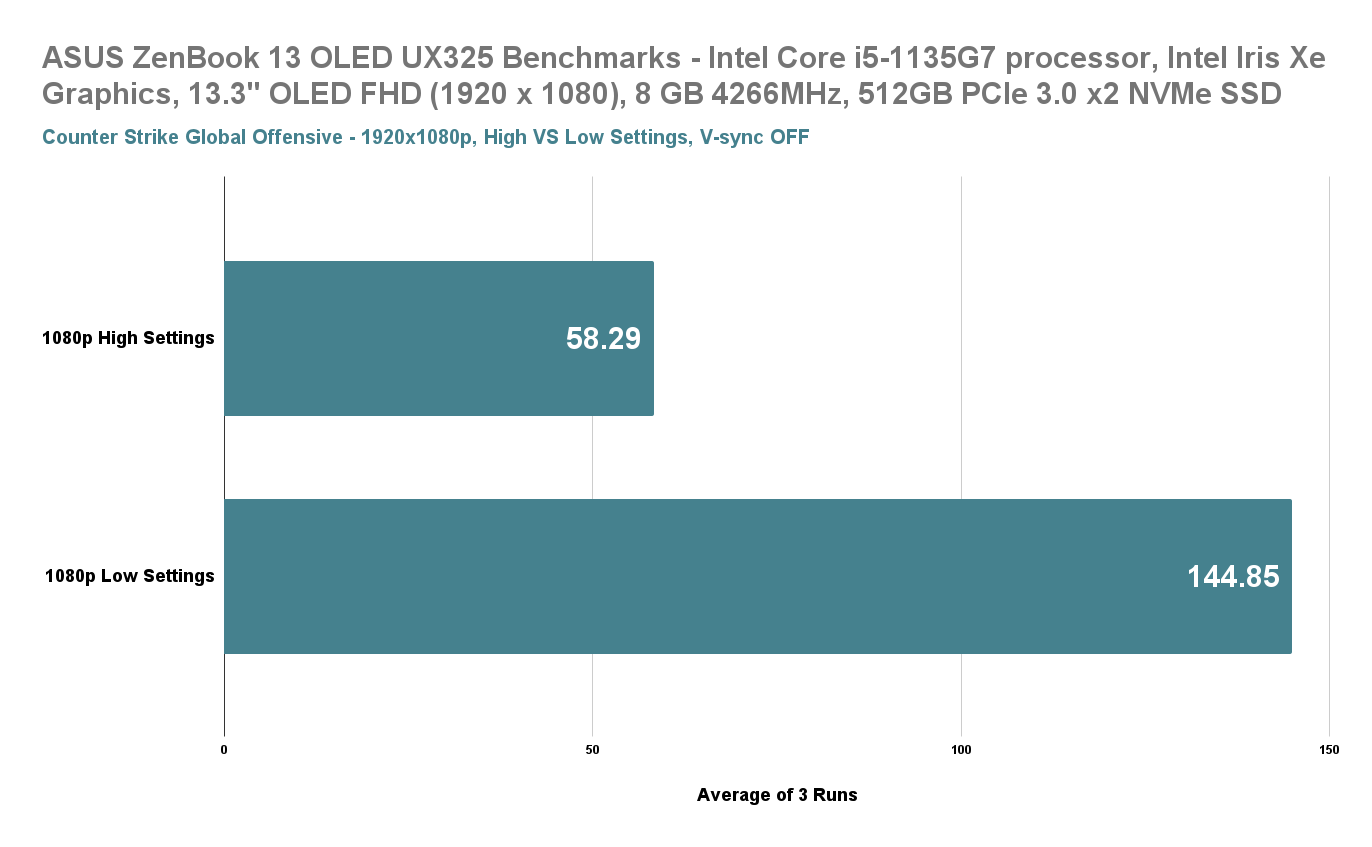 Rainbow Six Siege
And lastly, in Rainbow Six Siege, it's pretty much the same story with Valorant with decent average FPS but with some very low 1% lows causing intermittent micro stutters. So I guess the main takeaway for gaming is that it depends on the game and that you just really have to set your expectations right. Because for a thin and light laptop like this, cooling performance is really not that optimal for a prolonged load like this, not to mention the lack of discrete graphics card for gaming.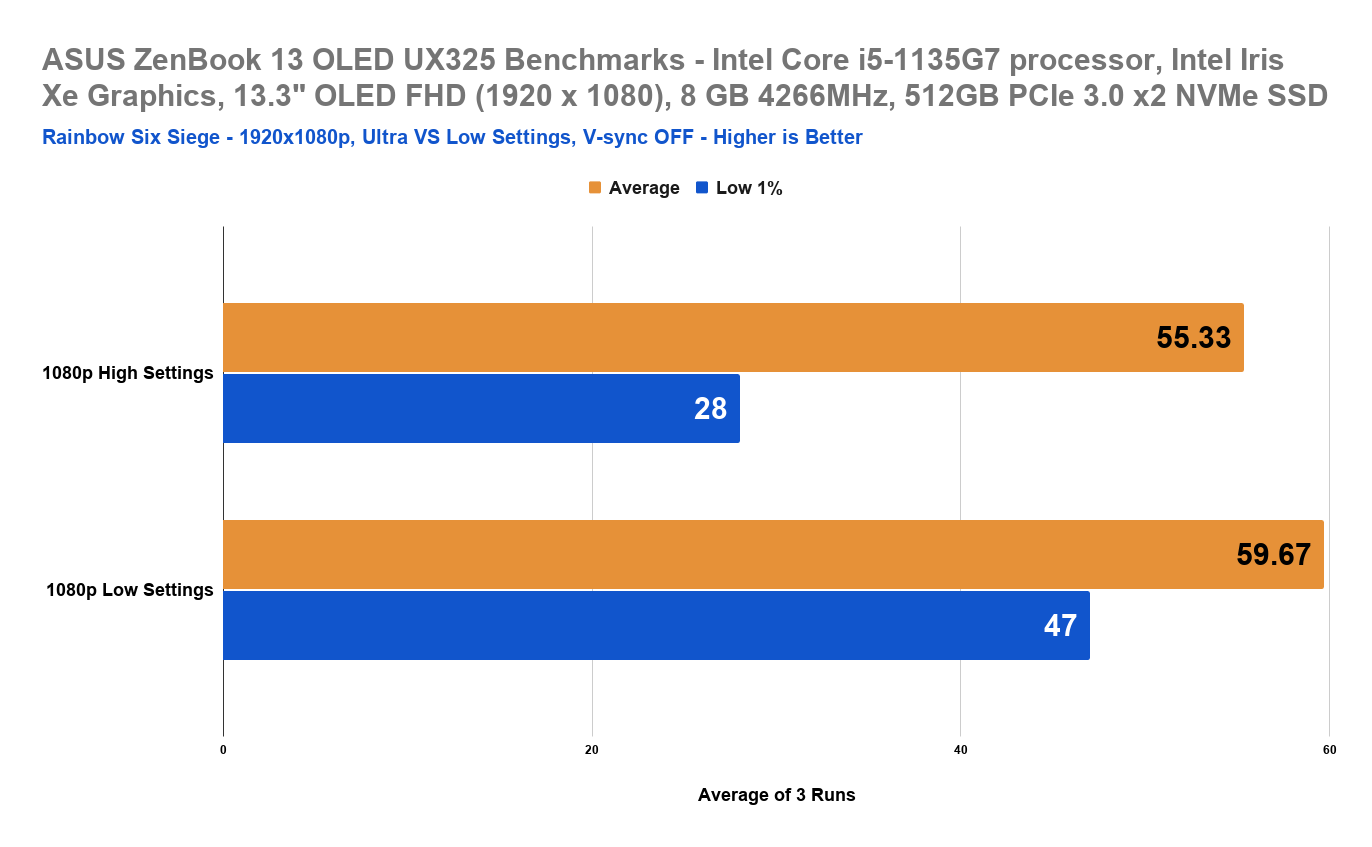 Speaking of cooling performance, let's take a look at some numbers, shall we?
Thermal Performance – Processor
In terms of thermals across pretty much all our testings earlier, at idle, the ASUS ZenBook 13 OLED is pretty cool averaging an idle temp of just around 36 to 46 degrees. On average, it is also quite decent averaging around 61 to 76 degrees. However, at max, it spikes quite high up to 95 degrees. I am not surprised by that given the thin form factor, but for the most part, it can maintain a good average temperature.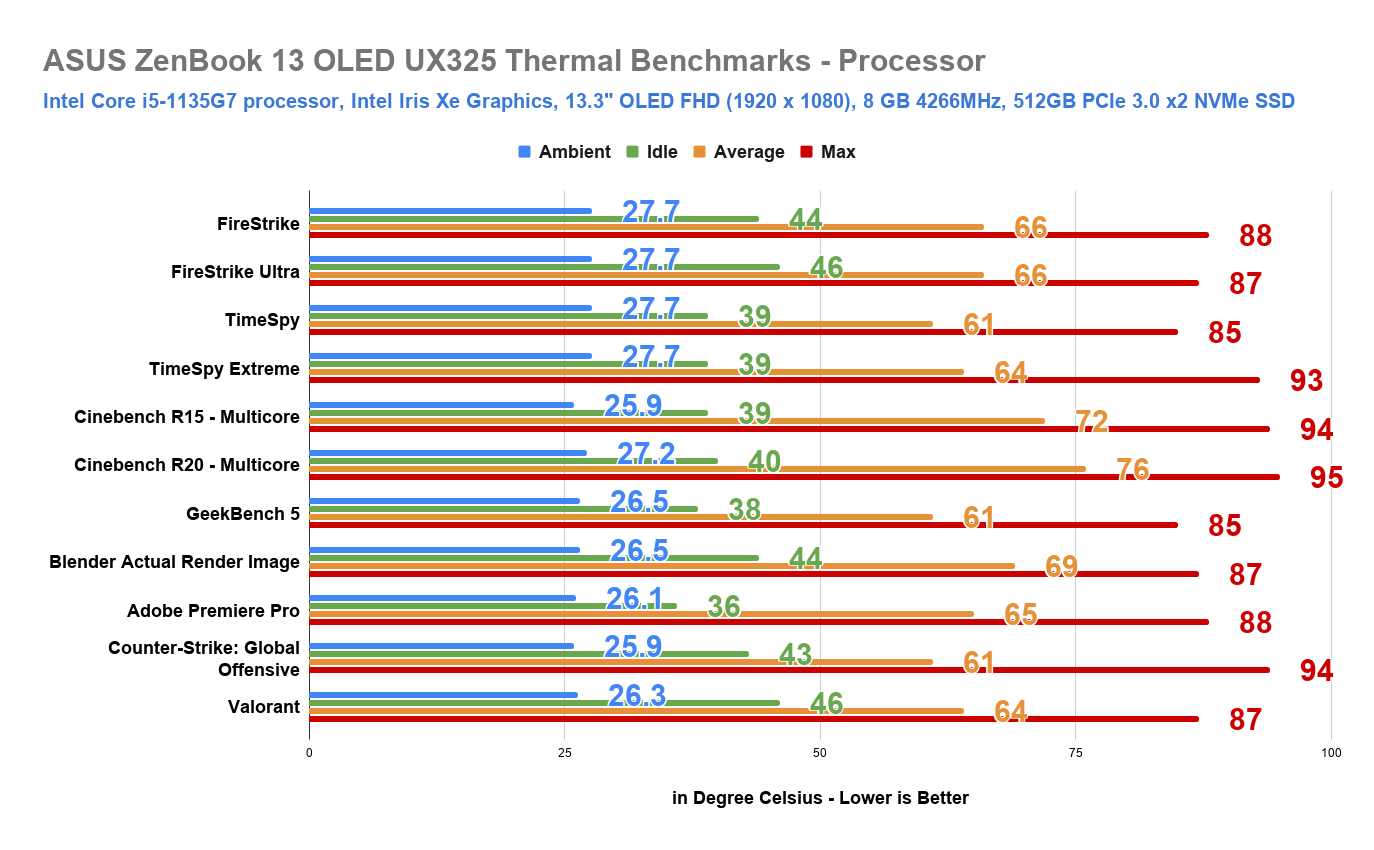 The same goes for the Intel Iris Xe graphics probably since it is integrated with the processor.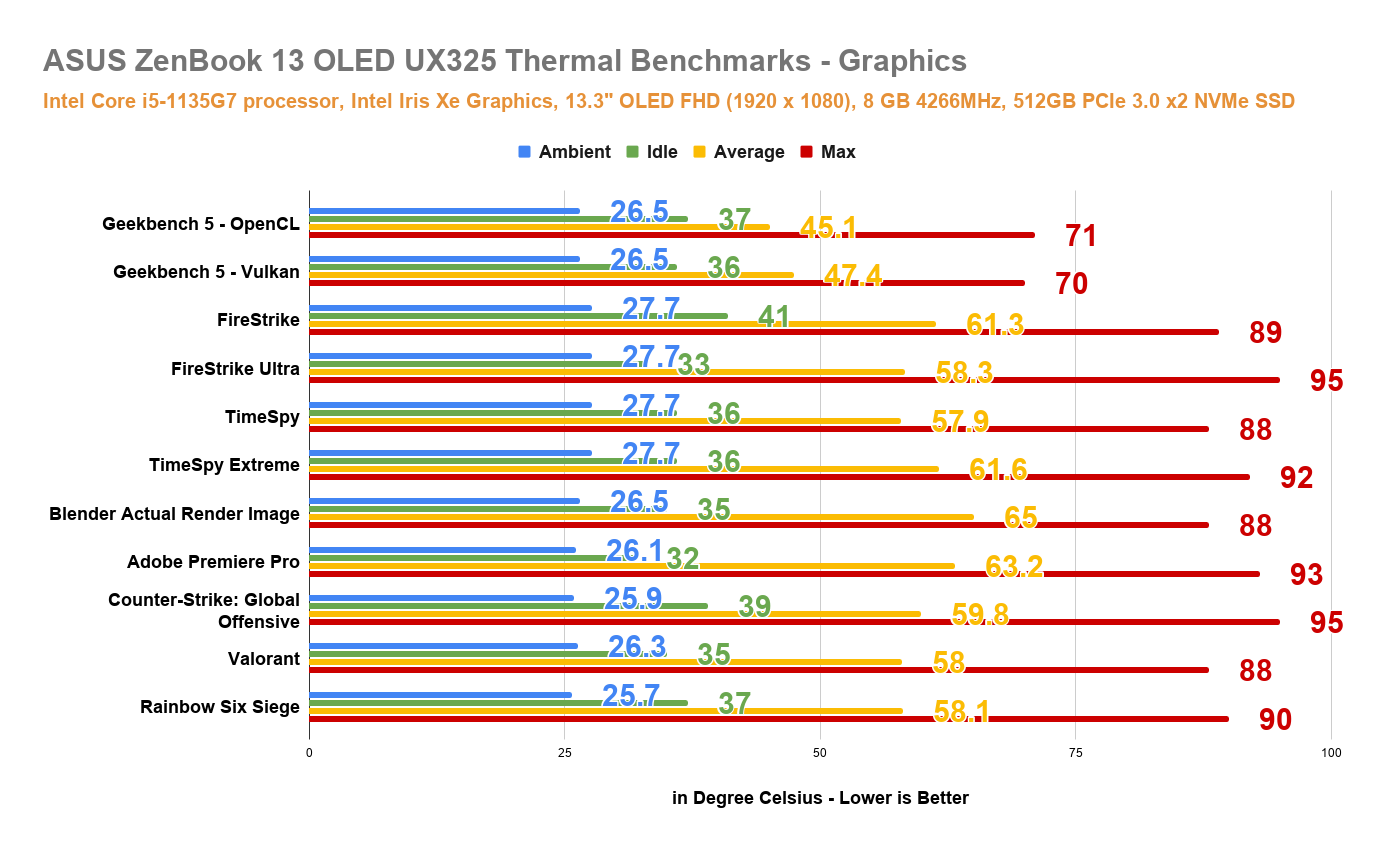 Battery Life
And lastly, before we end this review, in terms of battery life, the ASUS ZenBook 13 OLED features a 67Wh lithium-polymer battery that per specifications, can last up to 13 hours. On my actual testing which of course could be very different from ASUS' own testing, the ASUS ZenBook 13 OLED lasted around 10 hours on PC Mark 10's Battery Life Test for Modern Office Tasks which basically simulates office tasks such as writing, web browsing, and video conferencing.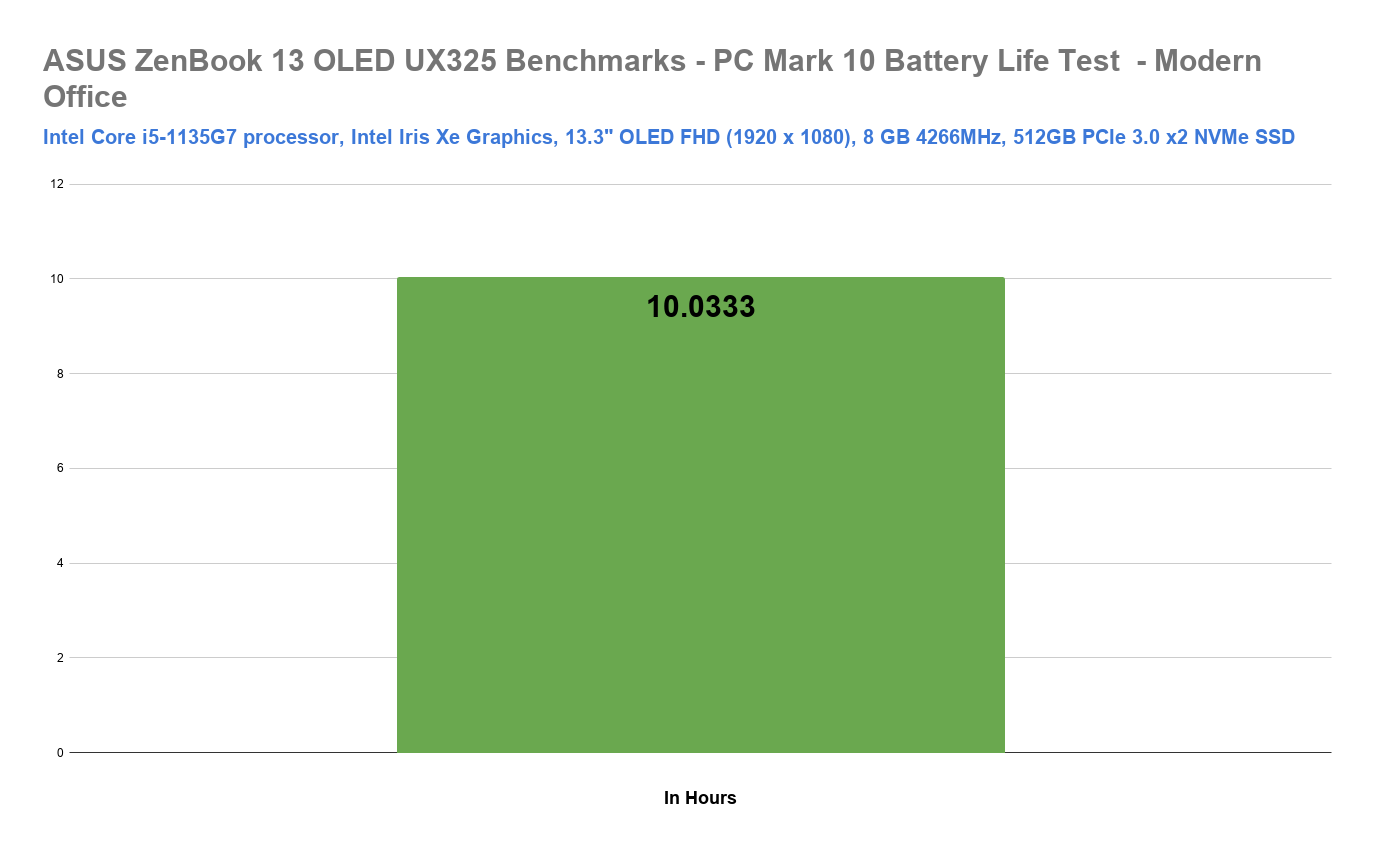 And charging the 67Wh battery using the 65W type C power adapter took only under 2 hours.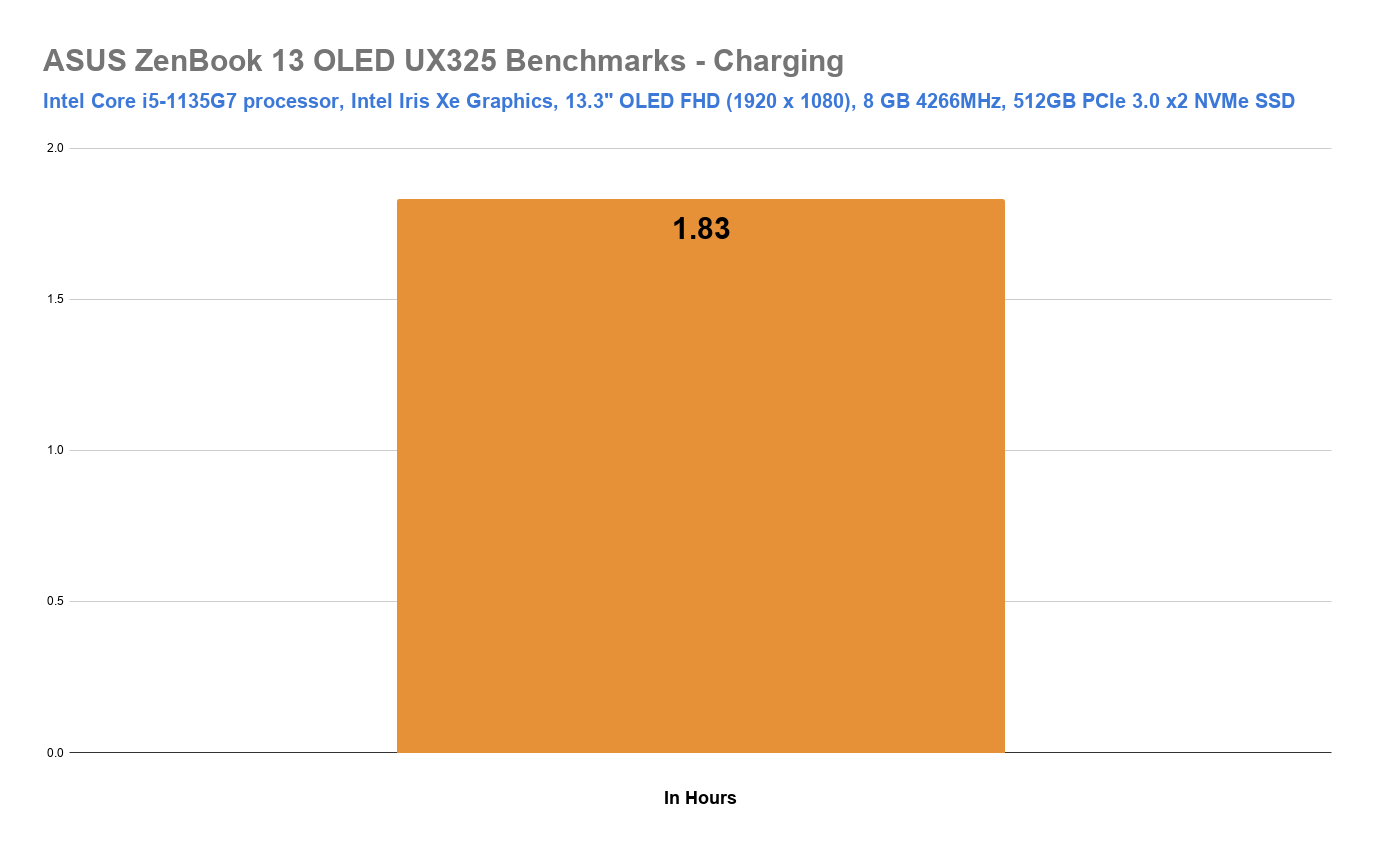 VERDICT
To conclude, the ASUS ZenBook 13 OLED may not seem to provide anything new other than the latest 11th-Gen Intel Core processor and the OLED panel with a similar design, construction, and set of features as its predecessor, but if you're just looking for a brand new model and in case for some reason, you skipped the 2020 variant, this new version with an amazing OLED panel is the way to go. It features all the outstanding characteristics of the older model while upgrading the performance and display to provide a completely different experience especially for media consumption and productivity. 
For more details about the ASUS ZenBook 13 OLED UX325E, click here.
Suggested Retail Price: SRP: PHP 59,995
ASUS ZenBook 13 OLED:
Pine Grey color
11th Gen Intel Core i5 processor
Intel Iris Xe Graphics
8GB Memory
512GB SSD
Related Content:
ASUS ZenBook Duo 14 (UX482) Review – Elegant Dual Display Productivity Laptop!
ASUS ZenBook Duo 14 (UX482)EG Unboxing and First Impressions
ASUS ZenBook Flip S UX371EA Review – Best Versatile Thin and Light 4K OLED Laptop!
Why ASUS ZenBook Laptops are the Best Versatile Thin and Light Laptops in 2020
ASUS ZenBook Flip S UX371EA Unboxing and First Impressions
ASUS VivoBook S14 S433EQ Review
ASUS VivoBook S14 S433EQ Unboxing and First Impressions
25 Cents Thin Gaming Laptop! Ft. MSI GS66 Stealth!
Lenovo Legion 5i Review – A Gaming Laptop That Doesn't Look Like One!
Php 70K Gaming and Programming PC Build Ft. Tecware Alpha TG!
Size doesn't matter in the PC Master Race – A mini-ITX Build Story.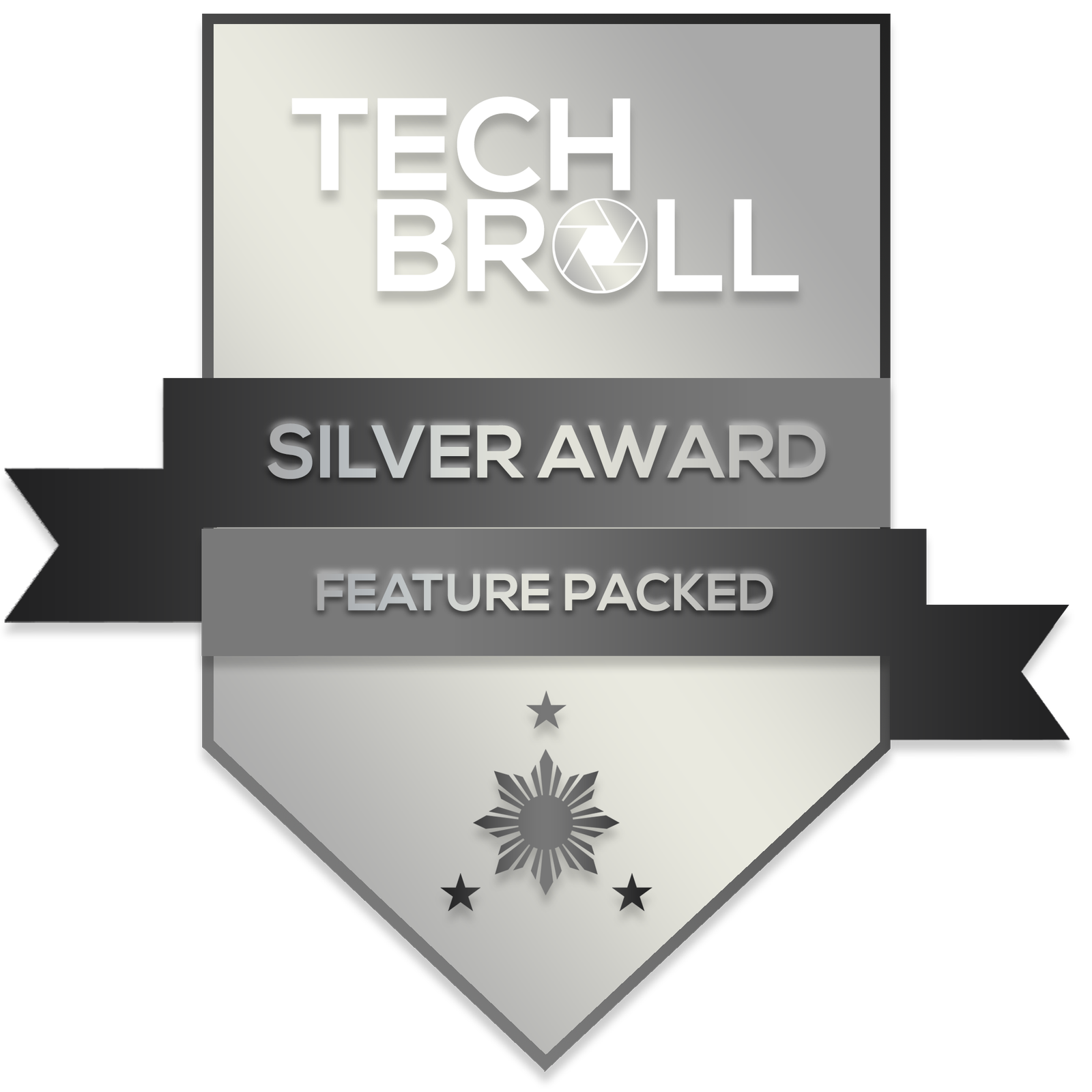 ASUS ZenBook 13 OLED UX325E
Php 59,995
Pros
Simple yet elegant design
Decent build construction
Fairly lightweight
Outstanding OLED display
Good battery life
Decent performance
Nifty ASUS NumberPad
Cons
Requires dongle for audio jack and ethernet (included)
Doesn't offer any unique new design
SHARE THIS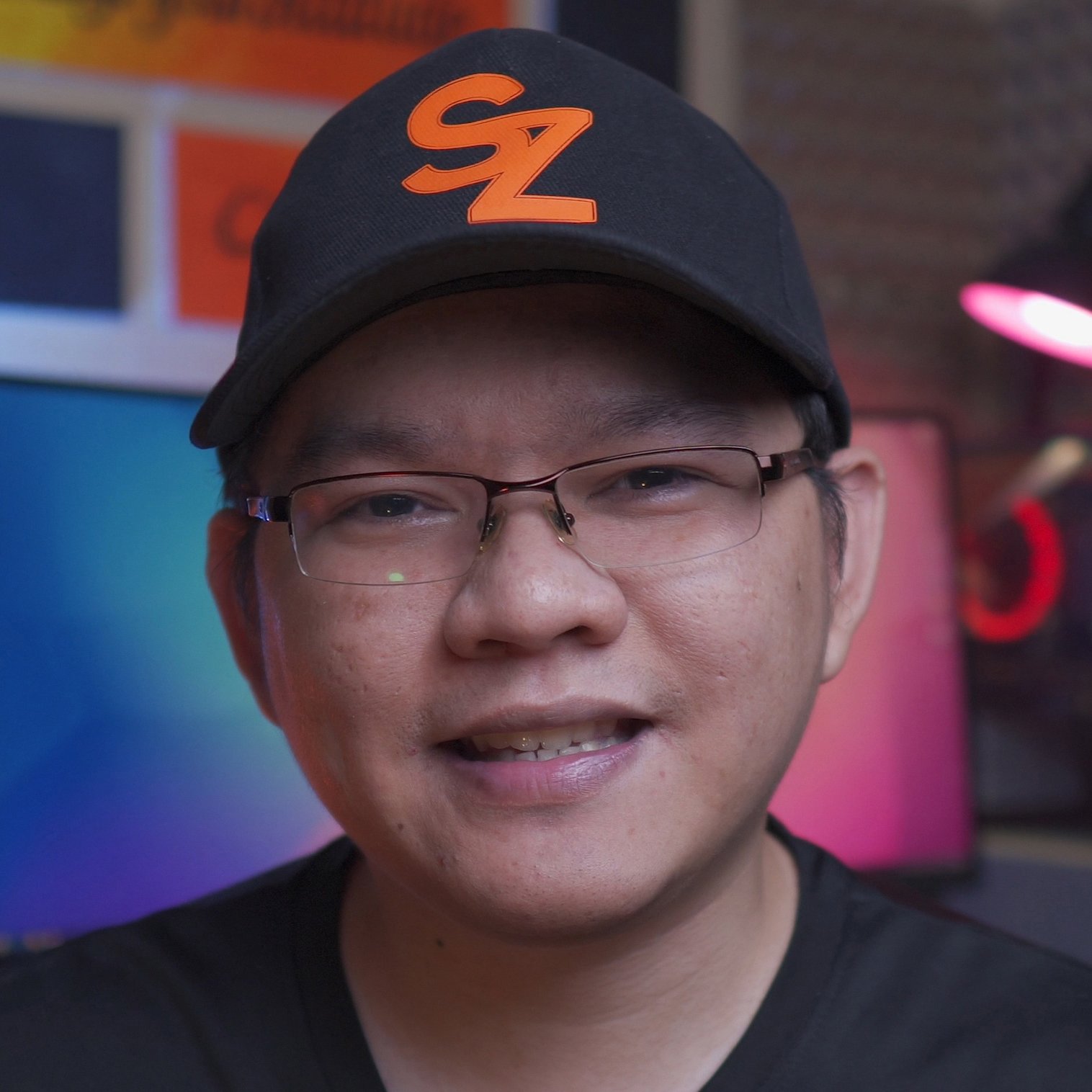 The Broll who always got your back online!