I never thought I'd say this for a non-Cherry MX style switch, but the ROG RX Optical Mechanical Switch is probably one of the best mechanical switch that I've tried so far when it comes to the out of the box experience. Now, before you react with compatibility and customization stuff, please hear me out.
Today, we're taking a look at the NEW ASUS ROG Strix Scope RX Mechanical Keyboard, a breakthrough in my opinion when it comes to mainstream mechanical keyboards and probably one of the best ASUS ROG has ever produced when it comes to their mechanical keyboard lineup.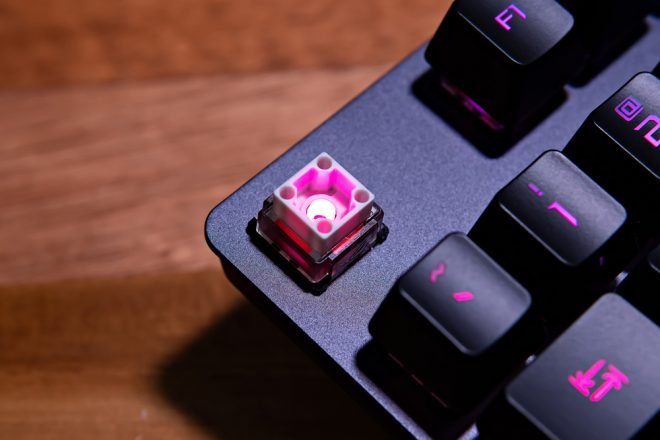 MY EARLY BREAKDOWN
Pros: Near perfect mechanical keyboard switch, Good design and build construction, Feature-packed, Aura Sync Compatible, Intuitive and useful software
Cons: Non-standard layout, keycaps, and switches.
SPECIFICATIONS
Key Switch: ROG RX RED Optical Mechanical Switch
Connectivity: USB 2.0
Size: Full Size
Lighting: Per-Key RGB LEDs
AURA Sync: Yes
Anti-Ghosting: 100% Anti-Ghosting
Macro Keys:
All Keys Programmable
On-the-Fly Recording Support
USB Report rate: 1000 Hz
USB Passthrough: Yes, full function
Profile Hot Keys:
Fn + 1 / 2 / 3 / 4 / 5 / 6*
* 6 is the default
Lighting Effects Hot Keys:
Fn + Right or Fn + Left
Brightness Setting Hot Keys:
Fn + Up: Brightness up
Fn + Down: Brightness down
Macro Hot Keys:
On The Fly Macro Recording
Step 1: Fn + Right-ALT to start recording
Step 2: Fn + Right-ALT to end recording
Step 3: Assign Macro Key
Media Hot Keys:
Play/Pause (F5)
Stop (F6)
Backward (F7)
Forward (F8)
Mute/Unmute (F9)
Volume Up (F10)
Volume Down (F11)
Stealth key: Show desktop & mute (F12)
OS: Windows® 10
Software: Armoury Crate
Dimensions: 440x137x39 mm
Weight: 1.07kg
Color: Black
WHAT'S IN THE PACKAGE
The packaging for the ASUS ROG Strix Scope RX is pretty standard with any ASUS ROG peripherals. It has everything you might expect from the top of the line offering from ASUS ROG. 
In front, we have an image preview of the product, a massive ROG Eye logo, and some of its key features.
At the back of the box, we have another image preview of the product with parts overview, key features, and specifications.
Upon opening the box, we're greeted by the ASUS ROG Strix Scope RX itself nicely protected by a non-woven fabric.
Removing it out of the box reveals the rest of the package contents.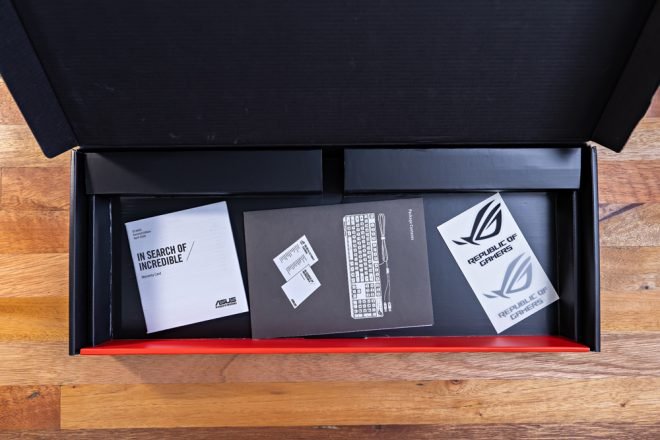 Inside the box, we have the user manual,
A warranty guide, 
And a set of ASUS ROG stickers.
And that's about it for the unboxing experience, now, let's take a closer look at the ASUS ROG Strix Scope RX itself.
FULL REVIEW
Design, Construction, and Parts Overview
At first look and touch, it does resemble the same design we're used to on any ASUS ROG Strix Scope keyboard with a modern and minimalistic design but with the typical aggressive-looking gamery ASUS ROG fonts.  
The cables are substantially thicker than usual but are well managed by an ASUS ROG branded velcro strap.
At the end of it, we have 2 USB plugs one for the keyboard itself and the other one for the USB 2.0 passthrough. Granted it's not USB 3.0 but a nifty addition nonetheless.
On the lower-left corner, we have a "Republic of Gamers" logo subtly placed on the edge of the alloy top cover.
Speaking of the alloy top cover, the entire keyboard is covered by it and it even drops a bit on the front. This adds a minimalistic design element while providing the keyboard the rigidity and robust build quality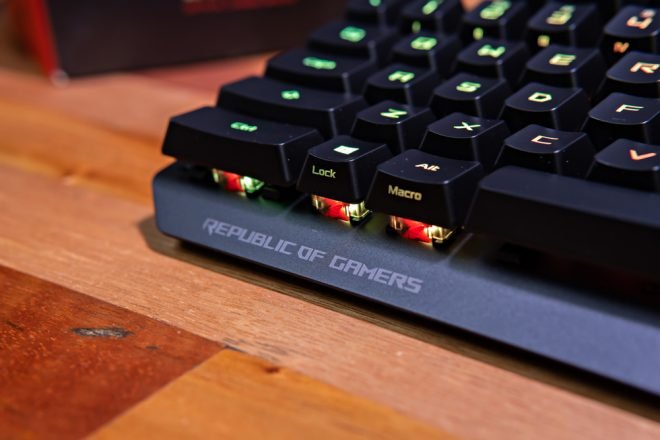 Looking on the other side, on the upper right corner, we have the labeled LED indicators and an illuminated ROG Eye logo.
The illumination and lighting effects, of course, can be customized via ASUS Aura Sync.
Flipping the keyboard on its side, we can have an idea about the profile of this keyboard which features a floating keys design. This essentially means that half of the switches are visible. We can also have a better view here about the union of the thin alloy top cover and the thick hard plastic bottom housing with these chamfered edges. And lastly, of course, we can see the angle at which the keyboard sits when the flip-out stands are being utilized. This should allow for a more ergonomic typing experience alongside the curved profile of the keycaps themselves.
Looking at the backside, we have the USB 2.0 passthrough port nicely placed on the right side.
We also have here the non-removable thick cable nicely tucked inside.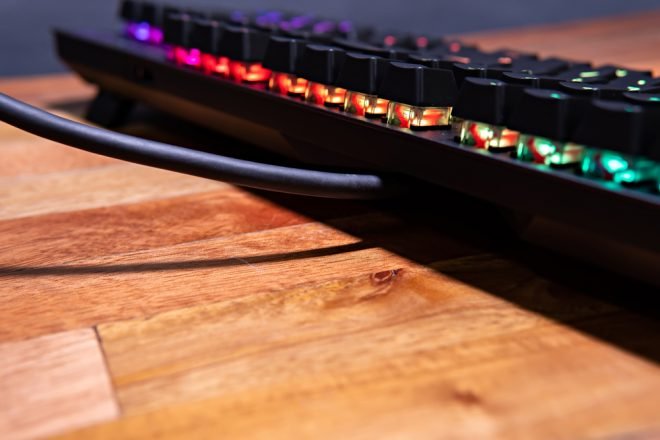 And what I like about this aside from the fact that it is recessed inside, is that it is just a single cable up until the very end where it splits up into the two USB plugs which make up for tidy cable design.
Now, flipping it all over at the bottom, we have two flip-out stands with a rubber tip as well for a total of 7 rubber feet to make this thing stay in place.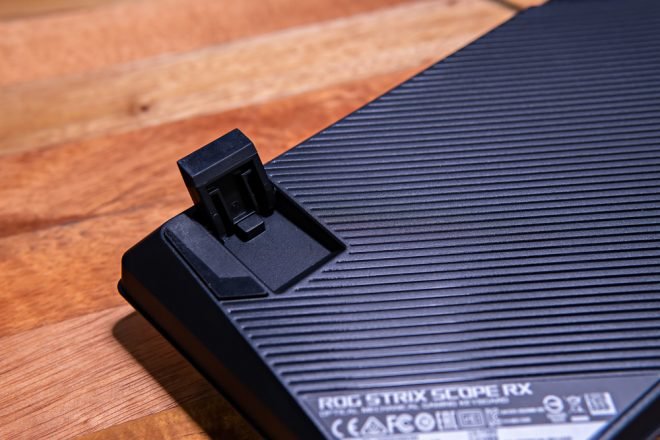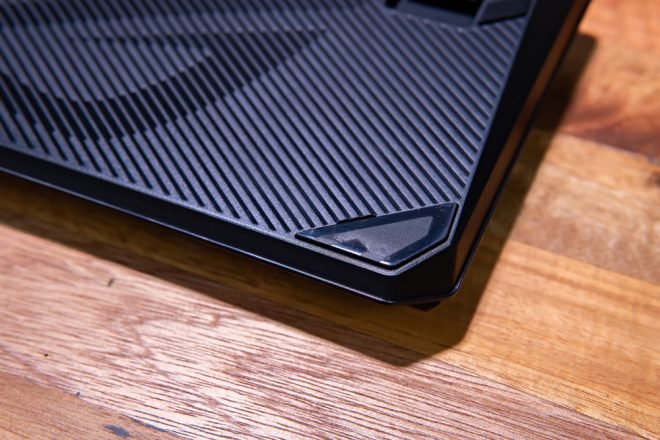 The bottom has this nice patterned design that even though does nothing and isn't seen that much adds up to the overall ASUS ROG aesthetics partnered with, of course, a massive ROG Eye logo.
And lastly here at the bottom, we have some technical information here on the lower-left corner such as certifications, serial, and part numbers.
The ASUS ROG Strix Scope RX is also IP56 dust and water-resistant by the way.
Layout
Going back in front, in terms of the layout, the ASUS ROG Strix Scope RX features an almost standard layout except for the bottom row where we have a larger control key.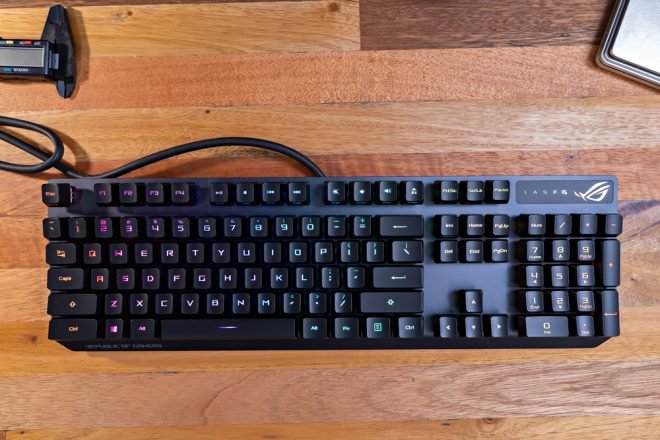 This isn't a surprise at all as we also have this patented design across all the ASUS ROG Strix Scope Lineup. The larger control key allows gamers to toggle the control key, especially for FPS games without missing a heartbeat and without much fatigue on the pinky finger.
I honestly can't blame ASUS ROG for this decision as they are a brand geared towards gamers more than for keyboard enthusiasts. They are the "Republic of Gamers" for a reason. With that being said, I still would hope they revert to a standard layout to accommodate a more flexible option when it comes to keycaps customization. However, I don't think that would even happen now that they produced an equally non-standard mechanical switch. More on that later though.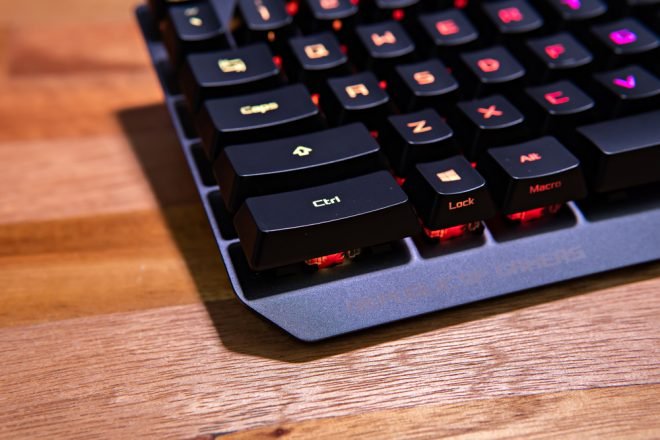 Back to the layout, the ASUS ROG Strix Scope RX features a full-size layout which means we have all the keys necessary such as a numpad, dedicated arrow keys, full nav cluster, and the entire function rows up top.
Keycaps and Fonts
In terms of the fonts, we still have the same ASUS ROG font face with this aggressive, edgy design which I am not personally a fan of but definitely used to it by now.
Now, the keycaps look pretty much the same at least on the surface with this single-shot construction and UV-coated finish which unlike Doubleshot PBT keycaps, will eventually shine and fade away over time.
Looking underneath it, however, is an entirely different story. You see, ASUS ROG alongside the innovation of the NEW ROG RX Red Switch, of course, have to design the keycaps to match with that. With this, instead of the traditional cross design, it now has four prongs that allow the keycaps to be much more stable than the standard ones. 
As per my experience, it is definitely more stable and doesn't wobble much compared to Cherry MX style keycaps and switches.
Speaking of switches, this is where it gets really interesting so let's talk about that.
ASUS ROG RX Red Switches
Like I said in my intro, the ASUS ROG RX Red Switch is probably one of the best mechanical switches that I've tried so far at least for the out-of-the-box experience. Trust me when I say that this new optical switch designed by ASUS ROG is definitely phenomenal when it comes to the overall feel, stability and typing experience.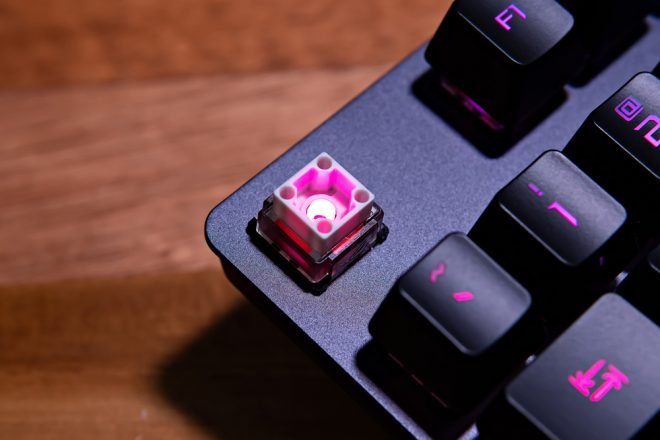 The up and down travel is super smooth out of the box which I haven't felt for a while in a mainstream keyboard. I know red switches are supposed to be smooth but this one takes it on another level. The consistency of the travel is very good and it's fairly stable as well. What's even better is the adjusted initial force of 40g instead of 30g that allows for fewer mistakes especially for a red switch but with the same 45g of actuation force required for a total of 55g bottoming out force. The actuation distance was also reduced to 1.5mm instead of 2mm allowing for quick activation which is quite vital for fast-paced games. 
Did I mention this new switch is also optical? meaning it doesn't suffer from the usual metal debounce delay which makes this the ultimate gaming mechanical switch in my opinion. Not to mention, it should last a bit longer than the traditional mechanical switch since it has fewer metal parts providing that the sensors can hold up over time.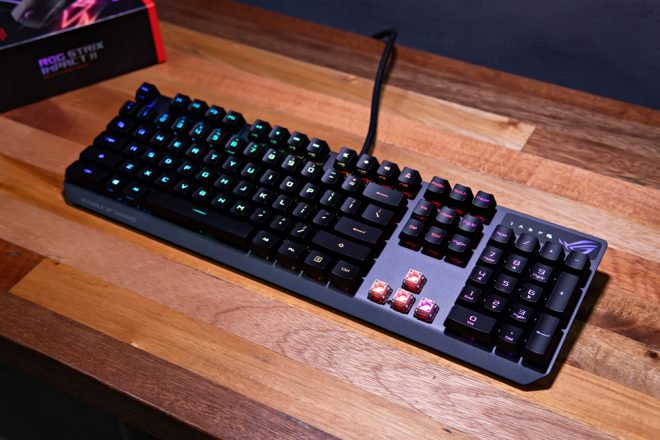 Stabilizers
In terms of the stabilizers, it is also not standard and not the typical Cherry MX style stabilizers. 
With that being said, it does its job quite well and is fairly smooth without much rattle to it for both the spacebar and the modifiers. One of the best as well that I've tried for a pre-built keyboard, let alone from a mainstream brand.
RGB Illumination
In terms of the RGB Illumination, alongside the central LED design of the key switches, the keycaps also have sub legends which the LED illumination also shines through.
We can adjust the lighting effects and brightness levels via the arrow keys in combination with the Fn key.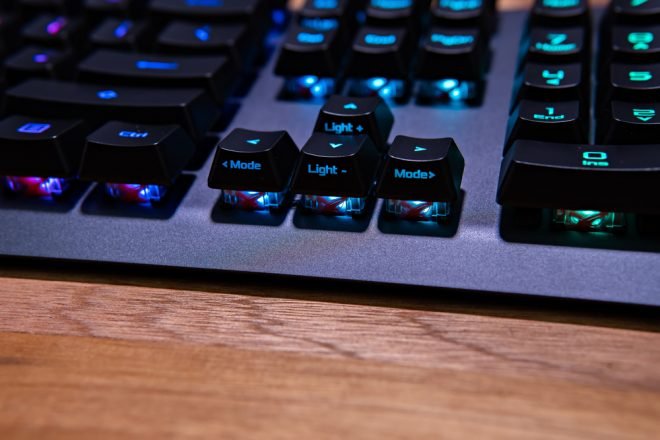 The illumination is substantially bright and well diffused, thanks to the central LED design.
Here's how bright the illumination looks in a fairly dim environment.
And here's how it looks sideways.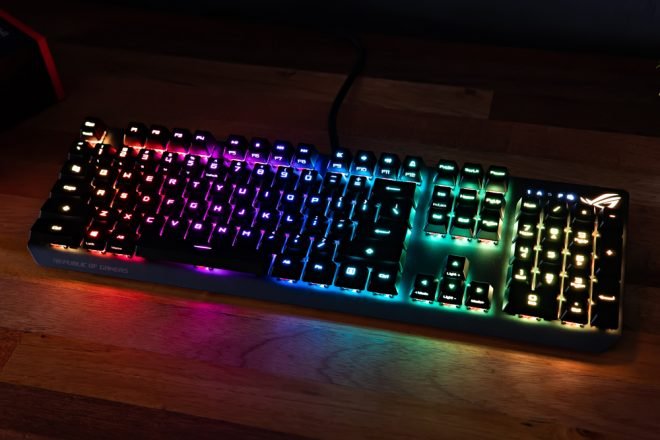 One thing I noticed though is that since the wobble-free x-stabilizer is color red, you will always get that red tint or color regardless of what color scheme your going after using the onboard settings or the ASUS Aura Sync Software.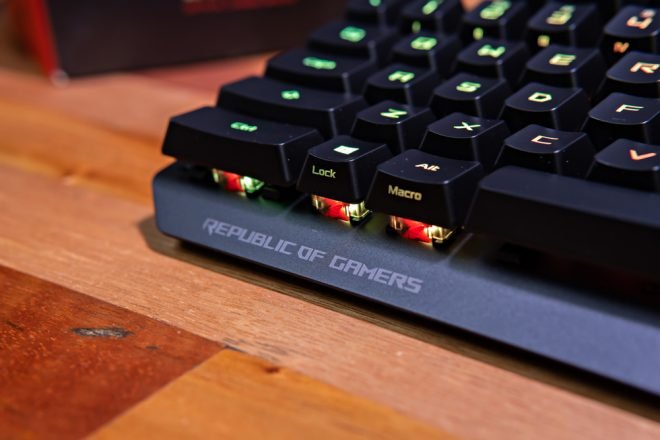 AURA Sync and Armoury Crate Software
The ASUS ROG Strix Scope RX is backed up by the ASUS Armoury Crate Software, the all in one gateway for any ASUS Product, may it be PC components, Software, Games, Tools, and in our case, Peripheral.
Inside the Armoury Crate software is the integrated ASUS Aura Sync wherein you can pretty much customize the lighting effects of the ASUS ROG Strix Scope RX from the basic available presets down to the advanced effects via the AURA Creator feature. Here you can change the colors, brightness, speed and you can even disable the illumination entirely.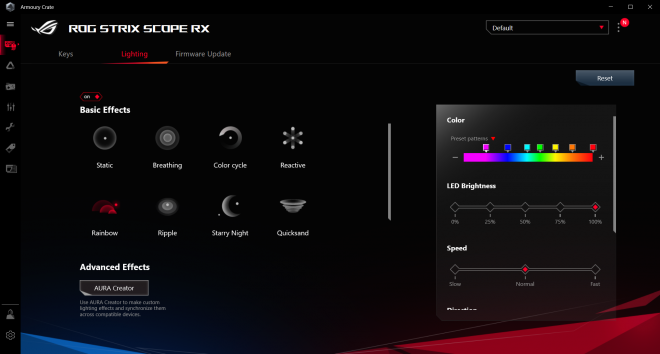 Inside the software, you can also customize each key individually depending on your preference and workflow. You can change a key's function to a different key, a mouse function, macro, launch an application, open a website, multimedia, and windows shortcuts or disable the keys function entirely. We also have the option to disable key combinations such as alt-tab and alt-f4 should you think it's necessary.
And lastly, aside from being able to sync the LED illumination to the rest of your ASUS devices, configure any key, we also have the firmware update tab wherein, of course, you can update the device's firmware.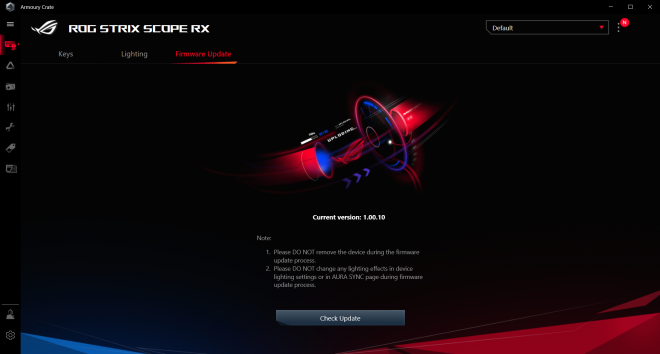 Other Features
Aside from having good switches, intuitive and useful software, and overall decent design and construction, the ASUS ROG Strix Scope RX also boasts a couple of usual features the ROG Scope lineup is known for.
Aside from the extra-large control key, USB 2.0 passthrough, and RGB lighting, we also have the instant privacy feature which you can toggle by pressing FN+F12. This will minimize all apps and mute the audio, so you know, you can go about your business without taking the risk.
We also have macro customization and up to 5 different profiles that you can customize depending on your preference.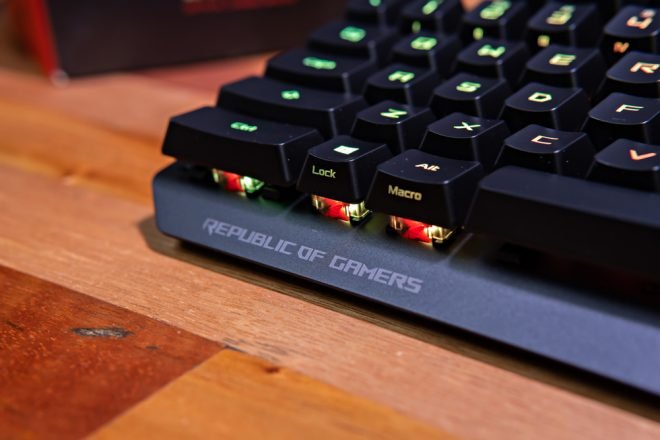 Aside from that, we also have the quick toggle key via the Fn + Insert key to instantly shift between function and media key shortcuts.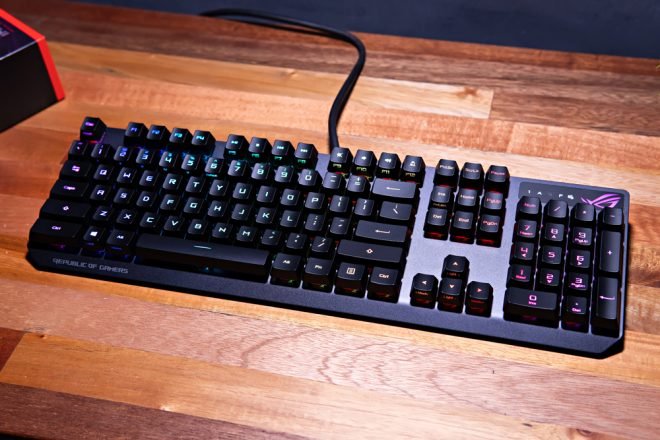 Typing Experience
As for my overall typing experience, as I've pointed earlier, this keyboard by far gave me one of the best typing experience on any prebuilt keyboard. And this is coming from a person who dislikes red switches in particular due to its lightweight characteristics. Changing the initial force to 40g proved to be vital when it comes to accuracy while still maintaining the lightweight 45g of actuation force required. And with a shorter 1.5mm travel time, actuation is faster partnered with the snappy bounceback feel giving you the impression that the switch actuates quickly and accurately, not to mention relatively stable as well with the new wobble-free x-stabilizer and the overall box stem design.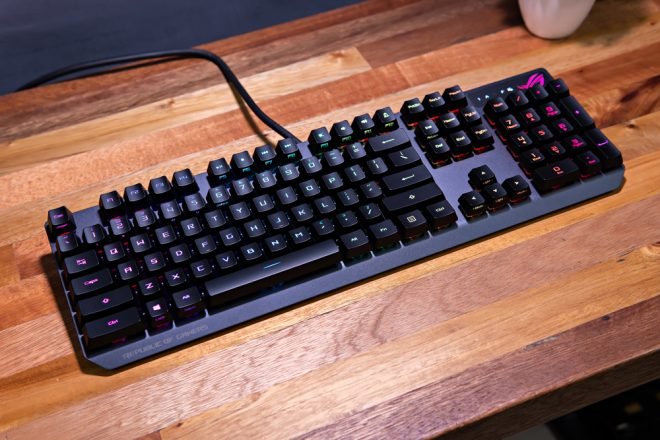 Gaming Experience
In terms of the gaming experience, the ASUS ROG Strix Scope RX definitely gets the job done. The ROG RX Red switch is fast, accurate, stable and most importantly, doesn't have any hindrance such as tactile feedback, audible click, or anything that will take away the focus from both the overall feel and in-game sound queues. Yes, it's not as fast as let's say the Cherry MX Silver switch made for gaming (e.g. faster actuation and shorter travel time) but it's close enough. The larger control key though honestly not a groundbreaking deal for me, does its purpose of making sure you get that crouch action when it matters most. Overall, the ASUS ROG Strix Scope RX delivers its very purpose.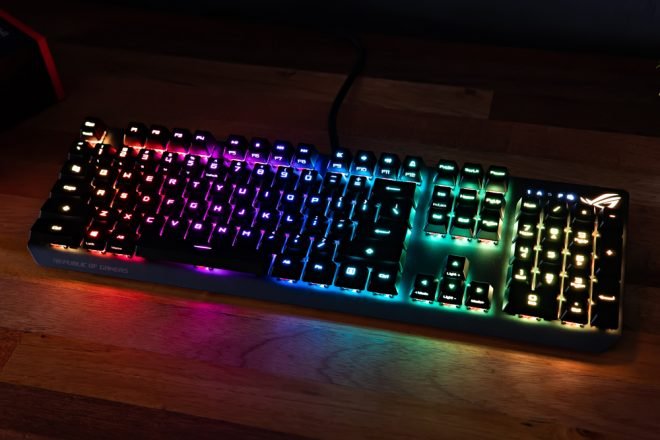 VERDICT
To conclude, the ASUS ROG Strix Scope RX is a brave step forward towards mechanical keyboard innovation and veers away from the traditional, sometimes predictable, and boring mechanical switches and standards. And it has been a while since we've seen something completely different like this, and even though we can say goodbye to deep customization and compatibility with the rest of the available standards, I personally feel like the overall positives of this new switch outweighs its customization limitations. Granted, this is probably not for the enthusiasts but if you're only looking for the best out-of-the-box experience, for hardcore gamers which to be frank what this keyboard is for, this is a very good option.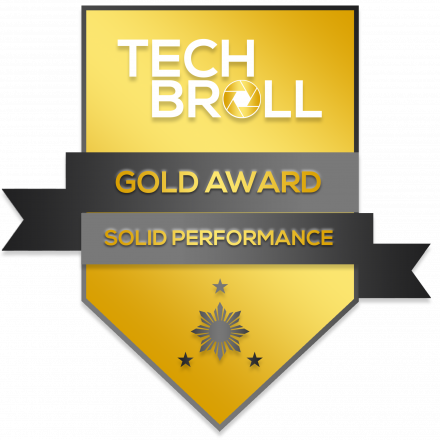 ASUS ROG Strix Scope RX
Php 5,490
SHARE THIS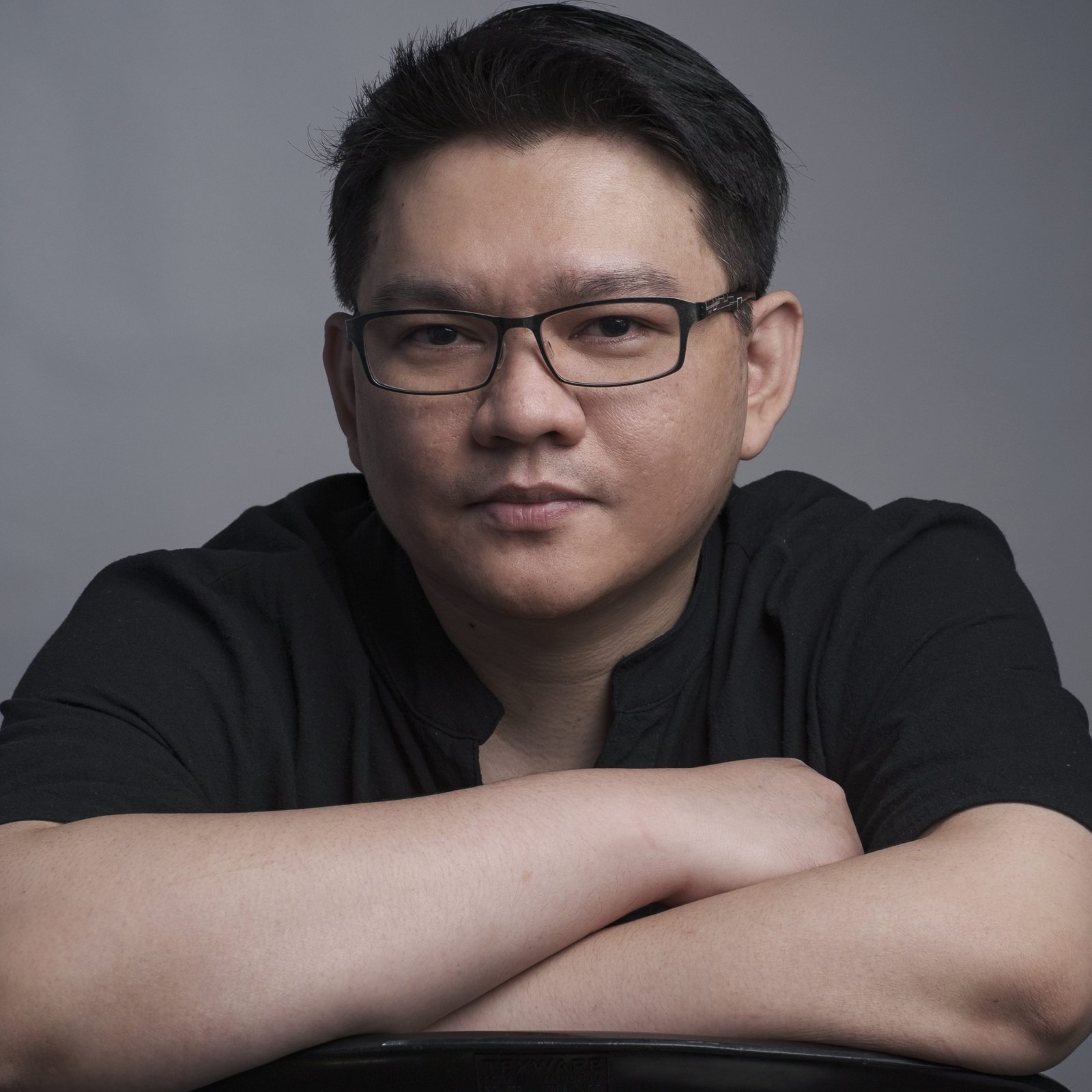 The Broll who always got your back online!