Other than sound quality, three things come to my mind when choosing the right pair of True Wireless Earbuds. Comfort, Touch controls, and Noise cancellation. The SoudPeats H1 offers almost all of it and some. While it doesn't feature any sort of active noise cancellation, the design, fit, and passive sound isolation are good enough. Aside from that, it checks all my boxes with a decent and comfortable sound signature, pretty much all the controls you need using touch gestures and it also has wireless charging to boot. With that being said, let me share with you the rest of my thoughts about the SoundPeats H1 True Wireless Earbuds.
MY EARLY BREAKDOWN
Pros: Good sound quality, Decent design, and build construction, Comfortable, Good battery life, All the essential touch controls, Wireless charging
Cons: No active noise cancellation, Bulky
SPECIFICATIONS
Core Specs

Bluetooth Version: Bluetooth® 5.2

Bluetooth Codec: aptX™ Adaptive, SBC, AAC

Bluetooth Chipset: Qualcomm® QCC3040

Driver: Knowles Balanced Armature Driver & 8.6mm Dynamic Driver

Charging Port: Type-C & WIreless

Waterproof: IPX5

Mic: Dual Mic per earbuds & CVC Noise Cancellation
Battery

Battery Capacity: HS: 60mAh BS: 500mAh

Earbuds Charging Time: 1.5 hrs

Earbuds Playtime: 10 hrs per charge

Charging Voltage: DC 5V 500mA

Package

Item Dimensions: 93*104.5*42mm(L*W*H)

Headphones Dimensions: 24.5*22.5*27mm(L*W*H)

Charging Case Dimensions: 72*42*33 mm(L*W*H)

Headphones Weight: 6.5g

Charging Case Weight: 44g
WHAT'S IN THE PACKAGE
The packaging for the SoundPeats H1 is pretty good with some key features and an image preview in front and then at the back, an image of a pleasantly looking guy rockin' the SoundPeats H1.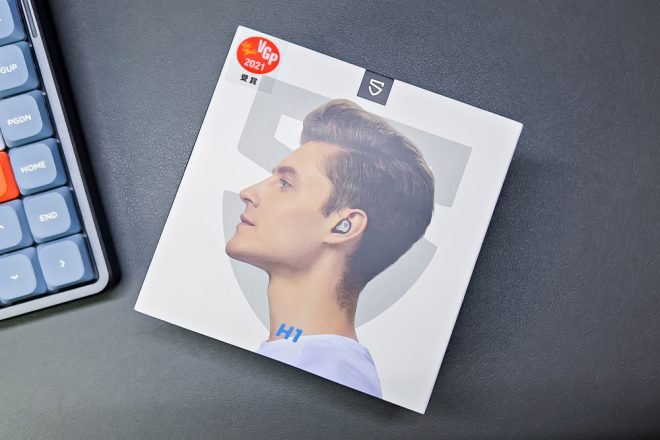 Around the box, we just have more image previews of the SoundPeats H1 True Wireless Earbuds.
Opening the box reveals the two wireless earbuds as well as the oblong-shaped charging case.
Underneath the plastic platform, we have all the package contents and there's actually a bonus here.
Aside from the charging case and the earbuds themselves, we also have the user manual, a short USB Type C charging cable, a few replacement ear tips and a bonus Comply TrueGrip foam ear tips.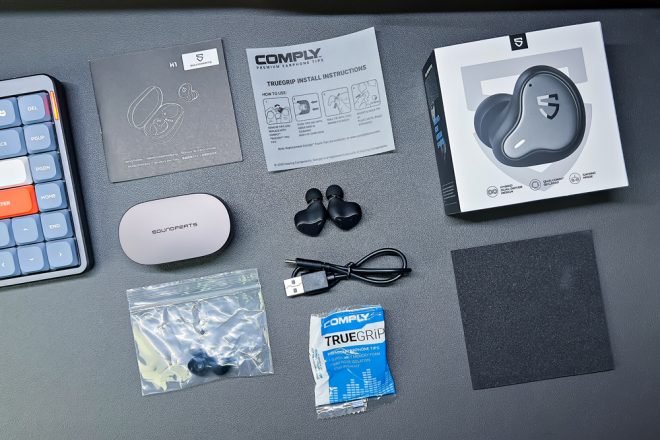 FULL REVIEW
Design, Construction, and Parts Overview
In terms of the design and construction, the charging case has a decently sized, oblong-shaped form factor with a two-toned colorway and with a SoundPeats logo looking from above.
At the back, we have the USB Type C port for charging and you can also charge this using a wireless charger. Besides the port, we also have a small LED indicator.
Inside the charging case, we have the cavity for the earbuds with labels for the orientation and we also have a few LEDs for the battery level.
As for the earbuds, they resemble a familiar shape and form factor typically found on most IEMs with a shape that hugs and takes space around the contours of your ear. However, it is kinda bulky and sticks out a bit outside your ears. 
In front, we have a large surface area for the multifunction touch controls, a soundpeats logo, a bright LED indicator, and one of the 2 microphones available on each earbud.
The other microphone is located on the side.
One interesting design language is the transparent part of the earbud that even though is not visible from the outside, is still a very nice touch.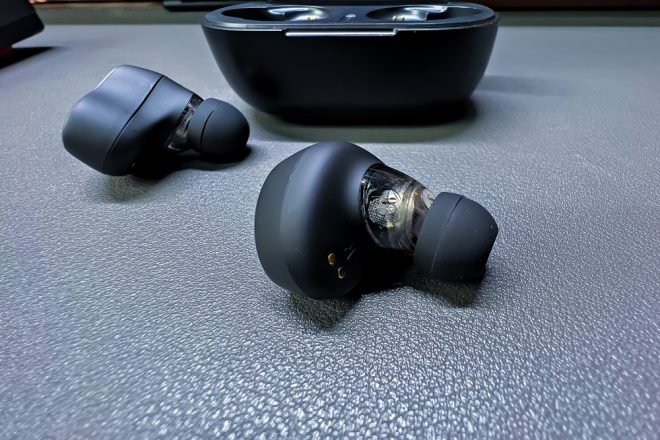 Overall, in terms of the design, if you can look past its bulky form factor, the design is really good and aesthetically pleasing.
Comfort, Fit, and Noise Cancellation.
In terms of comfort and fit, it varies depending on each person's ear size and contours, and in my case, it is definitely comfortable especially with the included Comply True Grip ear tips which expand and take the shape of your ear canal for better fit and sound isolation.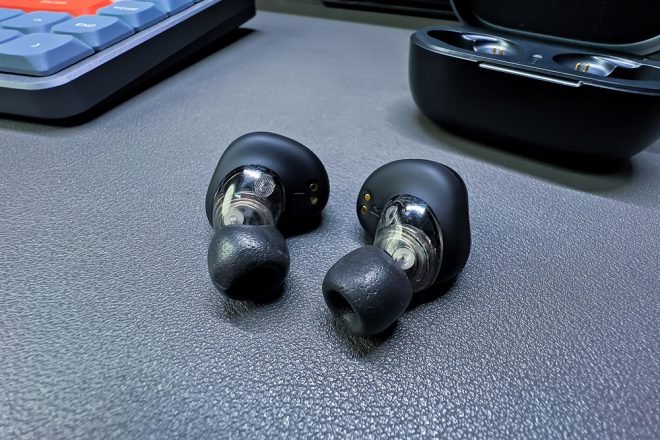 And even though the form factor looks bulky, to be honest, it doesn't bother me at all. In fact, I was actually able to sleep with these throughout the night without them falling out of my ears. Of course, again, you're mileage may vary.
Now, even though the SoundPeats H1 doesn't offer any kind of active noise cancellation. The design, fit, and passive sound isolation are good enough to block or isolate most of the outside background noise without introducing any unnecessary discomfort.
Pairing and Bluetooth Connectivity
As with most modern True Wireless Earbuds, pairing is pretty straightforward. While we still don't have the quickest pairing method Apple AirPods has, pairing is still fairly easy. When you take out the SoundPeats H1 earbuds from the case, both earbuds will pair with each other and will automatically go into pairing mode, all you have to do now is turn on Bluetooth on your host device (e.g. Smartphone, Tablet, PC, Laptop), pair it and you're good to go. 
The SoundPeats H1 features Bluetooth 5.2 with a Qualcomm QCC3040 Chip that supports aptX adaptive, SBC, and AAC. The connection for the most part is stable with some occasional hiccups here and there but not a deal-breaker I would say. 
Latency and Game Mode
In terms of latency, even with just the out-of-the-box settings, latency is already pretty decent with almost unnoticeable delay when watching videos. But if you want to step it up further, you can enable Game mode which reduces the latency down to 60ms. As per my observation, there is no difference when it comes to sound quality but it's safe to assume that there will be some sort of performance hit when it comes to overall battery life under this mode.
Touch Controls
Another thing that I really like about the SoundPeats H1 is that we have pretty much all the controls that we need using the multifunction touch area which is quite large compared to most True Wireless Earbuds. You can play/pause, adjust volume levels, skip tracks, answer and hang up calls, switch between two active calls, activate voice assistant, and enter game mode by using multiple touch gestures. You can also individually turn on and off each earbud if you're into that. 
Now, before we discuss the Sound Quality, let's talk about the app real quick as it also somehow affects the sound quality if you choose to take advantage of its settings.
SoundPeats APP
As of the time of writing this review and as per checking on SoundPeats' website, it looks like the SoundPeats H1 is the only supported model right now.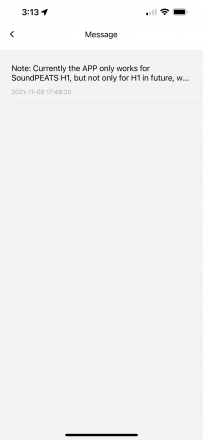 The first thing I did is I upgraded the firmware to make sure I get the best out of the SoundPeats H1.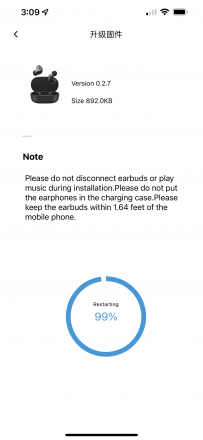 Inside the app, we have the sections for the firmware, message, settings, about, and logout.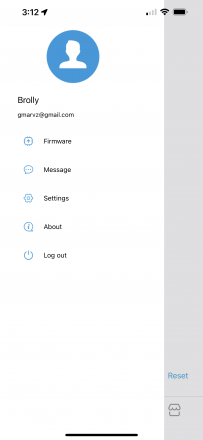 We also have the Customized page where we have most of the useful features and settings to fully take advantage of the SoundPeats H1. Here you can adjust the volume levels, set up adaptive EQ or choose from the available preset or adjust the equalizer yourself. You can also adjust the lighting on the earbuds here.
Now, as you may have noticed, there is this noise reduction setting here but it actually doesn't do anything since the SoundPeats H1 doesn't have any active noise cancellation feature.
Now, there are three options here that affect the sound signature of the SoundPeats H1.
We have the presets,
Custom equalizer,
And probably the most interesting one and the one that I am currently using, the adaptive EQ.
This feature will let you hear and recognize different sound frequencies and adjust the settings automatically depending on your hearing ability which I find absolutely interesting and cool.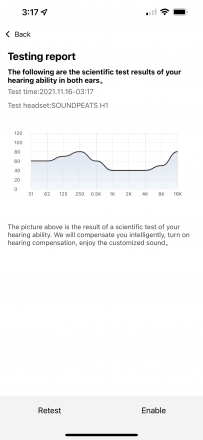 And what's even better here is that the settings are saved on the earbuds and as per my observation, it actually works. The difference in terms of sound quality is quite significant. I have to say it improves the sound quality and makes it even fuller, richer, and overall better compared to the stock configuration.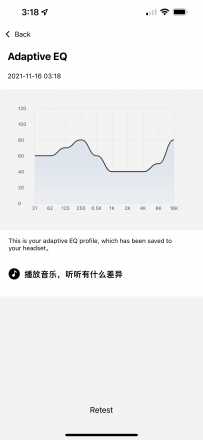 '
Lastly, in terms of the app, we also have a page dedicated to the SoundPeats catalog if you want to explore more options from their lineup.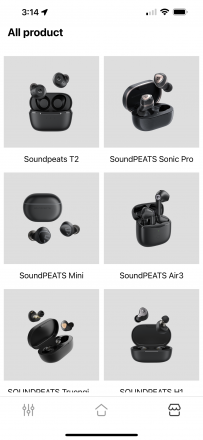 Sound Quality
Now, in terms of sound quality, the SoundPeats H1 is a joy to listen to. It brings just about enough of everything to the table. While most True Wireless Earbuds or any earbuds for that matter choose to focus more on the low-end frequencies and bass, the SoundPeats H1 instead gave importance to treble and higher-end frequencies while still offering just enough oomph at the low-end to balance things out.
It uses Knowles Balanced Armature Driver partnered with an 8.6mm dynamic driver and a patented tuned crossover to bring a clear, comfortable, and rich sound with enough bass. The Knowles Balanced Armature Driver takes care of the high-frequency signals while the 8.6mm dynamic driver takes care of the mid and low-frequency signals.
What I like about the sound quality of the SoundPeats H1 is that I can distinguish each sound source especially the instruments from a band while still appreciating the forward-sounding vocals. The low-end is substantial enough that it's there but doesn't overshadow the mids while the highs are very comfortable even on higher volumes. This is one of those True Wireless Earbuds that I feel like I can listen to for an entire day, especially the fact that the design and fit perfectly matches my ears. The sound stage is also fairly large with this one and gives you a wider range of sound in such a tiny form factor. This is more on the warmer side but definitely not lacking when it comes to treble. An overall decent-sounding pair of earphones.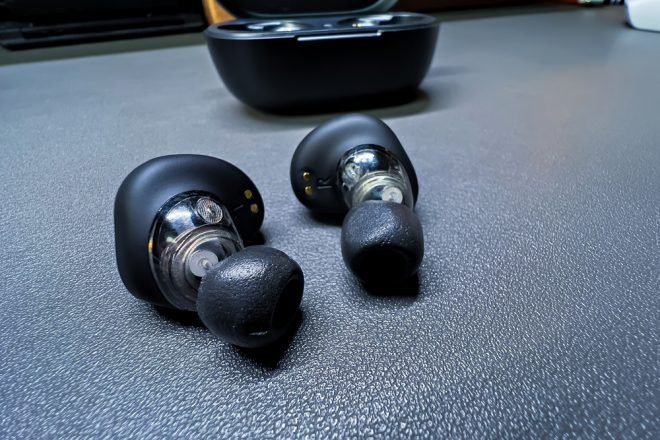 Microphone Quality and cVc 8.0 Noise Cancellation & 4 Mics
As for the microphone quality and the CVC 8.0 Noise Cancellation, to be honest, it didn't exceed my expectations. While it tries to cancel out the background noise, it still struggles to be consistent in doing that, and in return, the voice becomes a bit robotic and obviously processed. Of course, this will still be highly dependent on the amount of background noise you have around and how loud they are. The quieter the environment, the easier for the CVC 8.0 noise cancellation to do its job. If you're in a very loud environment, it'll take a lot of processing power and algorithm to fix that so bear that in mind. Nevertheless, it is still a nice feature to have especially again, in a decently quiet location.
Battery Life
In terms of battery life, each earbud has a 60mAh of battery that can last up to 10 hrs per charge and can be recharged for just around 1.5 hours. On the other hand, the charging case has a 500mAh of battery and can charge the earbuds for an additional 30 hours of playtime. It is safe to say that as long as you have access to an outlet or a wireless charger, you pretty much don't have to worry about battery life. Ah yes, like I mentioned, aside from the USB Type C port, the charging case also supports wireless charging which is awesome!
VERDICT
To conclude, the SoundPeats H1 True Wireless Earbuds is a very easy recommendation. It offers a bit of everything and checks all my boxes except for the active noise cancellation feature which, to be honest, you can find on other similarly priced TWS earbuds. But even with that, I can't consider that as a deal-breaker as the SoundPeats H1 offers more than its out-of-the-box experience. It has a decent design, construction, comfort, and fit providing that your ears can accommodate its shape and size. The multifunction touch area offers pretty much everything you need to quickly toggle controls and the low-latency game mode is a feature other TWS simply doesn't have. Battery life is also pretty decent and something that you don't need to worry about and most importantly, it provides a very comfortable, rich, clear, and pleasant sound signature that you can further tweak using the supporting application especially with the adaptive EQ that tailors with your hearing capability. Overall, the SoundPeats H1 is a very competitive pair of True Wireless Earbuds in a market space that is overwhelmingly saturated. 
The SoundPeats H1 is available at Digital Walker Website as well as on their Official Lazada Store
Related Article:
Limited Edition Joyroom JR-T04S Pro True Wireless Stereo Headphones Review
OnePlus Buds Z Review – Steven Harrington Special Edition!
Marshall Major IV Now Available at Digital Walker and Beyond the Box
OnePlus Buds Z in white and limited edition Steven Harrington NOW AVAILABLE at HomeOffice.PH!
Marshall Uxbridge Voice Review – A Voice Assistant That Actually Sounds Great!
realme Buds Air Pro Review – Active Noise Cancellation!
SoundPeats TrueCapsule Review
Tronsmart Onyx Ace True Wireless Earbuds Review – Quad microphone!
SoundPeats TrueDot True Wireless Earbuds Review
ASUS ROG Strix Go 2.4 Review and AI Noise Cancellation Test
Cooler Master MH630 VS MH650 Comparison and Review
Edifier R1280DB Unboxing, Quick Review, and Sound Test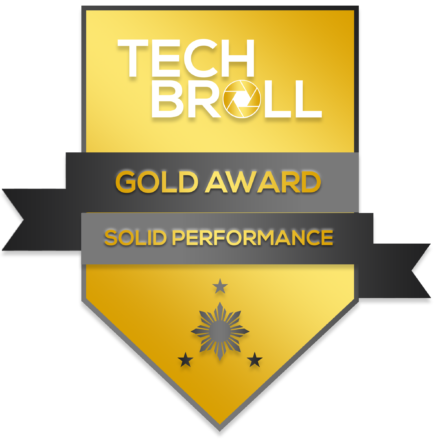 SHARE THIS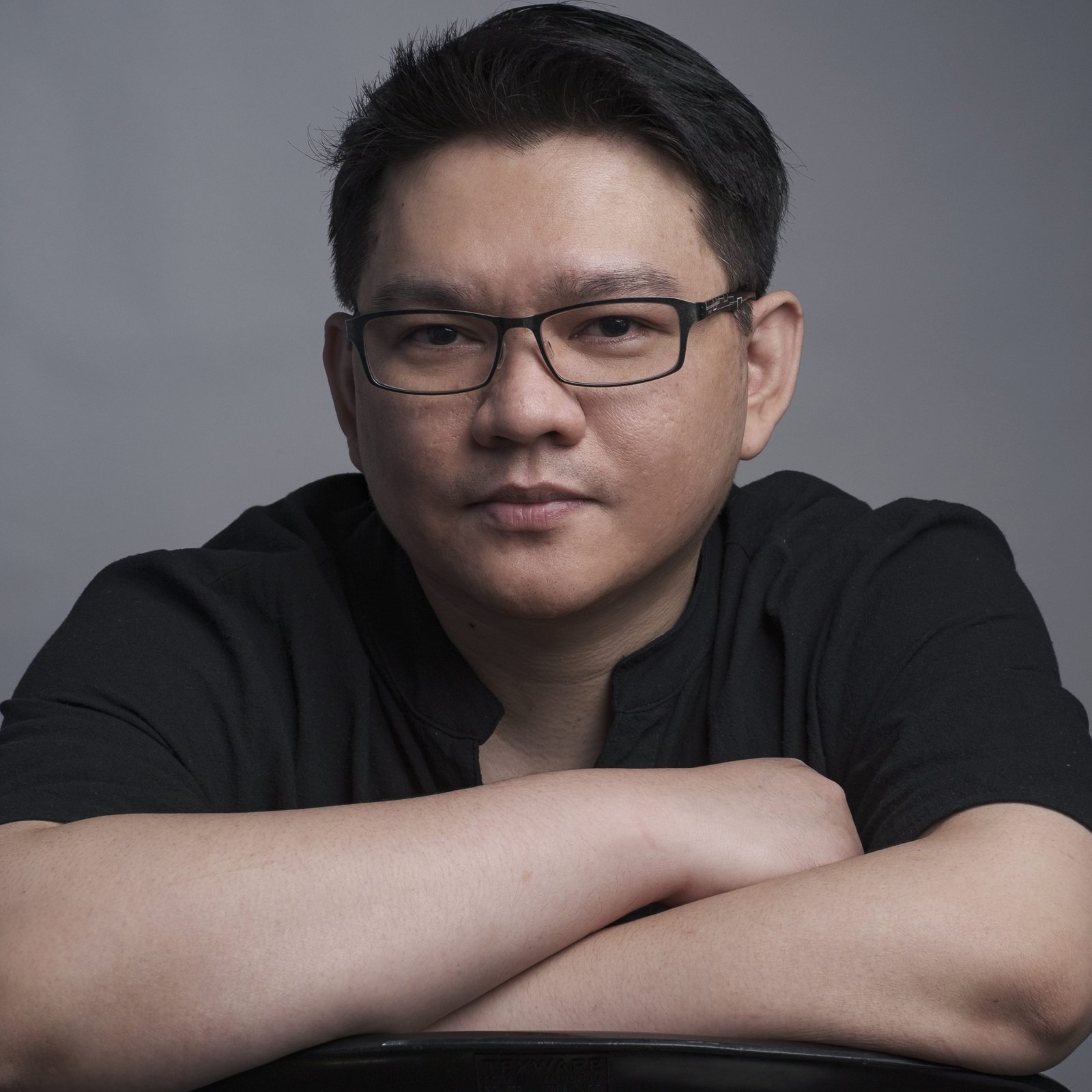 The Broll who always got your back online!