Remember back in the day when gamers prefer heavy gaming mouse with adjustable weights? well, that's a thing of the past now as today, the hype is making a gaming mouse as light as possible while maintaining a good structural integrity and comfort. And almost all the gaming peripherals brand now has their own version of an ultralight gaming mouse, some are unique, and some decided to copy others whether it is for the proven shape, design or a little bit of both. 
Today we're going to take a look at something similar yet somehow different with Fantech's take at the lightweight gaming mouse hype. I'll give you guys a proper look at the NEW Fantech Hive UX2 lightweight gaming mouse. With that being said, let's get into it.
MY EARLY BREAKDOWN


Pros: Good packaging, Well thought off design for the placement of the holes, Proven GPW shape, Thin and flexible paracord cable, Good Performance
Cons: Not so good build quality, Squeaking sounds on the scroll wheel, Not so accurate color reproduction for the LEDs
SPECIFICATIONS


Product model: Hive UX2
Programmable keys: 6
RGB Colors: Up to 16.8m 
Sensor: PMW 3360
DPI: Up to 12000
Interface: Wired USB
Switch: Huano
Switch life: 50 million cycle
Cable length: 180cm
Item Weight: About 74G
Item Size:125*64*39MM(L * W * H)
Compatability: Windows Vista, Win7/8/10, Mac OS X 10.5 or later, Linux, Chrome OS
WHAT'S IN THE PACKAGE

Alright guys, right here I have the packaging for the Fantech Hive UX2, their current latest offering in the gaming mouse category.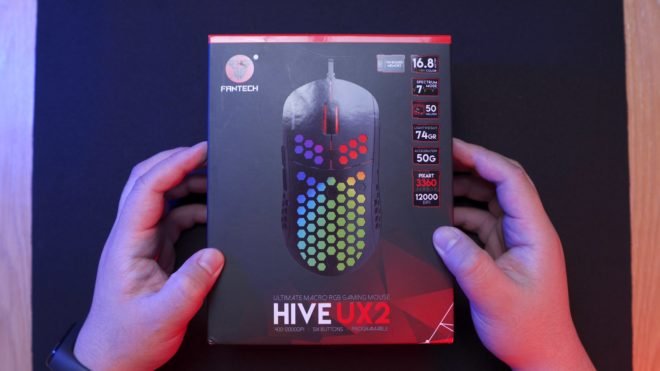 The packaging is actually quite nice with all the necessary details about the product but essentially, what's important here is that it is only 74g with PMW 3360 sensor and uses the durable Huano switches.
At the side of the box, we have a preview of the side of the mouse,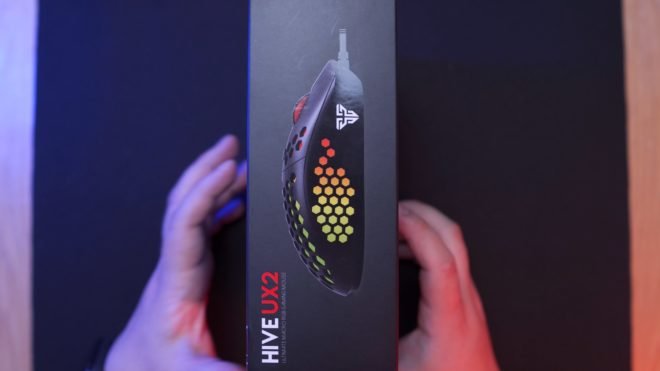 And then at the back, we have all the key features of the Fantech Hive UX2 which we're going to tackle in-depth later.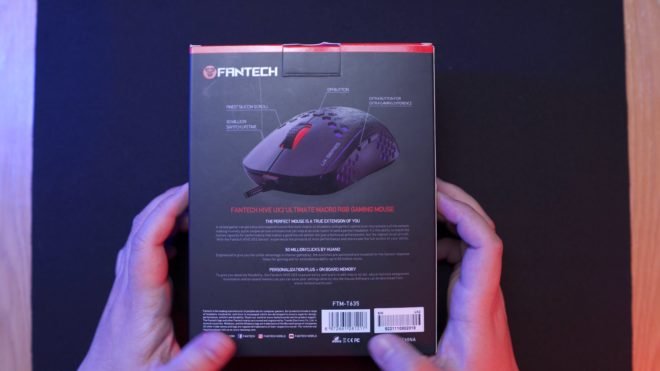 And then on the other side, we have all the technical specifications of this mouse.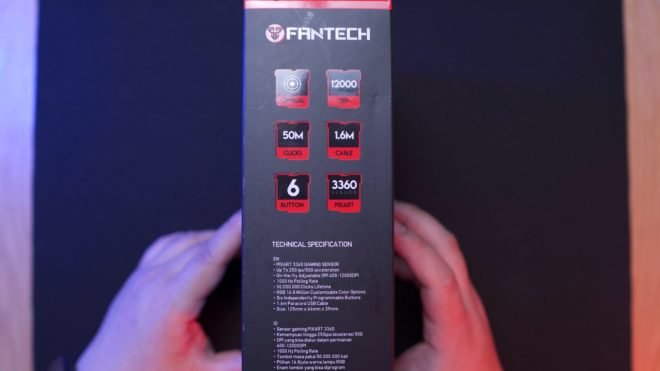 Now, let's crack this open and see what comes in the package.
It is actually a box within a box, so as you can see, we have a large Fantech Logo with their slogan on the lower left corner.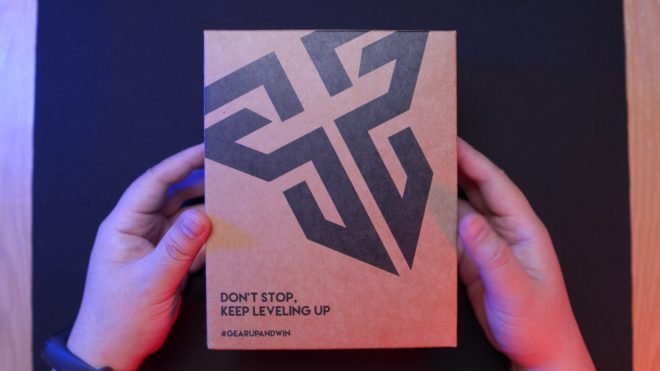 Inside the box we have a nice carrying case and to be honest, I wasn't really expecting this from Fantech, but yeah, really cool to have this with the package.
The quality seems pretty decent with this sort of hard case construction that protects the mouse really well.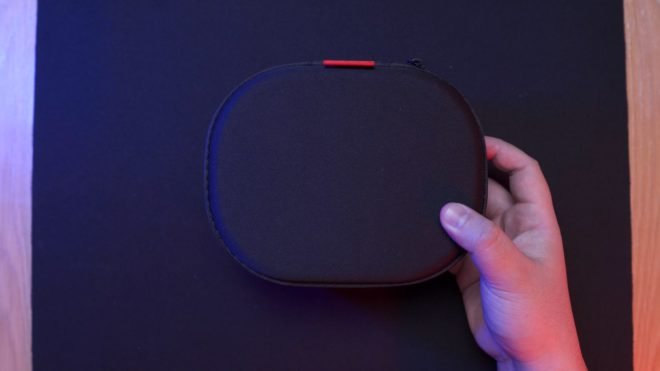 Inside it, we have a bunch of things here,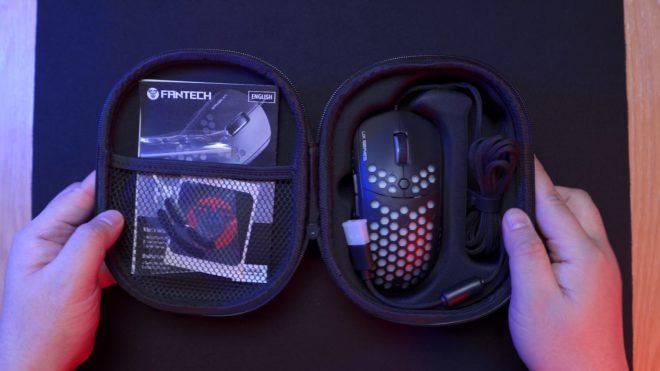 We have some replacement mouse gliders,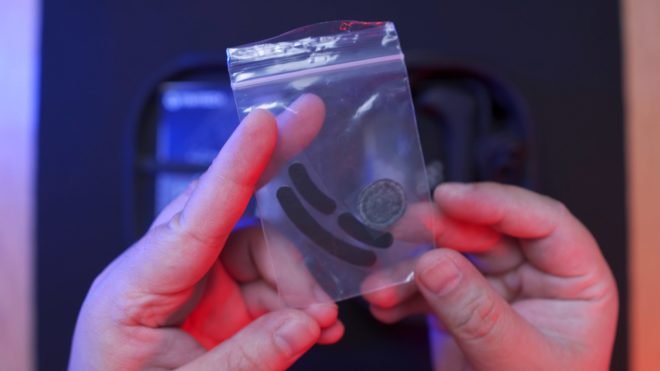 A user manual,
A sticker,
And of course, the Fantech Hive UX2 gaming mouse itself.
As you can see, the carrying case is tailored specifically with the size of the Fantech Hive UX2 providing full support which is good, but I think you can also fit other mice inside this if you want.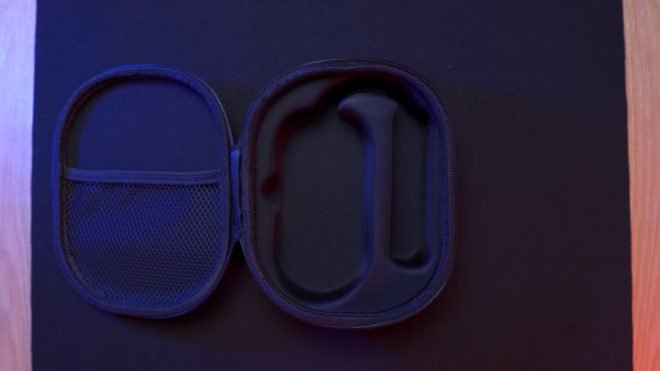 FULL REVIEW
Design, Construction, and Parts Overview


Alright, let's take a look at the Fantech Hive UX2 gaming mouse.
At first look and touch, we can't deny that it looks quite similar to the Logitech G Pro Wireless at least in terms of shape, which I don't mind at all since that shape is already tested.
But what I like about this is that other than the shape, it is completely different. So on top we have the left and right mouse clickers, the scroll wheel, a small hexagon shaped DPI button, and the usual honeycomb holes to minimize the weight of the mouse. However, the diffuser plastic is rather large but we'll talk about that more later. It has a nice rough texture and the clickers are quite crispy.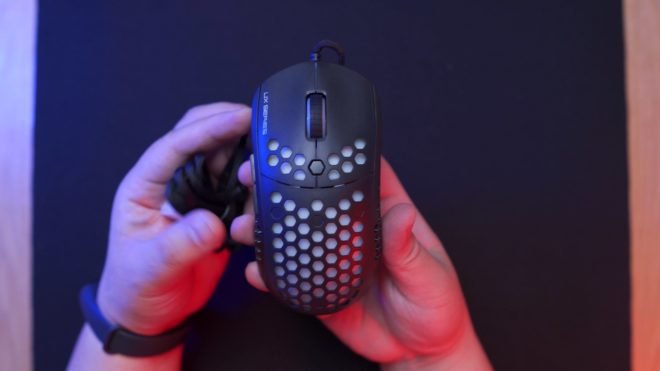 Looking at the side, we also have some honeycomb cutouts and the forward and back buttons.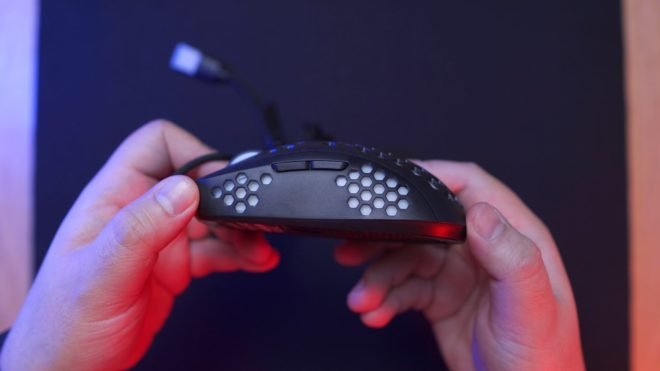 And then looking at the back we can see the symmetrical profile with I'd say a medium-sized bump.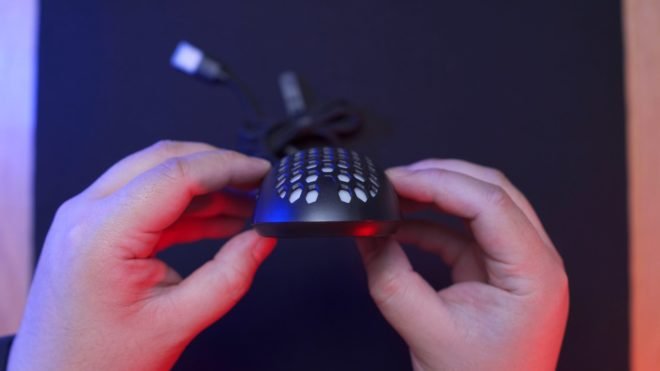 On the other side, we have more honeycomb holes and a Fantech logo.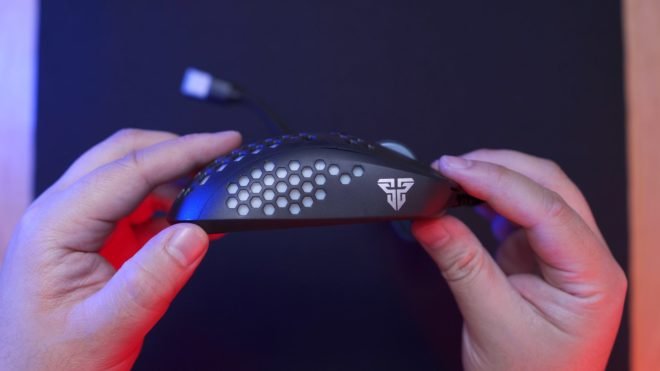 And then in front, you'll get a better idea about the height of this mouse. It is relatively short in height which is good for those who want a shorter bump.
And at the bottom, we have yet another set of honeycomb holes, 4 mouse gliders, some certifications, and the PMW 3360 sensor.
And lastly, in terms of cable, it is using paracord material which is the new standard now. It has cable management strap, a silicon cap, and the overall feel of the cable is pretty good, in fact, very good as it is super flexible, later will test this out properly.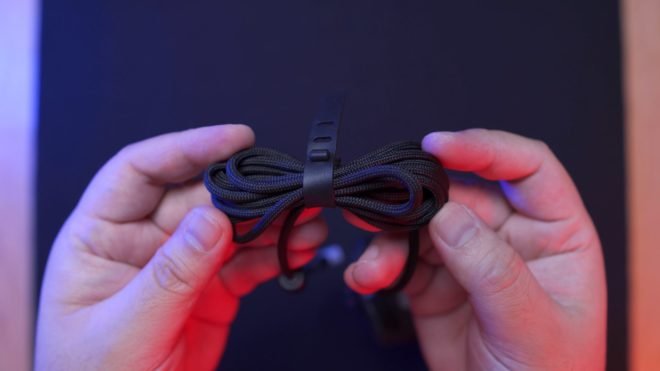 Overall, my first impressions about the Fantech Hive UX2 in terms of design, construction, and of course weight is pretty decent.
Now, let's discuss my thoughts about the NEW Fantech Hive UX2 after a few days of testing.
Build Quality


Let's start with the build quality, one of the few downsides of this kind of design not only for this particular mouse, is that it has the tendency of having some squeaking sounds due to the nature of the design and overall construction.
As for the Fantech Hive UX2, it definitely has some squeaking sounds when you press hard around the mouse using both of your hands if you really want to stress it. But here's the thing, you won't really experience this with regular use even on intense gaming. Like for example, the loud clicking sound on the right side, trust me when I say that you can not trigger that using your ring and pinky finger alone and even with the help of your thumb. So basically, it's not even an issue unless you specifically squeeze the mouse using two hands or in an unnatural way. But it's still important to note that for this review.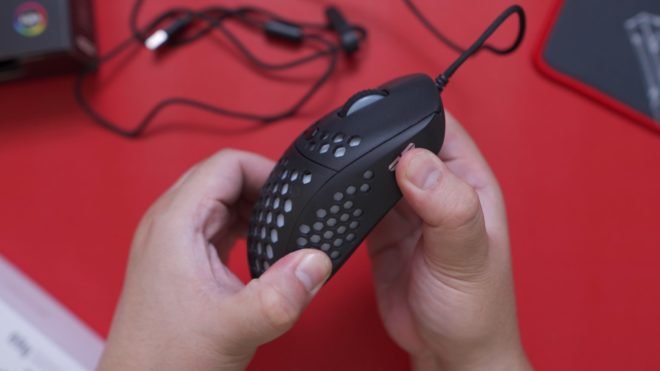 Huano Switch


The Huano switches are pretty decent, crisp with a relatively heavier actuation force compared to Omron switches but in return, it is known to be much more durable which is good for gaming as it is the most stressed-out part of the mouse.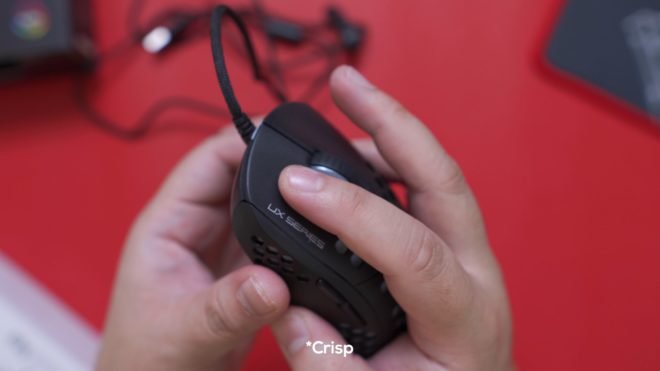 Scroll Wheel


The scroll wheel has a good amount of tactile feedback but suffers a bit when it comes to audible feedback as it has this annoying squeaking or clicking sound. But at least it is stable with a tight click on it.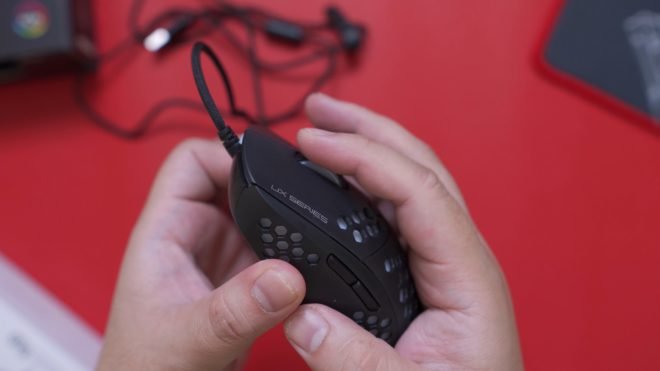 Side Buttons


The forward and back buttons are easy to reach, have a good amount of tactile feedback and click, and also have a light actuation force which I personally prefer for easy activation without having to press harder using your thumb.
Honeycomb Design


I also appreciate the design decision here leaving a solid space at the center for your thumb to comfortably sit without getting annoyed with the holes.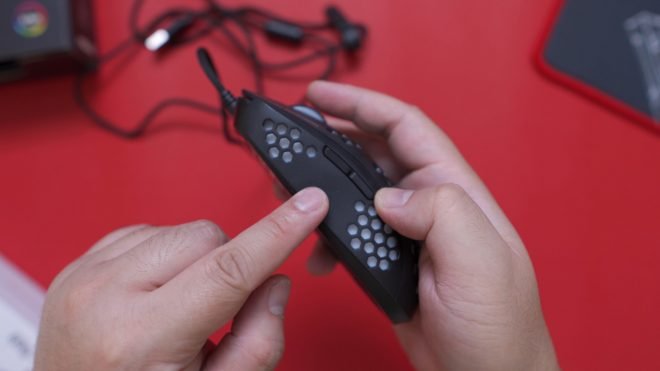 The same goes for the other side for your ring finger, unfortunately, your pinky finger has to endure those holes.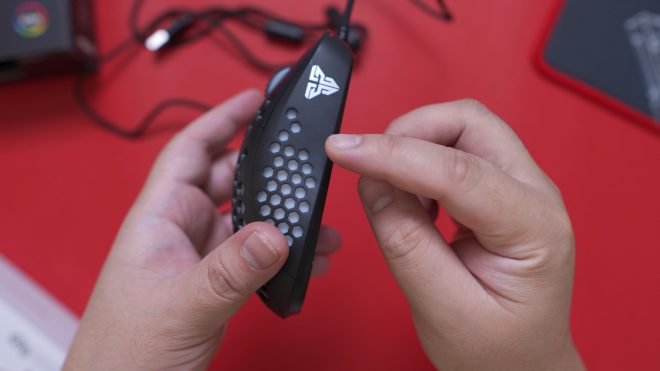 GPW Shape and Grip Styles


As for the shape, like I said it resembles the popular shape of the Logitech G Pro Wireless ,and is already tested by a lot of gamers as comfortable and good for gaming, so It's inevitable that other brands like Fantech utilize the same shape but with their own take for the design like what we have here with the Fantech Hive UX2.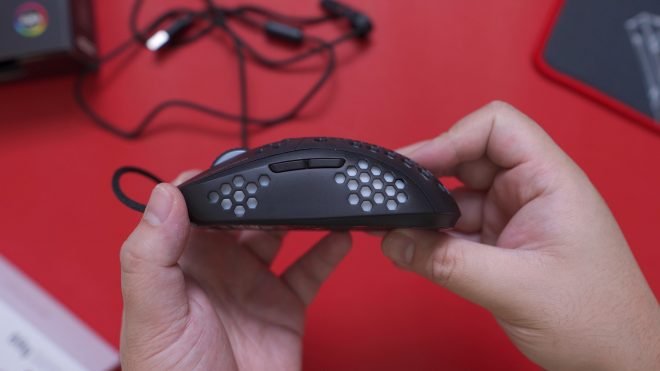 Here's my hand side by side with the Fantech Hive UX2 for your reference. In my opinion, this is suitable for palm grip users as it has this nice comfortable shape and relatively short bump that allows your hand to completely grasp the entire mouse, and the symmetrical shape also helps with that.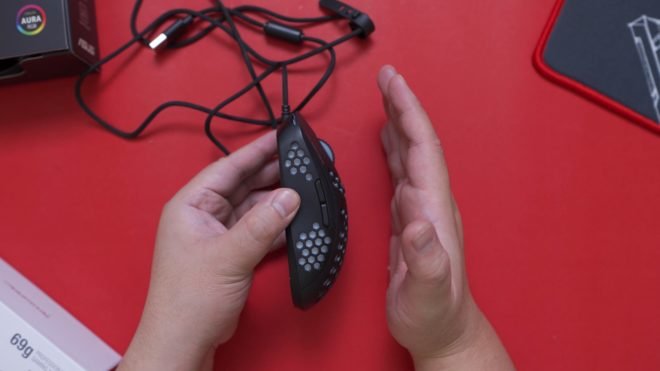 Fingertip users can also use this as well as claw grip users as you have a decent amount of support for the edge of your palm at the rear end. I think this best suits people with medium size hand. But of course, like I always say, comfort will greatly vary depending on the size of your hand and your grip style.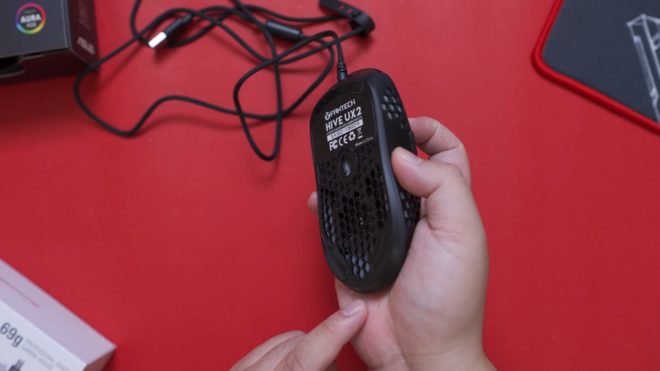 Left-handed users can definitely use this mouse but unfortunately, the forward and back buttons are only located on the left side. You may also accidentally press those buttons if you're a left handed user, so it's best to just disable those buttons.
Paracord Cable


In terms of the cable, I'd honestly say that this is one of the best cable that I've tried on a gaming mouse, it is thin and flexible making it relatively lighter compared to other gaming mice with a rather thick and stiff paracord cable. It is super flexible and doesn't move the mouse at all at any angle.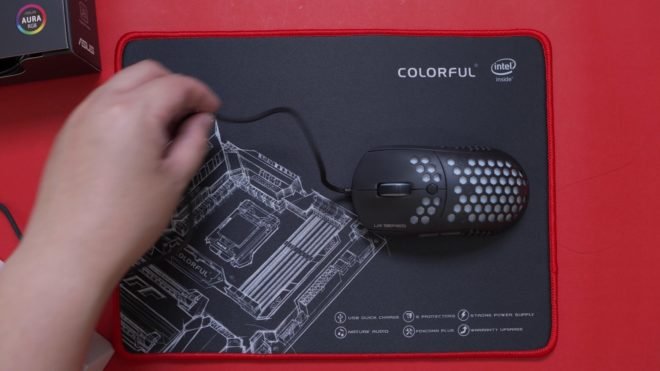 Mouse Gliders


The mouse gliders are also quite decent and I also appreciate the fact that it also has gliders around the sensor since the mouse is kinda long, it adds a little bit of stability and smoother glide to it even if you press down hard while gaming.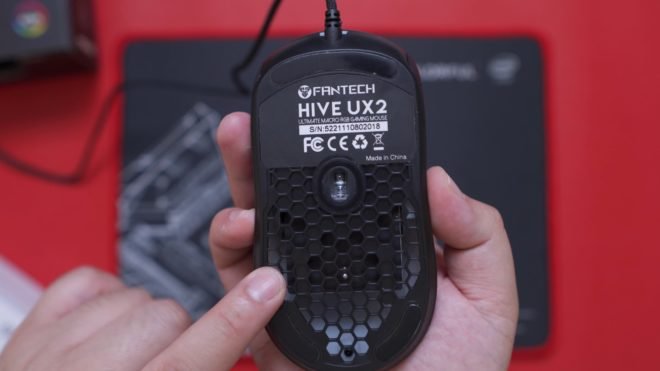 Overall, after using this mouse for a few days of gaming, I now understand why a lot of people like this shape because even with my relatively small and chubby hands, it is absolutely comfortable to game with.
Fantech Hive UX2 VS Tecware Exo Elite


Now, just to give you an idea about the shape, here's the Tecware EXO Elite which basically is the same size as the Glorious Model O. As you can see, the Fantech Hive UX2 is a bit smaller than the Tecware EXO Elite that's why I mentioned earlier that I think it is suitable for medium size hands.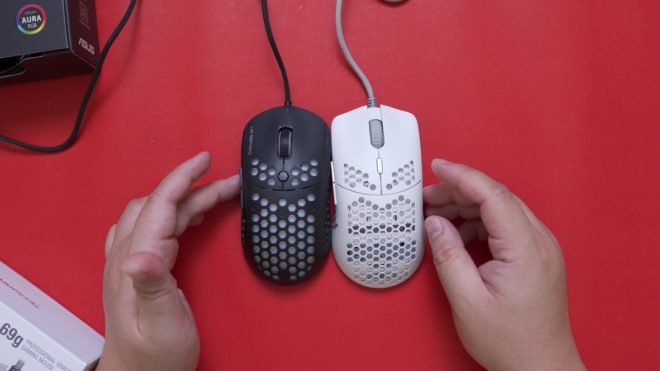 The bump is almost the same if not taller compared to the Tecware EXO Elite. So yeah, if you have big hands, then the Tecware EXO Elite or Glorious Model O should be a better option, but if you have medium size hand, then the Fantech Hive UX2 is worth considering.

Also, the Fantech Hive UX2 is heavier at around 74g and I think that is because of the large LED diffuser, while the Tecware EXO Elite is lighter at 69g, so that's another thing worth considering.
Now, in terms of cable, it is night and day with the Fantech Hive UX2 being the clear winner here, as the Tecware EXO Elite's cable is thick and stiff as you can see here side by side.
In terms of build quality, I'd say the Tecware Exo Elite is better because it doesn't have any squeaking sounds on the body. However, both of these are far from perfect with minor issues when it comes to build quality.
And lastly, in terms of sensor, the Tecware EXO Elite has the advantage with a newer PMW 3389 sensor, but performance should be about the same just different DPI range.
Performance


Speaking of performance, as for my testing playing CS: Go for a few days, I'd say the Fantech Hive UX2 is really good, the PMW 3360 is decent enough, accurate, and doesn't spin out at all.
I specifically exaggerated my flicks for testing and it was stable, so I am really happy with the performance. As for the shape like I said, it is very comfortable, and I also tried using this mouse with the edge of my palm sitting on top of it for better control, and I'd say the shape definitely helps with better grip and overall stability and control, especially for quick adjustment and lifting off the mouse. Speaking of lifting off, the lift of distance is also adjustable from the software.,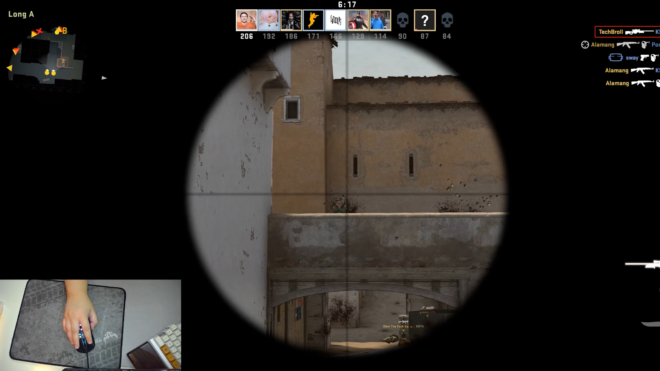 And speaking of the software, let's talk about that.
Software


The software is, if you've watched my review of the Tecware EXO Elite, is almost identical with just different skin, but this is kinda expected already for gaming mouse in the budget category as most of the time, they have pretty much the same manufacturer or OEM source, so yeah.
Alright so inside the software, you can pretty much configure any button to act as a different function such as different mouse function, key combination, macro, DPI adjustments, multimedia shortcuts, DPI lock and of course, you can also disable a button entirely, like for example, if you're left-handed, you can choose to disable the forward and back buttons to not accidentally press them.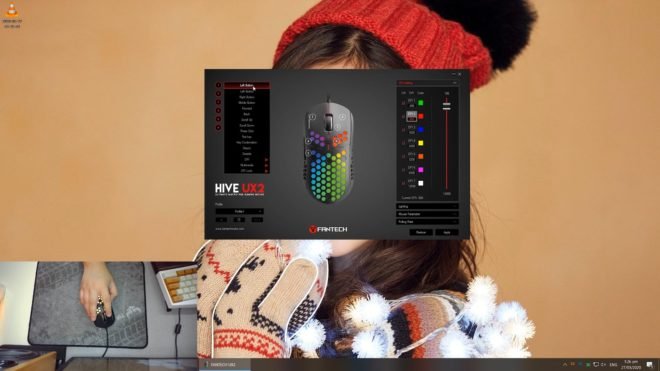 We also have our macro editor here,
Save up to 3 profiles,
A link to Fantech's official website and the technical parameters here on the right side. We have the DPI adjustments wherein you can assign different colors per DPI settings and you can also adjust DPI values in increments of 100.
Next, we have the lighting option, and this is where we can see another downside of the Fantech Hive UX2 as upon testing, I found out that it can not produce colors accurately even if it says on the specifications that it can do so up to 16.8m colors. Maybe it does, but not as accurate especially with lighter colors and non-primary colors like pink and orange and the like. Minor issue in my opinion but for those who value their RGB, then this might be a deal-breaker.
On the other hand, most of the colors are vibrant and good in a dim environment like this.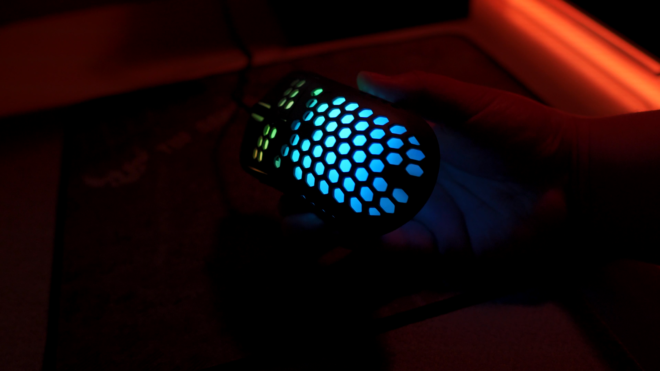 Moving on aside from that, we have the mouse parameters wherein you can configure settings like mouse Sensitivity, Scrolling Speed, Double Click Speed, and Lift-off Distance(LOD).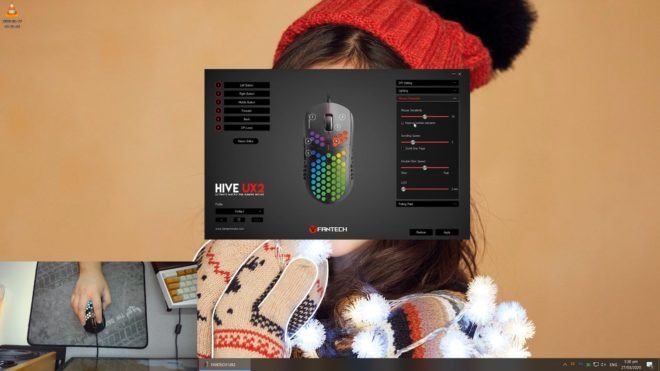 And as per my testing, the lift of distance adjustment is working properly here. With the LOD set at 2mm, it is still tracking using a 1.2mm CD, then with 2 1.2mm CD, it stopped tracking as expected and starts tracking again after setting the LOD at 3mm, so this is a good sign that it is working. And lastly, we have the Polling Rate adjustment.
And that's about it for the software, quite basic but useful nonetheless.
VERDICT


To conclude, the shape of the Fantech Hive UX2 is I think one of its strong points as it is absolutely comfortable with a decent amount of support, good location of contours where it matters most, and has a relatively short bump with a substantial tail at the back. Not to mention that the hexagon holes are nicely placed without interfering with your grip. Build quality is not the best with a few squeaks here and there but can not be triggered by just using the mouse normally, so it is not a huge issue. The only issue when it comes to the build quality that affects the quality of experience is with the scroll wheel with a rather annoying squeaking or clicking sound on it. Other than that, the Huano switches are crispy, the forward and back buttons are easily reachable with lightweight actuation force, and the overall design and build quality is I'd say for the most part is pretty good. The RGB lighting is not perfect with poor color reproduction, and if you'll ask me if it does heat up the mouse, no it doesn't so don't worry about that. And lastly, the software although quite basic is useful especially for setting up the Lift of distance since it doesn't have a physical button for that. And overall, in terms of pure performance and comfort, the Fantech Hive UX2 is definitely worth considering.
Ultralight GPW Alternative? Fantech Hive UX2 Review!

Thanks to Fantech for making this review possible, You can get this gaming mouse from the button below.
Fantech Hive UX2
Php 2,500
Pros
Good packaging
Well thought off design for the placement of the holes
Proven GPW shape
Thin and flexible paracord cable
Good Performance
Cons
Not so good build quality
Squeaking sounds on the scroll wheel
Not so accurate color reproduction for the LEDs
SHARE THIS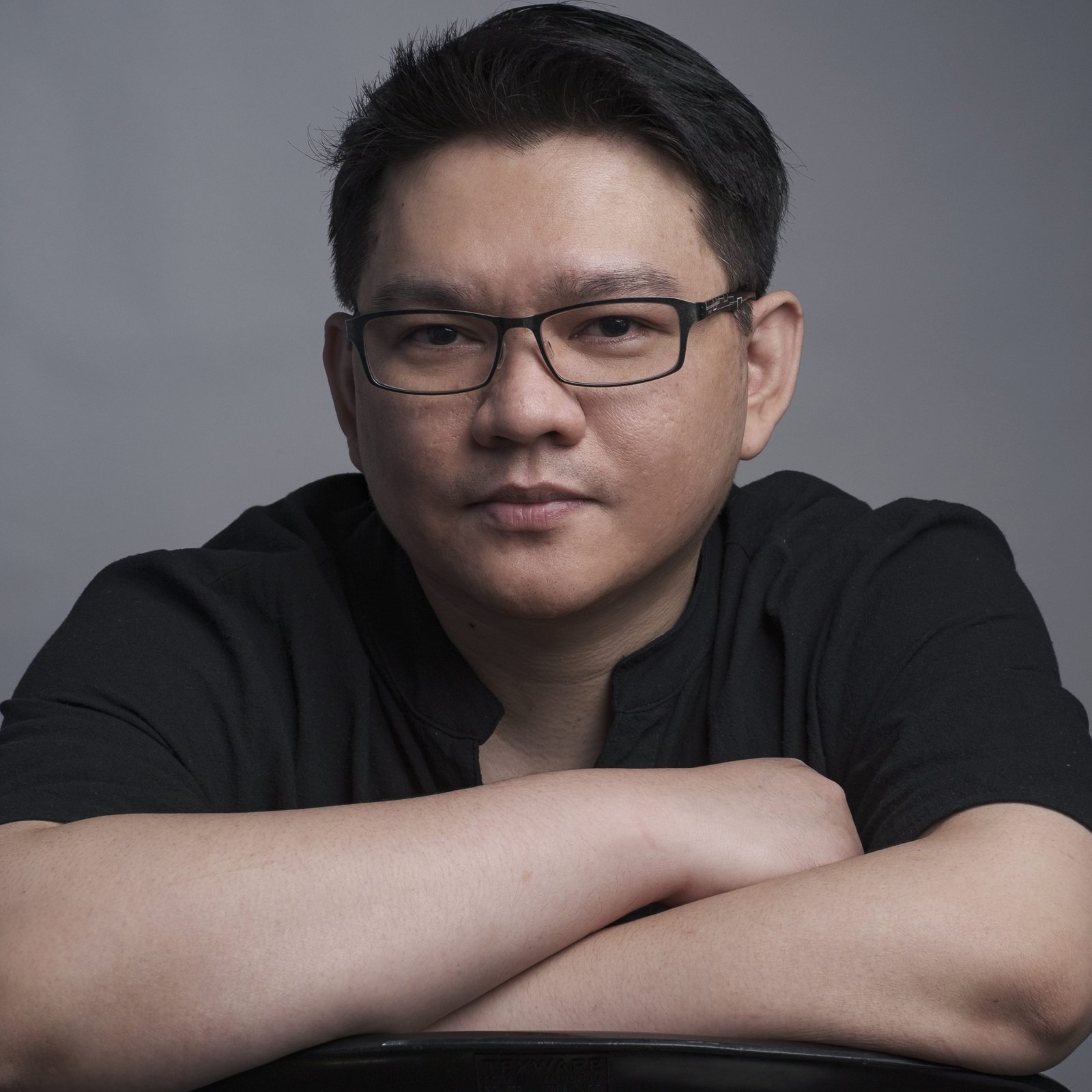 The Broll who always got your back online!