Today, after a few weeks of testing, I'm finally giving you guys my full review of the SpecterPro 34UW100, an ultrawide monitor that features a 1440p curved VA panel, 100hz refresh rate, 5ms of response time and decent RGB color accuracy. 
If you haven't watched my unboxing, assembly and first impressions of this monitor, you can check it out here so that you can have an idea of what you're getting.
MY EARLY BREAKDOWN

Pros: Affordable for its specifications, Decent display quality with acceptable color accuracy, Immersive 1500R curved panel, Great for productivity and immersive casual gaming, Gsync and Freesync capable
Cons: Ghosting
SPECIFICATIONS


| | |
| --- | --- |
| Model | 34UW100 |
| Size | 34″ |
| Speaker | No |
| Viewing Angle | 178° VA |
| Aspect Ratio | 21:09 |
| Refresh Rate | 100Hz |
| Brightness(cd/m2) | 300cd/m2 |
| Dynamic Contrast Ratio | 50000000:1 |
| Resolution | 3440*1440 |
| Response Time (ms) | 5ms |
| Colors | 16.7M |
| Tilt Angles | Backward 15°, Forward 5° |
| Neck & Base Detachable | Detachable |
| Vesa Hole Pattern (mm) | 75x75mm |
| On Screen Display Control | Picture Settings, Color Adjustment, Image, Signal Source, OSD Menu Misc. |
| OSD Language | English, Russian, Deutsch, French, Italian, Portuguese, Spanish, Turkish, Korean |
| Video Ports | HDMI+DP |
| Power Range | 100-240VAC,50/60Hz,2.0A |
WHAT'S IN THE PACKAGE


SpecterPro 34UW100 Monitor Unboxing, Assembly and Overview


FULL REVIEW
Design, Construction and Parts Overview

Let's start our review with the design and construction, the SpecterPro 34UW100 features slim bezels as you can see here, with just a slightly larger bottom bezel.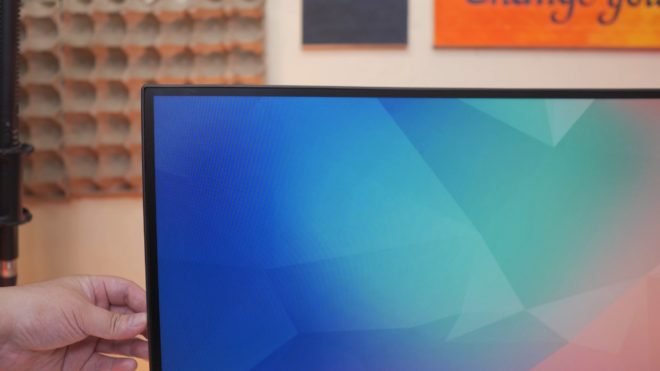 At the center, we have a SpecterPro branding and below it, we have a rather simple and thin v-shape stand, but it's still quite sturdy and stable.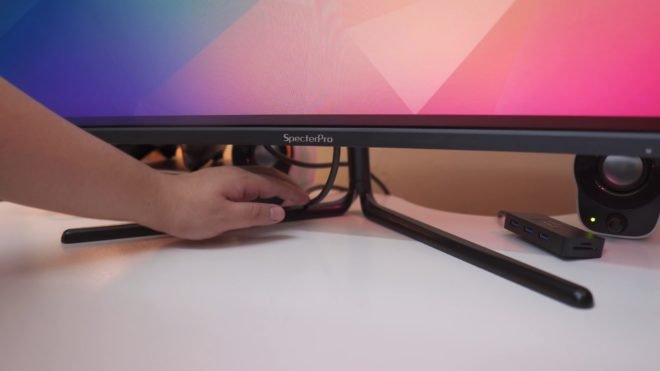 At the lower right corner, we have the OSD controls with individual buttons rather than a joystick-style control.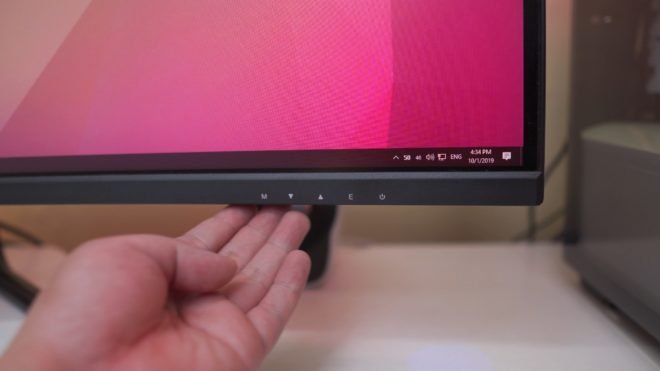 At the back of the monitor, interestingly it has this hanger that you can use for cables or even a headset, though it doesn't make sense since it is hidden at the back. We also have a RED LED illumination that though useless is also a nice touch.
By the way, this monitor is also VESA mount compatible.
Dimensions

Back in front since some of you are asking about it, the dimensions are 806mm in length, 360mm in width with a thickness of around 45mm give or take. 
The curved rating on this monitor is 1500r which is better than the 1800r on the SpecterPro XT27Q that I previously reviewed.
The build quality of this monitor is pretty decent and the mounting bracket at the back is easy to install, though It does have some flex on it when you adjust the tilt, once upright, the monitor is quite sturdy.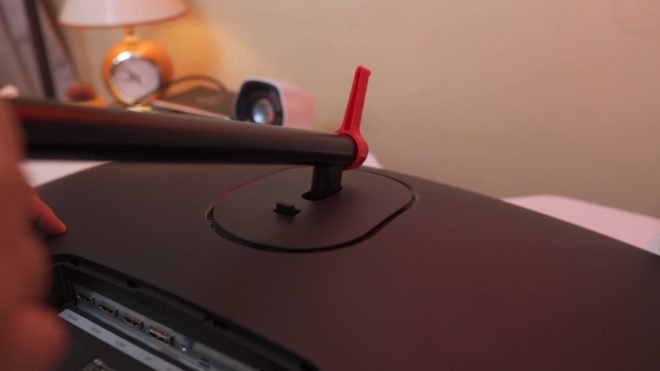 Tilt Adjustments

Speaking of tilt, unfortunately, this monitor has limited adjustments. The only thing you can adjust is tilting downwards and upwards and that's about it. You can not pivot it horizontally or vertically, though the latter doesn't make sense at this ultrawide form factor.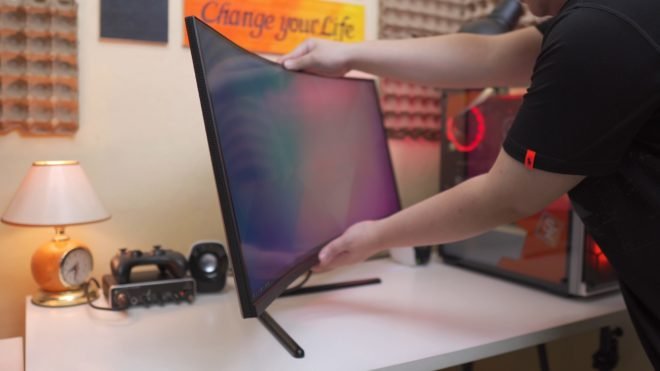 Ports

Now in terms of ports, it has a built-in power supply so there's no external power adapter required, we also have a 3.5mm audio jack, 1 displayport, and 3 HDMI ports.
OSD Settings

Back in front again, let's check out the OSD settings, right here we have the main settings, game crosshairs, display presets, RGB range and power.
Checking out the main settings, we have input source, so we have 1 display port, 1 HDMI 2.0 and 2 HDMI 1.4, we also have the brightness and contrast, color setting, picture quality setting where you can set your desired response time which we'll dig in deeper later. We also have the display, audio, multi-window, OSD settings and other where you can enable Freesync. And like I said we have the game crosshair, and we have display presets depending on your preference. And lastly, an option to choose between full and limited RGB range.
Alright guys, let's move on to the most important part of this review, which is about the quality of the display and its features.
Display Quality

G-Sync Capability
Let's start with G-Sync capability, with the recent update to NVIDIA drivers, you can now enable G-Sync on Freesync monitors like the SpecterPro 34UW100 and as per my testing, it actually works properly.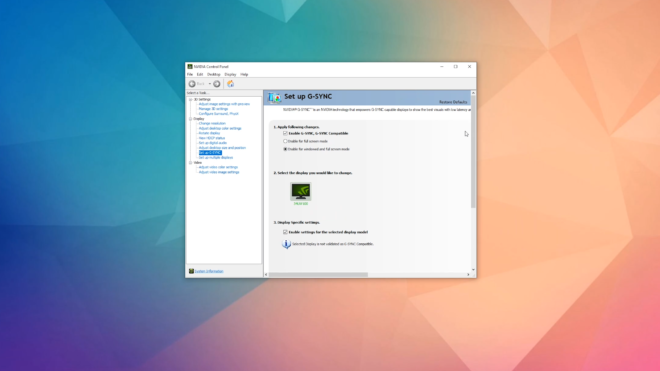 I don't see any unwanted artifacts or screen tearing. Now, you might not notice the difference between Vsync and G-Sync or maybe you do, but basically, the difference between them is that Vsync just forces your graphics card to match the refresh rate of your monitor whereas G-Sync, much like Freesync does it the other way around, it forces your monitor to dynamically adapt its refresh rate to the frames that your graphics card is pushing. Vsync also poses issues such as input lag that Freesync and G-Sync don't have because they are doing the syncing adjustment on a hardware level.
Motion Blur
Moving on in terms of motion blur, a higher refresh rate monitor allows you to see images much smoother as you can see in these examples from 15 frames per second to 100 frames per second.
Response Time
Now, in terms of response time, this monitor only has 5ms second response time which ideally should be the borderline for gaming and most probably not good for competitive gaming. Response time is the ability of a monitor to change a pixel's color from one shade of gray to another. A faster response time provides a much smoother movement while a slow response time will give you motion blur and ghosting since the monitor can't keep up with the fast-paced color shifting.
This monitor actually has a few options when it comes to response time and as per my testing, to my surprise, setting it at high yields the best result as you can see on these examples.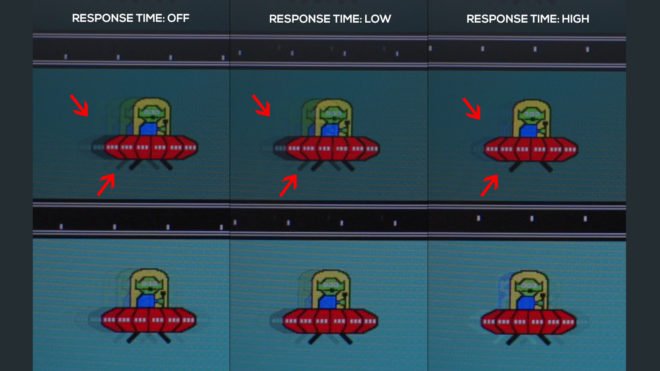 Display Flickering
Now when it comes to display flickering, when I first set this up, sometimes I encounter slight flickering when changing the display from white to black, but for some reason, after I calibrated the display, I don't see any flickering anymore. I'm not sure what happened but there's that.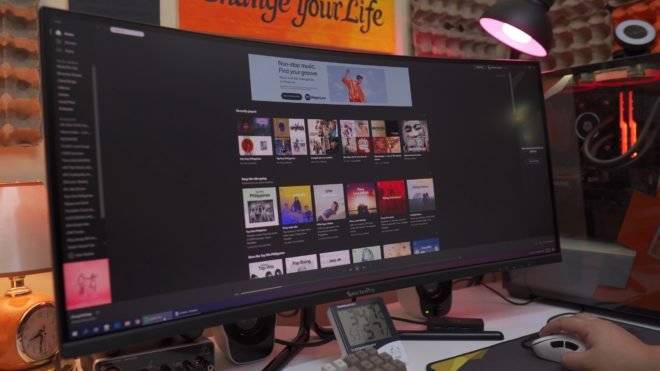 Display Panel Quality
In terms of display quality, it has decent contrast and sharpness out of the box, and although curved, it also doesn't have many dark spots on any angle as you can see here,
and it only has minimal backlight bleeding as well. I've heard quite a few people that encountered backlight bleeding but as per my sample here, I don't find that an issue. As long as it doesn't affect viewing experience, minimal backlight bleeding should be fine but if it's excessive, then better have it checked from where you bought it just to make sure.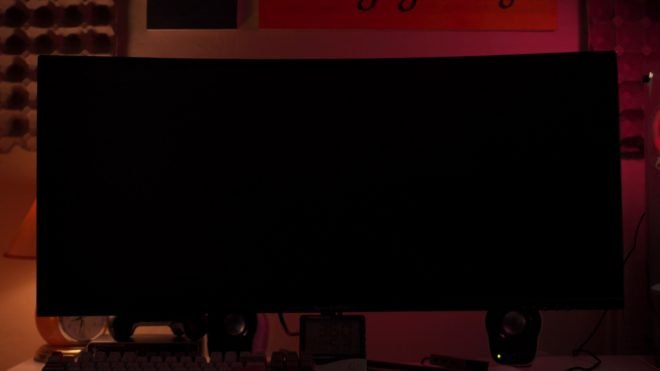 Although the display on this monitor is only VA panel, the viewing angle is actually pretty decent, brightness and colors fade a bit but you can still definitely read texts and recognize colors unlike with a TN panel.
Speaking of text, I find the sharpness of this monitor decent as well, I don't see any problems at all with reading texts on the screen.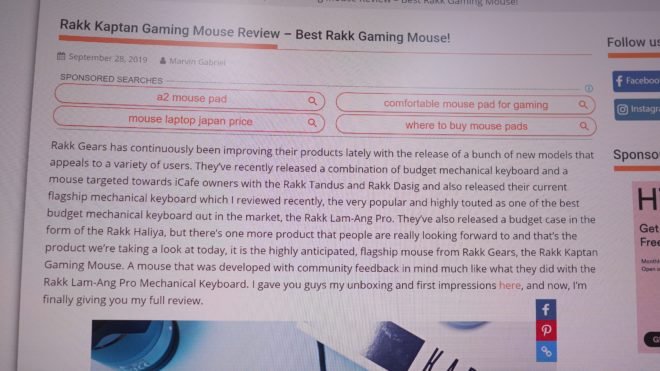 Use Case Scenarios of an Ultrawide Monitor

Productivity / Content Creation
Now, moving on to actual use case scenarios of this monitor, in terms of productivity such as content creation, having an ultrawide screen like this allows you to have lots of real estate to work with especially for video editing.
Speaking of editing, one concern about curved monitors when it comes to photo and video editing is the distortion, but personally, I don't find it an issue for videos but the concern really is for graphic design since proper alignment and shapes sizes are vital. In my application it is fine but for serious designers, a flat panel is much more ideal.
Media Consumption
For media consumption, an ultrawide curved monitor like this gives that very immersive experience especially if you're watching videos in a 21:9 aspect ratio,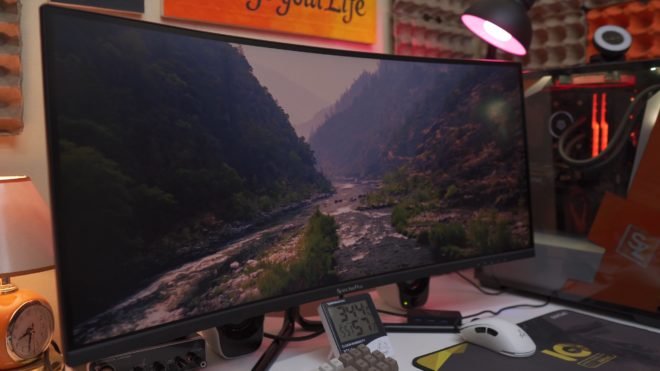 However, most videos nowadays are still at 16:9 aspect ratio so most of the time you'll have two large black bars on each side.
Color Accuracy

Now when it comes to color reproduction of the SpecterPro 34UW100, I am very glad to say that it has a decent 93% sRGB coverage and 70% adobe RGB coverage. This should be fine for most applications especially if you're only editing images and videos for web and social media postings. However, if you're into digital arts, events and print business, you might want to opt for a more accurate monitor especially with an IPS panel.
This is actually one of the advantages of VA panels compared to TN, it's really a great middle-ground between TN and IPS, It can achieve decent refresh rate and response time while still able to reproduce colors better.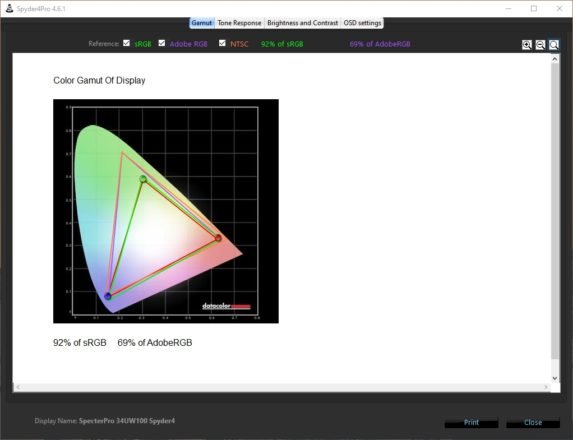 Essentially, If you're focus is more for gaming, a TN panel with extremely fast response time and high refresh rate is ideal, if you're focus is more for productivity, an IPS panel with great color accuracy and good viewing angles is the way to go, on the other hand, if you want the best of both worlds and the compromises don't affect your applications, then your best option is a VA panel.
Gaming Performance

Now for gaming, much like with media consumption, having an ultrawide monitor like this allows you to have an immersive gaming experience especially if you're playing adventure, role-playing and even FPS games in story mode. For competitive gaming it is quite arguable, some prefer regular flat monitors especially those who are playing competitively but some also prefer ultrawide monitor like this for more visual perspective, however, it still will depend on games if they support ultrawide view natively or if it will just stretch the screen out.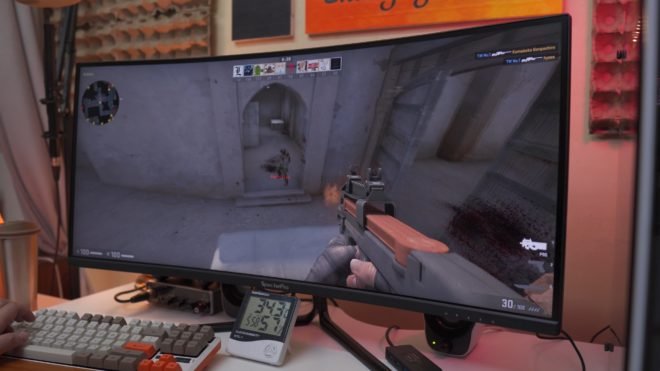 Now, playing normally, I don't see much ghosting but looking at it closer, we can clearly see that there is ghosting with this monitor, which I am not actually surprised especially that it only has a 5ms of response time.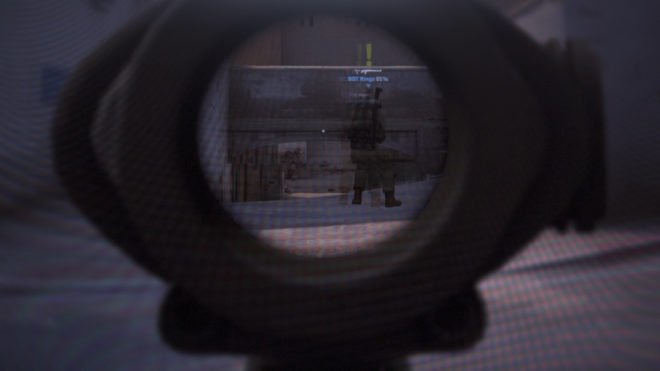 Heat Issues or lack thereof

Ok, guys, before we wrap this up I would just like to address one frequently asked concern about SpecterPro monitors, and that is heat issues. Now for the SpecterPro XT27Q that I previously reviewed, I agree that it has heat issues especially on the screws but for this particular model, the SpecterPro 34UW100 doesn't have any heat issues whatsoever. I can easily touch the screws without any discomfort and the temperature as you can see is only around 34 degrees which is about the same as our ambient temperature. This is with the monitor running for more than 24 hours at 100hz refresh rate.
VERDICT

Alright guys so to conclude, the SpecterPro 34UW100 in my opinion sits at a very good place right now for both productivity and casual gaming, especially at this price point. It has a good 1500r curved 1440p panel, a decent 93% sRGB color accuracy for photo and video editing with tons of real estate to work with. On the other side of things it has an acceptable 100hz 5ms response time for casual gaming if you're not too sensitive to ghosting. Heat issues are pretty much non-existent on this monitor and the build quality is decent as long as you know how to handle things properly. As for my stand and interest with this monitor, it has not changed since I first unboxed it, I still like this monitor to be my main monitor as it really fits my setup and overall workflow as well as for casual gaming.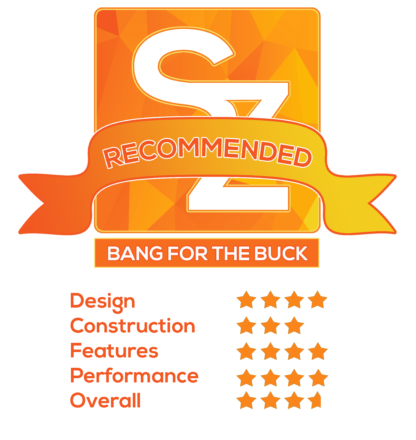 Related Article:
SpecterPro 34UW100 Ultrawide Monitor Review
Thanks to
EasyPC
for making this review possible, You can get this monitor from the links below.
If you like this one, please consider subscribing to my channel by hitting the button below. Have a great day!

WHERE TO BUY:

LAZADA:
SpecterPro 34UW100 Ultrawide Monitor
Price may vary depending on existing promos
The views and opinions on this review are solely based on my own personal experience, your results may vary
SHARE THIS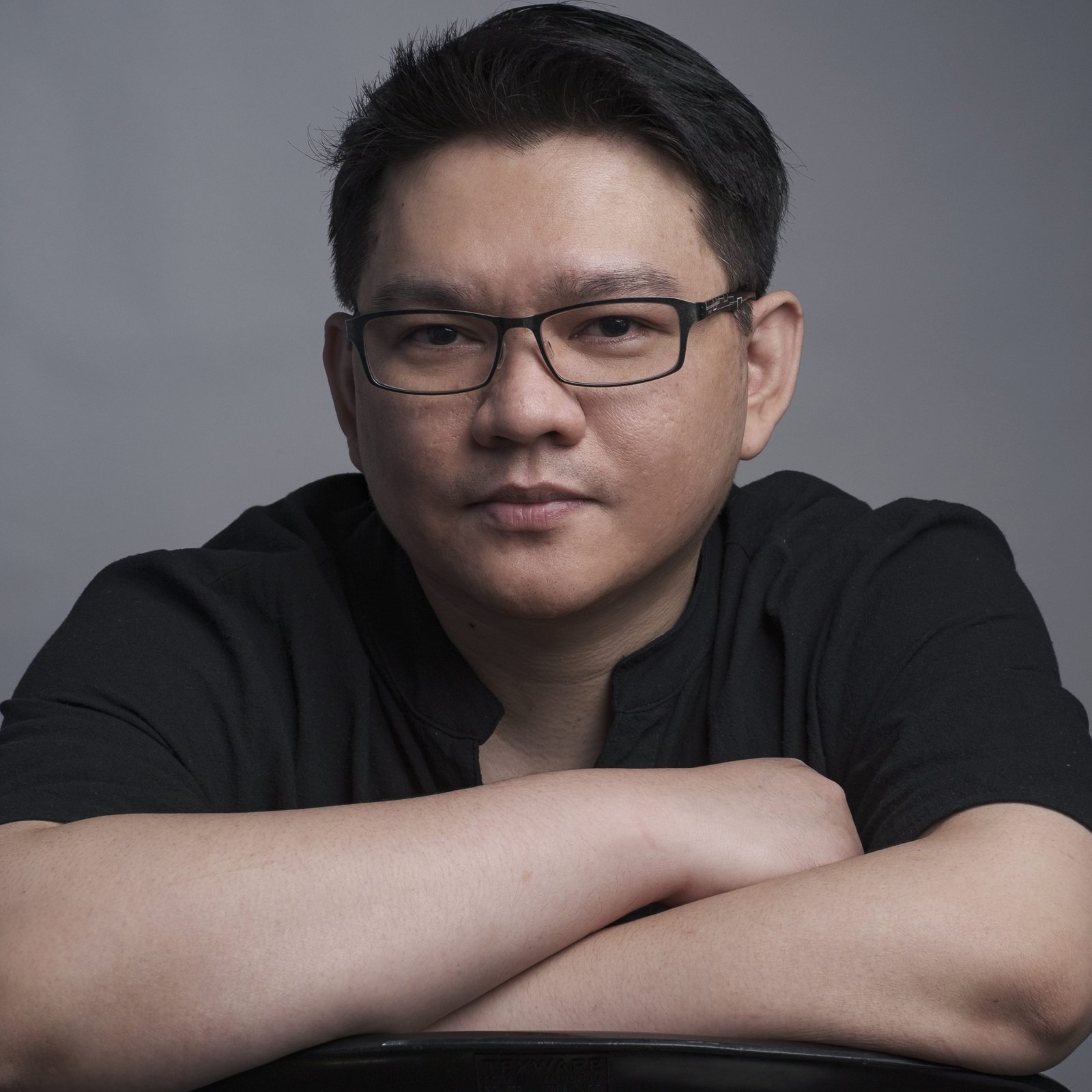 The Broll who always got your back online!