With the vast availability of affordable mechanical keyboards out in the market, why would you even bother getting a "mecha-membrane" keyboard right? Well, there are a few reasons that sparked at the top of my head which we'll discuss further in this review, but one of those reasons would be the usual personal preference and the goal to build the The Ultimate Force gaming setup, get it? ultimate? TUF? yeah, so before you say that getting a membrane keyboard rather than a mechanical one doesn't make sense, please hear me out and read on. 
By the way, you can also check out my review of the ASUS TUF H5 Gaming Headset and the M5 Gaming Mouse so that you can have a better understanding about my point moving forward.
MY EARLY BREAKDOWN

Pros: Decent build quality, Good stabilizer, Dedicated media keys, Suprisingly satisfying typing experience, Polished software
Cons: 24-Key rollover doesn't work quite well
SPECIFICATIONS

Connectivity Technology: Wired
OS Support: Windows® 10, Windows® 7
Dimensions: L 460 x W 218 x H 40 mm
Weight: 1050 g
Interface available: USB
WHAT'S IN THE PACKAGE

1 x gaming keyboard
1 x user documentation
FULL REVIEW
Design and Construction

In terms of the design as with the Asus TUF M5 gaming mouse, this keyboard has this aggressive edgy gamery look to it which I don't mind especially if you're specifically going for the overall gamery setup.
Now when it comes to the construction although it is made of plastic, it weighs roughly around 1 kilograms and it doesn't flex that much. It also has the same specialized coating that should help resist normal scratches and sweat stains. As per my observation, like with the M5 mouse, I find it true as I barely see any deep scratches on this keyboard since I started using this a week ago. But still, only time will tell how durable and repellant this specialized coating really is.
The ASUS TUF K5 Gaming Keyboard also has this built-in wrist rest which I find useful for comfort and also compliments the overall look of the keyboard, albeit, quite large form factor.
One of the reasons why some people might grab this keyboard even if it is only a membrane keyboard is the vision and goal to build the Ultimate TUF Gaming setup. Alongside the ASUS TUF H5 Gaming Headset and the M5 Gaming mouse, this keyboard has a design profile that is pretty cohesive with the entire lineup with a very edgy aggressive look.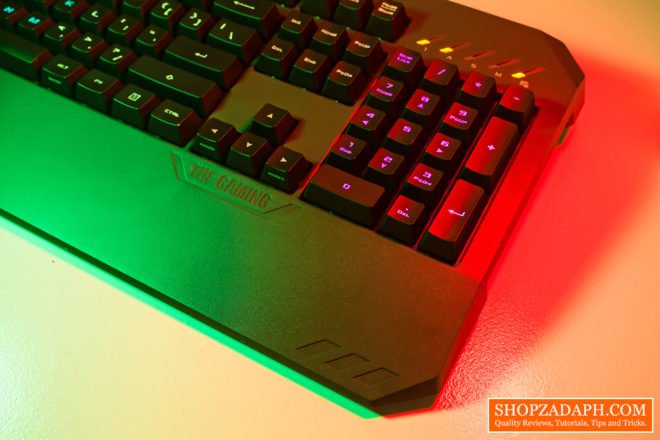 Parts Overview

Moving on, let's go through the different parts of this keyboard real quick, at top center we have the illuminated TUF logo with the same patented TUF pattern.
We also have the dedicated multimedia keys and the brightness adjustment key on the upper left corner. I really appreciate this placement because it actually make sense in an efficiency perspective, I mean, having these keys on the left side allows us to toggle the mute and volume adjustment keys without having to lift up our right hand away from the mouse, which means we can work continuously without much interruption.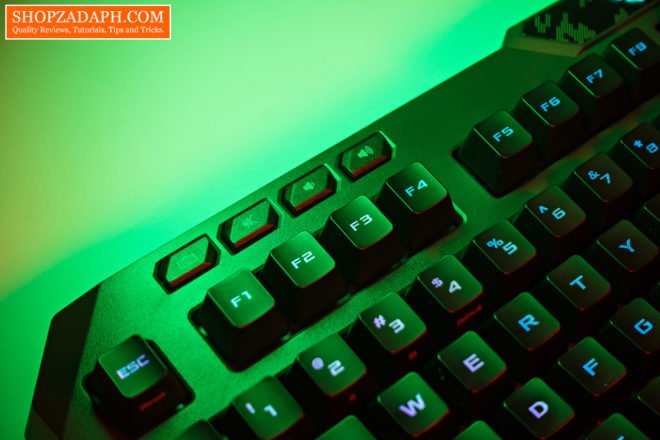 At the upper right corner, we have the LED indicators for num lock, caps lock, scroll lock, macro, and the windows lock.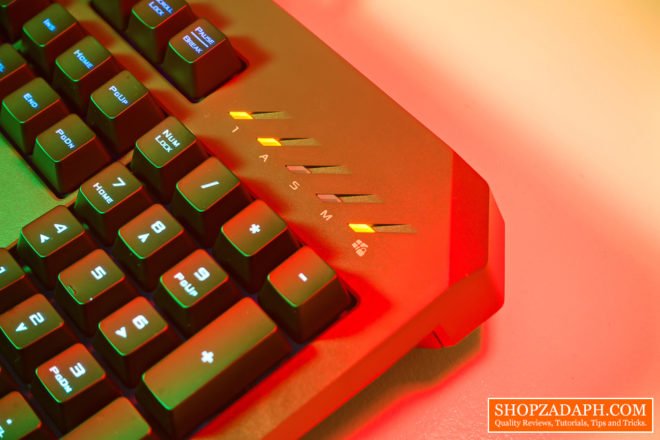 And lastly in front, we have a very subtle TUF Gaming branding.
At the back of the keyboard, the aggressive edgy design is quite consistent with a rather large TUF logo at the center.
We also have 6 rubber feet and two adjustable stands. These stands seems to have some sort of magnet in them which is a nice addition. And lastly, we have the certifications at the center and some cable routing channels.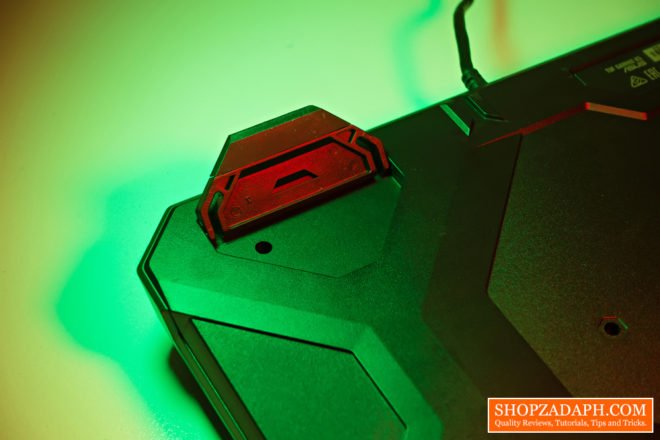 Layout and Fonts

Back in front in terms of the layout, it is using the standard ANSI layout with a gamery looking fonts that compliments the design pretty well. But since this is not a mechanical keyboard, you can not replace the keycaps easily or replace it at all for that matter.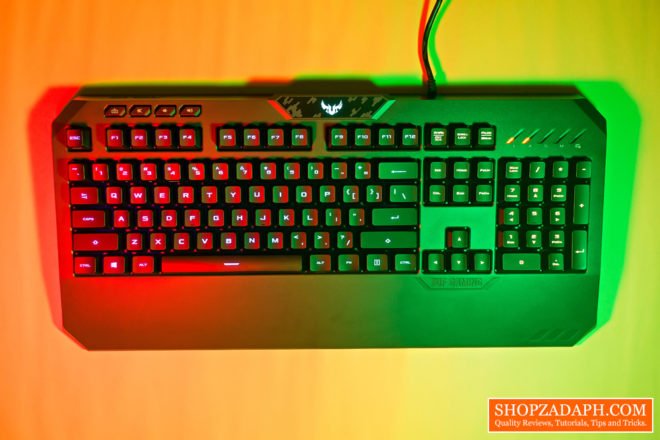 Keycaps

Speaking of keycaps, this keyboard is using UV coated ABS plastic keycaps with laser etched fonts. I'm not sure if the keycaps have the ASUS specialized coating but if it's not, it's going to shine and fade overtime.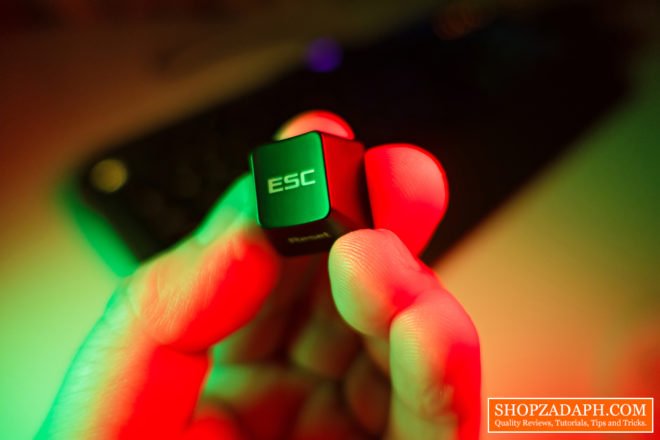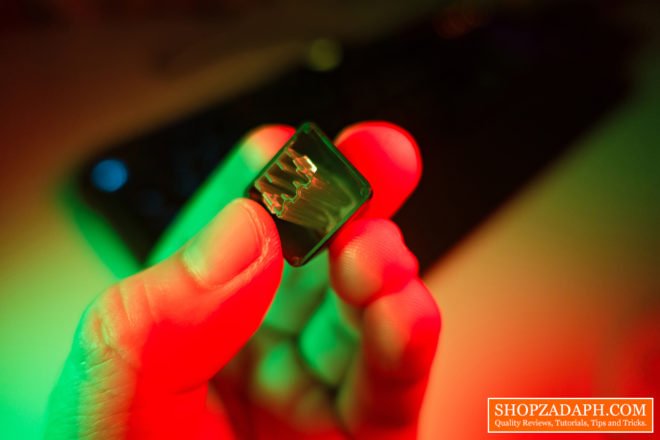 Membrane Keys

Although this is just a membrane keyboard, it feels good enough with a tactile feel from the rubber dome which also gives that bouncy feeling when you press each key. As per my experience, it is not bad at all even though I am used to mechanical switches, it feels way better than the cheap membrane keyboards that I've used before.
Now, you'll be surprised to know that not all people prefer mechanical keyboards, some prefer membrane keyboards because of the different feel they provide and they are usually relatively quieter than most mechanical keyboards. Most mecha-membrane keyboards like this are also spell-resistant, because of the nature of the keys' design and construction which is not that complicated compared to mechanical keyboards and are much more sealed than the usual mechanical switches.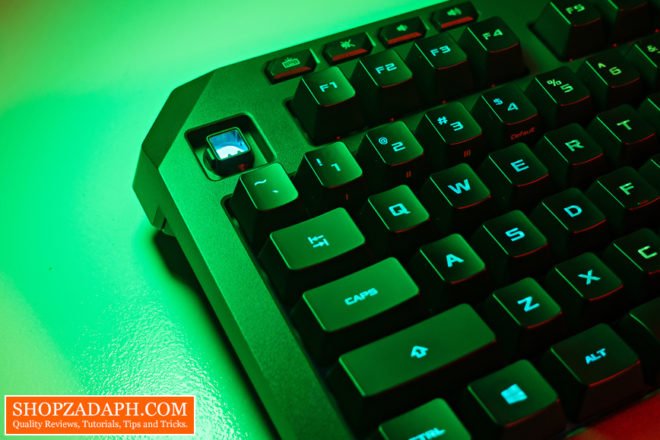 Stabilizers

Another thing that I really love about this keyboard is that the spacebar is super stable and smooth, I never thought I'd experience this with a membrane keyboard or even from budget mechanical keyboards that I have.
RGB Illumination and Other features

Now, when it comes to the RGB lighting, it has 5 individual zones and it is also aura snyc compatible. For the onboard settings you can change it on-the-fly by pressing FN + left or right arrow keys. You can choose from the available lighting presets which includes: static, breathing, color cycle and color wave. We also have a dedicated brightness control at the upper right corner alongside the media control keys. 
Although this is not a mechanical keyboard with individual backlit keys, the brightness is decent enough and the illumination and colors are well balanced across the entire keyboard.
Other features we have here is the on-the-fly macro recording that you can toggle by pressing FN + alt, and the 4 different profiles that you can take advantage and customize using the ROG armoury software.
Software

Speaking of the software, you can pretty much change the function of any key except for the multimedia keys up top. You can also customize the lighting effects directly from the software and sync it with your aura sync devices and components. And lastly, you also have the macro recording feature and usage stats if you're into that.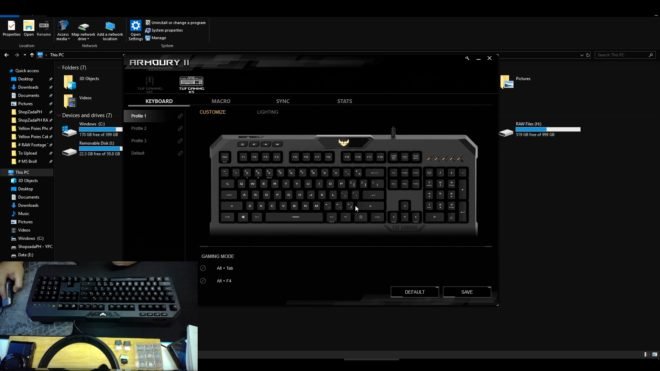 Performance

As for the performance when it comes to NKRO, basing from the specifications it should have a 24-key rollover, but during my testing it doesn't work quite well, sometimes I am able to press up to 10 keys but sometimes not, so it is a hit or miss at least for my experience.
When it comes to real world typing and gaming experience however, I didn't find that an issue, typing with this keyboard even if it is only a membrane keyboard is quite satisfying expect maybe for the bouncy feel, but the smooth travel and tactile feel is decent and accurate enough for me especially for gaming. 
Overall, I find this gaming keyboard pretty substantial for my daily use in both typing and gaming, and although I am used to mechanical switches, my experience with this is not bad at all.

VERDICT

So to conclude, the ASUS TUF K5 Gaming Keyboard is definitely a very solid keyboard, although made mostly of plastic it is robust enough without any flex on its body at all. It also has the same ASUS specialized coating that should help repel normal scratches, sweat stains and stuff like that. It also has a few additional features up its sleeve with the dedicated media keys and brightness control, spill resistant design and the flexibility to be customized using the ASUS Armoury software. The keys although not mechanical are very satisfying to type with thanks to its tactile feedback and soft bottom out cushion from the rubber dome membrane design. The only thing that I can't seem to get used to is the bouncy feedback of the rubber dome which is pretty much non-existent from the usual mechanical keyboards that I am using. All in all, except for the 24-key rollover issue, I don't have much gripe with this keyboard and I find it decent enough for both typing and casual gaming.
Related Article:
ASUS TUF Gaming Peripherals Lineup Unboxing and Review
Thanks to
ASUS
for making this review possible, you can get this keyboard from their partner stores, link below.
If you like this one, please consider subscribing to my channel by hitting the button below. Have a great day!

SHARE THIS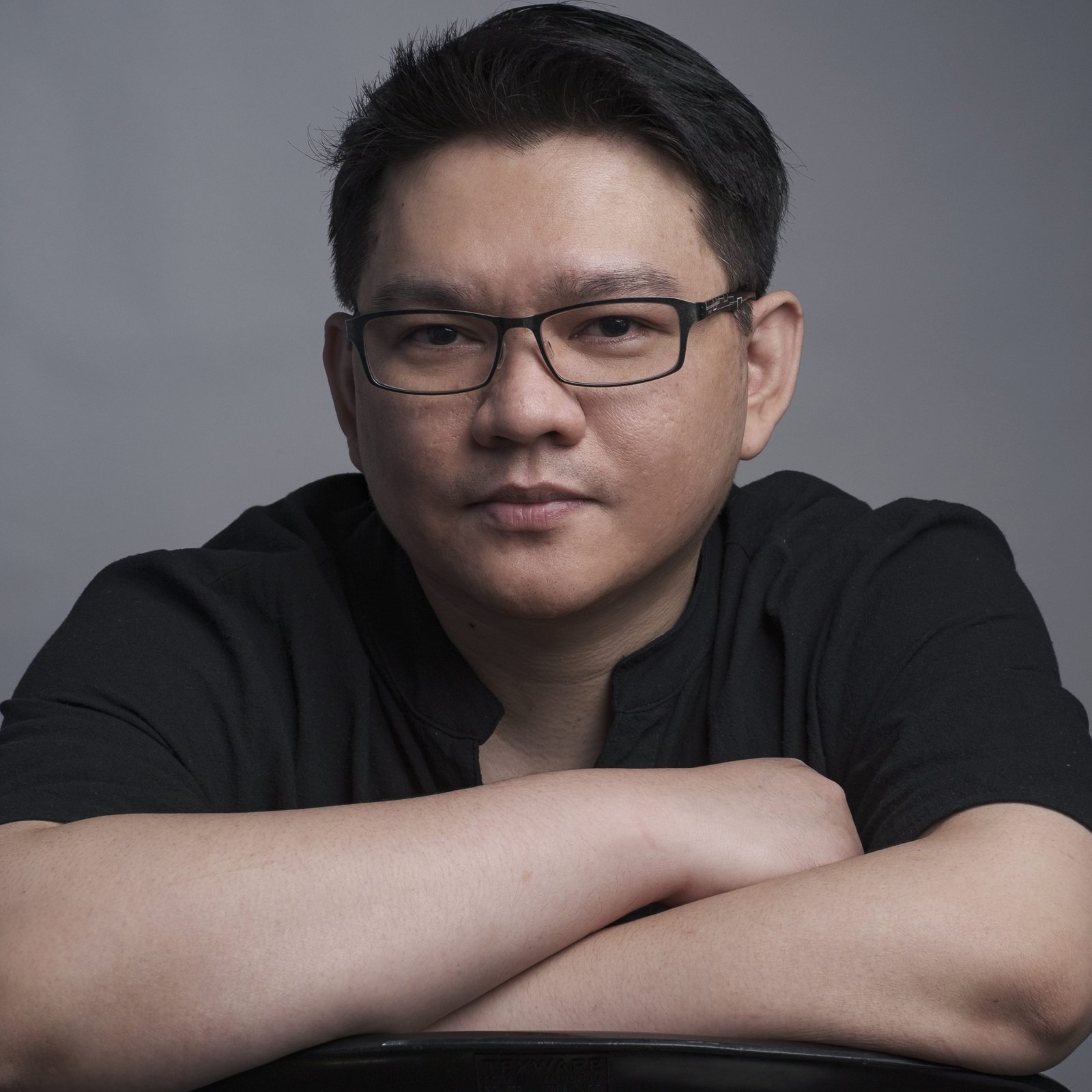 The Broll who always got your back online!