When I'm choosing a chassis for any type of PC Builds, there are some criteria that I am always looking for. First, my top priority other than the form factor is a front mesh panel for better intake. Second, wide support for radiators especially for CPU all in one cooling solution both 240mm and 360mm on either the front intake or the top exhaust. Third, wide support for larger and taller CPU Air coolers just in case I want to go that route instead of AIO. Fourth, an adequate amount of cable management space and cable tie points. Fifth, a fair amount of storage device mounting point for either 2.5″ drives or 3.5″ drives. Sixth, a good selection of front panel input and output ports. Of course, good build quality, aesthetically pleasing design with a tempered glass panel is also a must, and bonus features such as included fans, ARGB support, and controllers are always appreciated. All of which are available on the Cooler Master MasterBox MB311L ARGB Chassis. So, let's take a look around it.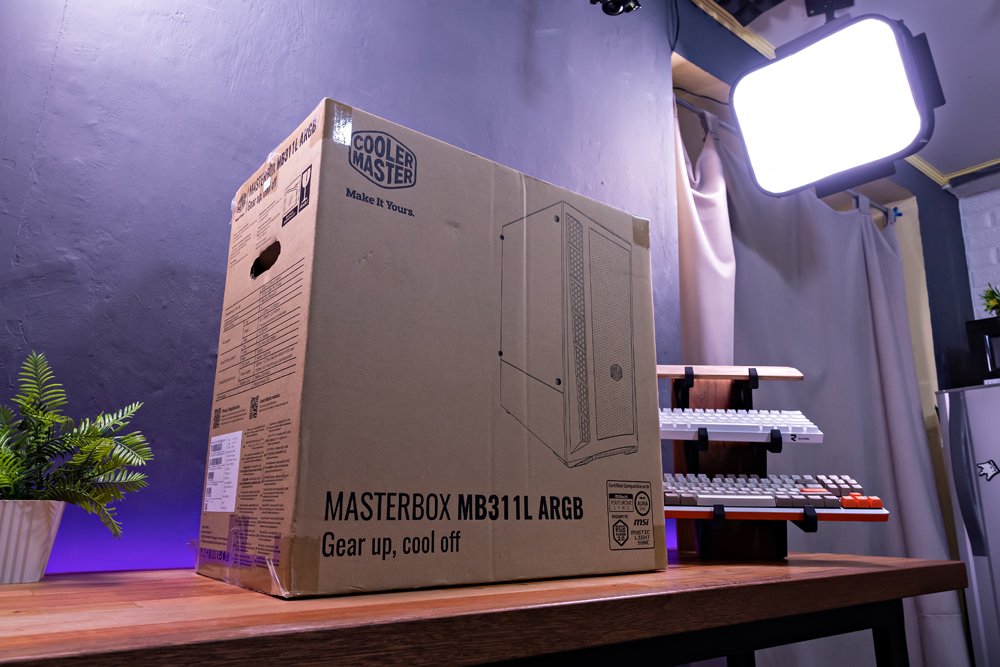 MY EARLY BREAKDOWN
Pros: Good design and construction, 2 case fans included, ARGB controller included, Adjustable drive cage, Mesh ventilation all over the chassis.
Cons: No front panel USB Type-C port, Non-reusable PCIe covers, Insufficient 2.5″ mounting rubbers
SPECIFICATIONS
MODEL NUMBER: MCB-B311L-KGNN-S01, MCB-B311L-KGNN-S02
SERIES: MasterBox Series
SIZE: Mini Tower
AVAILABLE COLOR(S): Black
MATERIALS: Steel, Mesh, Plastic, Tempered Glass
DIMENSIONS (L X W X H): 435.5 x 217.5 x 410mm
WEIGHT: 5.47kg
MOTHERBOARD SUPPORT: Micro ATX, Mini ITX
EXPANSION SLOTS: 4
5.25″ DRIVE BAYS: N/A
2.5″ / 3.5″ DRIVE BAYS (COMBO): 2
2.5″ DRIVE BAYS: 2
I/O PANEL: 2x USB 3.2 Gen 1 (formerly USB 3.0), 1x 3.5mm Audio Jack, 1x 3.5mm Mic Jack, 1x ARGB 2-to-3 splitter, 1x ARGB Controller (only for the S02 versions)
PRE-INSTALLED FANS – FRONT: 2x 120mm ARGB Fan
FAN SUPPORT – TOP: 2x 120/140mm
FAN SUPPORT – FRONT: 3x 120mm, 2x 140mm
FAN SUPPORT – REAR: 1x 120mm
RADIATOR SUPPORT – TOP: 120mm, 240mm
RADIATOR SUPPORT – FRONT: 120mm, 140mm, 240mm, 280mm
RADIATOR SUPPORT – REAR: 120mm
CLEARANCE – CPU COOLER: 166mm/6.54″
CLEARANCE – PSU: 140mm (HDD cage in backmost position), 325mm (w/o front radiator & HDD cage)
CLEARANCE – GFX: 344mm
CABLE ROUTING: 18-22mm
DUST FILTERS: Top, Front, Bottom
POWER SUPPLY SUPPORT: Bottom mount, ATX
WARRANTY: 2 years
WHAT'S IN THE PACKAGE
The packaging is pretty straightforward with a typical brown box with branding, key features, and specifications printed around it. Inside the box, we have the Cooler Master MasterBox MB311L ARGB Chassis protected by a couple of large styrofoam and plastic.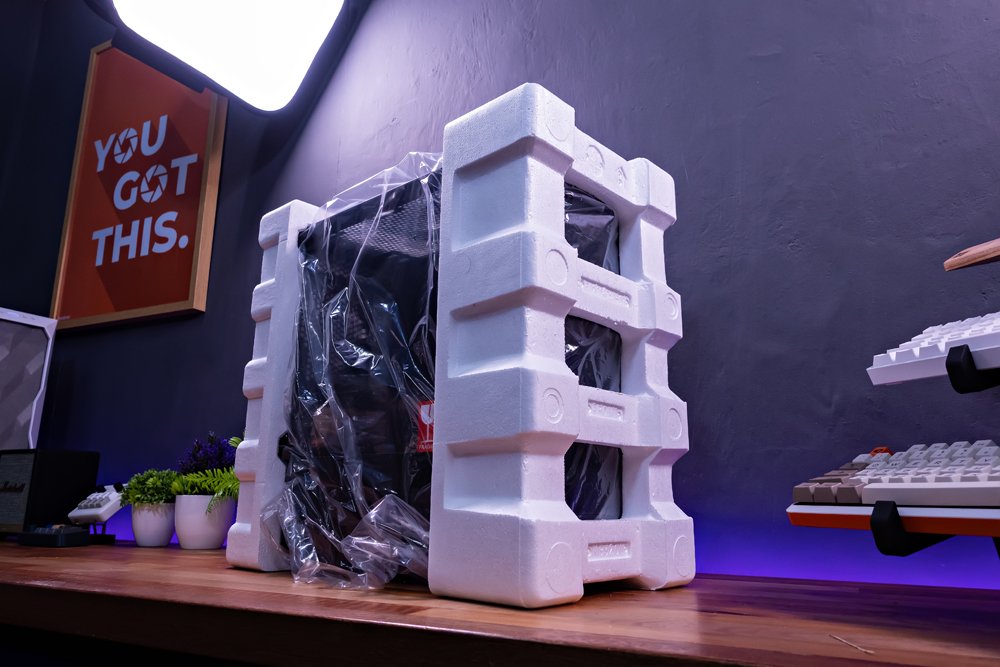 Inside the box, we also have the user manual which is quite important for first-time builders.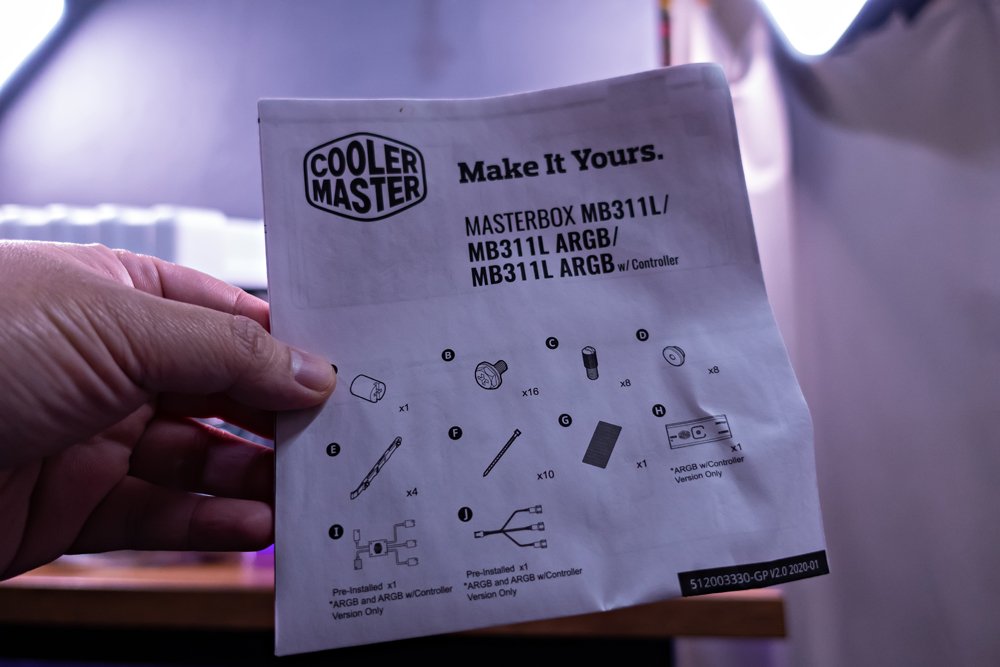 A plastic full of accessories which includes some rubber mounting for 2.5″ storage devices,
A set of screws and standoffs, 
A set of installation brackets for 3.5″ drives.
A few zip ties for cable management.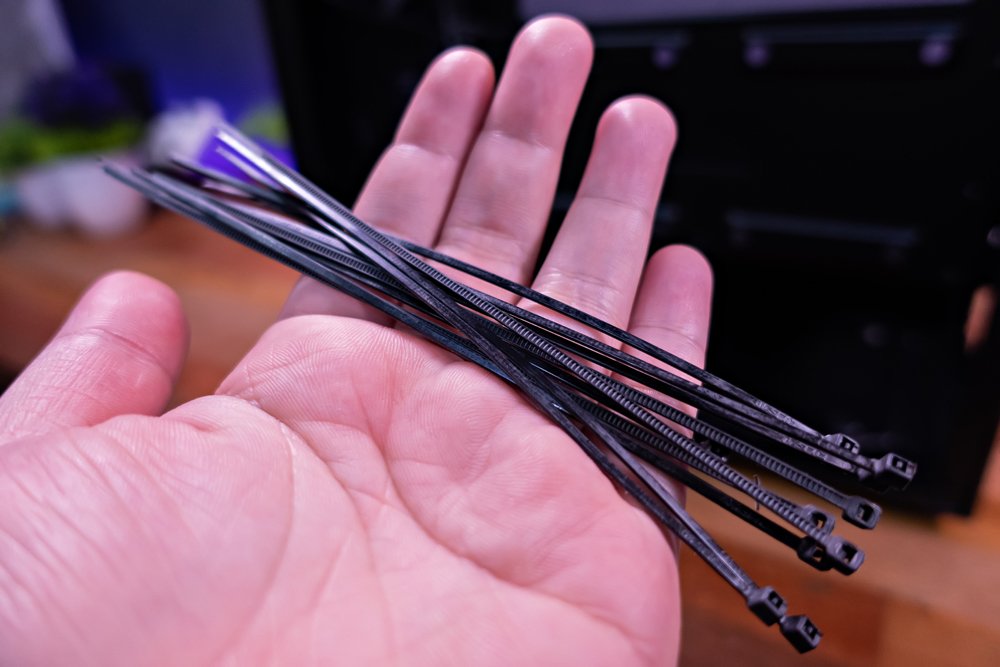 And an ARGB controller powered by a SATA interface.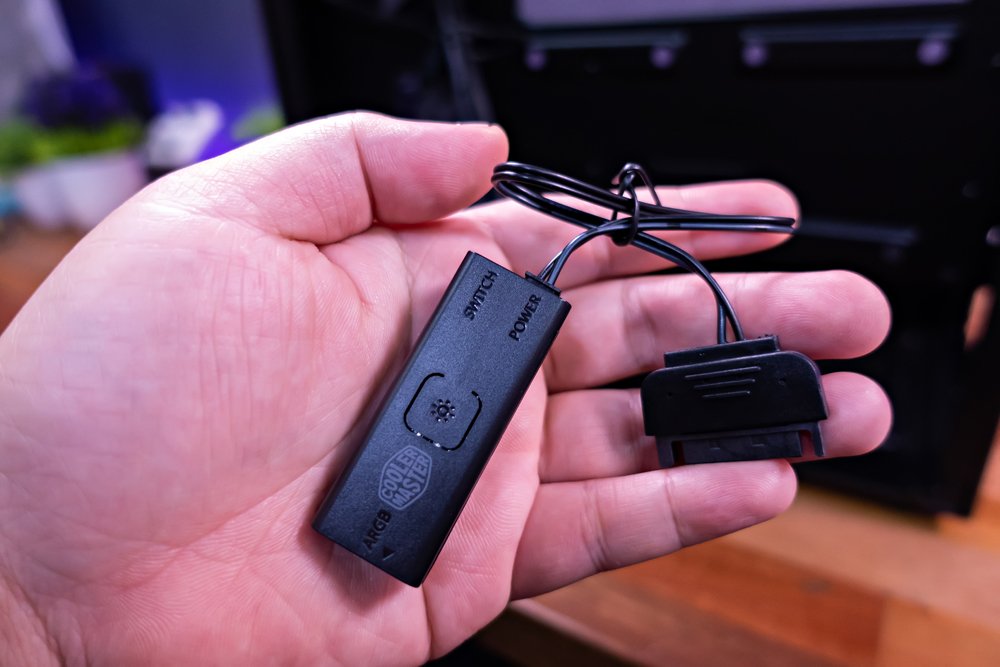 The overall design of the Cooler Master MasterBox MB311L ARGB is fairly simple and most of the design elements are functional. The build construction is also pretty decent with a combination of solid metal and hard plastic materials.
It features a fine mesh front panel with larger honeycomb mesh on both sides with a fine mesh panel underneath it as well for that balanced intake airflow without introducing much dust from the outside.
We also have some honeycomb grills on the bottom part for more intake.
And lastly here in front, we have a nice Cooler Master logo.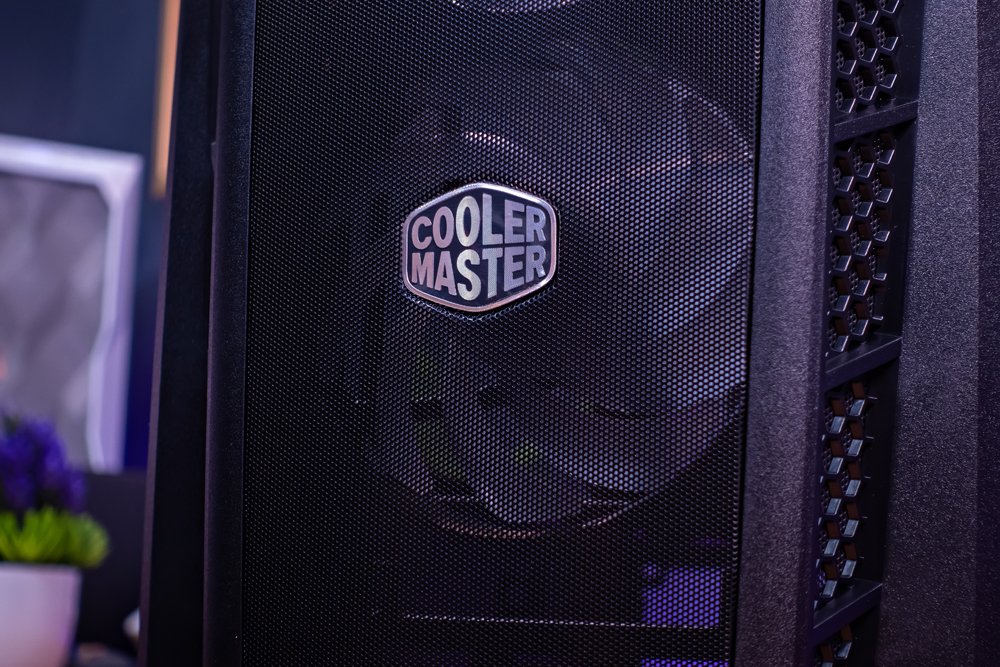 Flipping it on the left side, we have the tempered glass panel and to be honest, I don't know what to feel about this design with a closed bottom part for the PSU shroud and a square tempered glass above. Maybe I am just used to the full tempered glass design of my Cooler Master TD500 Mesh.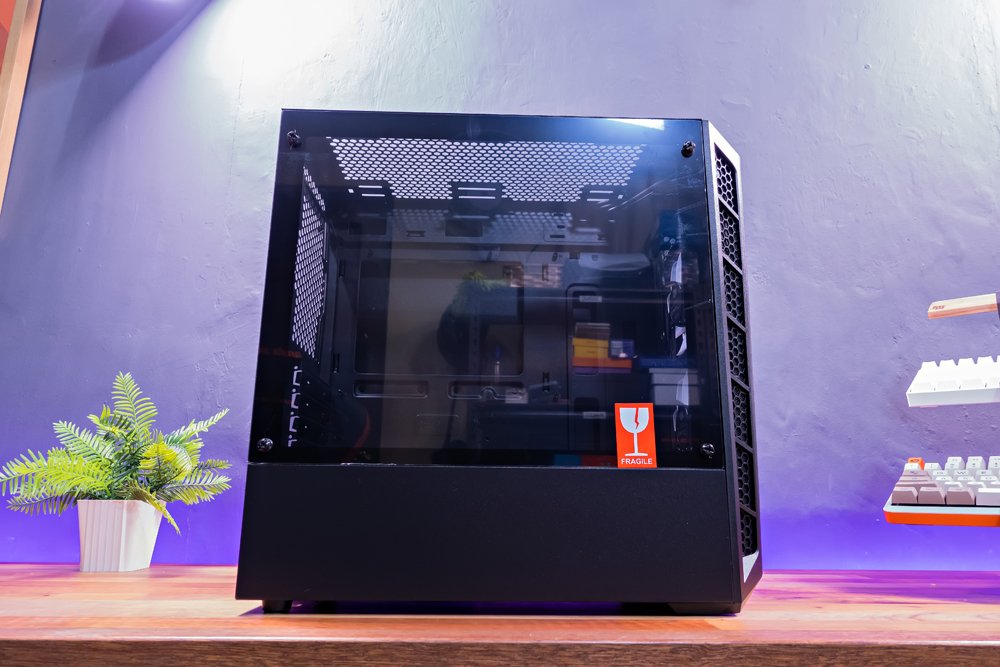 The tempered glass side panel is secured with 4 captive thumbscrews.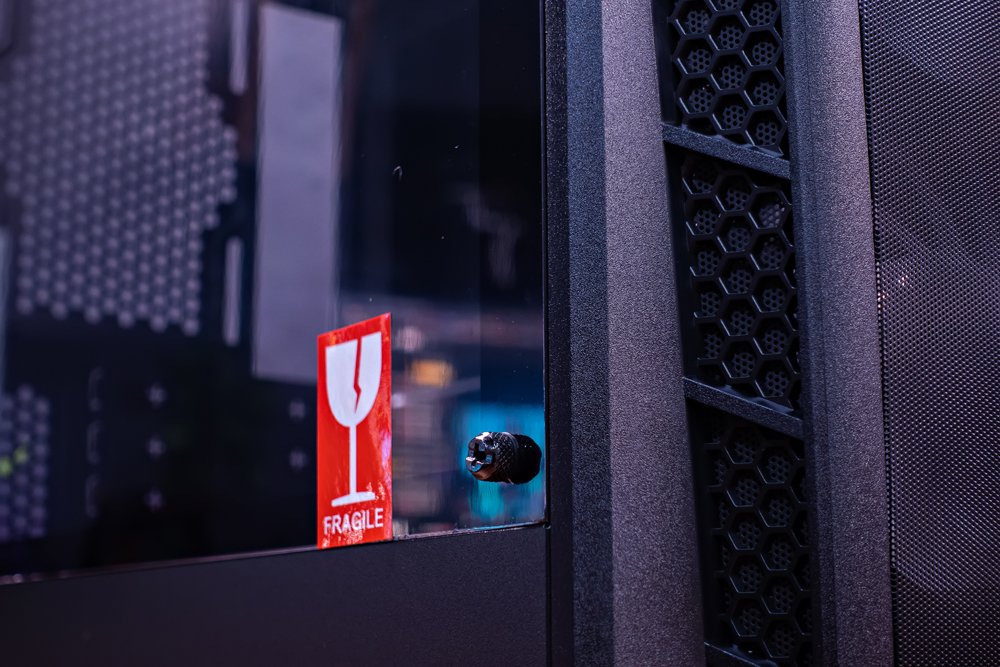 Flipping it on the other side, to no surprise, we just have a closed metal cover.
The metal cover is secured by captive thumbscrews as well.
Turning it on the backside, first, we have nice ventilation on the top part, something that I don't see often. Then we have the usual IO cutout, an adjustable exhaust fan mounting point beside it, the 4 PCIe slots covered with non-reusable metal covers, small ventilation beside it, and the power supply cutout at the bottom.
Unlike most premium chassis, the Cooler Master MasterBox MB311L ARGB doesn't have a removable PSU bracket.
And it also doesn't have reusable PCIe covers.
But it has an ample amount of ventilation all around.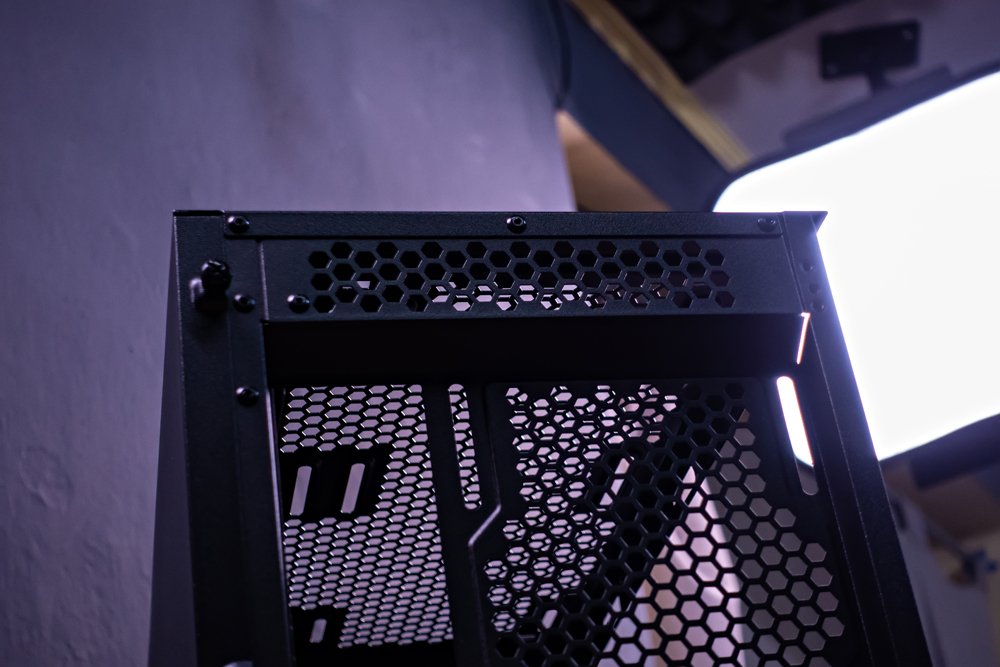 Turning it all over at the bottom, we have 4 rubber feet,
A removable PSU filter, 
And the adjustment option for the hard drive cage.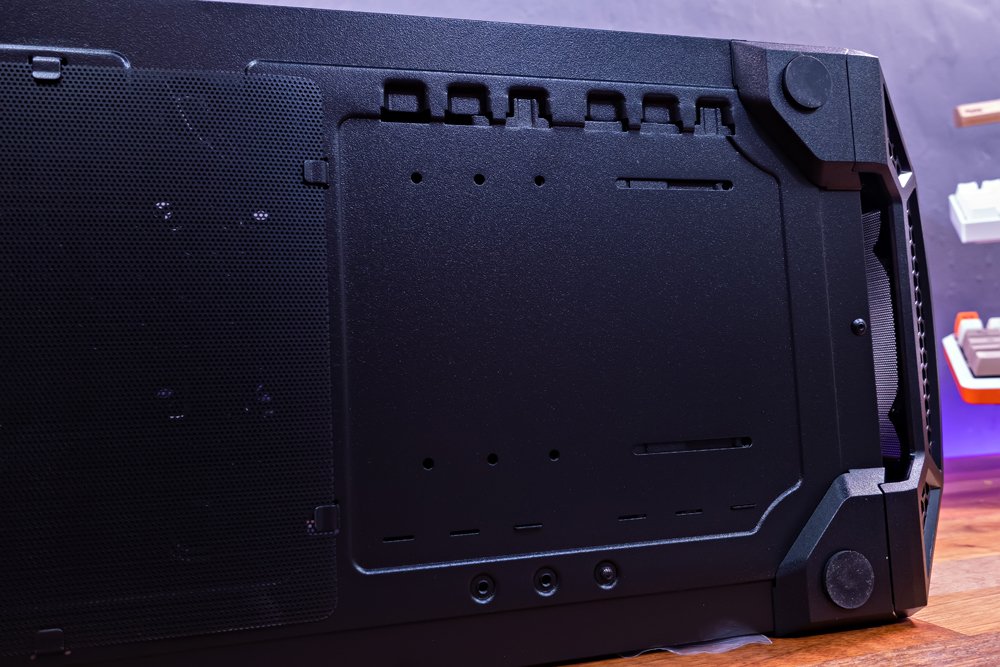 Now, let's dig in deeper starting with removing the front mesh panel. 
What's good about the Cooler Master MasterBox MB311L ARGB is that it comes with two pre-installed 120mm ARGB fans. But if you don't want to use those fans, the front panel supports up to 3 x 120mm or 2 x 140mm case fans. It also supports 120mm, 140mm, 240mm, and even 280mm radiator.
As for the top exhaust ventilation, it supports 2 x 120mm fans, 2 x 140mm fans, 120mm radiator, and 240mm radiator.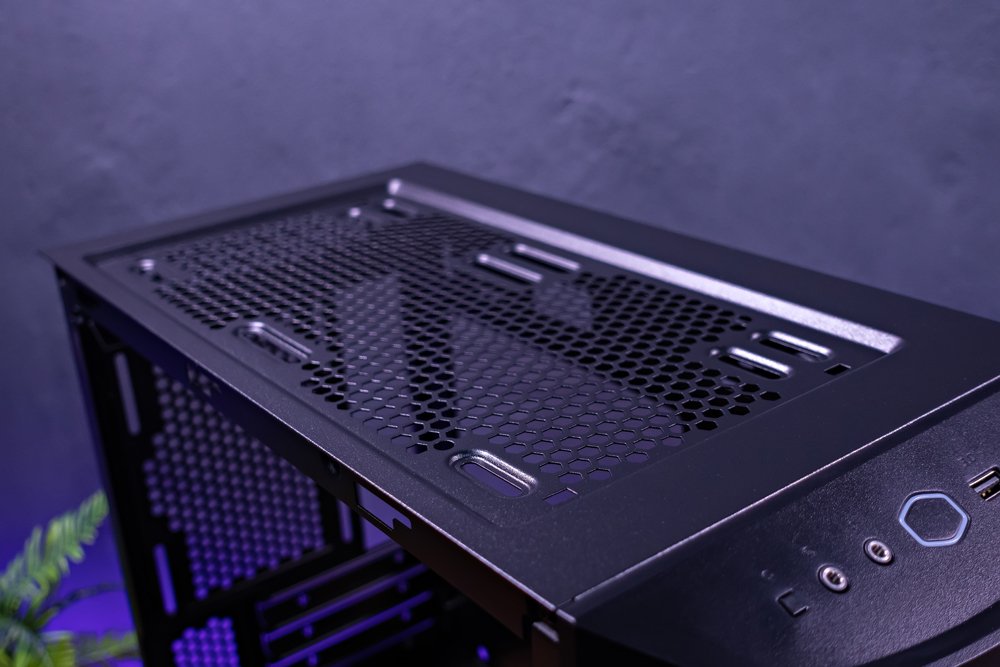 It also has a magnetic dust filter.
In terms of the front panel IO, we have a reset button that you can also connect to the ARGB controller, 2 3.5mm audio jacks, the power button, 2 USB 3.0 ports, and an LED indicator. Unfortunately, we don't have a USB Type C front panel port.
In terms of storage mounting options, the drive cage supports 2 2.5″ or 3.5″ drives and Is adjustable either to the left side to make more room for the power supply and its cables or to the right side to make more room for radiators. Alternatively, you can also just remove it.
Aside from the adjustable drive cage, you can also mount 2 x 2.5″ storage devices here at the back. 
You can also opt to mount 2 2.5″ drives here on top of the power supply shroud. However, the included rubber mounting is only enough for 2 2.5″ drives. 
Speaking of power supply, we have 4 rubber cushions that also functions as a sort of spacer between the power supply and the bottom part of the case to make room for more airflow.
We also have a large motherboard cutout for maximum compatibility with different brackets and CPU coolers.
Looking further inside, we have enough cable routing channels but not a single rubber grommet is included. 
The good thing here is that most of the front panel cables are already pre-cable managed and there are a good amount of cable mounting points around the back. We also have enough space to fit in most cables here.
Speaking of cables, of course, we have the usual front panel connectors.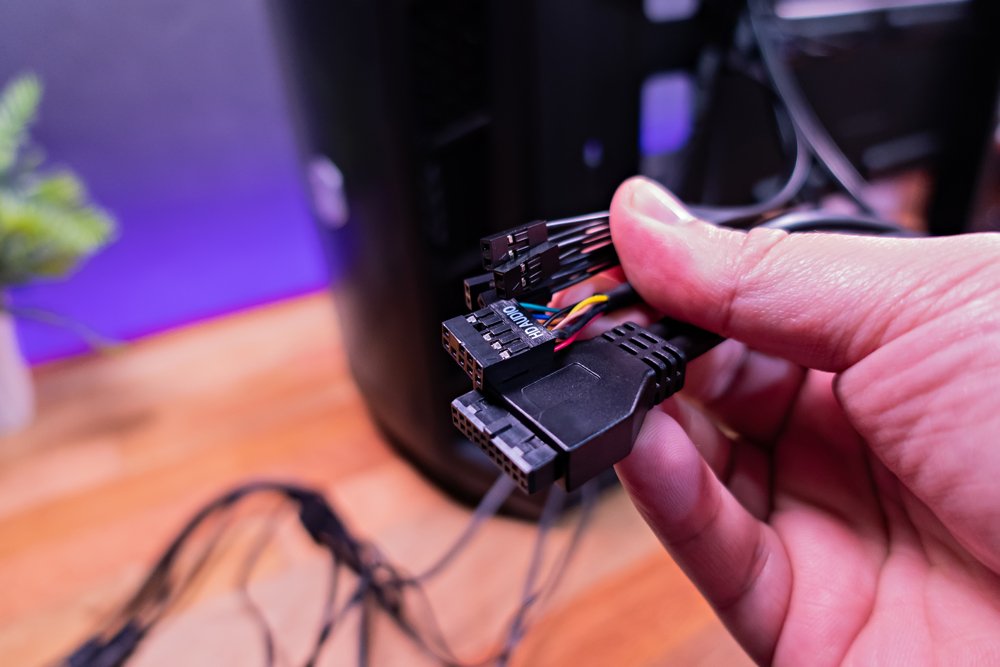 Fan connectors for the included fans.
And ARGB connectors compatible with different interfaces from ASUS, Gigabyte, and others.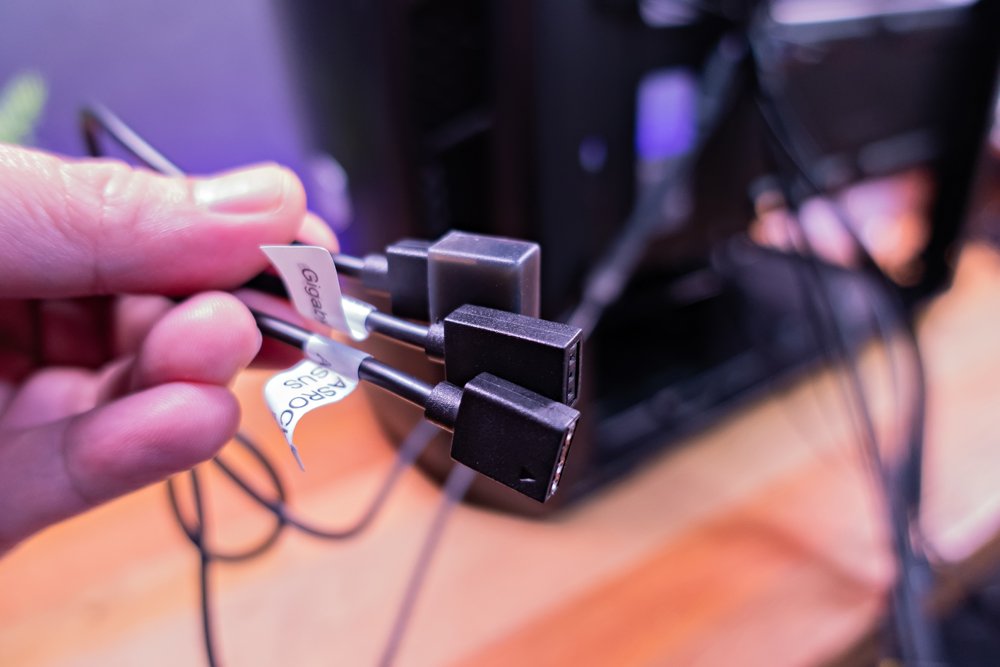 Final Thoughts
And that's about it. All in all, the Cooler Master MasterBox MB311L ARGB is a simple yet feature-packed chassis that offers good airflow, versatile storage mounting options, addressable RGB support, and decent design and build quality. The only real deal-breaker for me is possibly the lack of a USB Type-C front panel port especially given the fact that most motherboards nowadays have front panel USB Type-C headers. Other than that, performance aside, I can definitely recommend this to anyone who wants to build a budget PC especially that it already comes with 2 case fans out of the box.
If you like this one, please consider subscribing to my channel by hitting the button below. Have a great day!
Cooler Master MasterBox MB311L ARGB
₱3,700.00
SHARE THIS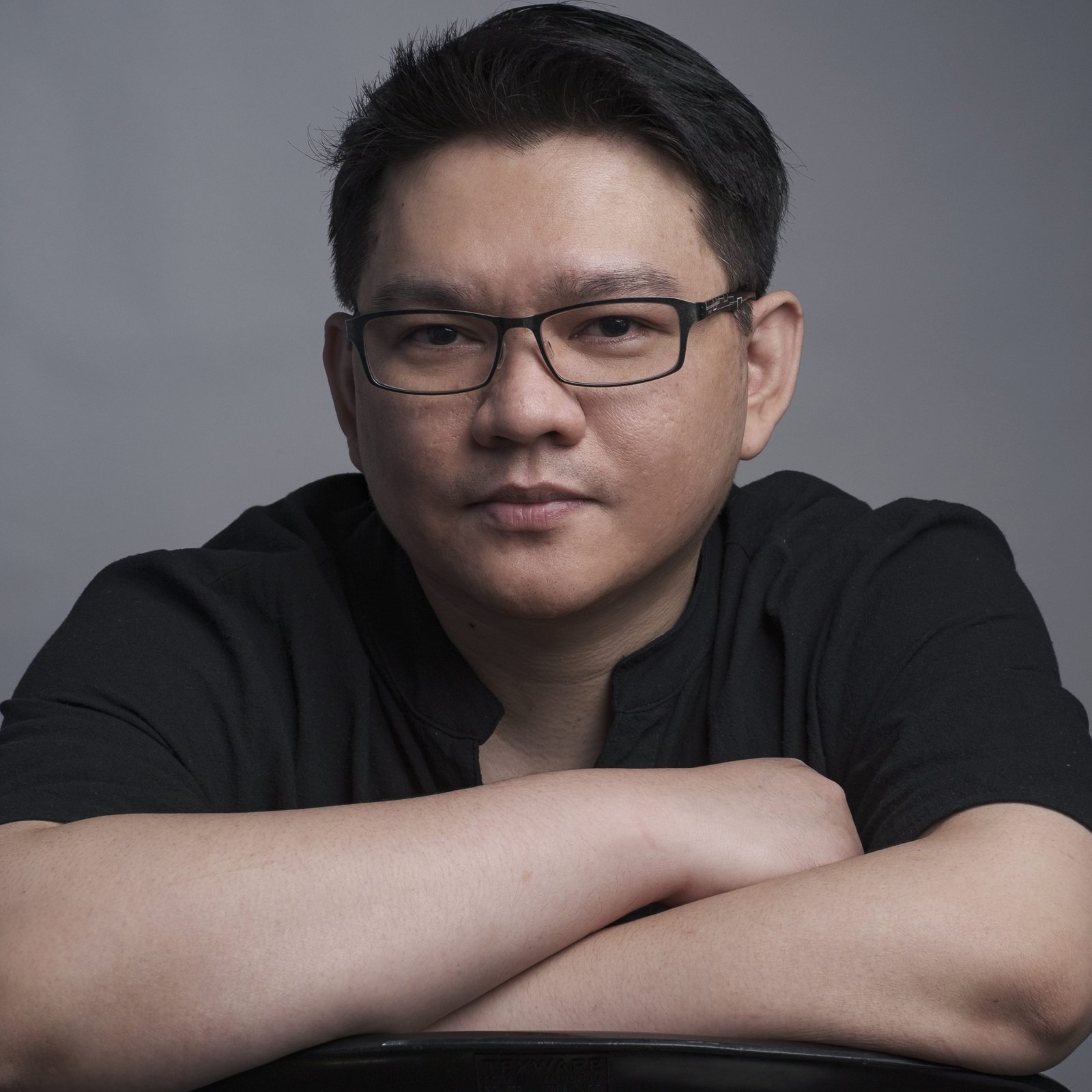 The Broll who always got your back online!