High-refresh rate gaming monitors with an expensive price tag is the thing of the past now, especially the ones that has IPS panel and faster response times. Because with the continuing development of display panels, even monitors with TN panel now has very good color reproduction and even viewing angles, and IPS displays now can achieve faster response times and higher refresh rates. What a time to be alive as a gamer right? But how about the lower end of the spectrum with limited budget? can we also enjoy these advancements in technology when it comes to display panels? well, yes my friends, there are a few new gaming monitors right now that can run higher refresh rate up to 144Hz with 1ms MPRT response time in just less than 200 USD like what we have here today.
What we have here today is the new ASUS VP249QGR Gaming monitor, a monitor that can run up to 144Hz with 1ms MPRT response time and with an IPS Panel to boot, not to mention, it also supports VESA mounting option. But, is it really worth the hype and is this the new bang for the buck gaming monitor? let's find out shall we?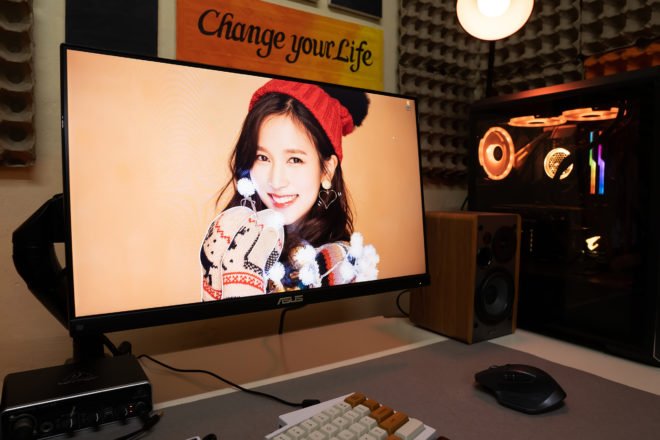 MY EARLY BREAKDOWN


Pros: Very affordable for its specs, IPS panel, 144Hz display, 1ms MPRT, VESA mounting support, Good color calibration out of the box
Cons: Limited tilt adjustments, No display port cable included
SPECIFICATIONS


Display
Panel Size: Wide Screen 23.8″(60.5cm) 16:9
Color Saturation: 72% NTSC
Panel Type: IPS
True Resolution: 1920×1080
Display Viewing Area(HxV): 527.04 x 296.46 mm
Display Surface: Non-glare
Pixel Pitch: 0.2745 mm
Brightness: 250 cd/㎡ (Typical)
Contrast Ratio: 1000:1 (Typical)
ASUS Smart Contrast Ratio (ASCR): 100000000:1
Viewing Angle (CR≧10): 178°(H)/178°(V)
Response Time: 1ms MPRT , 4ms (Gray to Gray)
Display Colors: 16.7M
Flicker free: Yes
Refresh Rate(max): 144Hz
Video Feature
Trace Free Technology: Yes
SPLENDID Video Preset Modes: 8 Modes (sRGB Mode/Scenery Mode/Theater Mode/Standard Mode/Night View Mode/Game Mode/Reading Mode/Darkroom Mode)
Skin-Tone Selection: 3 Modes
Color Temperature Selection: 4 Modes
QuickFit (modes): Yes (Alignment Grid/Paper/Photo Modes)
GamePlus(modes): Yes (Crosshair/Timer/FPS Counter/Display Alignment)
Low Blue Light: Yes
HDCP support: Yes
FreeSync™ technology supported
Adaptive-Sync supported:Yes
Extreme Low Motion Blur
Shadow Boost
Other Specs
Stereo Speakers: 2W x 2 Stereo RMS
Signal Input: HDMI, D-Sub, DisplayPort
PC Audio Input: 3.5mm Mini-Jack
Analog Signal Frequency: 30 ~84 KHz (H) /48 ~75 Hz(V)
Digital Signal Frequency: 30 ~180 KHz (H) /48 ~144 Hz(V)
Power On (Typical): < 16W*
Power Saving Mode: < 0.5W
Power Off Mode: < 0.5W
Voltage: 100-240V, 50 / 60Hz
Chassis Colors: Black
Tilt: +20°~-5°
VESA Wall Mounting: 100x100mm
Frameless Design: Yes
Kensington lock: yes
Phys. Dimension with Stand (WxHxD): 540.50 x 389.34 x 204.42 mm
Phys. Dimension without Stand (WxHxD) : 540.50 x 325.24 x 51.67 mm
Box Dimension (WxHxD): 599 x 446 x 136 mm
Net Weight (Esti.): 3.56 kg
Net Weight without Stand (For VESA Wall Mount) (Esti.): 3.07 kg
Gross Weight (Esti.): 5.8 kg
WHAT'S IN THE PACKAGE


Alright, so one way to cut corners I guess is to have a quite generic brown box like this.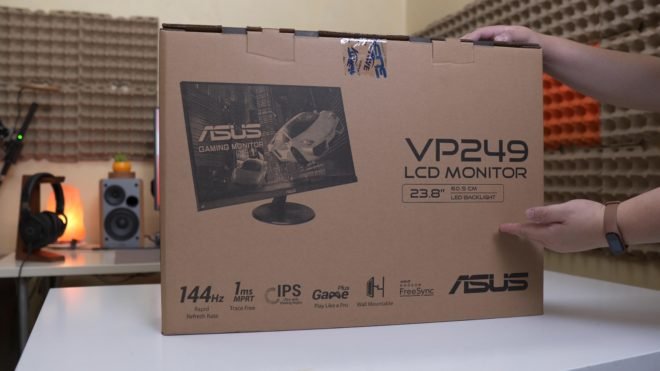 But at least, we still have all the details that we need, we have here the model name and all the key features here in front.
At the side of the box, we have the specific model name which is the ASUS VP249QGR.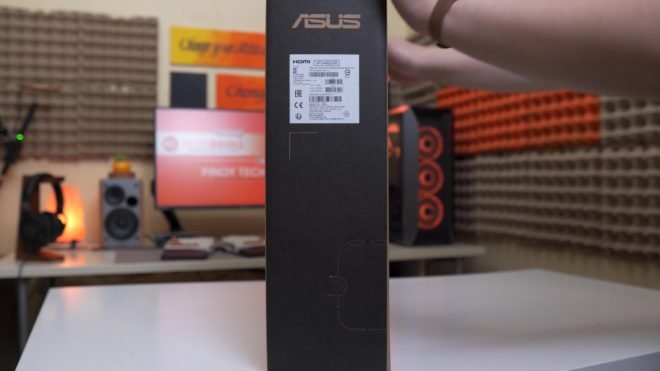 Inside the box, we have the circular base protected with a plastic which is nice,
And then we have the user manual,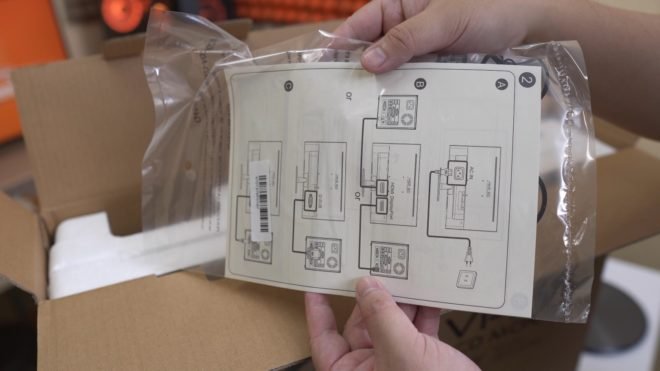 And an HDMI cable. Unfortunately, there's no DisplayPort cable included which I guess is another way to cut the cost. But don't worry as you will still be able to run this at 144Hz via HDMI of course.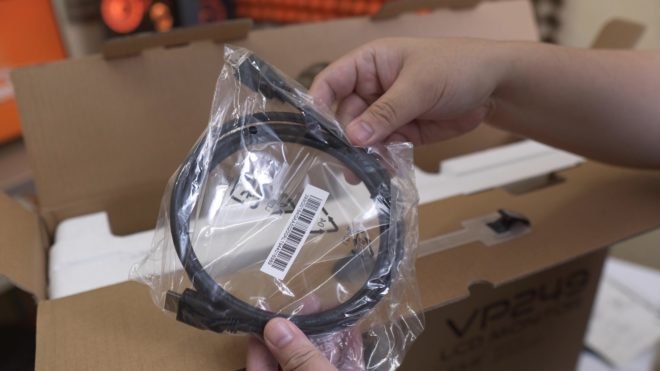 The monitor is actually sandwiched between these two massive Styrofoams,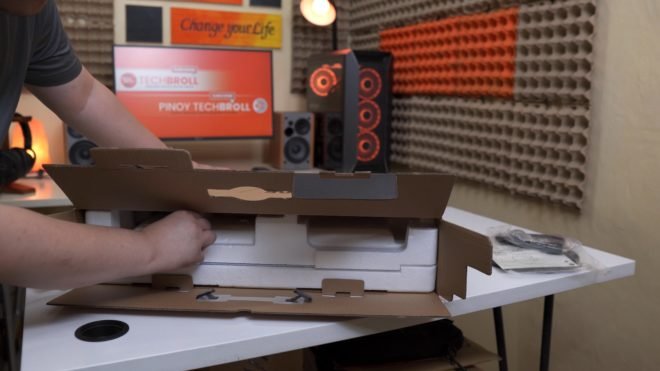 So you'll have to pull it out sideways to make it easier. 
Once out, you'll see the power cable and it looks like the power supply is built-in on the monitor itself.
We also have here the usual ASUS VIP member notice,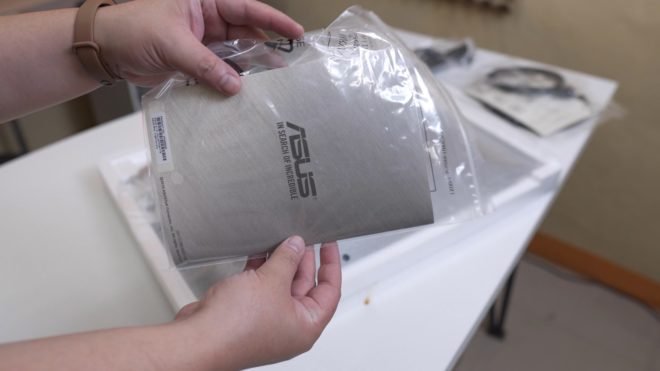 And the ASUS VP249QGR monitor itself nicely protected by a large foam sleeve.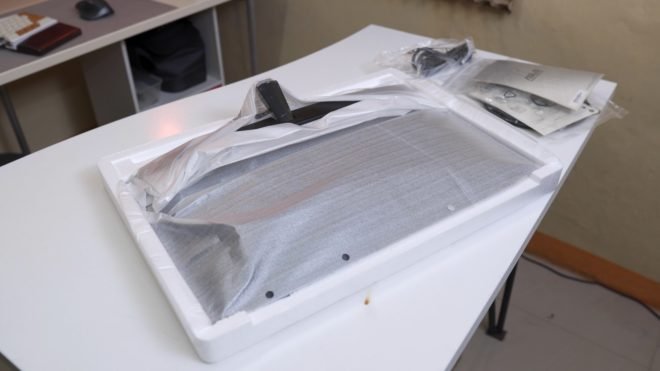 Mounting the base


Mounting the circular base to the monitor is super easy with just one screw that you can actually tighten using your hand.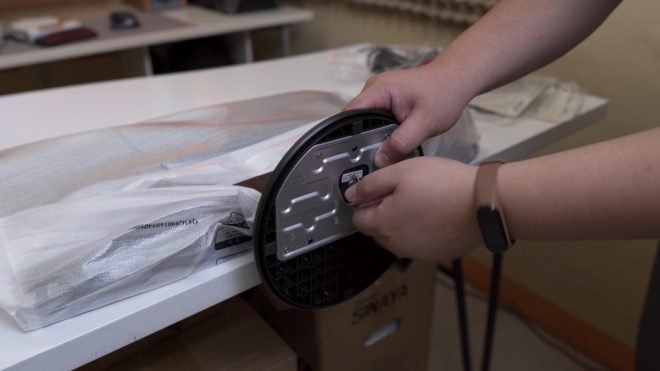 But of course, just to make sure, tighten it further using a Philips screwdriver or probably with a small coin.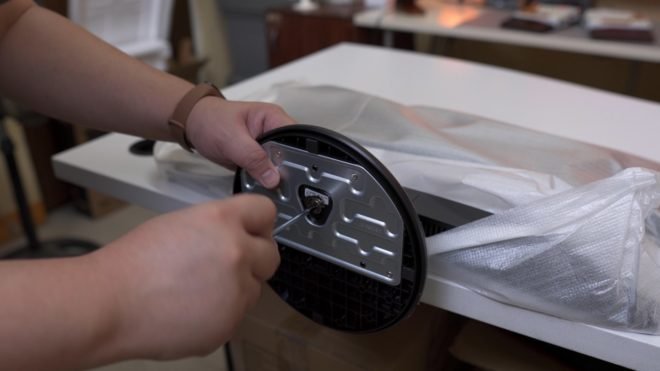 And there you go, here's the ASUS VP249QGR in all its inexpensive glory.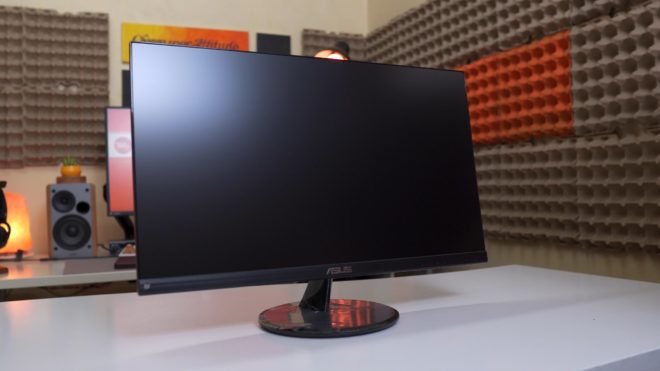 Tilting and Adjustments


Now, this is not exactly new for monitors on this price range but the tilting options are quite limited. You only have slight tilting forward and backward and that's about it.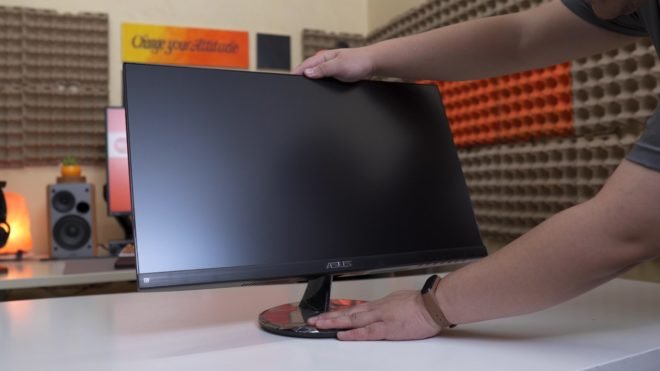 Actual Dimensions


As for the dimensions with my own measurements, it is 54 cm x 32.4 cm x 4.5 cm.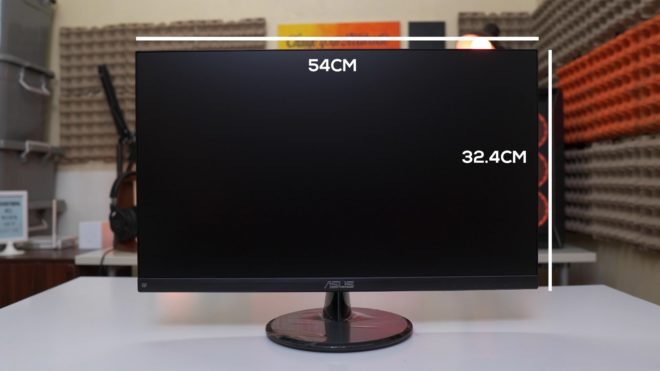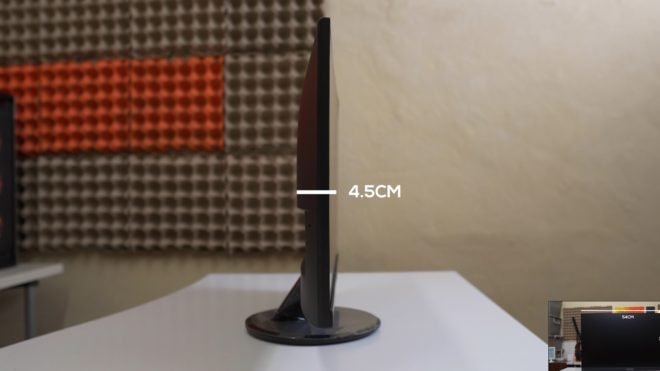 And the exact diagonal measurement of this monitor is actually 23.8″ and it has a non-glare finish.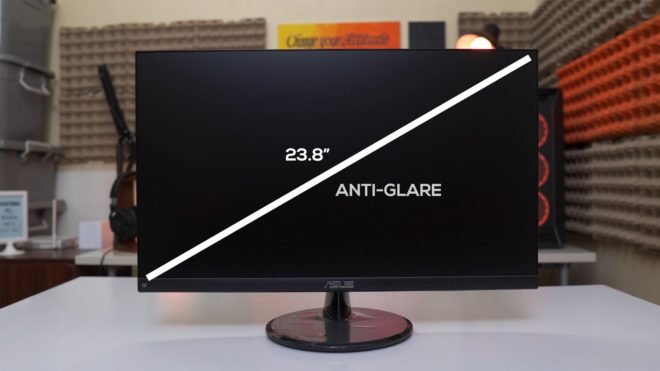 FULL REVIEW
Design and Parts Overview


Alright, so let's take a look around the ASUS VP249QGR.
The bezels are quite thin as you can see, but later I will show you exactly how thin it is when the display is turned on. 
The base is made of plastic, at least the one that's visible to us, and we also have a chrome ASUS logo at the center.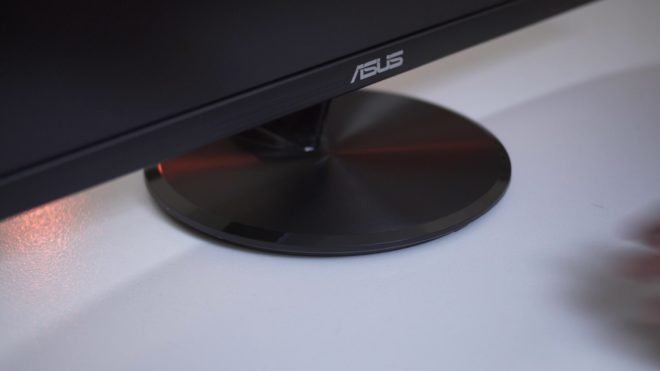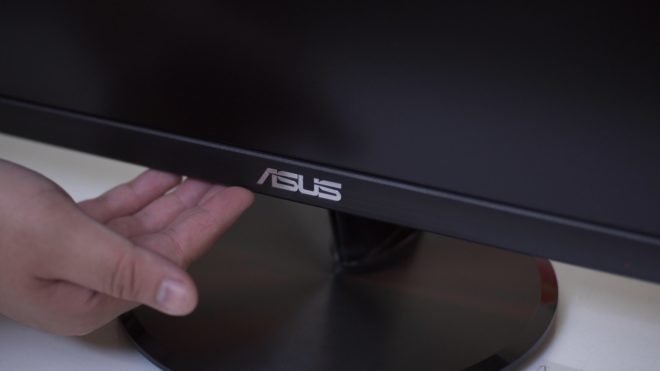 On the lower right corner, we have some red prints as a guide for the OSD controls,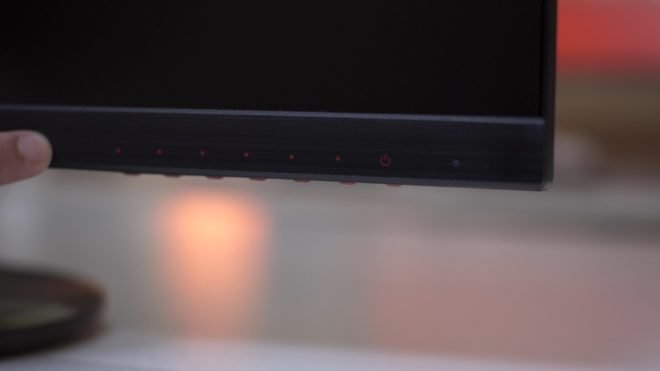 And it gives this kind of illusion that looks like it is illuminated, but it is not.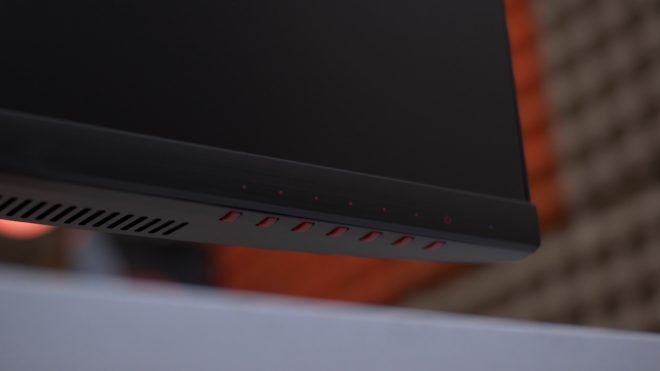 What is illuminated here is the LED for power.
On the other side, we have the DisplayPort logo, and that's pretty much what we have in front.
Now, looking underneath the monitor we have ventilation at the bottom,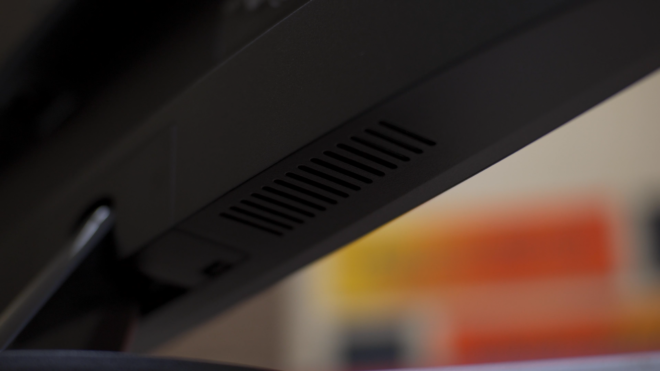 And another ventilation beside the power port alongside the speakers.
Speaking of ports, we also have an HDMI, DisplayPort, D-Sub and a 3.5 mm port.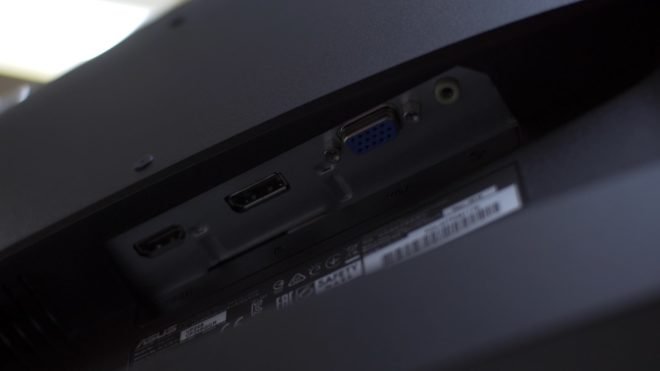 Checking out the back, we also have some ventilation that goes all the way across the entire monitor.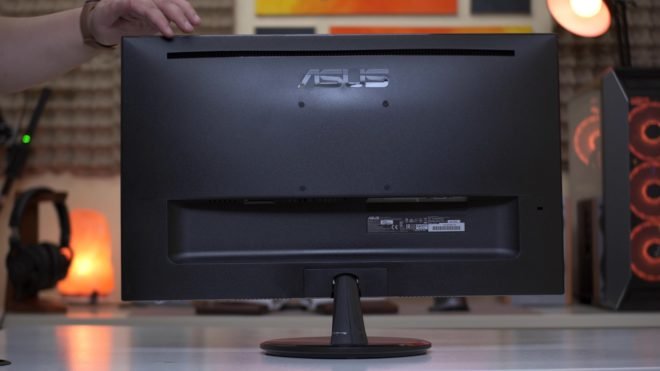 And we also have a large cutout here for easy access to the ports while maintaining a relatively thin form factor.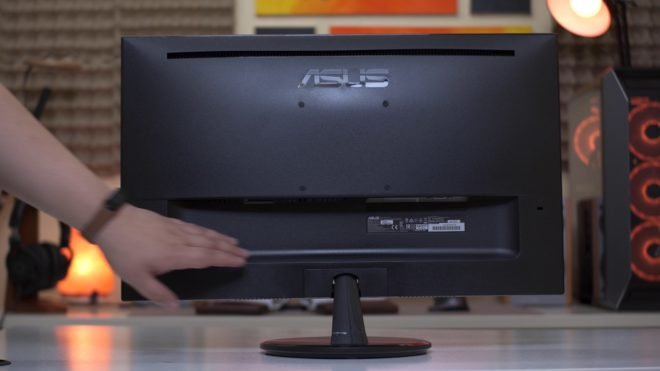 We also have here at the back a glossy ASUS logo,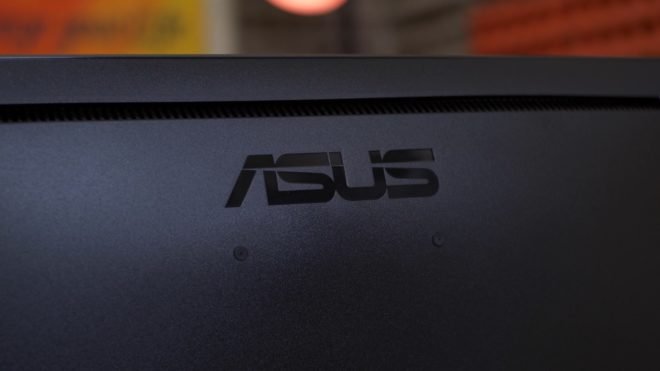 And below that, we have the 100mm VESA mount screw holes covered with a rubber cap.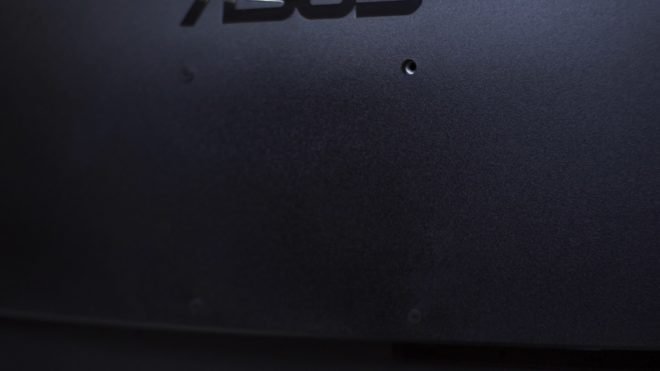 The back of the circular base is glossy but it doesn't matter as it is only seen at the back.
And lastly, we have a Kensington lock hole on the right side of the monitor.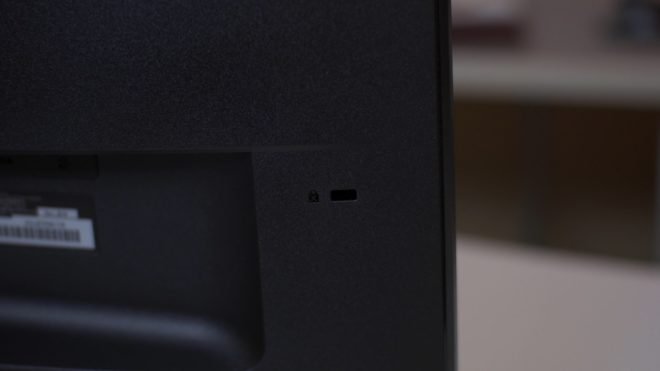 100mm VESA Mounting Support


Now, what I like about this monitor especially given its price is that it is VESA mount compatible.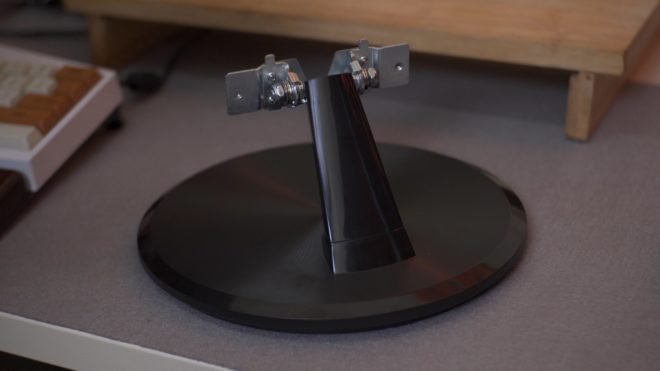 However, the package doesn't seem to include screws, so you'll have to make sure you have them especially if you're buying a monitor arm from the second-hand market.
OSD Settings


Now, let's check out the OSD settings of the ASUS VP249QGR.
What I appreciate here is that even on their budget monitors like this, the OSD menu is pretty much the same, just different buttons.
So we have the blue light filter up to level 4,
Then we have splendid, which essentially are just presets that you can take advantage depending on your preference.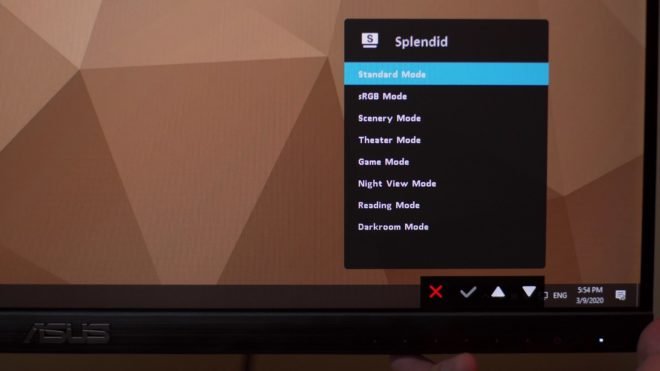 Next, we have the game plus, which includes tools like timer, FPS counter, and display alignment should you choose to use multiple monitors.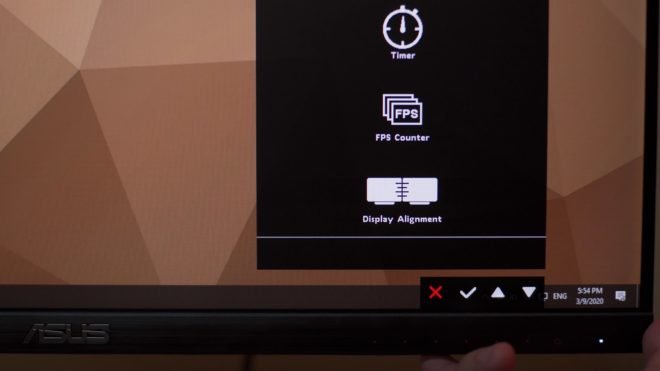 Next, we have the input selection option,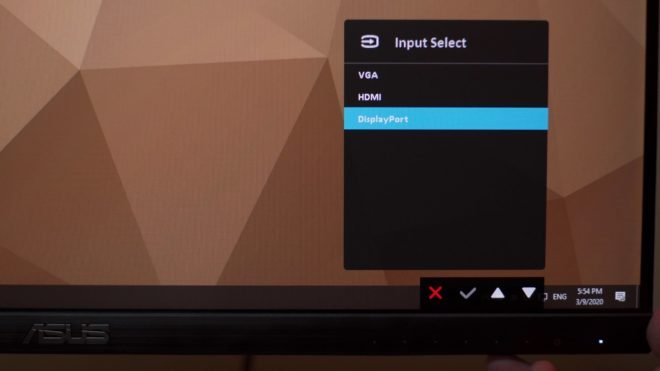 A dedicated button for closing the menu, and the main menu itself.
So we have here again the Splendid presets,
Blue Light Filter,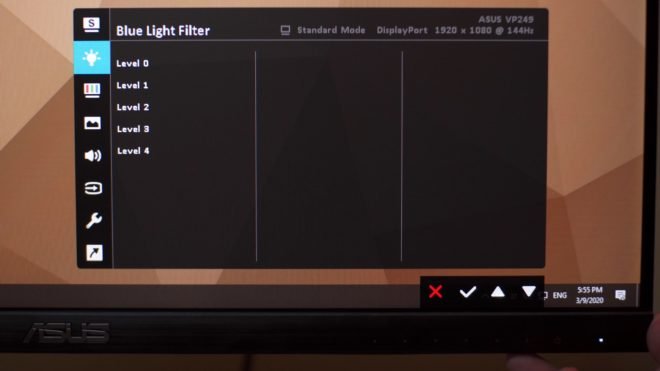 Color, where you can adjust brightness, contrast and color temperature.
We also have here the Image, wherein you have some valuable settings like Trace Free, FreeSync, ELMB, Shadow Boost, and others.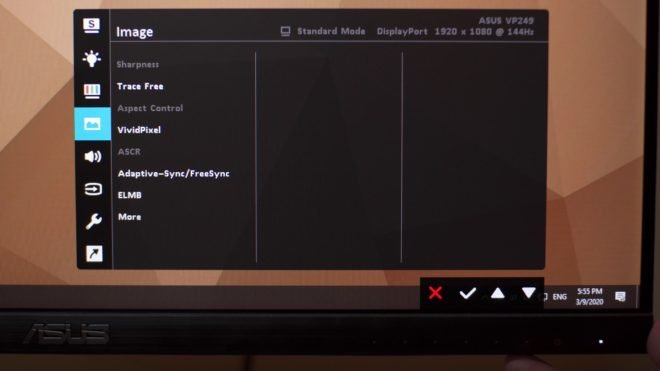 Next we have Sound, because this monitor actually has 2 2W stereo speakers.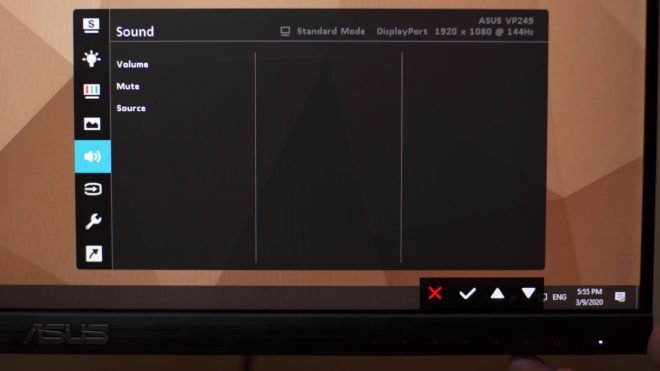 Again we have the Input selection,
And the rest of the system settings of the monitor.
And lastly, you can also set up a couple of shortcuts here. So yeah, like I said, the OSD settings are pretty standard across different monitors from ASUS.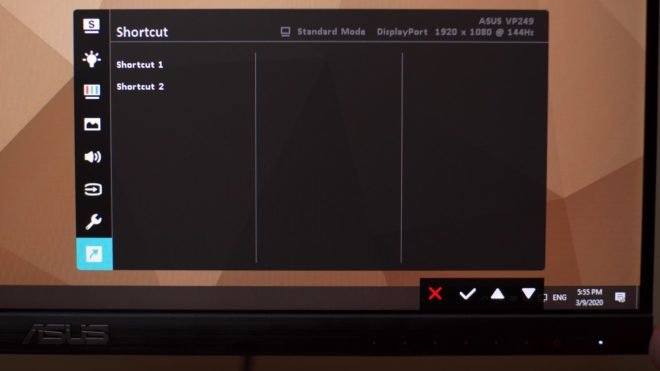 Now, moving on, let's check out the quality of the display of this new budget gaming monitor from ASUS.
Let's start off with the question that I'll probably get often from you guys, will G-sync work on this monitor?
G-Sync


Well, as per specifications it supports both adaptive sync for NVIDIA graphics cards 10 series and above and of course, AMD's FreeSync.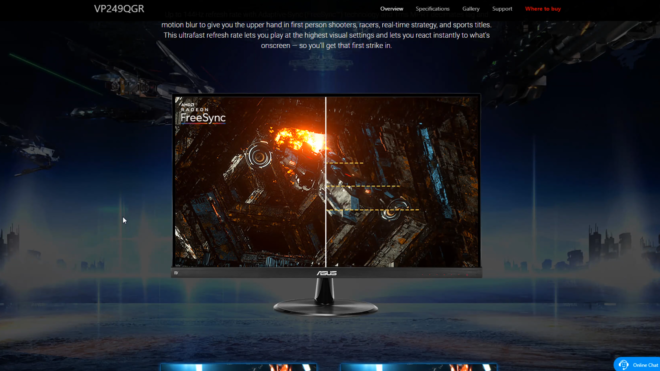 As per my testing, using a DisplayPort cable, you can definitely enable G-sync on this monitor as you can see here. But take note that it is not officially validated as G-sync compatible at least at the time of this review.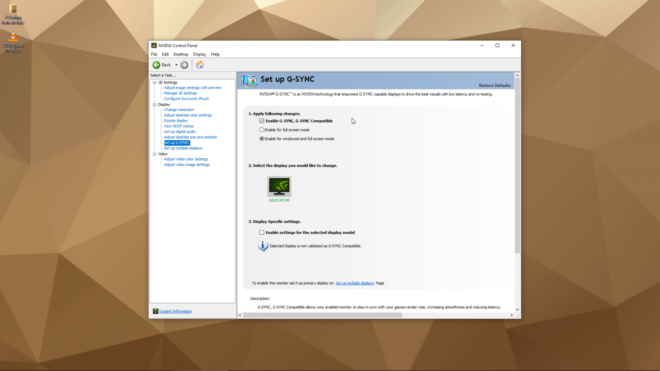 Unfortunately, there's no DisplayPort cable included on the package so you'll have to purchase one separately if you want to get a chance on enabling G-sync on this monitor. But yeah, the answer is, yes, you can enable G-sync with this budget monitor.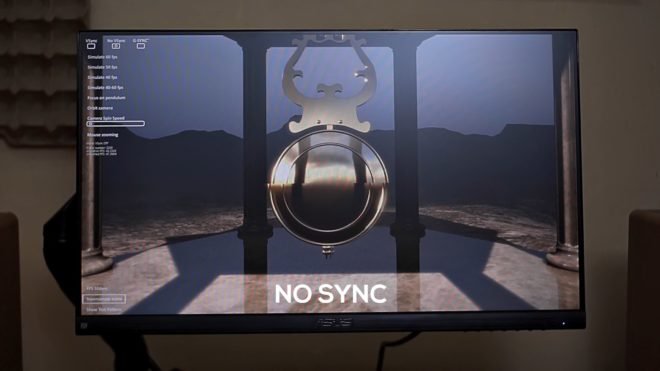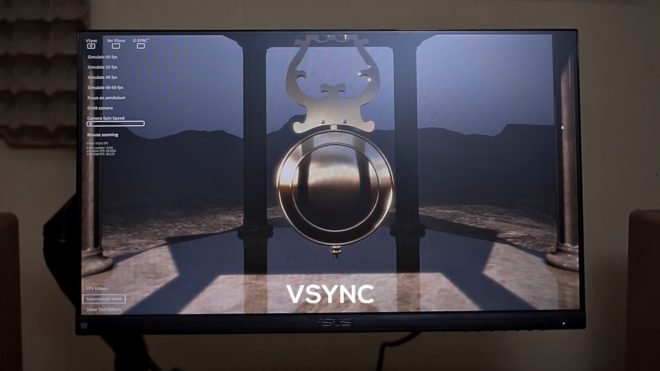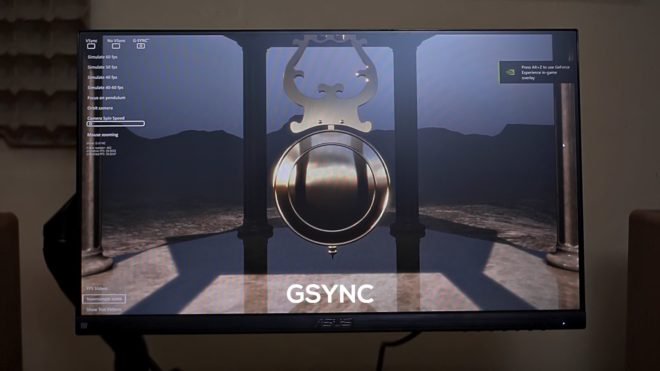 144Hz High Refresh Rate


Now, when it comes to the refresh rate, I always get questions from you guys on how to properly set it up especially for high refresh rate monitors like this, and it's actually pretty easy, all you have to do is open up the NVIDIA control panel, and usually, the native refresh rate is around 60hz.
And to enable higher refresh rate, you have to scroll down to the PC options, and then you should see the higher refresh rate options including the maximum 144hz. Click apply, and you're good to go.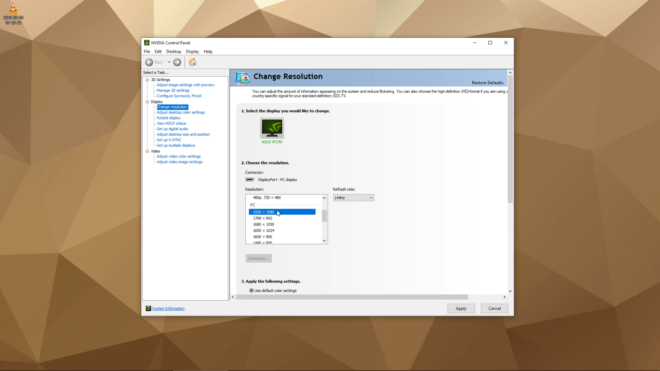 Now, another method is by going to Display settings,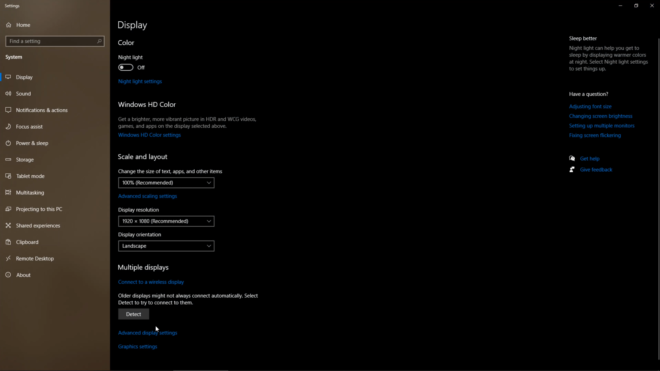 Advanced display settings,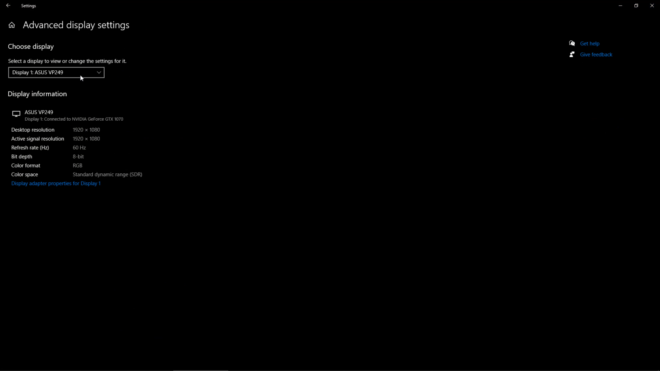 Monitor, and then you should see all the available refresh rates that your monitor can support. Click apply and you should also see that now in the NVIDIA control panel. I know this part of the review is probably unnecessary for most of you guys, but you'll be surprised at how many people actually ask about this, so yeah.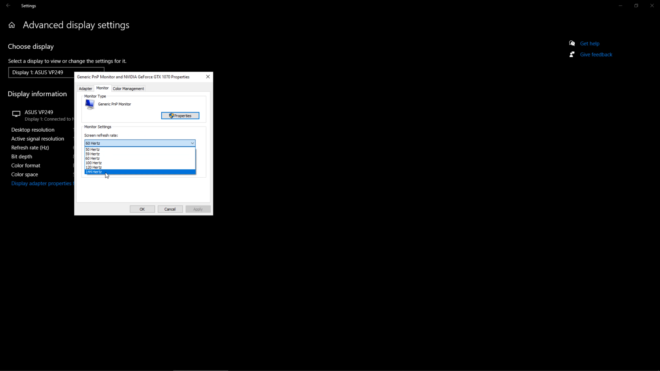 Speaking of refresh rate, let's dig in deeper on the refresh rate and response time of the ASUS VP249QGR
Response Times, Motion Blur and Ghosting


The higher the refresh rate of a monitor, the less motion blur you're going to get and will result in a better overall image quality alongside things like IPS panel, quick response time, adaptive sync, etc. And as you can see in these examples, jumping from 60Hz to 144Hz refresh rate, the difference is quite significant.
So for the response time, the ASUS VP249QGR has a 1ms MPRT or moving picture response time also known as display persistence,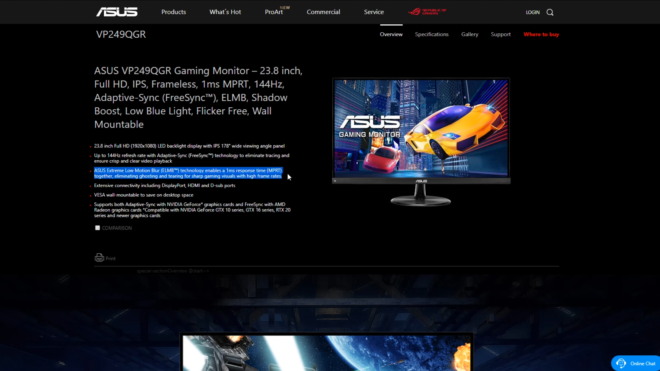 Take note though that this is different to GTG or grey to grey which this monitor is rated at 4ms, GTG is the amount of time a pixel takes to change from one color to another. The faster it is the less ghosting you will encounter.
As for MPRT, this is the amount of time a pixel remains to be visible, so the shorter the time, the less ghosting you will encounter much like GTG.
ELMB / Extreme Low Motion Blur


And to be able to reach that 1ms MPRT rating, a monitor needs some sort of blur reduction feature or backlight strobing which ASUS has with ELMB or Extreme Low Motion Blur.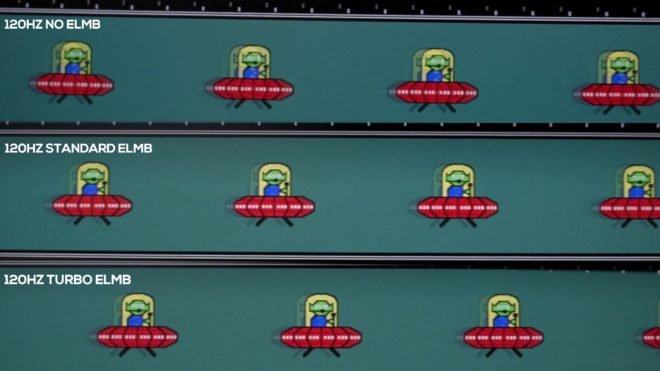 The problem is that you can not enable adaptive sync alongside ELMB unless you have the ASUS TUF VG27AQ which can do both at the same time.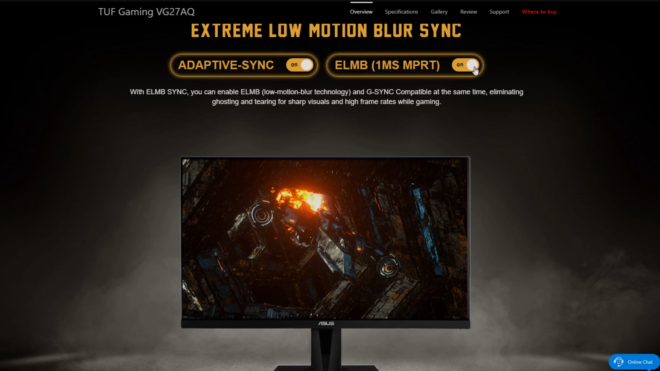 Also, with ELMB, the brightness is relatively dimmer because the backlight is strobing and not constant. Another thing about MPRT is that it is relative to the active refresh rate, the higher the refresh rate the faster the motion picture response time.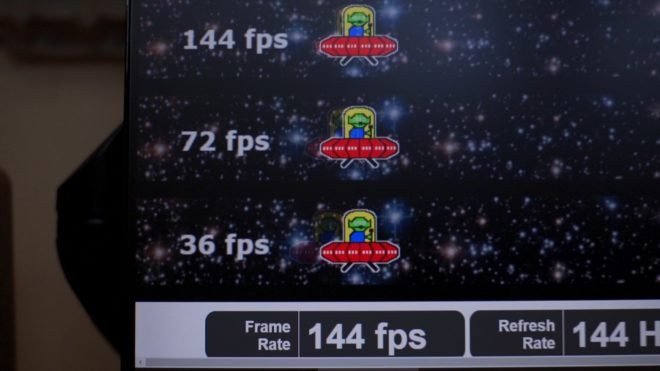 ASUS Trace Free / Overdrive


Another thing that's important to note that affects ghosting is Trace Free, also known as overdrive. 
Which the ASUS VP249QGR is set to 60 out of the box which is known to be the sweet spot for reducing ghosting while minimizing corona artifact.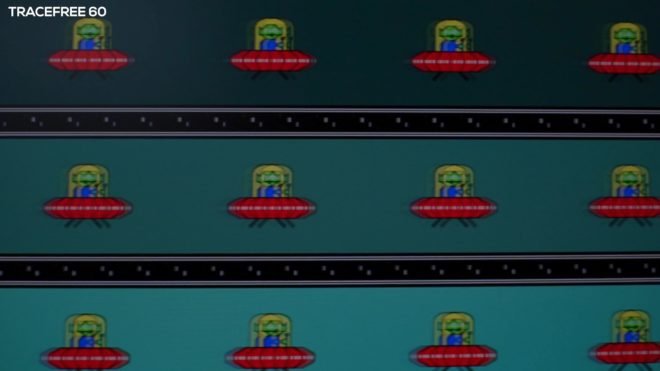 To be honest, basing on our test results here, I can not distinguish the significant difference and even at Trace Free 100, I don't see any corona artifacts.
Overclocking Performance / Frame Skipping


As for the overclocking performance of the ASUS VP249QGR, it is pretty decent and as per my testing, there's no frame skipping even at 120Hz and at overclocked 144Hz.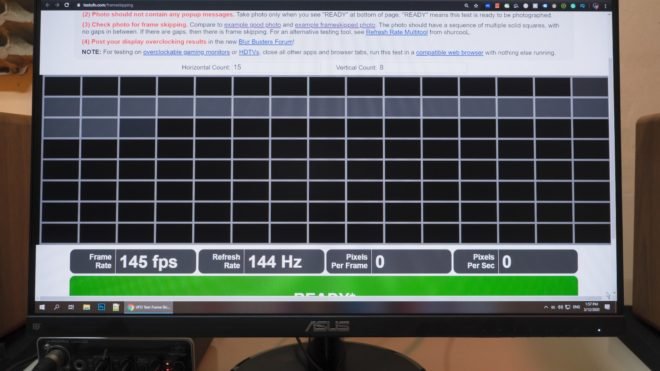 ASUS Shadowboost feature


And lastly, this monitor also has the Shadow boost feature which essentially boosts the shadows while maintaining details on the highlights which can be useful for gaming.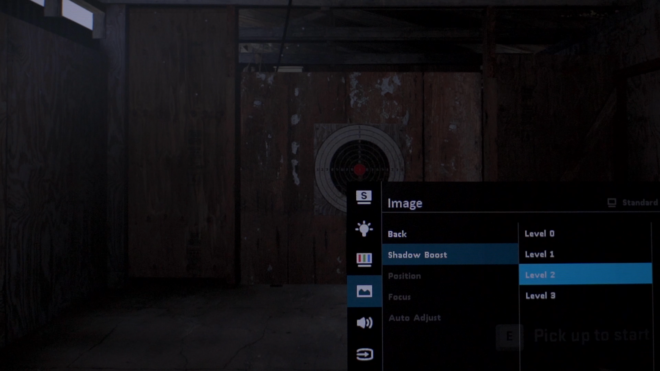 Just to sum it up, you need to enable ELMB to achieve that 1ms MPRT or else you will settle with the 4ms GTG which is still pretty decent.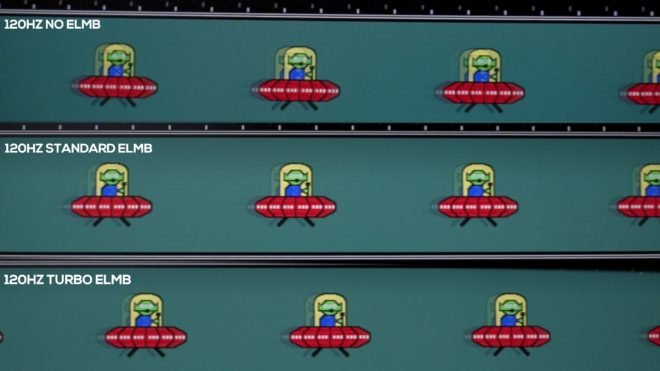 And to be fair with ASUS, if you just read their product page, they specifically mentioned that part as you can see here. It's just that sometimes when people see, oh 1 ms great, awesome. But there's actually more to it than just the number.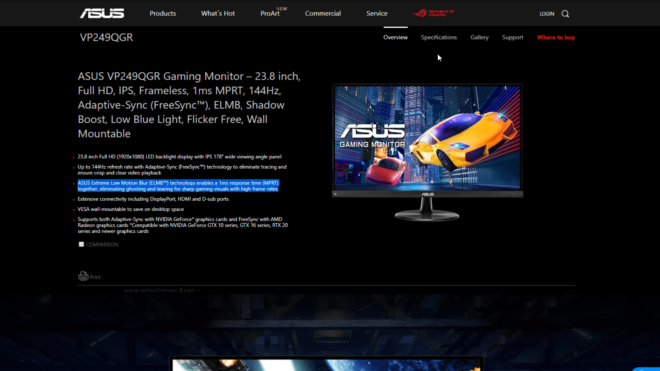 At the end of the day, you'll have to choose between less ghosting or no screen tearing and with all that being said, considering the price of this monitor and given that it can achieve 144Hz with an IPS panel, that alone even with 4ms GTG in normal mode is pretty decent for casual gaming, and if you think about it, if you're really serious about competitive gaming, then I'm pretty sure you're considering something higher than this price point.
Display Quality


Alright guys, moving on. In terms of display quality, with an IPS panel, of course, the colors are vivid, contrast and sharpness is very good and viewing angles are also great as you can see here.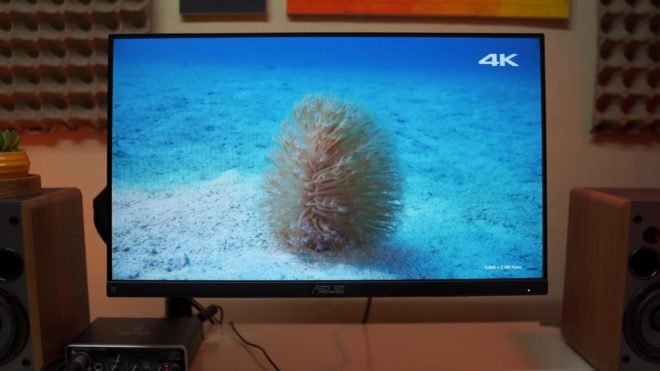 Colors remain the same with just a slight reduction on brightness especially on an unrealistically extreme angle like this.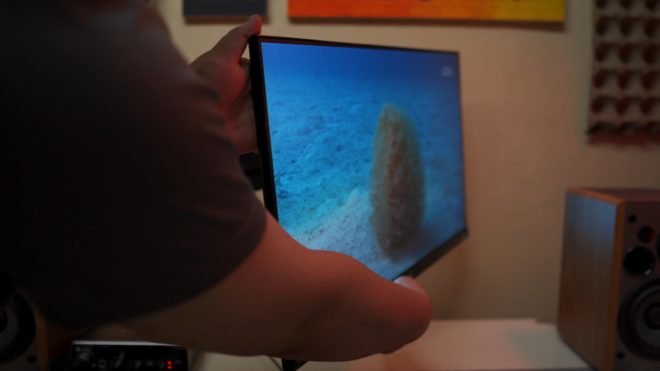 And since this is not OLED, blacks are not entirely black, but since contrast levels are decent, we still get a good pop of details on dark images.
We'll talk about color accuracy later but as for backlight bleeding, it is minimal as you can see here in all angles, and in my opinion, this is pretty normal.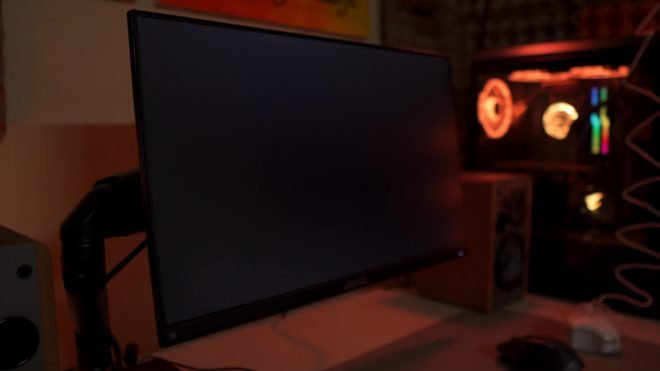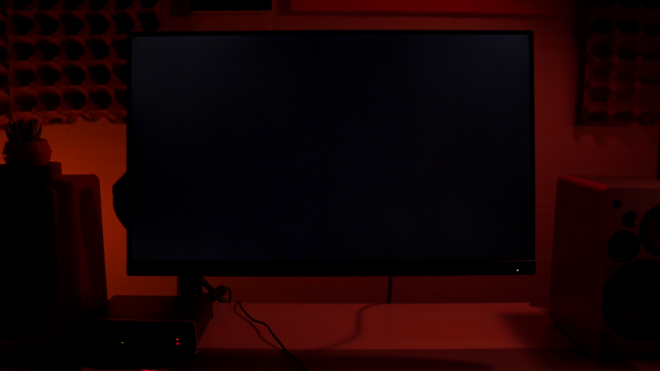 As for dark spots on white background, thanks to its IPS panel, it is also quite minimal here on all angles.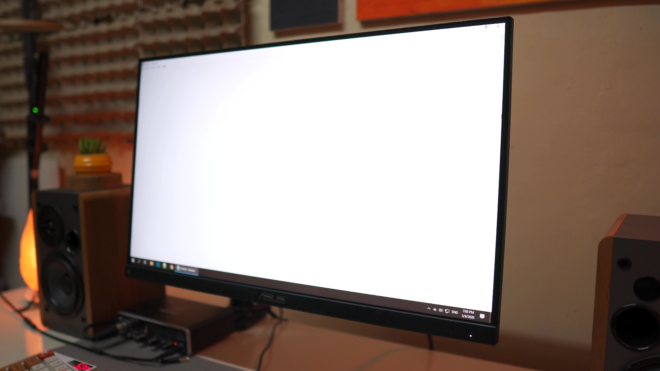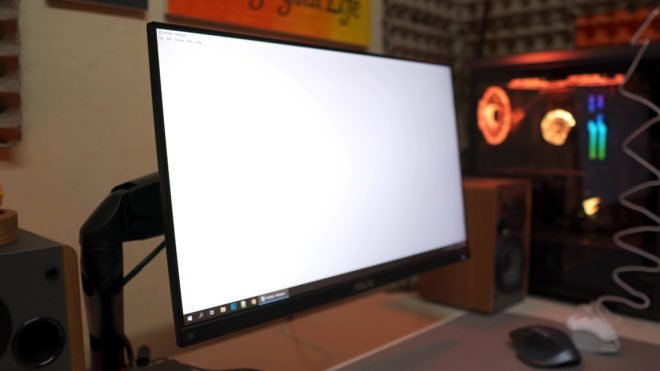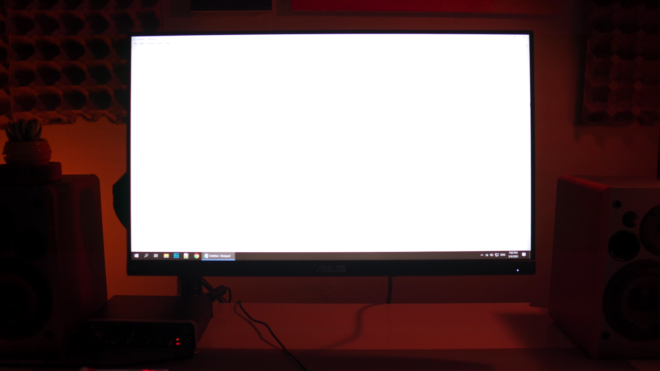 Large texts are also readable on any normal angle,
And small texts are also pretty crisp and without color shifting when scrolling.
So yeah, by simply looking at the display on different angles, I'd say the quality is on par with other ASUS monitors that I've tried.
Color Accuracy


Now, when it comes to color accuracy, with an IPS panel, we should be expecting pretty decent results here, and true enough, the ASUS VP249QGR has a 99% sRGB coverage,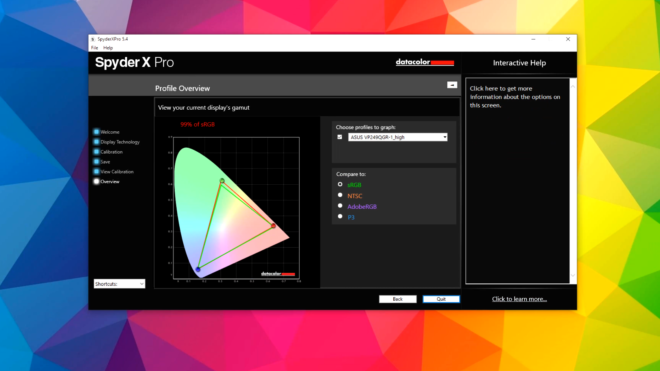 73% NTSC,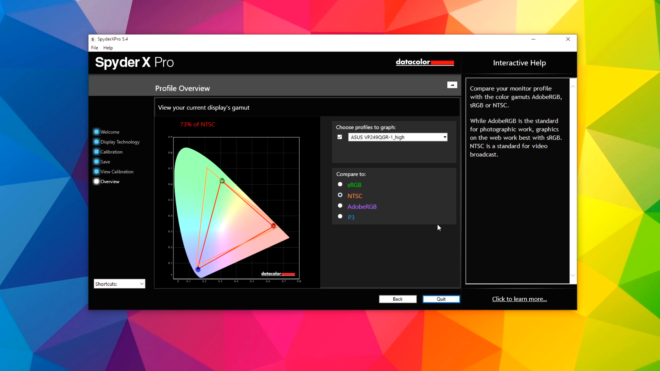 79% AdobeRGB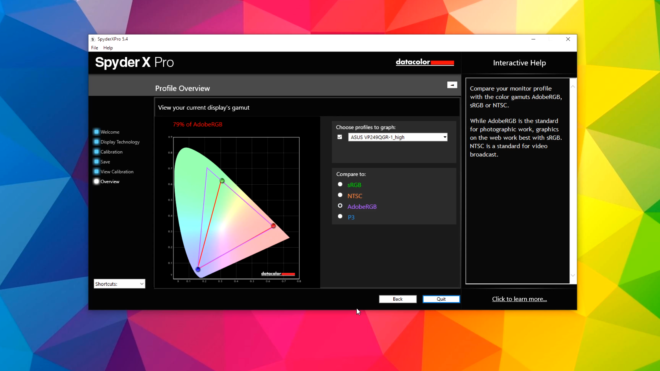 And 78% P3 color gamut.
Now, out of the box, the color calibration of the ASUS VP249QGR is also pretty good as you can see here on our before and after results.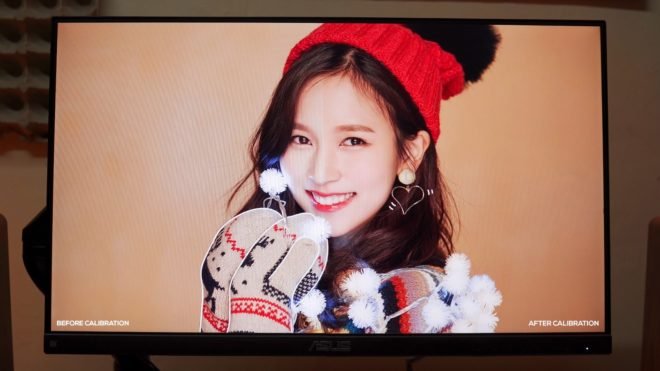 And with that, of course, productivity such as photo and video editing is good with this monitor at least for casual applications like web photos and social media postings.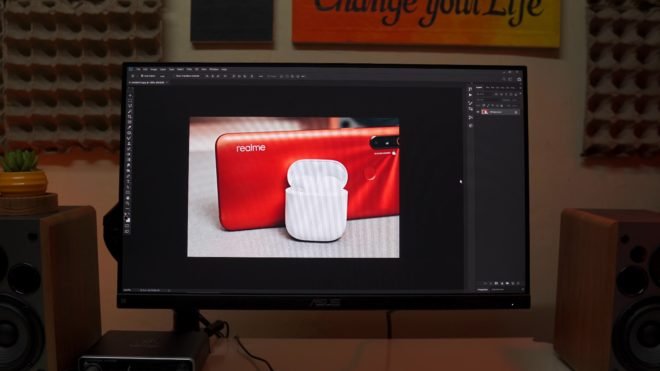 And of course, media consumption is very good with this monitor as well with rich colors and like I said, pretty decent viewing angles. So basically, you and your friends can watch movies at the same time without having to look at the monitor head-on.
It also has built-in stereo speakers, though I would personally prefer to use dedicated speakers for better sound quality, but its there if ever you need it.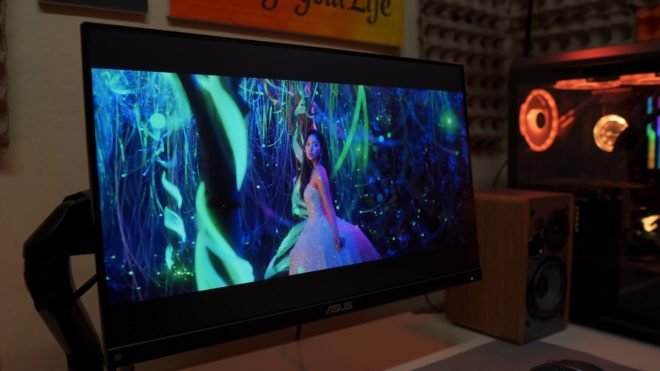 And lastly, before we end this review, let's talk about its performance for gaming.
Gaming Performance


The ASUS VP249QGR with 1ms MPRT, 4ms GTG, and 144hz refresh rate, the gaming experience is pretty decent. Like I said, if you want less ghosting then you should consider using ELMB to get that 1ms response time, on the other hand, since this is not a TN panel which can go as low as 0.5ms GTG, even with 4ms GTG with this IPS panel, it is pretty decent for casual gaming with minimal ghosting.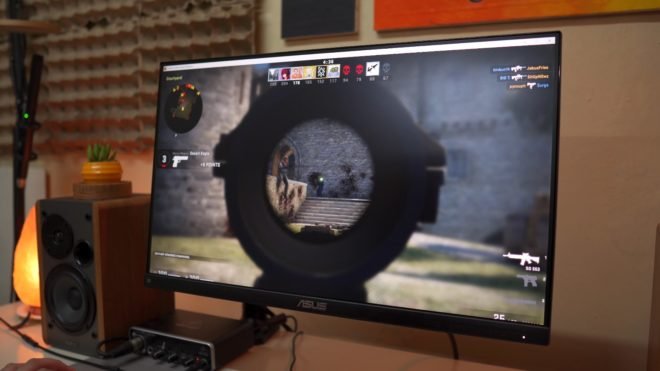 VERDICT


To conclude, at the price of only 10,000 pesos or 200 USD, I am really hard-pressed to look for where ASUS actually cut the corners with this one, except for not including a display port cable and a subpar packaging design. And even though it only has 4ms GTG response time for a gaming monitor,  It's also worth noting that most budget gaming monitors at this price point have a response time similar to this or actually even worse at 5ms, so there' that. The display's quality is very good with 99% sRGB color accuracy, decent viewing angles, rich and vibrant colors, substantial contrast and sharpness, and overall good image quality for what it's worth and at this point, I can definitely consider this as the NEW bang for the buck gaming monitor at least at this time of the year.
ASUS VP249QGR Review – The NEW Bang for the Buck Gaming Monitor!