Imagine you're a professional who always brings your laptop anywhere you go and frequently having meetings, bringing a secondary monitor allows you to share your ideas to other people without having to share your main display with some confidential data that you otherwise wouldn't want others to see. Or maybe you're a photographer wanting to preview your shots in a larger display while at the same time sharing the image with your model so she can adjust her posing on-the-fly. Or perhaps, you're an  on-site video editor for events and wedding, having a secondary portable monitor for your video clips should be nice right? You see, there are a lot of applications and use case scenarios that we can think about with the product that we're taking a look today and it's amazing how a simple device could impact our productivity. Today, we're taking a look at the ASUS ZenScreen Touch MB16AMT Portable Monitor, a monitor that has a lot of features and is compatible with any host device you can think of.
MY EARLY BREAKDOWN

Pros: Portable, Sleek design, Wide range of device compatability, Built-in battery, IPS Display
Cons: Touchscreen compatability via USB is a little finicky to setup, Slight brightness shift at extreme viewing angle, No microUSB to HDMI adapter included 
SPECIFICATIONS

Display
Panel Size: Wide Screen 15.6″(39.6cm) 16:9
Panel Type : IPS
True Resolution : 1920×1080
Display Viewing Area(HxV) : 344.16 x 193.59 mm
Display Surface : Non-glare
Pixel Pitch : 0.179 mm
Brightness(Max) : 250 cd/㎡
Contrast Ratio (Max) : 700:1
Flicker free 
Touch Screen : Yes, Capacitive 10-point multi-touch


Video Feature
SPLENDID Video Preset Modes : 8 Modes (sRGB Mode/Scenery Mode/Theater Mode/Standard Mode/Night View Mode/Game Mode/Reading Mode/Darkroom Mode)
QuickFit (modes) : Yes (Alignment Grid/Photo Modes)
GamePlus(modes) : Yes (Crosshair/Timer)
Low Blue Light : Yes
HDCP support : Yes
Auto-rotate : Yes
Display Widget


Audio Features
Stereo Speakers : 1W x 2 Stereo RMS


Compatibility
OS Compatibility for Touch function:
Microsoft Windows7/8/10, Android 6.0 or above(*1), Mac OS(*2), Chrome OS, Linux


Convenient Hotkey
5-way OSD Navigation Joystick


I/O Ports
Signal Input : USB Type-C , Micro HDMI


Power Consumption
Power Consumption(Typical):<12W*
Power Saving Mode:0W
Power Off Mode:0W


Battery
Embedded Battery: 7800mAh lithium-polymer battery
Battery Life(*3): 4 hours @250 nits via DP Alt Mode


Mechanical Design
Chassis Colors : Dark gray
Slim Design : Yes
Super Narrow Bezel Design : Yes


Dimensions
Phys. Dimension(WxHxD):359.7 x 227.4 x 9.0 mm
Box Dimension(WxHxD):485 x 305 x 76 mm


Weight
Net Weight(Esti.):0.9 kg
Gross Weight(Esti.):6 kg


Operation Temperature
5~35℃


Operation Humidity
20-90% RH


Compliance and Standards
BSMI, CB, CCC, CE, FCC, J-MOSS, KCC, RoHS, UkrSEPRO, UL/cUL, VCCI, WEEE, WHQL (Windows 10, Windows 8.1, Windows 7), TUV Flicker-free , TUV Low Blue Light, CU(EAC), BIS
WHAT'S IN THE PACKAGE

ASUS Smart Case
Warranty Card
Quick start guide
DisplayPort™ over USB-C™ cable (USB-C to USB-C)
HDMI to microHDMI Cable
USB Type-C to A adapter
Power adapter
ZenScreen pen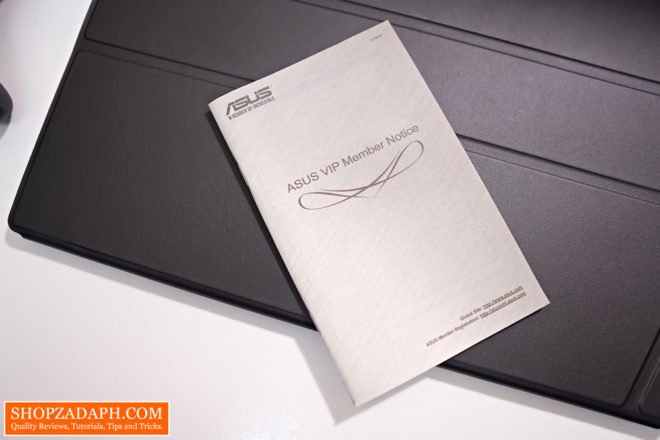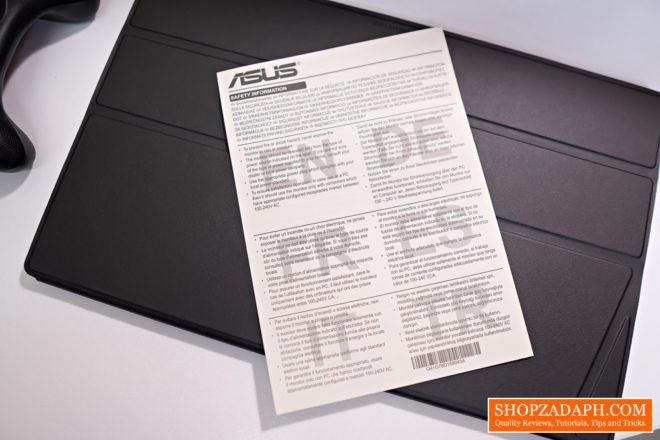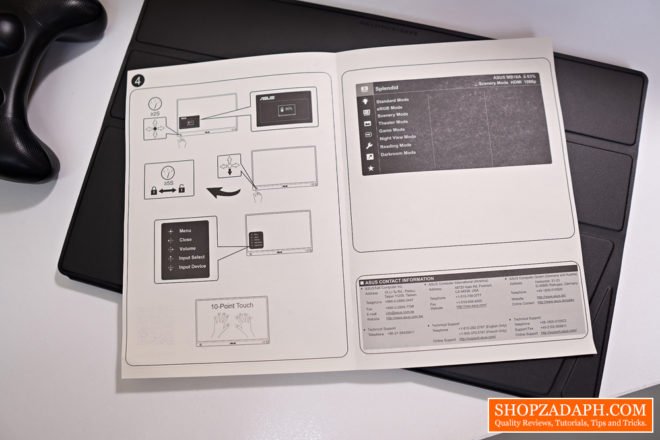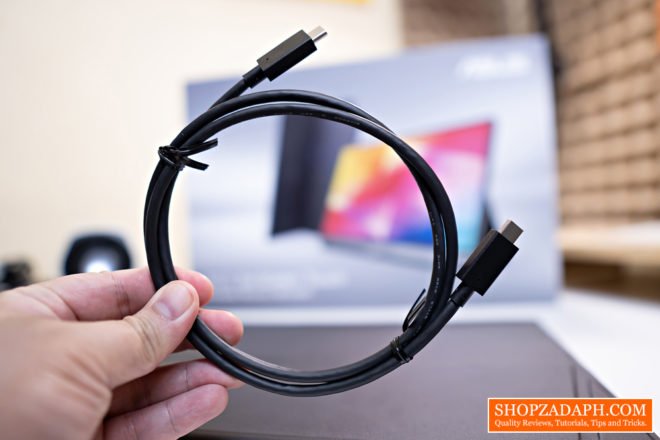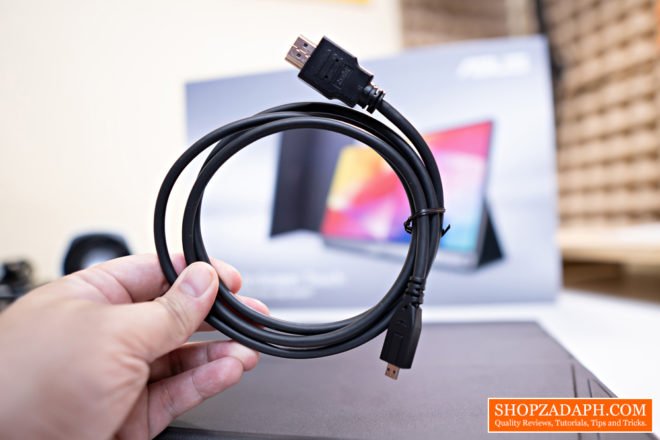 FULL REVIEW
Design and Construction

In terms of design and construction, I can say that it is one of the strong points of this portable monitor, it is mostly made of aluminum and has a weight of 900g with a thinness of only 9mm. The design is pretty sleek with a circular brushed aluminum finish at the back which is a staple already for any Asus device for many years now.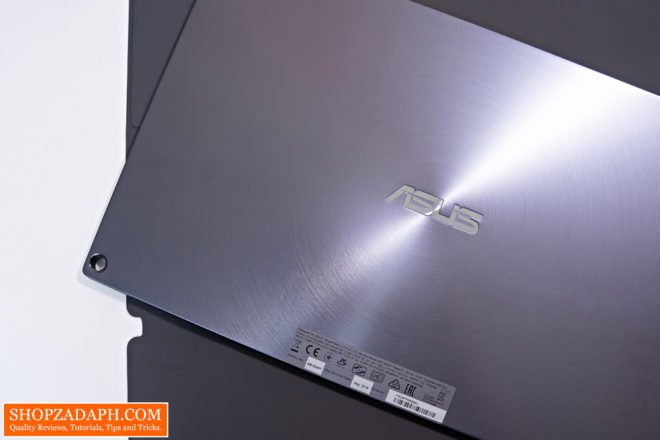 The front looks very good as well with a modern and clean look. 
On the left side, we have a 5-way joystick to access the settings
And on the other side we have the power button. Besides it, we have a pen hole wherein you can insert the included pen/stylus to prop the screen up if you don't plan on using the included smart case.
Ports

When it comes to ports we have on the left side, a micro-HDMI port, and a USB Type C port.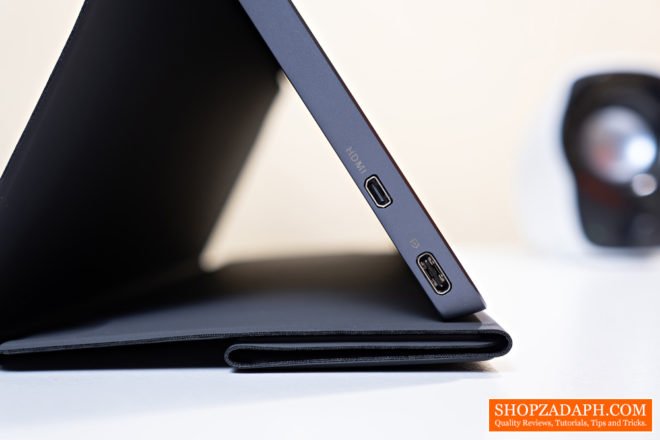 These ports feature hybrid signal compatibility, which means you can connect this monitor either using the micro-HDMI or the reversible USB Type C port depending on your host device. Ideally, you can also use a USB Type-A cable alongside a driver that you can download from ASUS website, but for some reason, I can not get it to work on my PC so I just used the micro-HDMI interface.
Interfaces and Compatibility

Now, with these multiple interfaces available you can technically connect this with a wide variety of devices such as a laptop, smartphone, tablet, console, and even cameras. Basically, the sky's the limit when it comes to productivity use for this portable monitor. 
Personally, if I were to use this monitor, I'll probably use this as a secondary monitor for editing videos, and I can also use this to tether with my camera for easy previewing of shots or use this with my smartphone to edit images on-the-go for example if I am on an event or something like that. Another application of this monitor is if you travel a lot and does frequent meetings, having a portable monitor like this could help you share your ideas with other people much easier and safer since you don't have to share your main display. Basically, if you're going to invest in this monitor, you really have to find a reason why because quite frankly, it is pretty expensive.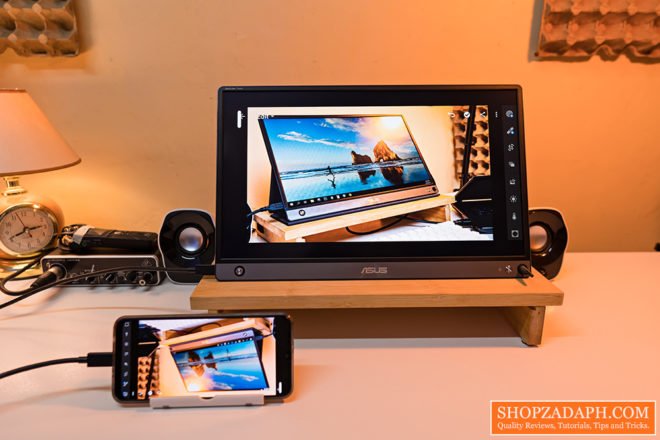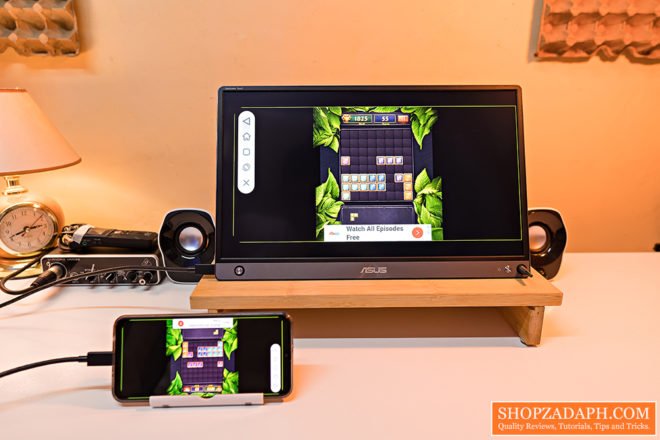 Display

Moving on let's discuss the display, this monitor features a 15.6 inches wide screen full HD 1080p display with a wide viewing angle of 178 degrees thanks to its IPS panel. IPS panel is one of the best types of display for content creation, media consumption, and productivity, even for gaming because of the very good viewing angle. 
As per my observation, the display is pretty decent but for an IPS panel, it does lose some brightness when viewing from an extreme angle. Nevertheless, the display is still pretty good and the brightness with 250nits at max is sufficient enough for most conditions, except maybe on bright sunlight.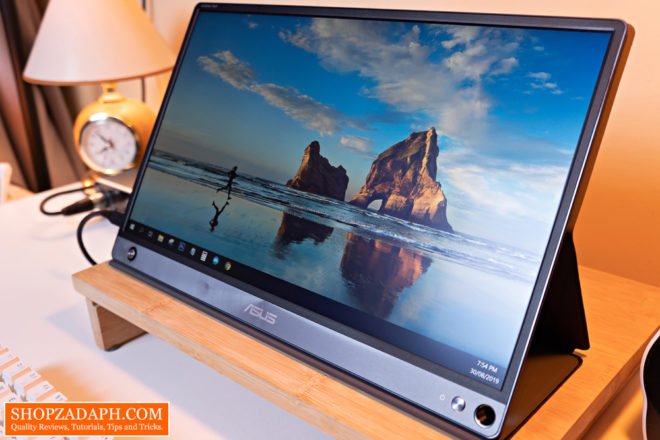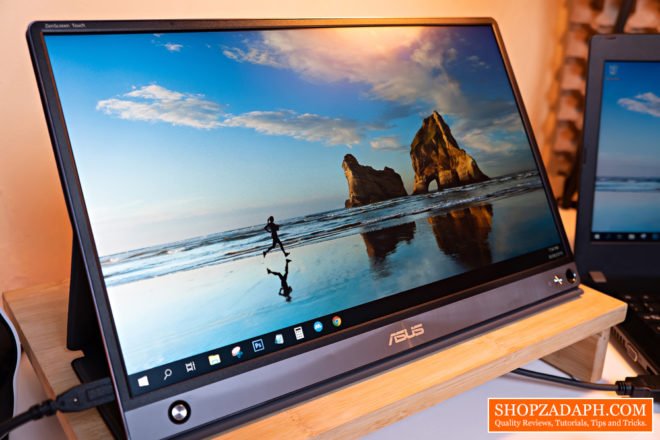 Now, this monitor also features some presets that you can use either going through the on-screen display using the joystick or using the ASUS display widget if you have it installed.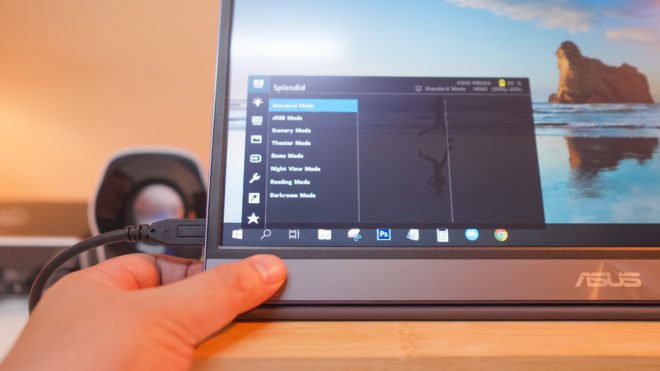 You have the option to choose different modes depending on your current environment situation, and you can also adjust these presets individually which gives you a ton of flexibility. Personally, I would just color calibrate this monitor and I won't mess up with these settings. You can also set different presets here per application, adjust the volume and other settings.
Lastly, this monitor also features blue light filter which should help reduce strain to your eyes, personally I don't use this kind of filters even on my glasses because I would like my images and video footages as accurate as possible. But it's definitely nice to have this kind of feature.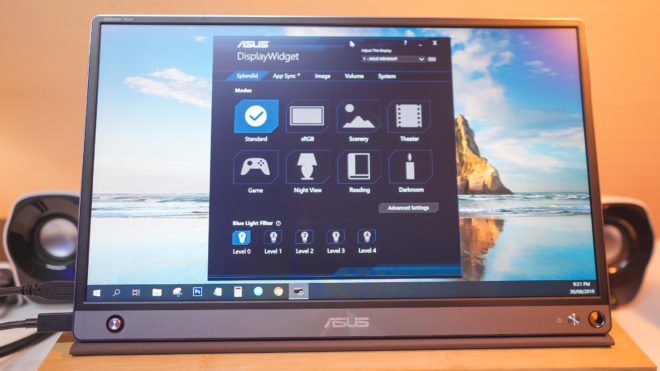 Speaking of on-screen display, the 5-way joystick is actually pretty crisp and easy to use to navigate the different settings of the monitor.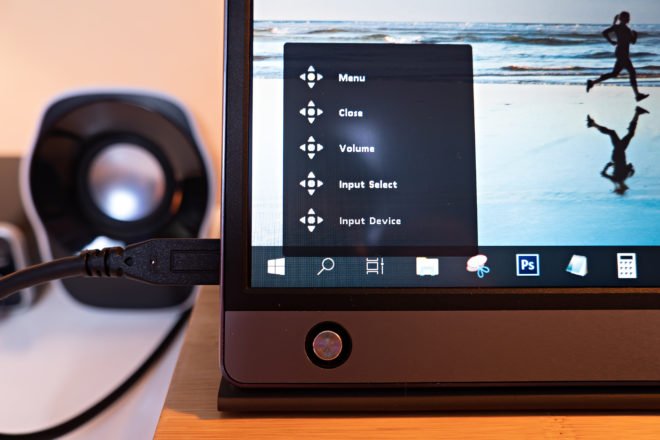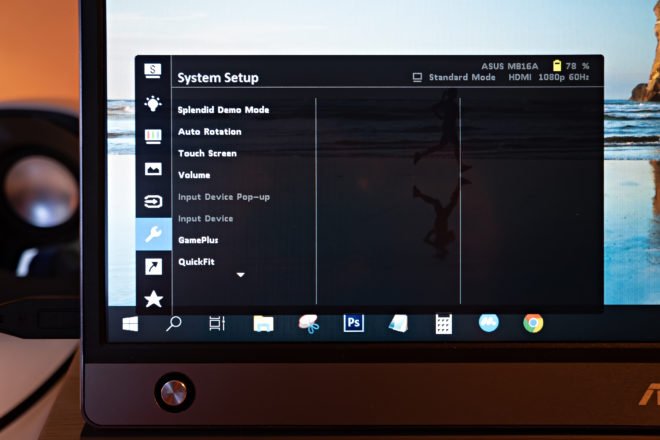 Touch Screen

This monitor also features a 10-point touch screen and it super responsive if you we're able to get it to work.
As per my testing, depending on your chosen interface, sometimes you may also need to plug the USB cable to your host device and install the drivers for it to work. I was able to get it to work on my laptop, but for some reason, it won't work with my PC, maybe it has something to do with the drivers. But once it works, it is definitely responsive. You can swipe, scroll, drag and pinch on the screen like a normal touchscreen which boosts productivity and ease of use especially if you're demonstrating something to someone or when jotting down notes, drawing things and stuff like that. The performance of the touchscreen is pretty good and the screen doesn't flex that much as well. And for a bonus, you can also use the included stylus.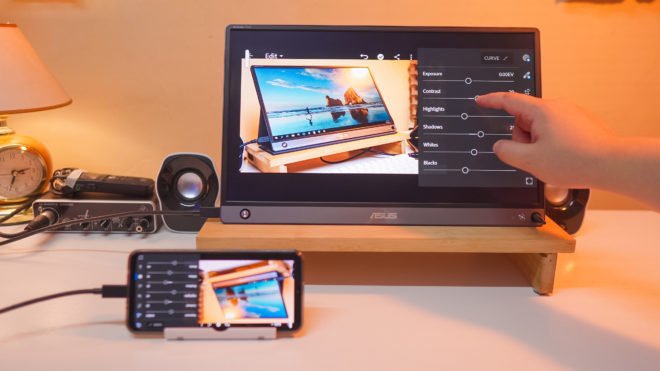 Speakers

Now, the side-firing stereo speakers, yes you heard it right, this monitor actually has 2 speakers which are decent but the volume level is quite lower than I was expecting, it is just slightly louder than my smartphone but it is definitely way clearer and better in terms of overall sound quality. I just hoped it can get a little bit louder.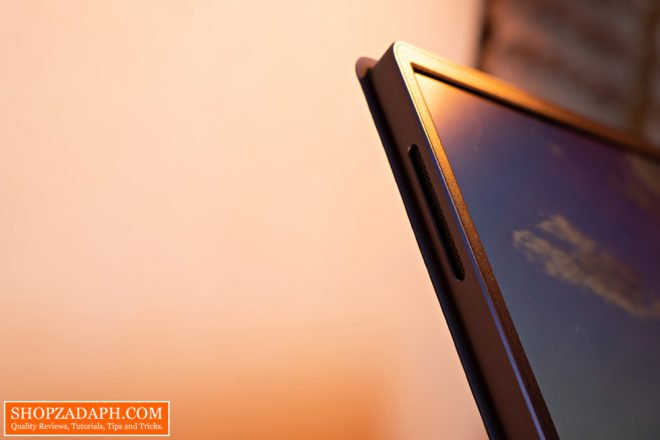 Battery

This monitor also has a built-in 7800mAh battery that can last ideally up to 4 hours as per specifications. It also comes with a power brick and is quick charge 3.0 compatible.
VERDICT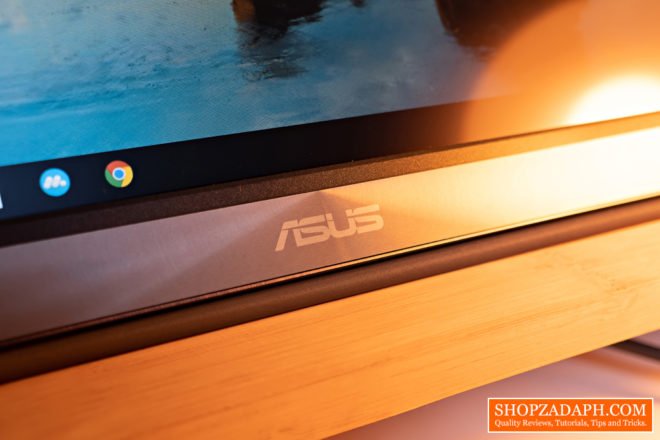 So to conclude, the ASUS Zenscreen Touch portable monitor is a good option to help you ease your workflow and productivity with a wide range of application especially if you're an always on-the-go person. The build construction is decent and the sleek design is also very appealing.
The display is also good with decent viewing angle and a very responsive touch screen once you're able to get it to work. The multiple interface that is widely compatible across multiple devices is also a huge plus and I think this is were the monitor gets most of its value because you can use it in any way imaginable. But it's not perfect, like I said, depending on the host device, it's also a bit finicky to setup, the speaker is subpar and I was expecting for this price point, they should at least include an MHL adapter so that you can easily use this with a smartphone or a tablet especially for those who are still using microUSB. At the end of the day, like i said, if you're planning on investing on this monitor, you have to make sure you have a lot of use case scenarios so that you can get your money's worth because it is quite expensive.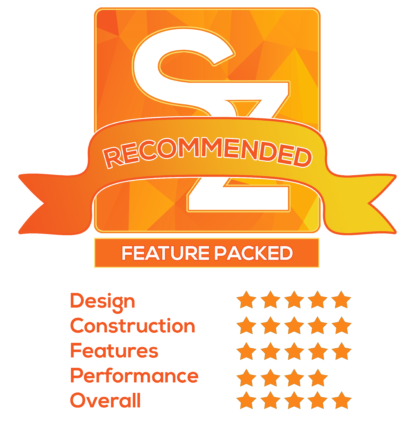 Related Article:
ASUS ZenScreen Touch MB16AMT Portable Monitor Review
Thanks to
ASUS
for making this review possible, you can get this portable monitor from their official store, link below.
If you like this one, please consider subscribing to my channel by hitting the button below. Have a great day!

SHARE THIS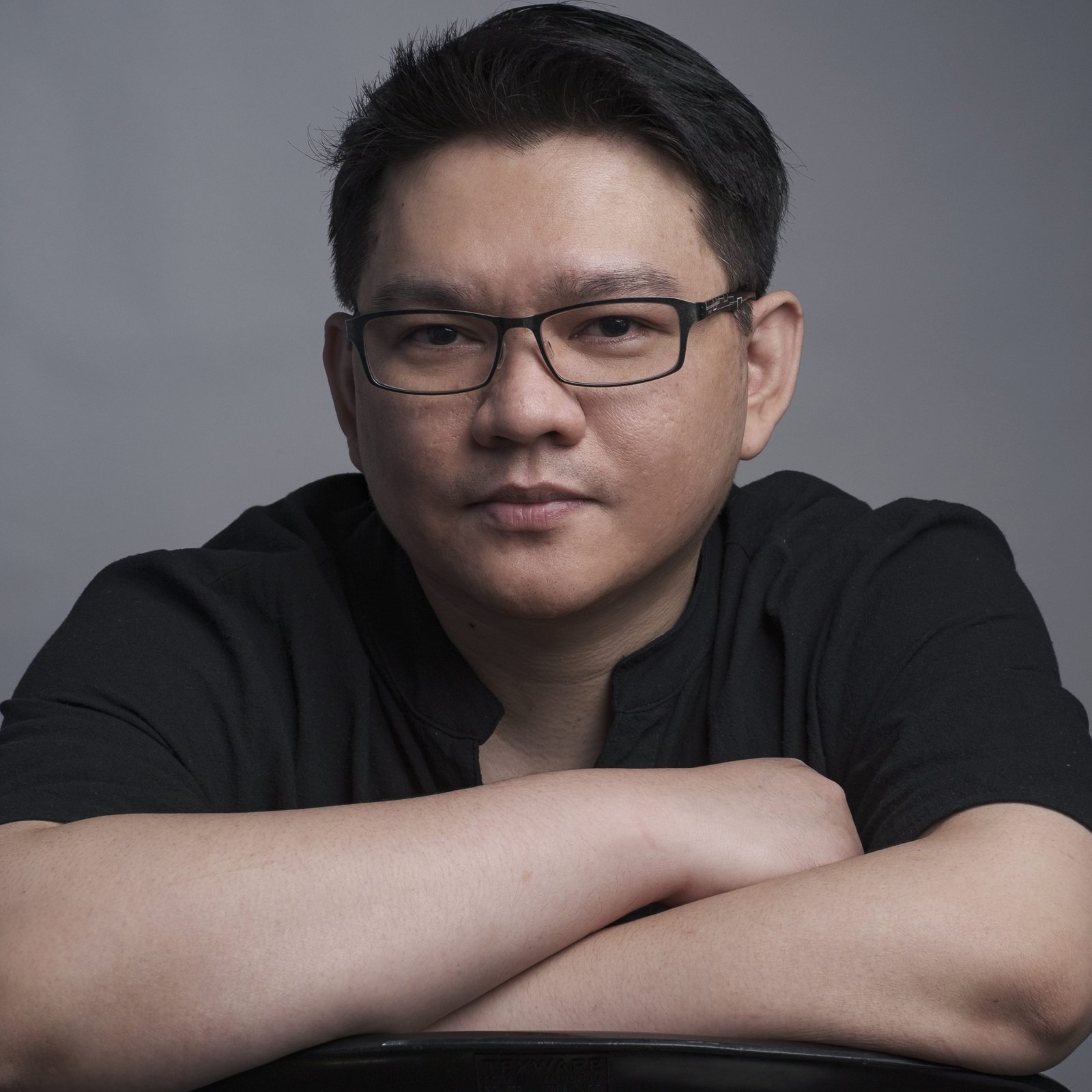 The Broll who always got your back online!