When you hear the word "Adidas", what's the first thing that comes into your mind? Well, we might be thinking the same thing. It's one of the most popular sports brands and is known commonly for its sports apparel. But did you know that they now have their own set of audio devices? It's actually been a while now and they even have a dedicated website for that. But the question is, are they any good? I might be able to answer a bit of that as we take a look at the NEW Adidas Z.N.E 01 True Wireless Earbuds. There are two other models that came along with this including the ANC version and the Adidas FWD-02 SPORT but for now, we'll take a look at the more budget option.
MY EARLY BREAKDOWN
Pros: Rugged design and construction, Good sound quality, Decent battery life, Wireless charging case, Auto pause sensor, IPX4 sweat and splash-proof, Extra silicon sleeve
Cons: No volume controls, Subpar bass
SPECIFICATIONS
FREQUENCY RESPONSE: 20Hz – 20kHz
DRIVER SENSITIVITY: 93 dB SPL (179 mV @ 1 kHz)
DRIVER TYPE: Dynamic
DRIVER IMPEDANCE: 32 Ω
DRIVERS: 12 mm
WIRELESS CHARGING: Yes
PLAYTIME: Up to 5 hours
CHARGING TIME
Quick charge: 15 min gives you 1 hour of playtime
Time to full charge:1.5 hours to recharge earbuds from charging case
MICROPHONE & REMOTE: Yes
TOUCH RESPONSE FUNCTIONS: Control music, Receive / end calls
MICROPHONE SYSTEM: 2 for calls (1 in each earbud)
BLUETOOTH RANGE: 10 m
WIRELESS CONNECTIVITY: Bluetooth 5.2
WEIGHT: Earbud: 4g / Case: 40g
WATER RESISTANCE: Earbuds – IPX4 / Case – IPX3
WHAT'S IN THE PACKAGE
The packaging is something we should expect from a big brand like Adidas with a premium-looking box. 
Around the box, we have a couple of image previews of the Adidas Z.N.E 01 earbuds with some of its key features.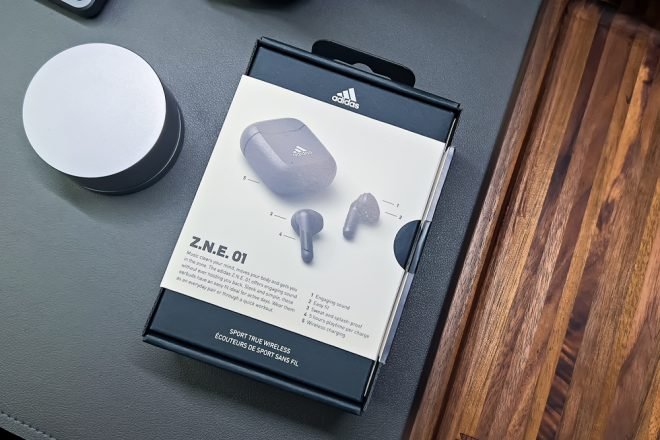 By the way, if you live here in the Philippines, the Adidas Z.N.E 01 is now available at Digital Walker's Official Lazada Store for around Php 5490.
Opening the box reveals yet another packaging material providing a premium unboxing experience.
Aside from the Adidas Z.N.E 01 wireless earbuds and their case, we also have a rather short USB type A to Type C cable for wired charging. By the way, the charging case supports wireless charging which is awesome.
We also have a couple of paperwork that includes the legal and safety guide as well as the quick start guide.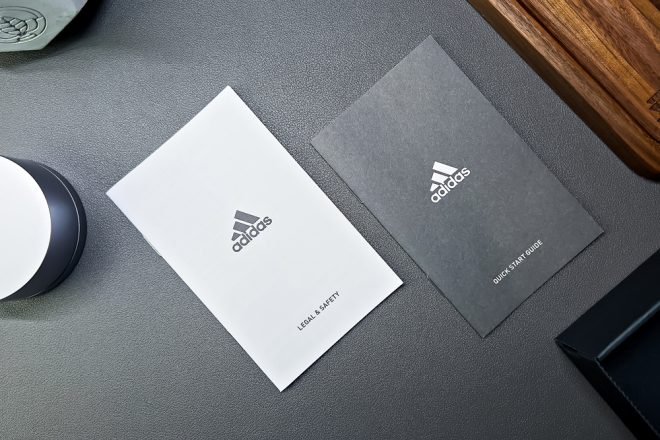 And finally, we have the Adidas Z.N.E 01 True Wireless Earbuds itself.
FULL REVIEW
Design, Construction, and Parts Overview
The design and construction are probably one of my favorite aspects when it comes to the Adidas Z.N.E 01. The charging case for starters is absolutely rugged and looks like it can take a beating. The charging case is IPX3 certified which means it is water spray resistant. 
In front, we have the iconic Adidas logo and a small LED indicator. The case cover, as you may have guessed already, is magnetic.
Underneath the charging case, we have the USB Type-C port for charging and a pairing button beside it. Again this case supports wireless charging.
Overall, the charging case looks and feels really nice with a rugged-looking texture all around.
Now, opening the charging case, the first thing I noticed is the silicon sleeve around the ear tip which is quite unique.
This allows for a better seal and makes the earbuds fit more securely inside your ears compared to other similar design earbuds with a slippery texture. This is very good especially the fact that the Adidas Z.N.E 01 is made specifically for active people.
We have one microphone on each earbud for voice calls,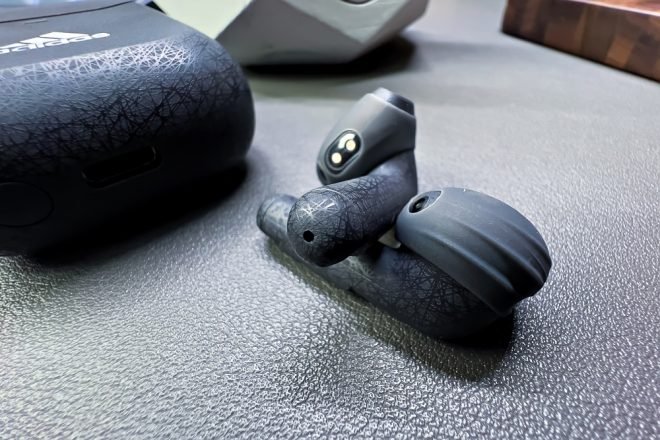 A couple of charging pins,
And an ear detection sensor that automatically pauses your music when you take off an earbud.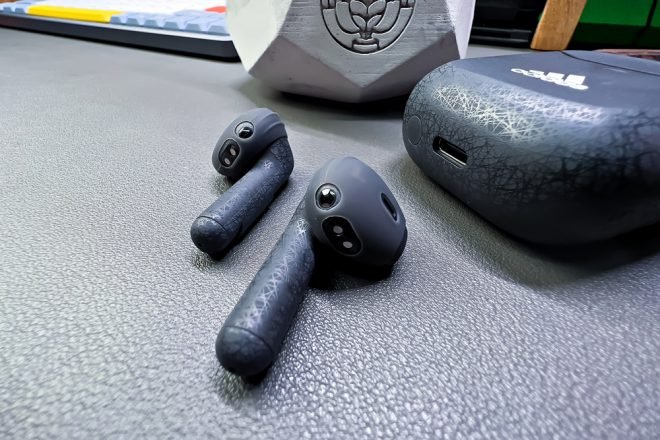 Of course, we gotta have that iconic Adidas logo to flex this rugged-looking pair of earbuds.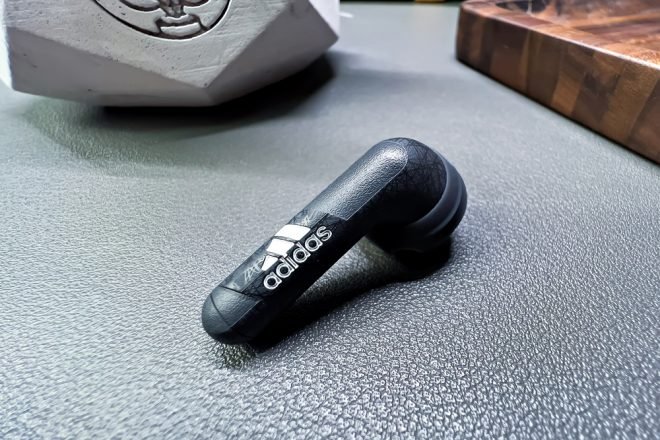 Overall, in terms of the design and construction, again I appreciate the rugged look for both the charging case and the earbuds that separate itself from the typical shiny, color-white, AirPods looking True Wireless Earbuds.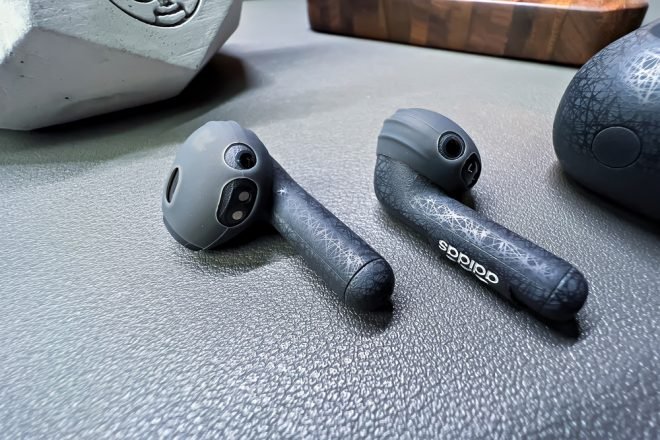 Comfort, Fit, and Noise Cancellation
In terms of comfort and fit, one of the benefits of this kind of regular earbud shape is that it is relatively comfortable since it basically just sit inside your ear without adding too much pressure or suction pressure that you otherwise will experience with silicone ear tips. However, this form factor is definitely not for everyone much like the silicone ear tip design is also not for everyone.
In my case, this kind of earbud typically doesn't stay well in my ears, but thanks to the additional silicone sleeve, it stays better than others. To be honest, I am not a very active person but I feel like this can easily stay in place while working out. 
In terms of noise cancellation, being the most affordable model among the latest True Wireless Earbuds from Adidas, this one doesn't have any sort of active noise cancellation. And it also doesn't do too well when it comes to passive noise isolation as well since even though there is an additional silicone sleeve, a lot of noise can still pass through. If you need active noise cancellation, consider the Adidas Z.N.E 01 ANC variant.
Pairing and Bluetooth Connectivity
Like most modern True Wireless Earbuds, pairing the Adidas Z.N.E 01 is pretty straightforward in just 3 easy steps. Open the charging case, press and hold the pairing button for a few seconds until the LED turns to blue, pair it to your host device like a smartphone, tablet, PC, and laptop and you're good to go.
The Adidas Z.N.E 01 uses Bluetooth 5.2 with a range of up to 10m give or take with a good line of sight. As per my experience, the connection for the most part is stable as long as there are only one or two walls in between. 
You can pair this up to 6 devices and will auto-reconnect to the latest paired device.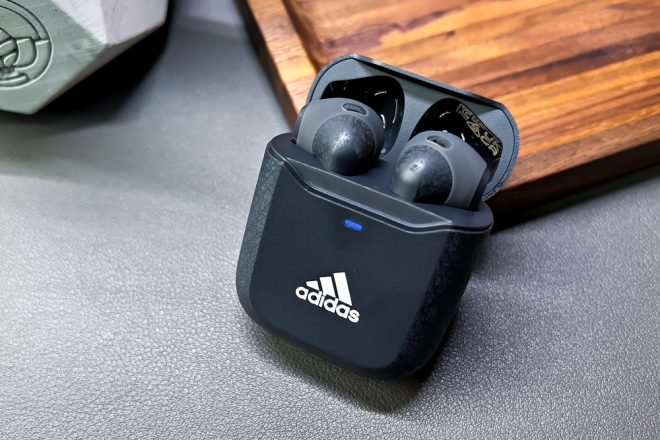 Latency
In terms of latency, even though the Adidas Z.N.E 01 doesn't have any sort of low latency or game mode, the delay is not that noticeable unless you really put so much attention to it. It is tolerable, to say the least.
Touch Controls
In terms of the touch controls, it is quite streamlined with just the ability to play, pause, skip tracks, answer and reject calls. No volume adjustment, unfortunately, or even shortcut to voice assistant.
There is an Adidas Headphones App available for Android and iOS, but this model doesn't seem to be supported.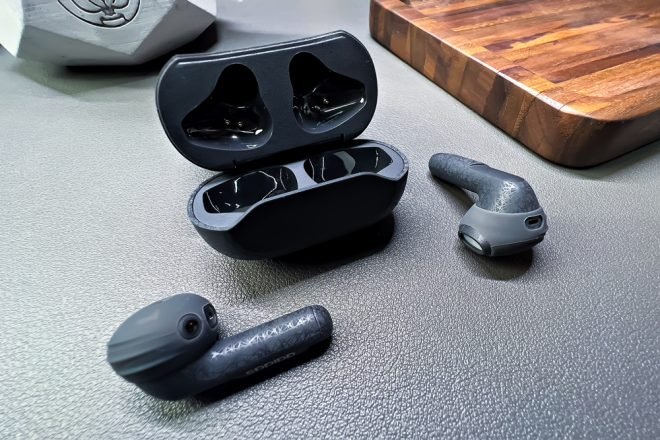 Sound Quality
Now, finally, when it comes to sound quality, the thing that strikes me the most is the aggressive sound signature that is geared more towards the bright side with dominant mids and highs. However, the bass and low-end are kinda subpar and almost too underwhelming. On the other hand, this engaging sound signature offers a very energetic listening experience, especially when partnered with very lively, upbeat music. Definitely perfect for working out and music that really pumps in energy and motivation. I just hoped it has a little bit more oomph on the low-end for an overall fuller sound. It can also get quite loud without much distortion that even though it doesn't have any active noise cancellation, can easily isolate you from the crowd. In my opinion, this is not an audiophile-level True Wireless Earbuds especially the fact that as per checking, it only supports aptX and not aptX HD. With that being said, if you're requirement is purely for working out, then the sound quality coming from these earbuds is substantial enough to provide you with the energy you need.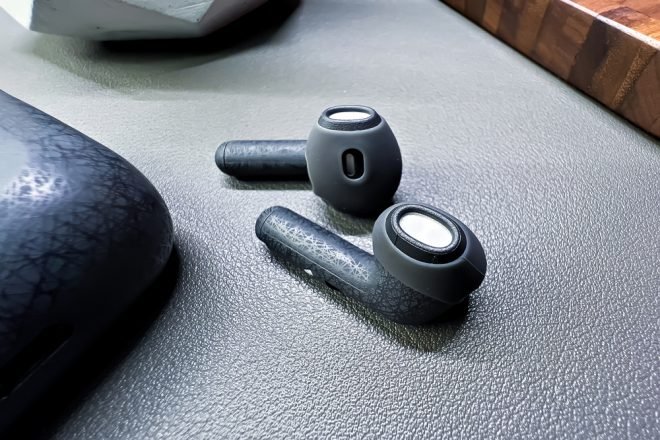 Microphone Quality
Unlike other True Wireless Earbuds with 2 microphones on each earbud for CVC environmental noise cancellation, the Adidas Z.N.E 01 only has one on each earbud. But as per our testing, the microphone quality is actually pretty good. Granted, it doesn't cancel any background noise but the voice is clear enough without any robotic or processing sound which is pretty good. All you have to consider is to take calls in a relatively quiet environment as much as possible and you're good to go.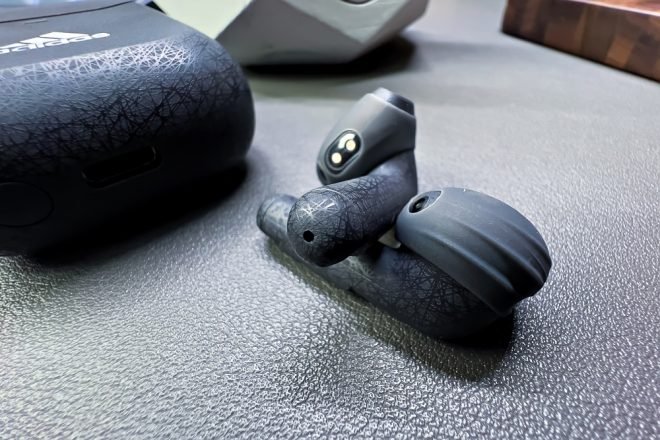 Battery Life
Battery life is pretty decent with the earbuds providing up to 5 hours of music playback with additional 20 hours from the charging case. The charging case supports wireless charging and can easily be monitored with the LED indicator, Red to Yellow to Green.
VERDICT
To conclude, if you're looking for a decent pair of True Wireless Earbuds specifically for working out or any physical activities, the Adidas Z.N.E 01 is a pretty decent option providing a very lively and engaging sound signature with the rugged build quality and enough juice to last you an entire workout session and more. The fit is nice with the additional silicone sleeve and is comfortable enough that it doesn't get in the way of your activities. I also appreciate the in-ear sensor allowing you to quickly pause your music and speak to someone or simply listen to your surrounding. However, if you prefer warm-sounding earbuds with more emphasis on bass and low-end, you might need to consider other options.
The Adidas Z.N.E 01 is now available in Digital Walker's Official Lazada Store for around Php 5490.
Related Article:
SoundPeats H1 True Wireless Earbuds Review – A Little Bit of Everything!
Limited Edition Joyroom JR-T04S Pro True Wireless Stereo Headphones Review
OnePlus Buds Z Review – Steven Harrington Special Edition!
Marshall Major IV Now Available at Digital Walker and Beyond the Box
OnePlus Buds Z in white and limited edition Steven Harrington NOW AVAILABLE at HomeOffice.PH!
Marshall Uxbridge Voice Review – A Voice Assistant That Actually Sounds Great!
realme Buds Air Pro Review – Active Noise Cancellation!
SoundPeats TrueCapsule Review
Tronsmart Onyx Ace True Wireless Earbuds Review – Quad microphone!
SoundPeats TrueDot True Wireless Earbuds Review
ASUS ROG Strix Go 2.4 Review and AI Noise Cancellation Test
Cooler Master MH630 VS MH650 Comparison and Review
Edifier R1280DB Unboxing, Quick Review, and Sound Test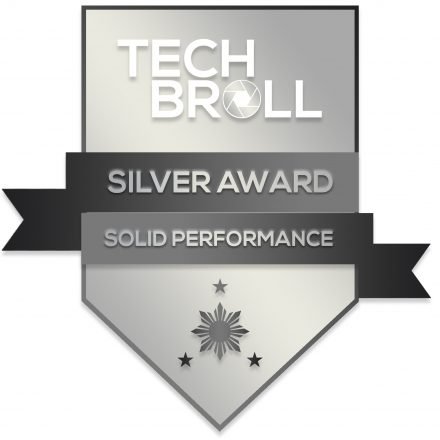 SHARE THIS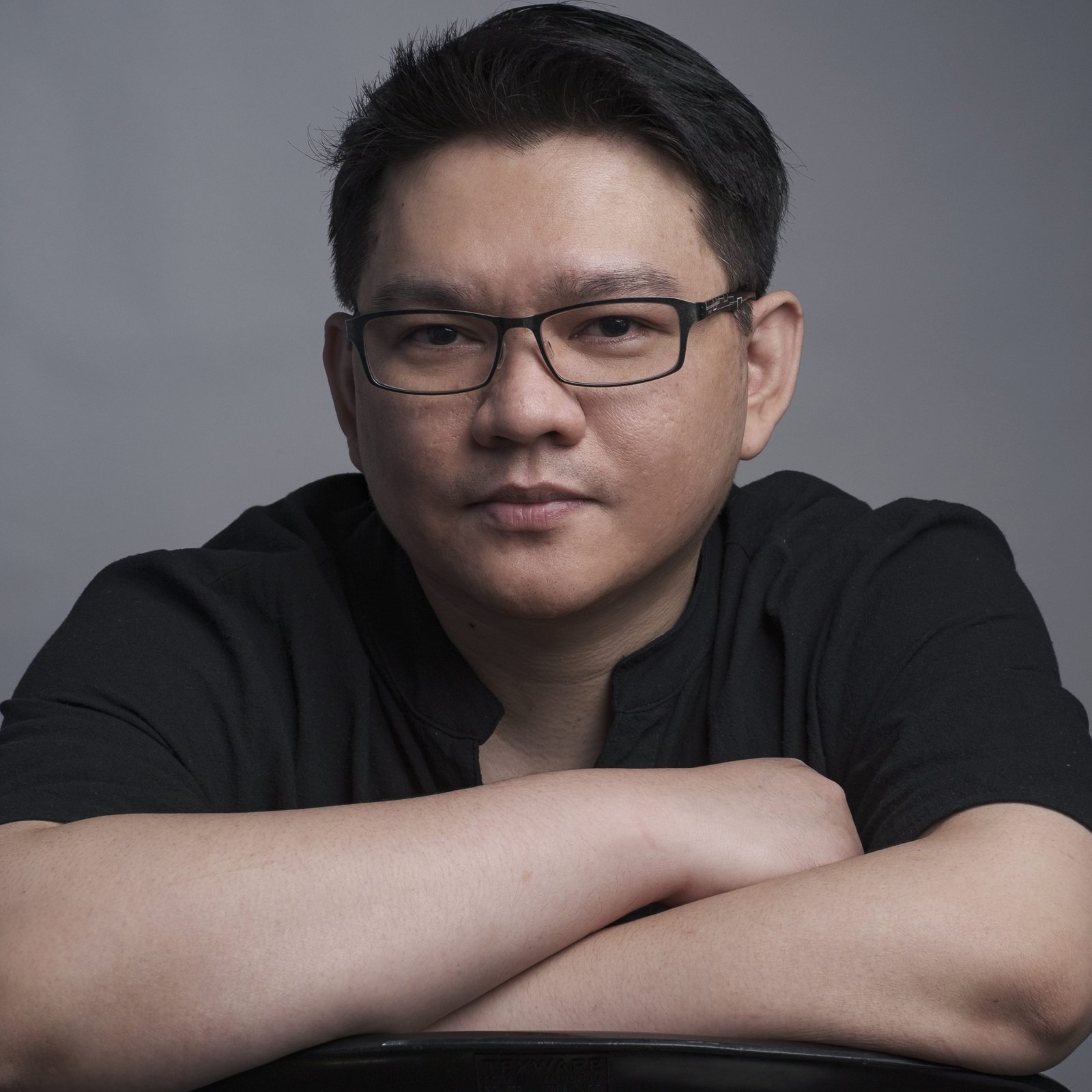 The Broll who always got your back online!