Aside from the Momax Q.Mag Power2 Magnetic Wireless Battery Pack that I recently reviewed, one of the best pickups I had recently is also the Momax Q.Mag Dual 15W Magnetic Wireless Charging Stand that I got from Digital Walker. It quickly became a part of my desk setup and an accessory that I simply can't live without on a daily basis. Not only does it serve as a reliable MagSafe stand for me to quickly glance at my notifications whenever I work on my desk but it also serves as a MagSafe charger that allows my phone and my True Wireless Earbuds to get juiced up. Both integrated wireless chargers support simultaneous charging up to 15W. It also features an aesthetically pleasing design with a fabric texture that also keeps your devices scratch-free. With all that being said, let's take a look around it, shall we?
MY EARLY BREAKDOWN
Pros: Good design and construction, Dual 15W wireless chargers, Strong magnet
Cons: No charger included, Non-adjustable stand
SPECIFICATIONS
Specification:
DC input: 5V/2A, 9V/3A, 12V/3A (max.)
Output 1 & 2: 5W/7.5W/10W/15W
Material: Aluminum alloy+ABS+PU
Size: 170 x 128 x 90mm
Weight: 350g
Color: light gray, dark gray
WHAT'S IN THE PACKAGE
The packaging is very decent with pretty well laid out image previews and key features around the box.
\
This is compatible with all MagSafe compatible iPhones including last year's iPhone 12 series.
It is also compatible with wireless charging AirPods, other True Wireless Earbuds, and slow wireless charging devices.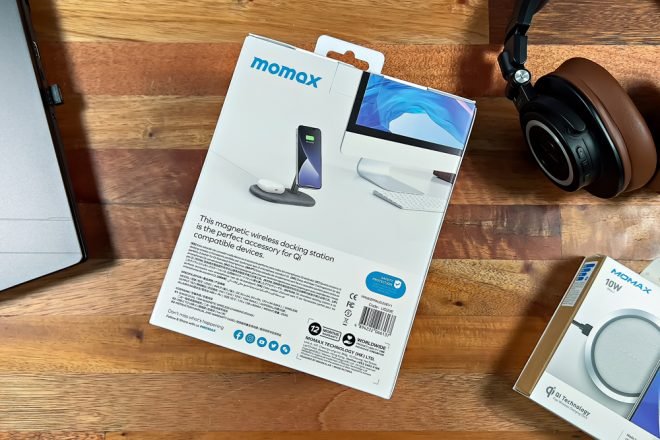 Upon opening the box, you'll immediately see the Q.Mag Dual 15w Magnetic Wireless Charging Stand and a small accessory box.
Inside the accessory box, we have a few paperwork and a USB Type C to USB Type C cable. No power brick included, unfortunately.
FULL REVIEW
Design, Construction, and Parts Overview
The first thing that I liked out of the box about the Momax Q.Mag Dual 15W Magnetic Charging Stand is the modern design with a woven fabric texture that not only looks good and should fit any desk setup theme but also serves as a sort of protection to your devices ideally making them scratch-free when being docked.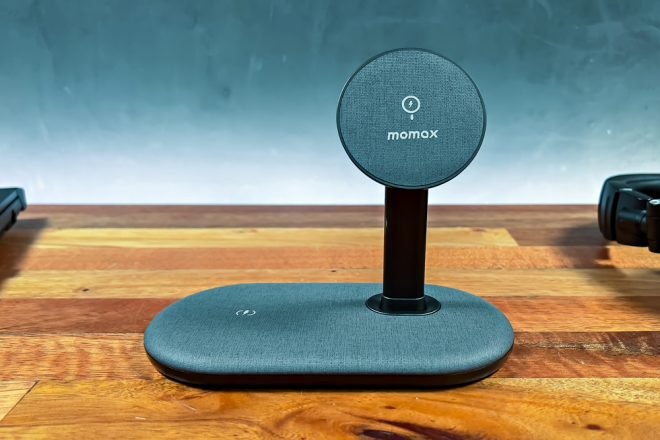 The construction is made mostly out of plastic which is pretty decent. 
But I would have preferred if it was heavier and had more rubber feet so I can easily pick up the phone, especially since the magnet on this MagSafe-compatible charger is pretty strong (which is good). 
It is not a deal-breaker though since I found a way to pick up the phone without lifting the Q.Mag Dual Stand by sliding the phone sideways to the right using my thumb while pushing the side of the MagSafe dock using my fingers towards the left side to snap off the phone. The magnet is very strong that I can confidently snap it on and go on with my daily tasks.
While the angle of the stand is pretty decent and almost perfect for a normal viewing angle, I would have preferred if we have any type of angle adjustment options here. 
The good thing is that you can easily rotate your phone at any orientation especially landscape for watching videos. 
In front, we have a small LED indicator that lights up green when the wireless charging is active and turns off once the device being charged is already full.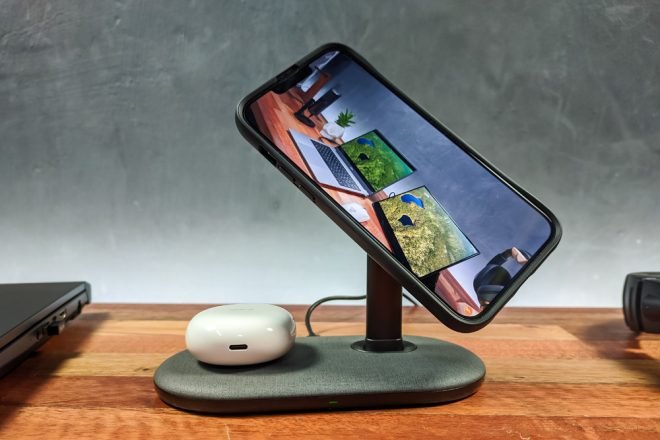 At the back, we have the USB Type C port. A charging cable is included in the package but no power brick, unfortunately. You will need to use at least a 20W PD power adapter to take advantage of the 15W power delivery.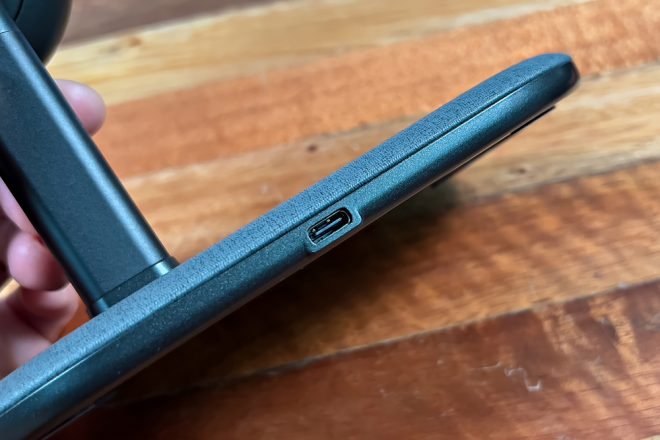 Wireless Charging Performance
Powering the Q.Mag Dual 15W Magnetic Wireless Charing Stand requires at least a 20W PD power adapter and supports 5V/2A, 9V/3A, 12V/3A (max.) DC input power. As for the wireless output, it supports 5W/7.5W/10W and 15W simultaneously. 
Aside from Apple's iPhones and AirPods, this is also compatible with any Qi wireless charging device even the low-powered ones making it a very universal and versatile wireless charger. Of course, the stand is only compatible with MagSafe devices.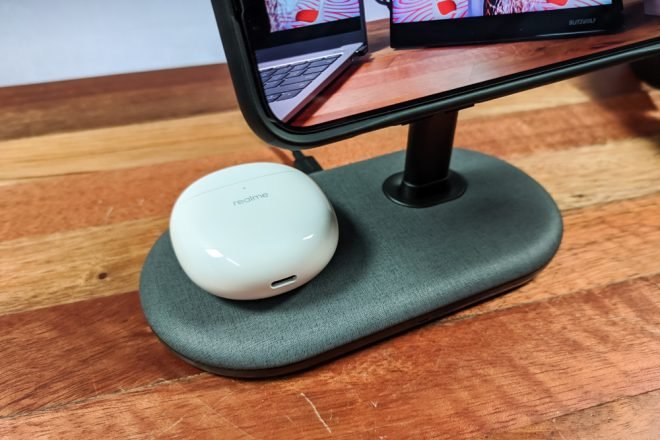 Now, I'm not totally 100% sure about this, but I feel like it stops charging when the device is already full or at least it trickles down avoiding or minimizing overcharging. At first, of course, the phone gets fairly hot which is normal for any wireless charging but as soon as it's fully charged, it becomes cool and stays cool. 
Some people prefer to remove their devices from the wireless charger when it's full but I could care less, I keep my phone on it the whole day. I don't want to lose my sanity worrying about my phone's battery lifespan and I simply want to enjoy the convenience. If you think about it, most people replace/upgrade their phone way before the battery dies so just enjoy and stop worrying. That's just me, of course, your mileage and preferences may vary. 
In terms of the wireless charging speed, I got to be honest, I wasn't able to test it simply because my iPhone 13 Pro MAX just doesn't want to die! I'll probably update this article once I finally have the patience to dry down my phone's battery.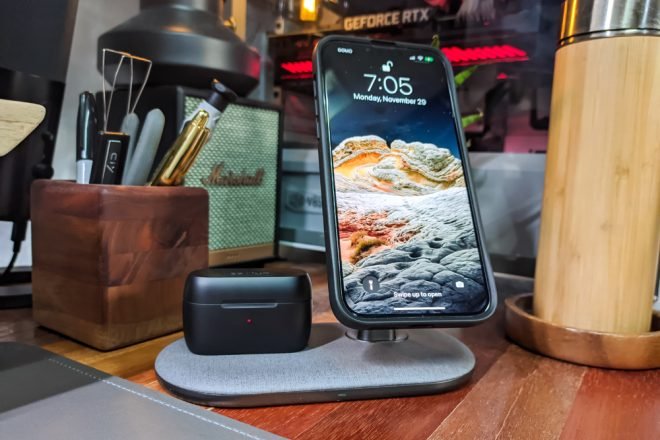 VERDICT
To conclude, if you already have an Apple MagSafe charger and you simply need a dock to go along with it, I'd rather recommend the Momax Q.Mag Dock which I also reviewed here. But if you also want to have another wireless charger for your Apple AirPods and other wireless charging devices, definitely go for the Momax Q.Mag Dual 15W Magnetic Wireless Charging Stand. It is definitely one of the best pickups I had for my iPhone 13 Pro Max and a super-easy recommendation for me. It is designed and constructed pretty well, the charging speed is pretty much the maximum you should expect for MagSafe compatible devices and it can charge two devices simultaneously too! The only drawback is that you'll need to purchase a separate 20W PD power adapter.
The Momax Q.Mag Dual 15W Magnetic Wireless Charging Stand is a relatively new product from Momax and should be available soon at Digital Walker. I will update this article once it is available.

SHARE THIS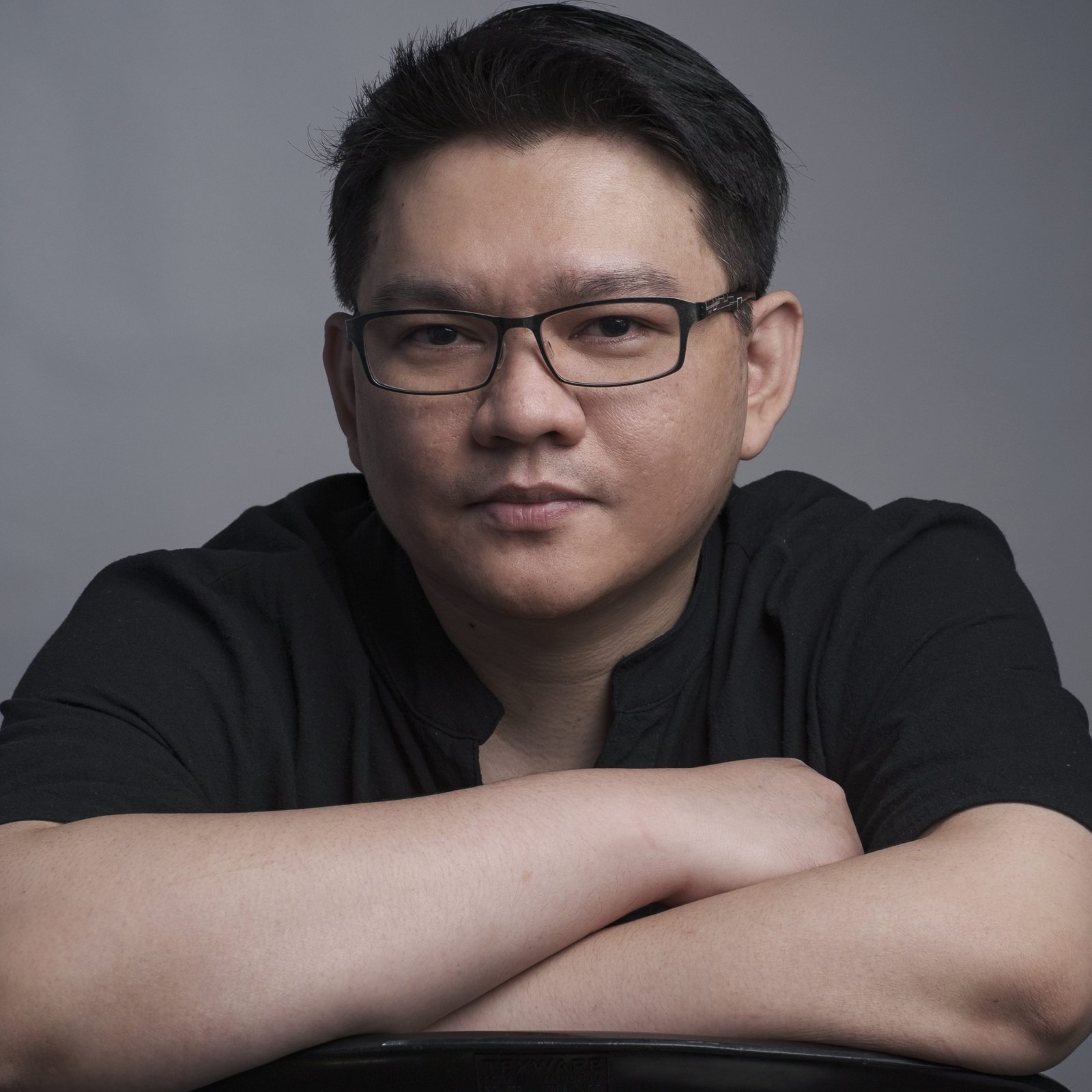 The Broll who always got your back online!