A couple of days back, I reviewed the SoundPeats TrueDot True Wireless Earbuds and I'd say, for one of the more affordable offerings from SoundPeats, it is pretty decent. SoundPeats actually offers a wide variety of True Wireless Earbuds in different form factors and price categories and for the most part, they are relatively inexpensive ranging from $24 to $82. Their specifications are also not too far off from each other and at first glance, it's kinda overwhelming to choose what's the best one for you. Now, what I usually look for in a True Wireless Earbuds aside of course from the sound quality is the convenience, how easy it is to use the earbuds starting from pairing, to music playback controls up to battery endurance and most importantly, battery level indicators. And today, that's exactly what we're going to check out with yet another TWS from SoundPeats, the SoundPeats TrueFree+ from Digital Walker.
MY EARLY BREAKDOWN


Pros: Good sound quality with substantial volume levels, Easy to pair, Has physical multifunction button control, Outstanding charging case battery life, Good build quality and design
Cons: Pressing/holding the multifunction button adds pressure to the ear canal, Battery life is underwhelming for the size of the earbud, LED indicator on the charging case could have been better/complete
SPECIFICATIONS


Core Specs:
Bluetooth Chip: Realtek 8763BFR
Waterproof Grade: IPX4
Contact Material: Medical Silicon
Bluetooth: 5.0
Audio Codec: SBC
Working Range: 33 feet (10m)
Battery:
Battery Capacity: 800mAH(case)
Charging Time: 3.5-4 hours working time per charge for the earbuds, 9-10 times full charge by the charging case
Standby Time: 300 hours
Play Time: 3.5-4 hours per charge by case
Package:
Product Dimensions: 1 x 0.9 x 0.6 inches
Item Weight: 4.8 ounces
Shipping Weight: 4.8 ounces
WHAT'S IN THE PACKAGE


The packaging of the SoundPeats TrueFree+ is almost exactly the same with the SoundPeats TrueDot with an image preview of the earbuds in front and another image preview at the back with all its key features.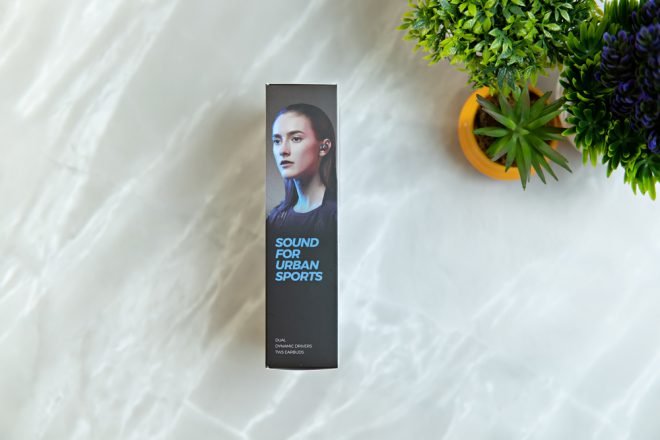 Opening the box reveals the SoundPeats TrueFree+ earbuds itself nicely secured by foam protection.
And besides it, we have another accessory box that includes a rather short micro USB charging cable and some replacement different sized ear tips.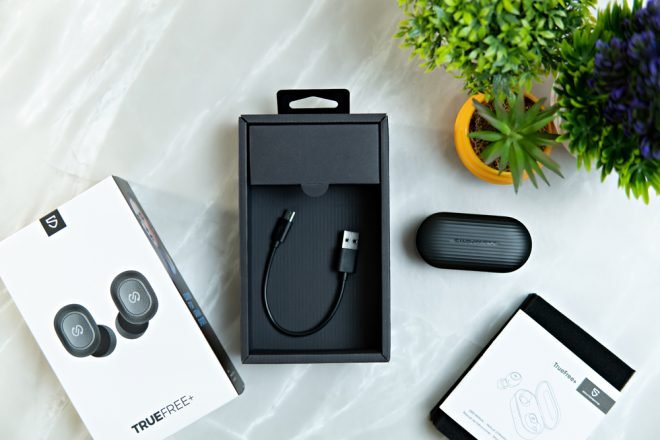 And lastly, underneath the foam protection, we have the user manual.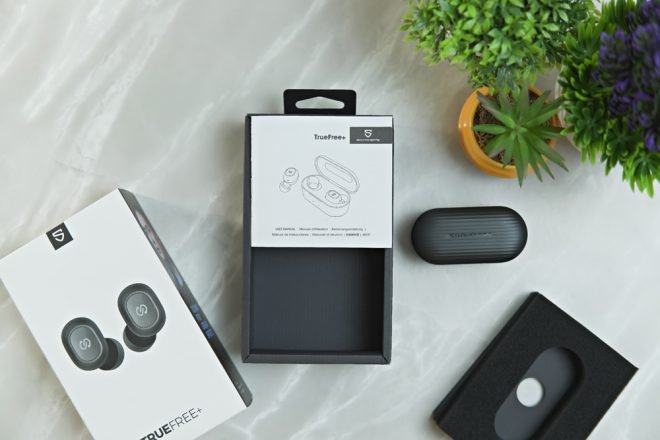 FULL REVIEW
Design, Construction, and Parts Overview


Let's start with the charging case, the charging case of the SoundPeats TrueFree+ is made mostly out of hard plastic materials with a nice matte black finish and a nice pattern on top of it with a SoundPeats logo at the center.
Holding the charging case gives you a sense of robust quality with a decent weight to it of around 50.4g with the earbuds inside and around 41.8g without the earbuds.
In front, we have a couple of LED indicators for charging,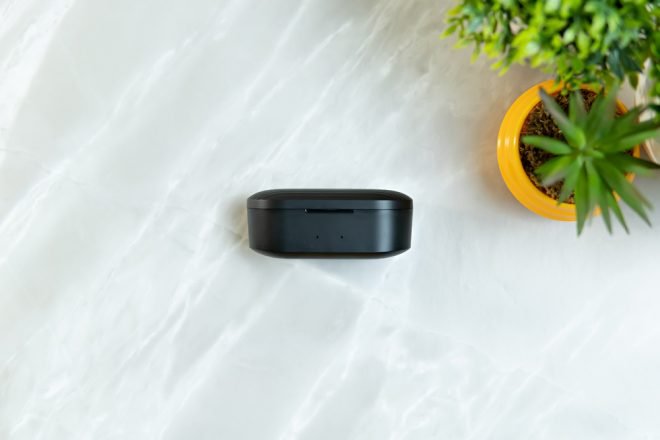 And then on the other side, we have the MicroUSB port.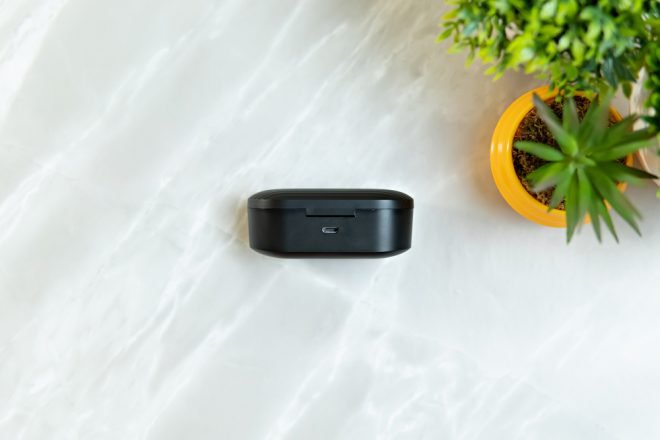 At the bottom, we have the technical details and its certifications.
And lastly, upon opening the case, you'll see the cavity for the earbuds as well as the pins for charging. The case and the earbuds themselves are magnetic.
Now, what I like about the design of the charging case is that the top cover is somehow translucent, just enough for you to see through if the earbuds are charging.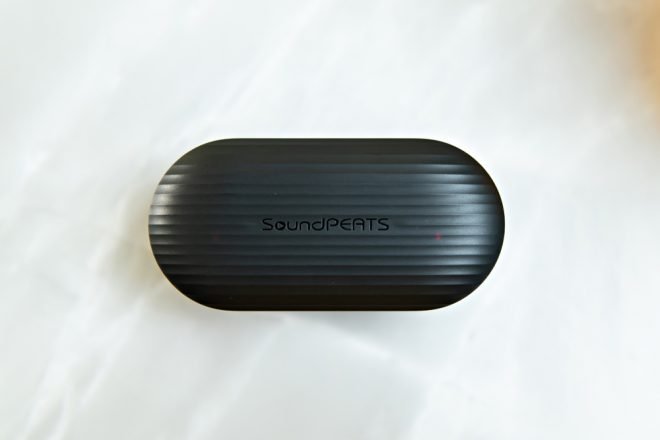 Now, let's take a look around the SoundPeats TrueFree+ earbuds themselves.
Looking at its side, we have the multi-function button with a SoundPeats logo at the center and a small LED indicator for both power and connectivity.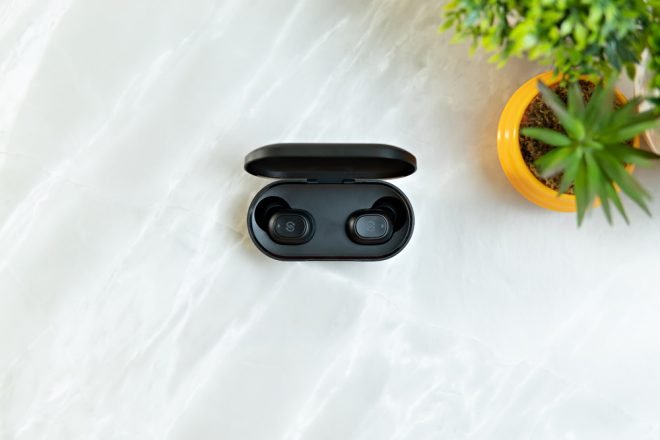 The SoundPeats TrueFree+ is quite chunky than most similarly designed True Wireless Earbuds that I've tried before. It is thicker probably to accommodate a bigger battery but we'll test that extensively later and compare it to the SoundPeats TrueDot.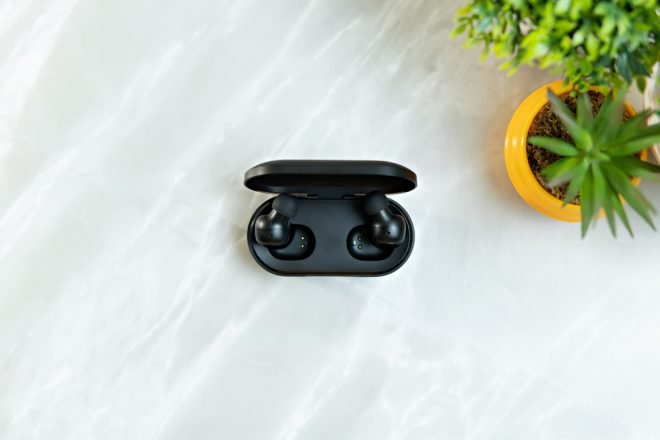 Looking at the back, we can see the profile of the hear tip which is the typical suction type and of course, replaceable. We can also see here the pins for charging.
A single earbud weighs only around 4.5g which is relatively lightweight.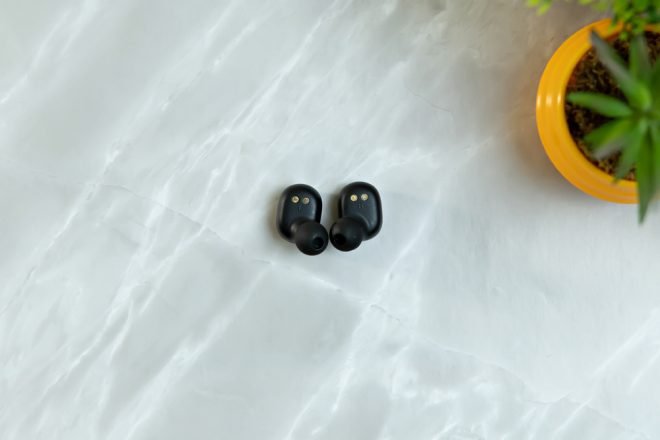 Overall, in terms of design and construction, the SoundPeats TrueFree+ is pretty decent, it is robust with rounded edges and has a clicky and tactile multifunction button.
Comfort, Fit and Sound Isolation


Earbuds' sizes, profile, and overall design plays a huge role when it comes to comfort and fit usually, it's not a one size fits all. Thankfully, the SoundPeats TrueFree+ like most earbuds out there comes with different sizes ear tips. As per my experience, the default ear tip is snugged properly right inside my ear canal with just the right amount of pressure and it provides a tremendous amount of sound isolation without even playing any music. Weight is also relatively decent as I don't feel any unnecessary weight on my ears. Overall, in terms of comfort and fit at least for my ears, it is pretty decent.
Turning On
The SoundPeats TrueFree+ earbuds will automatically turn on once you remove it from the charging case but if you want to manually turn it on, all you have to do is press and hold the multifunction button for about 1 second.
Turning Off
On the other way around, the SoundPeats TrueFree+ earbuds will automatically turn off once you place them back on the charging case, but if you want to manually turn them off, all you have to do is press and hold the multifunction button for about 3 seconds.
In stereo mode, meaning both earbuds are paired with each other, turning off either of the earbuds will turn both of them off.
The good thing about this is that you can essentially use both earbuds individually if you deemed necessary, let say in some situations that you don't want to completely isolate yourself from the environment. However, in order to do this, you'll have to turn them both off when in stereo mode and then turn on the single earbud that you want to use. You can not turn off a single earbud when they are paired with each other in stereo mode as I've pointed out earlier.
Bluetooth Connectivity and Pairing


In terms of pairing, the process is pretty seamless, once you removed the earbuds from the charging case they will automatically turn on, pair with each other, and then go to pairing mode with your host device. Just turn on Bluetooth on your smartphone, tablet, PC, and what have you, pair it, and you're good to go.
In terms of Bluetooth connectivity and performance, the SoundPeats TrueFree + features Bluetooth 5.0 via the Realtek 8763BFR Bluetooth chip and is rated up to 10 meters of working time with a decent line of sight. As per my testing, signal strength is solid up to 2 walls in between.
Multifunction Button Controls


Now, before we list all the different controls, I'd like to provide my thoughts about this particular design. Unlike the SoundPeats TrueDot that has a multifunction touch sensitive area, the SoundPeats TrueFree+ instead features a multifunction button. Now, this might be subjective but personally, I am not a fan of this design because in order to activate any of the controls, you'll have to press the button on the side of the earbud and in some cases, you even have to press and hold it adding pressure to your ear canal which I find uncomfortable. The reason why I said that it might be subjective is the fact that there are others that don't like the touch-sensitive design due to a possibility of accidental activation when you accidentally touch the earbud either when inserting or removing them from your ears. So at the end of the day, it will depend on your own personal preference.
With that being said, here are all the controls you have using the multifunction button on the SoundPeats TrueFree+.
Power On: Press and hold the Multifunction Button for 1 second
Power Off: Press and hold the Multifunction Button for 3 seconds
Play/Pause: Press the Multifunction Button once
Play Next/Previous: Double-tap the left Multifunction Button for previous track, Double-tab the right Multifunction Button for next track
Answer Phone Call: Tap the Multifunction Button once
Hang Up: Tap the Multifunction Button once
Reject Phone Call: Press the Multifunction Button 1 second
Activate Voice Assistant: Press the Multifunction Button 1 second in play/standby mode.
Call Switching: Double-tap the Multifunction Button to switch between two phone calls
Battery Life and Charging Time


In terms of battery life, the SoundPeats TrueFree+ features 800mAh of battery for the charging case which as per specifications, should provide up to 9 to 10 times charge for the earbuds. As per our testing, we were able to charge the earbuds for a total of 8 times which is pretty phenomenal. The charging time of the earbuds inside the case takes only about an hour and 3 minutes consistently for the entire 8 times that we've tested it which is pretty awesome. As for charging the case itself, it took about 2 hours which is quite decent given the number of charges it can provide to the earbuds for a single full charge. As for the earbuds, as per specifications, it should last around 3.5 to 4 hours on a full charge and as per our testing,  at 50% volume, it lasted for about 4 hours, and with maximum volume, it lasted around 3 hours and 21 minutes on average. To be honest, I expected more from the earbuds given its quite hefty size but the SondPeats TrueDot beats it on this regard which lasts for almost twice the TrueFree+.
On the other hand, the charging case is absolutely insane charging the earbuds for around 8 times on a single full charge and it also has a semi-translucent top cover that allows you to see the LED indicators of the earbuds. However, what it lacks is a substantial LED indicator to precisely show the battery level of the charging case and instead, we only have a couple.
Microphone Quality


In terms of the microphone quality, as per our testing, it is quite adequate for some casual communication, albeit kinda muffled but definitely understandable.
Sound Quality


When it comes to sound quality, the SoundPeats TrueFree+ doesn't disappoint. For starters, volume levels are more than sufficient, it can get extremely loud without much distortion and can bang your head pretty good. I'd advise though to use it at around 80% volume for a more comfortable listening experience. The good thing is that even at maximum volume, the highs are still quite controlled and don't sting that much and the low end is equally enough without overshadowing the mids. At a lower volume, the sound quality is really pleasing, vocals are kinda forward and clear with a fairly decent instrument separation. Overall, I really enjoyed listening to the SoundPeats TrueFree+ and there's not much to complain about the sound quality it can produce. 
VERDICT


To conclude, the SoundPeats TrueFree+ True Wireless Earbuds proved to be a good option if you're looking for a wireless earbud with physical button controls that is quite rare in the vast available TWS earbuds out in the market that is usually touch-based. Battery life is decent and on par on most budget wireless earbuds with 3 to 4 hours of music playback but the game-changer here is the phenomenal charging case that can charge the earbuds up 8 times which is really awesome and convenient especially if you're traveling and doesn't have easy access to a power brick. You can then focus your power bank on your more essential devices such as smartphones, tablets, and whatnot. As for the sound quality, what impressed me the most is the well-controlled highs at maximum volume with some decent kick on the low end. Overall, again, if you're looking for a wireless earbud that has a physical button controls, then don't look further than the SoundPeats TrueFree+.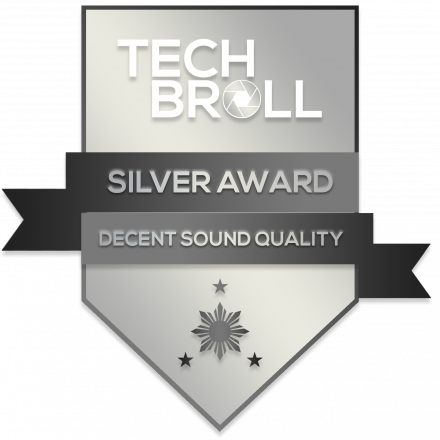 Thanks to Digital Walker for making this review possible, You can get these True Wireless Earbuds from the button below.
SoundPeats TrueFree+
Php 1,990
Pros
Good sound quality with substantial volume levels
Easy to pair
Has physical multifunction button control
Good build quality and design
Cons
Pressing/holding the multifunction button adds pressure to the ear canal
Battery life is underwhelming for the size of the earbud
LED indicator on the charging case could have been better/complete