A couple of weeks ago, I built a mini-ITX build with a goal of being able to edit 4K videos and game at 1440p resolution. And one of the essential components that I used is the ASUS ROG Strix 2070 Super Advanced Edition graphics card, and today, I just want to highlight it more and talk about its features, design, construction and all that good stuff. Because there's a lot more to it than just the raw performance it can provide to your system. It packs a ton of features like dual-bios, auxiliary fan and RGB headers, LED illumination and overall design and construction that all together, brings an absolutely good gaming experience with some peace of mind that your hardware is good to go for a long run. The card is beefy, packed with one of the best cooling design among the vast majority of graphics cards out in the market, and has a ton of headroom when it comes to thermal performance that should allow you to push the card even further and get the most value out of your money.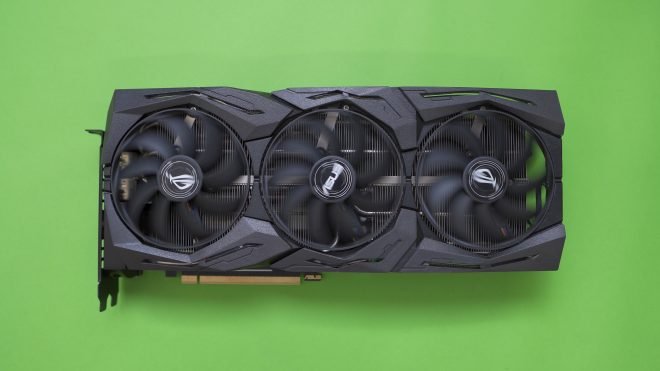 MY EARLY BREAKDOWN


Pros: Good performance, Reliable design, Good thermal headroom, Relatively Quiet, Dual-Bios, Auxiliary fan and RGB headers, Substantial output ports, Intuitive software
Cons: Premium price tag
SPECIFICATIONS


Graphics Engine: NVIDIA® GeForce® RTX 2070 SUPER™
Bus Standard: PCI Express 3.0
OpenGL: OpenGL®4.6
Video Memory: GDDR6 8GB
Engine Clock:
OC Mode – GPU Boost Clock: 1830 MHz, GPU Base Clock: 1635 MHz
Gaming Mode (Default) – GPU Boost Clock: 1800 MHz, GPU Base Clock: 1605 MHz
CUDA Core: 2560
Memory Clock: 14000 MHz
Memory Interface: 256-bit
Resolution:
Digital Max Resolution: 7680×4320
Interface:
HDMI Output: Yes x 2 (Native) (HDMI 2.0b)
Display Port : Yes x 2 (Native) (DisplayPort 1.4)
HDCP Support: Yes (2.2)
USB Type-C Support: Yes x1
Maximum Display Support: 4
NVlink/ Crossfire Support: Yes
Recommended PSU: 650W
Power Connectors: 2 x 8-pin
Accessories:
1 x Quick Guide
1 x ROG Velcro Hook & Loop
Software: ASUS GPU Tweak II & Driver
Dimensions:
11.8 " x 5.13 " x 2.13 " Inch
29.97 x 13.04 x5.41 Centimeter
Slot: 2.7 slot
WHAT'S IN THE PACKAGE


In typical ASUS fashion, the packaging is pretty straightforward but with substantial information. In front, we have a preview of the graphics card with some of its key features most importantly the differentiating factor, the "Advanced Edition" which means it has a higher boost clock of up to 1830 MHz compared to the 1800 MHz of the standard edition. And It is actually in the middle between the standard edition and the OC edition which has a boost clock of up to 1935 MHz. These are out of the box frequencies but of course, you can overclock the card yourself if you're into that. Other than that, they are all pretty much identical in terms of specifications.
At the back of the box, we have more of the card's key features which we'll talk more about in a minute.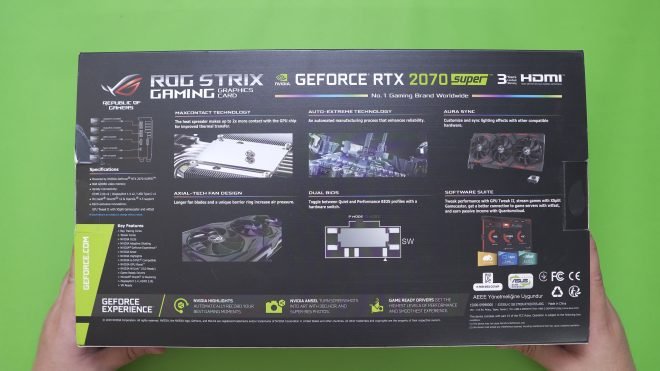 And inside the main packaging, we have another box right here with a Strix branding right in the middle.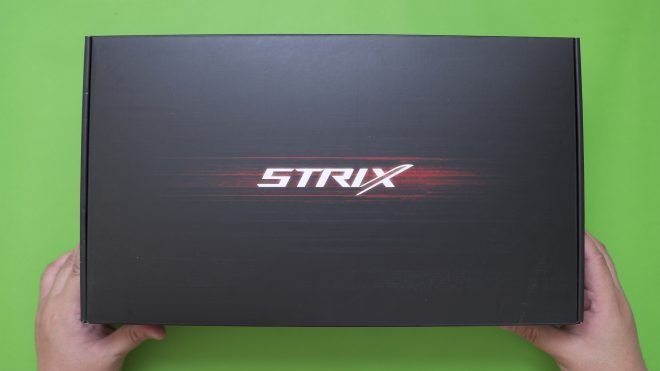 Upon opening the box, the first thing you'll notice is a little square accessory box,
Which houses the user guide and other paperwork.
Removing the top foam cover reveals the actual graphics card itself protected by the usual anti-static plastic. We also have a couple of ROG velcro straps in this pocket.
FULL REVIEW
Design, Construction, and Parts Overview


Alright, so at first look and touch, there's no doubt that the ASUS ROG Strix 2070 Super is massive with a huge amount of weight to it. The design is pretty much cohesive with all the graphics cards in the Strix lineup which has been perfected already throughout the years with some improvements here and there but the overall design language is pretty much the same and as they say, if it ain't broken, don't fix it.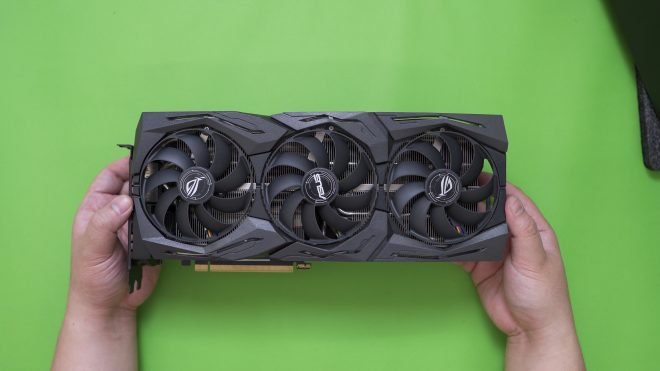 Of course, we have the new and improved axial-tech fan design that is optimized for maximum airflow with a smaller fan hub that allows for longer fan blades and a ring enclosure that serves as a sort of a funnel for the air.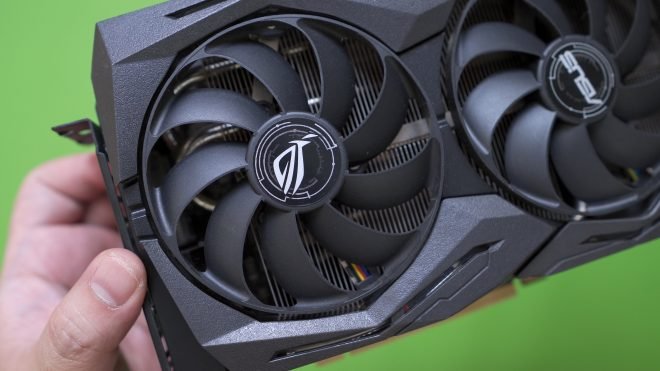 We also have some polygonal design elements here with some cut-outs for the LED illumination which this card certainly does have, albeit, more subtle compared to most new designs from its competitors. The RGB illumination is of course, Aura Sync compatible.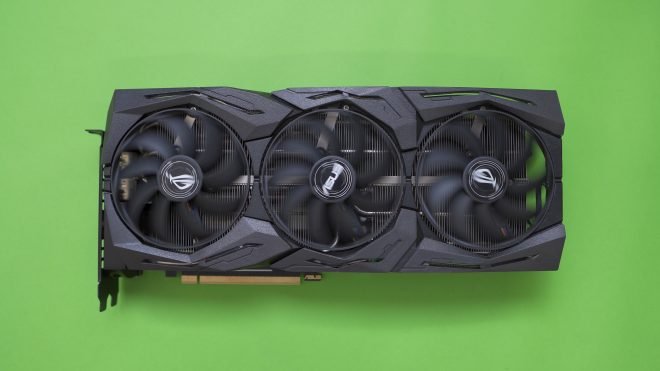 On the top side, we have a massive "Geforce RTX" branding, a small "Strix" logo and an illuminated "Republic of Gamers" logo on the right side.
We also have here the Dual-Bios switch to toggle between the quiet mode and the performance mode without the need of a software. We can also see here the massive chunk of the aluminum heatsink and some structural support and the two 8 pin power ports.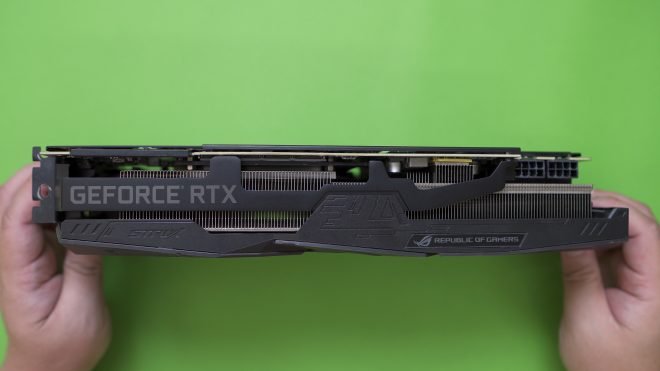 Speaking of massive heatsink and support, we have more of that here on the bottom side and with a massive form factor like this, it will take up to 2.7 PCI-e slots.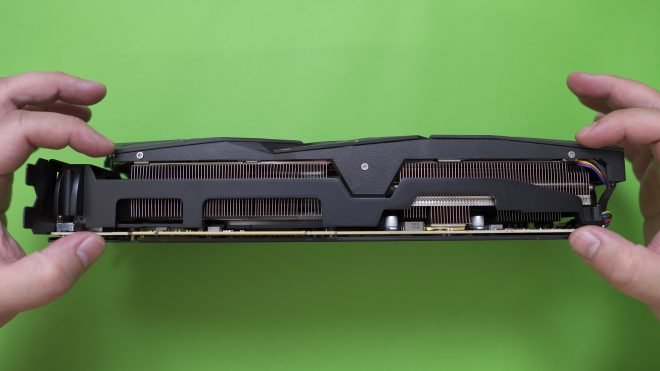 At the backside, we have a massive backplate with cohesive polygonal lines, ASUS Strix logo, and a massive Illuminated ROG Eye. We also have here a physical button for turning the illumination on and off. As you can already tell, this card has a ton of features that you can take advantage of even without using a software.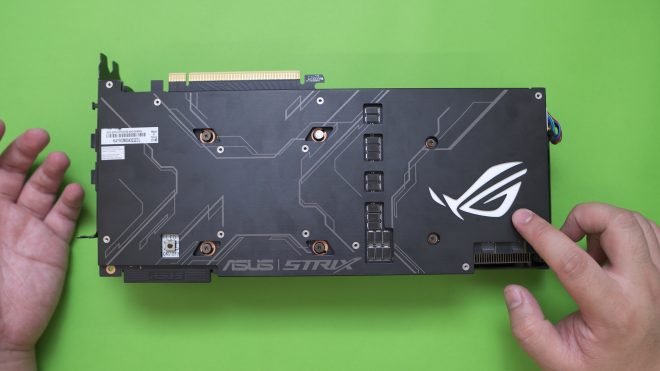 On this side, we have a handful of headers. We have a couple of fan headers and one RGB header.
And lastly, on this side, we have the ports. We have 2 HDMI 2.0b, 2 DisplayPort 1.4, and a USB Type C port.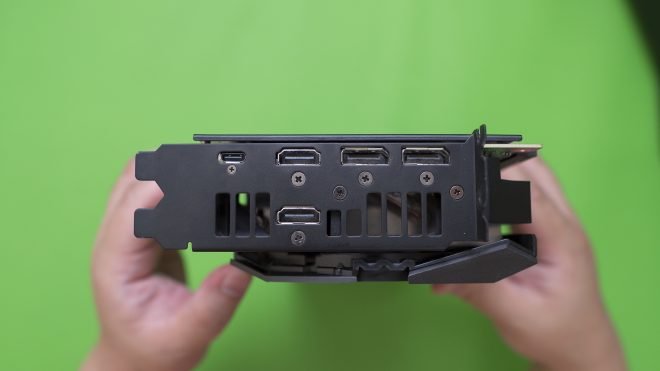 Overall, in terms of design, construction, and physical features, the ASUS ROG Strix design is certainly one of the most reliable when it comes to graphics cards. It has a good balance between aesthetics and features.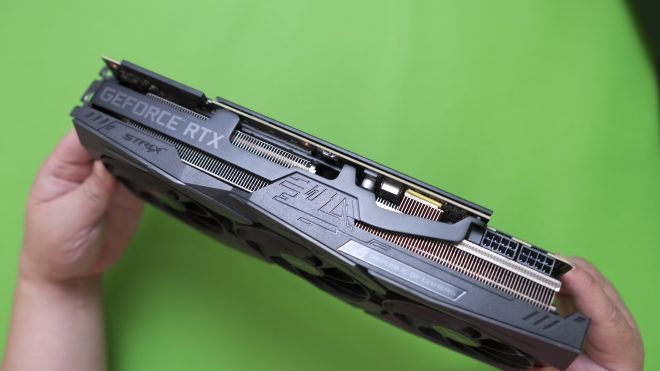 Here's a diagram of how the ASUS ROG Strix 2070 Super is constructed.
Speaking of features, let's talk about that.
ASUS ROG Strix 2070 Super Advanced Edition Key Features
Cooling System


Axial-Tech Fan Design
One of the most significant design improvements of any modern ASUS ROG Strix graphics card is the new and improved Axial-Tech fans. Like I said earlier, it now has this sort of barrier around the fans that act as a funnel for the airflow making it more efficient. The fan hub was also reduced allowing for a completely new design for the blades as well. Personally, I like the new design because aside from the improved performance, it also adds a little bit more structural integrity and protection for the fan blades.
Quiet Mode (0dB)
Thanks to the Dual-Bios feature you can enable quiet mode to essentially allow the fans to not spin during idle or when the temperature is below 55 degrees Celcius. This is good for us content creators so that we can continue making videos, recording, and stuff without having to worry about the noise coming from the graphics card. The same goes for PC gamers as well, you can play less GPU intensive games without much noise around, provided that your other components are quiet as well of course.

2.7-slot Design
Another thing that allows the graphics card to run quieter is its massive heatsink. With a lot of thermal headroom, you can enable the quiet mode feature without any hit on the thermal performance of the graphics card. And with this, it allows the graphics card to have higher clock speeds and overclocking flexibility either via the one-click method on the GPU Tweak II software or manually depending on your overclocking experience.

Dual-Bios
As mentioned above, it has a Dual-Bios feature wherein you can enable either the 0dB quiet mode or the performance mode right from the graphics card itself using the available physical switch. But of course, you can further tweak the fan curves using the GPU Tweak II software depending on your use case scenarios, ambient temperature, and other circumstances.
Build Quality and Structural Integrity


In terms of build quality, the ASUS ROG Strix 2070 Super as I pointed out earlier is massive with a lot of structural design elements that help with the overall rigidity of the graphics card. You'll appreciate it more when you get a chance to hold one as you'll feel the robust build quality with a combination of hard plastic and solid metal construction. Not only that, of course, the internal components themselves also have to compliment that with premium electronic parts.
GPU Tweak II Software


In terms of the software, the GPU Tweak II is actually pretty straightforward and for the most part, is not required. But if you want to take advantage of the thermal headroom and you don't have deep knowledge about overclocking a graphics card, this is the easiest way to do it. All you have to do is click the OC Mode and you're all set. It will boost the clock just a bit and in most cases, it's not that significant, but if you're that kind of person that wants to know you're using the safest maximum settings, then this is the way to go. Of course, you can further tweak it and as long as it is stable with decent temps, by any means, go for it.
Aura Sync


As I said earlier, the ASUS ROG Strix 2070 Super has RGB lighting all around, but they are not the kind that's like in your face. It is more subtle but gives the card a touch of flair nonetheless.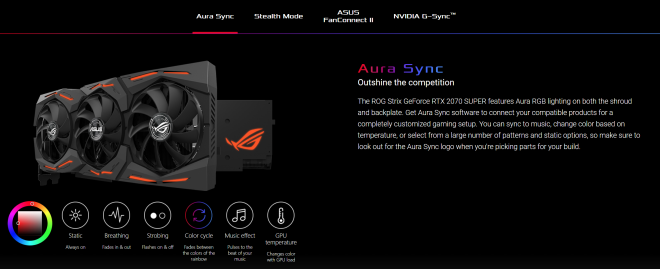 Stealth Mode


Of course, not everyone likes RGB or any illumination for that matter, thankfully, you can easily opt-out by pressing the physical on and off switch at the back of the card.
ASUS FanConnect II


Another nifty feature of the ASUS ROG Strix 2070 Super is that it has a couple of additional fan headers and one RGB header that you can take advantage especially if your motherboard only has a few. This is also ideal for mini-ITX builds so that you can easily connect more fans, provided of course, that your mini-ITX chassis can support the size of this card.
NVIDIA G-Sync


Now, it goes without saying, but of course, as with any 10-series graphics cards and up, the ASUS ROG Strix 2070 Super is NVIDIA G-Sync Compatible
Alright, so with all the key features and specifications out of the way, let's talk about its performance.
Performance


Now, just a quick disclaimer, all the performance testing here is relative to my new personal mini-ITX build in comparison with my old system which I will share the specifications below. This is due to the fact that I honestly don't have any other graphics card on-hand to compare this with. But at least, you will get some idea on how it performs with the specifications we have against a relatively older but still highly capable system. This could simulate your upgrade path should you choose to follow the same build.
OLD System Specifications


AMD Ryzen 5 2600x
Aorus B450 Pro Wifi
Zotac 1070 Mini
Gskill Trident Z 16GB 3200Mhz
Plextor 256GB SATA SSD
Seasonic MI2II 620W 
Open Test Bench
NEW Mini-ITX System Specifications


AMD Ryzen 7 3700x
ASUS ROG Strix X470-I
ASUS ROG Strix 2070 Super Advanced Edition
XPG Spectrix D60G 3600Mhz
XPG SX8200 Pro 512GB NVME X 2
Inwin A1 Mini-ITX with Built-in 600W 80+ Bronze 
Graphics Card Benchmarking Methodology


Here's my current methodology for testing graphics cards, and I believe it is important for me to share this information with you so that you can have a better understanding of how I came up with these results.
For our benchmarks, I made sure the following were observed:

1. Graphics card driver is updated
2. Resolution is 1080p/1440p 60hz, V-Sync and G-Sync OFF
3. Verify in-game graphics card settings before each run
4. Verify graphics card fan settings is set to auto without any custom fan curve
5. Make sure ambient temperature is not too far between each graphics card test
6. All benchmarks are an average of 3 identical runs
7. All testings are done inside an open case unless specified. 
Blender's Built-in BMW Benchmark


Alright, so let's start with Blender. Using the GPU power, the new pc with the ASUS ROG Strix 2070 Super finished the task for only 0.88 minutes while the old pc with 1070 took about 1.76 minutes.
Real-World Performance – Video Editing


As for our real-world performance test for video editing in adobe premiere pro, with our standard 14 min 4K video project, the new pc was able to finish rendering previews for only around 5.77 minutes while the old pc took around 8.83 minutes.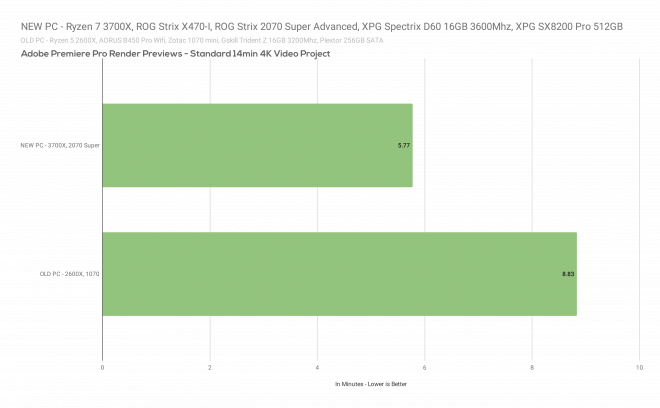 And for the actual exporting of the project using our standard 4K constant bitrate preset, the new PC was able to export the video for only around 24.86 minutes, while the old pc took 10 minutes more for about 34.63 minutes. And in my opinion and work efficiency in mind, that is a lot of time that I can spend on other things like editing thumbnails and what not so this is actually a quite significant increase in performance and I am very happy with it.
And now for gaming, here are the rest of the benchmarks.
Gaming Benchmarks 
Assassin's Creed Origins


In Assassin's Creed Origins which is still a quite graphics-intensive game even in 2020 especially at ultra settings, the ASUS ROG Strix 2070 Super performed really well averaging around 86.67 FPS with playable minimum FPS of 52.33 at 1080p resolution.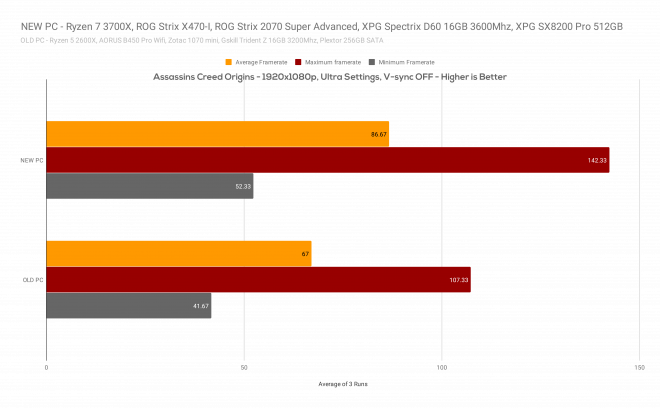 Even at 1440p resolution, it is averaging around 71.67 FPS at ultra settings.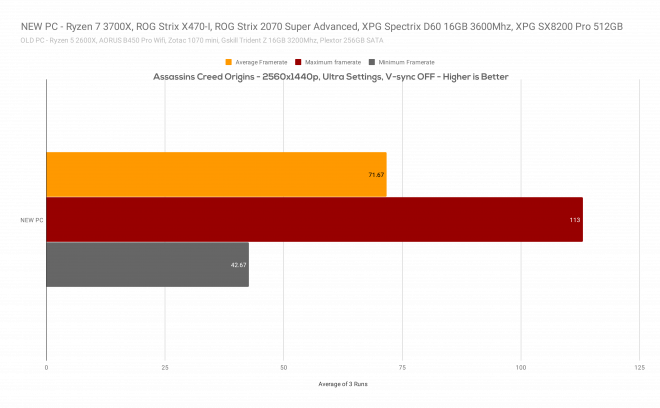 Counter-Strike: Global Offensive


In CS: Go which is still a very relevant FPS game, though not as graphics-intensive as newer Triple-A titles, the ASUS ROG Strix 2070 Super performed well over 200 FPS at very high settings and in 1080p resolution with an average FPS of 267.67.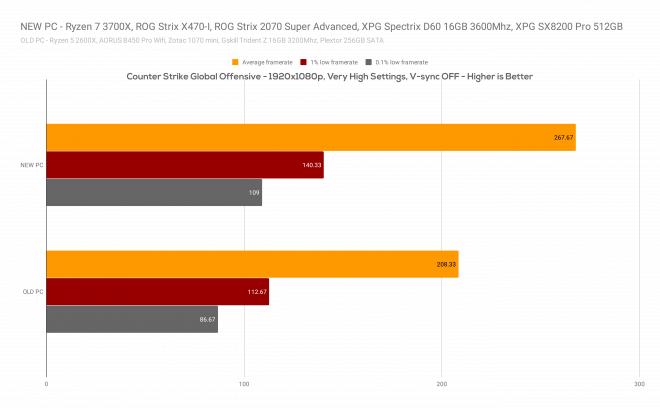 And at 1440p resolution, it didn't drop much with an average FPS of around 261. So if you have a 1440p display that has a high refresh rate that can go up to 240Hz, then you're all set for competitive CS: GO gaming with the ASUS ROG Strix 2070 Super.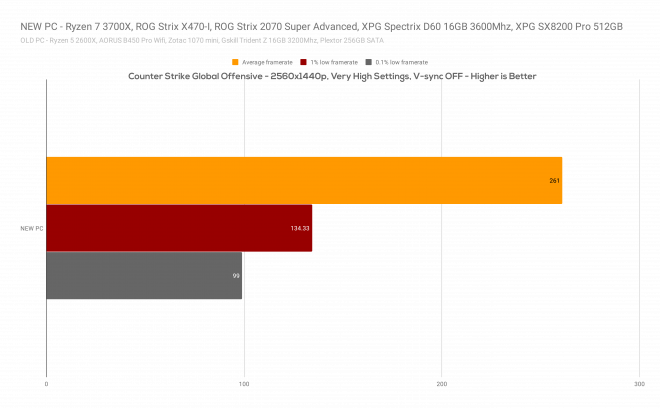 Grand Theft Auto V


In GTA V, which is also a known graphics-intensive game, in 1080p ultra settings, the ASUS ROG Strix 2070 Super performed well over 100 FPS with an average of 131.67 FPS.
The same goes for 1440p resolution but a bit lower at around 105 FPS average.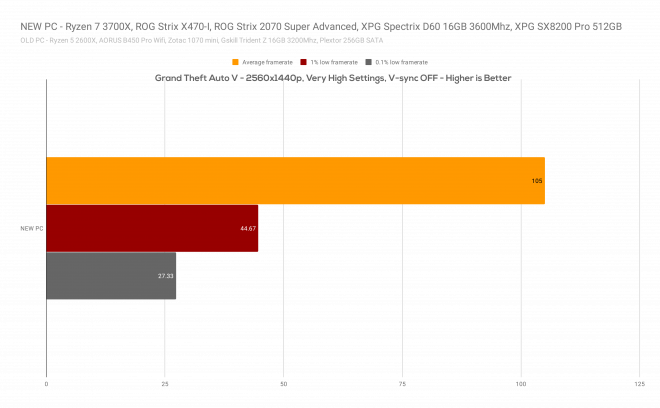 Rainbow Six Siege


In Rainbow Six Siege, which is another popular FPS game right now, the ASUS ROG Strix 2070 Super obliterates the competition with well over 200 FPS with an average of 259.63 FPS.
And as expected, even at 1440p resolution, it gets the job done at around 195.37 average FPS.
So as you can see, there is a huge leap when it comes to gaming performance upgrading from an AMD Ryzen 5 2600x and 1070 to an AMD Ryzen 7 3700x and 2070 super and the higher frequency of 3600 Mhz for the RAM, of course, helped with the increase in performance as well. And as per results, we are good even at balls to the walls settings at 1440p gaming.
Thermal Performance


In terms of thermal performance, I'd say right off the gate, the ASUS ROG Strix 2070 Super remained cool in almost all the tests I threw at it. 
In Blender's Built-in BWM Benchmark, the ASUS ROG Strix 2070 Super was super chill averaging only 33 degrees, and that is because the test actually took only around 53 seconds.
Now, for gaming, the ASUS ROG Strix 2070 Super is again super chill with a maximum temp of around 55 degrees and with an average of only around 40 degrees.  This was captured using just the built-in benchmark of Assassin's Creed Origins, your mileage may vary depending on how long your sustained load is.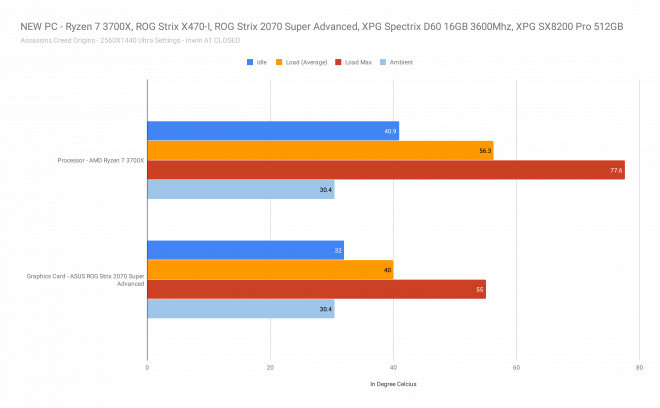 And when it comes to video editing, with a total of 24 minutes export time which gives us an idea of a long term max load performance, the ASUS ROG Strix 2070 Super graphics card remains cool with a max temp of only around 43 degrees and with an average of 39 degrees. It is worth noting though that in this test, the CPU is the one being highly utilized compared to the graphics card.
Overall, I am really impressed with the performance of the ASUS ROG Strix 2070 super as it remained relatively cool on all the tests that we threw at it and provides decent performance even at 1440p resolution and with up to 200 FPS for high refresh rate competitive 1080p gaming.
VERDICT


To conclude, the ASUS ROG Strix 2070 Super is, in my opinion, one of the best options right now if you're looking to play triple-A and competitive games at 1440p resolution and at a high refresh rate. And based on my research with other existing reviews, performance is on par with 2080 which is significantly more expensive. Thermal performance-wise, it has a design that is top of the line and it shows up on our results giving you a ton of headroom for further tweaking when it comes to noise levels and of course, overclocking to get the most out of your money. Like I said, our testing here is solely based on the upgrade path that I did for my mini-ITX build and having a powerful graphics card like this on such a tiny form factor without compromising anything when it comes to performance and thermals, is just pretty awesome. It may be a lot more expensive than other 2070 super out in the market but if you want the best of the best especially when it comes too cooling performance, the ASUS ROG Strix 2070 Super is the way to go.
Php 90K Mini-ITX 4K Video Editing and 1440P Gaming PC Build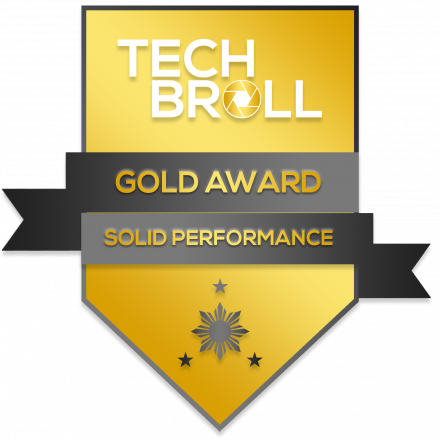 Thanks to ASUS ROG for making this review possible, You can get this graphics card from the button below.
SHARE THIS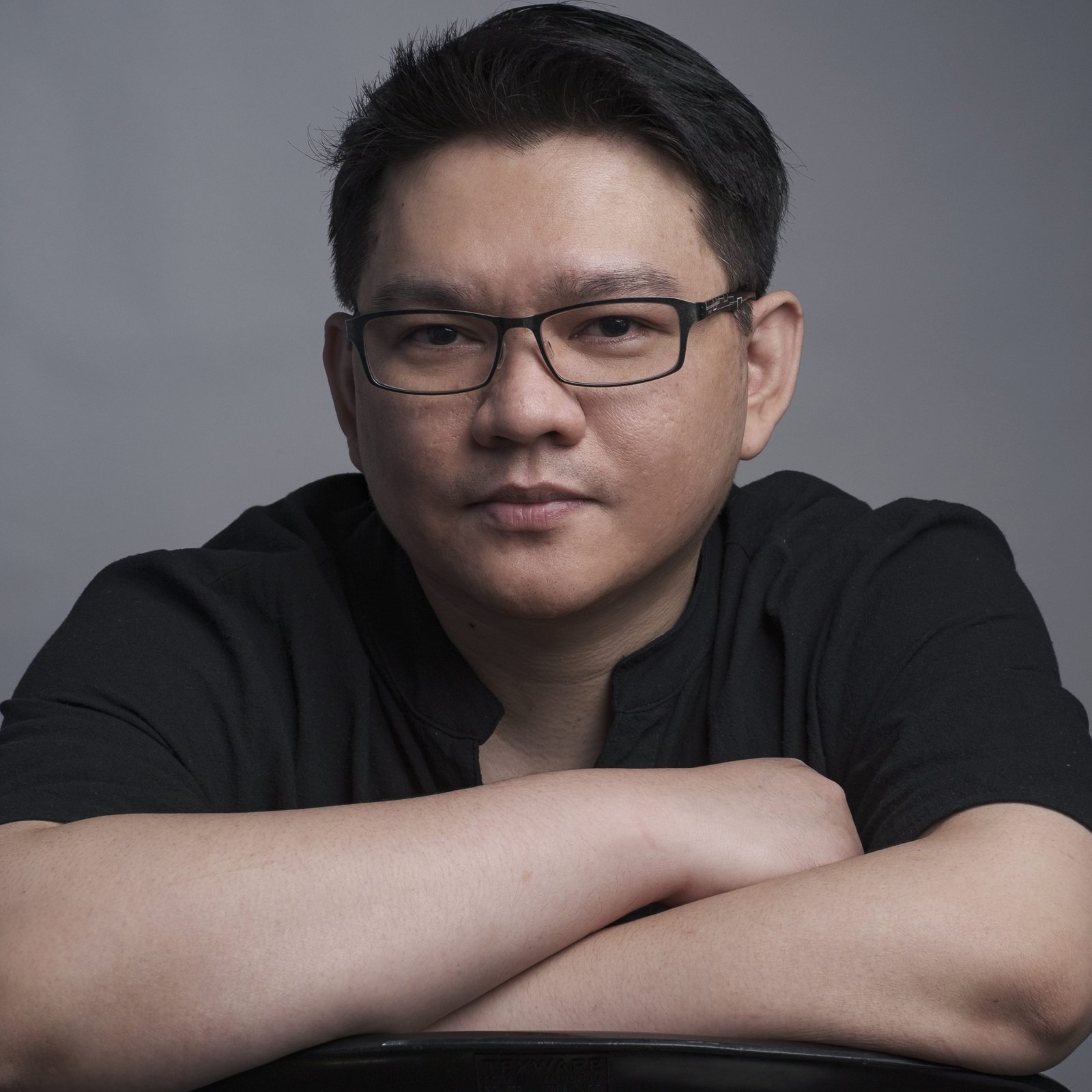 The Broll who always got your back online!