Today, we're going to test the new AMD Radeon RX 5700 XT with an AMD Ryzen 5 2600x, so if you have the same CPU and you're planning on getting the RX 5700 XT, then you should read the entire article so that you can have an idea how it will perform.
Aside from the usual gaming and synthetic benchmarks, we're also going test the thermals, power draw, and sound levels. There are some quite interesting results here that might help you in case you're planning to get this card. With that said, let's get into it.
MY EARLY BREAKDOWN

Pros: Lower power consumption compared to previous AMD cards, Decent thermals, Good performance for 1440p gaming, Competetive price
Cons: Loud blower style cooler, No ray tracing
WHAT'S IN THE PACKAGE

The packaging is really simple with just the card and some paperwork inside.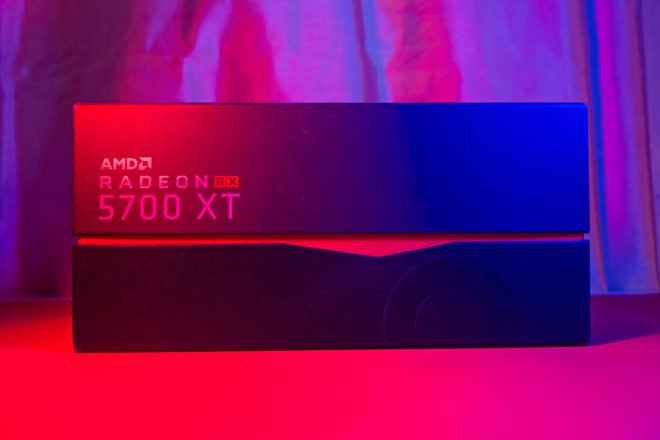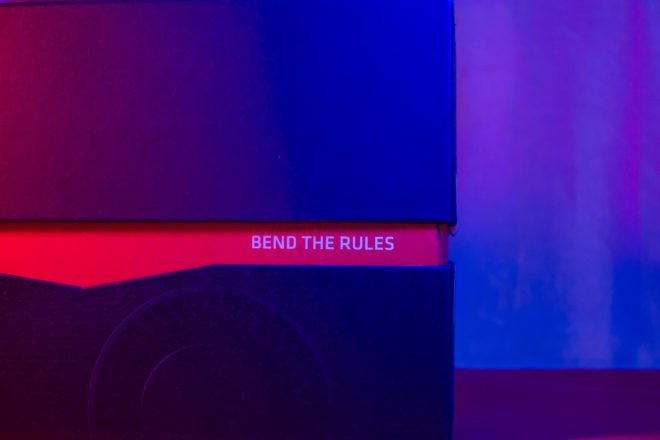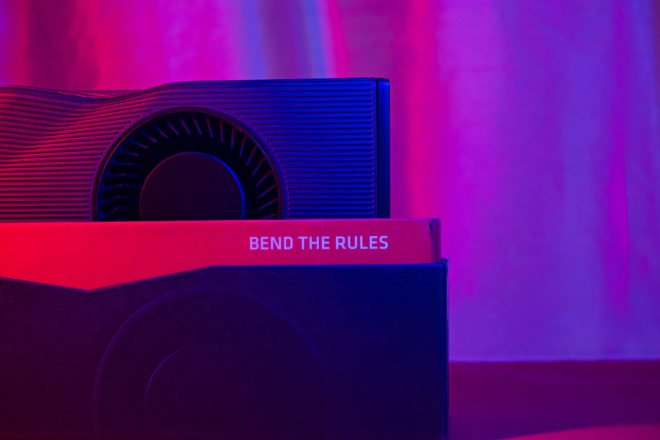 FULL REVIEW
Parts Overview

The first thing you'll notice that's a little different for an AMD reference card is the curved, dented design that ideally should help with thermals. I think it looks cool and unique and I don't mind this look at all.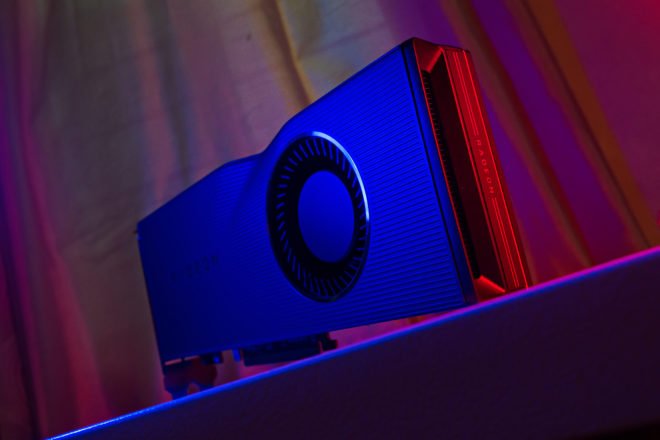 In front, we have a Radeon logo and the single blower type fan.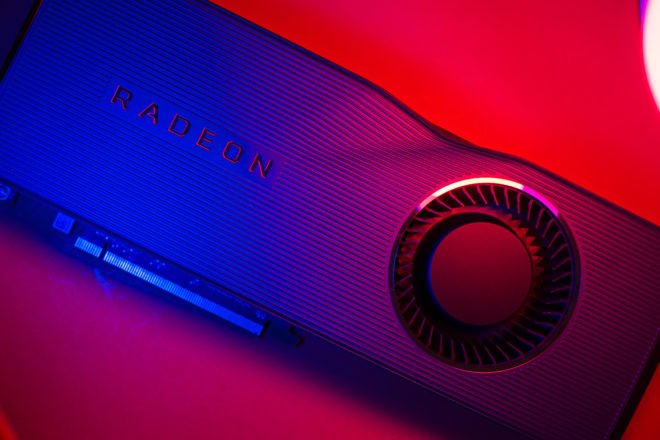 At the top side, we have another Radeon logo which has illumination once the card is powered;
and then on the other side, we have the 8pin and 6pin power ports.
At the back, we have this massive backplate that has a very interesting design exposing the chip.
Alongside the blower type fan, we also have at the rear end the exhaust with another Radeon logo.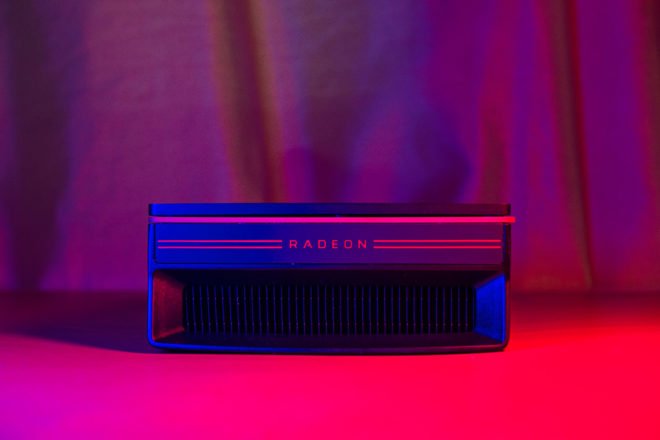 In terms of ports, we have three DisplayPort 1.4 and one HDMI 2.0b. We can also see here the slots for ventilation.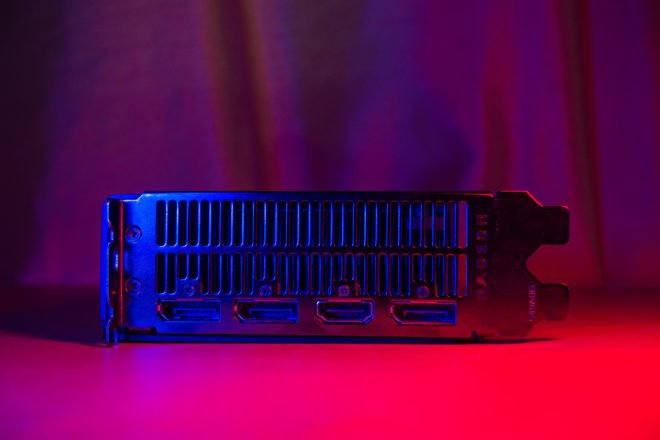 Overall, the design of this card is very refreshing compared to previous reference cards from AMD, it does have the usual design language while having a little bit of modern touch.
Now, before we head into the benchmarks, let's discuss the specifications and key features of the AMD Radeon RX 5700 XT.
Specifications

What's significant here is the low TDP of 225W while providing better performance compared to previous cards from AMD. Another important feature here is the new RDNA architecture taking advantage of the latest 7nm manufacturing process.
Features
RDNA Architecture

The new RDNA architecture looks to focus more on gaming-related tasks rather than other aspects such as artificial intelligence and whatnot. It also focuses more on improving the gap between performance to power consumption thanks to the new efficient 7nm manufacturing process which is very refreshing to hear for an AMD card, we all know how infamous they are for being power-hungry.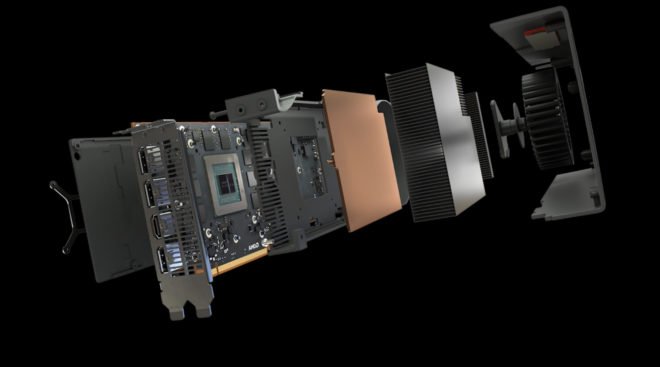 PCI Express 4.0 Support

This new technology also features support for PCI Express 4.0 but at this point, the previous-generation 3.0 is still more than sufficient for a graphics card.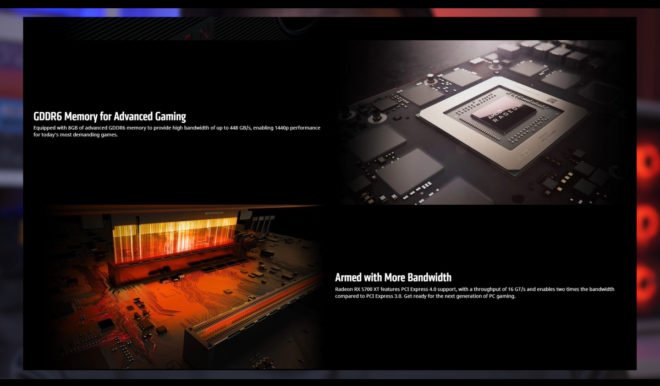 Radeon Image Sharpening

The 5700 XT also features technologies such as image sharpening which combines contrast-adaptive sharpening with GPU upscaling to enhance the image quality in terms of edge sharpness.
FidelityFX

There's also the FidelityFX which is another feature that could improve the visual quality but it depends on the game if it supports it.
Radeon Anti-Lag

We also have the Radeon Anti-Lag which helps in reducing input lag for an overall better gaming experience.
FreeSync Support

Of course, we have FreeSnyc support for smoother gameplay on supported monitors.
Now, all these key features obviously deserve their dedicated testing but for this article, we'll mainly focus on our testing of the AMD Radeon RX 5700 XT on a midrange 2nd gen Ryzen 5 2600x processor and how much improvement will I get upgrading from my Zotac 1070 mini. With that said, let's start with the benchmarks.
Test System

For our test system, I'll be using my main workstation which has the following specifications.
I am currently running an all AMD setup using the MSI B450M Motherboard and 16GB of 3200mhz RAM powered by a 620w Seasonic power supply.
The results are very interesting and should be taken into consideration if you have the same processor as mine and planning on getting this card.
Benchmarks

For the first four games, the 5700 XT performed well and outperformed my Zotac 1070 mini quite significantly, which is exactly what I was expecting given that the 5700 XT is trying to compete with NVIDIA's latest mid-range RTX cards.
All gaming benchmarks are an average of 3 identical runs with the same ambient temperature, I also made sure the settings are the same for each run.
So for APEX legends which is one of the most popular battle royale game right now, at 1080p resolution, the 5700 XT is way ahead of my Zotac 1070 with an average of 142.83 FPS, the 1% low is also very good at 116.63 FPS.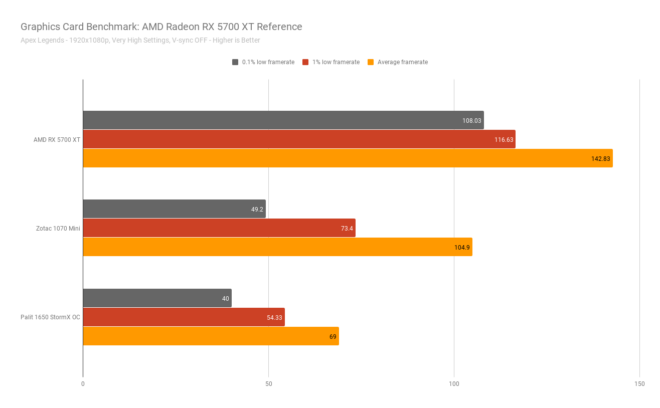 Bumping the resolution to 1440p, the 5700 XT still performs well at an average framerate of 109.57FPS and 77.07FPS for the 1% low.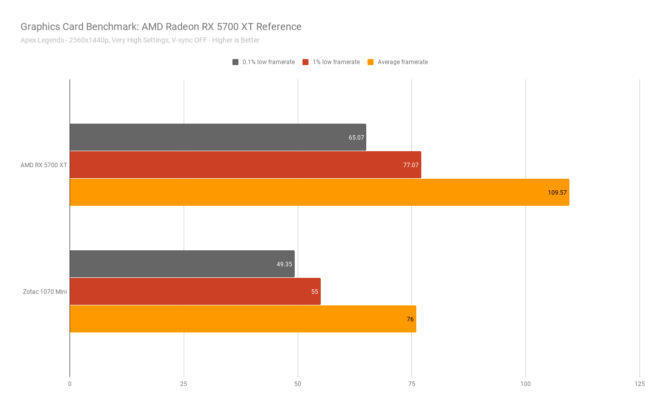 In RainbowSix siege which is a very good team strategy FPS game, at 1080p, the 5700 XT performed great with an average FPS of 244.6 while still having a decent 90.4FPS at the minimum.
At 1440p, the 5700 XT dropped quite a bit with an average FPS of 178.8 but so does the Zotac 1070 at 122.7 FPS.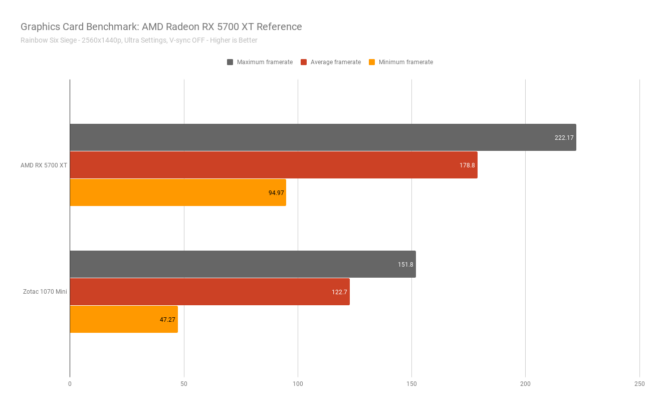 Now for GTA V which is kinda dated but still a high-intensive game in terms of graphical resources, the 5700 XT averaged at around 99 FPS with a 45.8 1% low FPS.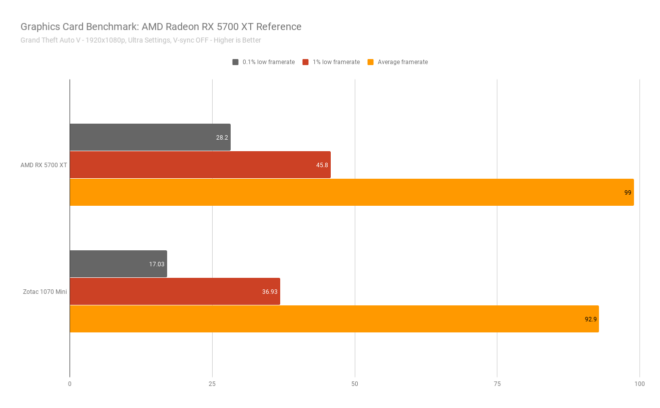 Changing the resolution to 1440p, the 5700 XT still performed well for the most part with an average of 81.93 FPS but suffer a bit at 1% low with 30.4 FPS.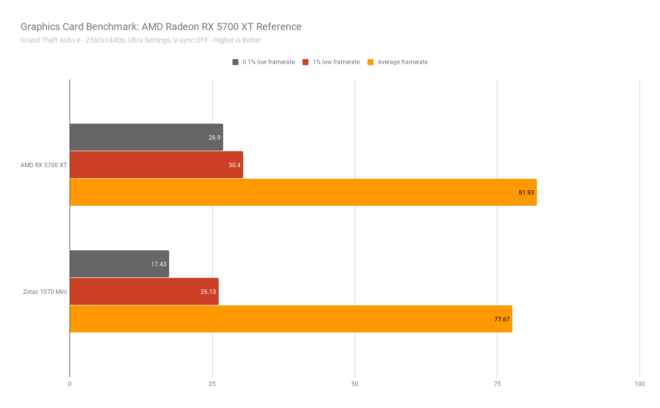 In Battlefield V, which is one of the recent titles I have, at 1080p, the 5700 XT performed well with an average FPS of 137.4 and a 1% low 74.4 FPS.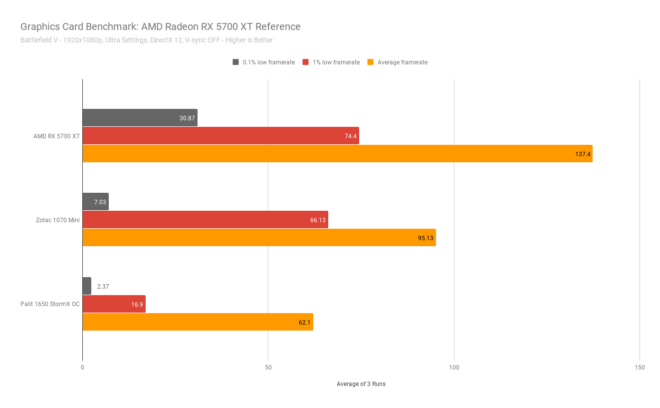 Going up to 1440p resolution, the 5700 XT still performed quite decently with an average FPS of 110.97 and a decent 1% low of 79.3.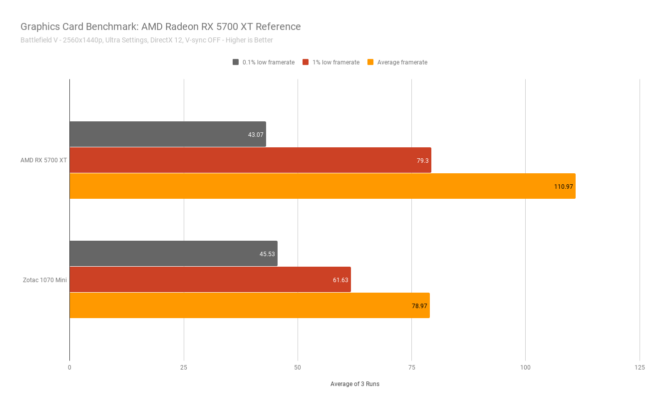 Now, here's when it becomes more interesting and important to check for this combination of processor and graphics card. The next two games I believe are high CPU intensive games or games that highly utilize the CPU for background computations and whatnot.
So for Assassin's Creed Origins, one of the high CPU intensive games that I have, at 1080p, the 5700 XT wasn't able to perform as expected because my Ryzen 5 2600x is holding it back. It got an average FPS of 53.27 and a low 1% low of 35.9.
Bumping the resolution to 1440p helped a bit and lowered the gap compared to my Zotac 1070 but still performed lower than I was expecting.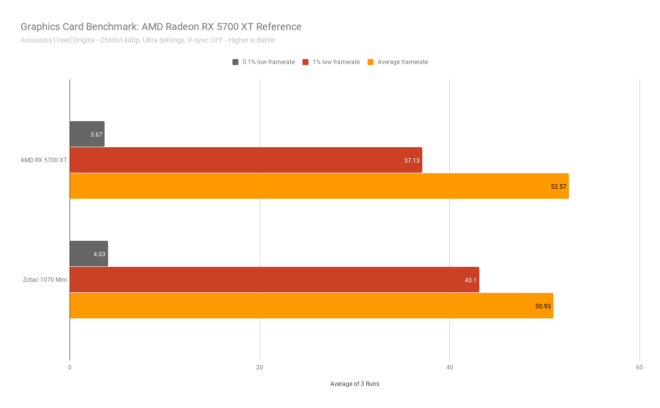 In CS: GO, which is another CPU intensive game, at 1080p, the 5700 XT performed well but is still lower than what I was expecting, especially that it performed lower than my Zotac 1070. The FPS is still high for this game at an average of 197.5 but we should be getting more than this.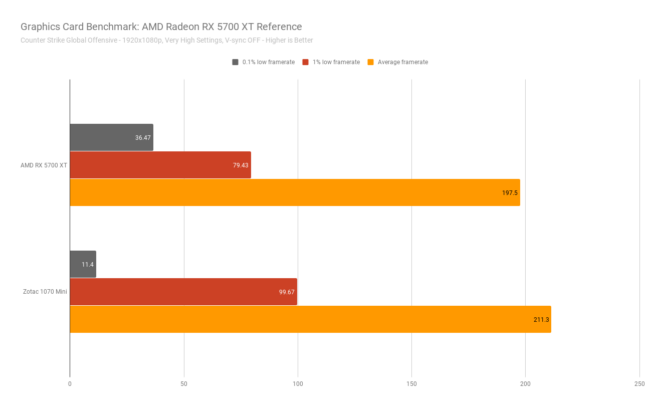 Turning up the resolution to 1440p again helped close the gap a little bit but the 5700 XT paired with an AMD Ryzen 5 2600x still underperformed at 192.5FPS. We should be expecting well over 200FPS for this particular game.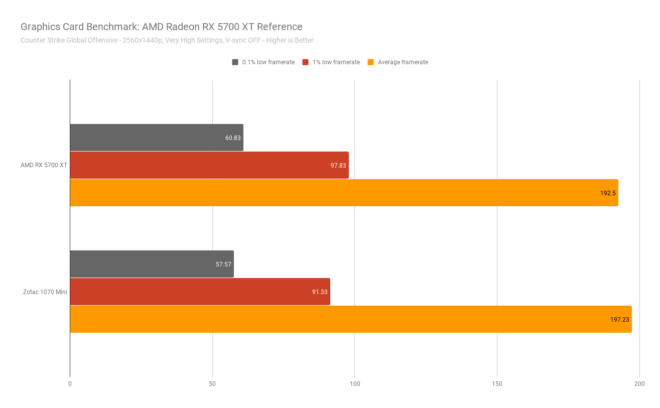 By the way, huge shout out to Bossmac of Back2Gaming.com and Sir Ira James of GGWPTech.com for guiding me with this benchmarks, they actually helped me figure this thing out.
I researched about the games that are CPU intensive and it was very interesting. My AMD Ryzen 5 2600x is running with both Core Boost Performance and Performance Boost Overdrive and partnered with a 16GB 3200mhz Gskill Trident Z RAM but still, it wasn't able to push the 5700 XT to its full potential on these High CPU intensive games.
So if you're planning on getting this card, you might want to consider getting a higher tier processor as well to make sure you get the full potential of this card. If you think otherwise about these results and testing, feel free to comment down below as I am very open to learning even further.
Synthetic Benchmarks

Moving on, let's check out some synthetic benchmarks so that you can have an idea of how this combination of components will score.
In superposition, at 1080p High settings, the 5700 XT scored about 11579 points while getting around 4814 points at 1080p extreme. You can also check the individual FPS on this chart.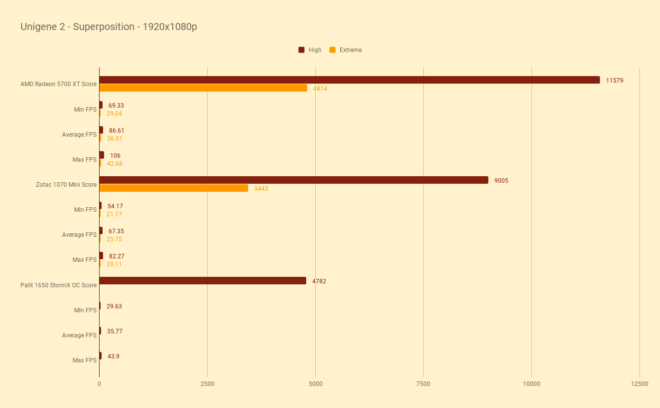 Now for 3DMark Timespy, which is a directx12 benchmark, the 5700 XT scored a total score of 8076 with a GPU score of 8480, its around 36% higher than my Zotac 1070.
In time spy extreme on the other hand which bumps the resolution to 4k, the 5700 XT got a 3636 total score and 3821 GPU score, 33% higher than my Zotac 1070.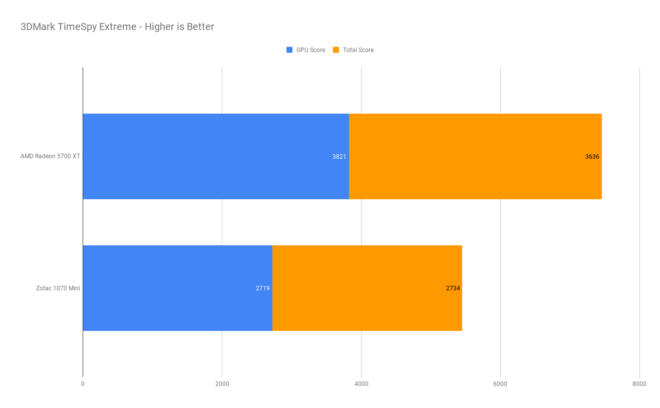 Now, in 3DMark Firestrike, which is a directx11 benchmark, the 5700 XT got a total score of 20285 with a GPU score of 25303, which is around 32% higher than my Zotac 1070.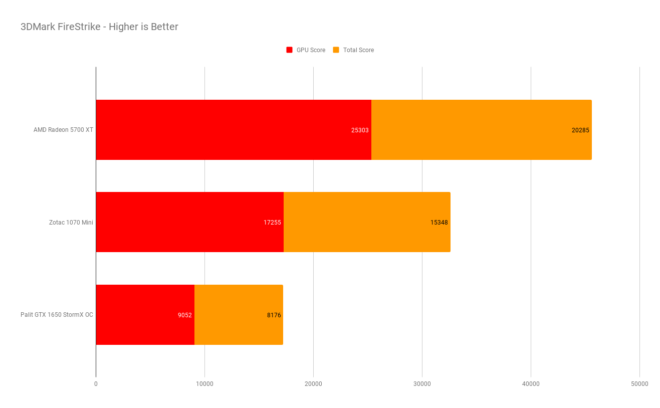 In 3DMark Firestrike Ultra, which also bumps the resolution to 4k, and the test I used for power draw and thermals which I will show you in a bit, the 5700 XT scored a total of 5758 with a GPU score of 5745. 36% better than my Zotac 1070.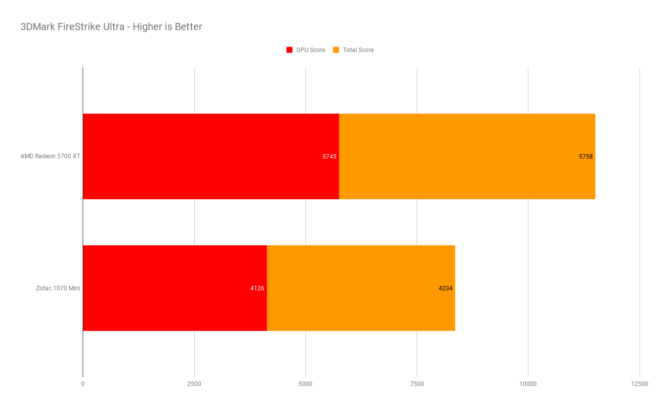 Thermals

Speaking of power draw and thermals, let's discuss about that.
One of the things we know about previous AMD cards is that they are known to be power-hungry and gets a little toasty.
For the 5700 XT, with the new 7nm manufacturing process, the maximum it got while running 3D Mark Firestrike ultra is 86 degrees which I think is pretty decent, the average temperature is also only around 69.7 which is still hotter than my Zotac 1070, but take in mind that what we have here is the blower type reference card. To be honest, while gaming for a longer period more than the usual synthetic benchmark, I sometimes see this card go beyond 86 degrees.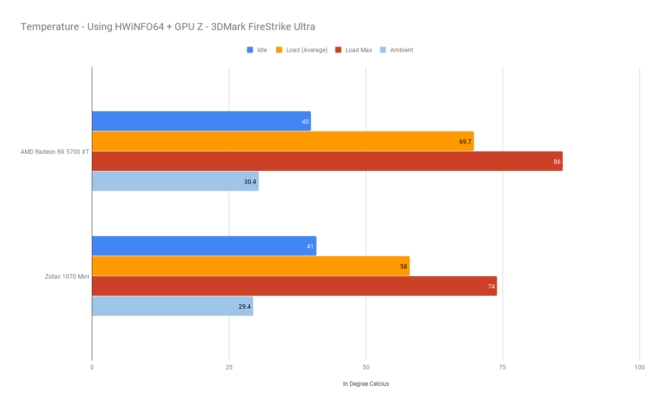 Power Draw

Now for the power draw, since I don't have probes and wattmeter yet, I just relied on hwinfo while cross-checking with GPU-Z, the 5700 XT with a TDP of 225W only drew 188W at max during the entire FireStrike Ultra benchmark.
Sound Level

And lastly, before we wrap this up, let's check out the sound level of these cards.
At idle, both cards are relatively quiet at around 38-41 decibels but at 100% fan speed, as expected, with a single fan blower type design, the 5700 XT is super loud at 72.5 decibels while my Zotac 1070 with two small fans only got up to 59 decibels. I am now quite interested to hear the sound levels and thermals of AIB cards for the 5700 XT.
VERDICT

Alright guys, I think we're now ready to wrap this up, I feel like there are a lot more details to be discussed and test with this card but I think for our goal here, the statistics and testing are more than enough.
We're able to establish how the 5700 XT will perform alongside the midrange 2nd Gen AMD Ryzen 5 2600x, simply put, my system wasn't able to push the card to its full potential. That's why I now have the urge to upgrade and build a dedicated testbed for reviewing PC components, but not for now as I just got a new camera and my budget is depleted.
So, with all that being said, the AMD Radeon RX 5700 XT is a pretty decent card that can perform quite well and has significant improvement compared to previous generation cards from AMD thanks to its completely new architecture.
But my advice is to check AIB cards and see how well they can improve the card in terms of thermals, sound levels and overall performance as the reference card is quite loud and still gets toasty especially after longer sustained load.
And lastly, if you're only after a powerful card for serious gaming without other bells and whistles, not to mention being a lot more cheaper, then this card should be a good option.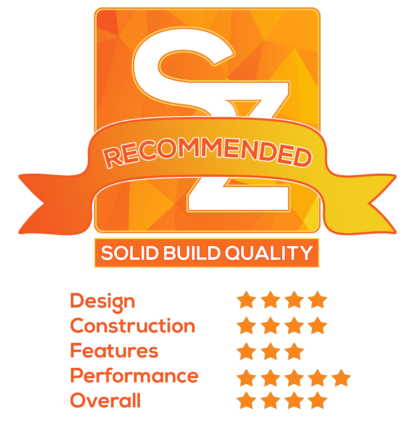 Related Article:
AMD 5700 XT Review with Ryzen 5 2600X – Bottleneck?
Thanks to
AMD
for making this review possible, you can get this graphics card from their partner stores, link below.
If you like this one, please consider subscribing to my channel by hitting the button below. Have a great day!

SHARE THIS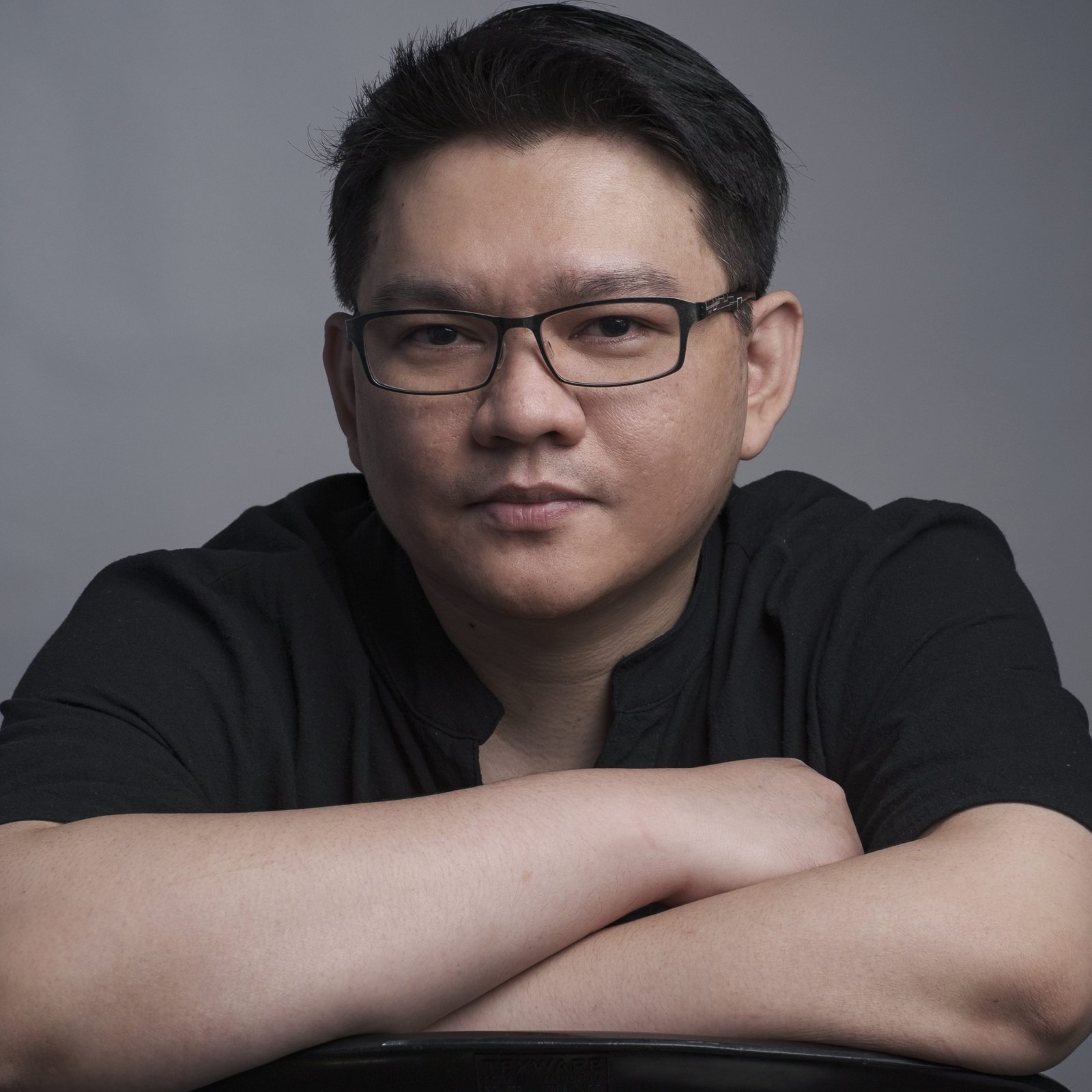 The Broll who always got your back online!