Today, we have another special content for you guys as we take a look at the NEW ASUS TUF Gaming AX3000 router. This router features the latest WiFi 6 and has a ton of flexibility when it comes to bandwidth and user management. It also features a dedicated "Gaming" Lan port that provides top priority to your Gaming device via a wired connection, and on the other side of things, when it comes to wireless connectivity, you have dual-band 2.4GHz and 5Ghz frequencies that you can utilize to separate your devices and minimize network congestion. On top of that, it has 4 antennas that in theory, should provide users with better reception. We'll find that out all today as we're going to test how significant it is to upgrade your ISP's default router to something better like this. 
MY EARLY BREAKDOWN


Pros: Good WiFi coverage with future proof WiFi 6 compatibility, Dual-band connectivity, Decent design and construction with an ample amount of ventilation, Packs a ton of features, Intuitive control panel
Cons: Nothing significant
SPECIFICATIONS


Interface: RJ45 for Gigabits BaseT for WAN x 1, RJ45 for Gigabits BaseT for LAN x 4,
USB 3.1 Gen 1 x 1
Antenna: External antenna x 4
Memory: 256 MB Flash, 512 MB RAM
Operating Frequency: 2.4 GHz / 5 GHz
Encryption: WPA3-Personal, WPA2-Personal, WPA-Personal,
WPA-Enterprise, WPA2-Enterprise, WPS support
Data Rate:
802.11a : 6,9,12,18,24,36,48,54 Mbps
802.11b : 1, 2, 5.5, 11 Mbps
802.11g : 6,9,12,18,24,36,48,54 Mbps
802.11n: up to 300 Mbps
802.11ac: up to 867 Mbps
802.11ax (2.4GHz) : up to 574 Mbps
802.11ax (5GHz) : up to 2402 Mbps
Power Supply:
AC Input: 110V~240V(50~60Hz)
DC Output: 19 V with max. 1.75 A current
Weight: 675 g
Dimensions: 265 x 177 x 189 mm (LxWxH)V
FEATURES


Router app
MU-MIMO
Traffic Analyzer
Adaptive QoS
AiProtection Pro
Parental Control
Guest Network :
VPN server: PPTP Server, IPSec server
VPN client : PPTP client, L2TP client, OpenVPN client
NAT Pass-Through: PPTP Pass-Through, L2TP Pass-Through, IPSec Pass-Through, RTSP Pass-Through, H.323 Pass-Through,
SIP Pass-Through, PPPoE relay
Mac OS Backup
Enhanced media server (AiPlayer app compatible)
– Image: Jpeg
– Audio: mp3, wma, wav, pcm, mp4, lpcm, ogg
– Video: asf, avi, divx, mpeg, mpg, ts, vob, wmv, mkv, mov
AiCloud personal cloud service
3G/4G data sharing
Printer Server
– Multifunctional printer support (Windows only)
– LPR protocol support
Download Master
– Support bt, nzb, http, ed2k
– Support encryption, DHT, PEX and magnet link
– Upload and download bandwidth control
– Download scheduling
AiDisk file server
– Samba and FTP server with account management
IPTV support
Roaming Assist
OFDMA
Beamforming
Open NAT, easy port forwarding
WHAT'S IN THE PACKAGE


Let's start with the unboxing first since this is a new product and I want to give you the full experience.
So right here, we have the packaging for the ASUS TUF Gaming AX3000, this is already compatible with the latest WiFi 6 and is compatible with ASUS AiMesh technology and is also protected by ASUS AiProtection.
At this side of the box, we just have some branding,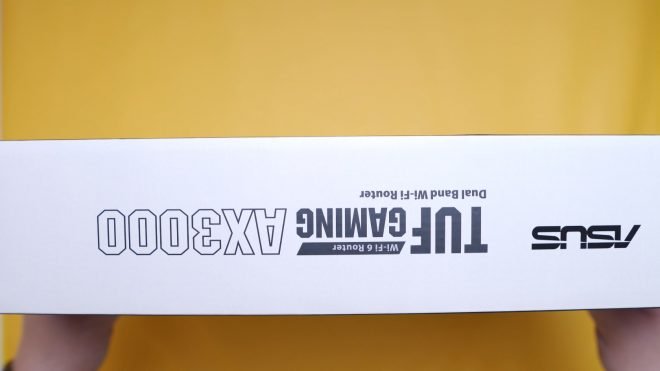 And then on the other side, we have some key features here written in a few different languages and as you can see, it is backed up with a 3-year warranty.
Now, on this side, we have a preview of all of the input and output ports that we'll tackle more in-depth later and then on the other side of the box, 
We have the full specifications of the ASUS TUF Gaming AX3000.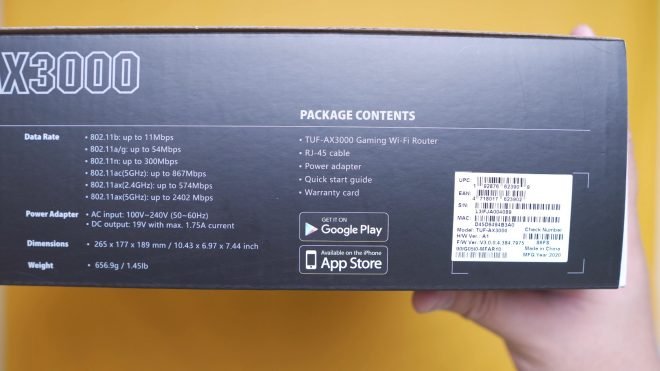 And finally, at the back of the box, we have here the most important features of this router. 
Alright, so the first thing you'll notice inside the box, is the usual ASUS VIP member warranty notice and an advanced wifi helper tip guide.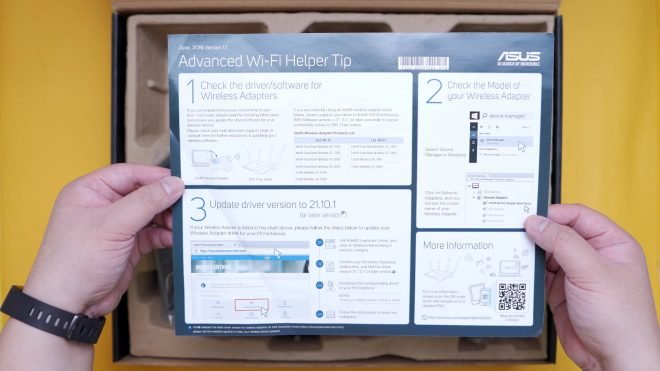 And then after that, we have the ASUS TUF Gaming AX3000 router itself nicely tucked inside.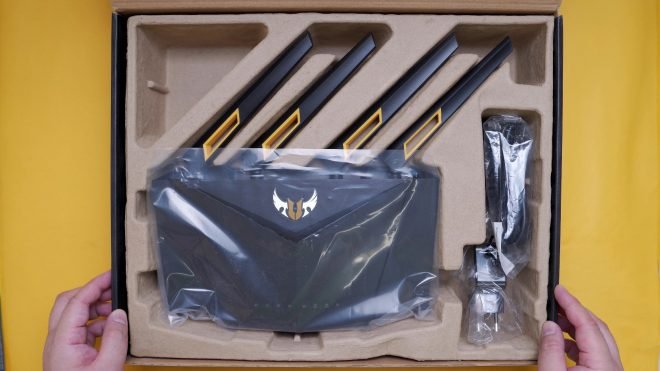 Besides the router, we have the power brick and an Ethernet cable.
Underneath the router, we have the quick start guide which is quite helpful especially for first-time users that are not yet familiar with setting up an aftermarket router. It is written in multiple languages and with proper illustrations as well.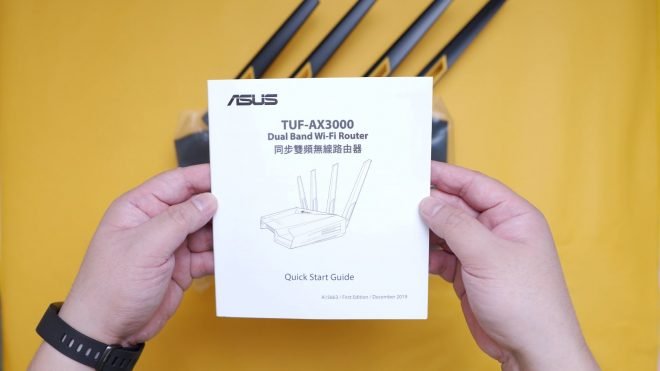 FULL REVIEW
Design, Construction, and Parts Overview


Finally, let's take a quick tour around the ASUS TUF Gaming AX3000. As you can see, the design is geared towards gamers with this aggressive edgy design with polygonal angles and sharp edges.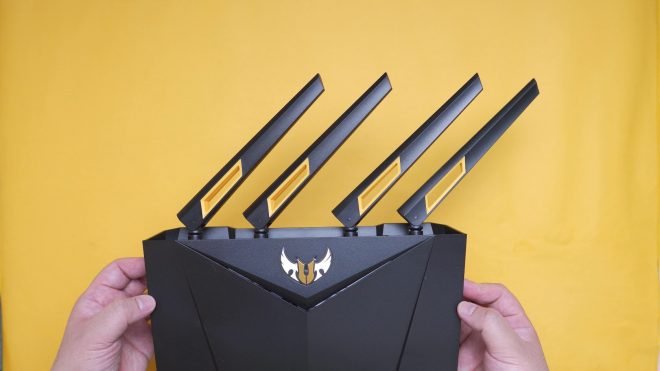 At the center, we have the iconic TUF Alliance logo, 
And then at the bottom center, we have the LED indicators for connectivity and power.
As you can we have 4 adjustable antennae but unfortunately, they are not removable or replaceable. It has a nice yellow cutout that adds a little bit of an accent color and design for its overall aesthetics.
Now, in front, we have this sort of grill type design but I am actually not sure if it does function as an exhaust too.
In any case, we have a substantial amount of exhaust here at the bottom and we also have 4 rubber feet to help make this thing stay in place. You can also mount it on the wall with two screw mounting options.
Overall, like I said, we have a good amount of ventilation here at the bottom and we actually have more on the sides. This is good since this router has 3 processing cores and in most cases, will run 24×7, so it's definitely nice to have an ample amount of ventilation.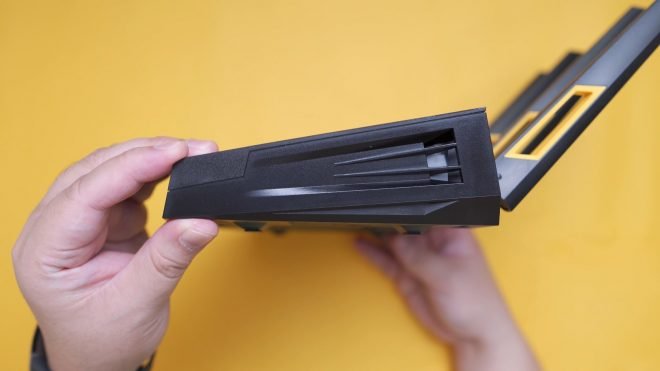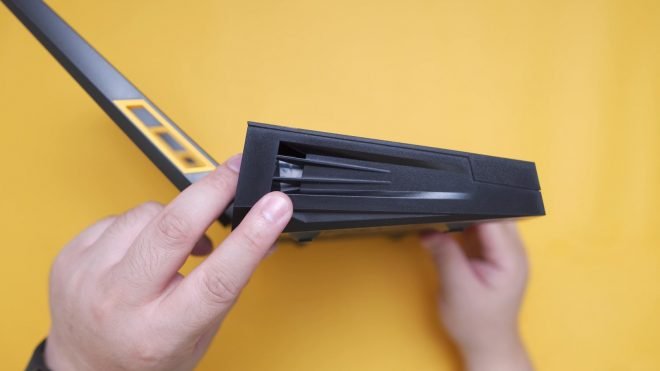 Alright, lastly, at the backside, we have the input and output ports. We have a power port, power button, a USB 3.1 Gen 1 port, 4 LAN ports with a dedicated Gaming port to connect your gaming PC or possibly a console and we also have, of course, a WAN port where you will connect this router to your ISP's default modem-router. And lastly, we have the WPS and reset button.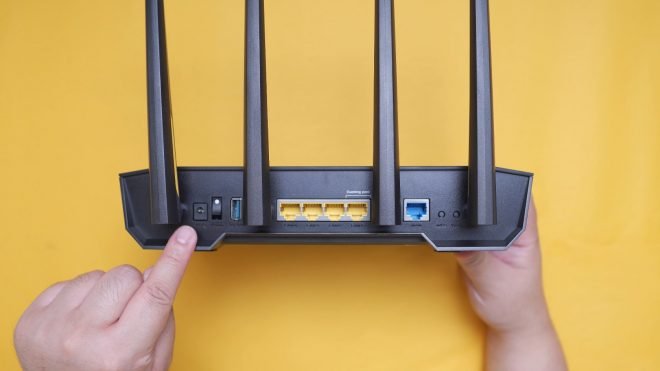 Overall, I like the design of this router and most importantly the ventilation and the substantial amount of input and output ports.
Key features of the ASUS TUF AX3000


Alright, guys, with the quick tour out of the way, let's discuss the key features of the ASUS TUF Gaming AX3000 so that you can have a better idea why would you want to upgrade to something like this from your ISP's default router because I know a lot of you are wondering if there's really a significant difference in terms of performance and features.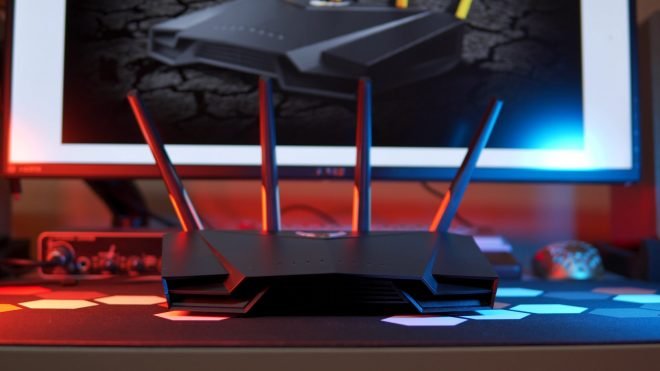 WiFi 6 Compatability


Let's start with the most significant and latest feature of the ASUS TUF Gaming AX3000 which is WiFi 6 compatibility. In a nutshell, WiFi 6 also known as the new Wi-Fi standard 802.11AX, features a higher maximum speed of up to 9.6Gbps. But what's more important with this new standard is the bandwidth and efficiency which essentially will allow routers to provide better speed across multiple devices simultaneously. So this is good especially nowadays that a household can have up to more than 5 users connecting to a router at the same time.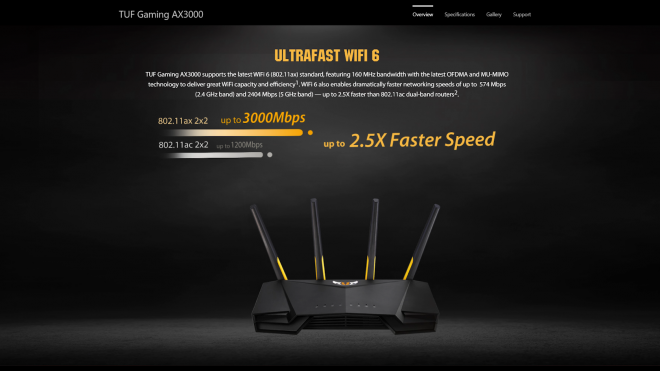 Dual-Band 2.4GHz and 5GHz connectivity


Now, another key feature of this router is the fact that it is dual-band with both 2.4Ghz and 5Ghz frequencies that work at the same time and anyone can connect into. So basically, you can separate your devices and prioritize your gaming or streaming devices such as your PC and mobile phone on the 5Ghz frequency and connect the rest on the 2.4Ghz. This will minimize network congestion and should allow all the devices connected to get their own part of the bandwidth.
OFDMA and MU-MIMO


The ASUS TUF Gaming AX3000 also features OFDMA also known as orthogonal frequency division multiple access and MU-MIMO also known as multi-user, multiple input, multiple output. I know that's quite a mouthful but essentially, what this means is like I said earlier, this will allow multiple users to access the router at the same time without congestion and with the OFDMA, this allows the router to split signals into smaller ones and sends it to individual devices minimizing the time devices has to wait for their turn to get their piece of the bandwidth.
Dedicated Gaming Lan Port


Aside from that, since this is a gaming router, to begin with, it also has a dedicated LAN port wherein you can connect your gaming PC so that it can get the highest priority when it comes to internet connectivity.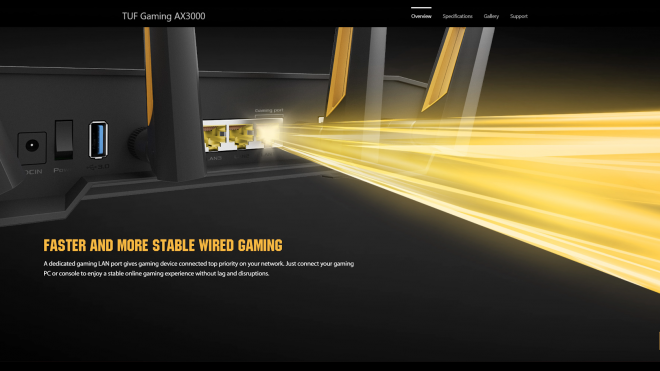 Now, those are only the main factors that you will get from a router at this caliber compared to your ISP's default router, but there are still a ton more different features like the Open NAT, WPA3 network security, which is another next-generation technology by the way, and we also have ASUS AI Protection and of course, this is also compatible with the whole ASUS AI Mesh ecosystem. So basically, you can connect this with other ASUS router to form a Mesh WiFi system improving WiFi reception around your environment.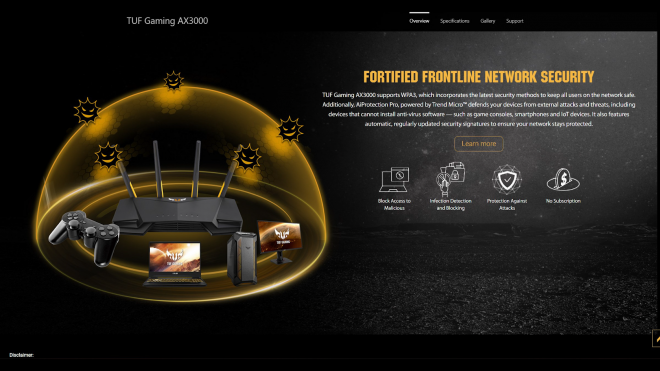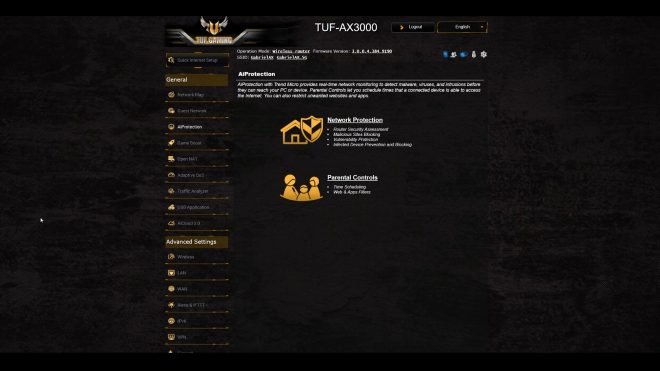 Setting up the ASUS TUF AX3000 is super simple


Now, before we head into our benchmarks, of course, we have that in this review as we always do, setting up the router is quite easy, you just have to connect the ASUS TUF Gaming AX3000 to your ISPs modem-router via the included Ethernet cable, power it up and once you open a browser, the setup page will automatically pop up and all you have to do is follow the instructions, you can do that in both wired and wireless mode and you can also set it up using your smartphone via the ASUS router app.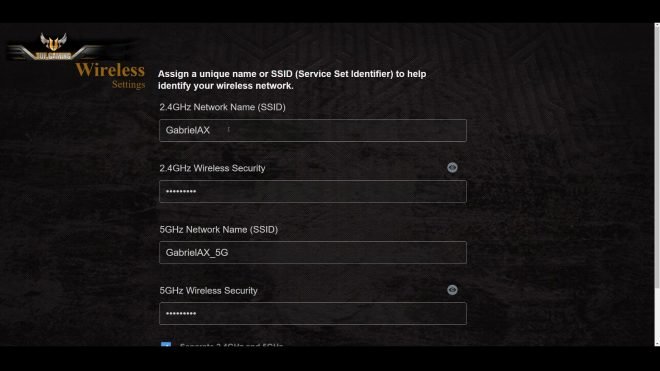 Performance and Wireless Reception Benchmarks


Alright guys, now into our test and full disclaimer, this is by any means not a scientific test but this is basically what anyone will do whenever you set up a new router, which is conducting a speed test around your house.
So first, here's the layout of our house so that you can have a better understanding of our data.
I conducted different speed tests on our workspace where we have all the routers, as well as on our garage, our 2nd-floor room above the garage, and on my sister's room way across the house.
So, first I tested the connection of my PC using a wired connection and as expected, the difference between both the routers here is not too far off from each other since we are connected via a direct-wired connection.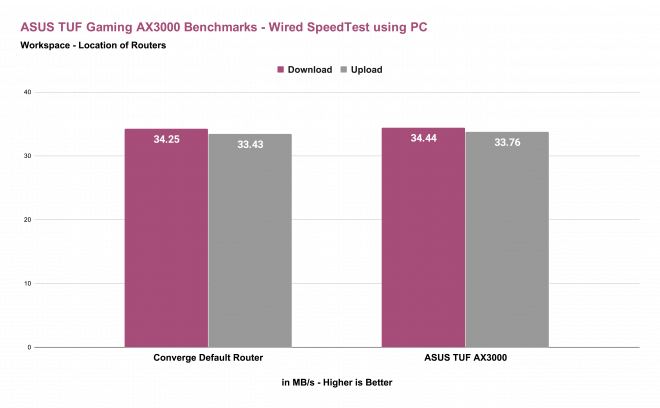 Now, via WiFi, we have a slight difference but still not too significant since both our routers are pretty close to my PC but a difference nonetheless.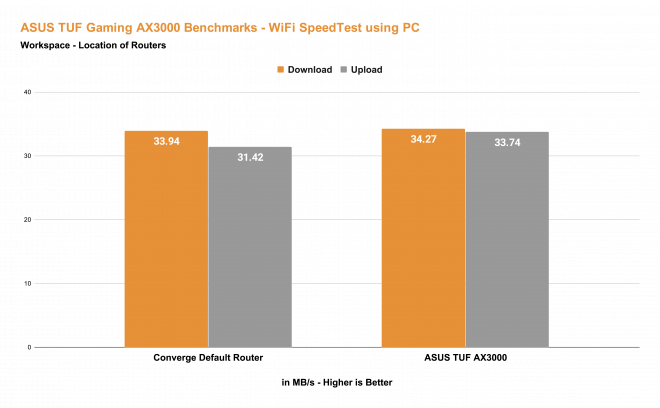 Now moving away to my sister's room across the house, as you can see the difference starts to get noticeable with multiple walls in between the routers.
And moving even further away into our garage, the ASUS TUF Gaming AX3000 was still able to provide a decent reception while the default router of Converge was only able to provide more than below the ideal speed that we should be getting.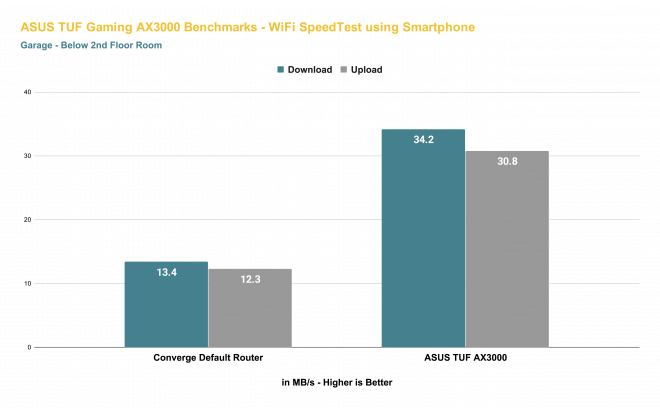 Now, moving upstairs into the entrance of our 2nd-floor room, again the ASUS TUF Gaming AX3000 was still able to provide decent speeds while the default router of Converge still struggles to provide decent reception.
And lastly, for our extreme test, going inside our 2nd-floor room which is the farthest room around our house and almost near the street, the ASUS TUF Gaming AX3000 was still able to provide reception, albeit quite slow compared to our rated 35Mbps connection but as you can see, the default router of Converge was nowhere to be found here. And the ASUS TUF Gaming AX3000 is actually the only router that I've tried so far that was able to reach our 2nd-floor room so that's pretty cool.
VERDICT


To conclude, the ASUS TUF Gaming AX3000 boasts a ton of features that takes advantage of the latest technology available providing consumers with better internet connectivity for multiple users and devices and has a ton of flexibility to manage your bandwidth and control the overall internet management around your house that you otherwise won't have with your ISP's default router. So if you're someone who has a lot of family members accessing the internet at the same time or perhaps has a small business, you might want to consider upgrading your router to a better one like this.
Note: ASUS currently has an ongoing promotion and for the first 50 buyers, you'll have a chance to get Php 1000 worth of Steam Gift Card!
ASUS TUF AX3000 WiFi 6 Gaming Router Review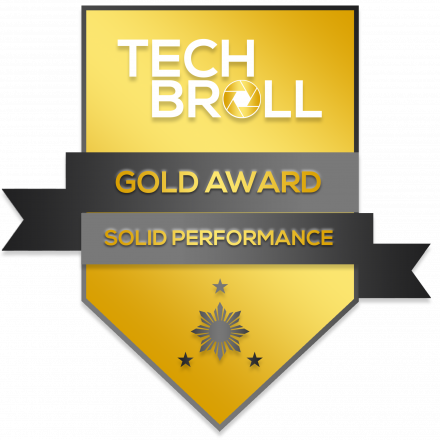 Thanks to ASUS Philippines for making this review possible, You can get this awesome Gaming Router from the button below.
ASUS TUF Gaming AX3000
Php 10,699
Pros
Good WiFi coverage with future proof WiFi 6 compatibility
Dual-band connectivity
Decent design and construction with an ample amount of ventilation
Packs a ton of features
Intuitive control panel