One of the most overlooked aspect of a home office workspace is the quality of the internet coverage across all corners of the space, I know because for the longest time we've been using just the default modem-router of our chosen ISP. While the default device works and should suffice a small space, having a better reception around the house is a must. So today, we're taking a look at a budget mesh WiFi system in the form of the Tenda Nova MW3.
MY EARLY BREAKDOWN

Pros: Affordable, Easy to set up, Intuitive app
Cons: Intermittent disconnection (fixed by firmware update)
SPECIFICATIONS
Standard & Protocol: IEEE802.3, IEEE802.3u
Interface
2 Ethernet ports per mesh node
WAN and LAN on primary mesh node
Both act as LAN ports on additional mesh nodes
Antenna: 2*3dBi internal dual band antennas
Power Input: 100-240V—50/60Hz
Dimension: 90 x 90 x 90mm
Wireless Standards
IEEE 802.11ac/a/n 5GHz
IEEE 802.11b/g/n 2.4GHz
Wireless Frequency
2.4G: 2400MHz-2483MHz
5G: 5150MHz-5250MHz or 5725MHz-5825MHz
Data Rate
5GHz: Up to 867Mbps
2.4GHz: Up to 300Mbps
Frequency: Simultaneous dual band 2.4GHz & 5GHz
Basic Features
SSID Broadcast
Beamforming
Wireless Security: Mixed WPA/WPA2-PSK(default)
Wireless roaming: Comply with IEEE802.11v/r
Internet Connection Type: PPPoE, Dynamic IP, Static IP, Bridge Mode
DHCP Server
DHCP Server
DHCP Client List
Virtual Server
Port Forwarding
UPnP
Firewall
Forbid UDP flood attack
Forbid TCP flood attack
Forbid ICMP flood attack
DNS: Support manually setting DNS server
VPN
IPsec pass through
PPTP pass through
L2TP pass through
Other
Parental Control
Guest Network 
Firmware upgrade online
Reset to factory settings
Setup Requirements: A mobile device running Android 4.0+ or iOS 8+
Temperature
Operating Temperature: 0℃ ~ 40℃
Storage Temperature: -40℃ ~ 70℃.
Humidity
Operating Humidity:10% ~ 90% RH non-condensing
Storage Humidity: 5% ~ 90%RH non-condensing.
Certification: FCC, CE, RoHS, EAC, IC
WHAT'S IN THE PACKAGE

(3-pack) 3 identical mesh nodes
3 power adapters
Quick install guide
1 ethernet cable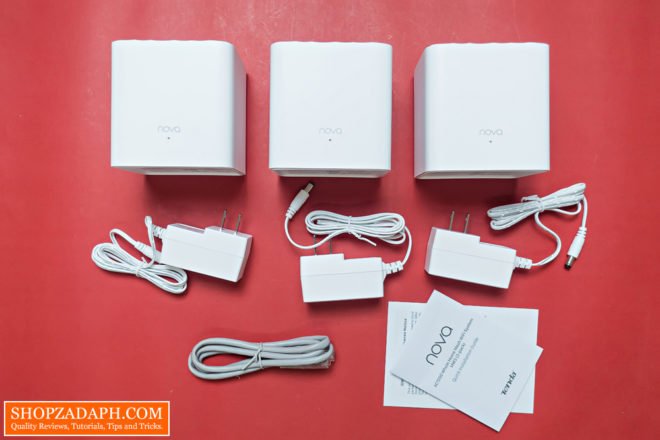 FULL REVIEW
Design and Construction

In terms of design and construction, it has this embossed pattern on top and then the whole device is just plain white and made of plastic.
In front, we have a Nova branding and a small LED indicator for power and status.
At the back, we have a small reset pinhole, 2 ethernet jack with the first one being a WAN/LAN combo and a power port.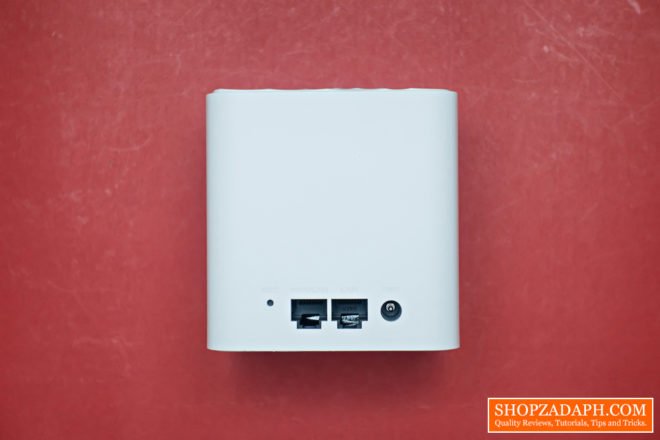 At the bottom, we have some technical information about the device, a QR code and the WiFi SSID and Password.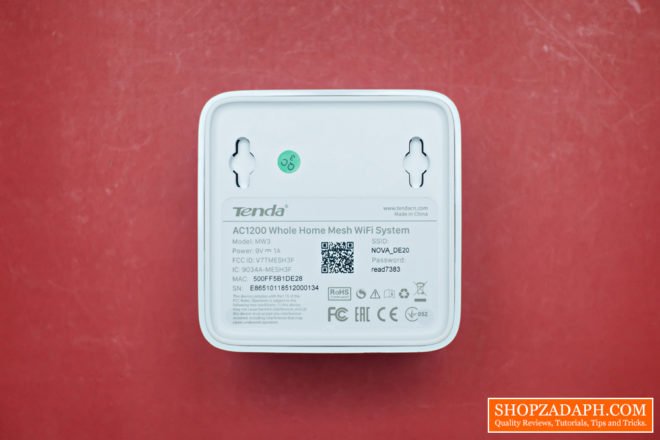 Setup Process

The setup process is super easy by doing the following:
Download the Tenda App from Google Play Store or Apple App Store
Power up the main node (any of the three) and connect it to your main router via the included ethernet cable on the WAN port.
Open the app and follow the instructions, it should be pretty straight forward
Once the main node is connected to your home internet, all you have to do is place the other two nodes around your house, power it up and they should automatically connect to the primary mode and act as a complete whole mesh WiFi system.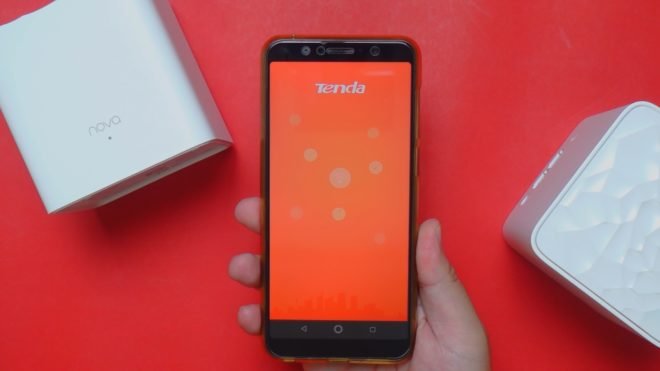 Performance

Our internet connection is provided by Converge FiberX with Plan 1500 or 25 MB/s Download and Upload speed.
For our specific setup, we placed the primary node on our main workspace area directly connected to Converge's modem-router, another one on my sister's room and the last one on our second floor. But it turned out that I had to move the 3rd and last node outside our second floor room because It is too far away from the main node much like what we've experienced with our old Tp Link repeater as you can see on the image below, it is also placed outside as our second floor room is too far away from the main Converge modem-router.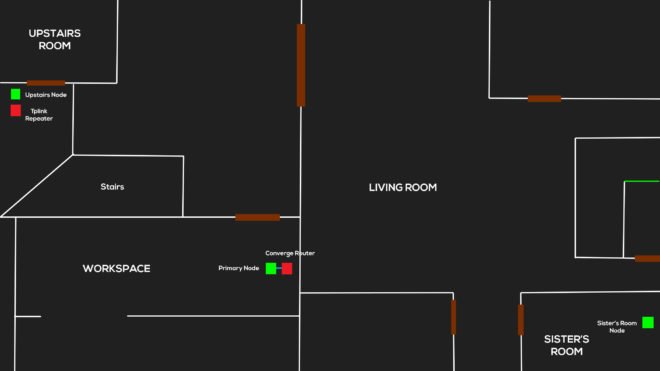 Speed Test Results

Below are the speed test results comparing the WiFi coverage between using just the main router from Converge and connecting to the Tenda Nova MW3 Mesh WiFi System.
Workspace (Node1)
Connected to main Converge Router: 23.7 MB/s Download, 25.8 MB/s Upload
Connected to Tenda Nova MW3 Node 2: 24.3 MB/s Download, 25.2 MB/s Upload
As expected, since the Node1 is directly connected to our Converge modem-router, we're getting results that are around our subscription speed of 25 MB/s Download and Upload.
Sister's Room (Node2)
Connected to main Converge Router: 21.5 MB/s Download, 16.8 MB/s Upload
Connected to Tenda Nova MW3 Node 2: 24.3 MB/s Download, 25.2 MB/s Upload
As you can see on the results above, since the reception is extended from our workspace to my sister's room, we got an almost identical download and upload speed close to our 25 MB/s subscription from Converge.
For an added bonus, here's a screenshot of the WiFi strength inside my sister's room. The Node1 is actually the second Node that's part of the Mesh WiFi system. Apparently, all the nodes will use the same SSD which I temporarily set to "Node1". As you can see, the WiFi strength is 100% while the "Gabriel" which is the SSID for the Converge modem-router is only around 50%. The "Gabriel UP" SSID is for the Tp Link repeater that is located at our second floor.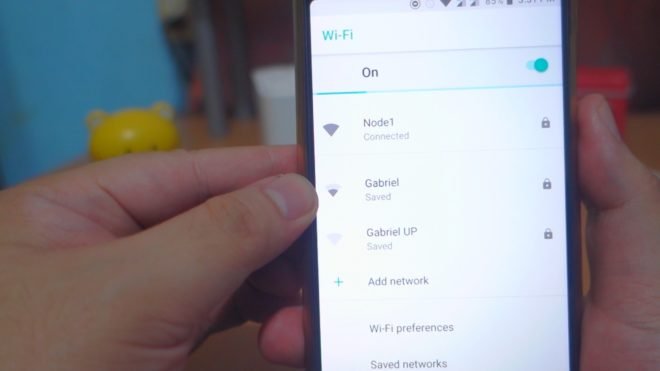 Upstairs Node (Node3)
Connected to Tp Link repeater that repeats the WiFi signal of Converge modem-router to the second floor: 14.9 MB/s Download, 8.09 MB/s Upload
Connected to Tenda Nova MW3 Node 3: 24.4 MB/s Download, 22.3 MB/s Upload
As you can see, upgrading to the Tenda Nova MW3 Mesh WiFi system yields better results compared to our Tp Link repeater upstairs. The improvement is actually very significant that that alone, justifies buying this mesh wifi system for our house, not to mention the overall benefit of getting the most out of our internet subscription from Converge anywhere we go.
WiFi Analyzer Test Results

Here's a quick screenshot of the wifi analyzer just to give you an idea about the coverage of the Tenda MW3 Mesh WiFi system here on our house. I think the placement of the nodes are not yet optimized and I might place them a little closer together for better reception, but here's what we're working with so far.


Intermittent Disconnection Issue

By the way, if you encounter disconnections with this specific model, as per Tenda, all you have to do is update the firmware.
We're still getting some random disconnections upstairs but I think it's really just about optimizing the placement of the nodes because I think it is too far away from the main access point. The other two nodes on the other hand, works without any issue. We're now getting the whole 25 MB/s speed anywhere around the house which is pretty awesome. 
Tenda Application

The Tenda app which you can download from Google Play Store or Apple Store is quite intuitive from the initial setup up to further customization with settings like setting up guest network, parental control and quality of service. You can also opt to enable fast roaming feature which allows one nova to hand over clients quickly to another which should lead to uninterrupted connection in between nodes. We also have useful features like port forwarding, DHCP server and DNS settings. 
VERDICT

To conclude, getting a mesh WiFi system like the Tenda Nova MW3 proved to be a good idea. It is helping us get what we're paying for from Converge. We're now getting the full or at least close to 25 MB/s download and upload speed. This is great for us especially for mobile gaming and media consumption upstairs, unlike before that we're only getting around 14.9 MB/s download and 8.09 MB/s upload speed, this time we can play games and stream media contents without any issue. With that said, I hope this can give you an idea on how a mesh wifi system like this could improve the overall WiFi reception that should lead to an overall better experience for productivity, gaming and media consumption.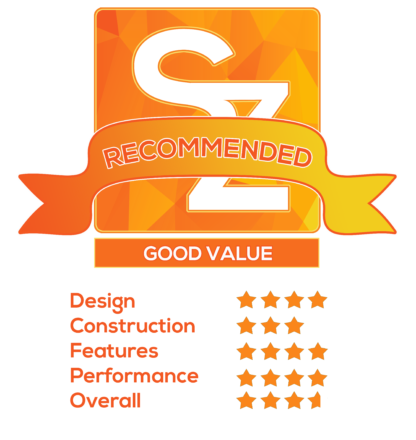 Related Article:
Tenda Nova MW3 Mesh WiFi System Review and Setup Guide
Thanks to 
Tenda Philippines
for making this review possible, you can get this mesh WiFi system from the link below.
If you like this one, please consider subscribing to my channel by hitting the button below. Have a great day!

WHERE TO BUY:

LAZADA: Tenda Nova MW3 Mesh WiFi System (3-Pack)
Price may vary depending on existing promos
The views and opinions on this review are solely based on my own personal experience, your results may vary
SHARE THIS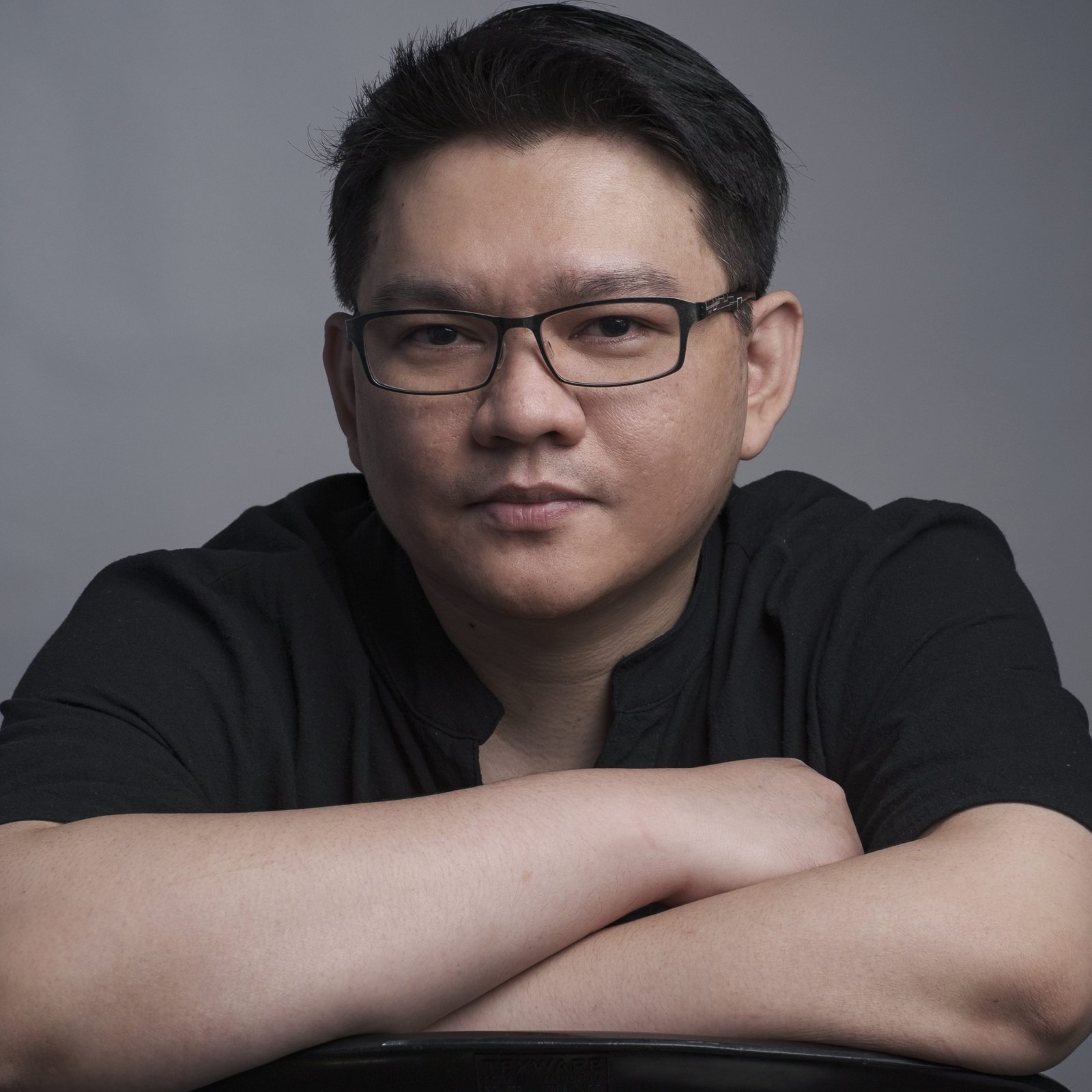 The Broll who always got your back online!