The True Wireless Earbuds hype is real as we see an increasing amount of such devices out in the market for the past few years ranging from the budget ones up to extremely expensive ones with different designs, features and of course, sound quality. And often than not, these true wireless earbuds suffers a bit when it comes to latency specially those who are at the lower end of the spectrum. With that said, interestingly enough, what we have here today boasts a low latency mode and a few more features up its sleeve in a relatively affordable price given everything it has to offer. 
Today, I'm going to give you guys my full review of the new realme Buds Air. An unmistakably Apple airpods look a like true wireless earbuds with good sound quality, decent battery life, convenient pairing and connectivity and the most sought after low latency mode. With that being said, let's get into the review.
MY EARLY BREAKDOWN


Pros: Good sound quality, Comfortable, Easy pairing and reconnection, Low-latency mode, Decent battery life with dual charging options and Touch controls 
Cons: Glossy and easy to scratch, Easy to get off ear, No touch control for the volume
SPECIFICATIONS


Chip: R1 Headphone Chip
Controls: Support Touch Controls
– Double-tap: Answer a call; play/pause music playback.
– Triple-tap: Skip to next song.
– Press and hold one side: Launch voice assistant; end/decline a call;
– Press and hold both sides: Enter/exit Gaming Mode.
Calling:
– Dual Mic
– ENC (Environment Noise Cancellation Technology)
Connectivity:
– Bluetooth 5.0
– GFP (Google Fast Pair Technology)
– 10 meters Effective Range
Size & Weight:
Size of realme Buds Air shell:
– Height: 51.3 mm
– Width: 45.3 mm
– Depth: 25.3 mm
– Weight: 42.3 g
Type:
– Half-in Ear
– Weight: 4.2 g
Charging Case:
– Support Qi Wireless Charging
– Support Type-C Charging
Battery: Up to 17 Hours Playback
Sensors: Optical Sensor for Wear Detection
WHAT'S IN THE PACKAGE


The packaging of the realme Buds Air is pretty straightforward with just the image of the buds in front and the model name "Buds Air".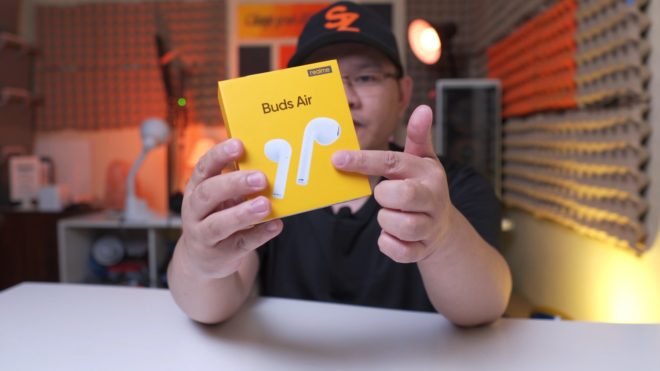 At the back of the box, we have a preview of the charging case and some of the key features.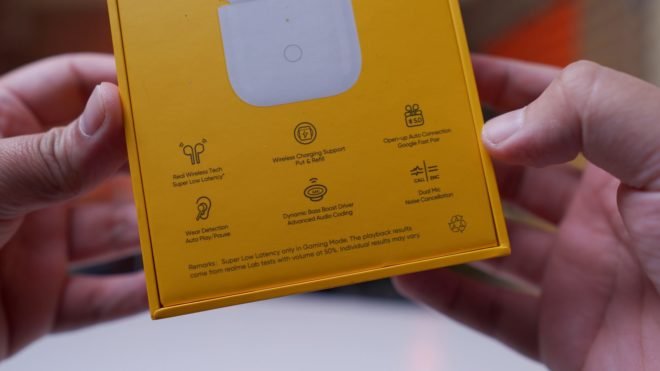 Inside the box, we have the realme Buds Air itself inside the white and glossy charging case.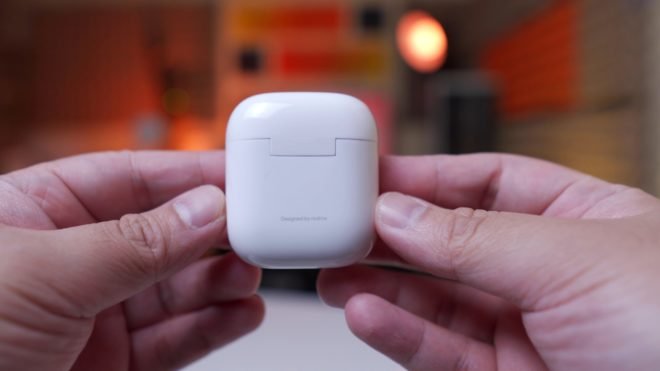 We also have a rather short USB Type C charging cable,
And a very concise user manual.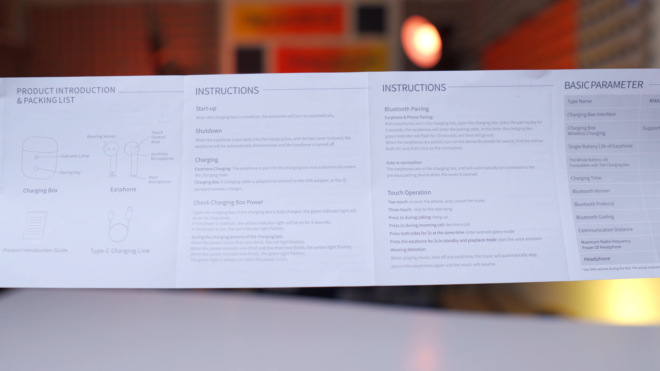 FULL REVIEW
Design, Construction and Parts Overview


The design of the case unmistakably resembles the Apple airpods with a combination of square shape and rounded edges.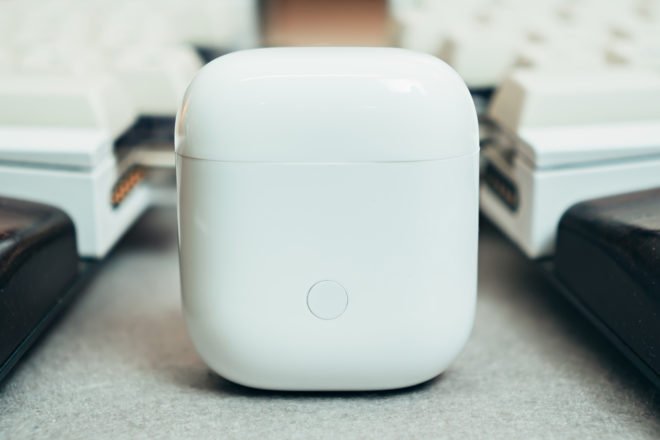 In front we have the pairing key and an LED indicator above that.
At the back of the case we have a text that says "Designed by realme".
Opening the case, you'll be greeted by the earbuds themselves and removing them, you'll see the cavity as well as the prongs inside it for charging.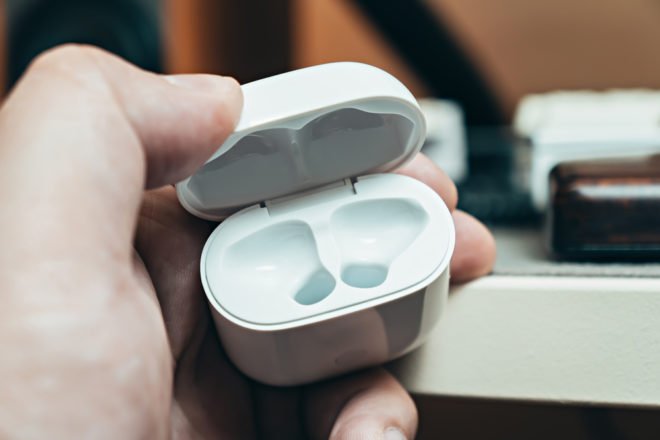 Now, let's take a tour around the earbuds itself.
At the back side of the earbud, we have the proximity sensor that is responsible for the feature that will auto pause your music playback when you remove the earbuds away from your ears.
At the front side, we have a hole for the auxiliary microphone responsible for the ENC or Environmental Noise Cancellation feature. We also have here the touch control area and below the earbuds, we can also see a chrome lining that goes all around.
Underneath the earbud, we have another hole but I am not sure exactly what it is for. 
All the way at the bottom, we have the two connectors for charging and a hole for the main microphone.
And lastly, of course, we have the main hole for the driver.
Features


Super Low-Latency and connection stability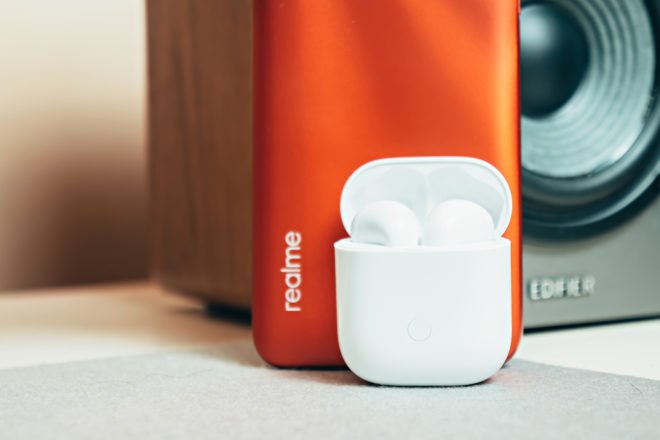 The realme Buds air feature the "R1" chip that partnered with the latest Bluetooth 5.0 protocol provides a stable connection, better power efficiency and smart controls. 
As per my testing, even on default mode, the latency is not even bad, but when enabling the low-latency mode also known as "game mode", the latency gets better especially when watching videos, listening to music and of course, gaming. It's worth noting that once you enter "game mode" by touching both earbuds for 2 seconds at the same time, you will hear a car engine starting up and when you exit via the same process, you will hear some piano tune which I think is pretty cool.
As for the stability of the connection, during the entire time I was testing these earbuds, I didn't encounter a single drop in connection even if I move around the house with walls in between.
Wear Detection
Like I said earlier, the realme Buds air has proximity sensors that is responsible for detecting whether you're wearing the earbuds or not. Essentially, it will automatically play or pause your music whenever you remove or place an earbud back on your ear. You can still use a single earbud for music listening but you'll have to manually play the music from your device after removing the other earbud.
Dynamic Bass Boost Driver
The realme Buds air features dynamic bass boost driver and as per my testing, it certainly packs a decent amount of low-end while retaining clarity for the mids and highs. There's enough kick to it that I personally appreciate and to be honest, I wasn't really expecting.
Open-up Auto Connection
One cool feature of the realme Buds air is the open-up auto connection feature, essentially, once you open the charging case and press the pairing key for 3 seconds, the earbuds will automatically go to pairing mode without even removing them from the case like other True Wireless Earbuds that I've tried requires. Once paired, everytime you open the case, it will automatically reconnect to your device and the process is actually very seamless. In my opinion, this is one of the reasons why you should consider the realme Buds air as this feature is quite vital especially if you're always on-the-go, you don't want to be waiting for reconnection while you move around and about, you can just focus on the task at hand and listen to your favorite tunes.
Charging / Wireless Charging / Battery Life
The charging case of the realme Buds air also supports wireless charging which is nice, but unfortunately, I don't have a wireless charger so I wasn't able to test that. Fortunately, you can also charge it the regular way via a USB Type C cable. Speaking of charging, the realme Buds air earbuds themselves can last up to 3 hours of music playback and with the charging case, it should provide you up to 17 hours which is quite substantial for a few days without having to charge from the wall. As per my own testing, the earbuds was able to last up to 2 hours and 52 minutes at around 80% volume.
Dual Mic for Calling
Like I said on the parts overview, the realme Buds air features dual mic for the ENC or Environmental Noise Cancellation. This feature basically detects the background noise by using the two microphones and then filter them out to provide you with a more clearer audio for communication. As per my testing, it actually does a good job, we tested it with me being close to a loud electric fan and my PC with fans at maximum speed, and as per my wife whose on the other line, she did not hear anything aside from my voice, so yeah, the noise cancellation on this earbuds certainly works.
Touch Controls
The realme Buds air supports touch controls and for the most part, it is intuitive. However, it lacks one crucial control and that is the volume control. Unfortunately, we're left with controlling the volume from our source devices. With that being said, here are all the touch controls:

– Double Press: Answer a call; play/pause music playback
– Triple Press: Skip to next song
– Long press on one side: Launch voice assistant; end/decline a call
– Long press on both sides: Enter/exit Gaming Mode
Lastly, before we end this review, let's discuss about the sound quality.
Sound Quality


The sound quality of the realme Buds air right off the bat is really good, I'd describe the sound signature more on the warmer side overall but with sharp highs on high volume. Low-end is quite substantial with enough pump to it that I wasn't really expecting to be honest while maintaining clarity on the mids. The highs for the most part are well controlled except on higher volumes around 90-100% when it starts to get a little too sharp and unpleasant. Vocals are really crisp and stereo imaging is very good as well. Overall, I don't have much complaints about the sound quality of the realme Buds Air except again, when cranked up to 100. 


VERDICT


To conclude, the realme Buds Air is certainly worth checking out and that's about it! No, seriously, the realme Buds Air has a ton of features that ultimately comes together to provide you with convenience for a more seamless music listening and overall media consumption. The pairing process and reconnection is the quickest I've experienced yet on a true wireless earbud and the proximity sensor certainly helps with getting back with your environment or for simply pausing your music. The dual-charging option is also a nice touch and with 17 hours of music playback time, it should last you a few days without having to charge by the wall. The super low latency mode also works properly as well as the environmental noise cancellation feature. Sound quality is also superb with substantial bass and clear mids and highs but it's definitely not perfect, I don't like the fact that it doesn't have touch control for the volume and that the finish of both the charging case and the earbuds themselves is glossy and easy to scratch, not to mention the earbuds are quite easy to get off as well. Design and form factor wise however is of course, subject to personal preference.
Thanks to
realme Philippines
for making this review possible, you can get this wireless earbuds from the link below.
If you like this one, please consider subscribing to my channel by hitting the button below. Have a great day!

SHARE THIS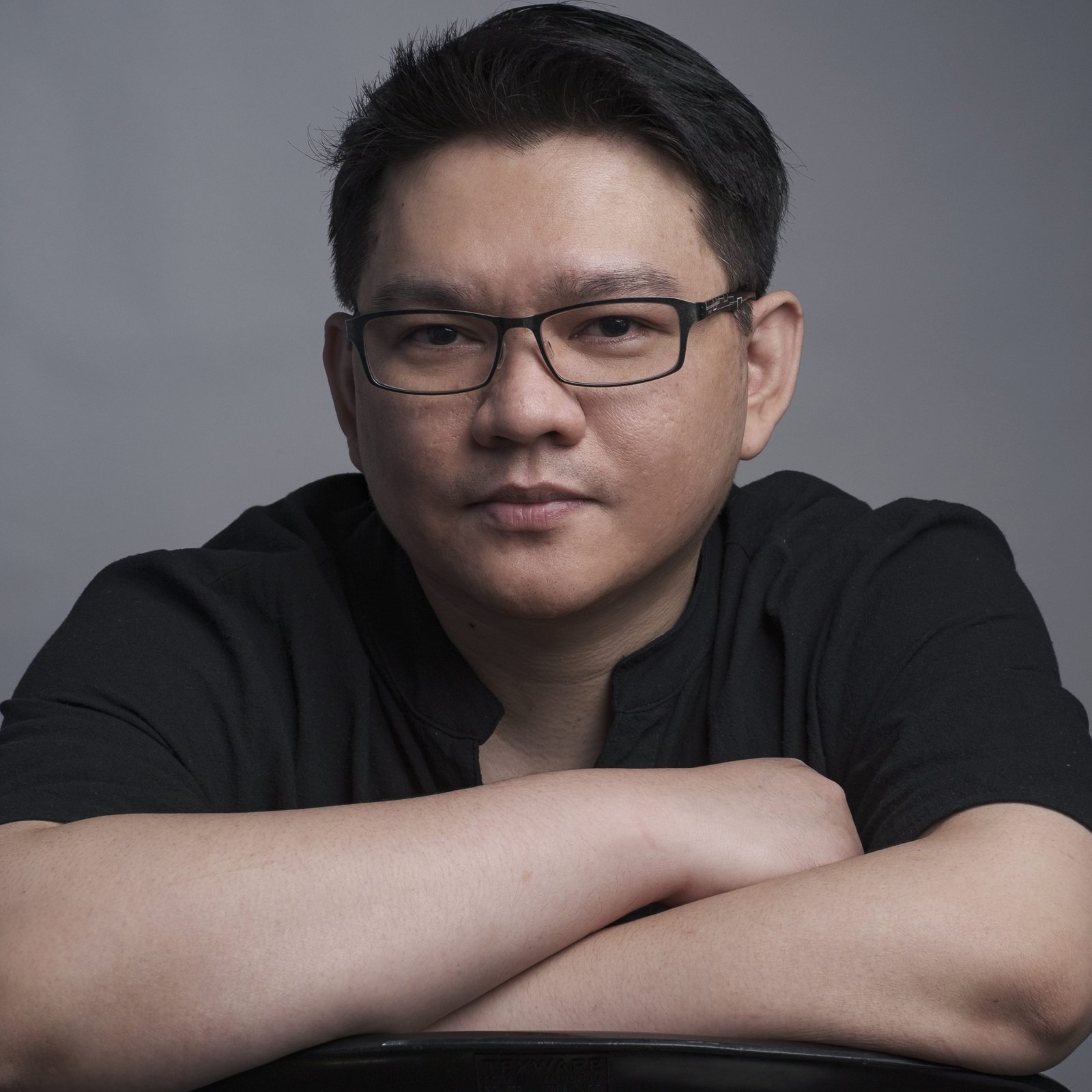 The Broll who always got your back online!