It was just last month when we took a look at the realme C11 and I felt like that was a perfect smartphone for online learning with capable specs and a massive battery. But realme decided to step it up a notch by releasing yet another budget smartphone with substantial specs and an even bigger battery with a whopping 6000mAh of juice under the hood. We're talking about the NEW realme C15, another option for online learning, media consumption, and overall aid for your digital lifestyle without necessarily have to break the bank. 
In this review, we'll talk about everything you need to know about this smartphone from the unboxing experience, design, and construction, specifications, camera test down to the benchmarks and performance. With that being said, let's get into it!
MY EARLY BREAKDOWN


Pros: Massive 6000mAh of battery, Good design, and construction, Decent performance, Decent camera quality
Cons: micro USB port
SPECIFICATIONS


Color
Marine Blue
Seagull Silver
Display
Size: 6.5 inches
Screen Ratio: 88.7%
Resolution: HD+ 720*1600
Size & Weight
164.4mm*75.9mm*9.8mm
209g
Battery
6000mAh
Storage
RAM: 3GB/4GB LPDDR4x
ROM: 64GB
Camera

Primary
13MP
PDAF
f/2.2 Aperture
HDR
Chroma Boost
Slo-mo
5P Lens
Ultra-wide Angle
8MP
f/2.25
FOV 119°
B&W Lens
2MP
f/2.4 Aperture
Retro Lens
2MP
f/2.4 Aperture
Video
720p / 1080p, 30fps
AI Front Camera
8MP
5P Lens
AI Beauty
HDR
Panoramic View
Timelapse
Processor
MediaTek Helio G35
12nm Production Process
2.3Ghz
Storage expandable up to 256GB
Connectivity
SIM Card Type: Dual nano-sim cards
microSD Expansion/Triple Slot
VoLTE
Wireless
Supports 2.4G Wi-Fi
Supports Bluetooth 5.0
Sensors
GPS/Beido/Glonass
Magnetic Induction Sensor
Light Sensor
Proximity Sensor
Accelerometer Sensor
Fingerprint
OTG
System
realme UI based on Android 10
WHAT'S IN THE PACKAGE


realme C15
9V2A Adapter*1
Micro USB Cable*1
Important Info Booklet with Warranty Card*1
Quick Guide*1
SIM Card Tool*1
Screen Protection Film*1
In terms of the packaging, what we have here is the limited edition variant with a design courtesy of the doodle box challenge winner and realme community member, Vince Ricohermoso.
Only 1,000 realme C15 (3+64) doodle boxes will be available on Lazada starting August 20.
This is quite awesome and makes the packaging more interesting and is certainly a breath of fresh air compared to the usual plain yellow box packaging.
The doodle design spans across all sides of the box.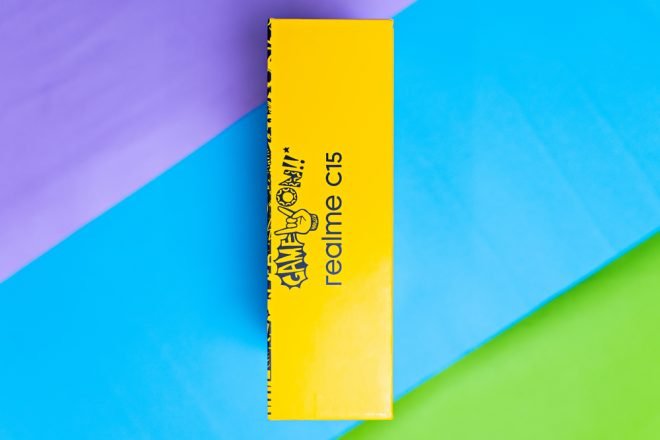 This is actually a limited edition Philippines-exclusive doodle box.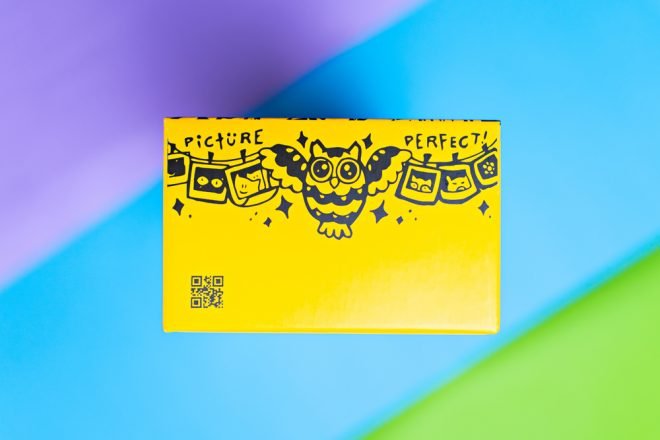 At the back of the box, we have the key features, exact model name, variants, capacity, and other technical details.
So what we have here is the Marine blue variant with 3GB of RAM and 64GB of ROM, pretty substantial for its target market.
Upon opening the slide up type design box, we're greeted by the usual accessory box.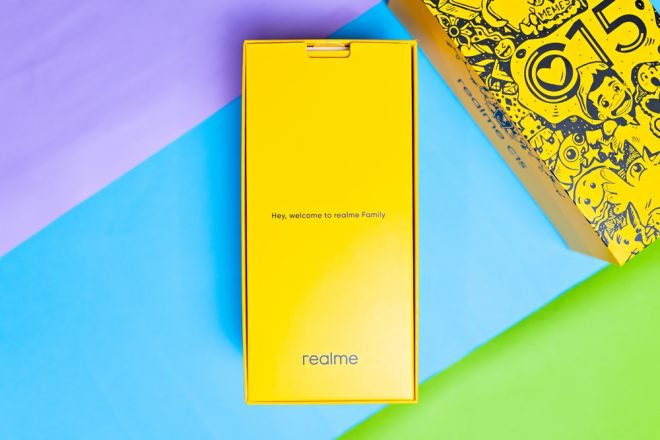 Inside the accessory box, we have a "realme PH community" note with a personal message welcoming you to the community.
The note says

"From the moment you opened your new realme smartphone, you are now part of a fun and informative community who is here for your digital needs.
As part of staying true to our commitment, being a brand for the young who really listens to our community, we proudly present this limited edition C15 custom-designed box made by our own community member, Vince Ricohermoso.
From a simple community-led doodle challenge to producing it as actual package design, this is just a first step for us to transform this community into a co-creating space where we can share ideas and grow realme into a brand that's really with the young and for the young. We hope to have more fans to be part of our future projects.
Thank you, Stay awesome squad!"
We also have inside the accessory box, the two usual paperwork.
And the sim ejector pin.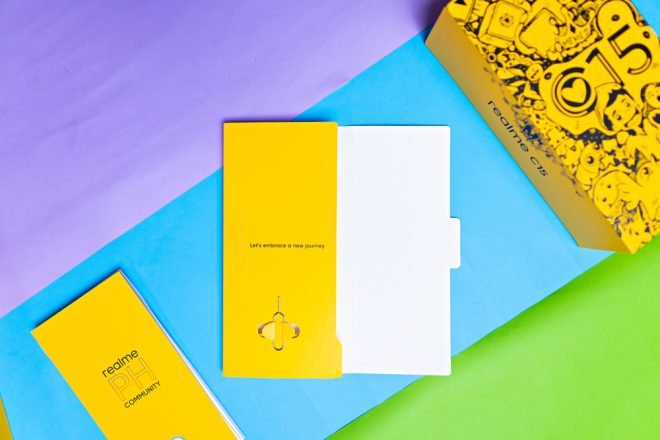 After the accessory box, we have the realme C15 smartphone itself but let's just place it aside as we take a look at the other package contents.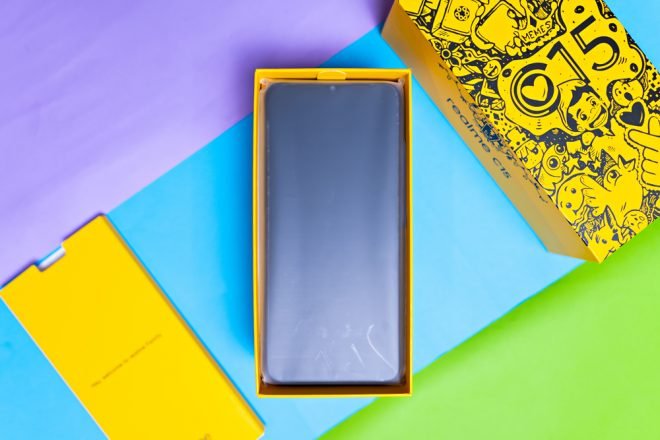 Underneath it, we have the charging cable which, unfortunately, is still micro USB. We also have the 18W power brick.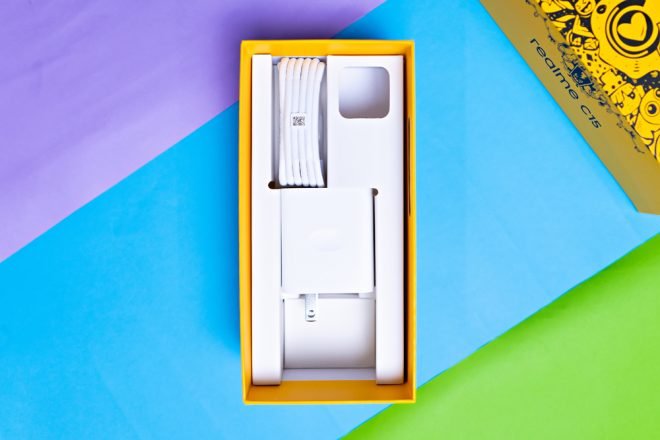 FULL REVIEW
Design, Construction, and Parts Overview


In terms of design and construction, the realme C15 features a front glass with a plastic back that has this nice textured design, we'll talk more about the back design later but overall, the design and construction is pretty decent.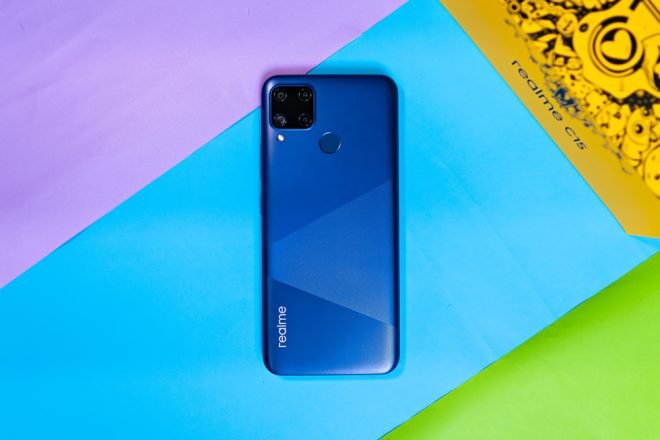 In front, we have the 6.5″ display with an HD+ 720×1600 resolution, 270 ppi and with a screen to body ratio of around 88.7%, the bezels around the phone is relatively decent, not so thin but not the thickest either. The front glass is also protected by corning gorilla glass and can reach a brightness level of up to 420nits.
We also have here in front, the mini-drop design to make way for the 8MP selfie camera and we also have the speaker grill nicely hidden above it.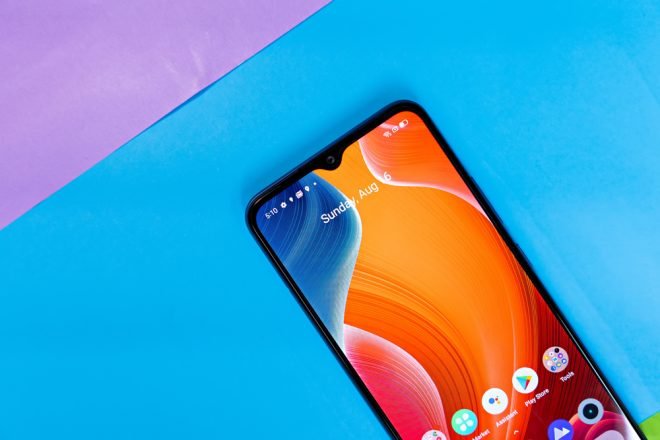 Flipping the realme C15 on its left side, we have the Simcard tray that supports Dual nano-sim cards and a microSD card slot that supports up to 256GB of storage.
Flipping it on the other side, we have the volume rocker and the power button nicely placed together on one side which I usually prefer.
Turning it on the top side, we don't have anything here.
And turning it all over at the bottom side, we have all our input and output ports. So we have a 3.5mm headphone jack, a microphone, a rather dated micro USB port, and a single downward-firing speaker.
And finally, at the back, we have the nice textured design that realme calls "Geometric Gradient Design" and honestly, I think it looks pretty cool. The texture is actually pretty standard across all "C series" smartphones from realme with this sort of fingerprint-resistant texture that I really like.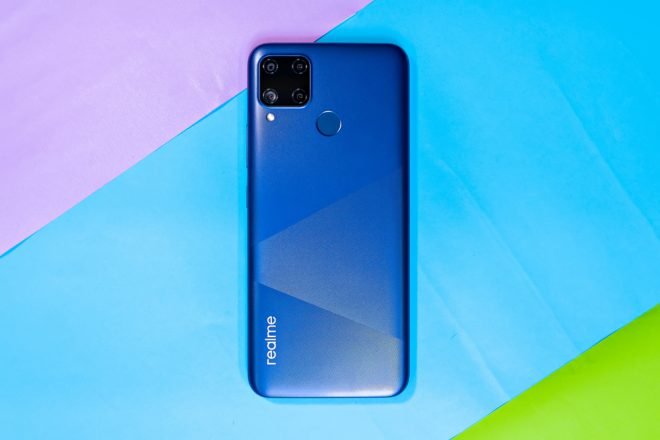 I feel like this design is moving towards a good direction amidst the vast availability of fingerprint magnet, shiny, and glossy glass finish smartphones out in the market that we block anyways with cases, at least that what I usually do.
We also have here at the back the quad-camera setup with this modern and trendy square type of design. Here we have the 13MP main camera, an 8MP Ultrawide lens, a 2MP Black and White lens, and a 2MP retro lens. 
What's good the realme C15 is that even on a budget, we have a fingerprint sensor.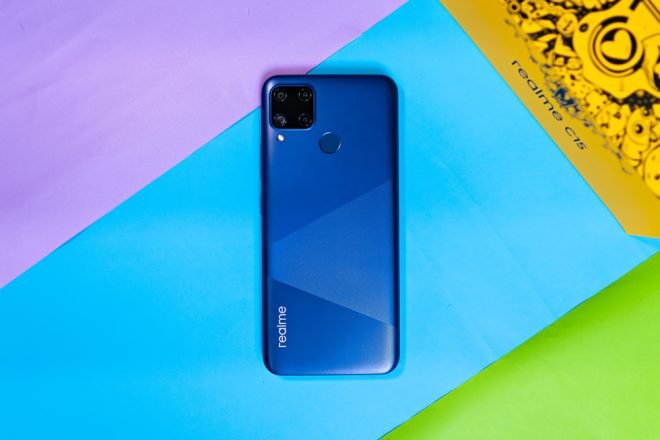 Overall, in terms of design, construction, and external features, the realme C15 does not disappoint.
Moving on towards the software side of things, let's talk about the user interface.
User Interface


The realme C15 like any other newly released smartphones from realme features the realme UI based on Android 10. This is still version 1.0 though and I'd love to see realme make some interesting and useful updates to their user interface real soon.
As for the realme UI, well, like I always say, it is one of the lightest skin I've tried on Android and I personally like it. It is relatively lightweight with only a few pre-installed apps and even on not so powerful hardware, it can run pretty smoothly. As for my experience with it on the realme C15, it is quite smooth, snappy, and responsive and I didn't encounter any major hiccups. 3GB or 4GB of RAM (depending on the variant) may not be enough in today's standard and app requirements but as long as you don't open too many apps at the same time or allow applications running on the background, you should be fine.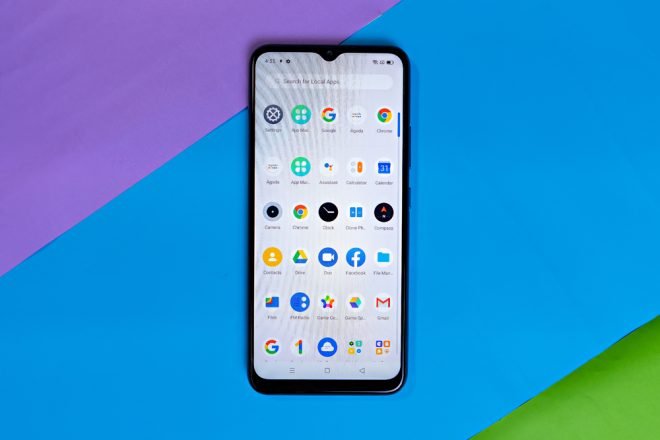 Specifications rundown


Now, let's take a deeper look at the hardware inside the hood. 
In terms of hardware specifications, the realme C15 features a MediaTek Helio G35 processor with a PowerVR GE8320 GPU. It also has, at least for the variant we have here, 3GB of RAM and 64GB of ROM. But a 4GB RAM, 64GB of ROM will also be available here in the Philippines. These specifications, in my opinion, are good enough for online learning, casual media consumption, and lightweight gaming. But do you know what I really like about the "C series" lineup from realme? the battery. All of realme's C series smartphones features at least a 5000mAh battery but like I said earlier, they stepped it up a notch with the 6000mAh of battery here with the realme C15. Later I will show you how that stacks up against the entire C series and even 6 series lineup with our battery testing.
Display and Sound Quality


Speaking of casual media consumption, let's talk about the display and sound quality of the realme C15.
Online learning should be taken seriously but it doesn't mean it shouldn't be fun as well and having a decent display and sound quality for your tool is quite important.
In terms of the display, the realme C15 features a 6.5″ display with an HD+ 720×1600 resolution and with a quite low 270 PPI, pixel density is not the best, but although there are noticeable pixelation and artifacts, like the realme C11, it is still pretty adequate for casual media consumption and gaming. With an IPS panel, viewing angles and color reproduction is also fairly decent.
As for the single-firing speaker, it is also good with enough low-end, clear mids and highs, and overall decent sound quality. It just lacks the ability to get loud and with that, distortion is pretty much non-existent since the volume level is just enough to fill a small room. Overall, it is usable for both music listening and gaming and if you need to amp up your audio experience, you still have the 3.5mm headphone jack as an option for your favorite headphones, IEMs, and what have you.
Alright, moving on to our performance testings, let's start with some synthetic benchmarks.
Antutu Benchmark


The realme C15 featuring a MediaTek Helio G35 Processor, a PowerVR GE8320 GPU with 3GB of RAM which is pretty much identical to what the realme C11 has, it still scored a tad higher as you can see on the charts below. Their significant difference is in memory score. And although these scores are far from what the 6 series lineup can offer, it is still pretty decent for the target market it is intended for.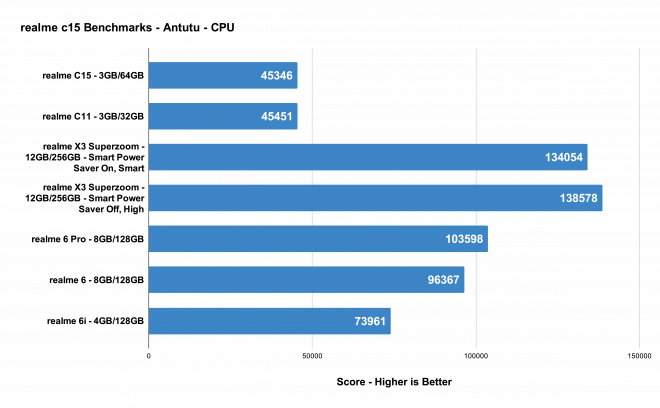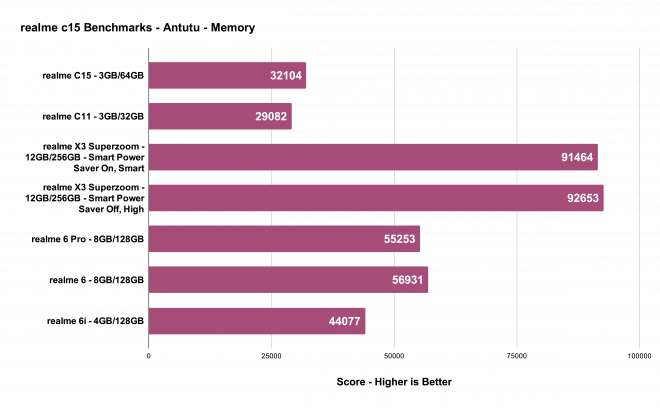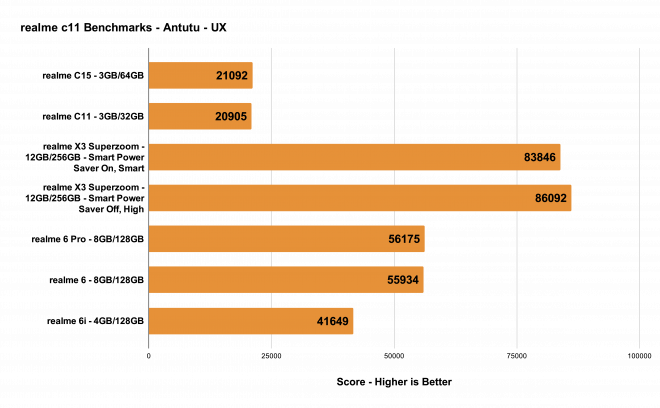 Geekbench


In Geekbench, pretty much the same scenario as expected and like with the realme C11 and like what I said earlier, as long as you don't open too many apps at the same time and don't allow unnecessary background processes running, you should be fine.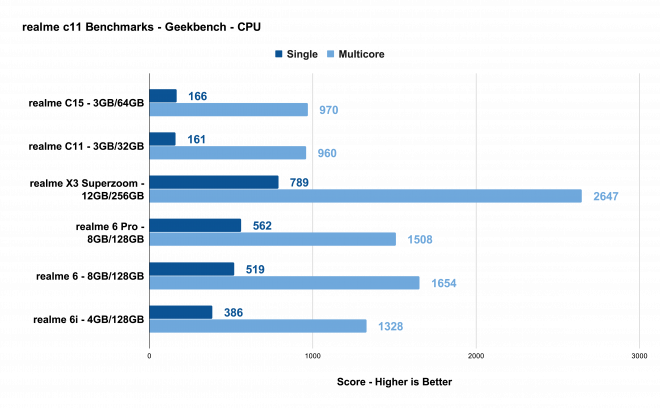 As for the GPU benchmark, both the realme C11 and C15 crashed in the CL test and was only able to finish the Vulkan test.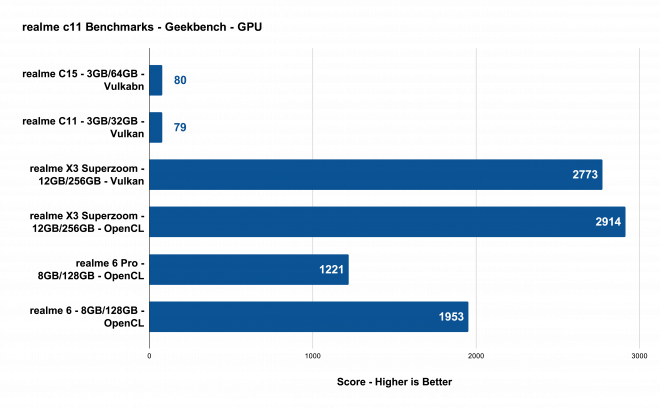 Gaming Performance


Now onto the gaming performance, like the realme C11, since they basically have the same processor and graphics power. You can still play high-intensive games like Asphalt 9 and others on this phone as long as you dial the settings down and don't open other applications at the same time.
Battery Life and Charging Speed


Now, gaming might not be the best asset of the realme C15 but for its target market, which is online learning and general casual digital lifestyle, where it shines the most is for providing users with peace of mind that they can use this phone pretty much the whole day and some with a massive 6000mAh of battery under the hood. One of few phones out in the market that features this big of a battery especially on the entry-level spectrum.
As per my testing using our standard PC Mark Work 2.0 Battery Life Benchmark, with maximum brightness and maximum volume with earphones plugged in, the realme C15 lasted for around 9.38 hours which is quite impressive especially at an extreme condition with max brightness and volume. Essentially, with lower brightness and volume levels, you can use this phone pretty much the whole day and some for the day after.
As for charging the massive 6000mAh of battery using the included 18W power brick, it took around 3.43 hours from 10% to 100%.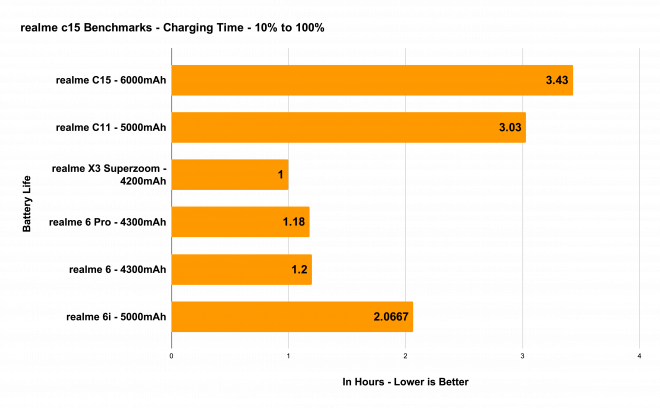 Alright guys, as usual, I saved the camera test for last.
Camera Quality


The realme C15, an entry-level smartphone, isn't lacking in terms of camera arsenal featuring a 13MP main camera, an 8MP Ultrawide lens, a 2MP Black and White lens, and a 2MP retro lens partnered with a 5MP front-facing selfie camera.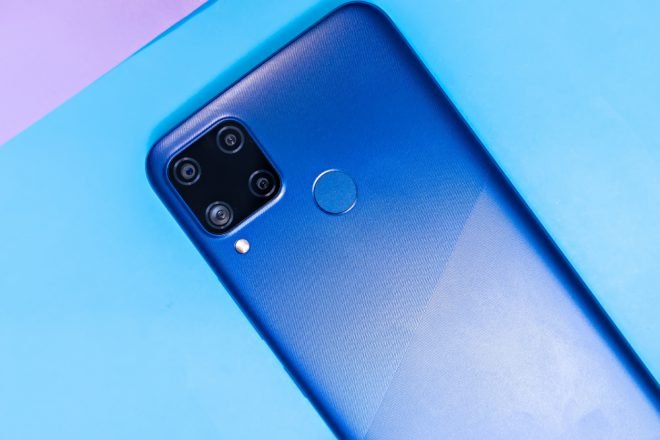 The image quality the realme C15 produces is fairly decent especially when given an adequate amount of light and with the proper angle. 
The Ultrawide, 1X, and 2X are substantially usable with good details, contrast, sharpness, and saturation even on a gloomy day as you can see on the below sample photos. I honestly feel like this is adequate for school projects, social media postings, and casual mobile photography on the side. 
The 4X is also ok but there is a noticeable degradation on the image quality resolution and sharpness wise.
HDR mode works perfectly well balancing both the shadows and highlights to deliver a fairly good image quality even on a not so ideal environment.
The 5MP front-facing camera is quite decent as well producing a fairly good image using the normal photo mode on good lighting conditions and with a proper angle.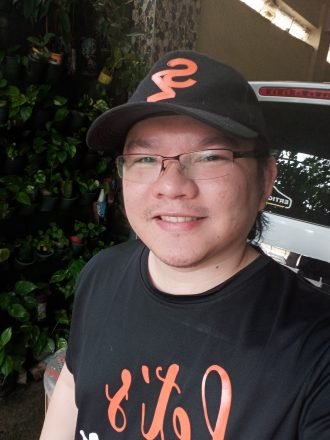 The portrait mode with background separation is also surprisingly good without much noticeable error on edge detection.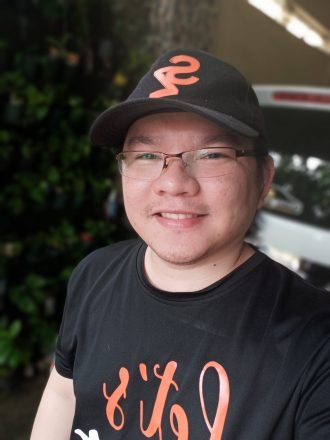 It does, however, struggle on a not so good angle without proper lighting as you can see on a couple of sample photos below. Usually, a good camera will try to expose the subject even if the background gets blown out. But in this case, it wasn't able to properly expose my face.
Other than that, for the most part, the images the realme C15 produces are pretty decent and for an entry-level smartphone like this, I'd say it's a pass for me.
You just have to align your expectations with the price and what other things it can offer.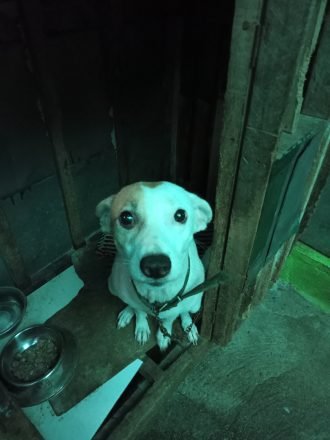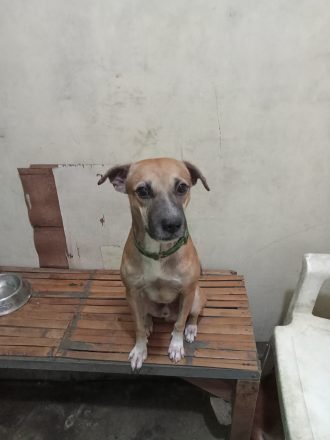 VERDICT


To conclude, the realme C15 proved to be a decent contender to the cheaper realme C11 which is equally good at this price range. It is a good alternative for those power-hungry users that needs that extra 1000mAh of battery for their day to day tasks, school, or work efficiency. It also has more camera lenses for those who love taking photos and is generally more versatile. It's really nice that consumers have these options to align their needs to their budget and get the most out of their hard-earned money. And at the end of the day, I believe the realme C15 is one of the best all-around smartphones in the entry-level segment with a good balance between battery, specs, and camera.
Pricing and Availability
The realme C15 will be officially launched on August 20, 2020, at 6:30 pm on realme's official Facebook Page alongside the availability of the 3GB/64GB variant on Lazada / Online Exclusive for the price of Php 6490. After that, the 4GB/64GB variant will also be available for the price of Php 6990 on both online and offline stores.
Note: The PH Squad Edition Box (Doodle Box) is only available with the 3+64 variant via Lazada on August 20 and 8.28 realme Super Brand Day.

Thanks to realme Philippines for making this review possible, You can get this smartphone from the link below
SHARE THIS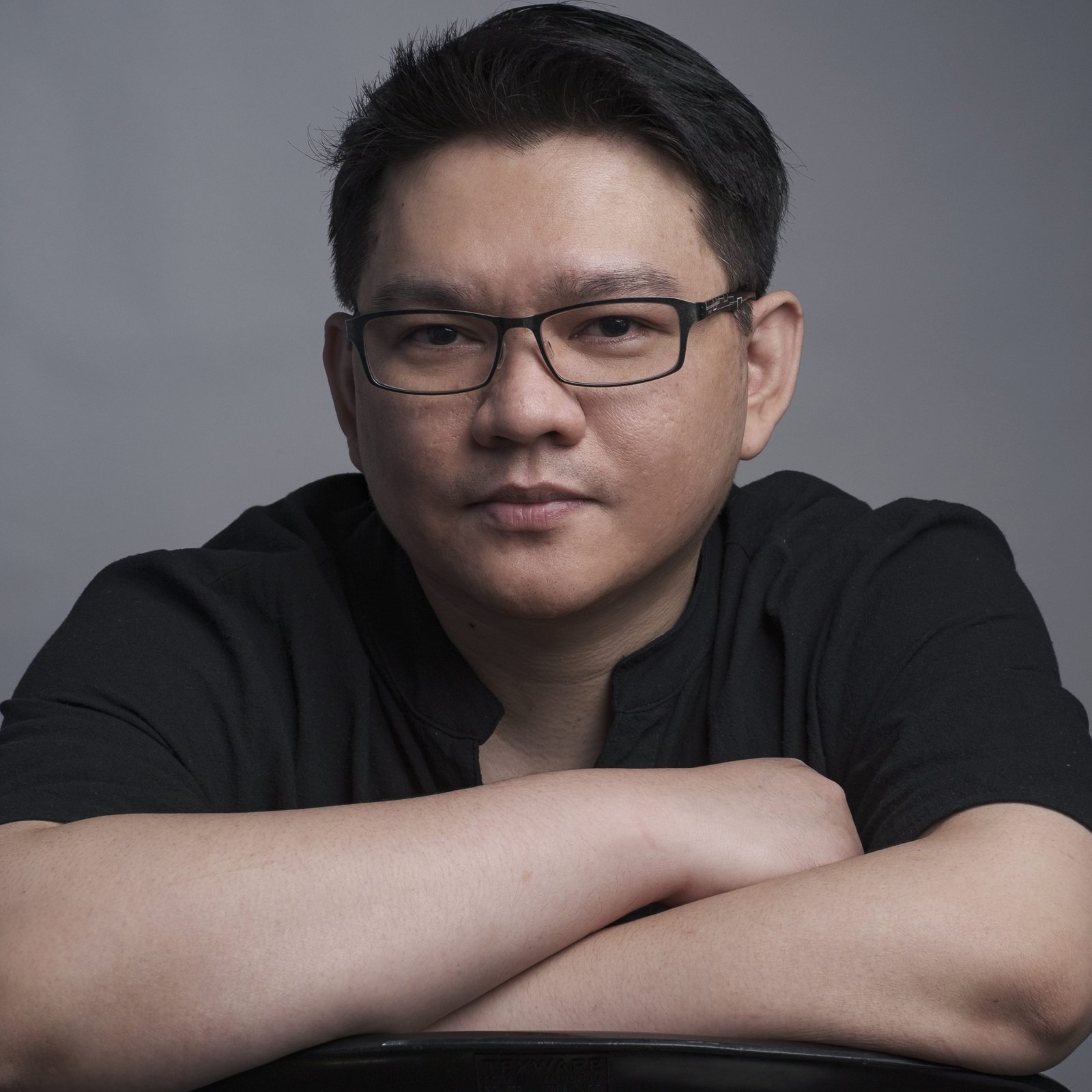 The Broll who always got your back online!