We've seen the emergence of hot-swappable PCBs on Mechanical Keyboards in recent years and it's definitely one of the most sought-after features for a few good reasons. It provides longevity for the peripheral and allows users to explore and try different switches without having to purchase a new one. On the other side of things, when it comes to gaming mice, ASUS ROG comes on the top of my head with a slew of hot-swappable gaming mice including the one we are taking a look at today, the ASUS ROG Gladius III. Aside from that, the ROG Impact, Keris, and Chakram also feature hot-swappable sockets known as the "Push Fit Switch Socket".
Now, you might be wondering, why would anyone bother replacing the switches on their gaming mouse, aren't they supposed to last for a long time way before the warranty of the product expires? Yes and no. Yes, the switches will probably last but you also have to consider that not all switches are made alike, and not all gamers have the same preference when it comes to the sound and feel of the buttons. Granted, this is not as extensive as the mechanical keyboard hobby but still, being able to choose the switches for your mouse is always a good plus. Imagine grabbing a mouse with a perfect shape that matches your preference and grip style only to be disgusted by how the buttons feel. Some gaming mice nowadays even have interchangeable chassis with different bump heights and all so yeah, we are definitely heading towards a future with peripherals getting more and more innovative. With that being said, let's focus our attention on the ASUS ROG Gladius III and discuss everything it has to offer.
MY EARLY BREAKDOWN
Pros: Aesthetically pleasing design, Great build construction, Reliable sensor, Hotswappable switches, Tri-mode connectivity.
Cons: The shape is too chunky and the buttons are quite higher than usual. 
SPECIFICATIONS
Connectivity: Wired, Bluetooth, RF 2.4GHz
Resolution: 19,000 dpi optical sensor (ROG tuned up to 26,000 dpi)
Max Speed: 400 IPS
Max Acceleration: 50 G
USB Report rate: 1000 Hz
RF 2.4G Report rate: 1000 Hz
L/R Switch Type: ROG Micro Switch
Buttons: 6 programmable buttons & scroll wheel + 1 profile button + 1 pair button
AURA Sync: Yes
Shape: Right-handed
Cable: 2 meter ROG Paracord
OS: Windows® 10
Software: Armoury Crate
Dimensions: L 123mm x W 68mm x H 44mm
Weight Without Cable: 89g
Color: Black
WHAT'S IN THE PACKAGE
The packaging is pretty much what you would expect from ROG, nothing new here with an image preview in front, the model name, and some of its key features.
At the back, we have another image preview and its notable features and specifications.
Upon opening the box, you'll see the ROG Gladius III itself, the ROG paracord USB Type C to Type A cable, and the USB Type A to Type C adapter.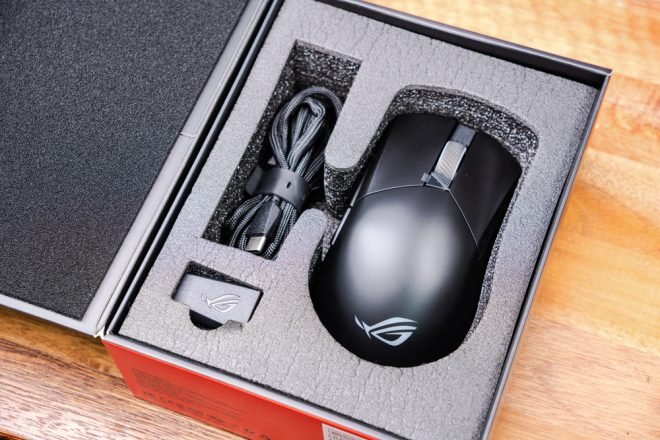 We also have a couple of ROG micro switches and a metal switch puller.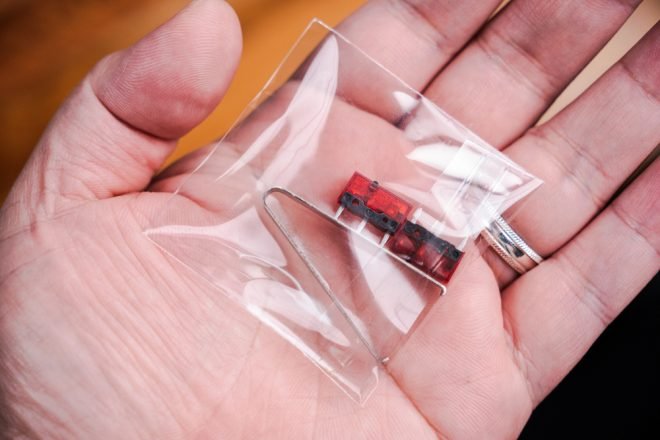 The USB Type A to USB Type C adapter alongside the cable serves as an extension cable so that you can have the 2.4Ghz USB dongle closer to the Gladius III for better reception and reliability.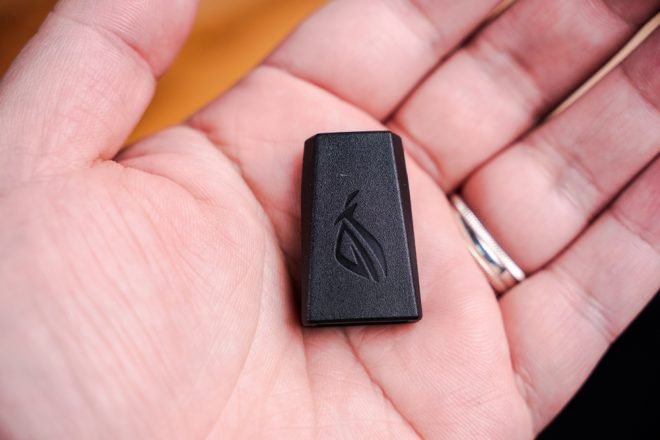 The cable features the ROG paracord which is relatively flexible.
Inside the box, we also have the Quick Start Guide and some replacement PTFE mouse gliders.
And lastly, in typical ASUS ROG fashion, we also have modern Cyberpunk-themed stickers.
REVIEW
Design, Construction, and, Parts Overview
The design of the ROG Gladius III features a chunky, asymmetrical form factor geared towards right-handed users. This is easily the largest gaming mouse I've ever held with a tall bump and a higher than usual height for the primary mouse buttons. It is made mostly of hard plastic materials and doesn't conform to the honeycomb or perforated design language that most modern gaming mouse has while maintaining a relatively lightweight construction at around 89g.  Granted, it is not the lightest gaming mouse ever but for how big it is, it's considerably light.
Looking up top, we have the primary left and right mouse clickers, the scroll wheel, the DPI adjustment button, and an illuminated ROG eye logo. The ROG Gladius III features a nice and smooth texture. 
Flipping it on the left side, you'll see the quite unique laser-engraved design with a subtle illumination that I really fancy. All in all, we have three zones of RGB lighting with the scroll wheel, ROG eye logo, and the side laser-engraved design. We also have here on this side, the forward and back button that is easily reachable without having to adjust your grip.
You can also see here that the tallest part of the bump is located at the center and measuring it on this side, the height is around 44.2mm.
Flipping it on the other side, we have a debossed ROG logo and a line pattern that actually helps with the grip.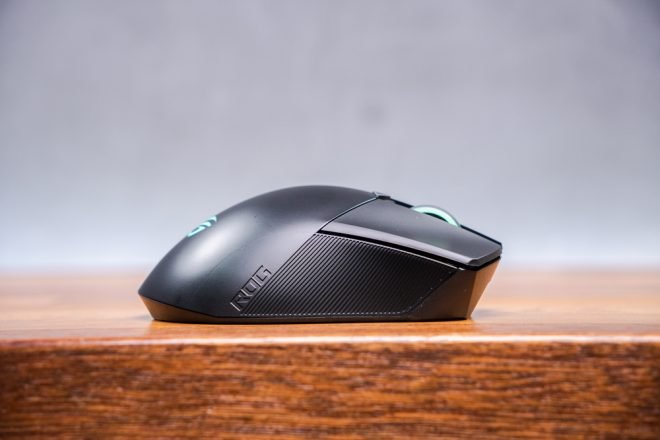 Turning it to the back side, you'll get a proper idea about its curvature towards the right side and the noticeably tall bump. It is also worth noting that the edges around the mouse are chamfered which is ideal especially if you prefer gliding with your fingers touching the surface. This means, your fingers will not get pinched. 
Looking at the front side, again, you'll see the curvature of the mouse being an asymmetrical gaming mouse and as you can tell, the bump is even taller than the scroll wheel. You can also see here the USB Type C port with a generous cutout making it compatible with pretty much any USB Type C plug/cable.
Turning it all over upside down, you'll see 5 100% PTFE mouse gliders with rounded edges allowing for smooth movement in all directions. We also have here the switch for the Tri-Mode connectivity with Bluetooth LE 5.2, 2.4GHz RF, and Wired. Aside from that, we also have the sensor which as per my research is a Pixart PAW3370, the profile button, and the USB dongle nicely tucked inside.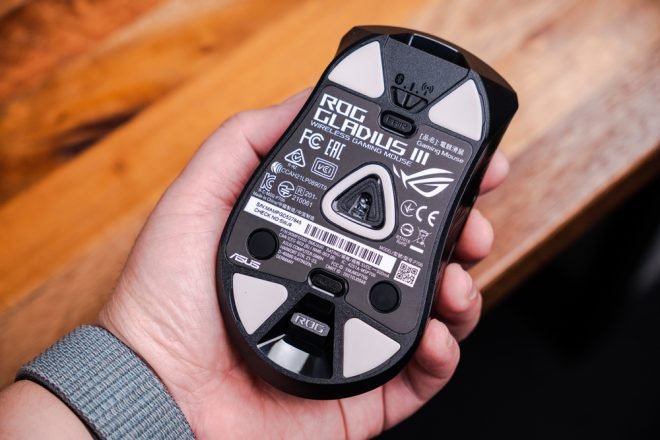 Teardown Experience, Switches, and Scroll Wheel
In order to take advantage of the Push-Fit swappable socket, you'll have to crack the ROG Gladius III open. And while the process requires some tools, specifically Philip's screwdriver, it is actually pretty straightforward. All you have to do is remove the two screws underneath the mouse and you can then lift off the top part of the chassis.
The components inside are actually laid out pretty neat and the quality of their structure is fairly intact with no loose parts whatsoever.
Inside, you'll see the battery that lasts around 55 hours using the 2.4Ghz connectivity and around 85 hours when in Bluetooth mode.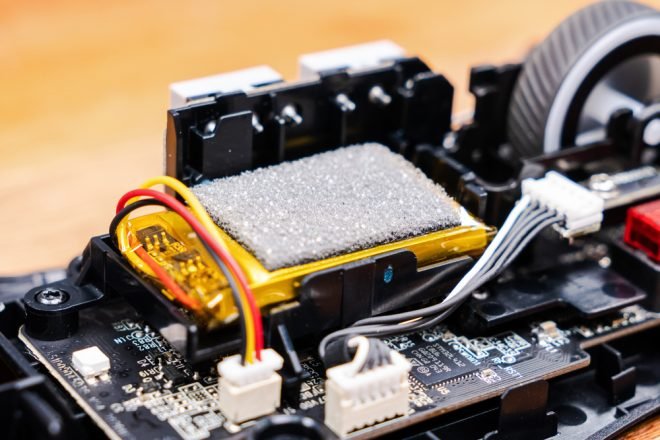 And aside from the main components like the scroll wheel and the circuit board, you'll be pleased to find out that the side buttons are from Kailh and the primary switches are from ROG.
The ROG micro switches are quite snappy with a defined click and tactile feedback while maintaining a relatively short actuation point and travel distance. It is also lightweight and easy to activate which may be a pro or con depending on your preference and how much force you usually apply when pressing the mouse buttons.
The ROG micro switches boast a 70 million click lifespan and ASUS claims that each ROG Gladius III has balanced left and right switches with minimal force deviation for a more consistent click feel, to be honest, I don't think anyone would notice this but that is an attention to detail worth nothing.
The Push-Fit Switch Socket II is one of the main selling points of most ROG gaming mice including the ROG Gladius III. It is compatible with other 3-pin mechanical micro switches and the more modern 5-pin Omron optical micro switches. This allows users to swap faulty switches or experience other switches to tailor with their preference. As per my testing, the socket seems stable enough.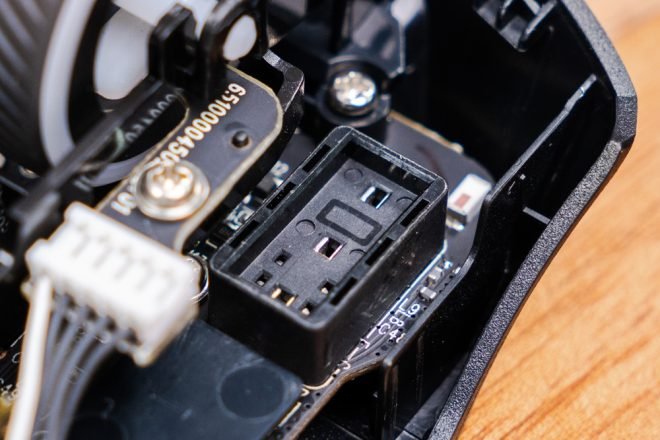 The scroll wheel has a slightly translucent rubber lining and is substantially stable with enough tactile feedback. It does emit a good amount of squeaking sound but not enough to be deemed as annoying.
As well as the tiny surface-mounted LED for the ROG Eye logo illumination.
Both the bottom and top shells are fairly thick which adds to the overall good build construction but I feel like they could've shredded some more weight here.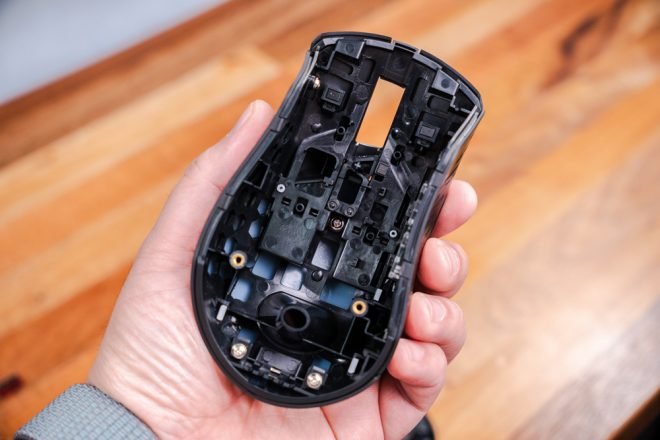 Shape and Grip Styles
As I've pointed out earlier, the ROG Gladius III features a very chunky asymmetrical form factor. Depending on the size of the hand, it may be compatible with claw grip users but only to a certain extent due to the unusually tall height of the primary buttons. Fingertip and palm grip users should not have any problems with this especially palm grip users. 
This is ideal for palm grip users as you'll definitely be forced to hug the entirety of the mouse, otherwise, you'll have problems controlling it, at least that's what I've experienced. I had to adjust my grip style dramatically. Usually, I don't hug the sides of the mouse but for the ROG Gladius III, I had to, just to get a good grasp of its shape for quick flicks and micro-adjustments. The shape of this mouse is definitely not for everyone especially the ones that are used to ambidextrous mice with low profile primary buttons. Of course, your mileage may vary depending on your preference.
With all the things I mentioned above, I was still able to play decently in Valorant using this mouse, it just takes a little bit of effort and some adjustment period.
Performance
Performance-wise, I have no major complaints about the ROG Gladius III as expected from the brand with reliable components, especially with a known flawless sensor with a Pixart PAW3370.
Note/Credit:
The following data were captured using the MouseTester Version 1.5.3 by microe
The first time I saw this method of testing was from sir Leo of TechPorn, this guy reviews peripherals on a completely different level, check him out. 
Tracking Speed Performance
With a quick movement of the mouse, the ROG Gladius III was able to maintain good tracking performance up to around 4 m/s and only shows some slight jittering beyond that. Mind you, at 5 m/s speed, my shoulder almost snapped as I try my best to flick it as fast as I can so in reality, a good tracking performance around 3 m/s is good enough. The important thing here is that the performance is consistent throughout without any velocity drops or the sensor losing track.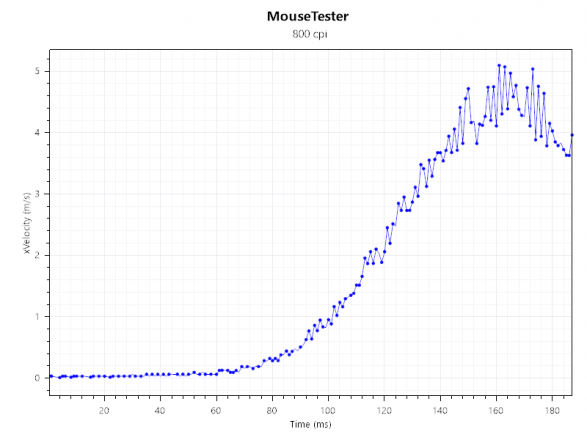 Here's a more realistic test as I naturally flick the mouse as if I was about to whiff, I mean clutch a round. Notice that it doesn't have any zero velocity reading, which essentially means the mouse maintains tracking at this speed.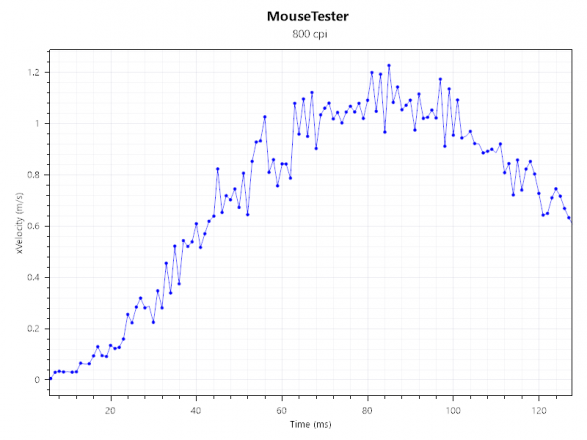 Jittering
With a consistent diagonal movement of the mouse, as you can tell, there is no noticeable or significant stair-step or jittering.
Angle-Snapping
For good measure, I also tested how the sensor reacts with angle snapping on and off which you can toggle via the ASUS Armoury Crate software. As you can tell, with the angle snapping off, the curvature of my drawing doesn't have any noticeable straight lines.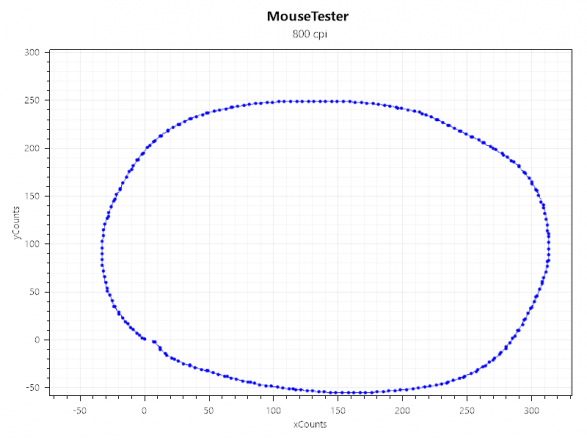 And with angle snapping turned on, the sides have noticeable straight lines. For competitive FPS games, this should be turned off.
Polling Rate
I tested the ROG Gladius III at different polling rates up to 1000Hz and I didn't notice any significant inconsistencies.
Real-world performance
As for the real-world performance using this mouse in Valorant, I have no major issue aside from the shape and size of the ROG Gladius III. The sensor is quite accurate and the switches are very crispy and fast, I also didn't feel any significant input lag and didn't encounter any erratic or unwanted mouse movements. I was still able to play well, though like I mentioned earlier, I had to drastically adjust the way I grip the mouse. 
ASUS Armoury Crate Software
I won't dive deep into the ASUS Armoury Crate software as I've always had some mixed-bag thoughts about it but as per its features and functions for the ROG Gladius III, under the buttons tab, you pretty much can customize each button (except for one which you need to set for the Left button function) to other functions such as another mouse function, keyboard function, macro, multimedia shortcuts, windows shortcuts, text, screenshot, stealth which essentially minimizes all windows and mutes the audio, and you can also disable a key entirely.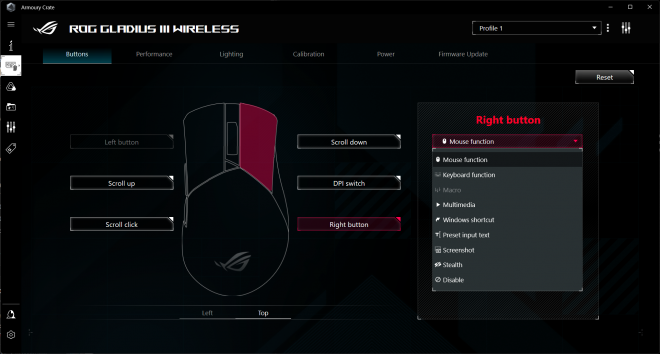 Even the side forward and back buttons are customizable for a total of 7 customizable buttons.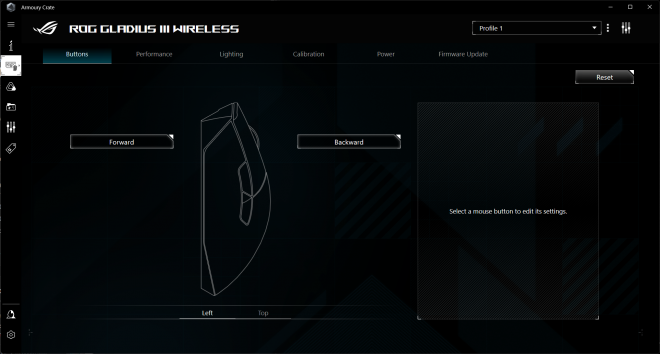 Under the performance tab, you can customize the DPI presets in increments of 50, adjust the polling rate from 125Hz to 1000Hz and turn the angle snapping on and off.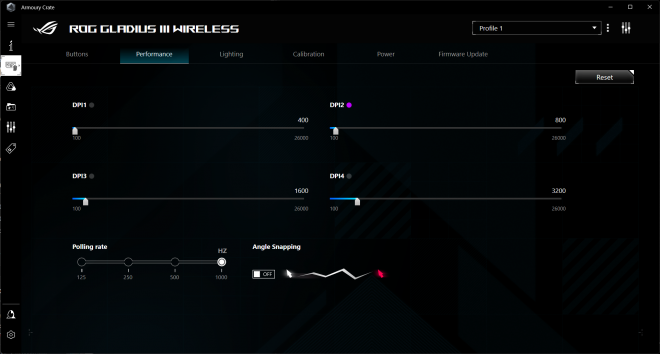 In the lighting tab, we have a total of 9 different lighting effects, the option to adjust the color and brightness levels, and we also have the option to customize the lighting via the aura creator feature.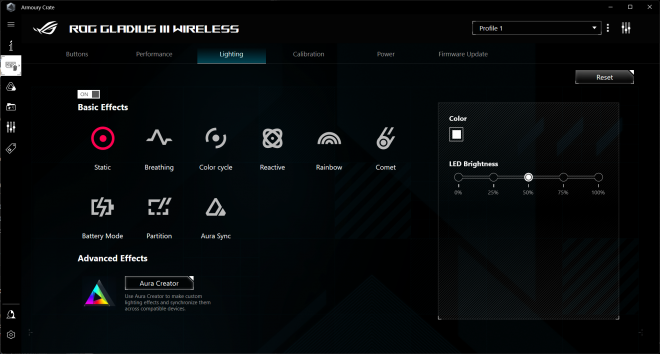 Under the calibration tab, we can choose between different preset surfaces if you're using a ROG mousepad or manually calibrate your mouse with any deskmat.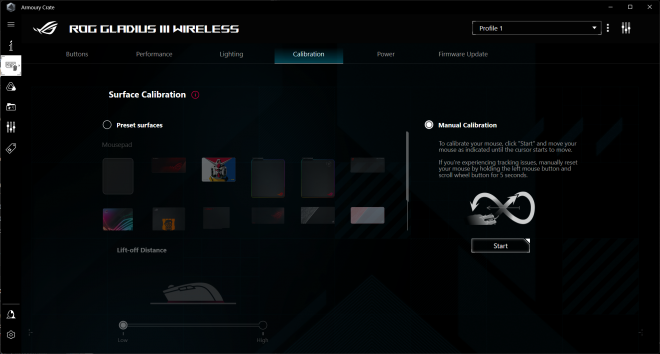 Under the power tab, we have the battery level and the customization option for the battery percentage notification and sleep mode.
And lastly, we have the firmware tab wherein we can update the firmware of both the ROG Gladius III mouse and the USB Dongle.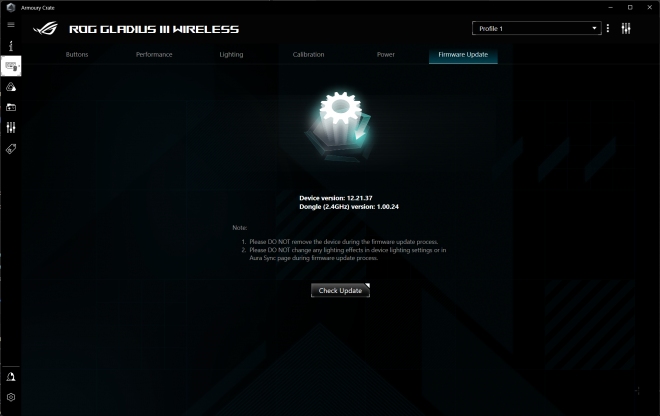 VERDICT
To conclude, the only thing that's preventing me from using the ROG Gladius III as my main gaming mouse is its size and shape, otherwise, it is definitely a daily driver material. The design is unique, aesthetically pleasing, and functional. The construction is quite robust, intact, and easy to tear apart. The patented Push-Fit switch socket is still very rare in the gaming mouse realm and something that can push the device long enough to get your money's worth, not to mention the ability to try and experience other switches to tailor with your personal preference. The performance is also outstanding with connectivity options more than you'll ever ask for. In case ROG decided to create the 4th version of this, I hope they can consider lowering the height of the primary buttons and considering shortening the overall height of the mouse. Overall, if the shape and size match your hand and grip style, especially if you're an ergo type of gamer, the ROG Gladius III should be around your radar.
Related Articles:
Ultralight GPW Alternative? Fantech Hive UX2 Review!
Read this before buying the NEW Tecware Exo Elite + VS Kaptan VS MM711
Unboxing a SPECIAL EDITION Gold and Red Iron Man Themed Cooler Master MM711
i-Rocks M36 Pro Gaming Mouse Review – Optic Magnet Microswitches!?
Rakk Kaptan Gaming Mouse Review – Best Rakk Gaming Mouse!
AKKO Smart 1 Dragon Ball Super Themed Wireless Mouse Review
ASUS TUF M5 Gaming Mouse Review
Rakk Ilig V2 Gaming Mousepad Review + Comparisons
If you like this one, please consider subscribing to my channel by hitting the button below. Have a great day!
ASUS ROG Gladius III
Php 6048
SHARE THIS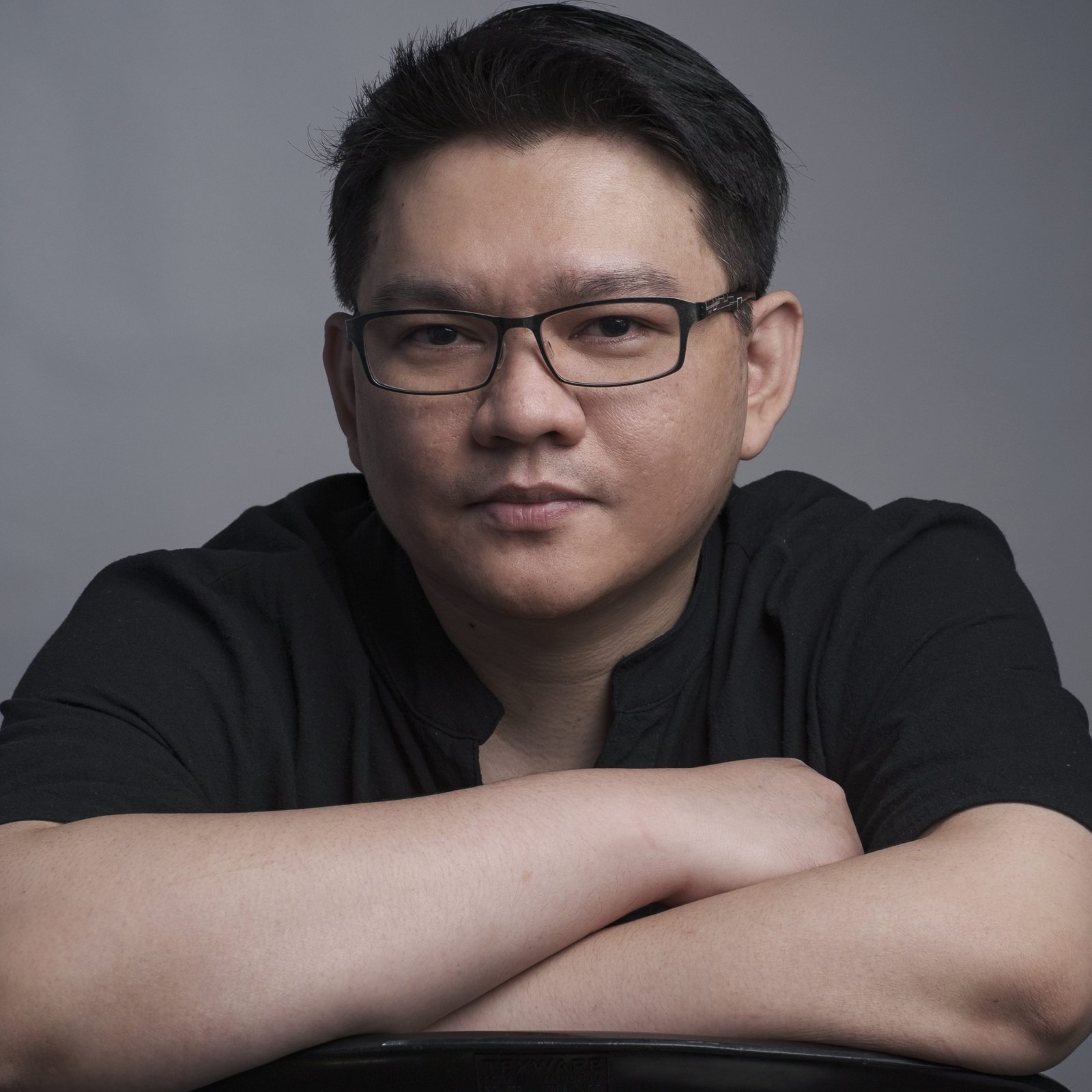 The Broll who always got your back online!