Looking for affordable True Wireless Earbuds with minimalist design, smaller footprint, and a form factor that doesn't scream Apple Airpods? Look no further than the Omthing AirFree from Digital Walker!
MY EARLY BREAKDOWN
Pros: Minimal design and form factor, Decent build construction, Decent battery life, Decent sound quality with punchy bass and low-end
Cons: Basic touch controls, Can get distorted at higher volume
SPECIFICATIONS
Model: EO002
Port: Type C
Material: Plastic
Color: Black
Dimensions: 25.4 x 36.5 x 70mm
Impedance: 32 ohms
Bluetooth: 5.0
Weight (Single Earbud): 4g
Gross Weight: 43g
Case Battery Capacity: 550mAh
Bluetooth Range: 10m
Water Resistant: IPX4
Input: 5V/1A
Output: 5V/150mA
WHAT'S IN THE PACKAGE
The packaging for the Omthing Airfree is quite basic with an image preview in front and then at the back, we have some of its key features and specifications written in both English and Chinese.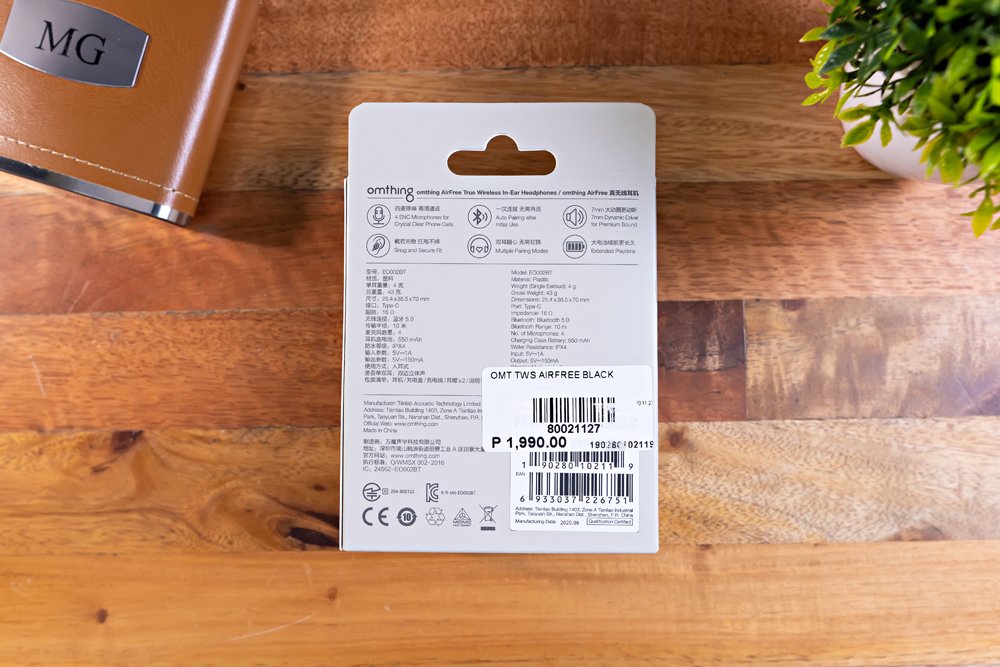 But to be honest, I am not a fan of this packaging design with a non-re-closable package. Once you've opened it, it remains flapping all over the place and kinda hard to store away.
Upon opening the box, we have some illustrations on how to start but it's only written in Chinese.
Inside the box, we have some different sizes ear tips.
A short USB Type C charging cable.
A user manual written in both English and Chinese. 
And of course, the Omthing Airfree itself.
FULL REVIEW
Design, Construction, and Parts Overview
The design of the Omthing Airfree's case is somehow different compared to most common True Wireless Stereo Headphones out in the market with an oblong shape. Build quality-wise, it is pretty decent with a hard plastic construction that weighs roughly around 34.9 without the earbuds and around 42.9 with earbuds inside.
Looking at the top side, we have an Omthiong logo.
And then flipping it on the front side, we have a small lip that allows us to easily open the case. Not visible to the naked eye but we also have a small LED indicator at the center for charging.
At the back, we have the USB Type C port at the center.
And turning it all over at the bottom, we have more information such as its technical information and certifications.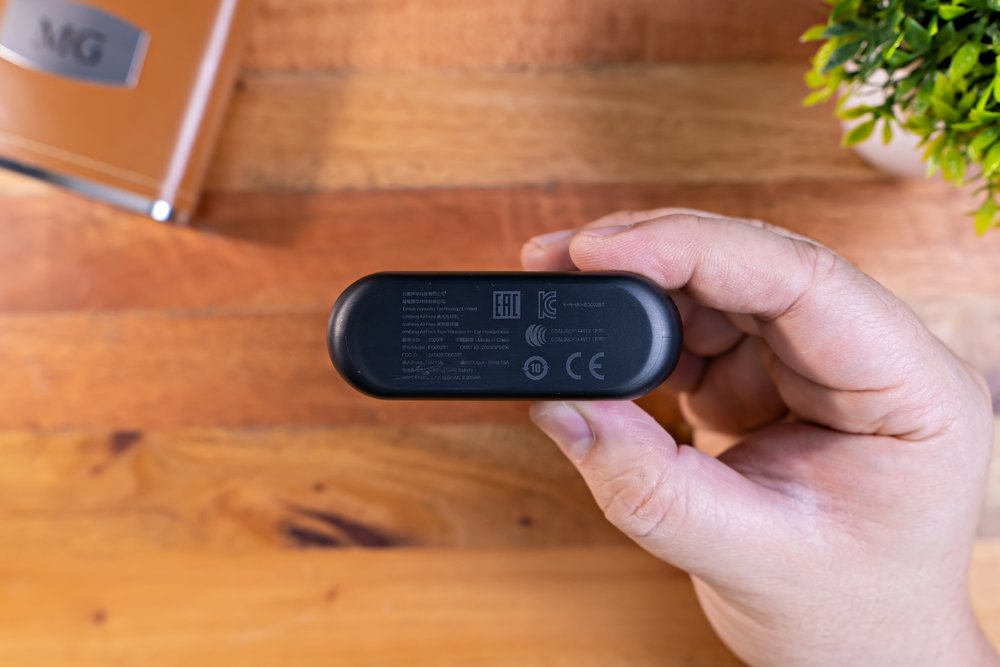 Opening the case reveals the Omthing Airfree True Wireless Stereo Headphones themselves nicely tucked inside the cavity and as you can tell, they are oriented quite differently compared to other True Wireless Stereo Headphones out in the market. Both are marked properly with L and R so you won't be guessing which is which every time you open the case.
Now, one more thing that's pretty unique with the Omthing Airfree is the fairly compact form factor of its earbuds with a rather short stem. It looks minimal with a combination of matte and glossy finish.
Here on the front visible side, we have a small LED indicator for pairing, the touch control area and 2 of the 4 Environmental Noise Cancelling microphones.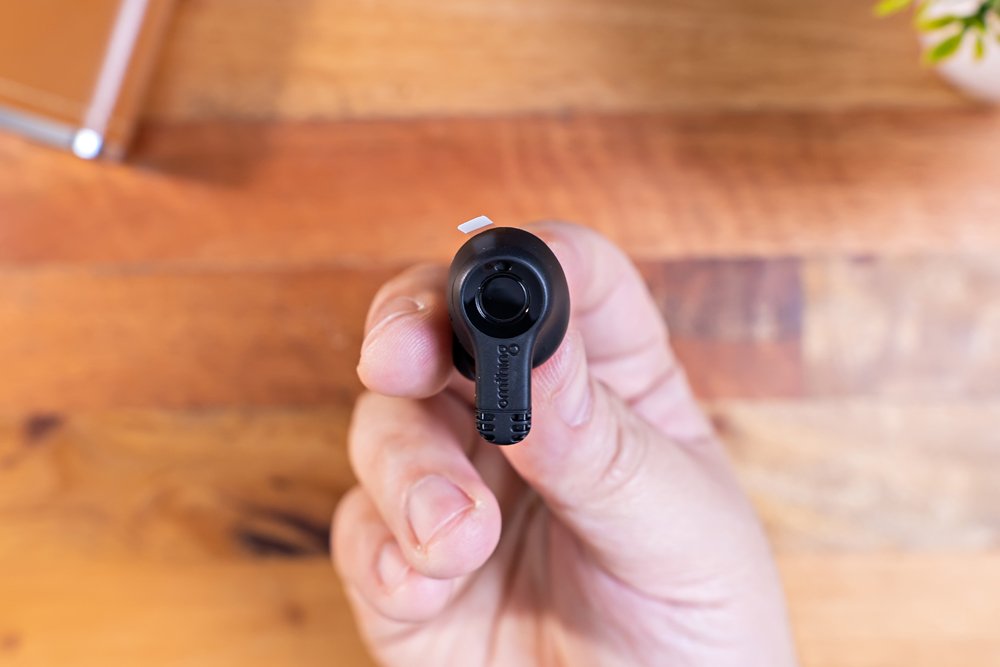 Flipping it on its side, as you can tell, it features an ergonomic design with a replaceable rubber tip. Personally, I prefer this compared to the non-replaceable ear tip design seen on most apple airpods-like earbuds. 
As for the fit, it is very snug inside my ears that not only makes it secure but also provides that good sound isolation. 
Flipping it on this side, we'll see the two charging pins and the easy-to-recognize letter for the orientation.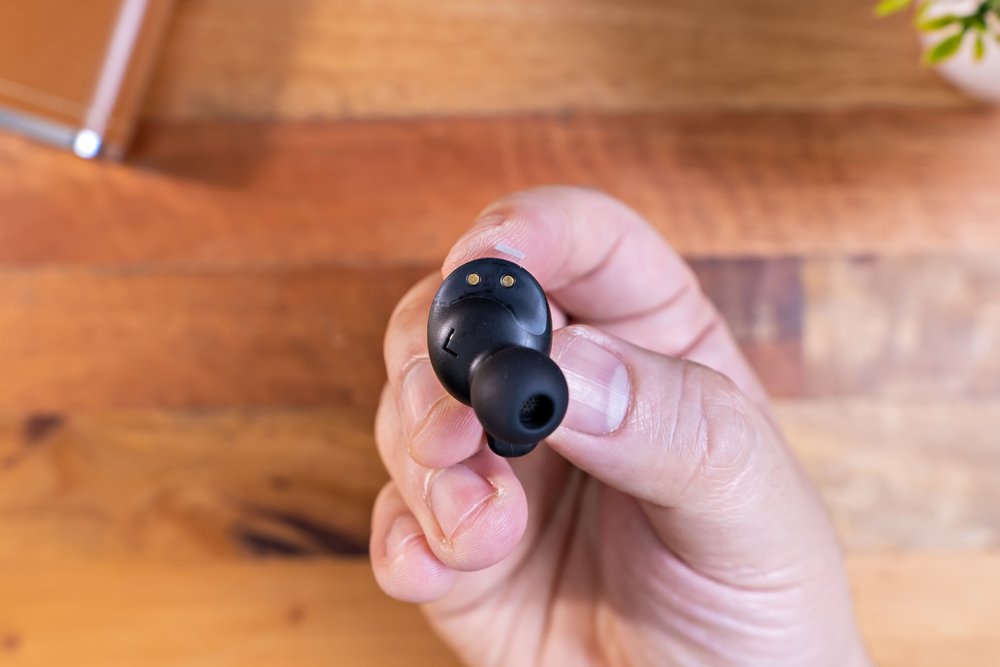 And lastly, on this side, we have a tiny hole that I guess would be one of the 4 Environmental Noise Cancelling microphones. 
Pairing
Upon opening the case, the left and right earbuds will connect to each other automatically (TWS mode). The earbuds are in pairing mode when the LED indicator on the master earbud flashes white twice every second and that on the slave flashes once every 7 seconds. All that is left now is to turn on Bluetooth on your host device (e.g. smartphone, tablet, PC), pair it and you're good to go. After that, every time you take out the earbuds from the case, it will automatically connect to the last connected device.
Bluetooth Performance
The Omthing Airfree uses Bluetooth 5.0 and while it's not the latest protocol, the performance is decent enough. Latency is acceptable especially when watching videos and the range is good enough as long as there is a clean line of sight or at least just a wall or two in between. 
Touch Controls
In terms of the touch controls, to be honest, the Omthing Airfree offers just the bare minimum options. You can answer and hang up calls, hold and answer another call, play and pause music by double-tapping the right side, activate voice assistant by double-tapping the left side and that's about it. There's no option to skip to the next track and most importantly, no volume adjustment control.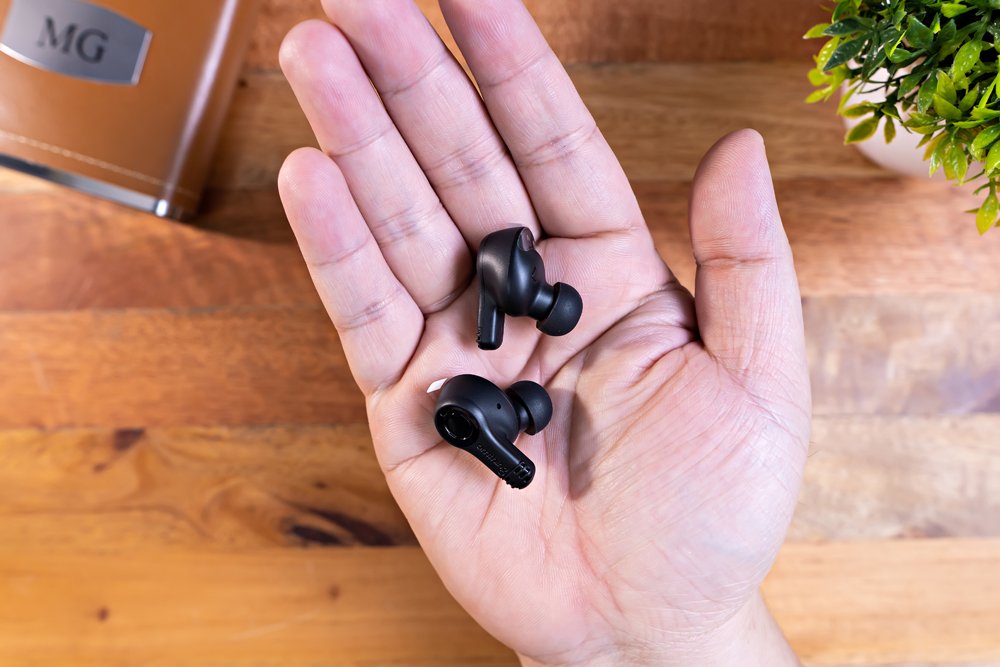 Sound Quality
In terms of the sound quality, as soon as I started playing music, I immediately noticed the overwhelming bass and low-end frequencies, like it is really apparent but at the same time, mids and highs are still relatively clear. However, in order to appreciate the details on the mids and highs, you may need to amp up the volume a little bit. Just don't max it out as it starts to get harsh at higher volume, not to mention the low-end also starts to get quite uncomfortable. The sweet spot is around 70-80% volume. It wasn't mentioned on the specifications but the Omthing Airfree aside from AAC, also supports SBC codec, no aptX support though. If you prefer a more punchy bass and dominant low-end frequencies, this is a good option. But if you prefer a more balanced sound signature, with better separation and a wider sound stage, this may not be the one for you. 
Battery Life
In terms of battery life, the charging case has a decent 550mAh of battery but I wasn't able to find any information about the battery inside each earbud. As per our testing, at 50% volume, we're getting around 3 hours and 46 minutes and interestingly, even at 100% volume, we're still getting a pretty decent 3 hours and 14 minutes. Charging the 550mAh of battery inside the charging case takes about an hour and a half.
Software
The Omthing AiFree has a software but at least for now, it doesn't do anything aside from the option to update the firmware.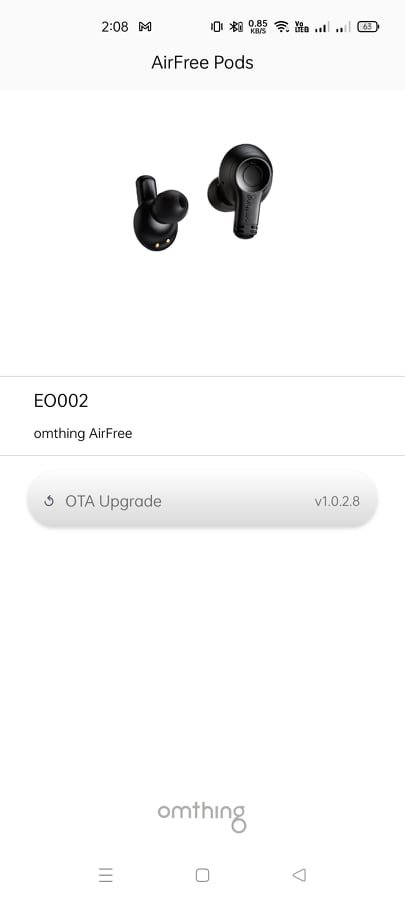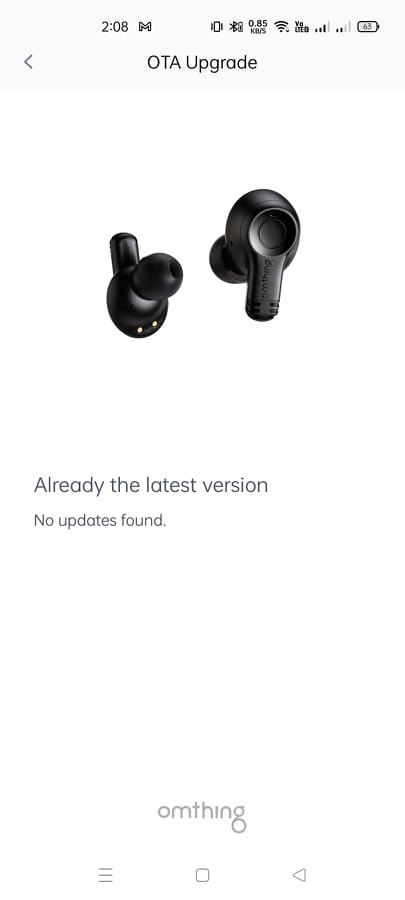 VERDICT
To conclude, there are a couple of things that I really like about the Omthing Airfree that stands out from the competition. The first one is the form factor, it is quite unique with a relatively smaller form factor while maintaining the familiar feel and comfort of a rubber tip-design earphone. The second is the overwhelming amount of bass and low-end that most of the time, is lacking on some budget True Wireless Stereo Headphones. The latter is completely based on preference and you can take it as a pro or a con depending on your taste. On the other side of things, the touch controls are pretty basic, the lack of track navigation and volume control is a bummer. Overall, I think for its price of just around Php 1690 right now on Digital Walker, it is still worth considering especially if you're looking for a minimal footprint with a bass-heavy sound signature. 
Related Article:
Limited Edition Joyroom JR-T04S Pro True Wireless Stereo Headphones Review
OnePlus Buds Z Review – Steven Harrington Special Edition!
Marshall Major IV Now Available at Digital Walker and Beyond the Box
OnePlus Buds Z in white and limited edition Steven Harrington NOW AVAILABLE at HomeOffice.PH!
Marshall Uxbridge Voice Review – A Voice Assistant That Actually Sounds Great!
realme Buds Air Pro Review – Active Noise Cancellation!
SoundPeats TrueCapsule Review
Tronsmart Onyx Ace True Wireless Earbuds Review – Quad microphone!
SoundPeats TrueDot True Wireless Earbuds Review
ASUS ROG Strix Go 2.4 Review and AI Noise Cancellation Test
Cooler Master MH630 VS MH650 Comparison and Review
Edifier R1280DB Unboxing, Quick Review, and Sound Test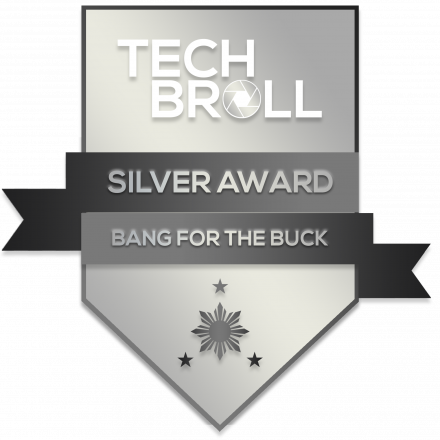 SHARE THIS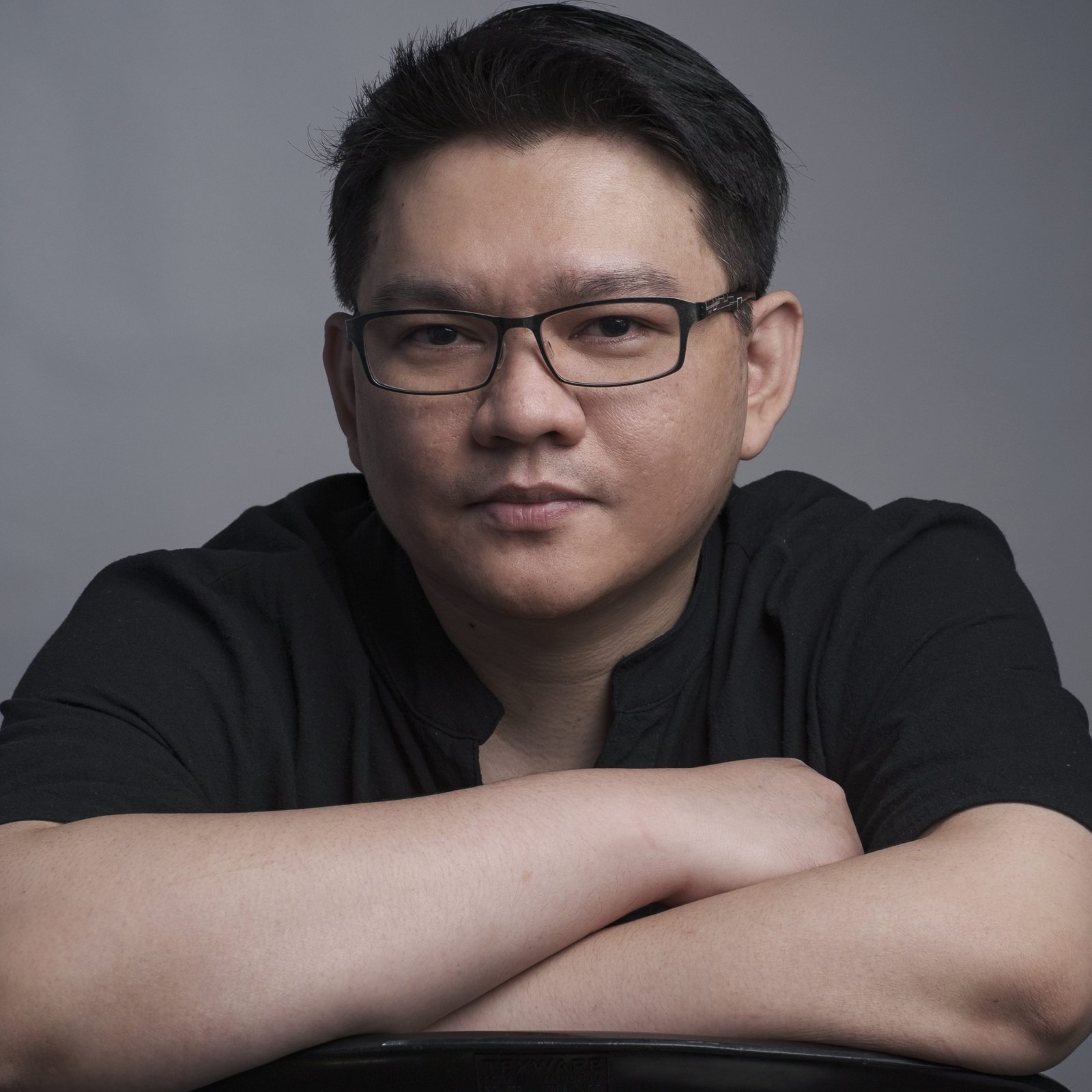 The Broll who always got your back online!