Today, we're going to do an unboxing and review of the XPG Spectrix D60G RAM Kit, a memory module that has one of the largest surface area when it comes to RGB illumination, and it does perform quite well out of the box too! Where going to do some benchmarks and discuss its overclocking potential and see if this is going to be your next RAM kit. These are actually the same memory modules that I used on my mini-ITX build which you can check out here. With that being said, let's get into it.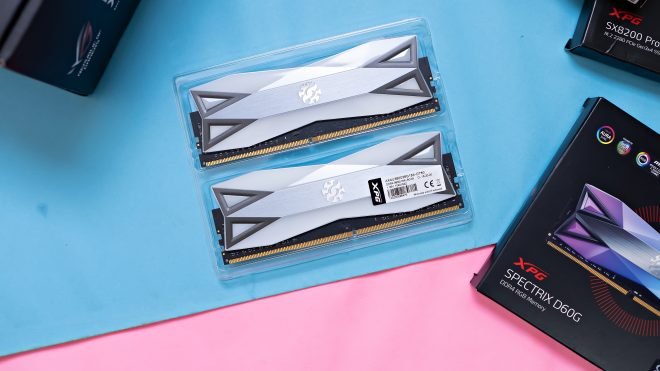 MY EARLY BREAKDOWN


Pros: Affordable, Largest RGB surface area, Gorgeous design, Decent performance
Cons: Poor overclocking performance at least for this particular kit, No thermal sensor
SPECIFICATIONS


Model: PC4-28800
Capacity: 8GB x 2 
Frequency: 3600Mhz
Latency and Timings: CL18-20-20
Voltage: 1.35V
More RGB per mm2
Diamond-Cut Design
Stable, Durable and Reliable
Overclocking with Intel® XMP 2.0
Programmable RGB Lighting
WHAT'S IN THE PACKAGE


Alright, so right here I have the packaging for the XPG Spectrix D60G and what we have here is the 16GB kit. So it is dual 8GB modules with up to 3600MHz frequency, and, of course, it is compatible with almost all motherboard software like ASUS' Aura Sync, Gigabyte's RGB Fusion, MSI's Mystic Light, and Asrock's Polychrome Sync. And as you can see in front, we have a preview of the product with tons of real estate for RGB illumination partnered with some nice diamond designs all over the shroud.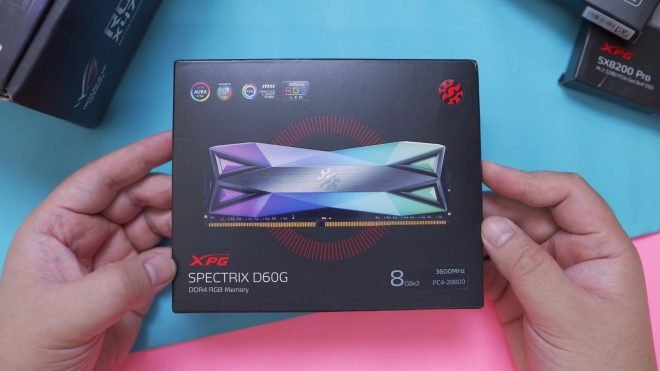 And then at the back of the box, we can see a preview of the specifications like the frequency, latency, timings, and voltage.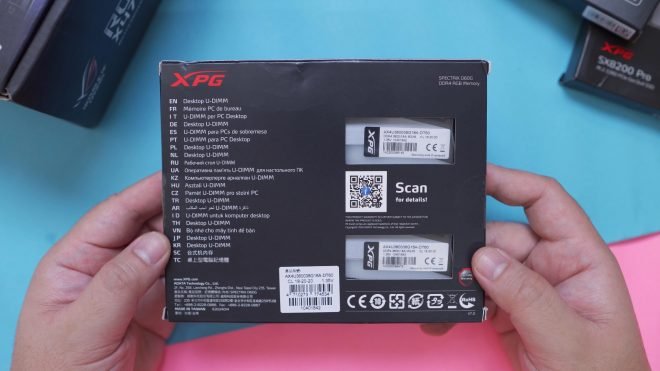 FULL REVIEW
Design, Construction, and Parts Overview


Alright, so inside the box, of course, we have the memory modules themselves and at first look, it definitely looks unique as you won't see any RAM kit out in the market with this massive plastic diffuser that actually spans across the entire module especially including the bottom part.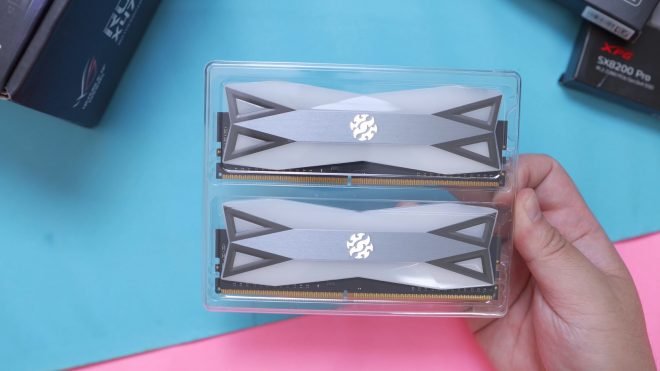 I also appreciate the design elements with the combination of different materials used such as plastic and aluminum and with different neutral colors as well that compliments each other alongside the edgy polygonal diamond design.
Aside from the design on both sides, we also have a subtle XPG logo on the top side.
Overall, in terms of the design and construction, the XPG Spectrix D60G is absolutely gorgeous and there's no denying that like I said, it has one of the most unique design when it comes to memory modules.
Frequency, Latency, and Timings


As for the specifications, what we have here again is a 16GB Kit with up to 3600MHz frequency and with a CAS latency of CL 18 and timings of 20-20-42, not the tightest timings but understandable especially at its price point.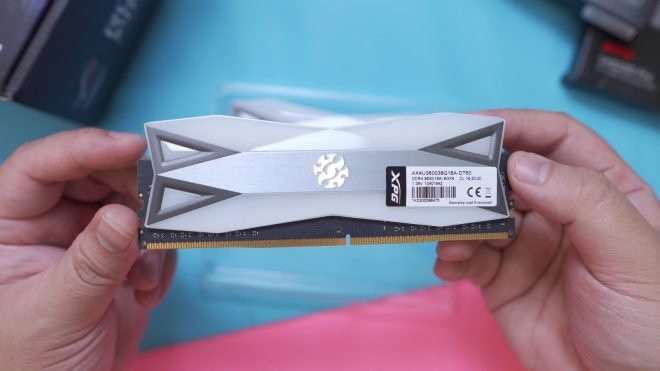 Now, looking deeper into its specifications for those of you who care, using the free Thaipoon Burner software, we can see here the complete specifications. What's important here in terms of overclocking potential is the manufacturer which is Hynix and the type of die which is C-Die.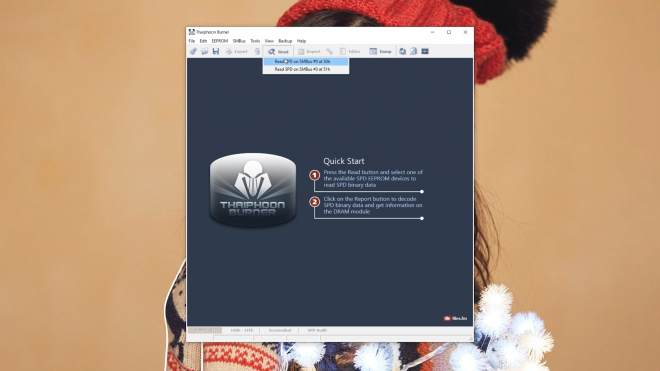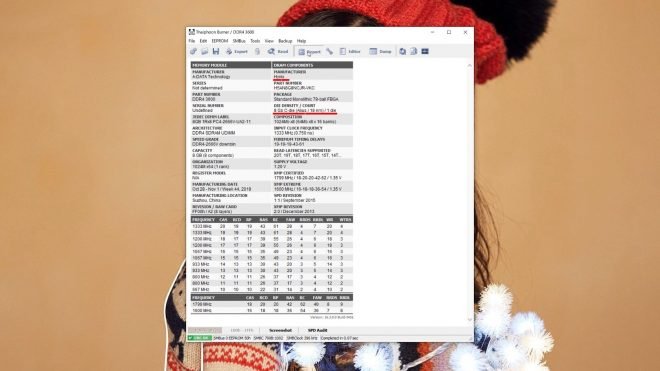 Usually, Hynix is seen on most budget memory modules and is generally harder to manually overclock, but at this price point, this is no surprise.
The XPG Spectrix D60G is actually one of the cheapest if not the cheapest 16GB 3600MHz kit out in the market right now. On the other hand, a Samsung B-die memory module is a much better option when it comes to overclocking flexibility but those modules are significantly more expensive and are kinda hard to get as well.
Now, with all that being said, the question is, can the XPG Spectrix D60G actually perform or is it just an eye candy? Let's find out with some benchmarks, shall we?
Test System Specifications


But before that, it is worth noting that the performance of a RAM highly varies depending on a lot of conditions and parameters such as frequency, latency, timings as well as motherboard compatibility and overall host system performance. As for our test system, below are the complete specifications.
Let's start with the standard DOCP settings which are essentially the same as Intel's XMP. The DOCP profile available for our RAM kit right here is 3600MHz with 18-20-20-42 DRAM timings and 1.35V. Later will discuss the overclocking potential but for now, let's see how it performs out of the box.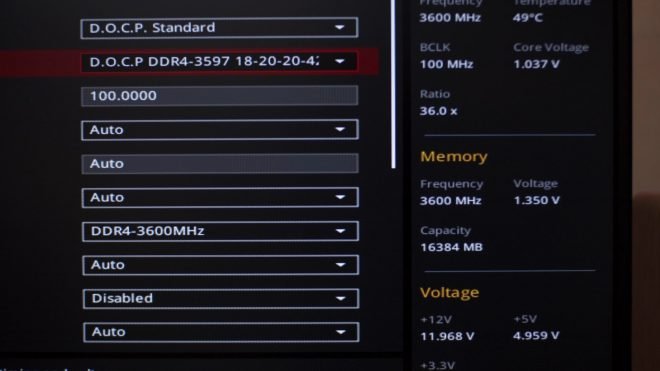 Let's start with some synthetic benchmarks.


The XPG Spectrix D60G was able to battle it out against a couple of Gskill Trident Z kits that I have. But what's interesting here is that the Gskill Trident Z 3200MHz with tighter timings was able to keep up with two 3600MHz RAM kits with looser timings, so later we'll try to tighten the timings of the XPG Spectrix D60G and see if there will be a significant boost in performance.
3DMark TimeSpy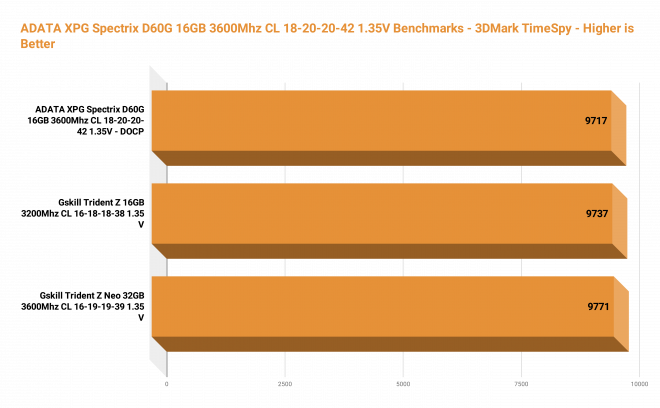 3DMark TimeSpy Extreme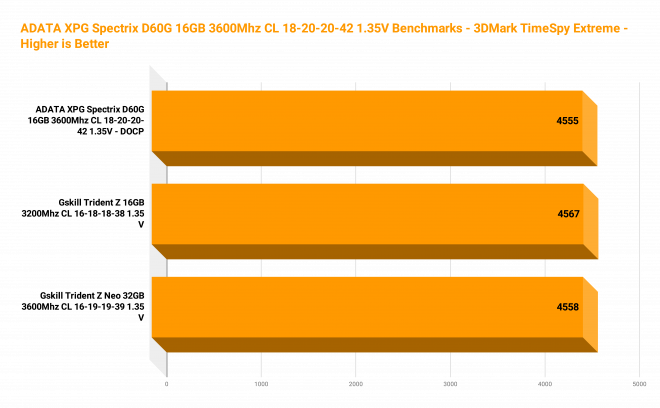 3DMark FireStrike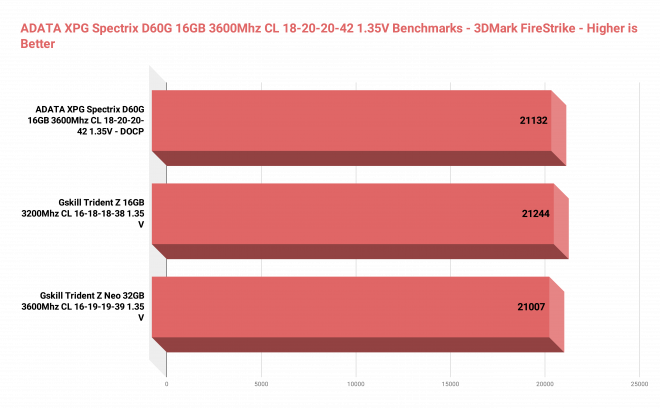 3DMark FireStrike Ultra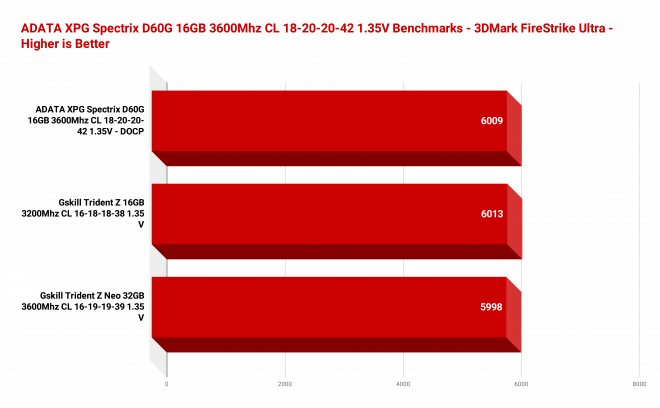 Now in Cinebench R15 and R20, it is essentially the same story with the RAM kit with tighter timings edging the two RAM kits with higher frequencies.
Cinebench R15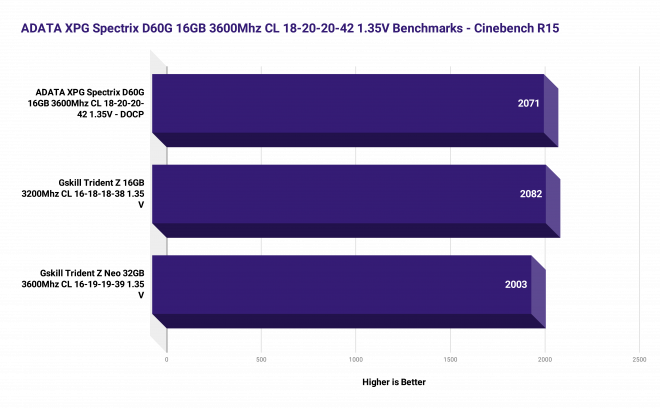 Cinebench R20


Now in AIDA64's Memory benchmark, which measures the maximum achievable memory data transfer bandwidth on a system, the XPG Spectrix D60G performed well and almost on par with the Gskill Trident Z Neo.
Aida64 Extreme


As for the latency, again using the AIDA64's memory benchmark, which also measures the typical delay when the CPU reads data from the system memory, the XPG Spectrix D60G has the least amount of latency compared to other kits that we have right here.
And if you look at these synthetic benchmarks results overall, it's actually quite close and in my opinion, any of these kits are a pretty good option.
Gaming Benchmarks


Now, let's move on to our real-world performance test which is for gaming and the results are actually quite interesting. The difference in performance varies depending on a particular game and for the most part, all our RAM kits here performed quite similar to each other except in CS: GO where the Gskill Trident Z with tighter timings performed significantly better and in Call of Duty Warzone where the Gskill Trident Z Neo falls significantly behind. Other than that, they are neck in neck with each other.
Assassin's Creed Odyssey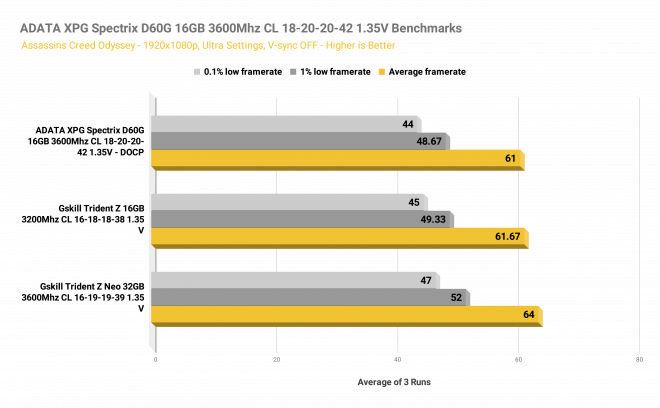 Apex Legends


Counter-Strike: Global Offensive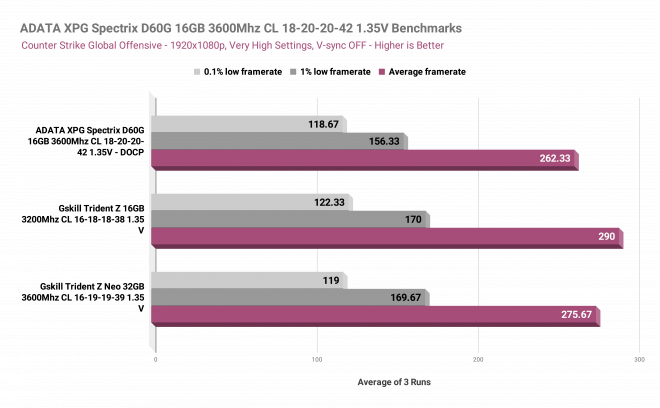 Call of Duty: Warzone – Battle Royale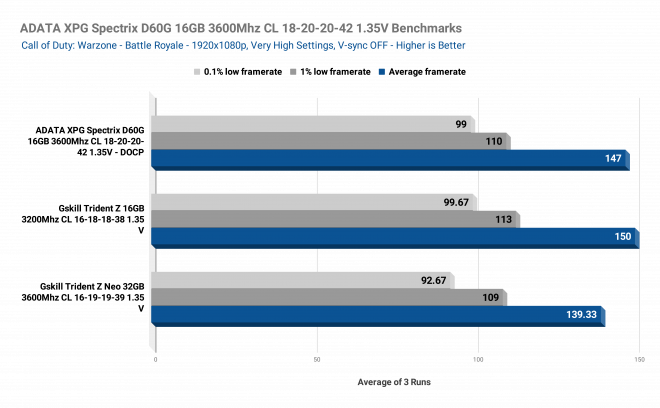 Rainbow Six Siege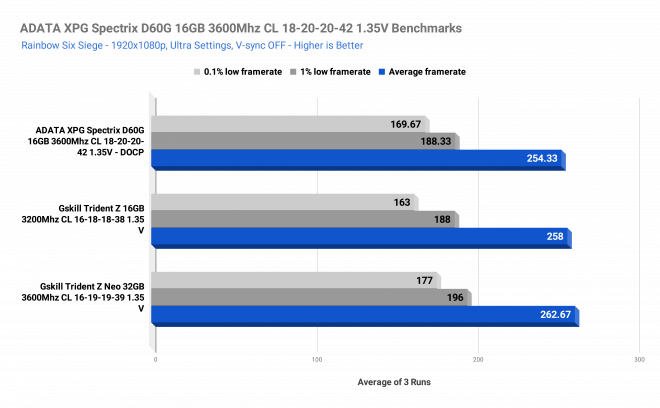 And due to our initial results, I got curious about how the XPG Spectrix D60G will perform once we try overclocking it or at least tighten the timings. So let's discuss briefly about overclocking.
RAM Overclocking


Now, overclocking a RAM is honestly one of the most tedious things you can do with your system because there's a lot of factors to consider for a successful overclock. And one of those factors is the manufacturer and as I said, a Hynix memory module is one of the hardest to overclock and it was certainly the case here with our XPG Spectrix D60G.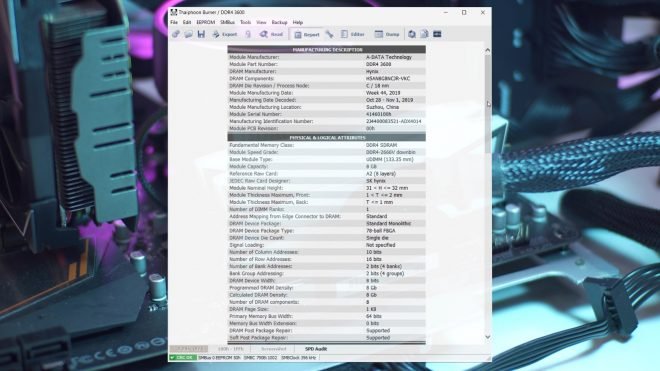 I spent lots of hours trying to overclock it using the DRAM calculator by 1usmus but to no avail even with a slight adjustment to 3666MHz. I can boot the system but I can not get it to stabilize even at 1.4v and following the exact settings using the DRAM calculator.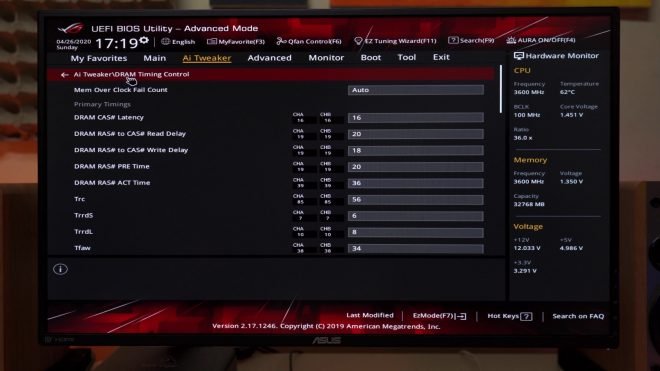 By the way, If you want to learn more about the DRAM calculator, Hardware Unboxed made a tutorial on how to use it which you can check out here. 
It is a super easy to understand tool and makes RAM overclocking much easier with lesser trial and error because overclocking a RAM involves a lot of trial and error especially with manual timings and other sub configurations.
With that being said, after hours and hours of trying to overlock the XPG Spectrix D60G to a higher frequency, I ultimately gave up and decided to just try and tighten the timings with the same 3600MHz frequency. And thankfully, I was able to do so using the safe preset of the DRAM calculator and I was able to tighten it up to CL 16-20-20-36 at 1.4V.
DRAM Calculator by 1usmus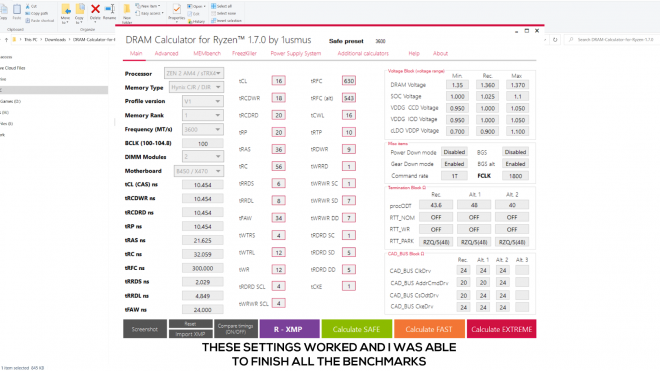 Now, tightening up the timings even at the same 3600MHz actually yields significantly better results as you can see here. The XPG Spectrix D60G with 3600MHz and manual timings of CL 16-20-20-36 was able to edge out all of our prior results in these synthetic benchmarks which are actually cool and interesting. 
3DMark TimeSpy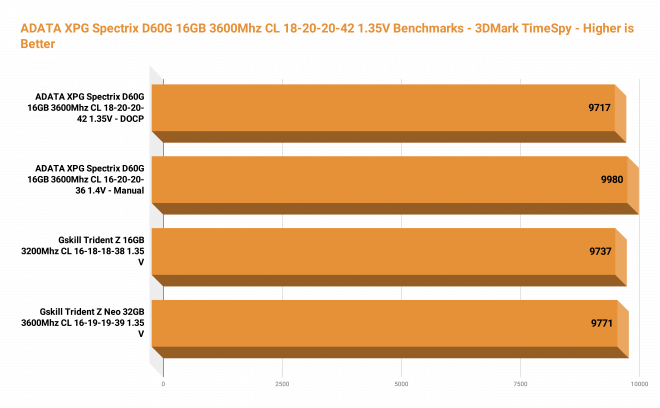 3DMark TimeSpy Extreme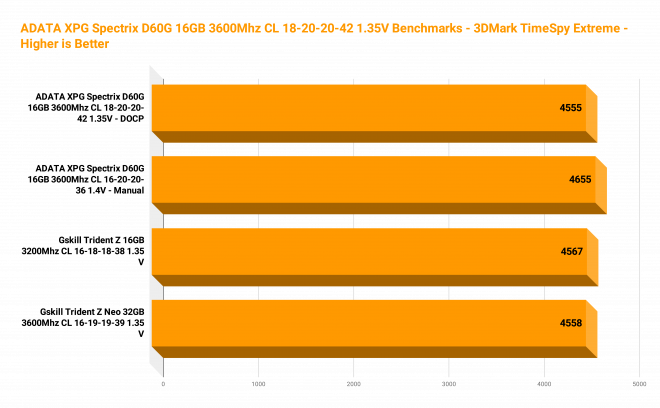 3DMark FireStrike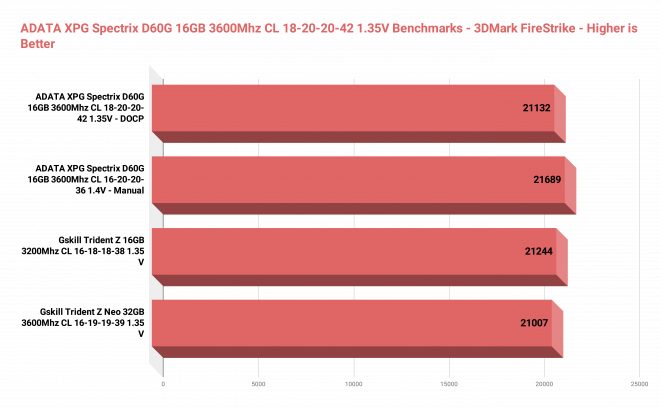 3DMark FireStrike Ultra


And even in Cinebench R15, R20, and AIDA64, it was able to match and even edge out our previous results.
Cinebench R15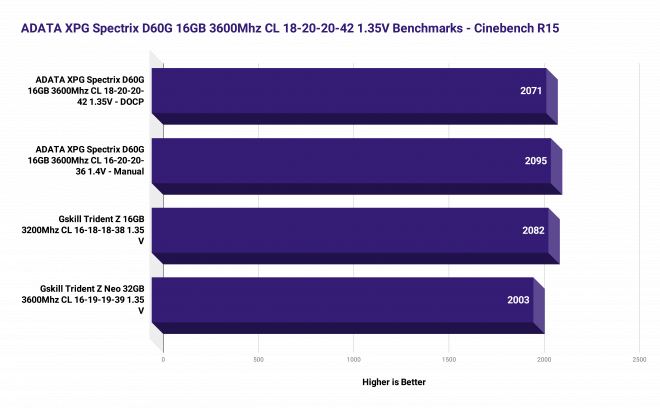 Cinebench R20


AIDA64 Extreme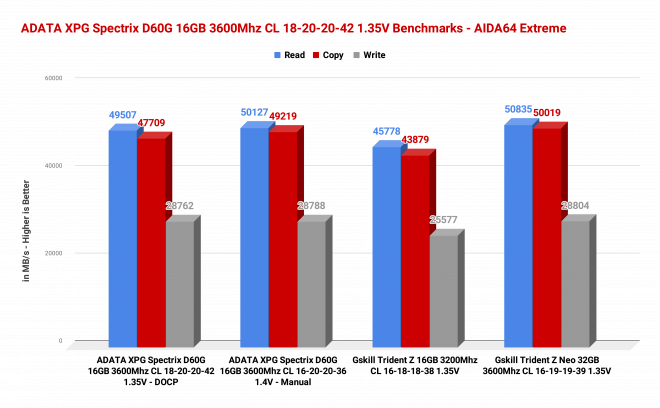 Latency in AIDA64 also got better at 71.8ns compared to the 73ns with default DOCP settings.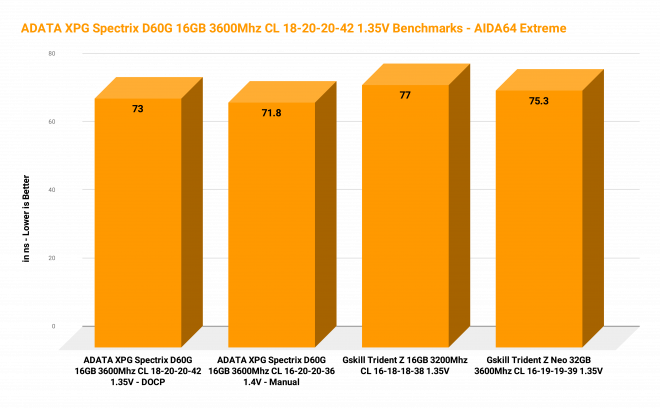 As for gaming performance, again the same scenario, it depends on each particular game but we can see a significant improvement in Call of Duty Warzone and in CS: Go compare to its default DOCP settings.
Assassin's Creed Odyssey


Call of Duty: Warzone – Battle Royale


Counter-Strike: Global Offensive


Apex Legends


Call of Duty: Warzone – Battle Royale


Now, in my opinion, the main take away when talking about overclocking for the XPG Spectrix D60G is that considering its price point which is one of the cheapest out there and having a Hynix C-Die which is known to be poor in overclocking anyway, we don't really have to expect much with this. And for most users, the DOCP settings of 3600MHz and CL18 will do just fine and should provide you with decent performance and most importantly, a stable system. And I'm pretty sure that if you are an enthusiast and into overclocking, you'll be going for something with a Samsung B-Die chip anyway.
RGB Illumination


Alright guys, with all the performance test results in, and before we end this article, let's talk about the RGB illumination which is one of the strong points of the XPG Spectrix D60G and probably one of the reasons why you would consider this.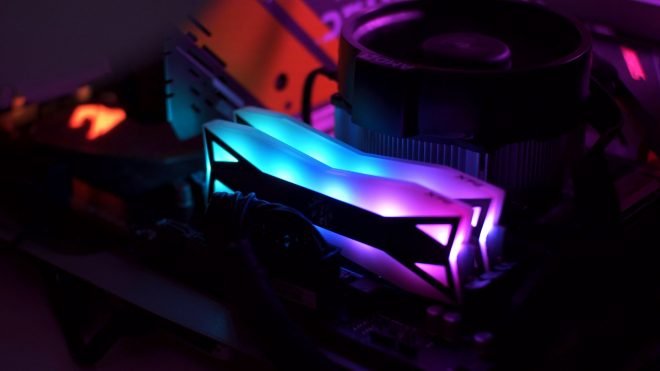 Now, when it comes to customizing the lighting effects, you have two options. Either you download the XPG software or just use your motherboard's software. I recommend the latter as the XPG software is quite basic and it actually looks almost exactly the same as my motherboards' AURA sync.
Software


Inside the software, you have a ton of different lighting effects such as static, breathing, color cycle, rainbow, comet, and a lot more. You can also adjust the colors, saturation, brightness, and even the speed of the animation. You can also choose to use a single color, by areas and gradient.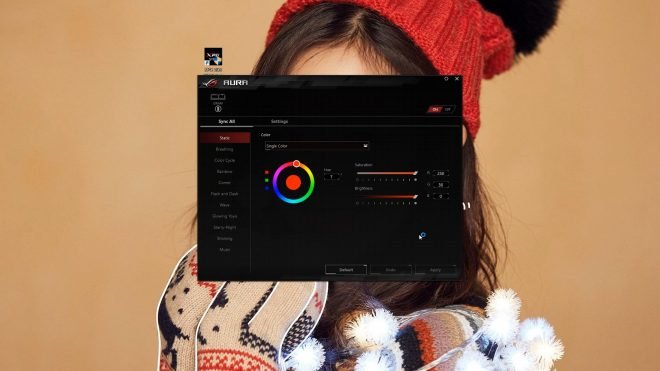 Of course, we have music sync and in my case, if I use my motherboard's Aura Sync, I can also sync it with the rest of my pc components and I also have an additional lighting effect for temperature which is pretty cool.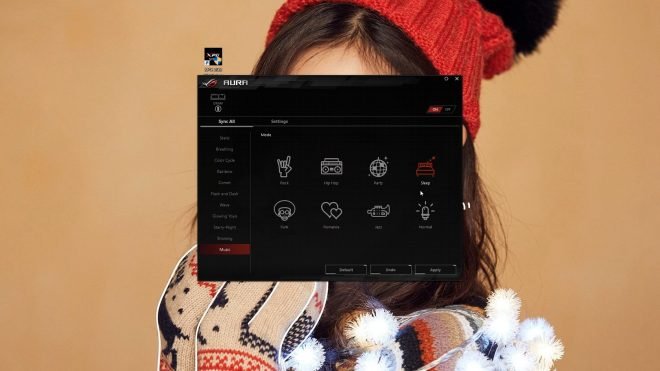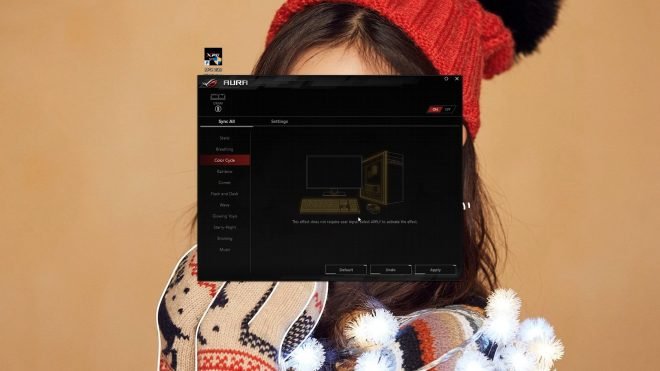 Now, it goes without saying that the available lighting effects will highly vary depending on the features your motherboard's software has, but for ASUS aura sync at least for my ASUS X470-I Gaming, here's what you have.
Thermals


Now, speaking of temperature, unfortunately, the XPG Spectrix D60G doesn't have a built-in thermal sensor which is quite unfortunate, but I guess it is one way to cut the cost.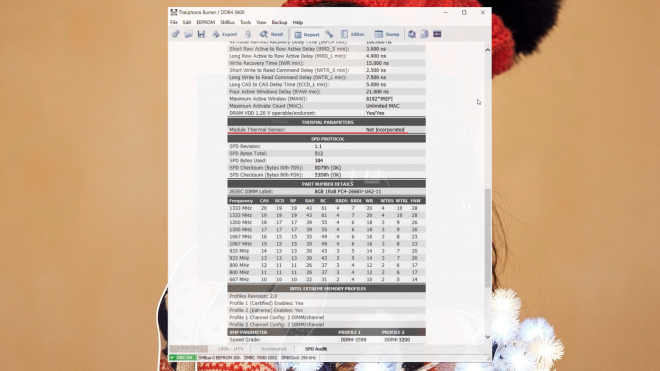 As for the quality of the RGB lighting itself, like I said, I think this is the most RGB illumination that I've seen on a RAM and it looks absolutely beautiful. It's properly diffused with a large translucent plastic shroud all over the module but you can still definitely recognize the LEDs behind it.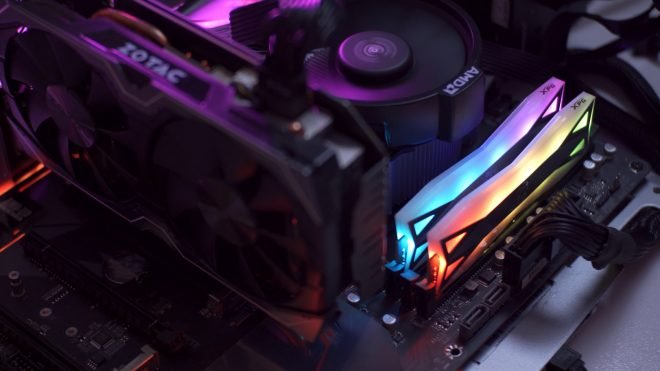 Surface Mounted LEDs


Speaking of LEDs, this one has surface-mounted LEDs which means they are mounted on the module itself and are not located on the shroud. Overall, if you're into RGB, you will definitely appreciate this kit.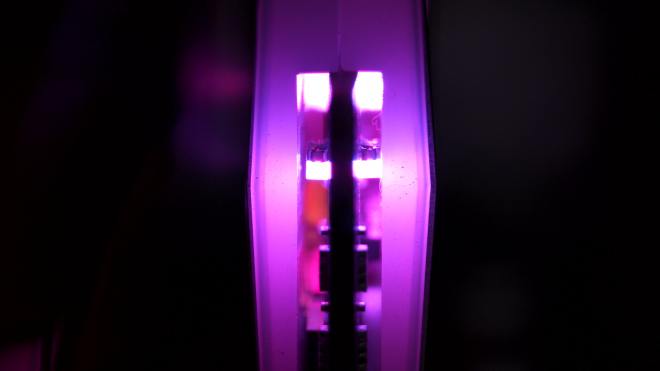 VERDICT


To conclude, the XPG Spectrix D60G offers the most RGB in any RAM kit out in the market right now while still providing decent performance out of the box. I had no issues whatsoever using this on an AMD Ryzen system for a few weeks now after just setting the DOCP on the fly and that is good for people who don't like tinkering with technical stuff. Overall, if you're looking for a RAM kit that can provide you with as many RGB illuminations that you can possibly get, then the XPG Spectrix D60G is the one for you.
Best RGB RAM! – XPG Spectrix D60G Review + RAM Overclocking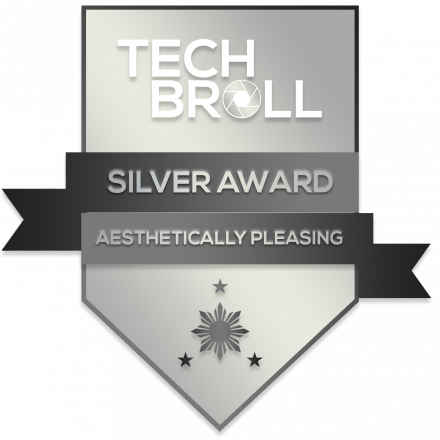 Thanks to XPG Philippines for making this review possible, You can get this Kit from the button below.
SHARE THIS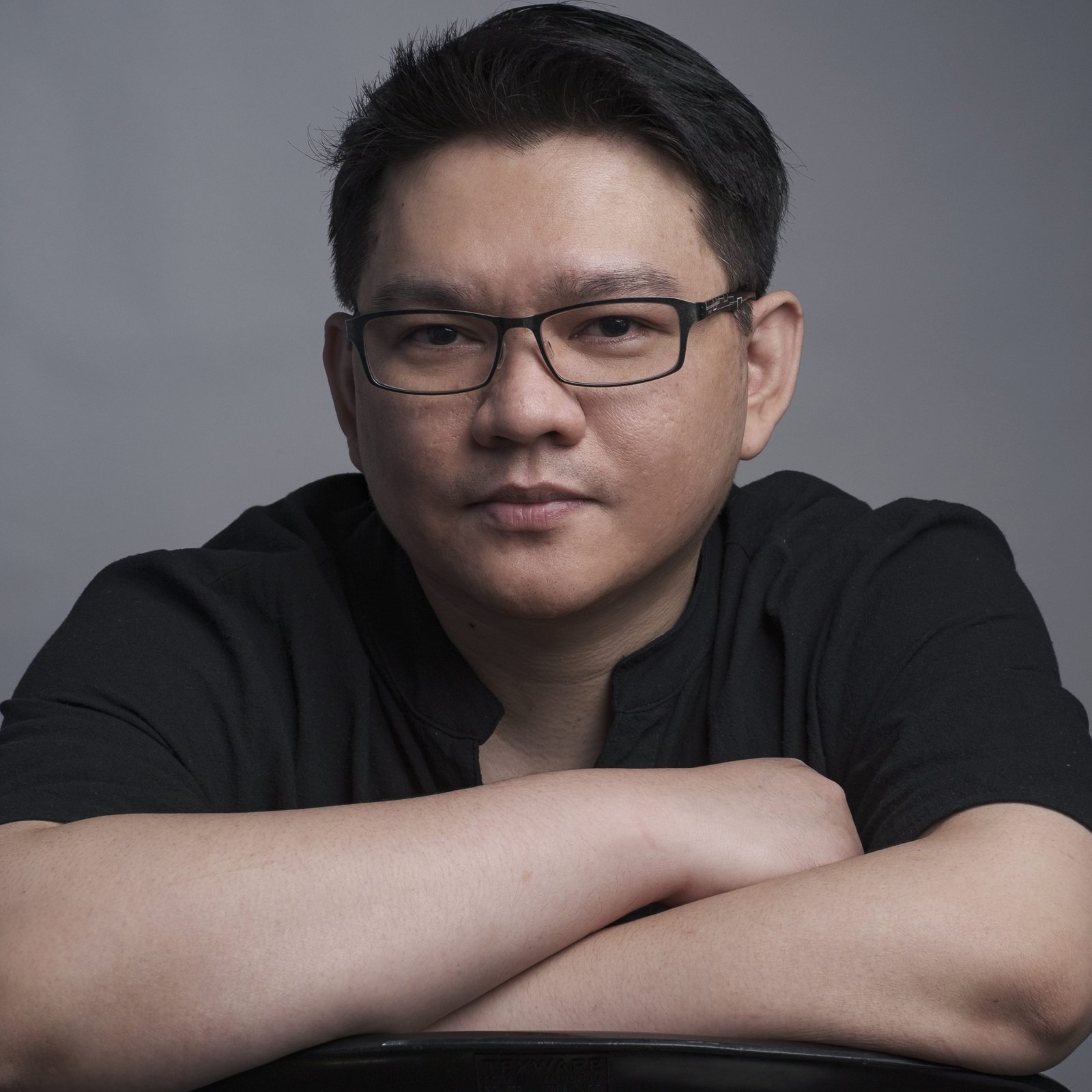 The Broll who always got your back online!