Manila, Philippines – Student life, while exhilarating, comes with its fair share of hurdles. The juggling act of classes, assignments, and personal commitments can feel like a whirlwind. But fret not, because there's a modern-day "hero" ready to tackle these challenges head-on together with you: the HUAWEI MatePad 11″ PaperMatte Edition tablet.
Explore and discover how the HUAWEI MatePad 11″ PaperMatte Edition, a remarkable tablet with a certified anti-glare screen, can totally change up our student experience. Whether it's nailing study sessions or making group projects a breeze, consider this your ultimate guide to turning those challenges into moments of pure triumph.
The Multifaceted Challenges of Student Life
Picture this: you're racing against time to complete assignments, flipping through stacks of heavy textbooks, and battling the fatigue of prolonged screen exposure. It's a rollercoaster, and not always the fun kind. But don't worry – we're about to introduce you to a game-changing ally that can make these challenges a thing of the past and probably become your trusty sidekick in this student journey.

Meet the HUAWEI MatePad 11″ PaperMatte Edition, a tablet where eye comfort meets limitless learning. Let's break down how this tablet tackles the pain points, one by one.
1.Revolutionizing Comfort with the Anti-Glare Advantage:
Prolonged screen time on electronic devices can take a toll on your eyes. With the excessive glare from screens caused by strong light reflection, not only do display effects deteriorate, but it also leads to eye strain and discomfort, especially if we're striving to maintain focus.
To address this issue, the HUAWEI MatePad 11″ PaperMatte Edition with its PaperMatte Display stands out. It is designed to minimize screen glare reflections and reduce eye strain, as certified by TÜV Rheinland for Reflection Free and SGS for Low Visual Fatigue Premium Performance.
On top of that, this 2.5K HUAWEI FullView Display tablet comes with a 120 Hz high refresh rate and has obtained TÜV Rheinland Low Blue Light (Hardware Solution) and Flicker-Free certifications, demonstrating its standout performance in real-world conditions. This feature generates a soft, soothing view for healthier screen usage habits, allowing us to have uninterrupted study sessions, next-level note-taking, reading, viewing, and gaming experiences. Long gone are the days of squinting at a bright screen!
2.Effortless Note-Taking and Annotation:
Taking notes can be a hassle, especially when you're racing to jot down everything the professor says. But with the HUAWEI MatePad 11″ PaperMatte Edition's cutting-edge technology coupled with the HUAWEI M-Pencil stylus, note-taking becomes a breeze. With the stroke of a stylus, the tablet transforms into a dynamic digital notepad, facilitating a natural and seamless paper-like writing experience, including annotating digital documents. This feature proves invaluable during lectures and when dissecting intricate subjects that demand precision.
The highlighter brush feature is also available for you to effortlessly record, refine, and perfect your notes. What's more, you can customize your very own stroke patterns with Huawei's brush feature by adjusting the pressure sensitivity of the stylus tip – with no visible aliasing and crisp edges, writing becomes smoother and clearer than ever before. From diagrams to equations, you can capture it all without missing a beat.
You never worry about running out of blank pages, as you can enjoy 15x canvas zoom on the HUAWEI MatePad 11″ PaperMatte Edition; so, go wild with your creativity in crafting intricate mind maps and stunning images on the canvas. Furthermore, the upgraded Instant Shape feature allows for secondary editing of shapes. You can easily transform triangles and quadrilaterals into desired shapes by simply dragging them. Even complex shapes like hearts are accurately recognized.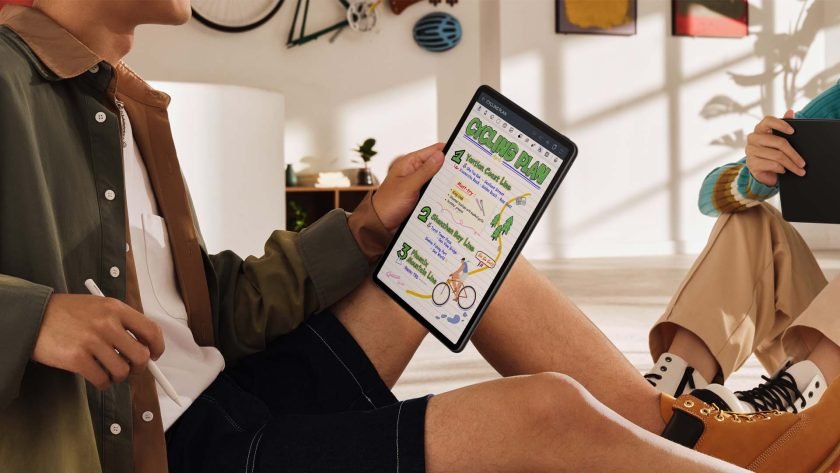 3.Elevate Portability with Your Personalized Digital Library on a PC-level Tablet:
Say goodbye to the days of lugging around backpacks stuffed with heavy books. With the HUAWEI MatePad 11″ PaperMatte Edition, your study materials are just a tap away. Thanks to the tablet's portability, you can carry your entire digital library wherever you go. Ebooks, research papers, and online resources become instantly accessible, eliminating the need for physical storage and embracing an eco-conscious approach to learning. No more searching for specific pages or missing out on important readings when you're in a bustling lecture hall, a tranquil library nook, or a bustling café corner – it's all neatly organized in one place and effortlessly accessible.
The portability of the tablet is further heightened through its dual-earbuds connection feature paired with Huawei wireless earbuds. You can enjoy shareable listening between two people to support multiple work scenarios, whether it's a remote or in-flight meeting conference call or video playback, anytime, anywhere.
But that's not all! The HUAWEI MatePad 11″ PaperMatte Edition also comes with an easy-to-use, PC-level WPS Office Suite to boost productivity while you're on the move. It offers an all-in-one Office Suite with a complete toolbar like the PC version, from WPS Writer for word documents and WPS Spreadsheet for professional data analysis to WPS Presentation for attractive slide creation. Academic work is made easier when you can pair your HUAWEI MatePad 11″ PaperMatte Edition with the detachable HUAWEI Smart Magnetic Keyboard via Bluetooth to start experiencing native desktop functionalities just like a PC and choose to use the tablet in three different modes.
The Laptop Mode – which resembles the PC office experience with the keyboard magnetically attached; or the Split Mode – when working in confined spaces or while lounging on the sofa at home by detaching the keyboard from the tablet to stand on its own and using the keyboard separately. Alternatively, turn the tablet into Studio Mode – where you can adjust between 120° and 160° while using your HUAWEI M-Pencil stylus to select desired colors with precision through the Color Capture feature across apps or devices and enjoy a smoother yet excellent note-taking experience via HUAWEI Notes.
4.Boost Productivity and Enjoy Effortless Organization at Your Fingertips:
Running on HarmonyOS 3.1, the HUAWEI MatePad 11″ PaperMatte Edition also brings seamless ecosystem convergence capabilities and multi-task operations, including SuperHub, Multi-Window, and App Multiplier to take your productivity efficiency to a new level.
The Multi-Window feature allows the tablet to achieve collaborative interactions between different tasks and apps. It enables concurrent operations of a maximum of four apps at the same time; for example, users can edit emails while chatting, watch videos while shopping, and take notes while reading, bringing efficiency through the roof.
The newly upgraded App Multiplier, supporting more than 5,000 apps, allows the split-screen window to be changed into a floating window and supports three ongoing tasks in one app for more efficient multi-tasking. For example, when you start chatting, a maximum of three windows can be opened, including two left and right split-screen windows and two floating windows. Moreover, you can launch multi-party chats for better communication or enjoy a more convenient shopping experience through multi-window price comparison.
With the SuperHub feature on the HUAWEI MatePad 11″ PaperMatte Edition, you can drag to compile texts, images, and videos to temporarily store them in your own SuperHub in the tablet; and later choose to edit or transfer these contents across your Huawei devices such as tablets, laptops, all-in-one computers, or smartphones. In addition, you can quickly extract and transfer key information with the Take Snippet feature, without saving it or using third-party software, to make exquisite journals on the HUAWEI MatePad 11″ PaperMatte Edition.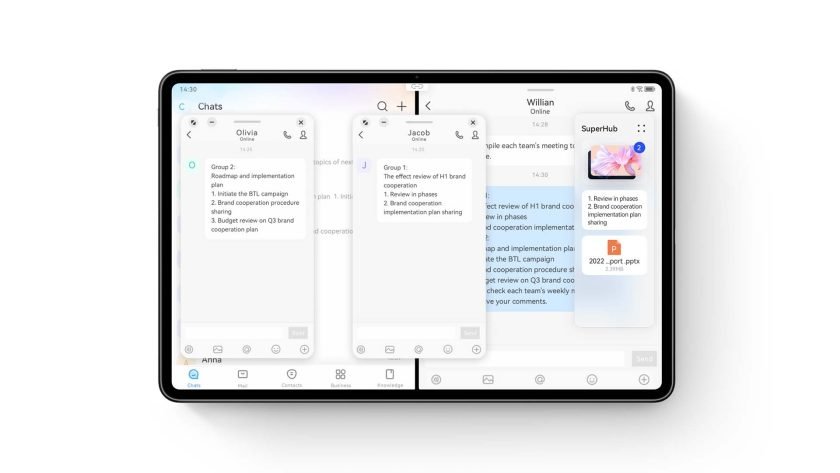 5.Enhanced Collaboration and Connectivity:
Collaborating with peers on group projects, sharing study notes, and participating in real-time collaborative work is an integral part of student life. The HUAWEI MatePad 11″ PaperMatte Edition's user-friendly interface and compatibility with various productivity apps make teamwork smoother than ever.
Working on an assignment or thesis on your Huawei laptop but would like to have seamless cross-device interactions with your tablet? Simply transform your HUAWEI MatePad 11″ PaperMatte Edition into a Super Device by using the Multi-screen Collaboration feature with Huawei PCs via the PC Manager app to further improve work and productivity efficiency. Real-time collaboration, instant sharing, and seamless communication – it's all at your fingertips.

In Collaborate mode, you can easily transfer contents by dragging and dropping selected text, images, and files between your Huawei tablet and PC. Meanwhile, turning the tablet into Mirror mode is also great for group discussions where team members can split into groups to read and discuss more easily while editing the document in real-time as it goes. The Extend mode allows the tablet to serve as an additional screen where you can cross-check reference or comparison materials between versions on the PC and tablet, making necessary amendments or real-time annotations while taking online classes.
6.Balancing Academics and Well-Being:
Student life is about more than just acing exams; it's about taking care of yourself too. The HUAWEI MatePad 11″ PaperMatte Edition's anti-glare screen isn't just a feature; it's a commitment to your well-being. Long study sessions become comfortable, allowing you to focus on learning without straining your eyes.
But the HUAWEI MatePad 11″ PaperMatte Edition doesn't stop there. It goes beyond your academic needs and caters to your entertainment desires too. Picture yourself immersing in the captivating sound of your favorite music or indulging in the latest movies and dramas, all brought to life by the HUAWEI MatePad 11″ PaperMatte Edition's amazing quad-speaker system tuned by Histen 8.0. Its ultimate cinema-grade audiovisual quality will transport you to a world of entertainment, elevating your experience to new heights.
You'll never have to stress about your tablet not fitting your style when you take it to campus or outside of campus for weekend hangouts. The design, featuring a starry starlight sand design with a unique cosmic star ring camera and an invisible Wi-Fi antenna, ensures you're not just carrying a functional device, but a sleek accessory that complements your look effortlessly.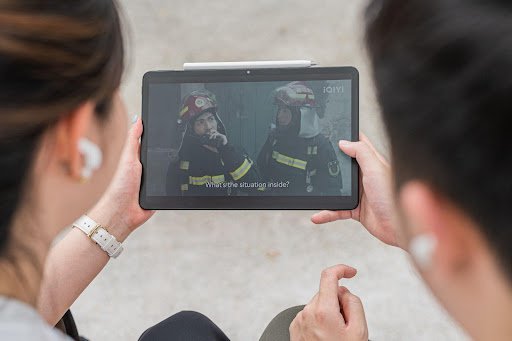 7.Ready to take the leap?
As you navigate the labyrinth of student life, challenges may seem intimidating, but they're also opportunities for growth. The right tools can transform these challenges into stepping stones toward success. The HUAWEI MatePad 11″ PaperMatte Edition, with its versatile capabilities and focus on comfort, isn't just a tablet; it's your partner in conquering these obstacles.
This tablet introduces a fusion of practical and professional software ecosystems, such as the PC-level WPS Office Suite and the HUAWEI Notes app. Additionally, its seamless device collaboration and ecosystem convergence capabilities, including SuperHub and Multi-screen Collaboration, facilitate a convenient experience across mobile phones, PCs, and tablets. With features like Multi-Window and App Multiplier, your multitasking efficiency is taken to new heights. From work to socializing, entertainment, and beyond, the anti-glare screen of the HUAWEI MatePad 11″ PaperMatte Edition ensures an immersive experience, addressing eye strain issues. This tablet is the ultimate companion, offering a professional, efficient, and convenient one-stop working experience.
From organizing your academic materials and simplifying note-taking to enhancing collaboration and prioritizing your eye health, the HUAWEI MatePad 11″ PaperMatte Edition has your back at every turn. As you advance on your academic journey, armed with a tablet that directly addresses your challenges, you won't just overcome obstacles – you'll thrive in their presence. Embrace the digital era, welcome the HUAWEI MatePad 11″ PaperMatte Edition into your routine, and embark on a student life that's been transformed into an adventure of triumph and growth.
Get the MatePad 11″ PaperMatte Edition with 8GB RAM + 128GB storage for only Php 29,999 at offline and online HUAWEI stores, authorized retailers, and Shopee and Lazada. Buy it now until October 31 to enjoy a bundle of freebies worth Php 21,895, including a detachable magnetic keyboard, a HUAWEI M-Pencil 2nd Gen, a HUAWEI Bluetooth Mouse, PC Level WPS Office, a Viu 1-year Premium Subscription, and an Edventure Coupon. Additionally, if you have an old Huawei product, you can take advantage of a Php 3,000 trade-in token at select stores. Don't miss out on this incredible offer to enhance your student life!
 
Discover the latest from Huawei by checking out the Official Facebook Page.
Want to stay updated on all things Huawei? Join and follow the Official Facebook Community and be part of all the latest conversations on Huawei.
SHARE THIS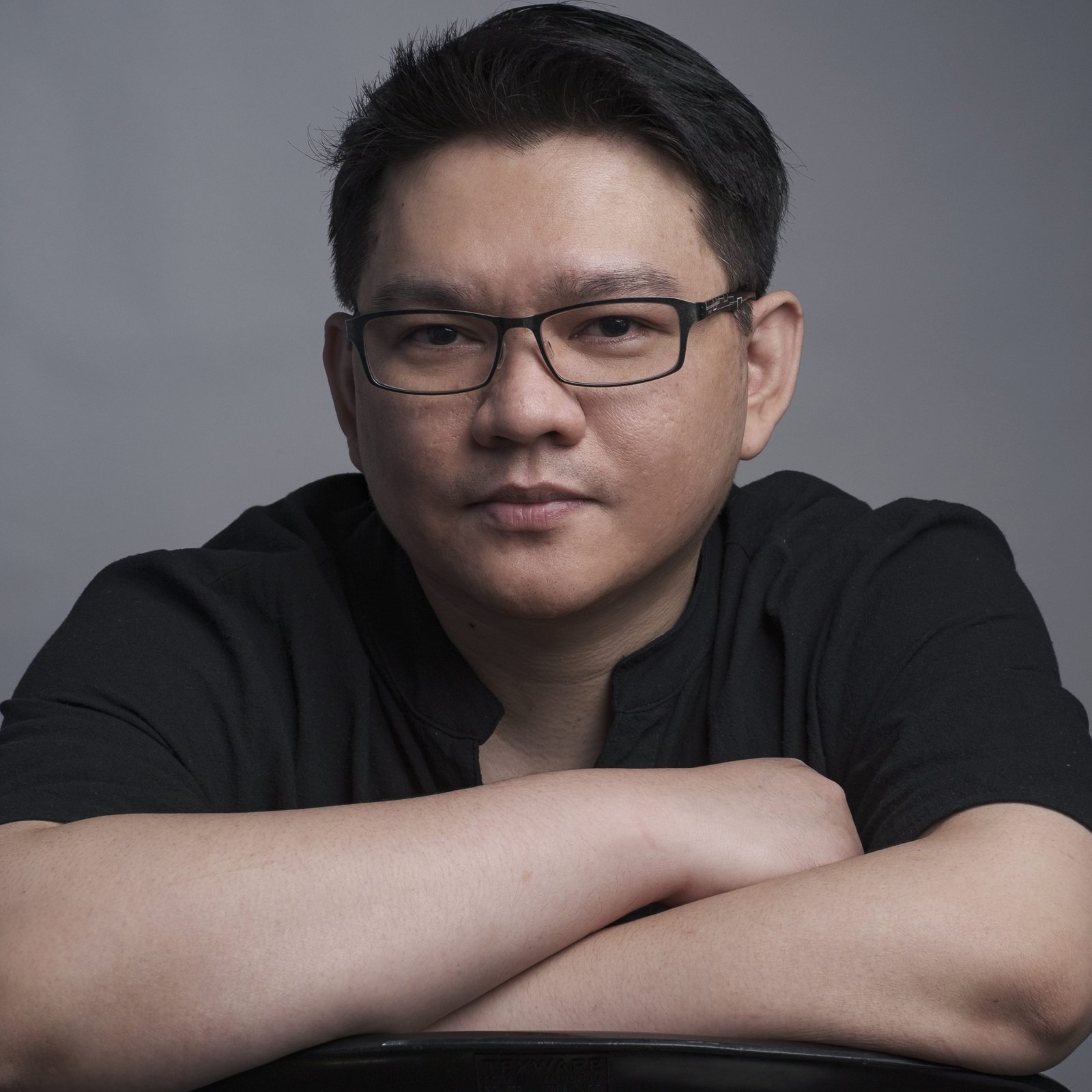 The Broll who always got your back online!