It has been a while since I took a look at a gaming mouse due to the overwhelming projects I have about mechanical keyboards. And while it's fun building custom keyboards and all, it is definitely a breath of fresh air to test something different from time to time. Now, even though I stopped streaming Valorant on our Facebook page, I am still playing competitively behind the scenes every day, so when Razer asked me to take a look at their latest Razer Viper 8KHz gaming mouse, of course, I had to say yes. 
In this review, I'll give you my thoughts about this latest iteration from the Viper series and see if it is worth the hype and extra cost given the ultra-fast 8000Hz polling rate they are boasting about while basically having the same overall feature set. Are we ready for this crazy speed? We'll see.
MY EARLY BREAKDOWN
Pros: Reliable and tested design, construction, and ambidextrous shape. Lightweight while maintaining a solid structure, Ultrafast 8000Hz polling rate (future proof).
Cons: Unusable performance at 8000Hz on some games, Relatively stiffer cable, More expensive (at least here in the Philippines)
SPECIFICATIONS
| | |
| --- | --- |
| FORM FACTOR | True-Ambidextrous |
| CONNECTIVITY | Wired – Speedflex Cable |
| BATTERY LIFE | None |
| RGB LIGHTING | Razer Chroma™ RGB |
SENSOR
Optical
MAX SENSITIVITY (DPI)
20000
MAX SPEED (IPS)
650
MAX ACCELERATION (G)
50
PROGRAMMABLE BUTTONS
7+1
SWITCH TYPE
2nd-gen Razer™ Optical Mouse Switch
SWITCH LIFECYCLE
70 Million Clicks
ON-BOARD MEMORY PROFILES
5
MOUSE FEET
100% PTFE Mouse Feet
CABLE
Razer™ Speedflex Cable
TILT SCROLL WHEEL
No
SIZES

Length: 126.73 mm / 4.99 in
Width: 57.6 mm / 2.27 in
Height: 37.81 mm / 1.49 in

WEIGHT
71 g / 2.5 oz (Excluding cable)
DOCK COMPATIBILITY
None
WHAT'S IN THE PACKAGE
In terms of the packaging, it is something we should expect from Razer, exceptional. In front, we have an image preview of the Razer Viper 8KHz and some of its key features.
On this side, we just have the iconic modern Razer logo.
And on the other side, again we have some of its key features, package contents info, and other system requirements.
Flipping it all over at the back, we have another image preview of the Razer Viper 8KHz focusing on its main features.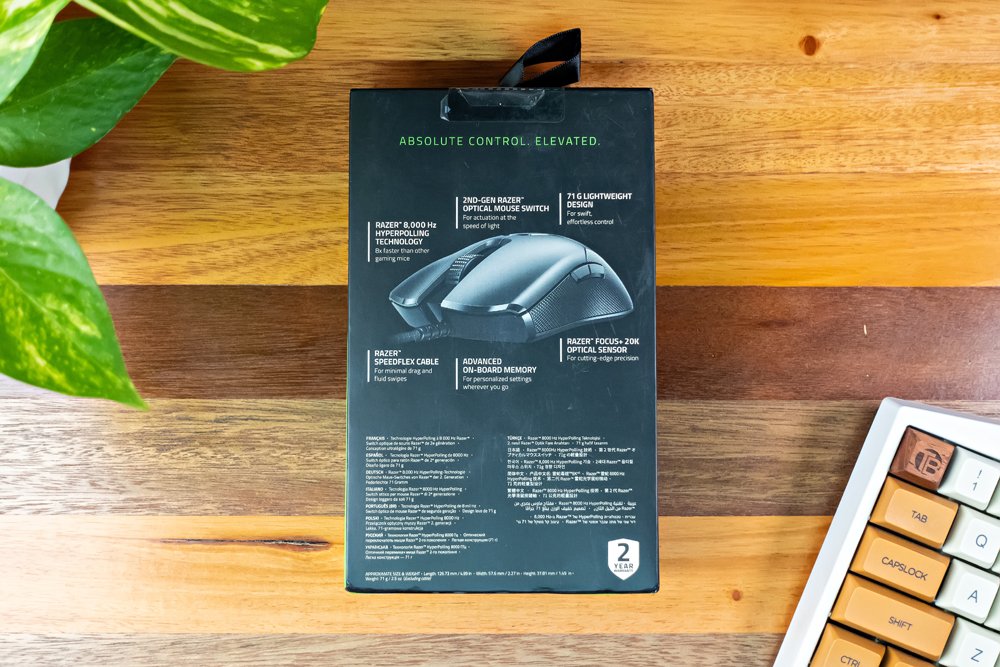 Opening the main packaging reveals another box.
It looks like one of those recyclable or environment-friendly brown packaging.
Which I was able to verify by flipping it on its side. 
Apparently, this packaging is from a managed forest making sure it's not from illegal logging or things around that nature. Probably not the most important thing you're into when it comes to packaging but in my opinion, definitely worth mentioning and hopefully more brands do the same, genuinely.
Anyways, opening the box reveals the rest of the package contents including of course, the Razer Viper 8KHz nicely protected by a pouch,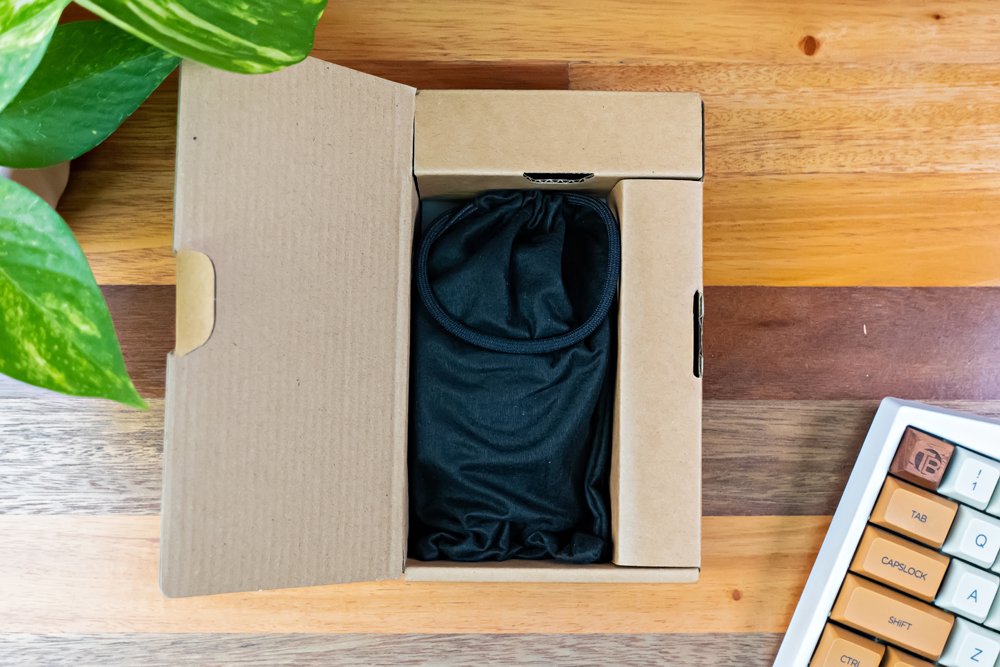 Inside the box, we also have a couple of paperwork including the user manual and as usual, a set of Razer stickers.
And lastly, of course, we have the Razer Viper 8KHz gaming mouse itself with a quite familiar look.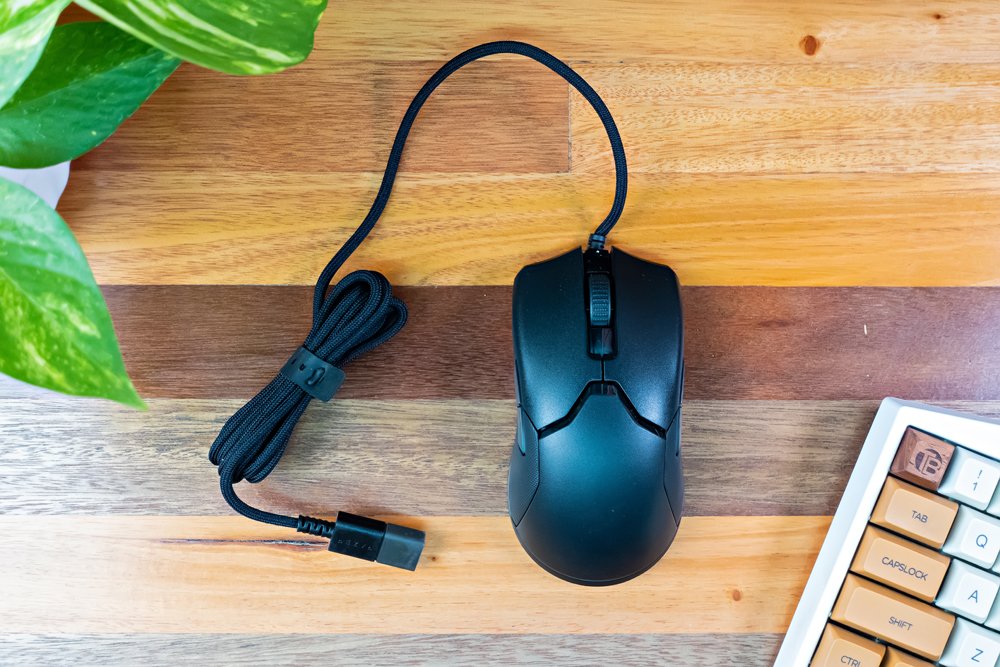 FULL REVIEW
Design, Construction, and Parts Overview
In terms of the design and construction, even though I was only able to try the original Razer Viper at a community meetup before, this one looks and feels completely the same and as per my research, it is virtually the same as most of the changes done are internal.
We can also verify that with this quick comparison from Razer's website.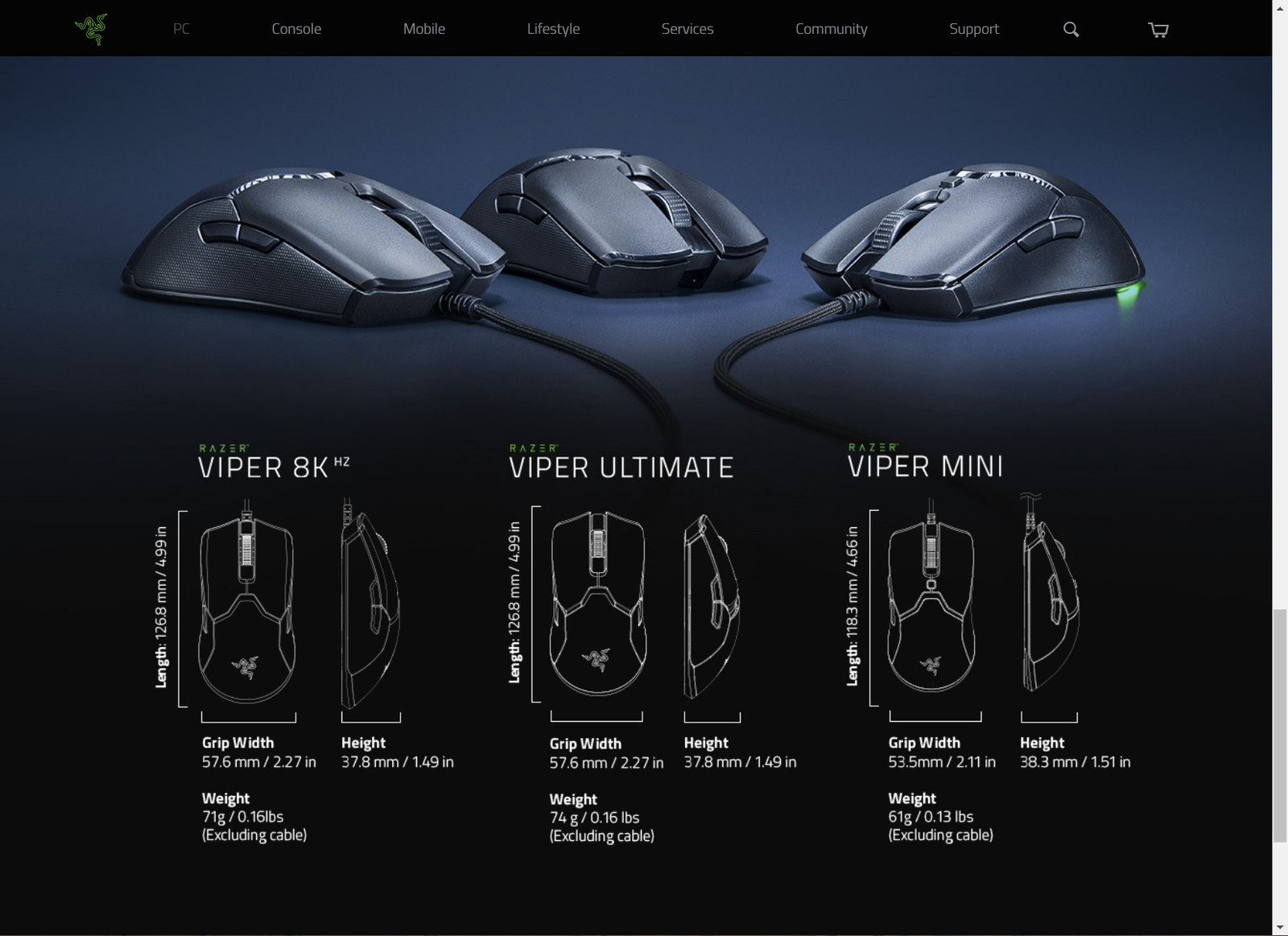 The only significant difference is essentially their weight except of course for the Mini and the Wireless version.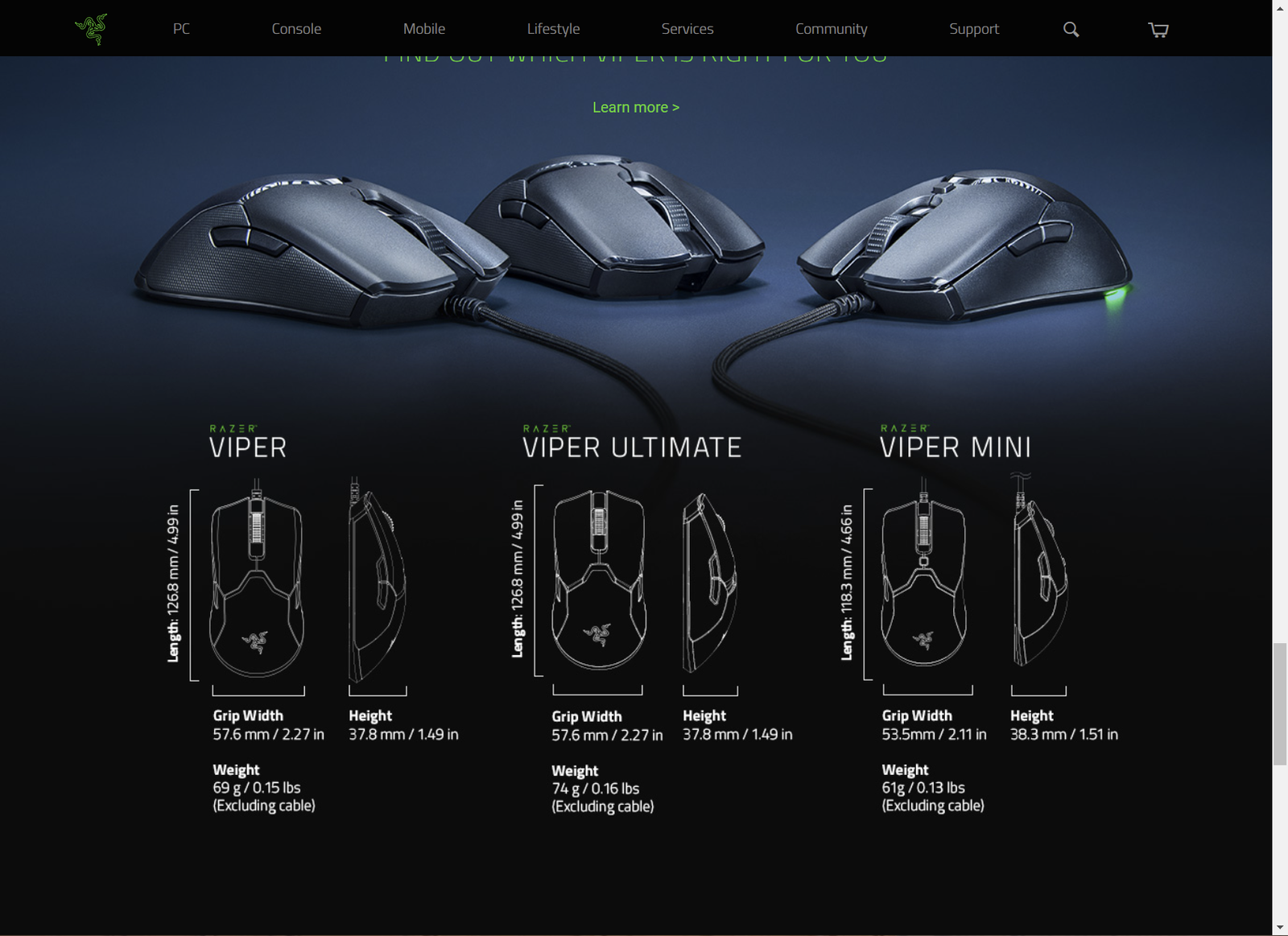 Looking from the top, we have a legit ambidextrous shape that not only is symmetrical but also has two side buttons on both sides making this a viable option even for left-handed users. We also have the usual left and right mouse buttons and the scroll wheel. Interestingly, we don't have a quick DPI button here up top. But we do have a subtle Razer logo hidden underneath the cover which lights up and is customizable via Razer Synapse. 
Flipping it on the left side, we have the forward and back buttons that are perfectly spaced to be easily reached using your thumb without having to adjust your grip. They are also quite clicky, tactile, and easy to press. We also have here a nice rubber texture for better grip that apparently is part of the mold making it seamless to the overall design while also providing that legit curvature that makes it stick properly and essentially permanent.
And like I said, this is an ambidextrous mouse so we have those same design elements on the other side. You can also have an idea here about the top curvature and bump of the Razer Viper 8Khz. As you can tell, it is relatively short in terms of height and bump which I personally prefer.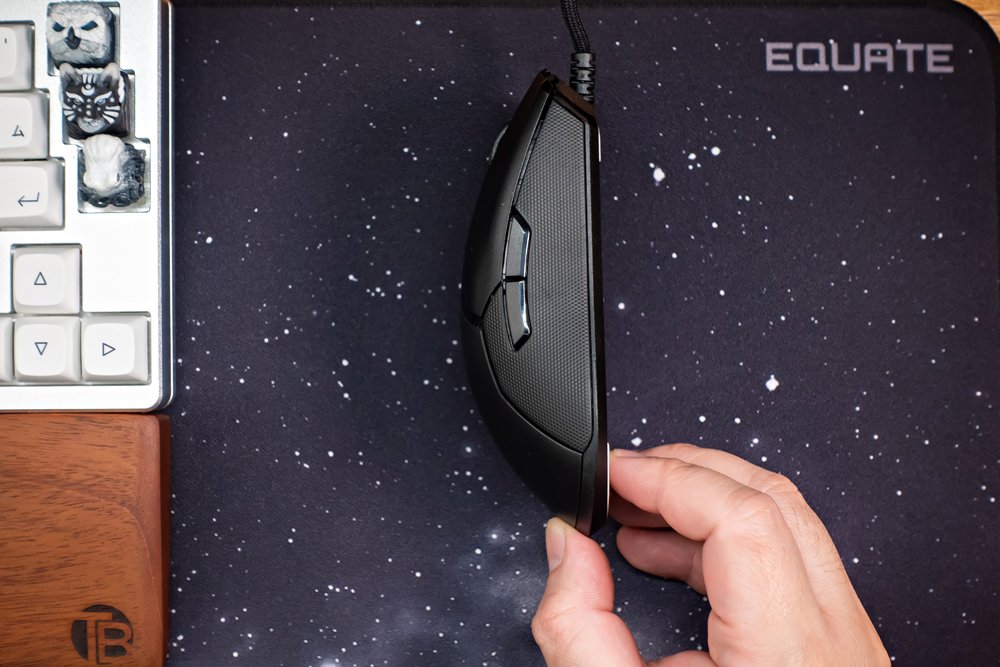 Here's a better view of the bump looking from the rear side. You can also tell that the design of this gaming mouse is quite subtle in terms of colorway with just black all around it even the logo is quite subtle and hidden from sight unless you use RGB illumination. 
Here's the front side profile so that you can have an idea about the size and shape of the mouse clickers and the amount of gap they have away from the bottom chassis.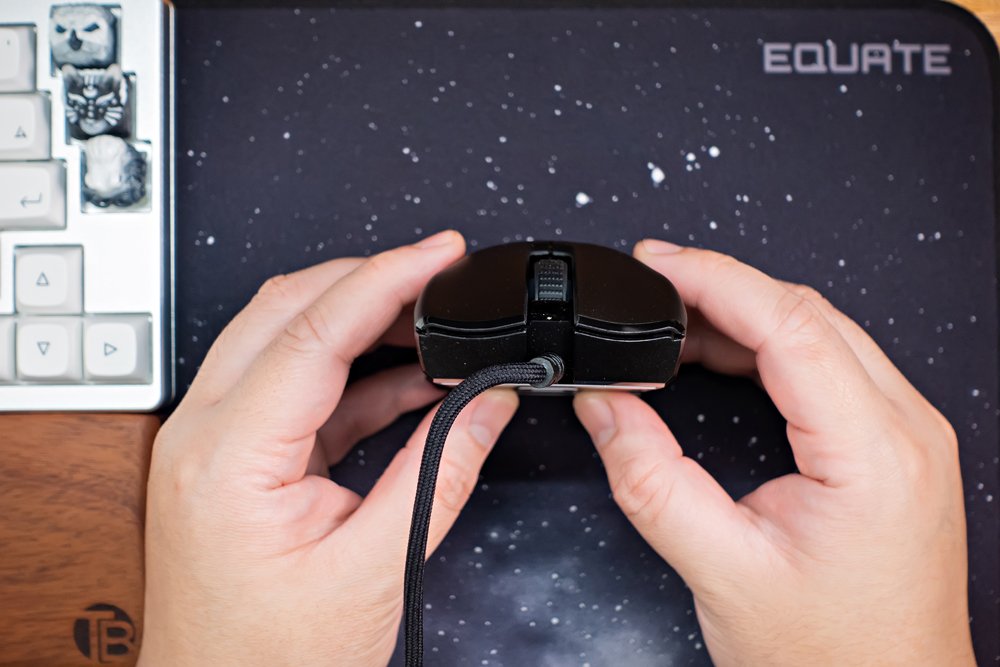 And lastly, flipping it all over at the bottom, we have 3 100% pure PTFE mouse gliders, the Razer Focus+ 20K optical sensor, the DPI adjustment button with an LED indicator, and some technical details which include the power rating, serial number, and certifications.
Razer Speedflex Cable
Now, the cable which Razer calls the "Razer Speedflex" is thick and durable but is significantly stiffer than most paracord cables that I've tried before. Stiffer than what I've tried even from some budget gaming mouse in the market.
It has a silicone cable management tie though and a silicone cap to go along with that.
Razer Optical Switches
Now, before we even talk about the 8000Hz polling rate, there are a few things that also need to be considered when it comes to the performance of a gaming mouse especially when it comes to minimizing input lag or latency which the 8000Hz feature is trying to reduce. One of those is the latency of the switches themselves. You see, a typical gaming mouse uses the traditional mechanical switches which, unfortunately, by nature of its design utilizing metal contacts as its trigger point, suffers from a thing called debounce delay which in a way introduces some latency. Optical switches like the Razer Optical Switch doesn't suffer from that as it doesn't use physical contact and instead, uses infrared light which is significantly faster at 0.2ms, that's 3 times faster than traditional mechanical switches. So that's one thing. Another thing is, of course, the amount of time data needs to travel from the mouse to your computer and with the Razer Viper 8KHz being wired, we don't have to worry about that.
As for how the Razer Optical Switches feel, it is definitely clicky and has a fast and snappy actuation feel. The travel distance between the initial press to the actuation point up to the bottoming out point is also quite short which is perfect for FPS games.
Scroll Wheel
The scroll wheel feels good and It has this nice grippy textured with micro bumps and has a fair amount of tactile feedback both when scrolling and pressing the button. It also doesn't have any wobble, no complaints here.
Texture and Shell construction
The Razer Viper 8KHz has this matte finish with a fine texture that is both aesthetically pleasing and feels good in the hands. The overall design language is minimal while still having that Razer vibe written all over it with these polygonal cutouts and shapes. But what I really like about the design of this mouse is the fact that they were able to pull off a lightweight construction while maintaining a solid structure and not resorting to the typical honeycomb holes most brands did. Definitely a different take and for sure took a lot of effort to accomplish.
As per specifications, it is 71g and as per my own testing, it is definitely around that weight.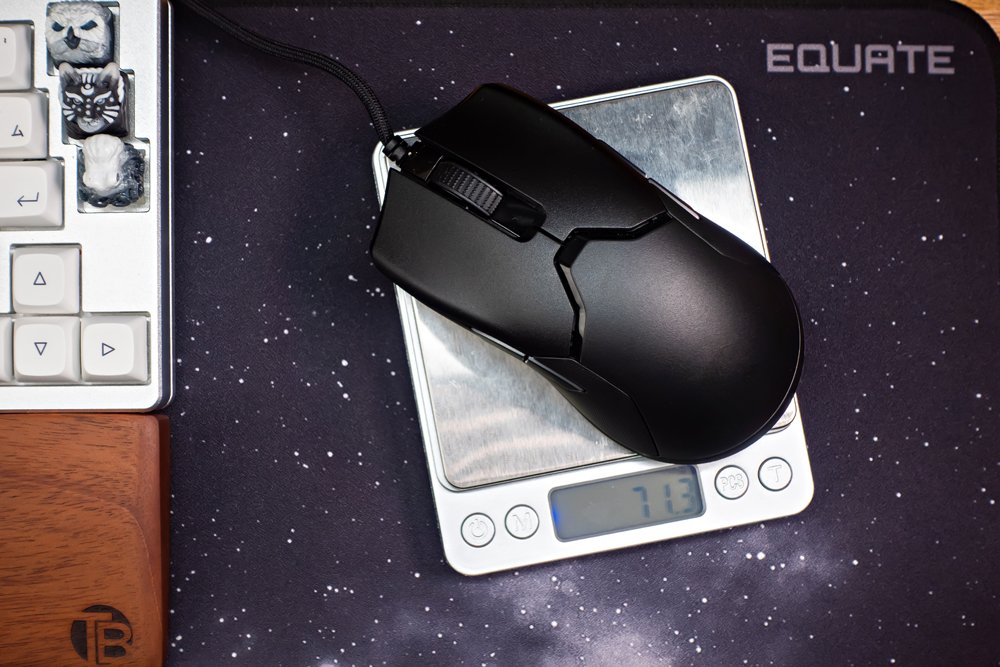 Before we move on to the most important part of this review which is the performance, let's talk about the shape real quick.
Shape and Grip Styles
The Razer Viper 8KHz with its ambidextrous shape is designed primarily for claw and fingertip users. But depending on the size of your hands, it can also be a viable option for palm grip users because of the relatively short bump.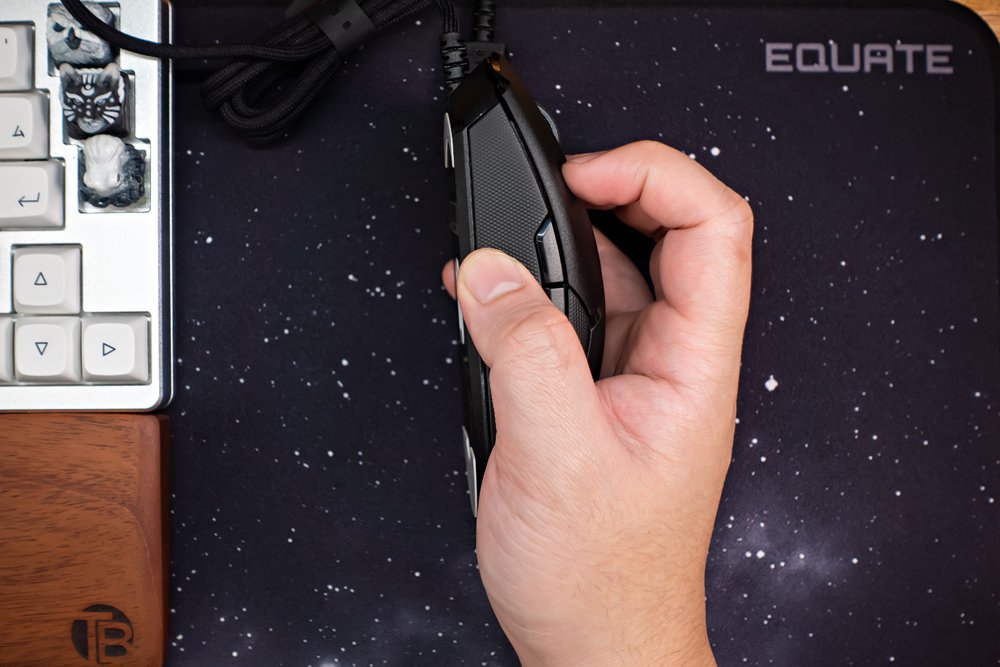 And although its relatively long and large size doesn't really fit well with my small and chubby hands, I still feel it is a very comfortable and easy to hold mouse. I can still play FPS games competitively with confidence using this mouse but I also feel like the Viper mini's shape is more suitable for my hands. 
So I'll definitely wait for the Viper Ultimate Mini since I also prefer a wireless mouse due to the limited real estate I have on my desk.
Performance – 8000Hz Polling Rate 
The Razer Viper 8Khz from the name itself features an 8000Hz polling rate. Polling rate is the amount of time the mouse sends data signals to your computer. This includes the sensor position, button clicks, and mouse wheel rotations. The faster the polling rate, the less input latency there will be, at least in theory, and if it works properly.
Speaking of if it works properly, Razer actually has set some high system requirements to properly take advantage of this leap in technology. This includes the following:
Processor: Intel Core i5-8600K or AMD Ryzen 5 3600
Graphics Card: Nvidia GTX 1080 or AMD RX 5700
My Test System:
Processor: AMD Ryzen 7 3700X
Graphics Card: Nvidia RTX 3070
Display: CoolerMaster GM34-CW 144Hz Ultrawide Gaming Monitor
As you can see, I have met all the system requirements above and I also turned off Adaptive Sync.
However, as per my testing, I can not get the 8000Hz to work properly in both an older game in Counter-Strike: Global Offensive and in a more recent game in Valorant. Setting the polling rate above the standard 1000Hz resulted in an erratic performance with significant frame drops here and there that make the gaming experience barely usable and unreliable. As per my research, it's actually not a fault from Razer but the games are simply not yet ready for this technology. Your result may vary though but as per my own experience, I needed to stick with the standard 1000Hz. So I guess, the 8000Hz feature is more of a future-proofing rather than an actually usable feature, at least for now.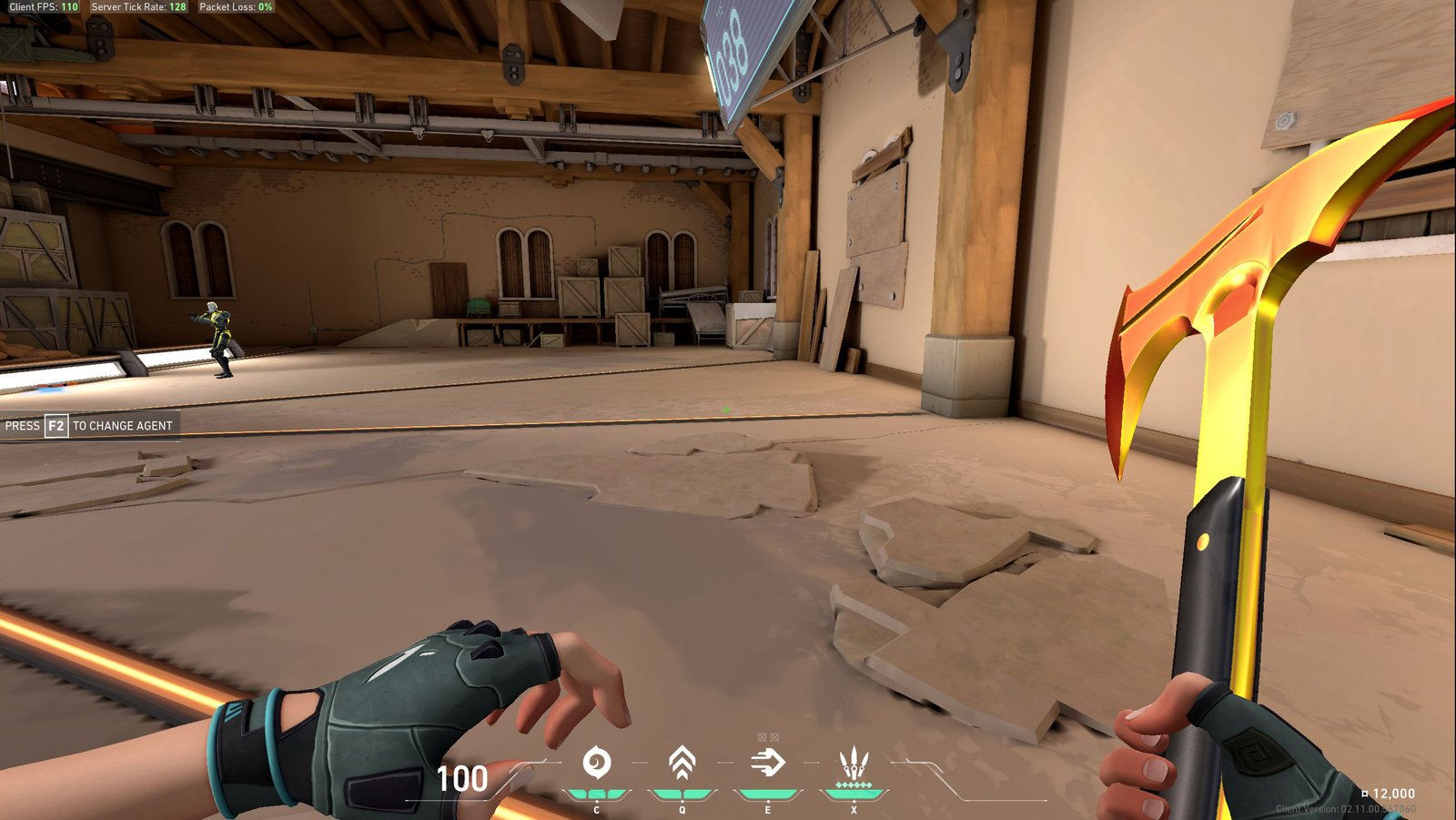 Performance – Razer Optical Switches
As for the performance of the Razer Optical Switches, like I said earlier, it is pretty good for FPS games with fast actuation points and a shorter travel distance than most gaming mice out in the market. I can not say for sure if I noticed any significant difference in terms of the actual input latency but it definitely feels snappier than usual.
Performance – Razer Focus+ Optical Sensor
The Razer Focus+ Optical Sensor without diving too much into the technical aspects feels really accurate and reliable. I feel like it is responsive enough that I can place my crosshair wherever I want as quickly as I needed it to be. I didn't notice any erratic or unwanted movements even when tracking very slowly. It also doesn't spin out when doing quick flicks and faster movements. Overall, the performance of the combination of the Optical Switches and the Optical Sensor is good enough to provide confidence for competitive gaming even without that 8000Hz polling rate feature.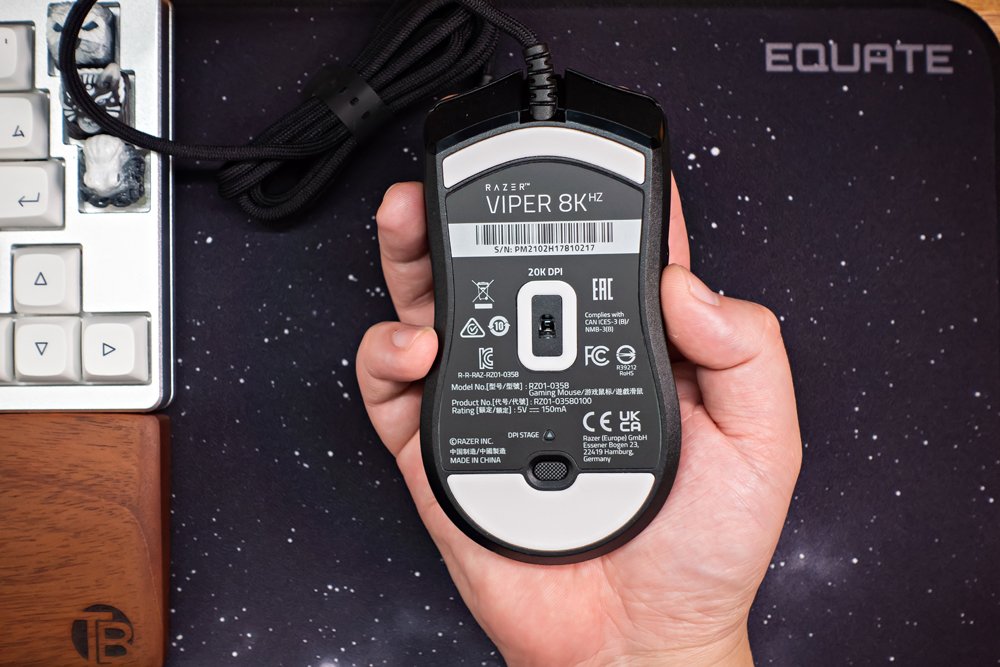 Now, it may be a con or pro depending on how you look at it, but the DPI adjustment button is located at the bottom. In a way, it is good if you don't want to accidentally toggle it but if you're a gamer that typically takes advantage of DPI switching in-game, then you'll definitely treat this design as a con.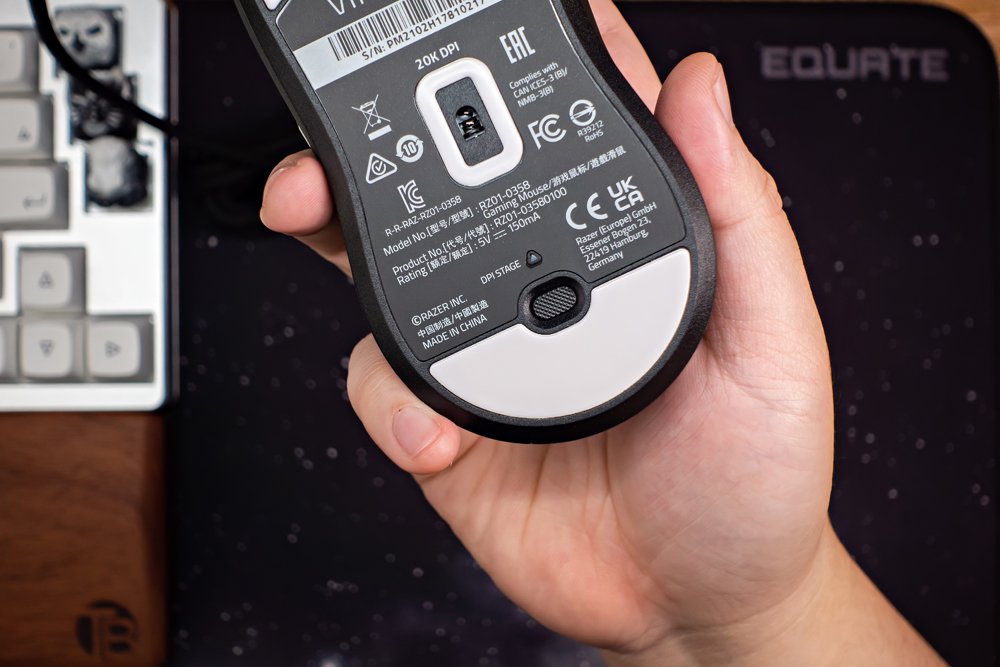 Another thing that I also noticed in terms of the design is that since there are buttons on both sides, sometimes I accidentally press the button on the off-side which is quite annoying. You may have to disable let say the right side buttons if you're a right-handed user to avoid pressing those using either your ring or pinky finger. Your mileage may vary though of course depending on how you grip the mouse.
Lastly, before we end this review, let's take a look at the Razer Synapse Software for the Razer Viper 8KHz
Razer Synapse Software
The Razer Synapse Software is very intuitive and allows you to fully take advantage of the Razer Viper 8Khz. In the customize tab, you can pretty much change the function of any button except the primary left click to any other function like a keyboard function, other mouse function, DPI shortcut, device switching, profile switching, lighting effects, and more. You can even create another set of functions by taking advantage of the Razer Hypershift feature which essentially gives you another layer of buttons to customize.
In the performance tab, this is where you will set that 8000Hz polling rate and DPI adjustment periods in increments of 50. You can set polling rates of 125, 500, 1000, 2000, 4000, and 8000 Hertz.
The lighting tab is where you can customize the lighting of the Razer logo. You can set the brightness levels, switch off lighting parameters, and Razer Chroma effects.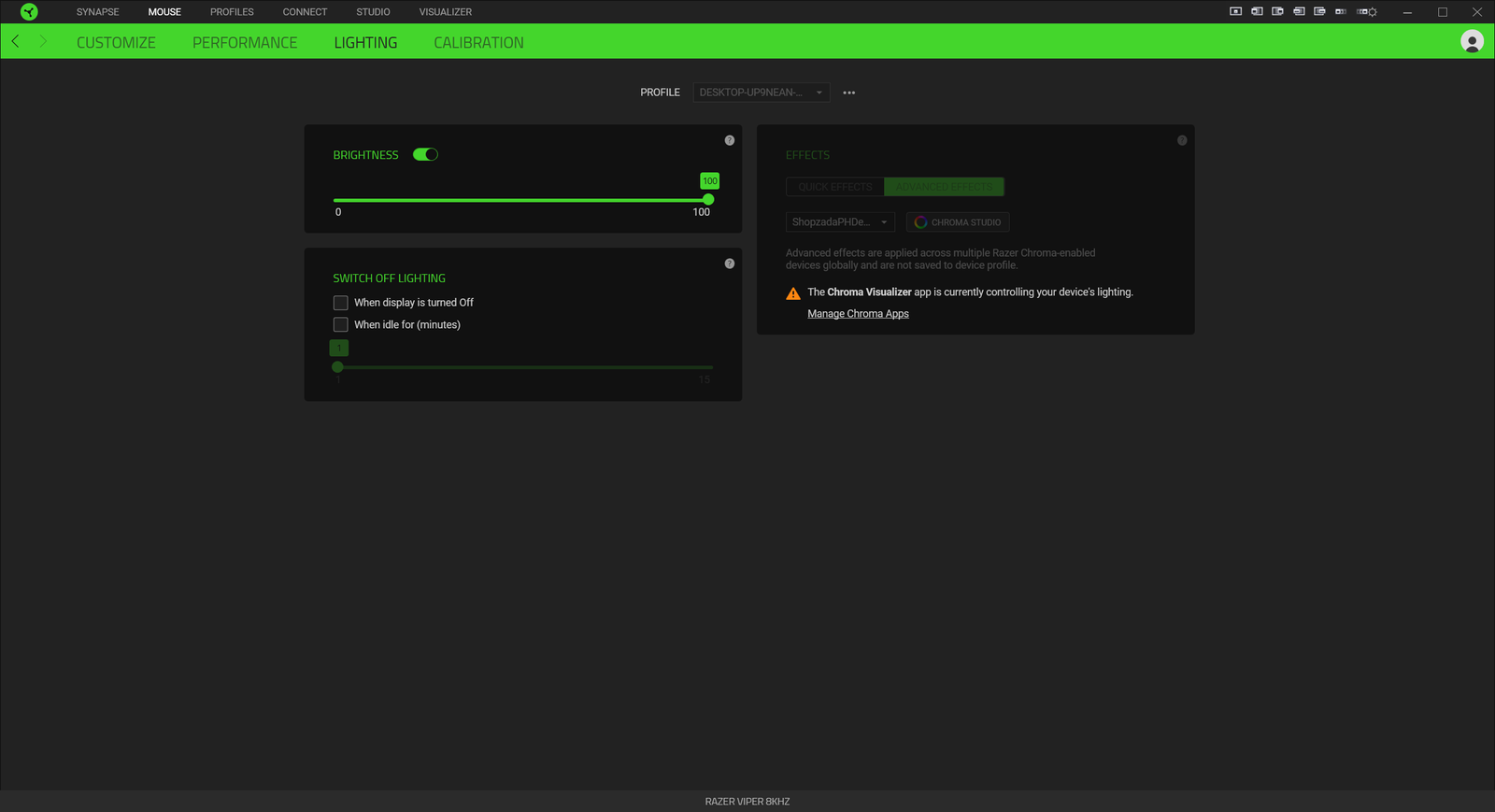 And lastly, we have the calibration wherein you can set a pre-configured Razer surface if you have one or calibrate your own.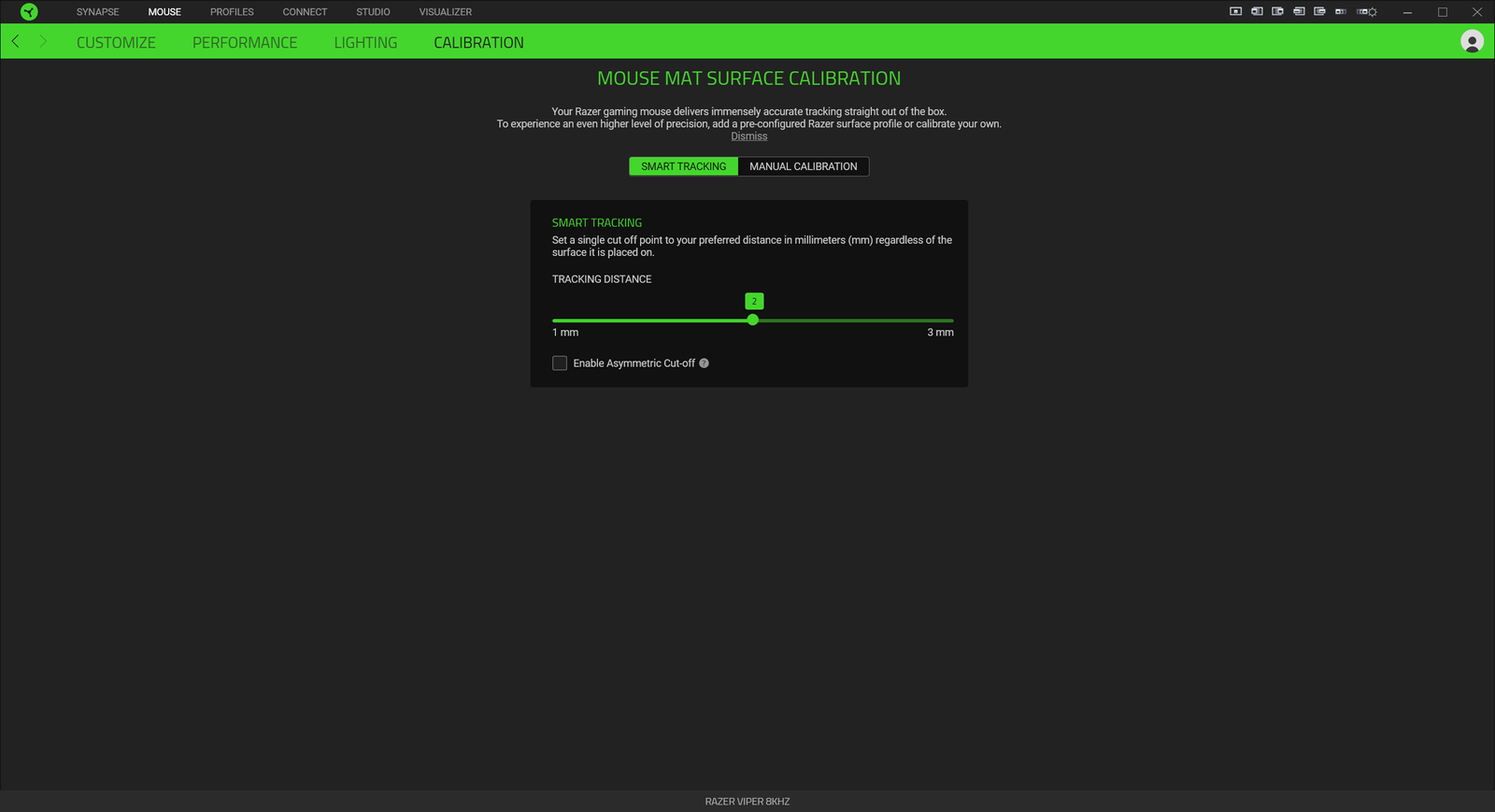 VERDICT
To conclude, the Razer Viper 8KHz by itself, without even considering the ultra-fast 8000Hz polling rate, is a very good gaming mouse. It features a tried and tested design, shape, construction, and weight with a very reliable Razer Focus+ Optical Sensor and fast and satisfying Razer Optical Switches. These combinations are already a considerable arsenal for a good gaming experience with minimal input latency, especially given the fact that this one is wired. It is also a legit ambidextrous mouse with forward and back buttons on both sides and is also backed up with decent and intuitive software. My only problem with this mouse is the quite stiff braided cable and the fact that I can not take advantage of the very reason why we have this, the 8000 Hz polling rate on the games I play. Like I said, your mileage may vary. So at the end of the day, given the significant difference in terms of the price between the standard Razer Viper and this 8KHz version at least here in the Philippines, I suggest you stick with the standard version until the games are ready for primetime with this new technology. Otherwise, if you are willing to pay that extra price for future-proofing, then by any means get the 8KHz version.
Related Articles:
Ultralight GPW Alternative? Fantech Hive UX2 Review!
Read this before buying the NEW Tecware Exo Elite + VS Kaptan VS MM711
Unboxing a SPECIAL EDITION Gold and Red Iron Man Themed Cooler Master MM711
i-Rocks M36 Pro Gaming Mouse Review – Optic Magnet Microswitches!?
Rakk Kaptan Gaming Mouse Review – Best Rakk Gaming Mouse!
AKKO Smart 1 Dragon Ball Super Themed Wireless Mouse Review
ASUS TUF M5 Gaming Mouse Review
Rakk Ilig V2 Gaming Mousepad Review + Comparisons
If you like this one, please consider subscribing to my channel by hitting the button below. Have a great day!
Razer Viper 8KHz Gaming Mouse
Php 3,709
Pros
Reliable and tested design, construction, and ambidextrous shape
Lightweight while maintaining a solid structure
Ultrafast 8000Hz polling rate (future proof)
Cons
Unusable performance at 8000Hz on some games
Relatively stiffer cable
More expensive (at least here in the Philippines)
SHARE THIS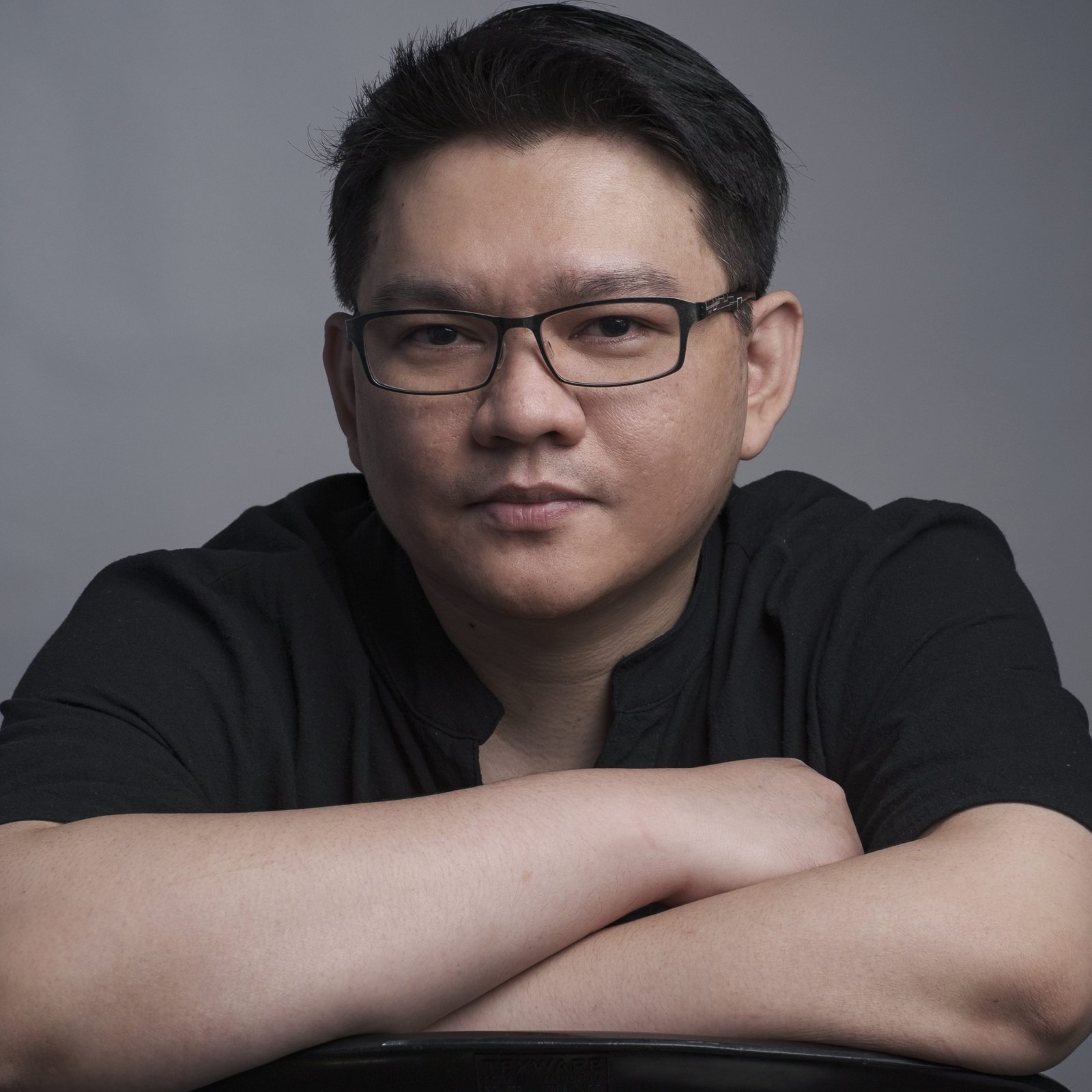 The Broll who always got your back online!