You know what, sometimes there are things that we thought we didn't need until we finally tried them for ourselves, and then we can't simply go back to the things that we're used to. And that exactly what I felt after using the ASUS ZenBook Duo 14 for a few weeks. Having a secondary display to throw-in my windows, folders, applications, and tools and being able to focus on my main task using the primary display is something I haven't thought was possible before without resorting to an external display. Not to mention the built-in applications that we're developed to further push the potential of this innovative design. This takes the on-the-go productivity of photographers, video editors, artists, entrepreneurs, professionals, and pretty much anyone to the next level. 
I've already released my dedicated Unboxing and First Impressions as well as my Full Review of the ASUS ZenBook Duo 14, but I still want to focus more on the ErgoLift Hinge and the ScreenPad+ feature and why it changes everything when it comes to laptop usage and laptop design in general. So today, we're gonna do just that,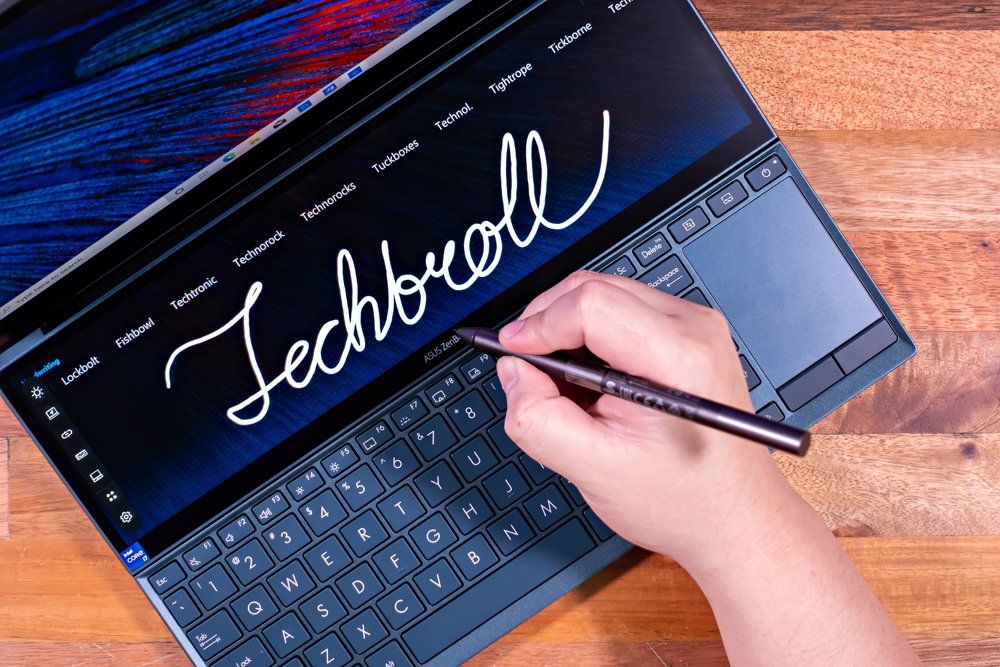 Let's talk about the physical design of the ScreenPad+ first before we dig in deeper on its features and capabilities.
ScreenPad+ Physical Design
In terms of specifications, we have a 12.65″ 1920 x 515 IPS-level Panel that also supports touch screen input and stylus. It also has an anti-glare finish to minimize unwanted reflections and harsh lighting especially given the quite unusual viewing angle.
The ScreenPad+ secondary display is supported by the ErgoLift hinge that ultimately allows the Active Aerodynamic System Plus to take effect. 
The AAS+ is essentially the combination of the ErgoLift hinge, the ScreenPad+ display, the Rear Exhaust ventilation,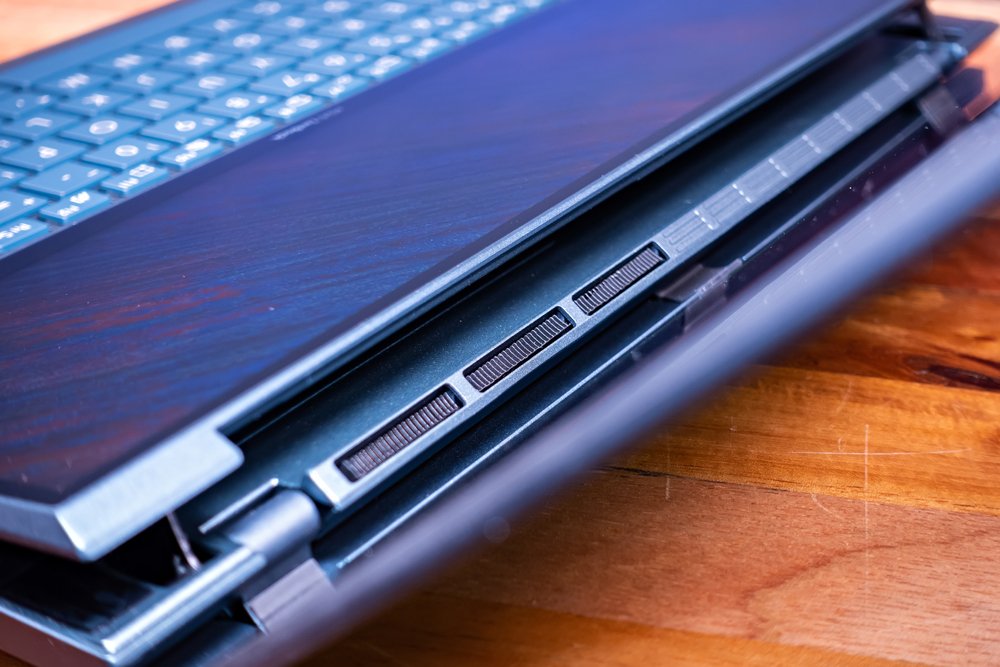 and the Dual Intake fan underneath the secondary display. 
This clever and innovative design provides good thermal performance for the ASUS ZenBook Duo 14 while also allowing the ScreenPad+ to tilt upwards up to 7 degrees.
ScreenPad+ Color Accuracy
Back to the secondary display, in terms of its color accuracy, it has 67% sRGB, 47% NTSC, 50% AdobeRGB, and 49% P3 color gamut. And while it's not as color accurate as the main display, it is sufficient enough for a supplementary display.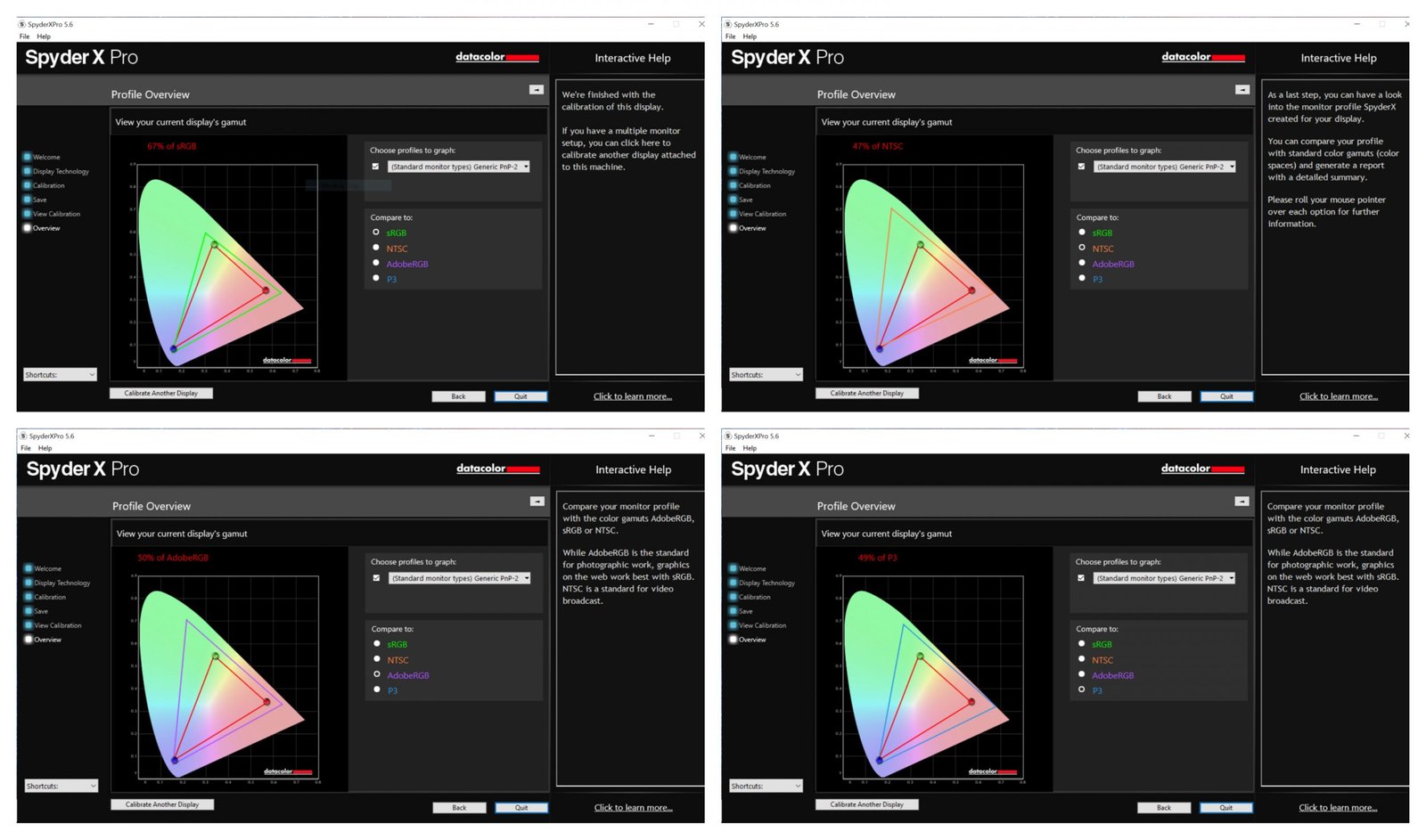 Now, finally, let's move our focus towards the features and capabilities of the ScreenPad+ and why having this kind of secondary display on a laptop changes everything when it comes to productivity efficiency, and ease of use.
ScreenPad+ Features and Use Case Scenarios
At first, you might think that this is just a regular extra monitor for the laptop, but the truth is, it offers a lot more than just a regular screen. Thanks to its built-in applications and features, the possibilities are endless when it comes to its use case scenarios.
App Switcher
First, we have the app switcher, which allows you to drag and drop a window to the floating app switcher app and choose where exactly you want to snap your window or application. This makes managing them a lot easier than dragging, dropping, and resizing. Also better than the built-in window snapping feature of the Windows operating system.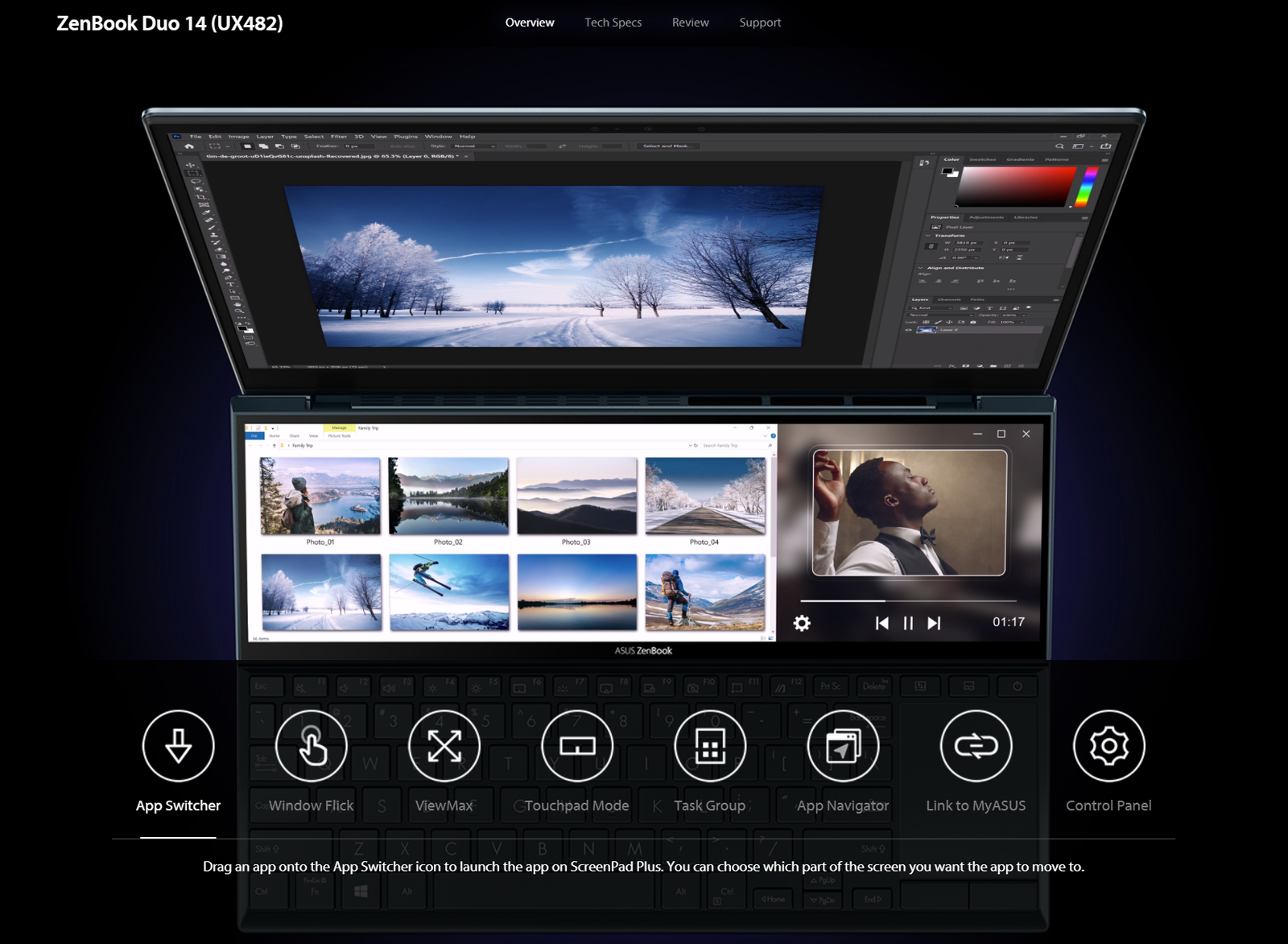 Windows Flick
Next, we have the Windows Flick feature, and this one is quite trippy and satisfying. Essentially, you just grab the top part of the app then throw it in the display you want it to snap-in. 
ViewMax
Next is the ViewMax feature, which allows you to utilize both the display to maximize a single window. You can do this by dragging and dropping the window into the floating ViewMax app.
Touchpad Mode
The Touchpad mode is pretty much self-explanatory, this one will allow you to use the entire ScreenPad+ display as a full touchpad in situations where the dedicated touchpad on the right side is not enough. You can activate this feature simply by tapping the screen with three fingers.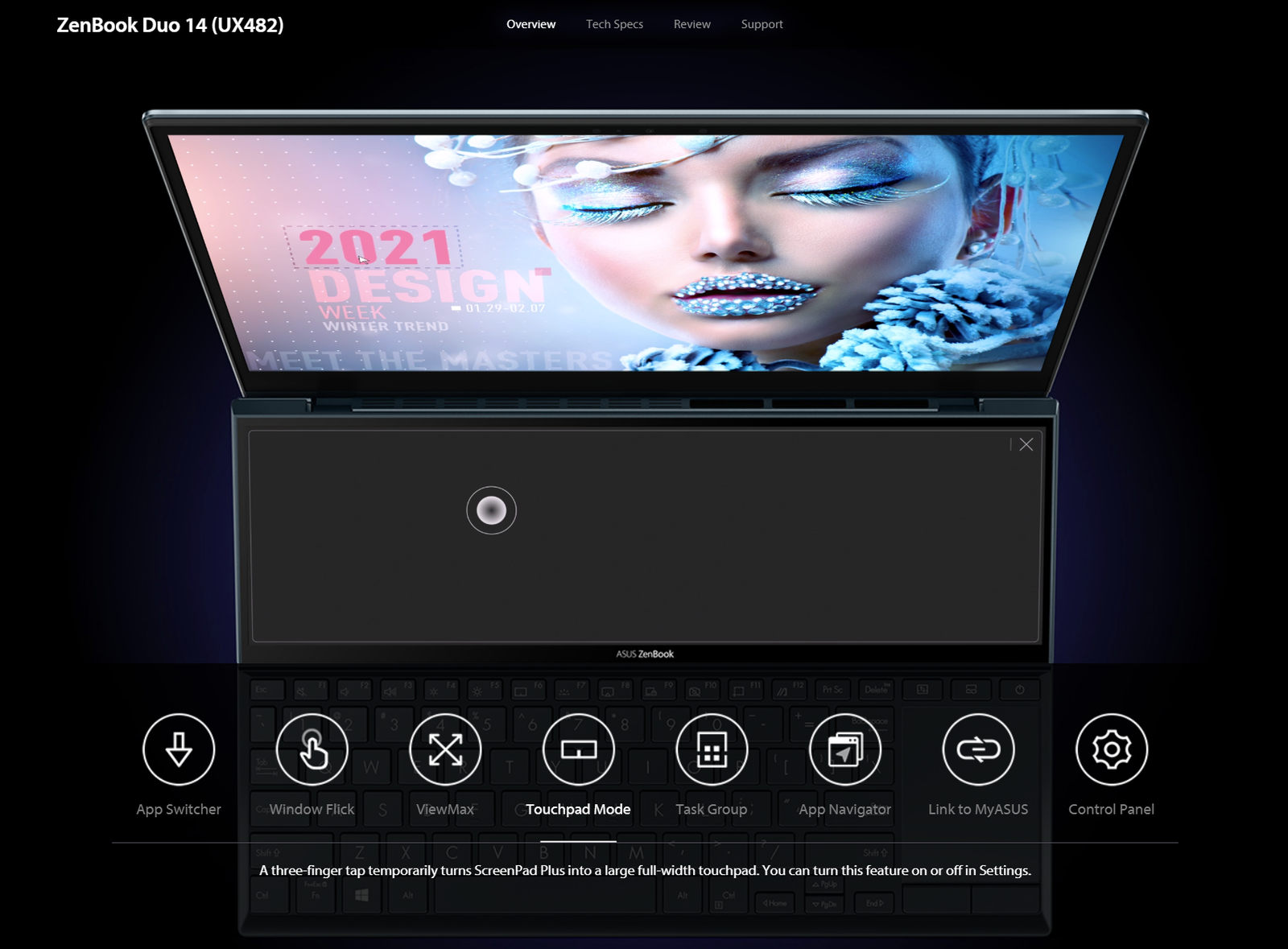 Task Group
Like I said earlier, the possibilities are almost endless with the ScreenPad+ with its variety of applications and features, so the next feature helps organize all that. The Task Group feature will allow you to easily open multiple apps in just one tap taking your multitasking skills to the next level with better efficiency.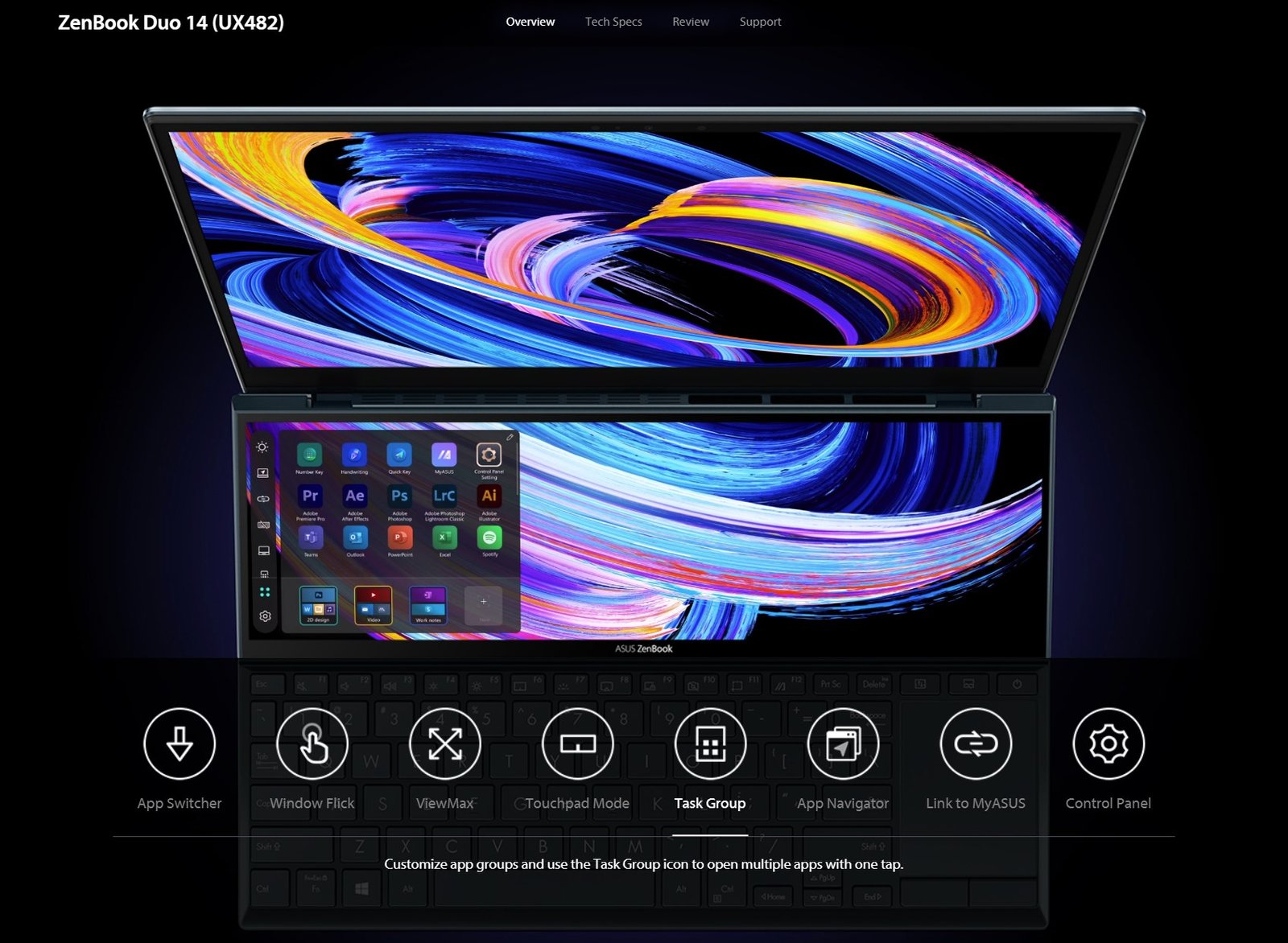 App Navigator
The App Navigator is basically a glorified alt-tab or task viewer in the sense that it shows all your opened applications not only for the main display but for the secondary display as well making switching between apps a lot easier.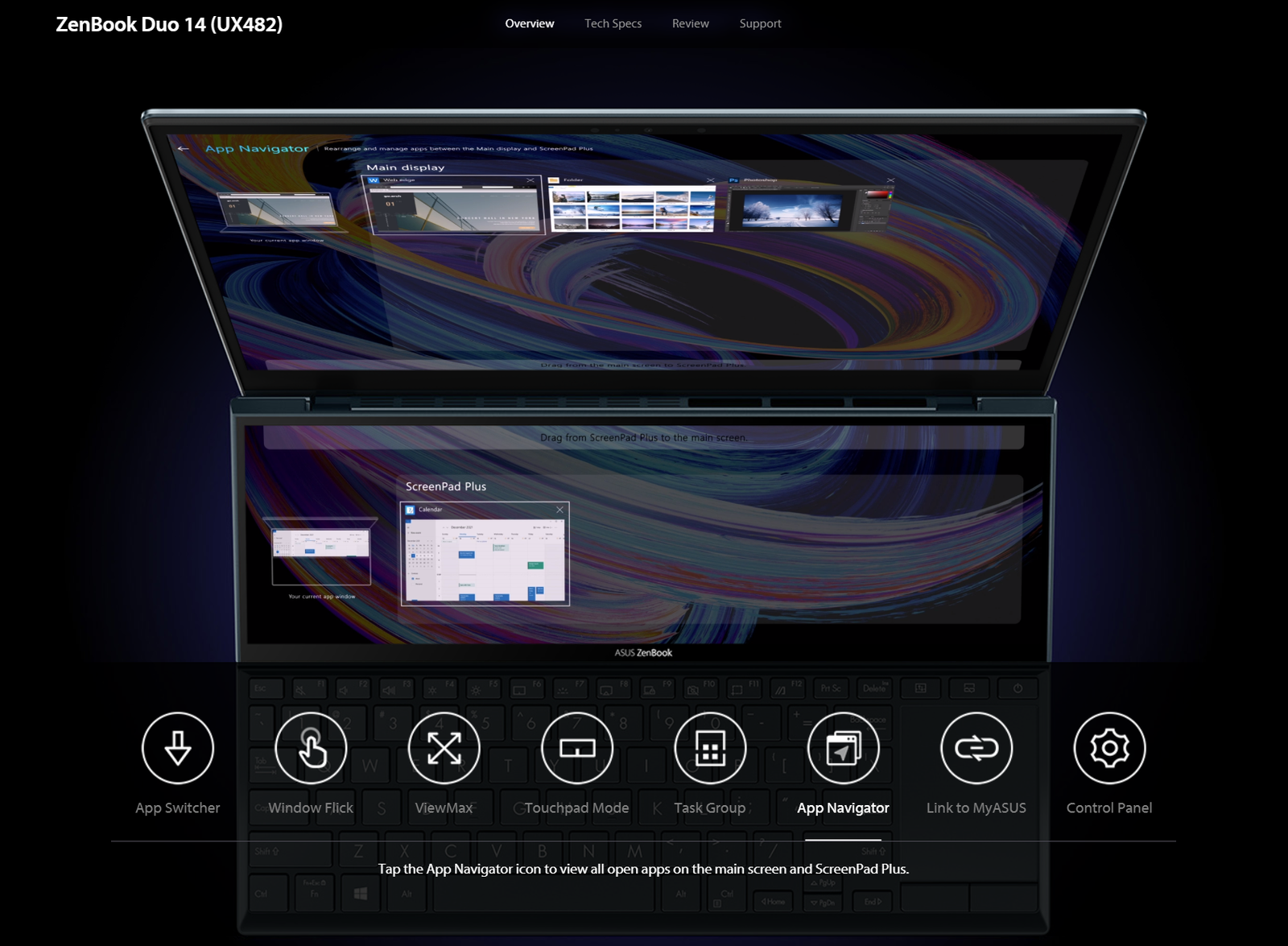 Link to MyASUS
With the Link to MyASUS feature, you don't have to stand up and grab your phone while it's charging away from your desk, you can easily access your phone's contacts and messages right from your laptop.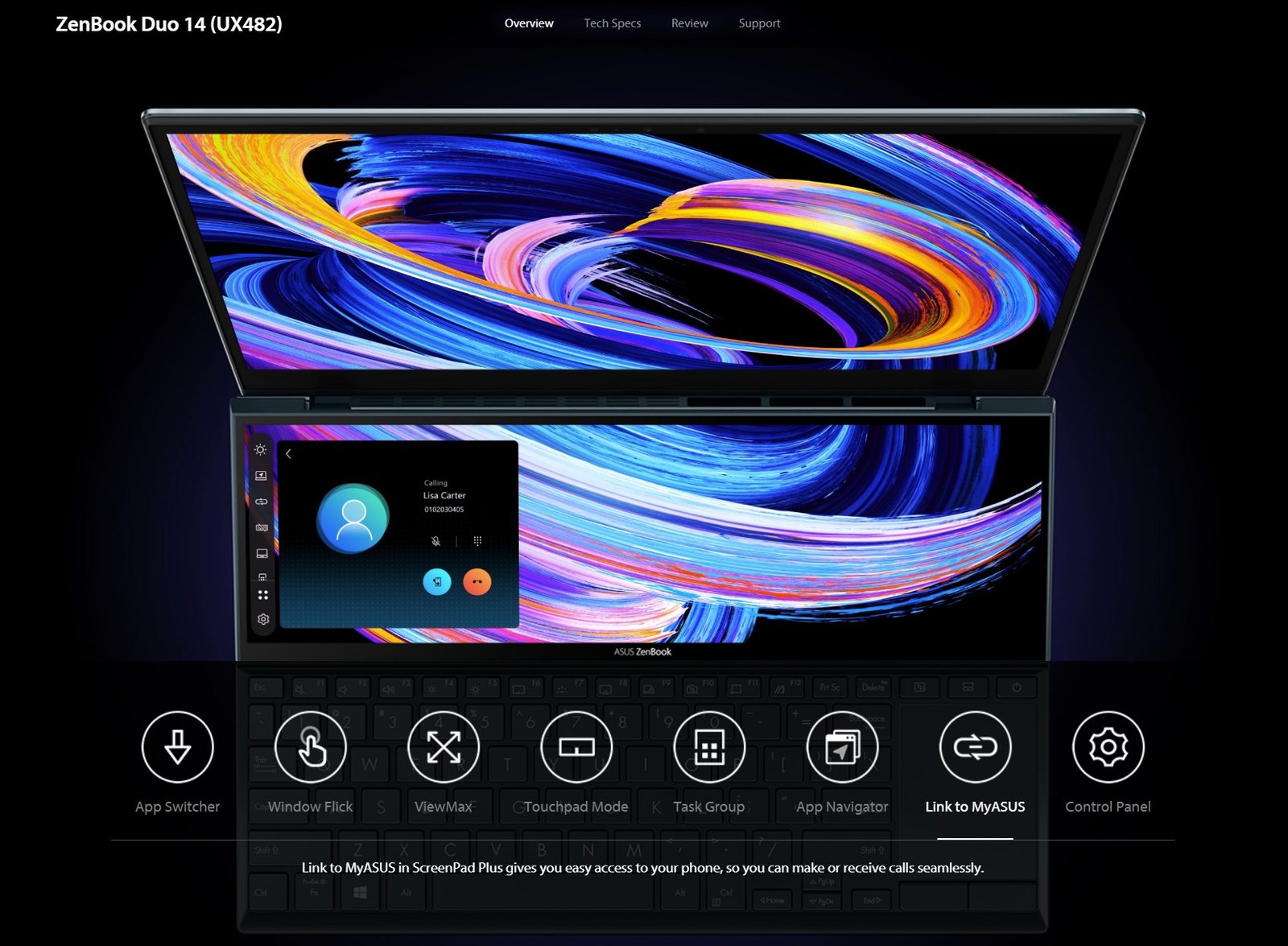 Control Panel
The last feature that we have on this list is probably the most unique feature and a feature that only takes advantage of the ScreenPad+, the Control Panel.
The ASUS Control panel provides you with a dedicated set of tools, shortcuts, and virtual knobs for compatible apps such as the Adobe Creative Suite.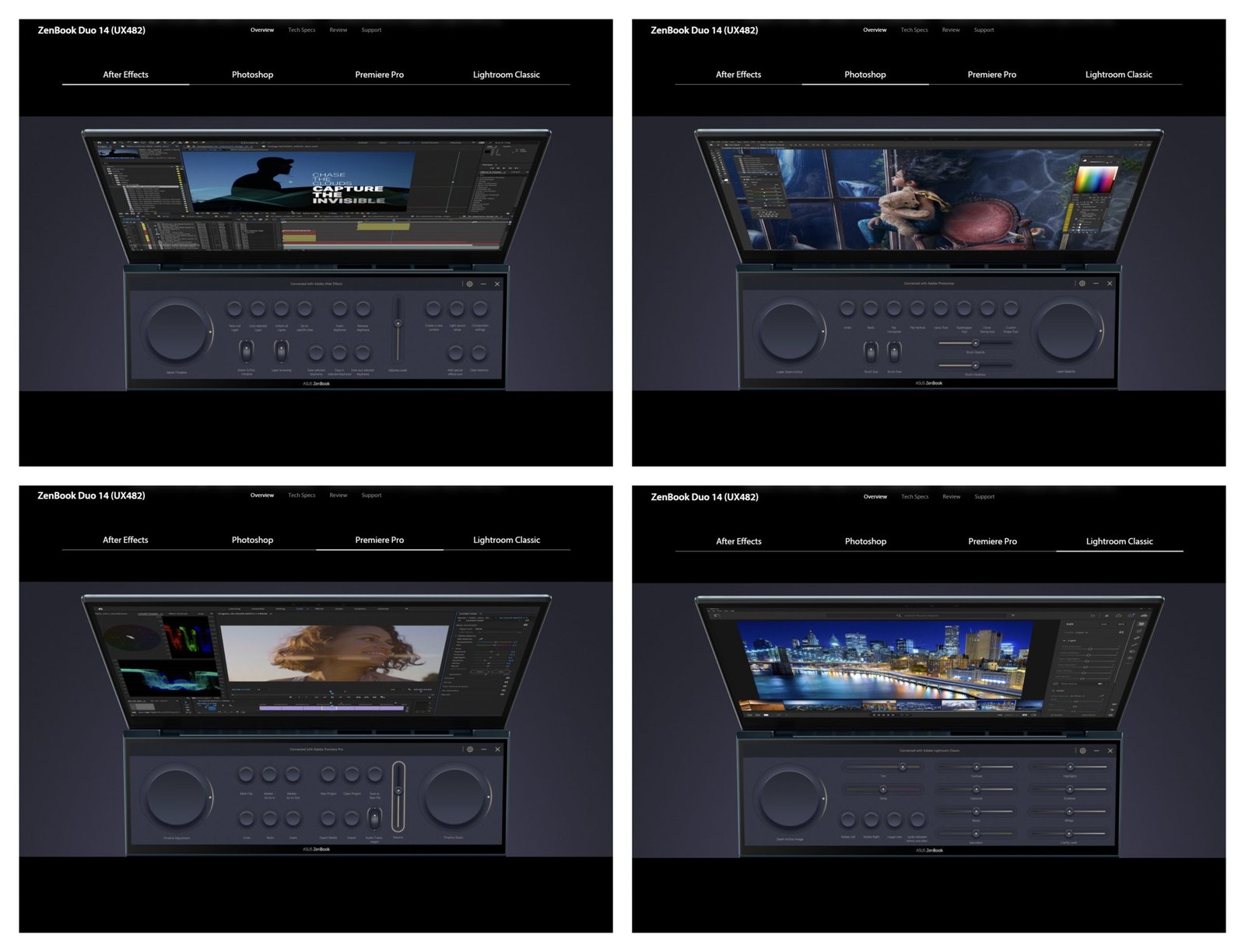 This makes the ASUS ZenBook Duo 14 ideal for photo and video editors, entrepreneurs, professionals, and pretty much everyone looking to boost their productivity and efficiency.
Other Useful Applications and Features
Aside from the mentioned applications above, the ASUS ZenBook Duo 14 still has a lot more to offer.
You can also use the ScreenPad+ as a fully functional NumPad. 
It also has a frequently used shortcuts feature.
And of course, you can also drag and drop all compatible applications here.
And lastly, you can also use the ScreenPad+ with the Stylus pen to scribble and turn your writing into texts.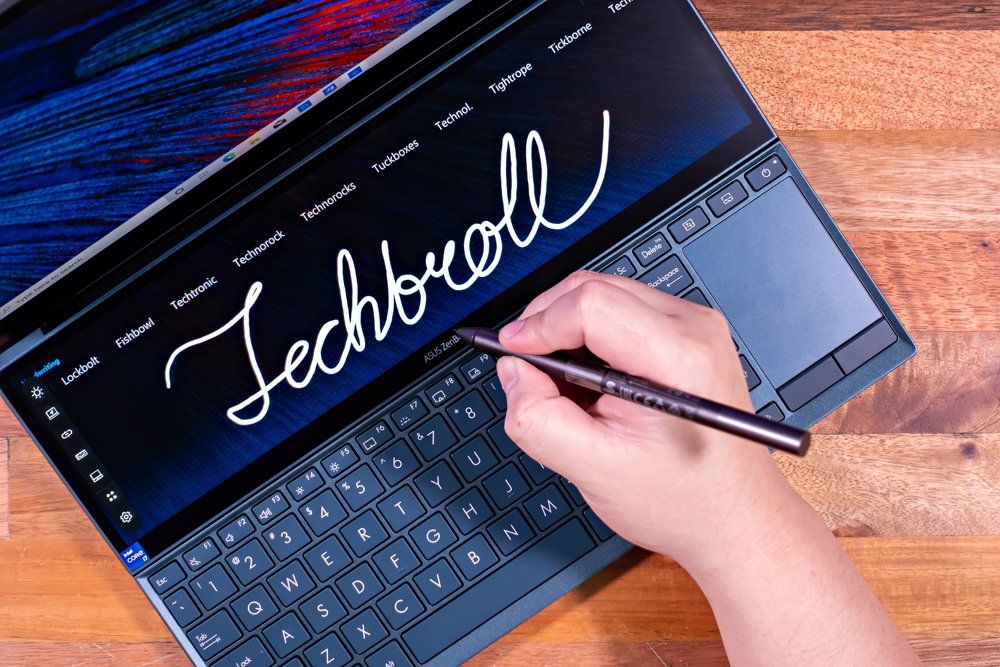 Speaking of the Stylus pen, for a more ergonomic form factor, and for a better viewing angle, you can also use the included foldable stand.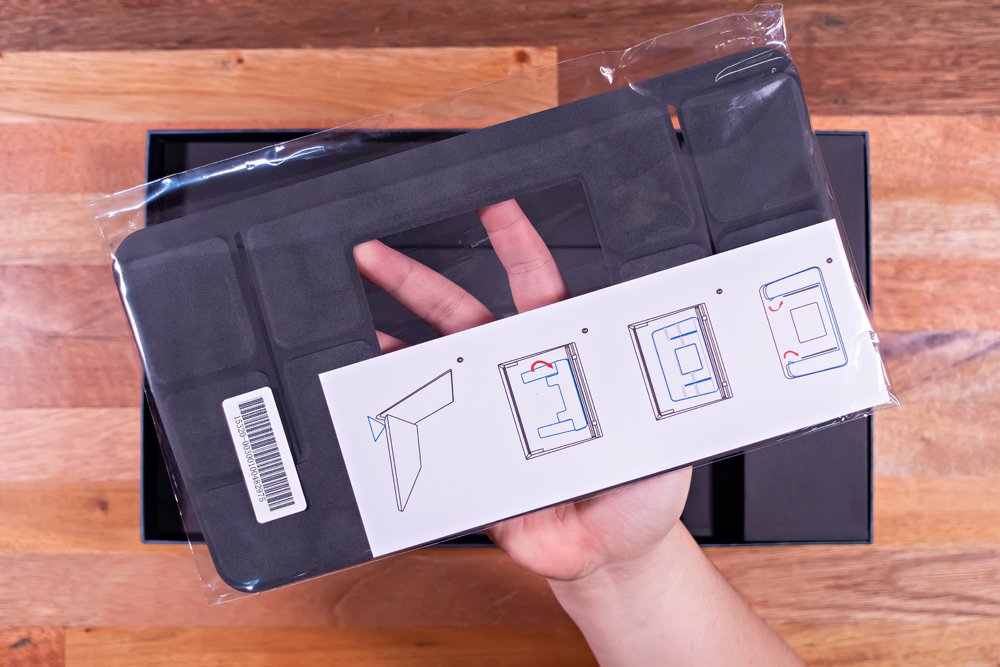 Final Words
As you can see, from the surface, the ScreenPad+ looks like your typical supplementary display, but the reality is, it offers more than merely a window for dropping in windows and applications. Thanks to its variety of different built-in applications and nifty features, they unlock the ScreenPad+' full potential allowing you to maximize your productivity in a very user-friendly and efficient manner. And this is without compromising much in terms of the overall performance and other basic characteristics of a laptop. You still have a fully-fledged keyboard and trackpad with dedicated mouse buttons, you still have a webcam with window hello support, a good pair of stereo speakers, and a familiar form factor from the outside. And as I've pointed out earlier, having a dual-display laptop changes everything.
If you want to learn more about the ASUS ZenBook Duo 14 (UX482), especially when it comes to its performance and everything it has to offer other than the ScreenPad+, go and check out my full review here.
For more details about the ASUS ZenBook Duo 14 (UX482), click here.
SHARE THIS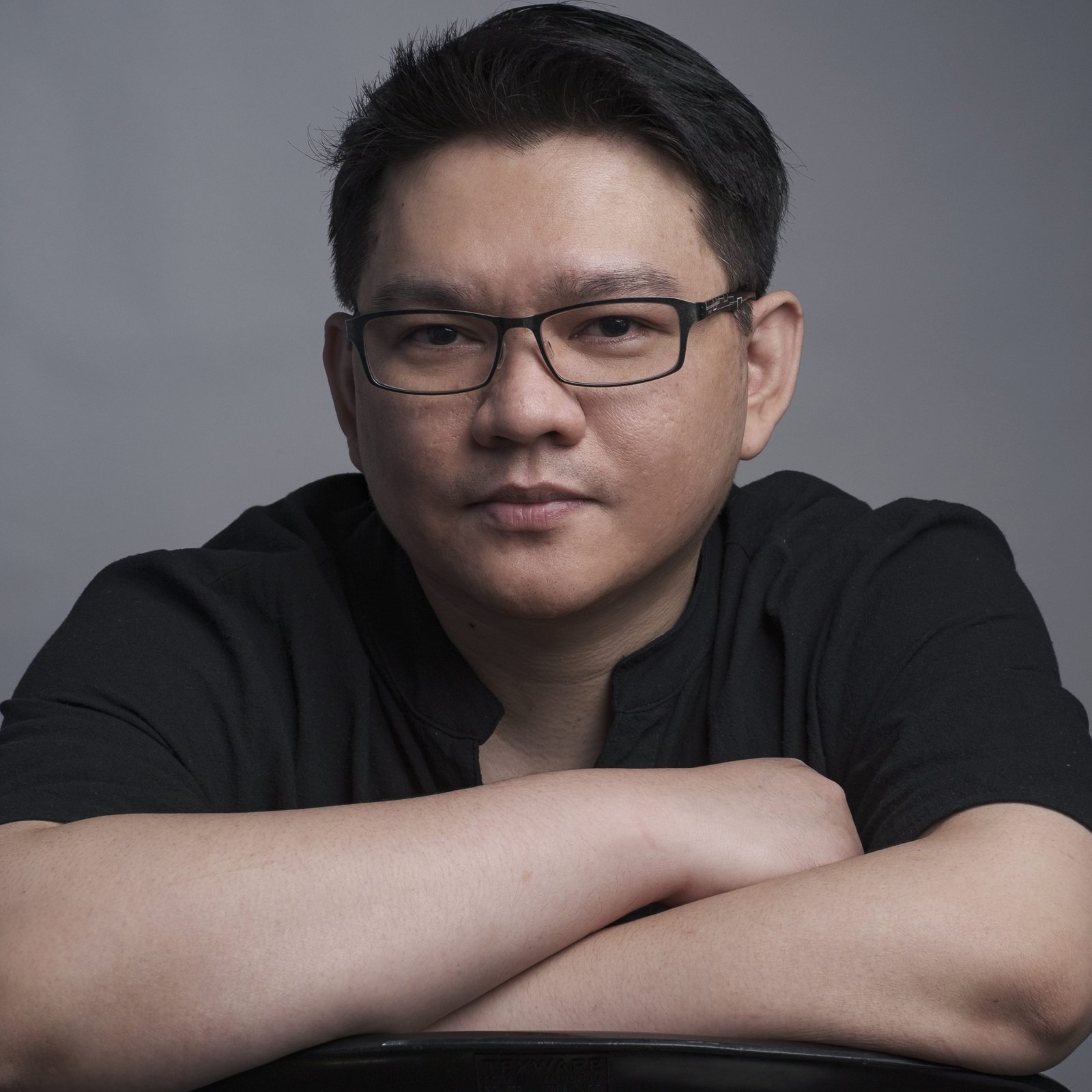 The Broll who always got your back online!