GET A FIRST LOOK AT THE EXCITING REVEALS FROM UBISOFT FORWARD, MSI GAMING PARTNER'S DIGITAL SHOWCASE
[Taipei, Taiwan] From Mystic Light to AI Voice control, MSI, a world-leading gaming brand, has collaborated with the world-class game publisher Ubisoft over multiple game titles including Tom Clancy'S® The Division 2, Tom Clancy'S® Ghost Recon Breakpoint, and Assassin's Creed® Odyssey. Through the integration of hardware and software, MSI and UBISOFT jointly developed great innovations aiming to provide immersive and exclusive gaming experience to gamers around the world.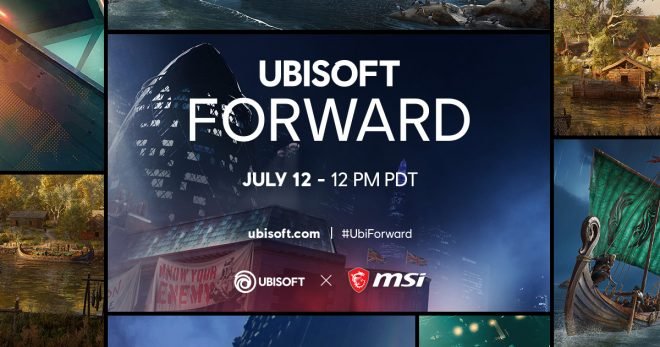 We invite you to tune-in to Ubisoft Forward, their first fully digital showcase, that will highlight the latest gaming news, reveals, and plenty more. 
On July 12th at 12PM PDT / 9PM CEST. As a long term partner, MSI will be fully supportive for this upcoming and exciting show and invite all fans to join 
"Over the years, MSI and Ubisoft have developed a natural synergy, allowing us to offer amazing gaming experiences to PC players", says Rose-Marie Nargaud, Associate Director of Technological Partnerships at Ubisoft. "We are thrilled to celebrate our shared passion for games and gamers at the occasion of Ubisoft Forward and are looking forward further extending our complementarity in the future".
"The cooperation between MSI and Ubisoft in gaming over the years is amazing. The introduction of innovative light and sound technologies makes the gameplay more diverse, bringing all gamers more immersive experience while playing games. As the global pandemic is still unstable, we encourage all gamers stay at home with MSI and Ubisoft, watch the live streaming of Ubisoft Forward and keep healthy," says Sam Chern, VP Marketing, MSI.
【Ubisoft Forward】
Date :  2020∣July∣12th 
Time : 12PM PDT / 9PM CEST
Where to watch : https://ubisoft.com/r/msi_fwds 
MSI GAMING: https://www.msi.com/
MSI Facebook: https://www.facebook.com/MSIGaming
MSI Instagram: https://www.instagram.com/msigaming/
MSI YouTube: https://www.youtube.com/user/MSIGamingGlobal
MSI Twitter: https://twitter.com/msitweets
Subscribe to MSI RSS Feeds via https://www.msi.com/rss for real-time news and more product info.
SHARE THIS