Four new ROG Maximus and ROG Strix motherboards added to the Intel Z790-based ASUS lineup, offering brilliant performance, connectivity and aesthetics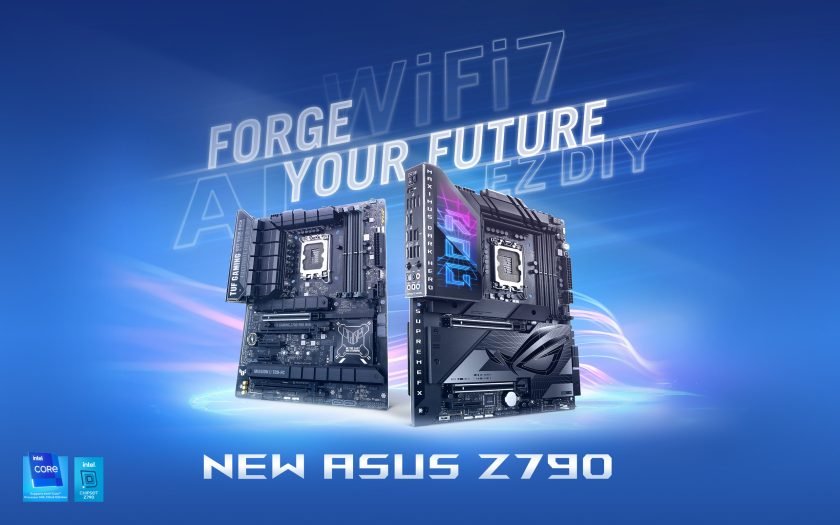 MANILA, Philippines, October 17, 2023 — ASUS Republic of Gamers (ROG) today announced four new Intel® Z790 motherboards: the ROG Maximus Z790 Formula, the ROG Maximus Z790 Apex Encore, the ROG Strix Z790-E Gaming WiFi II, and the ROG Strix Z790-F Gaming WiFi II. These motherboards join the three Z790 models previously announced at Gamescom: the ROG Maximus Z790 Dark Hero, the ROG Strix Z790-A Gaming WiFi II, and the TUF Gaming Z790-Pro WiFi. All seven motherboards support 14th Gen, 13th Gen, and 12th Gen Intel® Core™ processors. Each motherboard includes PCIe® 5.0, DDR5 memory support, enhanced connectivity, performance tuning capabilities, efficient cooling solutions, DIY-friendly features and a host of other benefits.
Intel LGA 1700 CPU socket 
12th and 13th Generation Intel Core processors slot into the LGA 1700 socket, so users have been able to build their own way with either Z690 or Z790 motherboards while taking their pick from a wide selection of CPUs. But LGA 1700's time is not over. This socket will also be compatible with 14th Gen Intel Core processors. This means that users will have plentiful options as they plan a new build or an upgrade. They can upgrade their motherboard to take advantage of the high-performance networking, abundant connectivity and optimized power solutions of the latest ASUS Z790 motherboards. Or they can stick with their battle-tested Z690 or Z790 motherboard while they upgrade to an 14th Gen Intel processor. They only need to make sure to update their older motherboard's BIOS for full compatibility with upcoming Intel processors.
Next-level bandwidth with WiFi 7  
Featuring Intel WiFi 7, these four new ROG Z790 motherboards empower users to harness the full potential of the latest wireless standard when paired with a WiFi 7 router. 
To help users get the most out of their WiFi 7 connection, ASUS is introducing the ASUS WiFi Q-Antenna. Featuring an all-new hardware design including both circuit optimizations to the PCB and new enhanced inner pin connectors, it greatly improves signal throughput for the 5 GHz and 6 GHz bands. Its easy one-step design means that users do not have to do anything more than plug it in to have a great experience. Since it is a directional antenna, ASUS also gives users convenient tools in the Armoury Crate app to improve signal quality and range by adjusting its position. Direction Finder detects signal strength and identifies the ideal positioning for this antenna in just a few steps, while Fast Check gives users a quick way to check signal strength and ensure that they are getting the best connection.
DIMM Flex maximizes memory performance and stability  
The latest Z790 motherboards from ROG Maximus and ROG Strix take memory optimization efforts a step further with DIMM Flex. Like the CPU and GPU, DDR5 memory modules produce heat when they are under load, especially when they are overclocked. As with those other components, users might not get the full performance from their DDR5 RAM sticks if they do not deal with that heat effectively.   
DIMM Flex dynamically adjusts memory controller behavior based on current memory temperature to optimize performance while ensuring stability. It uses real-time temperature data from a thermal sensor integrated close to the memory slots to make frequency adjustments.  
DIMM Flex can have a large impact on memory-sensitive applications. In Metro Exodus, ASUS found that DIMM Flex boosted average FPS by 16% compared to basic XMP-enabled settings. It is very easy to set up, as well — click here to learn more about how to get started with DIMM Flex.
Easy memory optimization with AEMP II 
For a time, PC builders debated whether they would prefer affordable DDR4 or high-performance DDR5 memory for their systems. Now that the DDR5 market has matured, and a wide range of memory kits are available at increasingly enticing prices, it is getting harder to ignore the performance potential of next-gen memory. Content creators, gamers, engineers who work with large datasets and heavy multitaskers all benefit from a high-core-count CPU with exceptional multi-threaded performance — and DDR5 is a better match for 14th Gen Intel Core processors than DDR4.   
To give users a hassle-free way to get their memory kit up to speed, all ASUS Z790 motherboards that support DDR5 offer access to AEMP II profiles. Built through a flexible training method, these profiles make it easy for users to tune their memory above baseline settings while maintaining stable system operation. With AEMP II, optimized memory settings are just a click away, whether users are getting the most out of an entry-level module or priming a high-speed kit for ultimate performance.  
Now, AEMP II offers even more flexibility. With the latest firmware update, AEMP II allows users to optimize the performance of a four-DIMM DDR5 RAM configuration, even with a mixture of different brands and dies. Increasing the memory capacity of a build by adding additional DIMMs has never been easier — with AEMP II, users can get optimized memory performance even when all four memory modules are not an exact match. 
DIY-friendly features make PC building easier than ever
With every generation of PC components, ASUS works to make the process of building a PC easier. The exclusive ASUS Q-Design innovations across this Z790 lineup simplify and streamline the process of building and upgrading a PC.
Today's cutting-edge graphics cards often have beefy cooling solutions and sturdy backplates. That is great for performance — but they can get in the way of popping the PCIe® release latch free. The ASUS PCIe Slot Q-Release button lets users release their graphics card from the slot with one press. ASUS first debuted this convenient feature on its highest-end Z690 motherboards, and it is proud to also offer it on its mainstream TUF Gaming boards.
Similarly, traditional DIMM slot designs require users to lock in both sides of the memory stick, and it was not always easy for those with larger fingers to unlock the latch closest to the graphics card. That is why ASUS has also implemented its single-sided Q-DIMM latching design on many of its Z790 motherboards. With this arrangement, users will not have to worry about a latch that may be too close to their graphics card. A single latch on the easier-to-access side of the DIMM slot is all it takes to hold a memory module firmly in place. Now, installing a module — and upgrading it down the road — is much easier.
The latest ASUS Z790 motherboards even help in the event that users do not quite install a memory module correctly. The Q-LED indicator will light up — even before booting — to let the user know that a memory module is not seated properly.
ASUS has also simplified the process of installing an M.2 drive. The ASUS M.2 Q-Latch gives users the peace of mind that they will never have to handle another tiny, easily lost M.2 screw again. Now, users can secure or loosen an M.2 drive with just their fingertips. Users will find the M.2 Q-Latch on every ROG Maximus, ROG Strix and TUF Gaming Z790 motherboard.
Water-cooled excellence: the ROG Maximus Z790 Formula 
Users plotting a build with a custom liquid cooling loop or considering assembling a crew of white-themed components for their next PC should take a look at the ROG Maximus Z790 Formula. Pristine white surfaces across its heatsinks and integrated I/O shroud give it a standout look that is accented by the customizable 2-inch OLED display built into the heatsink for the central M.2 slot. The new all-copper HybridChill VRM block offers standout passive cooling, and it is easy to connect to a custom loop for even more cooling power. 
As an ROG Maximus motherboard, the ROG Maximus Z790 Formula delivers an enviable feature set. Users will find a pair of Thunderbolt™ 4 ports and a fleet of high-speed USB ports on the rear panel. WiFi 7 and a 5 Gbps Ethernet port give users rock-solid, high-bandwidth networking. And the ROG SupremeFX audio solution serves up pristine sound for gaming experiences.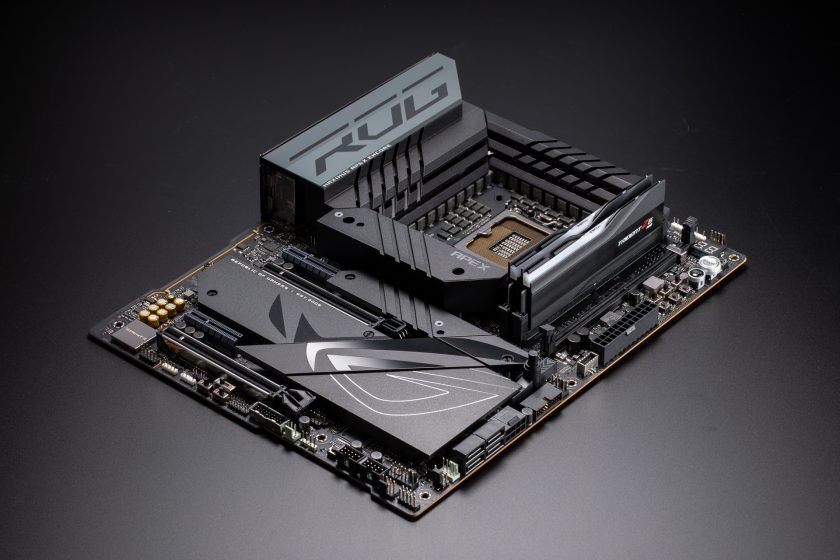 Memory overclocking powerhouse: the ROG Maximus Z790 Apex Encore 
When professional overclockers look for a motherboard ready to provide a platform for record-breaking memory performance, they often turn first to the ROG Maximus Apex motherboards. The original ROG Maximus Z790 Apex helped the ASUS Republic of Gamers overclocking team push an Intel CPU past the 9 GHz barrier — and now ASUS is gearing up for round two with the ROG Maximus Z790 Apex Encore.  
This motherboard's robust power solution provides a high-end platform for exceptional performance. Raw power enters the board through 8+8 ProCool II power connectors. The solid pins in these connectors offer better contact with power supply plugs, improved heat dissipation and better reliability over common hardware. 24-phase Vcore and 2-phase VCCAUX teamed power stages rated for up to 105 amps deliver stable power to the CPU, and beefy VRM heatsinks keep the circuitry cool under pressure. 
New for the ROG Maximus Z790 Apex Encore, ASUS is introducing a new way to extract the full performance of a user's PC hardware. The included ROG DDR5 Fan Kit lets users keep temperatures on their memory modules low with a high-performance fan directing cooling air across the memory slots. This cooling solution solidifies DDR5 stability to unleash memory overclocking — with the right kit, speeds of 8400+ MT/s are possible. 
For those using a liquid cooling loop to keep temperatures low, the ROG Water Cooling Zone puts them in command. The ROG Water-Cooling Zone's dual water-temperature headers and flow-rate header feed information straight into ROG's intuitive Fan Xpert 4 utility, letting users stay on top of the heat and stay cool in every game.  
ASUS-exclusive intelligent controls make it easy for users to optimize their experiences. AI Overclocking fine-tunes a CPU for high-end performance with just a couple clicks. It uses dedicated onboard microcontrollers to track temperatures and frequency telemetry, and then it passes that data through an advanced algorithm coded by experts to overclock the system. AI Cooling II monitors the CPU and uses the data from its stress test to calculate the lowest fan speed required to effectively cool the system. To make sure that users have all the tools they need for testing and monitoring their memory, ASUS includes a 1-year subscription for AIDA64 Extreme, plus Memtest86 pre-installed in the ROG UEFI (BIOS).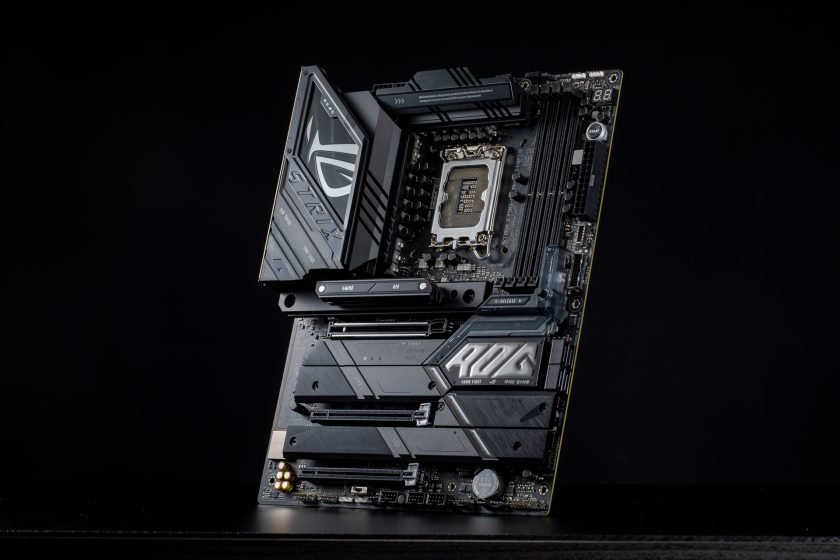 The new standard for gaming: the ROG Strix Z790-E Gaming WiFi II  
ROG Strix motherboards take the basic DNA of the ROG Maximus series and distill it into more attainable designs that provide exceptional gaming performance and outspoken style. The highest-performance model in the lineup is the ROG Strix Z790-E Gaming WiFi II.  
With its PCIe 5.0 x16 slot and onboard PCIe 5.0 M.2 slot, this is the ROG Strix motherboard to get if users have a hankering for the best graphics cards and SSDs of today and tomorrow. It offers a robust power solution primed for overclocking, WiFi 7, and a connector ready to help users set up a high-speed front-panel USB Type-C® port with 30 W Power Delivery fast charging.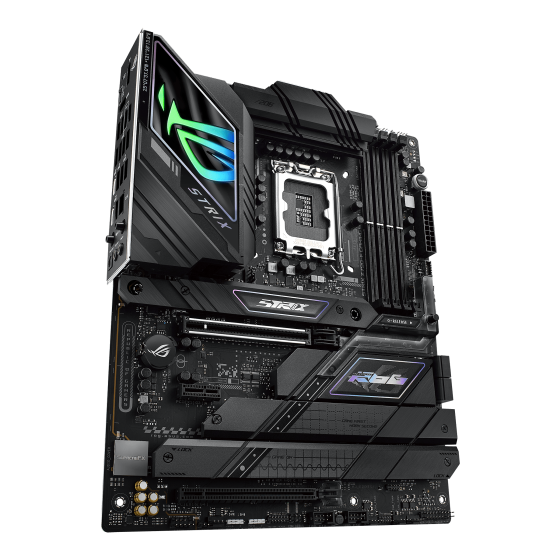 A potent blend of style and performance: the ROG Strix Z790-F Gaming WiFi II 
Users who are tempted by the style of the ROG Strix Z790-E Gaming WiFi II but don't have an immediate need for that motherboard's PCIe 5.0 M.2 slot should look at the ROG Strix Z790-F Gaming WiFi II.  
In many ways, the ROG Strix Z790-F Gaming WiFi II is quite similar to its elder brother. It boasts a next-gen PCIe 5.0 x16 slot, WiFi 7, a premium ROG SupremeFX audio solution and five total onboard M.2 slots. Some sensible subtractions from the spec sheet differentiate this motherboard from the ROG Strix Z790-E Gaming WiFi II: its M.2 slots are all wired for PCIe 4.0 speeds, its VRM does not have quite as many power stages, and it does not offer as many 10 Gbps USB ports on its rear panel. However, its lower price point should make it a compelling option for PC builders for whom those features are tempting luxuries but not strict necessities.  
Images and more details about specifications for the new ASUS Z790 motherboards can be found in the Edge Up Buyer's Guide, or visit the ASUS 700 landing page for first-look videos of each series.
Availability & Pricing
The New Z790 Motherboards will be available in the Philippines starting October 2023 with the following SRPs.
| | |
| --- | --- |
| Model Name | SRP |
| ROG MAXIMUS Z790 APEX ENCORE | ₱                 43,570.00 |
| ROG MAXIMUS Z790 DARK HERO | ₱                 42,100.00 |
| ROG MAXIMUS Z790 FORMULA | ₱                 48,550.00 |
| ROG STRIX Z790-F GAMING WIFI II | ₱                 27,630.00 |
| ROG STRIX Z790-A GAMING WIFI II | ₱                 26,520.00 |
| TUF GAMING Z790-PRO WIFI | ₱                21,370.00  |
SHARE THIS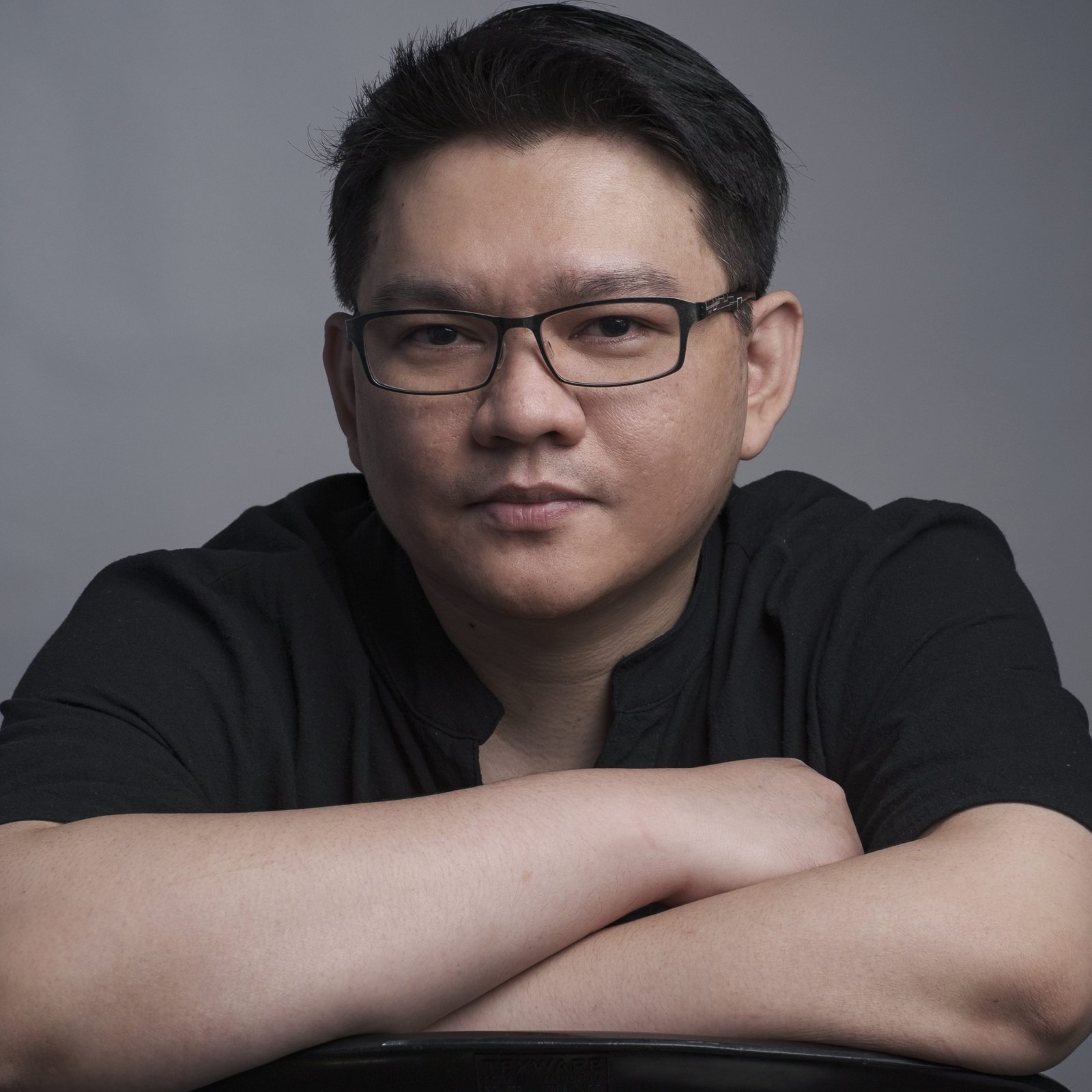 The Broll who always got your back online!