Research affirms that smarter, simpler, and secure technology is what matters for microbusinesses in mitigating business challenges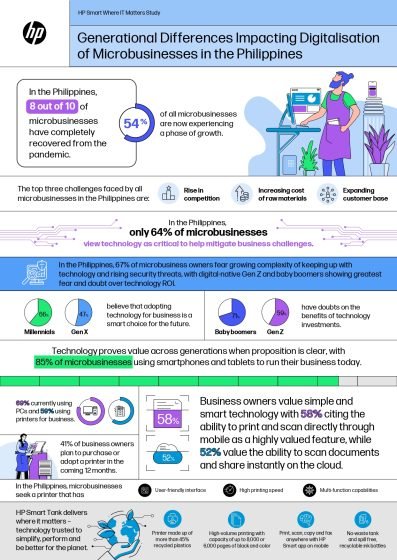 PHILIPPINES, October 11, 2023 – HP has revealed 56% of millennials (27 to 42-year-olds) and 55% of Gen X (43 to 58-year-olds) strongly believe that adopting technology for business is a smart choice for the future. But findings from the HP Smart Where IT Matters Study, show a generational gap is apparent, as Gen Z microbusiness owners now sit alongside baby boomers in displaying high levels of doubt and resistance to technology adoption in the Asian markets of Indonesia, Malaysia, Thailand, and the Philippines. 
Across the region, 77% of microbusinesses view technology as critical in helping mitigate business challenges. Countering this positive technology sentiment are the 69% of baby boomers (59 years and above) who see no clear benefit or return from investing in technology. Surprisingly, 57% of digital-native Gen Z (19 to 26-year-olds) also share similar doubts on the benefits of technology investments. 
Similar to their regional counterparts, almost 60% of Gen Z and 71% of baby boomers in the Philippines are skeptical of investing in technology for their businesses. Additionally, only 36% of Gen Z and 22% of Gen X have a strong belief that technology is one of the key solutions to mitigating business challenges. Meanwhile, over 50% of millennials expressed a strong belief in technology's relevance in business, with 66% agreeing that adopting technology for business is a smart choice for the future. 
The study conducted by research firm Kantar and commissioned by HP, surveyed approximately 1,200 microbusiness owners to explore the dynamics of technology adoption in Southeast Asia. 
The study findings suggest that for micro businesses to thrive in the digital age, Gen X and Millennials must take the lead to dispel lingering technology fear uncertainty and doubt. Over 70% of all micro businesses fear the complexity and security of new emerging technologies, which highlights the prevailing challenge that business owners face when considering new investments.
"HP recognizes the vital importance of thriving micro businesses to the growth of Philippines' economy. Microbusiness owners want to beat the competition, grow customers and revenue, be more efficient with time and money, so technology cannot be complex and intimidating. Technology simply
has to work, be seamless, secure, and today it must also be sustainable," said Christian Reyes, Managing Director of HP Philippines. "HP is committed to building technology that is smart where it matters most and builds trust while empowering businesses of all generations and sizes to thrive in the emerging digital economy with confidence and ease."
Simple and Smart Overcome Fear and Doubt
While doubts remain, they have not stopped microbusinesses making the most of technology where the ROI has been clear and obvious. One key finding showed that 85% of microbusinesses in the region use smartphones and tablets to run their business, with 59% also using printers for business. 
HP has ensured the same level of technology convenience and simplicity with its recently launched HP Smart Tank 700 and 500 Series printers. Both feature the best-in-class HP Smart App that enables full mobile capability that is core to a smarter user experience. The HP study also highlights how business owners across Southeast Asia value simple smarts with 55% citing the ability to print and scan directly through mobile as a highly valued feature, while 56% value the ability to scan documents and share instantly on the cloud. 
"Technologies like the HP Smart Tank and HP Smart App remove complexity by providing a smart print experience that works from anywhere, anytime, any device. In light of today's business owner priorities, the ability to provide seamless, smart and sustainable printing on the go with high capacity and performance, can be critical to the smooth running of fast-growing microbusinesses everywhere," Reyes added.
In the Philippines, microbusinesses seek a printer that prioritizes multi-function capabilities (36%), speed (39%), and a user-friendly interface (41%). HP Smart Tank is an example of a simple, no-fuss technology that helps businesses overcome prevailing fear uncertainty and doubt.
HP's belief is that for microbusinesses especially, technology matters most to them when it can be: trusted to operate seamlessly – providing a no-fuss experience that just works; trusted to perform for a better business – deliver reliable performance as promised with security; and trusted for a better planet – driving a sustainable business and lifestyle.
For more information on the HP Smart Tank Series Printers and the HP Smart App, click HERE.
SHARE THIS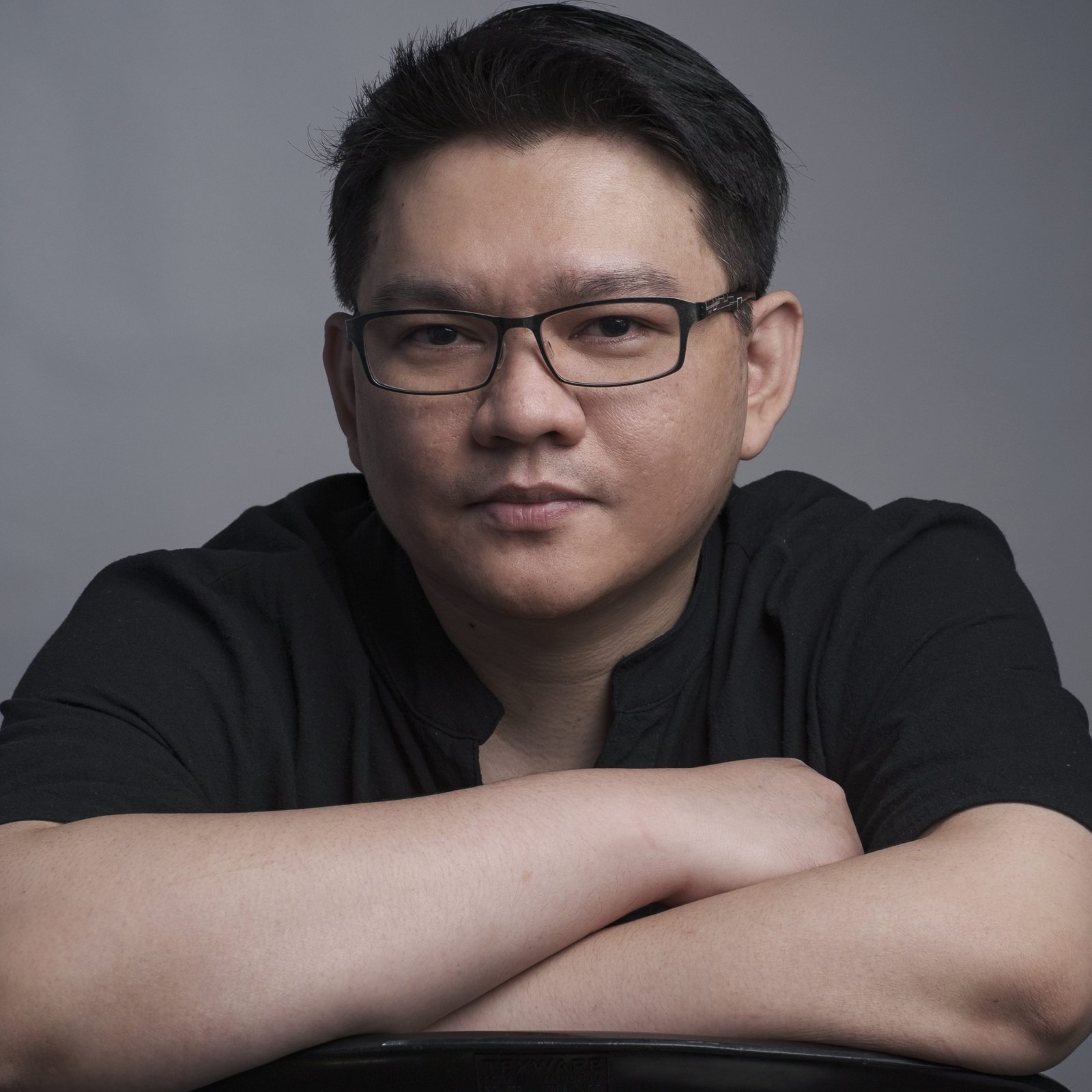 The Broll who always got your back online!