Verified by Prime95 burning test demonstrates the superior quality and R&D advantages of AORUS products
GIGABYTE Channel Solutions Product Development Division. "The success under the heavy loading test shows it's more than enough for general use. In addition to the durability, superior performance, and high capacity, the LCD display and RGB lighting design of AORUS LIQUID COOLER provide users a controllable system and unique system style which can be synchronized with peripherals.

Multicore CPUs are the norm for the latest high-end builds, but faster clock speeds can generate excess heat which slows performance. AORUS LIQUID COOLER is designed specifically to handle the heat generated by the latest generation CPUs. With an Asetek Gen6 Pump and AORUS specially designed fans that deliver ultra-efficient and silent cooling, CPUs can run fluidly even under high frequency and heavy loads.
Take the Intel® Core™ i9 10900K processor with 10 cores and 20 treads as an example; it can run heavy loading of Prime95 test software at all-core 5.2GHz for a total TDP boost of over 320 watts. To suppress the high heat, a high-quality cooler is a must for heat dissipation. AORUS LIQUID COOLER sports a superior matching of perfect fan size and speed setting to ensure the premium dissipation effect, which optimizes the stability of CPUs under all-core 5.2GHz overclocking heavy loading test. Through the harsh test and verification, GIGABYTE ensures users a stable and efficient dissipation during general use. AORUS LIQUID COOLER adopts a dual ball-bearing fan structure that has superior efficiency and durability, with double the service life compared to sleeve bearing structure fans. The unique fan blade design reduces the unwanted noise associated with higher fan speeds, striking the best balance between fan efficiency and fan noise. 
AORUS LIQUID COOLER features a stylized, circular LCD display pump cap with textured aluminum extrusion design. The LCD pump cap provides four default modes to choose from, including the Enthusiast Mode, Function Mode, Text Custom Mode, and Image Custom Mode, which can display customized text, images, and information accordingly. With a unique Display Rotator, users can adjust displayed information with suitable direction and mode to easily control the dissipation condition of cooler and processors for the premium heat dissipation. With the support of RGB Fusion 2.0, users can adapt the lighting of LCD displays and multiple integrated ARGB digital LED lighting modes, creating personalized gaming systems with fluid lighting effects.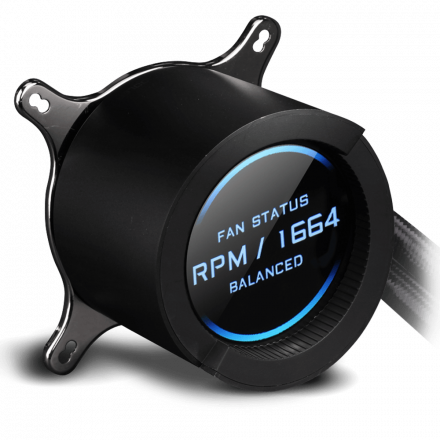 For more information on GIGABYTE products, please visit the official GIGABYTE website: https://www.gigabyte.com/Motherboard
*The super high loading burning setting of Prime95 benchmark is over 30 mins. The test result is based on the lab, and the actual result may vary from CPUs, system software and hardware, and environment settings.
Share the news to Facebook and Twitter
SHARE THIS