It has been a while since I reviewed a Tronsmart product, I am actually a fan of them for a long time now and I always vouch for the build quality, design and sound quality of their Bluetooth speakers. I still use my Tronsmart Spunky Buds as my go to wireless earbuds for when I am travelling, we also use the Tronsmart PBT12 as our main battery pack and a few charging cables from them as well. As per my experience, there's really not much to complain about their products, and I expect the same with the product we're talking a look at today. Although I am a fan, I still tested this thoroughly as I do with any products that I've reviewed. So is it good? there's only one way to find out so let's get started.
MY EARLY BREAKDOWN

Pros: Great build quality, Good design with the intuitive volume knob, Decent sound quality with powerful deep bass
Cons: Can get distorted on maximum volume depending on the music and surface, Intermittent distortion when connected to PC via Bluetooth (no problem via mobile)
SPECIFICATIONS

Model: Element T6
Colors: Red / Black / Gray camouflage / Camouflage
Bluetooth Version: 4.1
Output (watt): 2 x 12.5W
Transmission Distance: Up to 10m
Power Supply: DC 5V ± 0.25V/1-2A
Battery Capacity: 2 x 2600mAh
Charging Time: 3-4 hours
Working Time: 10-15 hours
Frequency Range: 60Hz – 20KHz
Connector: Micro USB charging port, 3.5mm aux-in port
Certifications: FCC, CE, Rohs
EAN Code: 6970232013151
Dimension: 2.95 x 7.6in / 75 x 193mm (diameter x height)
Net Weight: 549 ± 5g / 19.36 ± 0.2 oz
WHAT'S IN THE PACKAGE

1 x Bluetooth speaker, 1 x Micro USB charging cable, 1 x 3.5mm audio cable, 1 x User manual
FULL REVIEW
Design, Construction and Parts Overview

In terms of design, the Tronsmart Element T6 is pretty straightforward, it has this undeniably tumbler like form factor with a very intuitive volume knob and controls on top of it.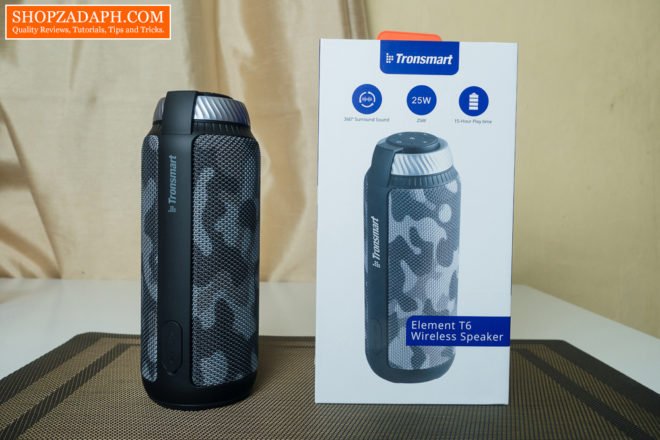 Around it we have this mesh fabric that covers most of the speaker with our variant having this black and grey camouflage design.
At the bottom part of one of its sides we have the microUSB port and 3.5mm aux in port covered with a rubber protection.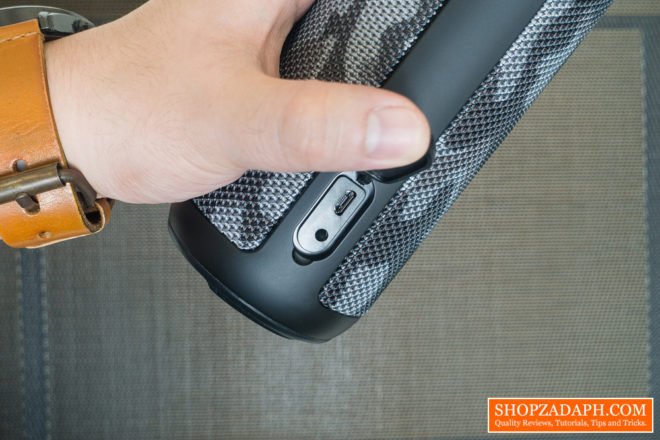 There's no water resistance or water proof certifications indicated in the specifications but looking at this design and build quality, It should be at least water and dust resistant.
At the top part of the same side, we have a Tronsmart Logo.
At the bottom, we have a small passive radiator speaker.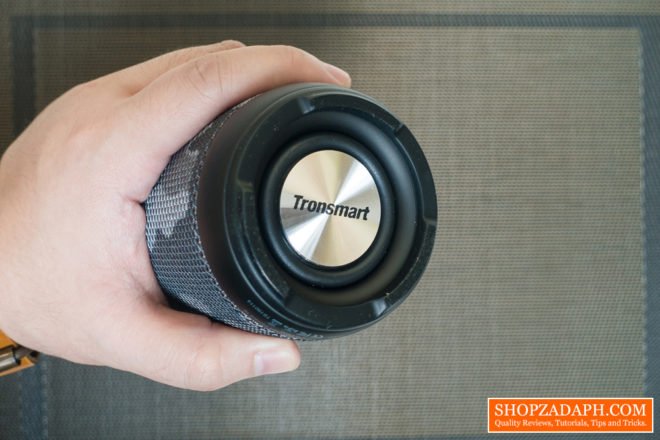 Up top we have the very satisfying volume knob, LED ring and the control buttons.
Bluetooth Pairing and Connectivity

Pairing the Tronsmart Element T6 is very straightforward, just power on the speaker and it will automatically go to pairing mode, open Bluetooth on your other device, pair it, and you're good to go.
If you're currently paired with a device and you want to connect it to a different device, just press and hold the power button until the LED ring starts to blink indicating that it is in pairing mode again.
The Tronsmart Element T6 uses Bluetooth 4.1 which has a transmission range of up to 10m. It should reach that range given that the line of sight of the speaker from the source device is unobstructed.
There's one small issue that I intermittently encountered, and that is sometimes the sound becomes distorted when the speaker is connected to my PC over Bluetooth. I didn't encounter that via Bluetooth on my mobile phone. I am not sure what's the cause and it may also be an isolated case. You're mileage may vary.
Microphone Quality

The Tronsmart Element T6 like most Bluetooth speakers out there has a built-in microphone. Its quality is actually pretty good, more than usable for casual communication. We've tested it both via a Facebook call and an actual phone call and the quality is very clear.
When a call is incoming, you can answer it by simply pressing the "phone" button. The button doesn't work however on Facebook call, you have to set the input on your phone to Bluetooth for you to be able to use the speaker's microphone.
Battery Life

When it comes to battery life, the Tronsmart Element T6 boasts a 2 x 2600mAh battery that as per specifications can last up to 10-15 hours. As per my testing, charging time is around 3.5 hours and a full charge lasted me around 13 hours with varying volume depending on the music I am listening to.
LED Ring

The default color of the the LED ring is blue and it turns red once you're on the maximum setting may it be maximum volume or minimum volume. It also changes to green when in AUX mode.
When the speaker is turned off and charging, the LED ring will turn to red.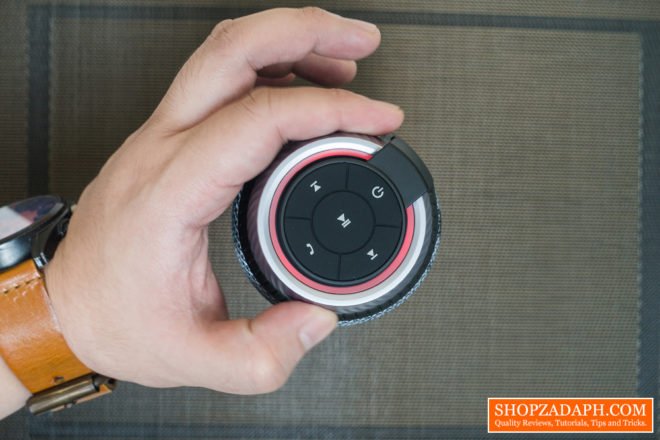 Sound Quality with Passive Radiator

In terms of the sound quality which is the most important factor when it comes to choosing a Bluetooth speaker, the Tronsmart Element T6 did a pretty decent Job. It can get loud but depending on the music and the surface it is on it can also get distorted. It is important, at least for my experience, to place it on a surface that can absorb a little bit of the vibration let's say a thin rug or in my case a mousepad, as it tends to vibrate out of place on maximum volume. It makes sense since the tumbler like design has a pretty small surface area so it tends to be a little unstable during intense vibration, but not to a point that it tumbles down or anything like that.
Now when it comes to the actual sound quality, with the help of the small passive radiator at the bottom, the Tronsmart Element T6 can produce deep low end frequencies which is pretty awesome for a device this size. With proper surface and volume levels it can output good sound quality and can produce decent mids, highs and lows without being too muddy.
Sound Test

For some reasons I can't embed the quick unboxing and sound test i uploaded on our Facebook page, so if you're interested, you can click this link.
VERDICT

To conclude, the Tronsmart Element T6 met my expectations with just some minor hiccups. The design and build quality is superb like all Bluetooth speakers from tronsmart and it was able to last around its rated 10-15 hours of playback time. It can get pretty loud and able to produce deep bass and low end frequencies thanks to its bottom passive radiator design. With decent volume levels and proper surface, it is a very good Bluetooth speaker to play music with and it can also be used to answer calls too.
Related Article:
Thanks to
Tronsmart
for making this review possible, you can get this from their official store on Lazada, link below.
If you like this one, please consider subscribing to my channel by hitting the button below. Have a great day!

WHERE TO BUY:

LAZADA: Tronsmart Element T6 (Plain Black)
Price may vary depending on existing promos
The views and opinions on this review are solely based on my own personal experience, your results may vary